Ice cream whether in cones or cups is a big hit during the hot summer days. This treat makes the hot and humid weather more bearable. Aside from the hard ice cream that we know of, soft serve treats in various flavors are also becoming popular. If you have a restaurant or ice cream parlor business, you may want to venture into selling soft-serve desserts.
* If you buy through links on our site, we may earn an affiliate commission. For more details, please visit our Privacy policy page.
Preparing soft serve desserts from scratch is easy using a commercial soft serve ice cream machine. With the right equipment, you can easily and efficiently make soft serve ice cream and other desserts with a variety of flavors.
To get the best value for your money, we'll help you choose the best equipment for your specific needs. We have reviewed four ice cream machines with excellent features that are worth considering.
Best Commercial Soft Serve Ice Cream Machines
Dimensions: 555 X 754 X 926cm
This equipment is perfect for restaurant businesses, commercial ice cream makers, or ice cream shops that offer soft serve ice cream. Produced by one of the established brands that manufacture quality ice cream machines, this product is one of their best-selling floor models.
The Longto machine is heavy-duty, with superior refrigeration capacity, and uses 1,900 watts of power. The product details say that it runs on a 1.25-HP compressor, which means that it can make and dispense ice cream quickly. In fact, it has a high output capacity of 32 liters (roughly 8.45 gallons) per hour.
What we like most about this soft serve machine is that it has an anti-freeze feature, which prevents the ice cream from completely freezing and becoming hard. Another feature that we found very useful is its low-mix alert, which means that you don't have to frequently check if you still have enough ice cream mix because this equipment will send you an alert when it's already at a certain level.
Moreover, this machine has a 30-percent overrun which is optimal for maintaining the flavor of the soft serve ice cream. For a business, this overrun percentage is also good for your profit potential.
When it comes to safety, you can also rely on this soft serve ice cream maker. It has great safety features which include low-voltage protection and leakage protection.
Pros:
According to the product details, it has a quiet operation
Optimum overrun
Easy to use
Excellent safety features
Snap-back dispenser mechanism for ease in dispensing
With low-mix alert
Cons:
This machine is on the expensive side but with many bells and whistles that other cheaper products don't have
---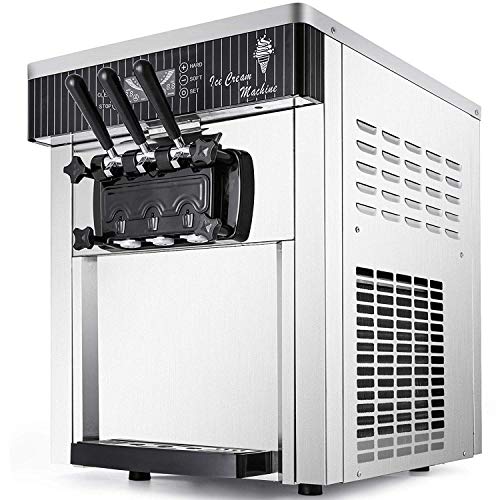 Dimensions: 16.9 x 19.2 x 25 inches
This soft serve dessert machine is among the best options if you are looking for restaurant equipment that can consistently produce delicious soft serve ice cream for your customers. With this 2,200-watt equipment, you can offer your customers 3 selection of flavors! That is two single-flavor and one combo of the two flavors you have. What's more is that during mixing, you can also add chocolate chips, berries and nuts into the mix.
The VEVOR soft serve ice cream machine can produce 7.4 gallons of soft serve ice cream per hour. And the best thing about it is that producing that much ice cream is a breeze as it has an intelligent LED interface. With the LED controls, you can adjust the hardness, quantity and temperature at any time.
A unique feature of this soft serve dessert machine is that it is fitted with 4 different shapes of hats, allowing you to be more creative in the shapes of the soft ice you are selling.
Additionally, this soft serve ice cream machine has a stainless steel body and air compressor which makes the whole equipment sturdy and durable.
Pros:
Automatic cleaning process
Essential components are made of stainless steel
Lets you make 4 shapes of soft ice
Easy operation
Cons:
---
Dimensions: 16.5 X 21.6 X 29.9 inches
If you want a countertop model soft serve machine, the INTBUYING is worth checking out as it among the best options we found. It stands out from many other countertop restaurant ice cream machines because of its use of a pure copper tube condenser. This material improves the machine's energy efficiency and it also works great at dissipating heat. With a copper tube condenser, you can expect that this equipment is highly efficient in producing soft serve ice cream.
Any beginner ice cream maker can easily use this machine as it has an intelligent push-button operation. From its LED display, you can also automatically compute the amount of treats you can produce. We also like that this 1,200-watt machine has a transparent cover so you can see what's happening inside the machine.
It's also worth mentioning that with this soft serve ice cream mix machine, you can produce three different flavors of soft ice just like the VEVOR machine.
Pros:
Energy efficient
Single-click easy operation
Energy efficient
Easy to clean
Cons:
Capacity is only two 4.5 liters or 2.7 gallons total
---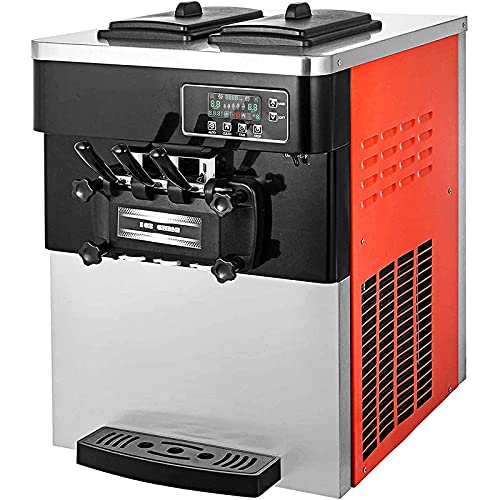 Dimensions: 21.3 x 28 x 30.7 inches
The VEVOR 2200W commercial soft serve machine is high-grade restaurant equipment and is among the best countertop machines we've seen in terms of ease of use. Just like the other products we feature in this list, this too is heavy duty and is made to stand frequent use and abuse. According to the product details, it is constructed using premium stainless steel and comes with a full copper core.
With this countertop machine, you can get the best results every time because you get precise control of what you add to the treat. During the mixing process, you can add choco chips, meringue, different types of berries and nuts. This model comes with two hoppers that can store 6 liters of soft ice each. And just like the other products or items from VEVOR, this soft serve machine also lets you produce three flavors of soft ice, 2 single flavors and one combo flavor in one cone.
Pros:
With external cone holder
LED display
Easy operation
Three flavors
Powerful compressors
Cons:
Some customers reported a problem with the noise that it produces
The user manual is hard to understand
---
Buyer's Guide: Factors to Consider When Comparing Soft Serve Ice Cream Machines
Countertop vs Floor machines
When it comes to ice cream makers, they can be either countertop or floor mounted. Countertop machines are great for restaurant or ice cream businesses with limited floor space area. However, since these machines have lower capacities compared to floor models, they are more suited for a business with a low volume of orders such as a restaurant.
On the other hand, floor-mounted machines are great for ice cream parlors and dessert booths with a high volume of orders because they are able to produce more gallons of soft serve per hour.
Capacity/Size
If ice cream is not the main menu of your business, you may consider getting a smaller machine enough to produce a few gallons per hour such as those designed for home use. That way, you can only produce to meet the demands of your customers. High-capacity machines are more suited for your business if say you consistently sell five or more gallons per hour.
Overrun
Soft serve machines have what you call an overrun which is the percent of expansion from the air that's incorporated during the freezing process. It affects the consistency, softness, and even taste of the final product. An optimal overrun is that which produces fluffy soft ice that does not fall over or drip, and generally, it is at 30 percent.
Easy to Use
Some equipment operates with a click of a button. Generally, these machines just require you to add all the ingredients, and then with a click of a button, it will do everything until when the soft ice is ready for dispensing.
Before making a choice, make sure that the model you are getting is easy to operate for your convenience. Some machines even come with a feature that alerts you when the mix is at a certain level, and that is a bonus feature.
Easy to Clean
It's also a good idea to check the details of the machine with regards to the cleaning process. Some of these products require manual cleaning while higher-end models allow you to clean the machine with just a push of a button.
Conclusion
Whether you are a small or medium-sized business, investing in high-quality appliances such as a soft-serve machine can boost your business growth. And when it comes to soft-serve machines, our top pick is the Longto Commercial Soft Ice Cream Machine 30L. This machine is sturdy, very durable, easy to operate, and easy to clean. On top of that, it is the only machine with a low-level alert feature.
With the expensive prices of soft serve machines, it's important to carefully check the details of the product you want to buy before making a decision. You can check the features we listed above to help you.
* If you buy through links on our site, we may earn an affiliate commission. For more details, please visit our Privacy policy page.