Food scale plays an important role to different businesses. This kitchen device is usually used to measure the weight of ingredients and other food. You can get these food scales in balance or spring models. If you want to have a more accurate reading than a spring scale, the balance type of food scale would be best.
Having a food scale in your business, such as restaurant food scales, will result in a more accurate measurement of the ingredients than by measuring it by volume. You can also get the digital and non-digital type since they are newer and easier to use.
In this post, you will get to know some of the best commercial scales that you can use and serve consistent dishes for your recipes.
Commercial Food Scale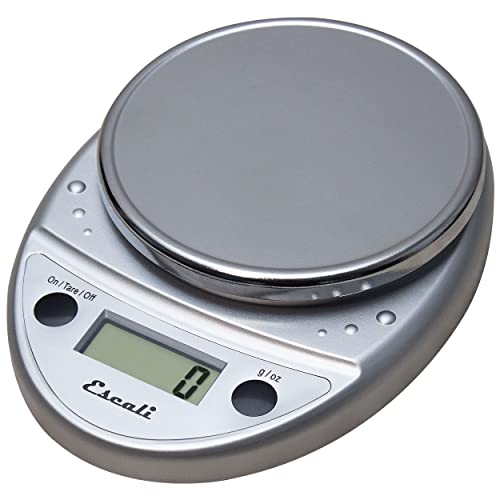 An accurate commercial scale is all you need to serve exact amounts of ingredients needed for the recipe. You can have consistent cookies, perfectly risen bread, or a lofty souffle. The Escali Primo digital scale measures 8.5 x 6 x 1.5 inches with a capacity of 11 lb (5,000 g) and provides weight readings in 0.05 oz (1 g) increments using the following units: oz, lb:oz, g.
Aside from the quick reading feature that allows you to procure precise portions for the food, this digital scale will remain on for about four minutes before automatically turning off. It is also a user-friendly device as the extremely simple interface has only two buttons. One is used to switch units of measurements, and the other one is to tear and power on or off. This has been one of the favorite digital commercial scales since 2007.
Buy it now on Amazon
---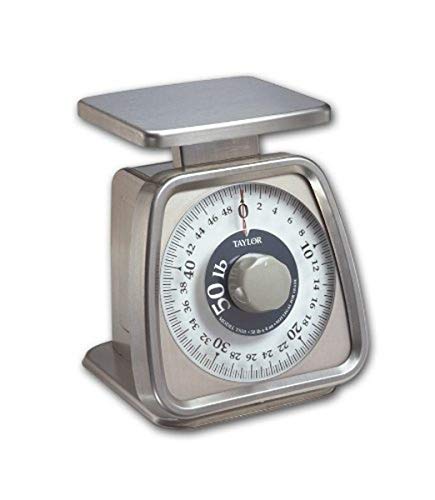 It is always good to have an analog food scale or mechanical device for backups in case the digital one won't work. Aside from that, an analog food scale is a fun design piece for your kitchen. Some people might even prefer the vintage style due to its high level of accuracy.
Taylor brand is known to have made precision products for kitchen measurement for over 150 years, using the highest quality components for accurate weights. With their analog food scales, you can measure food without the need of backlit LCD screens in pounds, ounces, kilogram, or grams up to 11 lbs (5 kilograms) with 1-ounce and 50-gram increments.
It might be very easy to read as what digital food scales would offer, the Taylor Stainless Steel Analog Kitchen Scale has red and black graphics that are easy to read on the large 5-inch dial. Creating a daily use recipe for weight loss, such as your signature smoothie recipe, can be perfected with ease using this analog food scale.
Buy it now on Amazon
---
If you prefer electronic scales over those mechanical ones, MEIYA Lab Scale is one of the most recommended options. This digital precision analytical electronic balance scale is equipped with high precision strain gauge sensors to strengthen the precision to 0.01 gram. It can simply level and give repeatable measurements. The adjustable front and rear legs and level indicator allows you to get 0.01g scale perfectly level on the table.
It has amazing features including weighing, tare weight, parts counting, self-calibration, and fault display. The large LCD display is easy to read, with clear and precise reading even in dark environments. Whether you are measuring deli meat or deli cheese, it can be easily done. You can even convert the units from g, ct, oz, ozt, Ib, kg, dwt, mm, pcs, tol, % by simply pressing the "UNIT" button.
Now, when it comes to durability and long term usage, expect that the Lab Precision Scale from MEIYA will last as it is made with a stainless steel weighing pan, sturdy ABS shell, and strong strain gauge sensor materials. Aside from being a food scale, it can also be turned into a scientific scale in the labs, jewelry, chemical industry, kitchen, metallurgy, mining, textile, or teaching.
Buy it now on Amazon
---
A hanging mechanical scale might be perfect for those with small kitchen spaces as it can be hung anywhere and use it conveniently. The Yogayet Mechanical Hanging Scales will do the job perfectly if that's what you are looking for.
The maximum weight capacity of this dial scale is 440 lb/200 kg. with a display weight in both pounds and kilograms. Don't be scared to hang this on something stable as the hanging spring scales are made of durable steel, which can be used for a long period of time. Also, the weight scale includes 2 steel S-hooks for quick attachment.
Since the hanging scales don't rely on batteries or electricity, you can use them even in areas without electrical outlets. This is suitable for items that are difficult to weigh on a platform scale. It is also ideal for industrial, planting, household, luggage, parcel, fishing, hunting and other heavy weighing.
Buy it now on Amazon
---
This digital weighing scale can weigh up to 8000 Pounds, which is great for commercial use. The membrane coated keypads are very practical to use, along with its LCD cover that protects buttons.
You can get an exact reading to weigh ingredients, such as dried spices, through its precise readability from 1g to 0.05 oz. The removable stainless-steel platform allows you to conveniently clean up mess while weighing on the scale, if there's any.
Buy it now on Amazon
---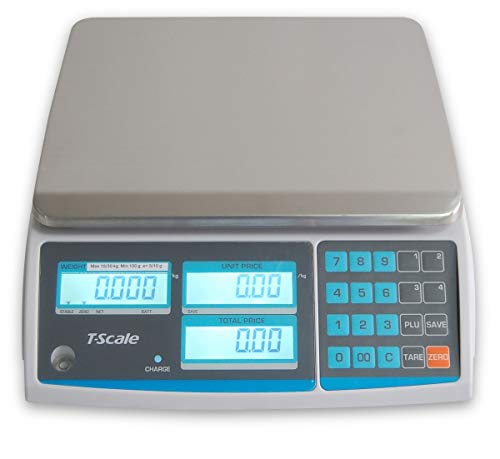 Whether running a grocery store or restaurant, this Price Computing Scale Class III Legal for Trade NTEP Approved is perfect for you and it can weigh from 0.002 up to 30 lbs. It is very user-friendly as the easy-to-use interface can produce results in an instant.
This simple price calculating scale has an LCD with Backlight, and is a reliable device in the market. If you need a second scale used to weight produce your deli meat or for your customers that would also provide the costs of the product, this is a suitable recommendation. The reliability of this can be used in a supermarket as well.
To avoid calibration issues, all you need to ensure is that this scale is to keep it level. The rechargeable batteries inside on the Aquos Price Computing Scale Class III are very convenient for places that have no access to electrical outlets.
Buy it now on Amazon
---
Why Do You Need To Have a Food Scale?
Having a food scale that can be used commercially is essential for consistency purposes. It allows you to mass produce the food while ensuring that you get the best result. It also helps with costs of the product as you won't get less or excess.
Each recipe calls for different measures of ingredients to create the best dishes. Bakeries would often use weighing scales to create the perfect tasting bread. Aside from a bakery, restaurants could also take advantage of having a scale to measure their ingredients, such as herbs. They can choose whether to have a mechanical scale that doesn't need electricity, or a digital scale that is very convenient that can also be used by a staff anytime.