Hey guys! In this article, we will tackle the best toasters or toaster ovens that are not made in China.
* If you buy through links on our site, we may earn an affiliate commission. For more details, please visit our Privacy policy page.
Bread is a staple food that is eaten in many parts of the world. It is eaten as a breakfast, lunch or even dinner meals. But what makes bread more delicious is when you toast it.
A toast is a sliced bread that has been heated through the use of radiant energy. The bread's taste is changed and it becomes firmer, as a result of the Maillard reaction, which also causes the browning. Butter can more easily melt on the heated, hard surface because of the warmth and it can be spread easily on your toast bread. Toasting bread is a traditional way to improve its flavor. A toaster or a toaster oven is used to toast bread. Some of the best brands of oven toasters are made in USA and Japan. Toasters made in the USA and Japan feel sturdier. So, if you are looking for American brands or other toasters that are not made in China, then scroll down and continue reading.
Check out below the different toasters or toasters ovens that you can add to your kitchen.
Toasters Not Made In China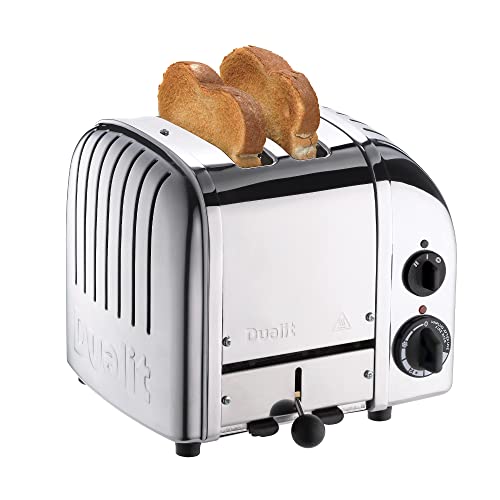 Product information
Brand: Dualit toaster
Color: Chrome
Material: Metal
Product Dimensions: 8.2″D x 10.2″W x 8.6″H
Special Feature: Wide slots for bagels
Item Weight: 8.2 Pounds
One benefit of DualIt toasters is that you may buy replacement parts in the event that a component malfunctions. You'll be able to keep your toaster functioning for years while others are throwing away their cheap toasters once they break. Indeed, this appliance brand is high quality and are sturdier. You won't have to buy again oven toaster every few years.
The heating elements in this Dualit two-slot toaster are ProHeat elements, which are exclusive to the industry. ProHeat elements that have won awards improve toasting effectiveness and element life. The heating filament is protected by a coating that renders them virtually unbreakable. Along with choices for toasting bagels and buns, it also offers a defrost setting (Toastable frozen bread is gently warmed on the defrost setting) and a removable crumb tray. To toast complete sandwiches at once, you may even buy an optional sandwich cage. It also features a high lift system for simple removal of tiny objects
Toast bread is kept warm by the ejector system until the ejector lever is raised.
If you are interested in buying this product, simply click on amazon
---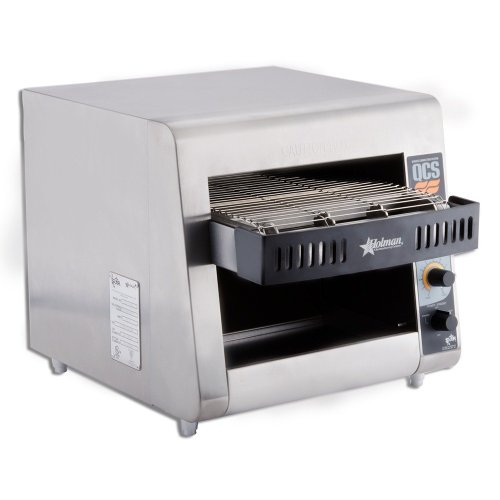 Product Information
Brand: Star Manufacturing
Color: Silver
Material: Stainless Steel
Wattage: 1600 watts
Product Dimensions: 18.88″D x 14.25″W x 13.25″H
Item Weight: 44 Pounds
The largest producer of food equipment worldwide is Star Manufacturing. There are numerous sizes of conveyor toasters and contact toasters available from Star Mfg. if you're searching for a manufactured in the USA toaster for a business kitchen. Smithville, Tennessee is home to the Star Manufacturing facility. You can be assured that this is definitely made in the USA.
This American manufacturing, which is Star Mfg. makes these commercial toasters that you have certainly seen in hotels or restaurants.
This branded toaster also has a compact design, an easy to use control panel, has variable speed control, Quartz infrared heaters, and forced air convection system. One of the best toasters in the market, indeed.
If you want to buy this product, you may do so by clicking on Amazon.
---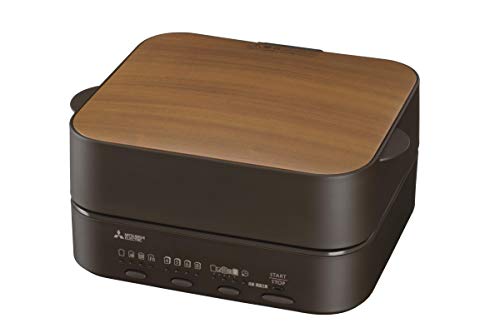 Product Information
Brand: Mitsubishi Electric
Color: Brown
Wattage: 930 watts
Item Weight: 3.1 Kilograms
Finish Type: Finish
Japan is home to some of the top deals in consumer electronics. While most Japanese businesses, like American brands, have exported their low-end items to China, there are a few higher end products in a few categories that are still manufactured in Japan. Typically, this is because the brand was wise enough to maintain at least some of its native factories open. One among them is this toaster, that some people have referred to as the "Rolls Royce of toasters".
This appliance was designed for domestic use in Japan, therefore in order to use it in the US or somewhere else, you will need to buy a transformer.
If You are interested in buying this product, just click on amazon
---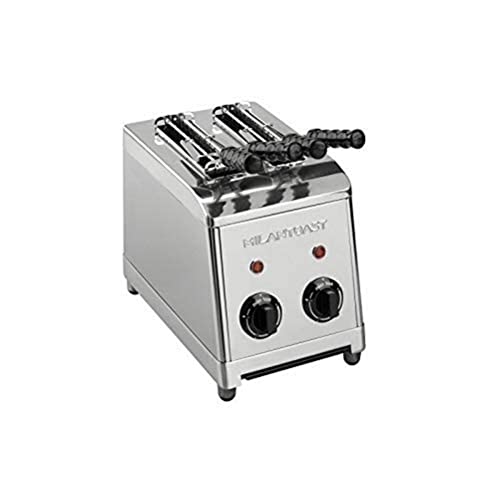 Product Information
Brand: Milan Toast
Color: Silver
Material: Stainless Steel
Style: 2 tongs.
Item Weight: 4.1 Kilograms
Voltage: 230 Volts
Since the 1960s, the renowned Milan Toast Classic Sandwich Toaster has been created by hand in Italy. The majority of Italians are aware of it. Like most manufacturers that outsource to China, Milan Toast doesn't intend for obsolescence in its toasters; instead, most toasters last and every minor element can be repaired or replaced if something goes wrong.
If you want to purchase this appliance, you can click on Amazon
---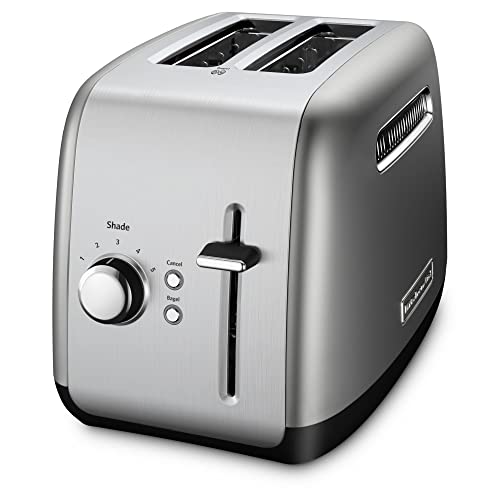 Product Information
Brand: KitchenAid
Color: Contour Silver
Material: Stainless Steel
Wattage: 900 watts
Product Dimensions: 7.7″D x 11.4″W x 7.7″H
Special Feature: Manual
The USA is where KitchenAid is known for producing its items. The Kitchen Aid toaster is a premium model that is long-lasting.
This toaster has a sleek, sophisticated appearance. It is very light and has a curved shape.
This straightforward toaster has two extra-wide slots. A bagel setting is also available. The toaster has a removable crumb tray that makes cleanup simpler and it also has a cable storage under the base.
With the 5 settings on the adjustable shade control, from light (1) to dark, you may make your toast just how you like it (5).
With the high lift lever, it's simple to access your bread in the toaster, regardless of how big or tiny it is.
You can purchase this product by clicking on Amazon
---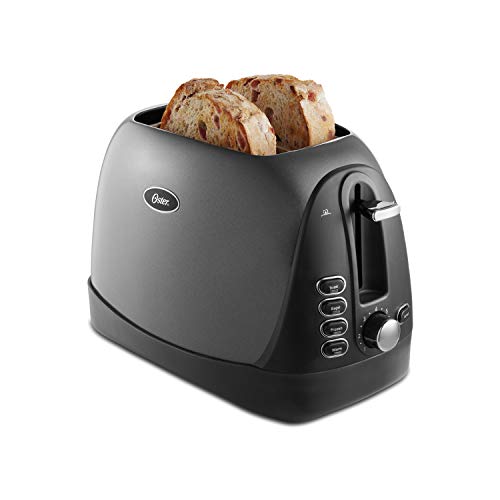 Product Information
Brand: Oster
Color: Metallic Gray
Material: Stainless Steel
Wattage: 800 watts
Product Dimensions: 6.9″D x 11.7″W x 7.3″H
Style: Toaster
While some of Oster's production facilities are located in countries like Mexico and Peru, the vast bulk of their products are made in USA.
Only few products are manufactured elsewhere, and from what we could tell, this toaster is made in the USA, but some of its components come from other countries.
This gray toaster made of stainless steel is gorgeous. It has a beautiful look and is really sleek.
Make beautifully browned and delicious toast with its. Advanced Toast Technology, together with automatically adjusting bread guides, to ensure consistent, even toasting every time.
With wide slots. Designed with 2 extra-wide slots that can comfortably fit different kinds of bread, including bagels and artisanal breads.
Features 7 shade settings. Provides 7 toast shade presets, ranging from light to dark, making it simple to tailor your toasted bread to your preferences.
It also features a customizable toasting times. To ensure perfectly toasted results, the settings for bagels, frozen foods, and pastries automatically change toasting times.
Integral high-rise lever that lifts toast out for simple retrieving.
If you are interested in purchasing this product, simply click on Amazon
---
Product Information
Brand: Cuisinart
Color: Brushed Stainless
Material: Polycarbonate
Wattage: 1800 watts
Product Dimensions: 10.79″D x 11.42″W x 7.24″H
Conair Corporation is the owner of the American home appliance brand Cuisinart. The Cuisinart toasters are durable and long lasting as well.
Has a lot of toasting functions. This small appliance features various toasting options, which includes Toast, Bagel, Defrost, Reheat, and Cancel, to meet all of your toasting requirements.
A 6-setting shade dial with a wide range of browning settings allows for the ideal personalization of any loaf of bread. The simple controls have settings such as Light, medium, and dark.
This compact design features Dual Independent Toasting Controls that let you toast two separate sets of bread at once, High Lift Lever pops up when toast is ready, and 1.5-inch wide slots that can accommodate a variety of goods. Perfect if you have a large family.
This Cuisinart toaster is simple to clean, thanks to the detachable crumb tray. Even the unit itself includes a cable wrap to conceal unsightly power cords when not in use.
Purchase this product now on Amazon
---
Product Information
Brand: Breville
Color: Stainless Steel
Material: Stainless Steel
Wattage: 1800 watts
Product Dimensions: 8.1″D x 16.1″W x 7.6″H
Special Feature: Gas Stovetop Compatible
The Breville Bit More is a long, four-slice toaster that has an LED so you can see how things are going. If you think your toast needs a little more, you just have to click a button to extend the toasting cycle a short while, or use the "Lift & Look" feature to check on it.
With the help of "Lift & Look" and "A Bit More," you can check on your toast or add a little more time without pausing the toasting process. The bagel function guarantees consistent heat for even toasting, and with "defrost," you can defrost it.
The toaster has a 4-slice capacity and long slot to accommodate thick bagels, long artisan bread, and dense pastries.
With the Breville Bit More 4-slice's variable browning control, you can toast bread to the perfect level of doneness while keeping track of your progress with the LED indicator. This way, you can see how long the toasting cycle still has to go.
It has a Manual Lift & Look feature. Basically, it has a traditional control with manual lifting and lowering lever to check on the status of your toast whenever you choose without pausing the toasting process.
The appliance is very simple to clean. To do so, just remove the front crumb tray and empty the contents into the trash.
Has Five settings: "A Little More", "Lift & Look", "Defrost", "Bagel", and "Fruit Bread".
You may purchase this product by clicking on Amazon
---
Types Of Toaster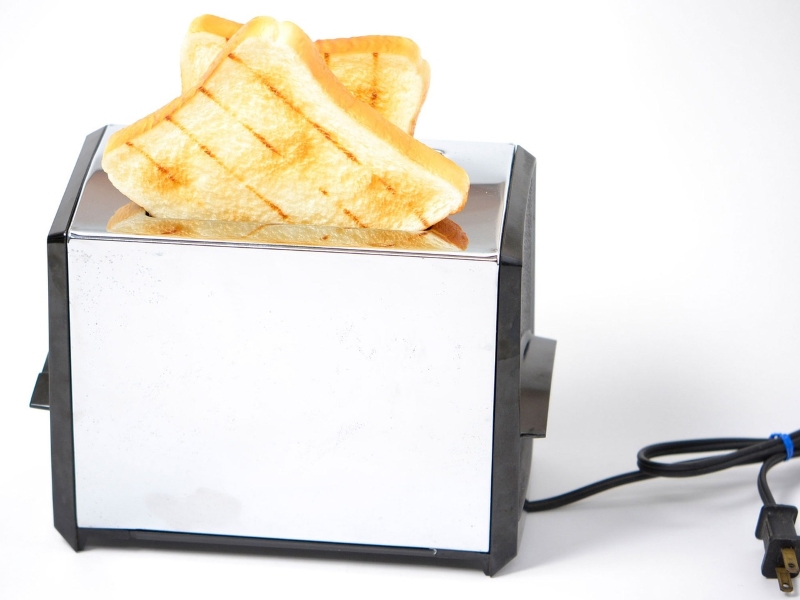 Pop-up toaster
The top slot of a pop-up or automatic toaster is filled with a single vertical piece of bread. When a lever on the toaster's side is pressed, bread is lowered into it and the heating elements are turned on. Levers, knobs, or a set of pushbuttons are used to control how long the toasting cycle lasts, and consequently how toasty the bread is, and when an internal sensor detects that the toasting cycle is over, the toaster switches off and the toast emerges from the slots.
The two-slice toasters are more popular than the four-slice toasters among pop-up toasters. In addition to looking like a square box, pop-up toasters can also have an outside finish made of chrome, copper, brushed metal, or any type of plastic. It's possible that toasters' advertising and cost are not reliable indicators of their quality for making nice toast. A conventional two-slice pop-up toaster can use between 600 and 1200 watts of power.
---
Toaster Oven
Toaster ovens are tiny electric ovens with limited baking and broiling capabilities in addition to toasting. Bread or other goods are put on a tiny wire rack, much like in a conventional oven, but toaster ovens heat food more quickly than standard ovens because of their small size. They are particularly helpful in smaller apartments and recreational vehicles like truck campers where there isn't a kitchen stove.
---
Conveyor Toaster
Conveyor toasters are made to produce numerous slices of toast and are typically utilized in the restaurant and catering industries, cafeterias, institutional kitchens, and other industrial food service settings when toasting is required frequently or in large quantities. The conveyor speed of this type of toaster is adjusted by the doneness control, which changes the amount of time the bread spends close to the heat elements. Bread is toasted at a pace of 300–1600 slices per hour.
So, Can You Really Purchase A Toaster That Is Not Made In China?
Yes. You can still, although it can be uncommon. Almost all well-known brands from the US and Europe, such as Oster, Hamilton Beach, Black & Decker, and high-end names like Cuisinart, KitchenAid, Krups, and Breville, are now entirely manufactured in China. Well, not all of their products, but some of their products are already manufactured in China
That's it. I hope this article has been able to help you one way or the other. Thanks for reading.
* If you buy through links on our site, we may earn an affiliate commission. For more details, please visit our Privacy policy page.