Food dehydration is a process of reducing food moisture to lower levels in order to improve and extend its shelf life. This method is one way of preserving goods for later consumption.
* If you buy through links on our site, we may earn an affiliate commission. For more details, please visit our Privacy policy page.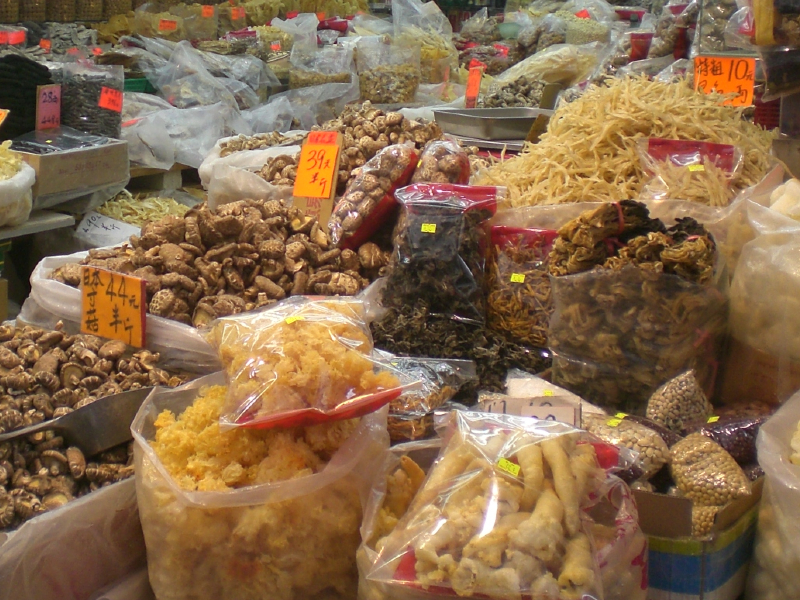 Dehydrating can be done in an oven or any food processor, but to create a perfect chewy texture of high quality dried goods in large quantities, it is best to use industrial food dehydrators.
WHAT ARE INDUSTRIAL FOOD DEHYDRATORS?
These machines, also known as commercial food dehydrators, are devices that remove moisture from food like fruits, meats, and vegetables to help in its preservation.
Commercial food dehydrators are often used in businesses to produce well-preserved products, stackable food, pet food jerky treats, and other foods.
THINGS TO CONSIDER IN CHOOSING THE BEST COMMERCIAL FOOD DEHYDRATOR
Commercial dehydrators are indeed crucial especially when you venture in the dried food industry. And when choosing a commercial and best dehydrator, it is important to seek a machine that is simpler to use, and with high quality that best fit your needs.
Apart from that, you also need to consider these important features:
CAPACITY
When preserving large batches of goods for businesses (either big or small businesses), a commercial food dehydrator with sufficient drying space should be your top option. Drying large portions of meat or sizable fruit rolls need extra space than edible products and healthy snacks you'll store in your cupboard or pantry for later use.
ACCESSIBLE SHELVES AND PROGRESS TRACKING
A commercial food dehydrator with accessible shelves and progress tracking features is definitely the best dehydrator suitable for your business. The accessible shelves will help to check the doneness of the produce. Hence, machines with transparent windows or clear glass doors are highly recommended. Commercial dehydrators with a digital timer can aid to track the progress of the food dehydration process.
VENTS OR AIRFLOW SYSTEM
When purchasing a commercial food dehydrator, select a machine with a heating element, airflow across the trays, and fan elements. The food dehydrator should have vents and sufficient room on the floor or counter where hot air can be properly released.
ADJUSTABLE THERMOSTAT
One of the important features to look for when purchasing a commercial food dehydrator is the adjustable thermostats. This feature is used to maintain, set and adjust the machine's temperature depending on the product being processed.
It is highly recommended to pick a commercial food dehydrator with a digital timer or control panel to ensure that the food is getting the appropriate temperature and settings.
TEMPERATURE
Commercial dehydrators with the capability of reaching the optimal temperature required for the specific goods being dried should be included in your top picks. Brands with enough hot or extreme hot drying temperature range is a plus.
So aside from the price, make sure to use these facts in choosing the best commercial food dehydrator for your business needs.
Here are the leading commercial food dryers available in the market today.
7 BEST INDUSTRIAL OR COMMERCIAL FOOD DEHYDRATORS
These dehydrators are high quality and can accommodate large quantities of foods and other produce for businesses.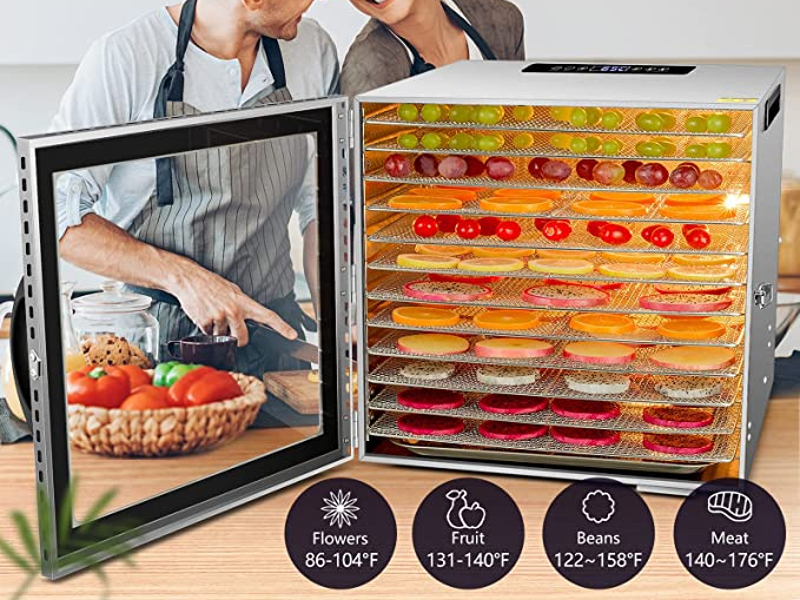 This commercial dehydrator is ideal for commercial kitchens or businesses with little space. VVinRC Food Dehydrator has 12 trays and 1 drip tray, with a system that is built for leveled drying. And unlike most commercial food dehydrators.
The equipment also runs more quietly than expected. This equipment is one of the food dehydrators suitable for smaller items and batches of dehydrated foods such as herbs, fruits, vegetables, slices of meat, fish, shrimp, mushrooms, bread and other healthy snacks.
The VVinRC machine has a power of 1,000 watts, temperature range of 86–194° F, adjustable temperature control, and a glass window.
The machine measures 18 x 16 x 15 inches and weighs about 30 pounds.
The equipment is also easy to use and easy to clean. However, the electrical plugs are USA designed and may not be compatible with your outlets (especially if you are living outside the US), so make sure to check its compatibility before buying.
Buy it now on Amazon
---
This food dehydrator is a high-capacity commercial dehydrator with 16 trays, perfect to dehydrate large batches of fruit selection, beef jerky, pet food, seeds, seafood, nuts, vegetables, herbs, flowers, and other foods.
This durable commercial dehydrator has a large feet of drying space, with 16 trays that measures 15.6*15.6inch individually. The entire equipment measures 21.45 x 16.53 x 24.8 inches ( LxWxH), and is made with 100% BPA-free food-grade stainless steel.
And since the front door of the equipment is made of visual glass, it is easier to track the process of drying.
With a power of 1,500 watts, and a temperature range of 104 to 194° F (digital temperature), this brand should be able to dehydrate food for days up to a week in a row without fail.
Additionally, this item has an automatic shutdown function and overheats protection function, so it is a guarantee that the machine is safer to use.
With these amazing features, buying a Colzer Food dehydrator is definitely worth the purchase.
Buy it now on Amazon
---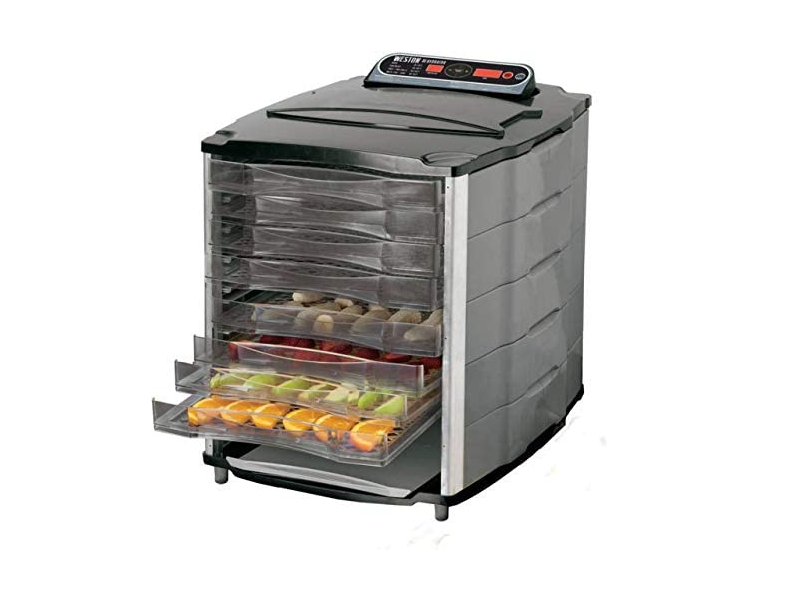 This digital food dehydrator has different looks compared to its counterparts. The machine is made with 10 plastic trays that are not enclosed by a large door. However, it has a rear-mounted fan that keeps warm air circulating. It is recommended to use oven mitts whenever you are handling the trays.
Aside from the plastic trays, it also has a drip tray and a mesh tray.
If you have a store with a small space, this food dehydrator should fit your needs. Though this food dehydrator is not most advanced compared to other dehydrators, it is still a good pick for its price. The item costs around 280 US dollars before shipping, but some stores (physical and online) currently have their stock on sale. (Prices may vary depending on which store the machine is purchased).
The Weston 28-1001-W Single Zone Dehydrator has a drying space of up to 1600 square inches, can fit around 7 pounds of raw jerky, a power of 830 watts or 110 volts, adjustable thermostat of up to 155 degrees F, 12 hour timer with auto shut off, and a digital temperature control.
If you've already purchased a commercial dehydrator but are looking forward to having a back up food dehydrator, the Weston 28-1001-W Single Zone Dehydrator is definitely a good pick. According to customer reviews, the product is durable and of good quality.
The packaging is also awesome, and dehydrating fruit, meat jerky, vegetables, nuts, seeds, herbs, and other foods becomes easier and worry-free.
Buy it now on Amazon
---
4. MEAT! 10-Tray Meat Dehydrator (Best Compact Stainless Steel Food Dehydrator)
Though named MEAT! 10-Tray Meat Dehydrator, this machine is not only limited to dehydrating meat (like beef jerky), but also other produce such as fruits, vegetables, nuts, herbs, and other dried treats.
It has 360-degree circulation for even cooking. It has a built-in clear window that makes it easier for the user to check the doneness of the food being dried.
This item is ideal for small businesses that require a drying space for fruit, meat, and other foods. With a power of 1,100 watt heater, temperature of 90–167° F, adjustable thermostat, a removable drip tray, a built-in LED Control with a 30-hour timer and auto shut off, as a customer, I should say that buying this product is surely a good investment.
---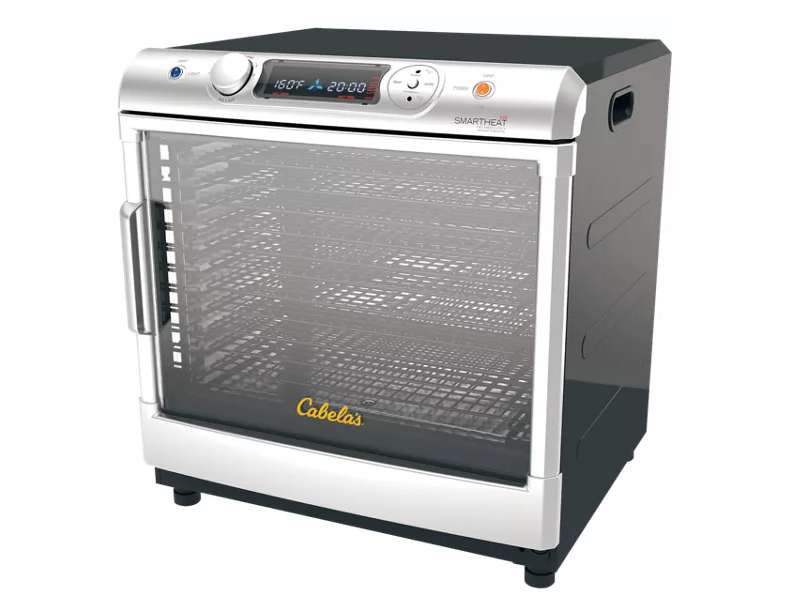 5. Cabela's 80-Liter Commercial Food Dehydrator (Best Shelf Food Dehydrators)
This digital dehydrator can create delicious and healthy dried snacks. It comes in two commercial models, the 80-liter and 160-liter capacity. The 160L capacity is ideal for big businesses.
This food dehydrator uses "cyclonic" technology which forces hot air to exhaustively reach every shelf to ensure optimal dehydrating perfection.
The digital dehydrator is also designed with a removable tray built into the bottom preventing the juices and moisture from pooling directly to the machine.
It has a dimension of 23″ x 19.88″ x 39.5″, weighs 11 pounds, and a 1,600-watt heating element that delivers smooth cooking temperatures.
The 80L food dehydrator has a handy pre-heat function, with 12 removable racks and a removable snap-rack frame system.
---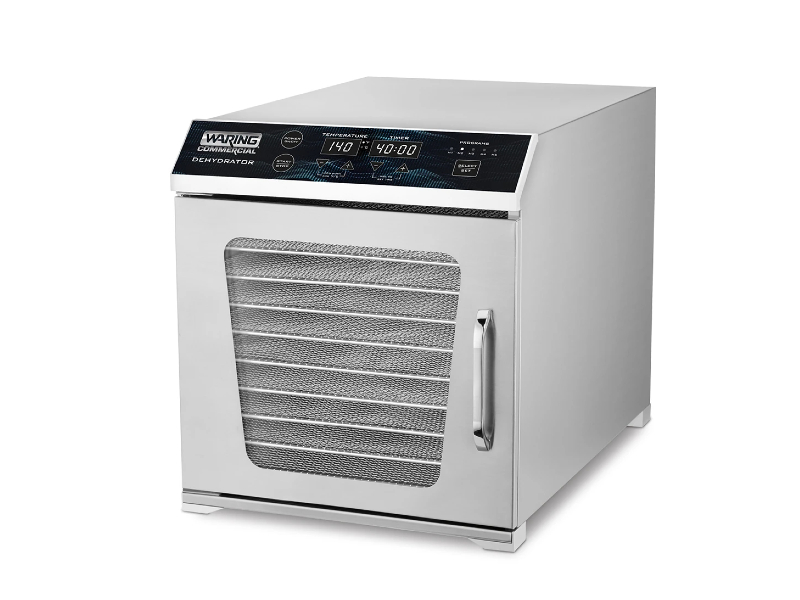 If your business dehydrates the same type of produce, you need a machine that can remember settings for an efficient dehydration process.
This product is exclusively designed to get the conditions right inside the dehydrator, may it be meat jerky or fruit roll-ups. It can re-execute five different settings, where the user can operate the system through the LED screen or touchscreen controls right after laying out the food on the stainless steel trays.
The Waring WDH10 dehydrator has an airflow system set up in the rear which can give temperatures from 90 to 180 degrees Fahrenheit, and a power of 120 Volts. The machine is made of stainless steel with a window made of glass for easy monitoring of the products being processed.
Buy it now on Amazon
---
The Weston 74-1001-W 10-tray stainless steel dehydrator is a light-duty dehydrator designed to create vegetable chips, dried treats, meats jerky, and other foods while retaining their flavor even without adding preservatives.
This food dehydrator is made of 10 steel trays, and a power of 1000W which is powerful enough to dehydrate large cluster of food simultaneously. It has a rear-mounted circulation system that moves air from the back to the front of the machine to prevent tray rotation.
Unlike other food dehydrators, this electric food dehydrator has a removable door so the user can completely access the interior.
With a 12-hour timer feature and a color-coded thermostat, monitoring the internal temperature has been made easier.
Buy it now on Amazon
---
And that cover's everything. I hope this post will be able to help you select the perfect industrial dehydrator that fits your need. If you find this content relevant, please feel free to share this post.
Have a good one!
FREQUENTLY ASKED QUESTIONS
HOW LONG CAN DEHYDRATED MEAT JERKY LAST?
Dehydrated meat can last a week or two unrefrigerated, while storing them in a freezer or refrigerator after dehydrating can extend their shelf life to one year.
WHAT ARE THE CHARACTERISTICS OF A GOOD FOOD DEHYDRATOR?
A good dehydrator has the capability to maintain temperatures with an adjustable thermostat, has visible shelves easier to monitor the dehydration process, stacking trays with greater capacity, and can preserve fruit and vegetables longer while retaining their nutritional content.
WHAT ARE THE DRAWBACKS OF USING FOOD DEHYDRATORS?
Food dehydrator plays a vital role in a business, and pretty much handy in any form; yet still has its disadvantages.

Food dehydrators tend to affect the texture quality of the produce as well as remove some of the nutrients. And depending on the food being dehydrated, they can have a higher calorie, sodium, and sugar contents which can increase the risk of obesity, heart issues, and diabetes.

Some food dehydrators also have limited capacity, high energy costs, and require a tedious process in dehydrating large batches of foods.
* If you buy through links on our site, we may earn an affiliate commission. For more details, please visit our Privacy policy page.