A commercial food dehydrator is gaining in popularity not just for small business use but also as a handy home kitchen tool for food preservation. It offers numerous benefits, allowing you to preserve more food without much hassle.
* If you buy through links on our site, we may earn an affiliate commission. For more details, please visit our Privacy policy page.
With a commercial dehydrator, it's easier to dry big batches of your harvest for later consumption. Since dehydrated food has a longer shelf life, you will be able to preserve what's cheap and in season. Dried foods are also healthy and flavorful so those come as an added bonus.
If you want to get the best food dehydrator, we will tell you more about which brands or products to check and what factors to consider when buying.
Best Commercial Food Dehydrator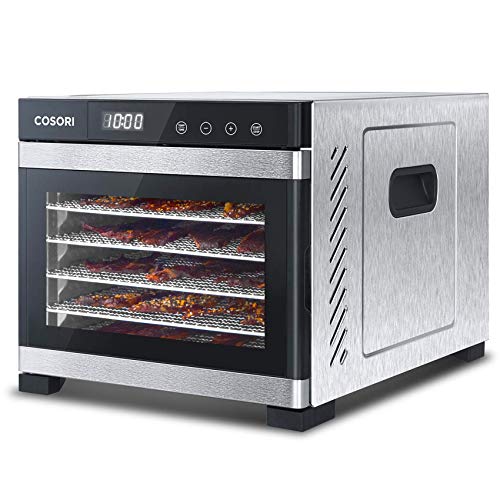 When we saw this product, we thought that it is one of the best food dehydrators in terms of overall construction and features. Made with food-grade stainless steel with a glass front door, it is very tough and durable. It comes with 6 stainless steel trays, a mesh screen and a fruit roll sheet.
This product is a great choice for commercial and home kitchens as it is pretty versatile. You can use it to make dried snacks, healthy beef jerkies, bread crumbs and fruit leathers with no preservatives. It works great for drying vegetables, herbs, flowers and meat without distorting the flavor.
The temperatures of the COSORI dehydrator are between 95 and 165 degrees Fahrenheit, while the time range is between 30 minutes and 48 hours. You can easily adjust the temperature and time with a push of a button. It has an auto shut off feature that will kick in right when the timer ends.
Another good thing about this 600-watt dehydrator is that it operates quietly unlike those noisy business dehydrators we know of. It produces 48 decibels of noise which is comparable to the noise in most libraries. This means that you can let your dehydrator work while you sleep.
Not only is this dehydrator easy to use, but it is also easy to clean. All the trays and liners are dishwasher safe.
Pros:
Push button operation is very convenient
Comes with 50 recipes for beginners
Easy to set up and clean
Can be used for meats
Remembers your previous settings
Quiet operation
48 hours time settings
Cons:
Not the best plastic sheets
---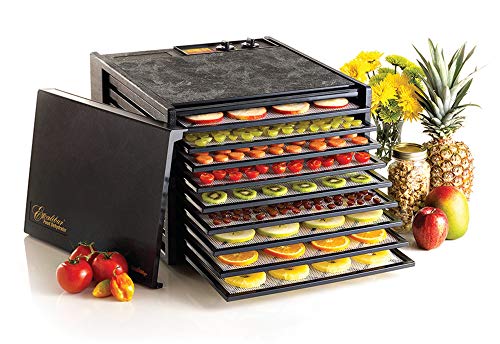 Excalibur is known for producing some of the best food dehydrators and this product is proof. It uses the company's patented hyperwave technology and horizontal parallyx, allowing this heating element to remove water from food while maintaining an efficient airflow. It comes with a fan for improved circulation.
Measuring 19 x 17 x 12.5 inches, this dehydrator comes with 9 trays and with a total of 15 square feet of drying space. It's quite sizeable, you can imagine how much goodies you can put in it to dry. It works great not just for fresh fruit recipes and vegetables but also for meat, so yes you can use it to make beef jerky at home.
Going down to its temperature settings, it allows for a 26-hour timer and an adjustable thermostat with a temperature range of 105 to 165 degrees Fahrenheit. A low-drying temperature between 105 and 108 degrees preserves the nutritional value and enzymes in food, so it's great that this dehydrator has such a low temperature setting.
Moreover, this 440-watt dehydrator is easy to use and it already comes with the accessories that you'll need to start drying. The glass door also allows you a full view of the food you are drying.
Pros:
With 10 years limited warranty
With a large capacity for drying a big batch of foods
Patented technology allows for better air circulation
Designed for fruits, herbs, vegetables and meats
Cons:
Time control is only up to 26 hours
---
Also considered as among the best and safe food dehydrators, the Magic Mill comes with many outstanding features.
One of the notable features of this dehydrator is its rear-mounted fan which allows for efficient heat distribution and more even drying. This means that you don't need to rotate the shelves to dry the food evenly as required by many food dehydrators.
This food dehydrator has 6.5 square feet of drying space, divided among its 7 stainless steel trays with the whole unit measuring 15 x 13.5 x 19 inches. It is ideal for drying meat, fruit, herb, vegetable and even nuts and beef jerky. It already comes with the needed accessory for drying those sorts of food. There are so many food recipes you can make with this tool.
The overall construction of this 7 tray food dehydrator is also on par with other heavy-duty food dehydrators. It is fitted with a digital thermostat and timer which will automatically shut off the dehydrator when the timer is done. The stainless steel used in its construction is food grade and the racks are BPA-free. The trays are also dishwasher safe so they are easy to clean. Additionally, it has an overheat protection safety feature that will activate if the dehydrator overheats.
Pros:
With overheat protection
Comes with fruit roll ups
Allows for even drying
Also works for drying meat
Cons:
Can be difficult to contact their customer service for any issue or if you want to purchase additional trays
---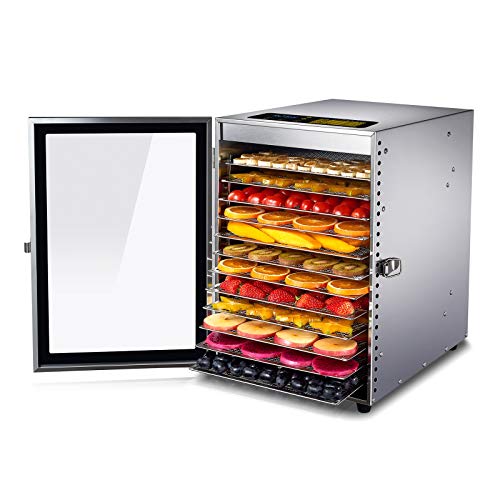 If you are looking for a dehydrator that is much larger in capacity than the first three food dehydrators we have mentioned, then this product is a perfect fit. It comes with 12 stainless steel trays with the entire unit measuring 16.5 x 12.4 x 17.7 inches. It is perfect for business use or for large kitchens.
The Colzer food dehydrator is a versatile kitchen tool that allows you to make fruit leather, beef jerky and many other sorts of dried foods including fruit, vegetable, flower and herb recipes. The best thing about it is it retains the flavor and essential vitamins and minerals in them. Imagine making your own healthy kale chips or meat jerky for your family! You can set the temperature from 68 to 194 degrees Fahrenheit which is the ideal temperature for healthy drying. For your convenience, you can set the timer up to 24 hours.
Moreover, this dehydrator comes with two important safety features. One is the automatic shutdown function and the other is the overheat protection function. These features ensure that your unit will not overheat and that you get optimum results.
If you plan to use this 12 tray food dehydrator overnight, no worries as it will work silently without disrupting your sleep. Its noise level is below 50 decibels.
Pros:
Large capacity
Silent operation
Great safety features
Works for fruits, herbs, vegetables and meat jerky
Cons:
Maximum timer setting is only 24 hours when other units can go beyond this
On the expensive side
---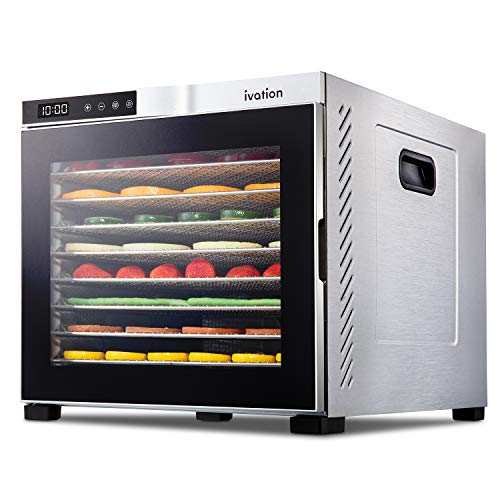 Looking for a multiple tray heavy-duty dryer to make jerky beef? The Ivation 10 dehydrator models might be a perfect choice for you. The dehydrator has a stainless steel body and trays which are sturdy and durable. All parts are BPA-free and safe for food. And since it is designed for business use, it will not easily give in to frequent use and abuse.
This food dehydrator comes with six trays with a tray size of 15.6 x 15.6 square inches. With this size, you have more space to preserve all your favorite healthy treats with no preservatives, including vegetable chips and beef jerky. You can also remove a tray or two if you want to make room for thicker slices.
When it comes to operation, this heating element operates on 1,000 watts of power and it comes with a rear-mounted fan to keep warm air circulated, producing evenly dried foods. The temperature control allows you to adjust from 95 to 167 degrees Fahrenheit and for up to 24 hours.
Pros:
With rear fan for even heating
Spacious
Easy to clean
Versatile as you can use it to dry fruits, vegetables and meats
Cons:
Maximum temperature is only 167 degrees when other dehydrators can go higher
---
Tips in Choosing the Best Food Dehydrator
Comparing commercial food dehydrators is not an easy task especially if it's your first time buying this kind of kitchen tool. When checking your options for commercial dehydrators, there are certain factors that you need to check and consider before you make a decision.
Size
The size of the dehydrator matters especially that it affects how much you can dry at a time. Commercial dehydrators can have 5 or more trays and range in space area from 60 square feet or more. Larger-capacity food dehydrators can save you time if you have big batches of food to dry but these units are a bit expensive and will take up much space in your kitchen. On the other hand, units with smaller drying area are more ideal for beginners, small kitchens or small businesses.
Temperature Controls
Temperature affects the drying process so it's important to check the minimum and maximum temperatures that a dehydrator can achieve.
Even heating
To ensure getting consistent and even heating, look for a unit with a bigger space in between the racks. Also, check for food dehydrators with a fan/fans as this feature helps dry the food evenly.
Time Control
If you intend to frequently slow dry food for more than 24 hours, look for food dehydrators with more than 24 hours of time control. Most of the commercial dehydrators already come with an auto-shutoff feature when the time is up.
Safety Feature
Some commercial dehydrators have a reliable safety feature that prevents overheating, and this is one good feature to look for.
Conclusion
All the commercial food dehydrators we listed above are top-of-the-line dehydrators in the market. They are well designed and constructed to make the food drying process easier and more convenient. They preserve the flavor and essential nutrients in foods while increasing their shelf life.
The one unit that stands out for us is the COSORI Premium Food Dehydrator Machine. This premium dehydrator is solid and well designed. It also has the longest time settings available, allowing you to set the timer for up to 48 hours.
If you want a much bigger capacity dehydrator, the Colzer Food Dehydrator 12 Stainless Steel Trays is a great choice. Its safety features are also dependable.
Commercial dehydrators aren't cheap so make sure to carefully check the features before checking out.
* If you buy through links on our site, we may earn an affiliate commission. For more details, please visit our Privacy policy page.