If you are looking to store some perfectly cooked rice, try our best microwave rice cooker recommendations on this post.
* If you buy through links on our site, we may earn an affiliate commission. For more details, please visit our Privacy policy page.
What Does a Microwave Rice Cooker Do?
Microwave isn't just about re-heating food, but they can also cook food, like rice in general. Microwave rice cookers are special plastic containers designed specifically with the purpose of cooking rice in the microwave.
Using a microwave rice cooker would prevent overcooking of the rice and it can cook rice in about half the time that it normally takes. Using these microwave rice cookers are also recommended if your kitchen space isn't too big as they won't consume that much space.
This would make a microwave rice cooker a good alternative to an electric rice cooker. Aside from rice, microwave rice cookers can also cook couscous, quinoa and other grains.
What Are The Best Microwave Rice Cooker
It might be hard to look for the best microwave rice cooker on your own. But there's no need to worry as we will help you find a microwave rice cooker that can provide you with perfectly cooked rice. Read further to know about these microwave rice cookers more.
This microwave rice cooker is suited for all types of rice. It will not only cook your favorite grain, but it can also reheat it in case you will need some warm rice for your meal.
If you want to have a rice cooker large enough to cook for the whole family and can make up to 8 cups of rice, then this microwave rice cooker is for you. It has a locking lid that prevents mess and spills for a cleaner cooking rice.
Aside from the locking lid that secures tightly and prevents spills and messes while preparing your food, this microwave rice cooker is also multipurpose. It includes some of the best features like a Pasta Draining insert, Vegetable Steaming insert, Measuring Cups and measuring Spoons.
Prep Solutions by Progressive Microwaveable rice cooker can be used in steaming vegetables, cooking pasta and other shaped pasta noodles. What's good with this microwave rice cooker is that it is dishwasher safe and BPA-free.
You can purchase Prep Solutions (Progressive Microwavable Rice Cooker) and add it to your microwave collection rice cooker by clicking here.
---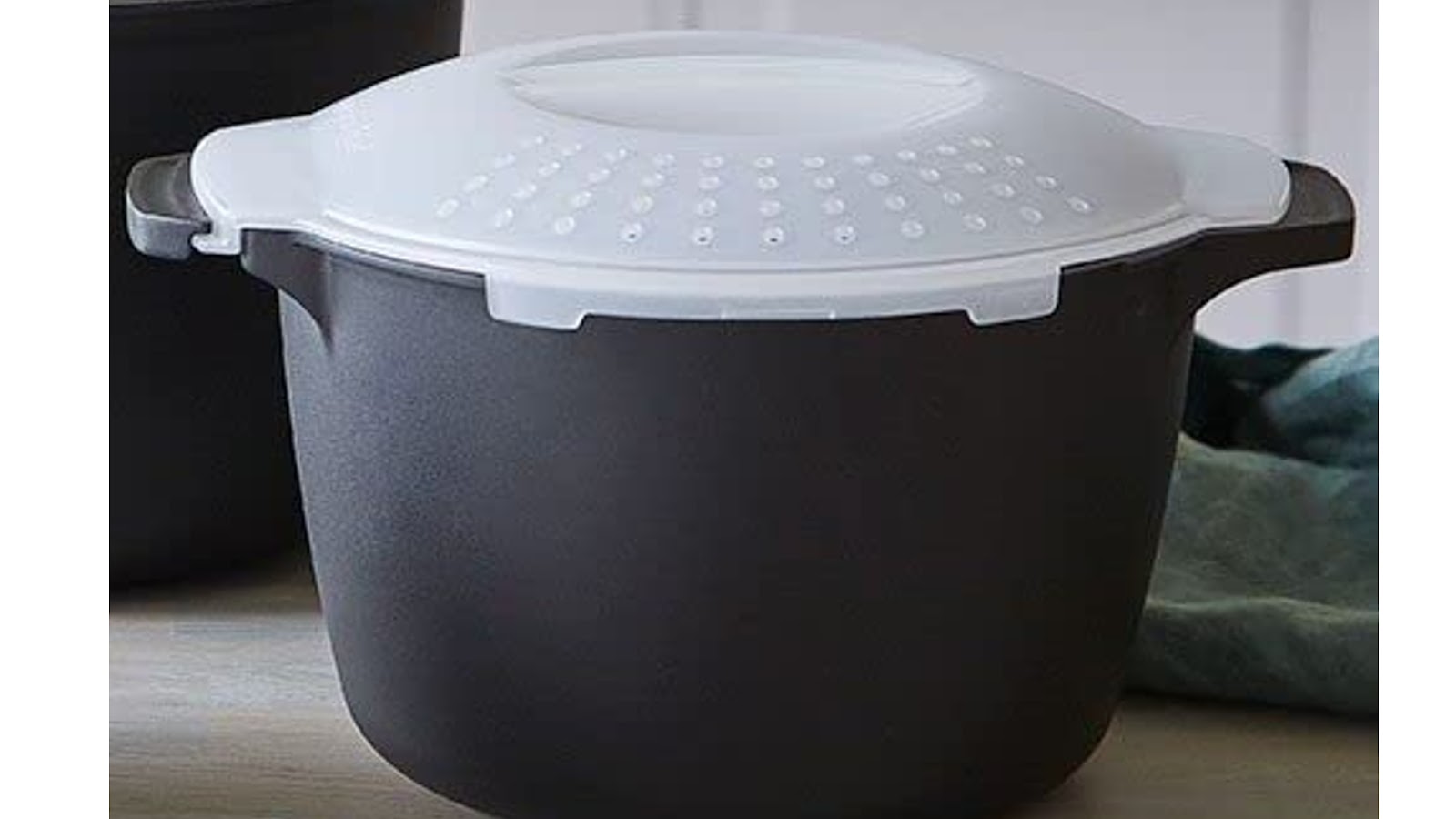 Minimalist people would love this simple, streamlined and simple layout of the Pampered Chef Microwave Rice Cooker. It comes with a cooking pot that you can fill with raw rice and a locking lid with two different hole sizes to drain liquids.
Though it is designed to hold up to eight cups of cooked rice, you can always experiment by adding vegetables, legumes, and other things to the pot if you are cooking small portions of rice.
It is also perfectly designed to steam vegetables, cook pasta and other noodles. Expect some good results once you master the way of cooking fluffy rice in this one of the best microwave rice cookers. It is also dishwasher safe and BPA-free, just like the other microwave rice cooker.
You can check and buy the Pampered Chef Large Microwave Rice Cooker by clicking here.
---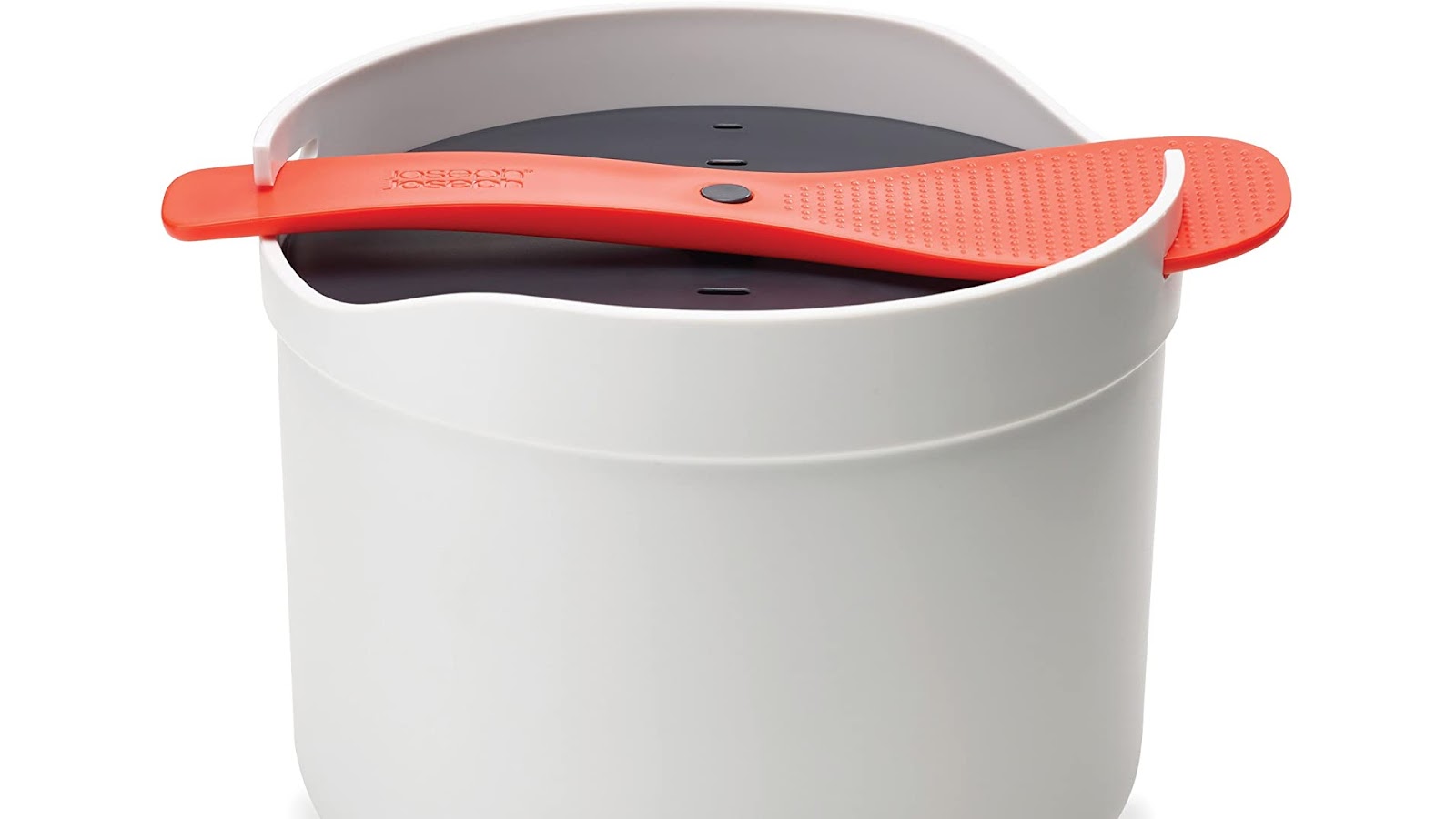 Measure, wash, cook and serve perfectly fluffy rice and grains in this amazing microwave rice cooker. Unlike the traditional rice cookers, the Joseph Joseph 45002 M-Cuisine stands out as it includes a selection of things designed for the user's convenience.
Upon purchase of this amazing microwave rice cooker, you'll be greeted with a cooking pot, lid, measuring cup, rice paddle, and colander. The rice paddle isn't for "just rice" purposes as it is also used to lock the pot lid whilst providing two convenient carrying handles.
If you are looking for some dishwasher safe and BPA-free microwave rice cookers, consider getting the Joseph Joseph 45002 M-Cuisine by clicking here.
---
Part of the Sistema Microwave Collection rice cookers, the Sistema BPA-Free Rice Cooker is the perfect microwave container set for cooking rice, couscous, polenta and more. You won't need a quinoa cooker as this can do the job perfectly.
Not only that, it can also be used for reheating meals and storing leftovers.You will also be amazed at how much rice you can cook in this 2.6L Rice Cooker. It is like a pressure cooker as it features a pressure chamber plate to ensure rice stays moist and fluffy.
Using this sistema microwave collection rice cooker is also very easy, simply add rice and water, then close the easy-locking clips. Creating rice that is perfectly cooked will be an easy task to do.
Splatter-free cooking and reheating is also achievable through its microwave Round container that has a steam release vent in the lid. The easy-lift tabs on the lids would also make transfers from microwave to table simple.
As the name of this microwave rice cooker, it is absolutely phthalate and BPA-free plastic. Other features include top rack dishwasher-safe, fridge and freezer-safe and microwave-safe with vent open.
You can buy the Sistema BPA-Free Rice Cooker and add it to your sistema Microwave Collection rice cookers by clicking here.
---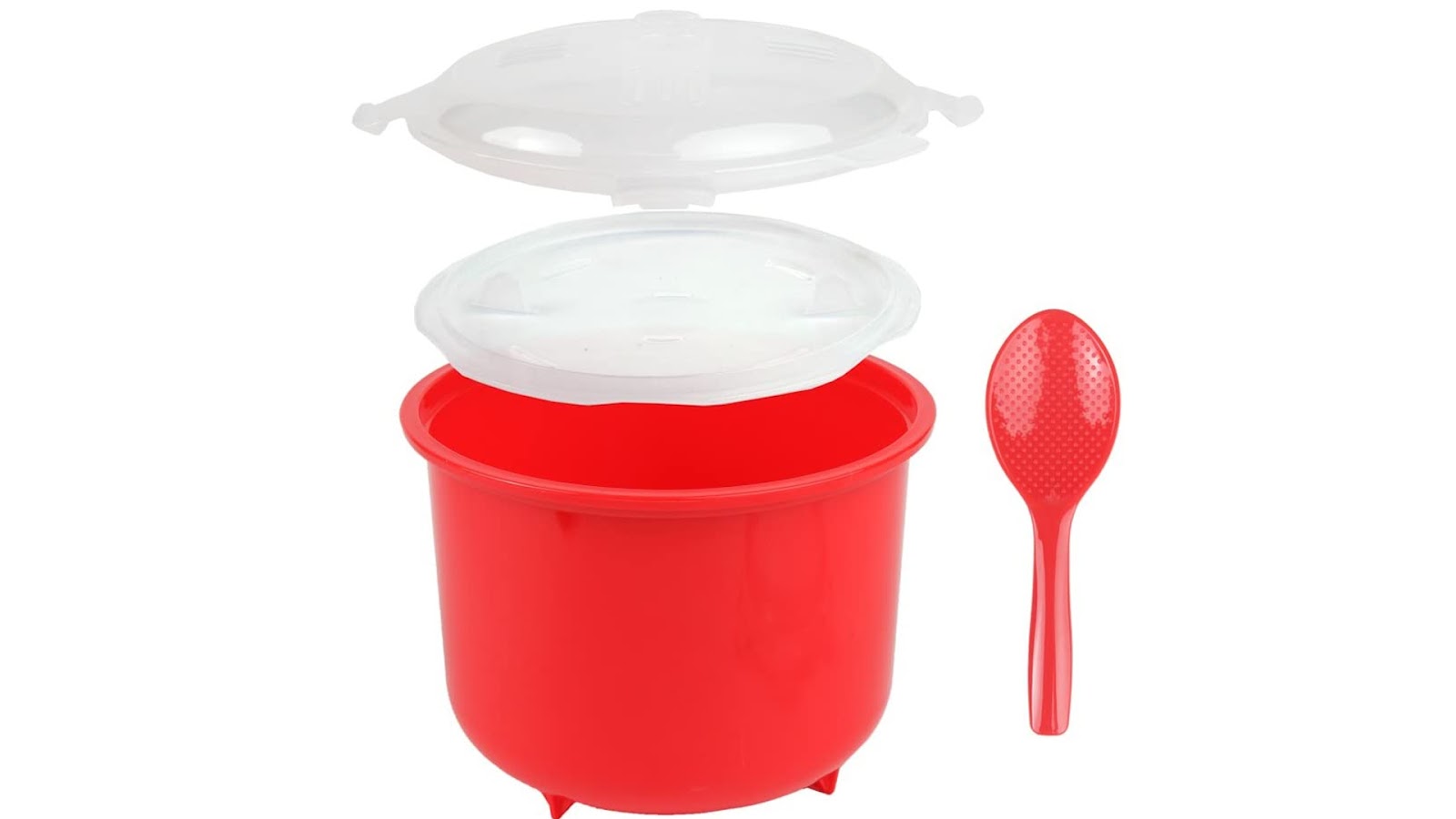 Choosing the best microwave rice cooker is really a tough decision to make. But you might be looking at one of the best microwave rice cookers in the market through Home-X – Microwave Rice Cooker.
This is BPA-free, easy-to-use, low mess and rice steamer that can provide the perfection you need for your rice. Cooking and reheating are one of the main features of this microwave rice cooker.
The pressure chamber steams rice like a classic electric cooker to provide perfect fluffy rice every time. Splatter-free heating and cooking is provided by the built-in steam release vents in the lid.
This microwave rice cooker has a 10 cup capacity and includes rice paddle that you can use for serving. Aside from being microwave-safe, the container is also fridge and freezer safe. This microwave rice cooker is very easy to use as well.
Just add rice and water according to directions. Place inner and out lids on top, and microwave for about 15 mins. Don't worry about uneven cooking as the inner lid pressure chamber lets steam escape slowly to ensure even cooking and fluffy rice.
Just buy the Home-X – Microwave Rice Cooker by clicking here.
---
The Lekue rice cooker is an all-rounder that can cook grains of all sizes and rice of any kind within minutes in the microwave at the easiest and cleanest way possible. It is also specifically designed to prevent water from overflowing in the microwave while cooking.
Its simple, practical and highly attractive design allows this microwave rice cooker to be placed in any parts of your kitchen. The colander works perfectly to drain the water from quinoa and other small grains. Aside from that, you can use this microwave rice cooker to a wide variety of other grains including couscous, wheat, barley, oats, buckwheat, etc.
Other great features of the Lekue is that it is dishwasher safe, plus it is made in BPA free plastic and 100% platinum silicone. You can purchase it by clicking here.
---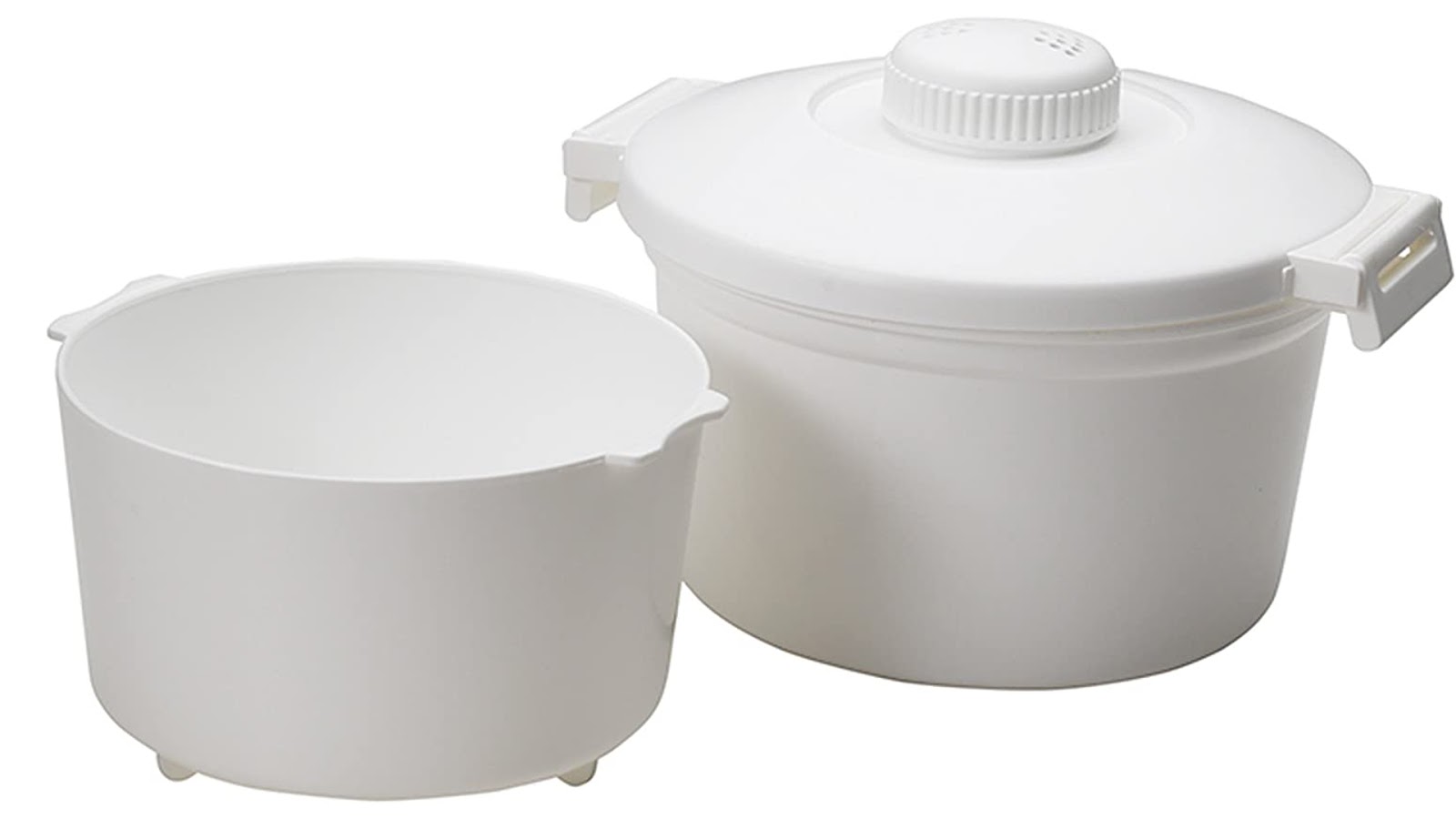 They say simplicity is beauty, and that's what Nordicware Rice Cooker is going to deliver. Aside from its simple form, this rice cooker can cook your rice within a few minutes. So if you want faster results without compromising the quality, this rice cooker is what you need.
Aside from cooking rice, cooking vegetables and pasta can also be performed using this rice cooker. You can also sit in 8 cups of rice in this rice cooker, and that would make a great feature if you are serving large families.
You also don't need to worry when it comes to handling this rice cooker as the BPA-free vinyl includes a cool-to-touch grip. To get simple and fast cooked rice, buy this rice cooker by clicking here.
---
Things to Consider Before Getting A Microwave Rice Cooker
Having the best microwave rice cooker can be achieved if you will be able to find some of the qualities needed for that.
First, you must consider its capacity. It is important to know how many people you are going to serve on a daily basis. That would allow you to select the right rice cooker capacity. If there are unexpected people that might come over to your house, it might be a great idea to get those rice cookers with greater capacity.
Then you will have to check the locking lid of the rice cooker. This is one of the valuable aspects that you should be checking prior to purchasing one. Having a lockable lid eliminates the clutter and clogs while cooking. Aside from being able to lock, the lids should also have little holes to allow the steam to go out from the pot during cooking.
Though the main purpose of having these rice cookers is to cook rice, you might also want to consider checking for its versatility. Not all the time that you will only just cook rice in the container, but having the option to cook other stuff such as vegetables would be great. There are few alternatives that offer a vegetable steamer.
Being able to use the rice cooker for a long period of time would be great. That means you are able to see your money's worth and take advantage of the utensil. It is very important to check the brand's quality for durability before purchasing a microwave rice maker.
Lastly, using a rice cooker shouldn't take so much sweat out of your body. In the first place, they are designed to cook rice more conveniently. Look for those brands that offer easy-to-use features and those that include manuals for cooking rice.
Having said that, there are many options that you can still find out in the market. You'll just need to be keen with the details prior to purchasing some of the best microwave rice cookers. If you are going to do so, please consider purchasing the items listed on this post.
* If you buy through links on our site, we may earn an affiliate commission. For more details, please visit our Privacy policy page.