Having the best rice dispensers in 2023 is crucial especially if eating rice is a usual part of your meal. When you have a rice dispenser, you don't have to worry about where to store rice. No more plastic bags of rice lying around in your house. You don't even have to put up with pests and moisture ruining the freshness of your rice.
* If you buy through links on our site, we may earn an affiliate commission. For more details, please visit our Privacy policy page.
The convenience you get from the best rice dispenser makes you realize that you can't live without them. Okay, perhaps, there's a little exaggeration in that, but you can't deny the fact that rice dispensers make your life as a rice-eater way better.
That's why, if you are looking to replace your old rice dispenser or you finally decided to get a new one, you will love our list.
In this post, we have rounded up some of the top rice dispensers you should get in 2023.
Best Rice Dispensers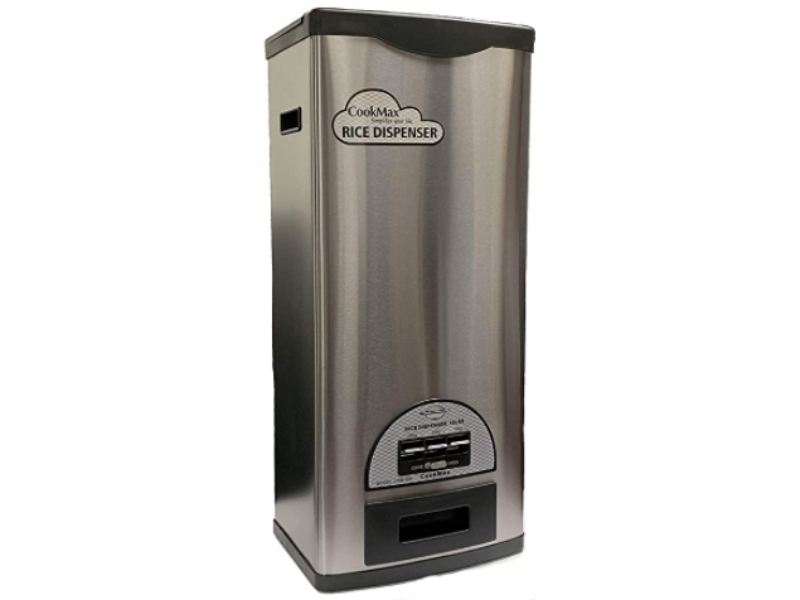 One of the things you don't want to happen is having dirty rice. To prevent this, you would love to get the rice dispenser from CookMax.
The design looks sleek and classy. It can perfectly fit your kitchen's interior design.
Description
Made with stainless steel, it is easy to clean and holds a lot of weight. This rice dispenser can hold up to 50 kilos of rice.
There are three buttons to choose from if you want to dispense rice. You can dispense 1 cup, 2 cups, or 3 cups of rice. The rice comes out smoothly without any problem.
Aside from rice, you can store in the dispenser other types of small beans, grains, and other dry food. With a great funnel design, the dispenser effectively prevents clogging and ensures you get everything you need.
To prevent insects, bugs, and other materials from getting inside the dispenser, it comes with a closed-end design. You can easily place this dispenser on top of your kitchen counter or on the floor.
Buy it now on Amazon
---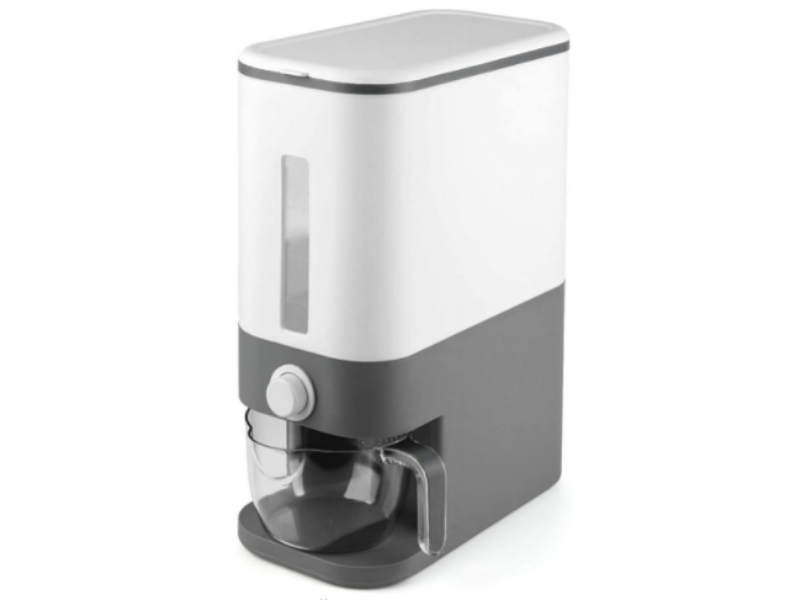 The U-miss rice dispenser comes with a great design that thousands of people have learned to love. Any rice-lover should have this dispenser because of how it can make life much easier.
Features
The features of U-miss rice dispenser are as follows:
Affordable
Made of food-grade plastic
Large capacity
Description
This rice dispenser can hold up to 25 lbs (11.3 kgs). So, it is perfect for singles or small- to medium-sized families. There's a cover on top to keep moisture out. There's also a transparent window in front of the dispenser for you to see how much rice you have left inside.
There are also anti-skid rubbers installed at the bottom of the dispenser to keep it stable. The one-touch dispense feature allows you to control how much rice you want to get.
To make things even easier for you, when you buy the U-miss rice dispenser, you'll also receive a measuring cup with a scale. This ensures that you get an accurate measurement of rice.
The dispenser is safe to use because it is made of BPA-free materials. What's more, it also comes with a wide application. This means that you can use it not just for rice, but also seeds, grains, cereals, oatmeal, and other dry goods.
Buy it now on Amazon
---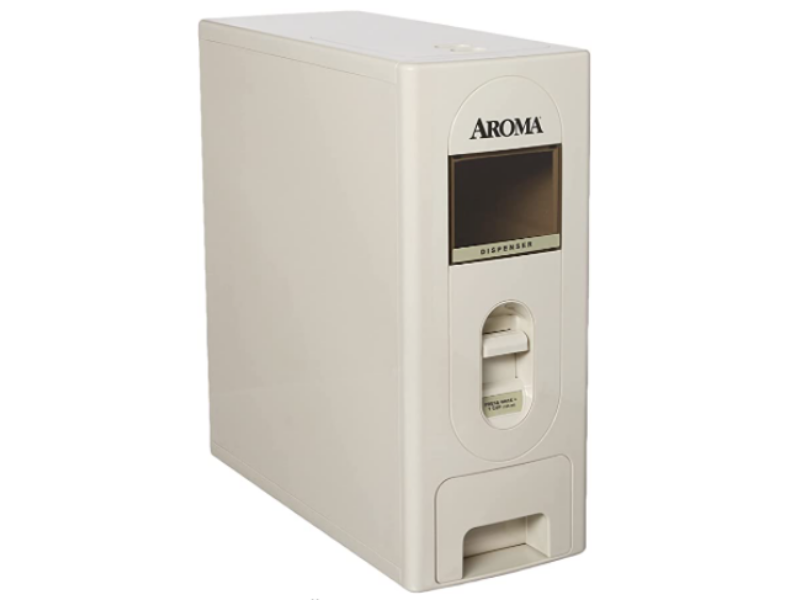 This best rice dispenser of Aroma is among the most popular products in the market today. With thousands of rice dispensers sold and many customers satisfied, Aroma ensures that you will also love their rice dispensers.
Features
Here are some important features to note:
Multi-functional
Easy dispensing process
Compact design
Description
The Aroma ARD-125 rice dispenser is a great storage tool for your rice. It will surely keep your rice fresh and dry.
Not only that but while this is primarily a rice dispenser, it can also serve as a storage area for other small, dried goods such as grains, beans, livestock feeds, dog food, and others.
The Aroma housewares ard 125 rice dispenser can accommodate as much as 22 pounds of load.
Dispensing the rice is no problem as well. With just a simple push of a button, you can effortlessly dispense rice. Not only that but thanks to the built-in automatic measuring system, you can accurately dispense one cup of rice each time you push the button.
Moreover, you don't have to worry about making a mess when you dispense your rice. There's the funnel dispensing design that ensures all the rice will smoothly flow to the container.
When you look at this rice dispenser, you immediately notice its compact and convenient design. It's small enough to fit your kitchen area but big enough to hold a lot of content.
Buy it now on Amazon
---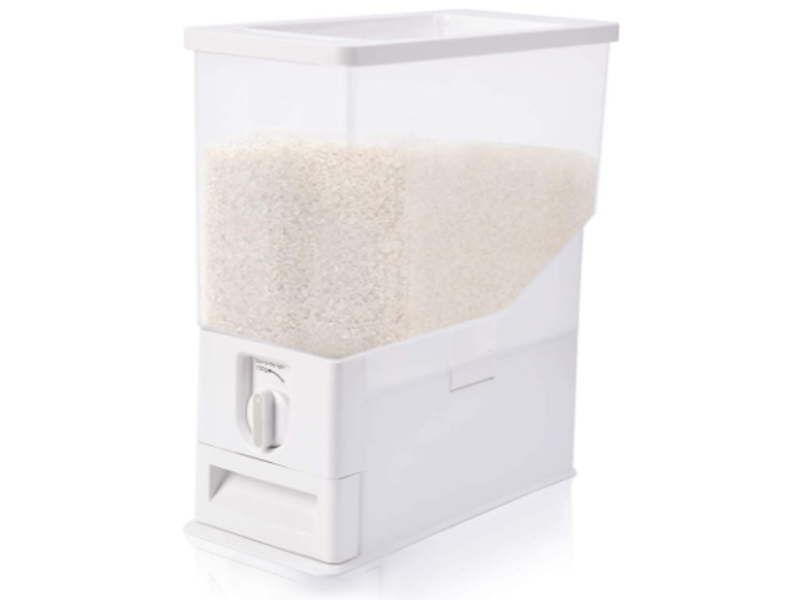 With a unique and intuitive design, the Panghuhu88 rice dispenser is a beauty to behold. If you want to keep your rice safe and visible, this one's for you.
Features
Here are some of the features of Panghuhu88 rice dispenser:
Large capacity
Intelligent design
Easy to use and dispense rice
Description
This best rice dispenser can hold up to 15 kilos (33 pounds) of rice, which is enough to hold rice for a small family in two weeks. The lock design seals in the rice while keeping moisture, dirt, and insects out.
There are two parts of the dispenser, the lower and upper body. The lower body has the dispensing mechanism and the pull-out design tray.
The upper body is quite unique. It is transparent on all sides for you to easily check the amount of rice left inside the dispenser. While the top cover can easily be removed, it is effective in keeping your rice dry and safe. The upper mouth of the dispenser, where the rice goes in, is big enough to ensure that you can easily add rice without spilling.
What's nice about this rice dispenser is that it has a cone-shaped funnel. It dispenses the old rice first before the new ones. This ensures that your rice stays fresh.
To dispense rice, you can simply rotate the button. The more you rotate, the more rice it will dispense.
Buy it now on Amazon
---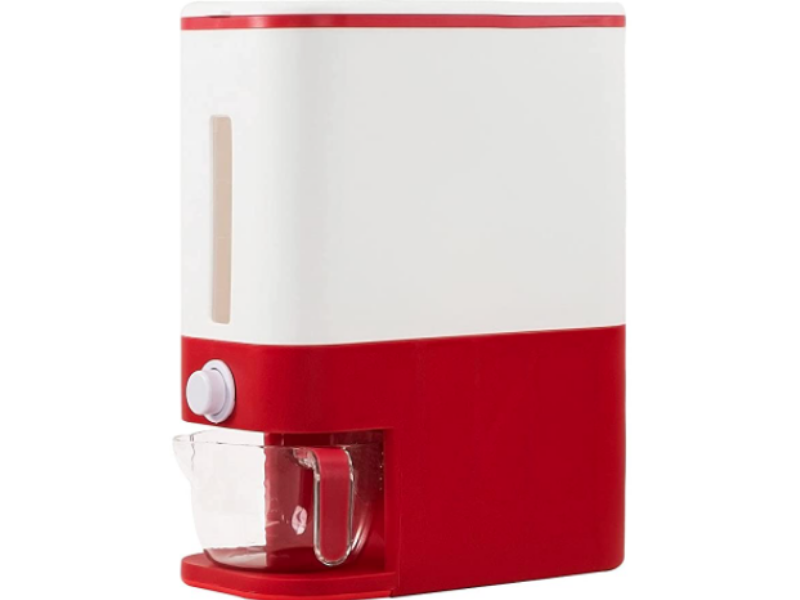 We all want our rice to stay fresh, clean, and accessible, right? If you agree, then you definitely need BBG's rice dispenser.
Features
Check out these features:
Available in three colors (red, blue, pink)
Made with high-quality materials
Easy and convenient to use
Description
While this best rice dispenser is made of plastic, you don't have to worry about its durability. It can withstand a lot of weight and use. Made with food-grade plastic and BPA-free materials, the dispenser should stay with you for a long time.
What's more interesting about this product is its air-tight seal. This means that your rice stays clean and dry. You don't have to worry about pest infestations as well.
When it comes to capacity, the BBG rice dispenser won't back down. It comes with 22.5 lbs (10 kgs) capacity. It can store not just rice but also flour, nuts, cereal, snack, beans, pet foods, and others.
Buy it now on Amazon
---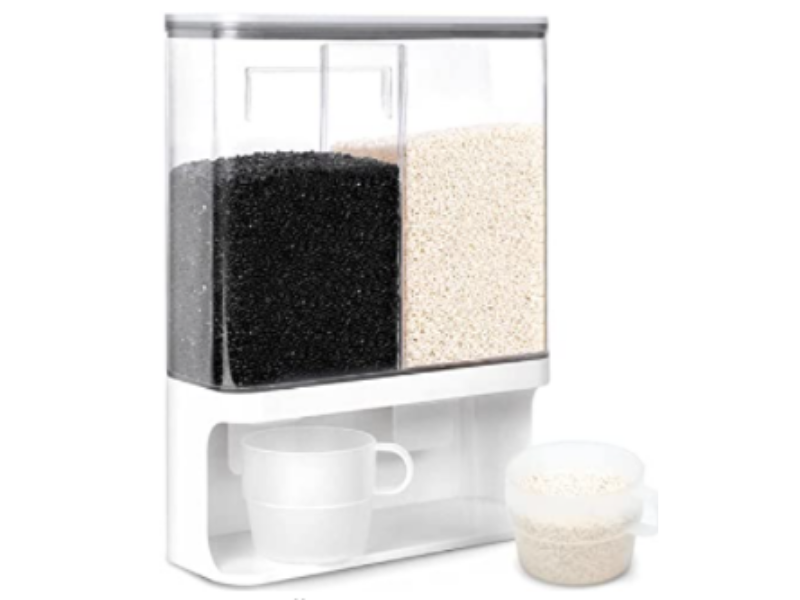 Are you the type of person who wants to keep things tidy, organized, and systematic? If yes, then this rice dispenser is for you.
Features
There are a lot of things you'll love about this dispenser. Here are some of them:
Wall-mounted or stands in one place
Save space
Sealed completely
Easy to assemble
Description
What's unique about this dispenser is it comes with two twin containers. They are placed side by side. This means that you can easily divide your rice grains, plan how much rice you need, and even simultaneously use the other container for other types of content.
As you can imagine, this dispenser can also hold other items such as mongo seeds, millet, wheat grains, pet food, beans, and even detergent powder and bath salt. You can store up to 3,000 ml of content.
The top cover is made with silicone material. This ensures that your content is properly sealed.
What's amazing about this product is it can be mounted on your wall. No more bending over just to dispense rice. Mounting it on eye level allows you to easily access rice, dispense, and cook.
Mounting the rice dispenser saves a lot of space. This makes the rice dispenser ideal in various settings such as in homes, coffee shops, breakfast bars, candy shops, and markets.
Conworld offers a 30-days product return service and six months of product exchange guarantee if there are factory defects or quality-related issues.
Buy it now on Amazon
---
If you want to infuse eastern style in your chosen rice dispenser, then you should give Taiz rice dispenser a try. It is a Japanese rice dispenser that can handle up to 25 lbs of rice.
Features
These are the features you should know:
Accurate dispensing of rice
Safe
Secure
Holds other types of grain
Description
The sealing cover of this dispenser is effective in preventing rice contamination. It keeps dust and water out of the container. There's also a transparent measuring window. This gives you an idea of how much rice is left.
With just a push or pull of a lever, you can easily dispense rice into the drawer. With a grove handle, you can effortlessly pull out the drawer and collect rice.
The rice dispenser can hold up to 12 kgs or 26.4 lbs. The narrow design of the dispenser makes it super easy to store while saving you space. You will also note how accurate it is in dispensing rice.
Buy it now on Amazon
---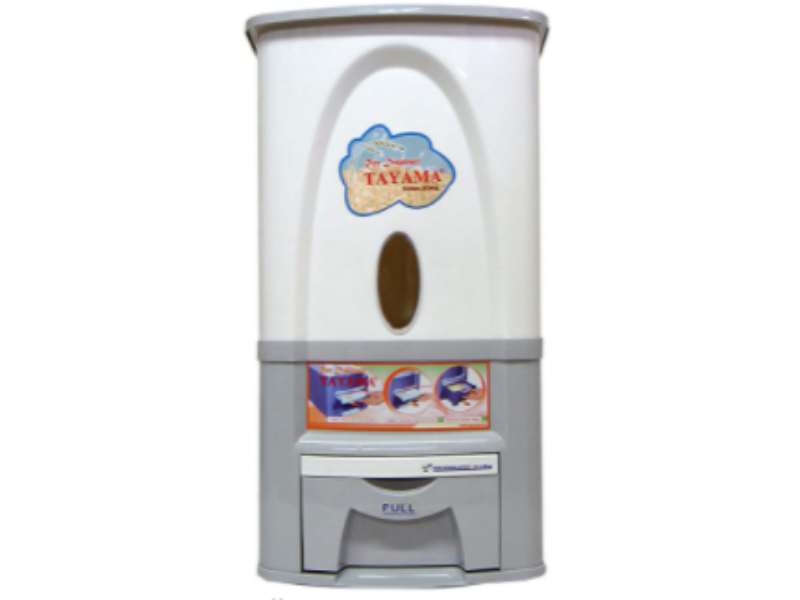 Tayama's rice dispenser is simple and yet fully functional. That's what people love about this dispenser. There are no unnecessary features that only make the product complex or more expensive.
Features
Here are some features to consider:
Description
The Tayama rice dispenser is an ideal option if you wish to store different types of dry foods and not just rice. With large storage, it can handle up to 55 pounds of content.
Because it can keep pests and rodents away, the rice dispenser makes storing and cooking rice easier. This tremendously gives you peace of mind knowing your rice is safe.
No more spills, mess, and spoiled food. The rice dispenser ensures you have a clean and safe kitchen for you, your family, and of course, your rice.
Buy it now on Amazon
---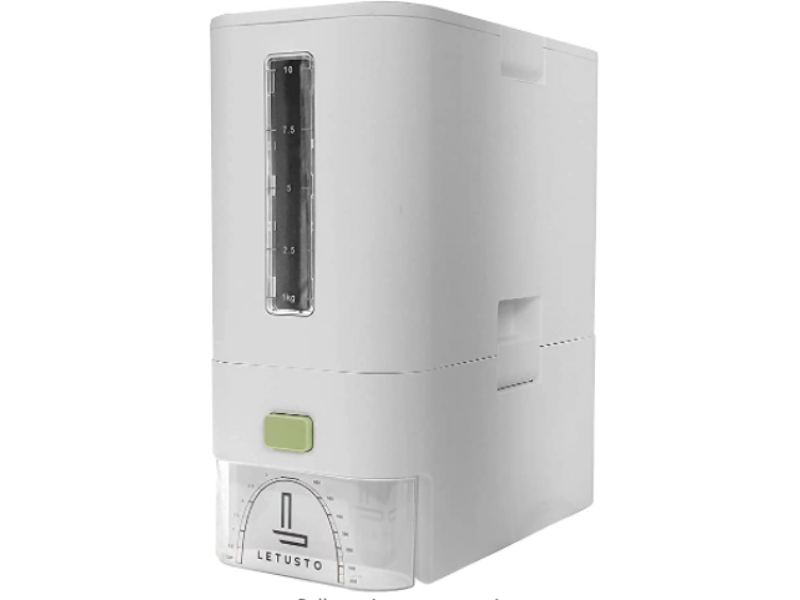 The Letusto rice dispenser is a highly rated and celebrated product because of its many features. It makes cooking and storing rice easy and convenient.
Features
Here are some features you need to take note of:
Made with BPA-free plastic materials
Airtight design
Compact size
Perfect partner of a rice cooker
Description
In the past, many plastic products were made with BPA or Bisphenol-A. Some products include plastic plates, baby bottles, storage containers, and cutlery.
Today, BPA is avoided because it is known to interfere with the proper function of the endocrine system, which can lead to hormonal imbalance.
That's why the manufacturers of Letusto rice dispensers ensure that their products are safe by not using BPA chemicals. This means that their rice dispenser should be a great choice if you want to stay healthy.
The airtight design of this rice dispenser is made possible by its double-sided lock buckle. This ensures that your rice avoids moisture and dust.
The maximum capacity of this rice dispenser is 26 lbs. You just have to shake the dispenser a little bit to maximize its capacity. The dispenser prevents rice from falling out and keeps your kitchen clean.
In front of the dispenser, you'll find a transparent window that gives you a clear view of how much rice you have left. You can easily dispense rice with just one push of a button. You can even set the amount of rice you want to get.
Buy it now on Amazon
---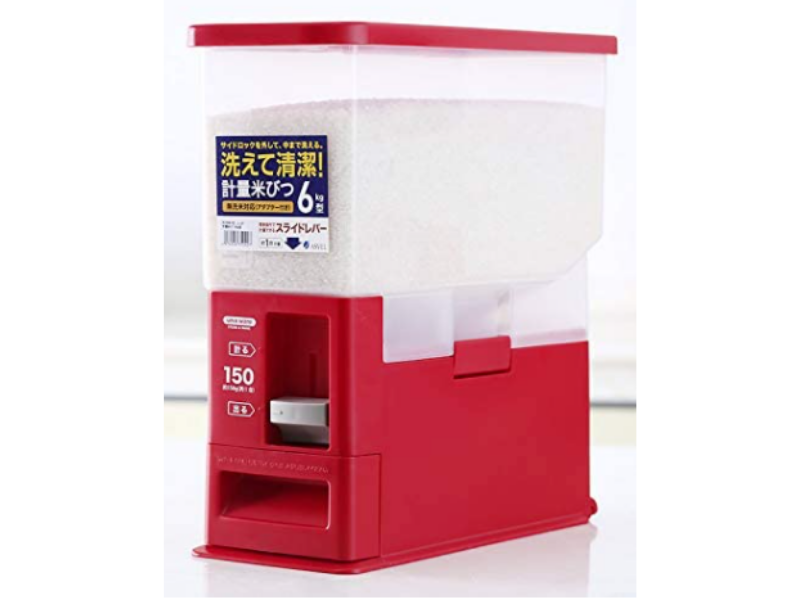 If you're looking for a simple but elegant-looking rice dispenser, this is it. The i Kito rice dispenser looks beautiful in your kitchen with its impressive red color.
Features
Here are some features you need to know about i Kito rice dispenser:
Easy to assemble
Transparent upper compartment
First-in first-out design
Airtight seal
Description
The dispenser comes in various different parts, which include the lid, rice container, and rice drawer. Because they are detachable, you can easily store this dispenser if you don't need it for a while or if you are moving to a new home.
The whole rice container is transparent. This gives you an accurate idea of how much rice you have left. Not only that but you will see how the rice slowly sinks down the funnel, something that can be entertaining as you get your needed rice.
The rice dispenser can hold up to 12 kgs (26.5 lbs) of rice. It also does automatic measuring dispenses that include 1 cup (15 grams) of rice each time you press the dispense button. The item dimension is 16.3 x 7.5 x 16 inches, making it a perfect fit for your kitchen.
The design of the dispenser is to ensure that the old rice gets eaten first. This means that you get nothing but fresh and delicious cooked rice on your table.
Buy it now on Amazon
---
Choose the right rice dispenser for you in 2023
There you have it; our list of the best 2022 rice dispensers. If you're having trouble choosing a rice dispenser and you get overwhelmed by many choices, here are a few things to consider:
Size – take into consideration how much space you can dedicate to your rice dispenser as it can affect your decision.
Rice consumption – if you're just an individual, getting a smaller rice dispenser makes sense. The bigger your family is, the bigger your rice dispenser should be.
Features – there are rice dispensers that serve not only just a dispenser but also a storage area for other items in your house.
Materials – there are rice dispensers that are made of plastic while others are made of stainless steel.
Ease of cleaning – the time will come that you need to clean your rice dispenser. So, be sure to choose the one that can easily be cleaned.
Overall design – rice dispensers come in various designs and colors. Imagine the rice dispenser and how it aesthetically fits in your kitchen.
Be sure to do your research. Explore your options. Weigh the pros and cons. By doing so, you'll surely find the right rice dispenser for you in 2023!
* If you buy through links on our site, we may earn an affiliate commission. For more details, please visit our Privacy policy page.