Coffee lovers out there might need to get the best commercial espresso machine to satisfy their coffee guilt. Not only that, those who are venturing into the coffee business should also look out for the best commercial espresso machines they can use.
Well, the first espresso machine surfaced in 1884 as it was built and patented by Angelo Moriondo of Turin, Italy during that year. Further innovations were made by Luigi Bezzera on April 28, 1903.
Commercial espresso machine was produced in 1905 after the founder of the La Pavoni company bought the patent. Milan is the first place to produce small scale espresso machines. Achille Gaggia introduced the semi-automatic machines and crema through his creation of spring piston lever equipment.
One of the reasons why coffee machines are a big thing in Europe is due to the big demand for coffee during the 19th century. As the coffee culture continues to evolve, so does the equipment needed to enhance their flavors.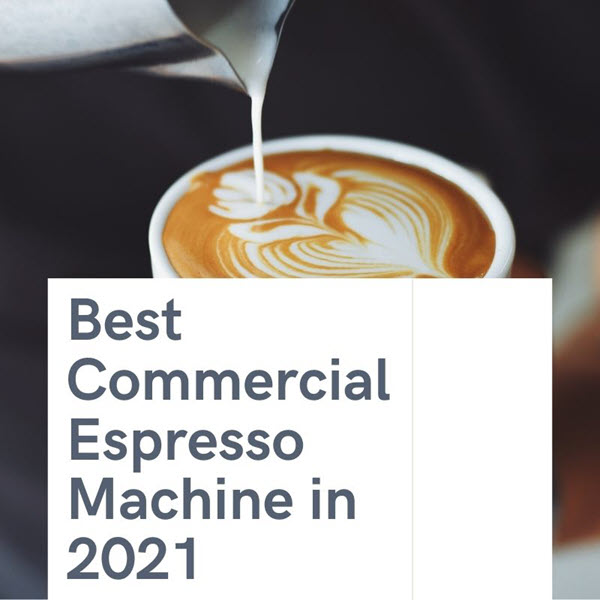 What Are The Best Commercial Espresso Machine in 2023
This time, we have compiled some of the best commercial espresso machines that you can buy out there. These machines are commonly used in different business establishments and restaurants. Check them out below.
If you are looking for an electronic programmable dosing espresso machine that comes with a digital control pad and microprocessor, La Pavoni Pub 1V-B is the answer.
Lots of coffee shops are using this modern commercial espresso machine for their business. One of its dazzling features is the four cups size selections including continuous brewing and a stop button.
It is also made with press-forged nickeled brass groups with a vertical infusion chamber and pressurisation system. The thermal stability to the coffee groups ensures a constant temperature and pre-infusion of the coffee grounds to get consistent, balanced shots of coffee.
This automatic espresso machine also comes with a water softener feature to improve the water quality. The hot water jet is controlled by Knob One steam hot water wands. Made in Italy, you can be confident that this is one of the best commercial espresso machines you can purchase.
Need to see more? Click here and you can buy it should you make up your mind.
---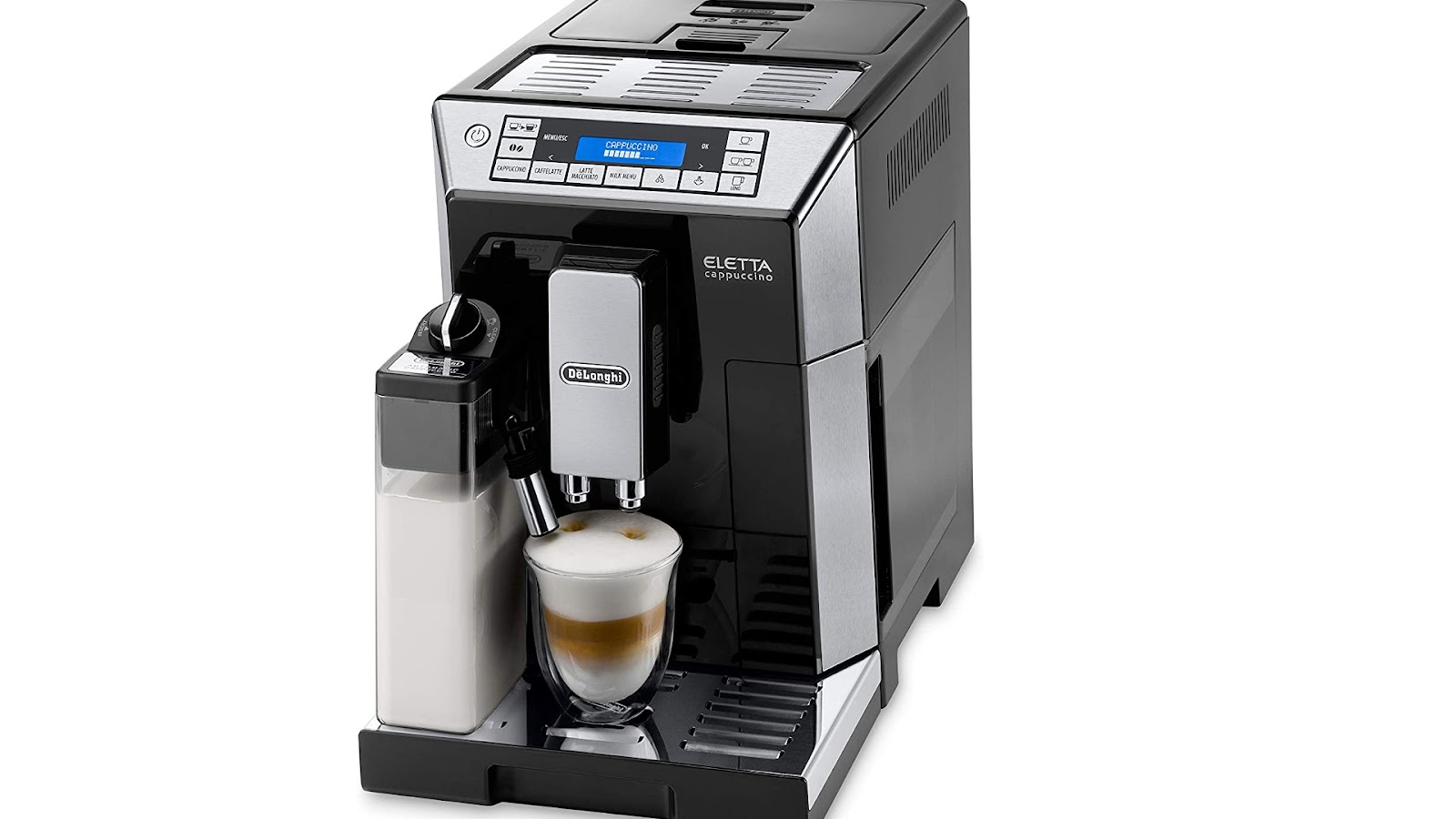 Starting your own little coffee shops? Check out this reliable commercial espresso machine that is good for small businesses.
Have that fresh espresso for every cup with the integrated burr grinder of De'Longhi Eletta coffee machine. It comes with an adjustable commercial setting that grinds fresh beans every time to ensure maximum freshness.
It also has a second chamber where you can put your choice of regular, specialty or decaf pre-ground. If you want perfectly layered Espresso beverages, with dense, rich, long-lasting foam in every cup from start to finish, the de'longhi lattecrema system won't disappoint you.
This automatic espresso machine would give consistent brewing for each cup as that is automatically brewed to the perfect temperature, richness and density. Coffee shops can definitely serve their customers according to their desired coffee choices or create a specialty coffee as the settings are customizable.
Unlike other commercial machines that would need extra time to clean, this sleek machine requires half the cleaning time, unlike other fully automatic machines, which would require the use of chemical cleaning tablets every month to clean them.
Considering how much space it would consume, this is best for coffee shops with limited space. The De'Longhi Eletta coffee machine is also very user-friendly, thanks to its one-touch intuitive display.
If you want to buy your own espresso equipment or home espresso machine, maybe for small coffee shops or restos, then click here.
---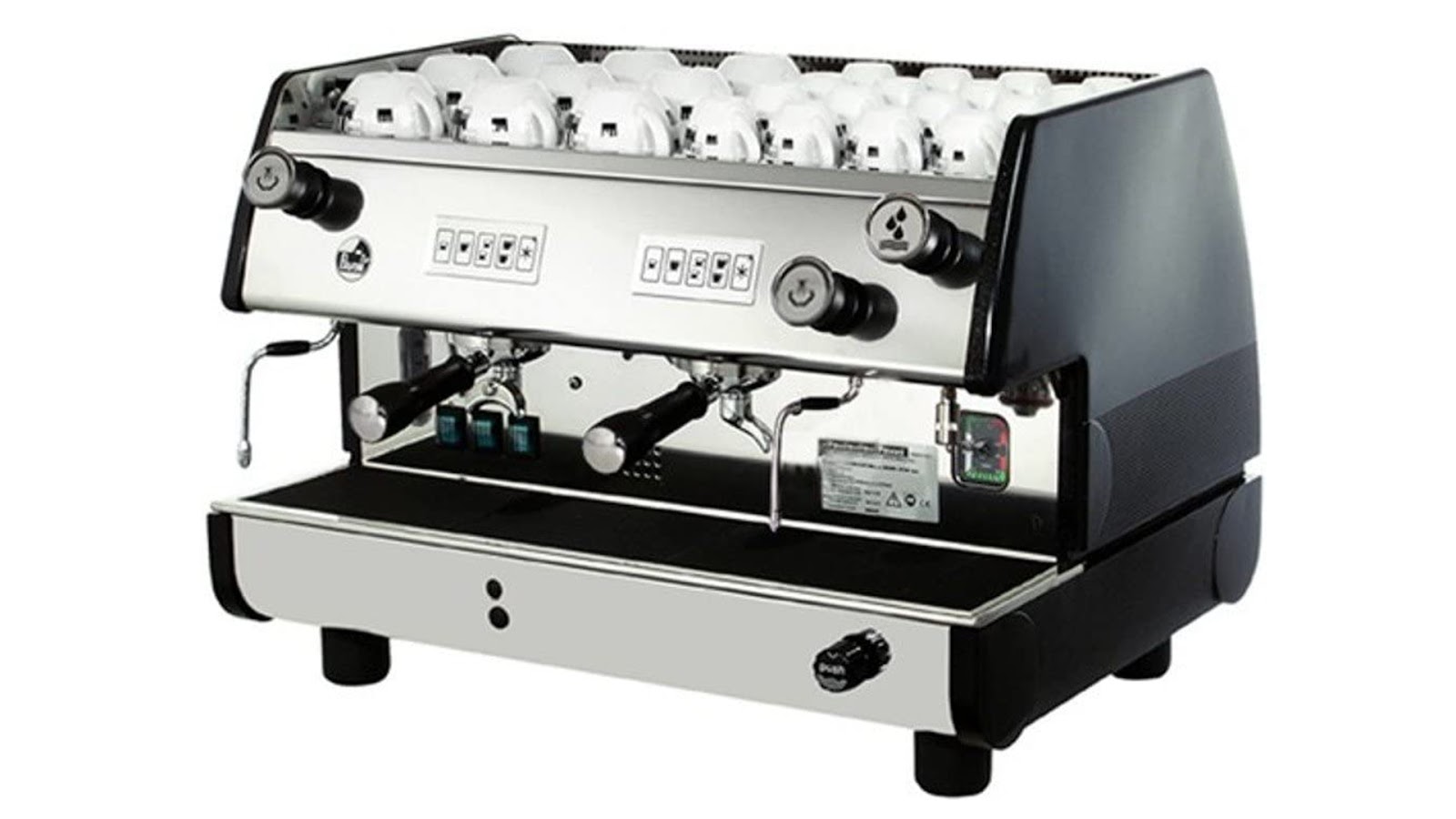 For those who are having a big coffee shop, the La Pavoni Bar T 2 Group is a must have. Considered as one of the best commercial machines for making delectable espresso, this one is made with press-forged brass and chrome plate. It also features a vertical infusion chamber and pressurization system.
If you are looking for super automatic machines with a heat exchange boiler feature, the La Pavoni BAR-T 2V-B won't disappoint. It has a boiler in copper equipped with transversal heat exchangers that offers front injectors for each group.
Safety should be a priority whenever handling fully automatic machines, that is why this espresso machine comes with electrical heating up with manual reset safety thermostat. It also has independent radiator hydraulic system for every group
Another promising feature that it offers would be the double scale gauge for pump and boiler pressure control and anti-vacuum valve. Don't worry if your espresso brewing might run out of water as it has water level control with sight glass.
Espresso service won't be as good if you don't have this very reliable automatic machine for commercial espresso, offering an electric Internal pump.
Are you interested in getting your hands on the right espresso machine for your busy coffee shops? Click here to buy it.
---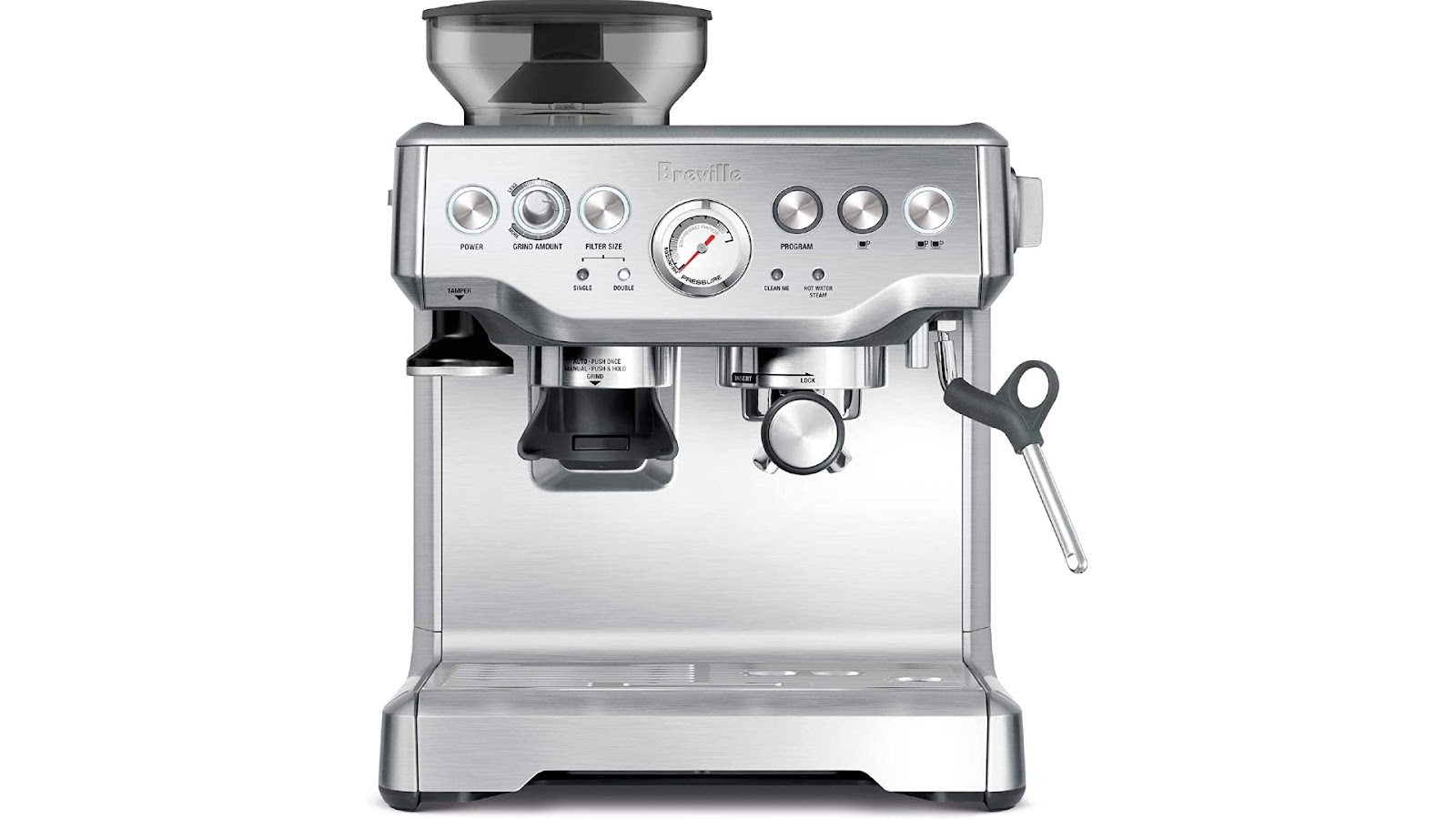 A coffee shop who is still starting in the coffee business should get a reliable espresso machine without breaking the bank. A good espresso machine to consider would be the Breville BES870XL Barista Express Espresso Machine.
This espresso machine delivers third wave specialty coffee at a coffee shop using the 4 keys formula. Guaranteed that your normal coffee drinks won't be just a drink. This is also part of the Barista Series that offers all in one espresso machines with integrated grinder to go from beans to espresso in under one minute.
Get the optimal water pressure through an infusion system of low pressure pre-infusion that gradually increases pressure at the start. This espresso machine has a smart water technology that ensures all the flavors are drawn out evenly during the extraction for that balanced tasting cup of coffee.
Getting the right water temperature is made easy through its digital temperature electric control. Milk frothing is done with its manual microfoam milk texturing system. It has a powerful steam wand performance that allows you to hand texture microfoam milk. Thus, you will enhance flavors of the milk and enable creation of latte art.
Dubbed as simple and intuitive, its espresso machine with grind size dial allows control over the grind size no matter what type of bean you're grinding. This espresso maker with built-in grinder will let you grind directly into the espresso portafilter for the perfect espresso extraction. It is truly one of those wonderful professional coffee machines.
Get your hands on this wonderful commercial espresso machine by clicking here.
---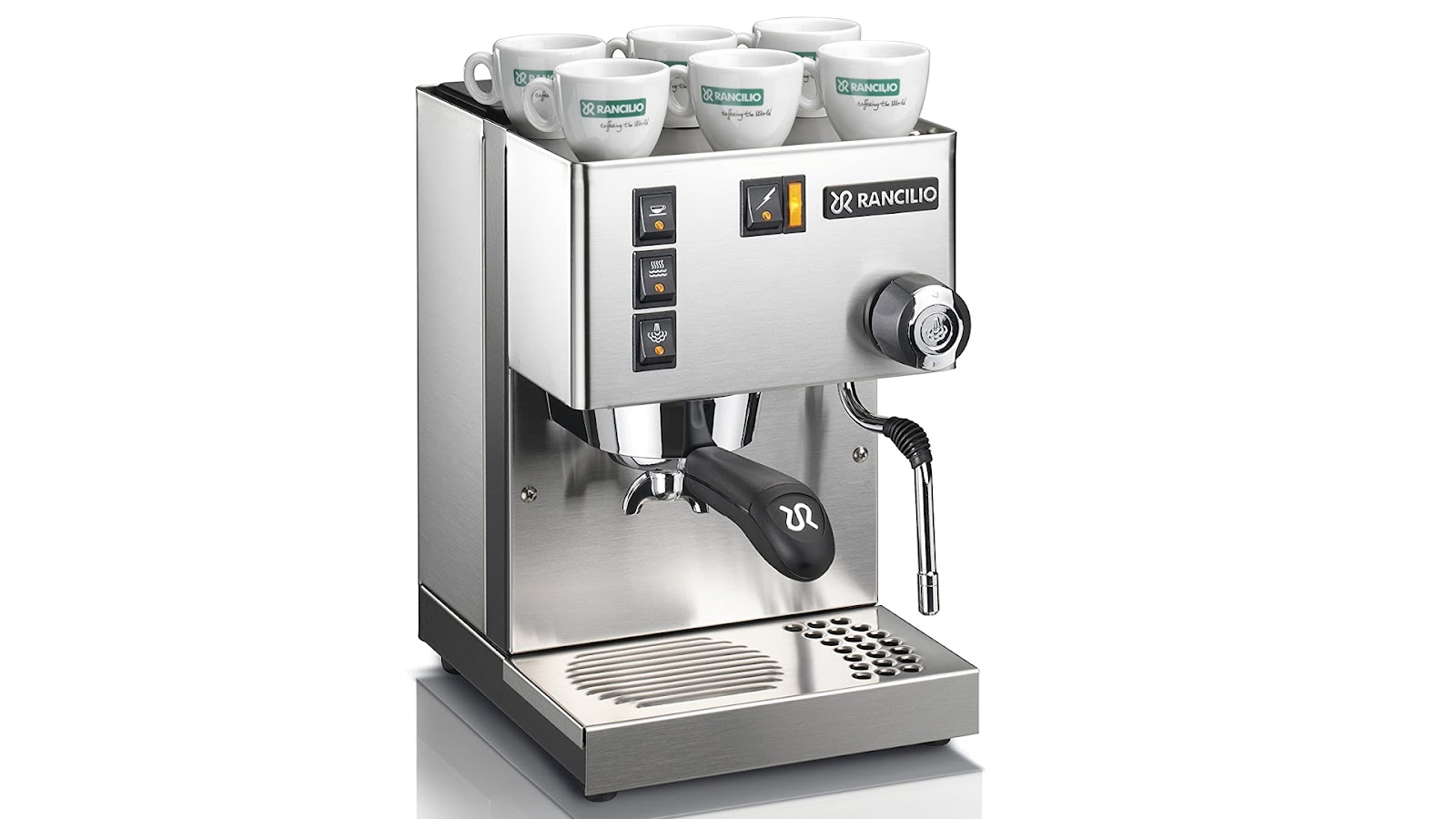 Getting the best commercial espresso machines could be very tricky. You will need to consider which one will offer the best value for your money, especially if you are just starting your coffee shop business.
The Rancilio Silvia Espresso Machine is one of those commercial espresso machines that offers the bang-for-your-buck. It has commercial grade group head for superb heat stability and extraction quality.
The proven design of Rancilio commercial machines, which is an ergonomic portafilter handle, is also present in the Rancilio Silvia Espresso Machine. The articulating steam wand feature offers a complete range of motion and the professional steaming knob precisely controls steaming pressure. Steaming milk is not a problem on this espresso machine.
You don't need to worry where to put this espresso machine as it has a classic linear design that fits most decors. User-friendly and easy to manage, this commercial espresso machine also has an optional pod and capsule adaptor kit available.
This is noted as a popular traditional style semi-automatic espresso machine available in the market today. Get it by clicking here.
---
When You Should Buy a Commercial Espresso Machine
Starting your own coffee shop could be exciting. But considering the different commercial espresso machines that you can use for your business is very stressful and tricky.
So before you purchase your very own commercial espresso machine, check out some guidelines that might help you out.
Well, you should consider the potential customers in the area. This should be part of your marketing study. Knowing the volume of people in a certain area is essential, as well as when this volume will surge. This will give you an idea on what kind of equipment you will get.
Knowing when the people will come into your coffee shop will provide you an idea if you will get a two-group commercial espresso machine or just the single one. The two-group commercial espresso machines could potentially produce 125 shots per hour or about 1000 in a day.
If you are seeing more people coming into your coffee shop, then check if you can afford the 3 or 4 group head heavy-duty commercial espresso machine cost. Those commercial espresso machines that don't have a built-in waterline need to be refilled. That is also one thing that needs to be checked.
Versatility of the commercial espresso machine should also be considered, especially in busy coffee shops. It is best to get those commercial espresso machines that have auto-frothing, hot water spouts, and other automatic features.
Get those commercial espresso machines that provide customizable settings for easy coffee brewing. Features such as temperature and volumetric controls are essential for coffee shop business, better invest on automatic espresso machines rather than a manual espresso machine.