A commercial ice maker makes it easy to get ice-cold beverages quickly. These appliances are ideal for restaurants, bars, and other establishments that serve cold drinks to customers.
* If you buy through links on our site, we may earn an affiliate commission. For more details, please visit our Privacy policy page.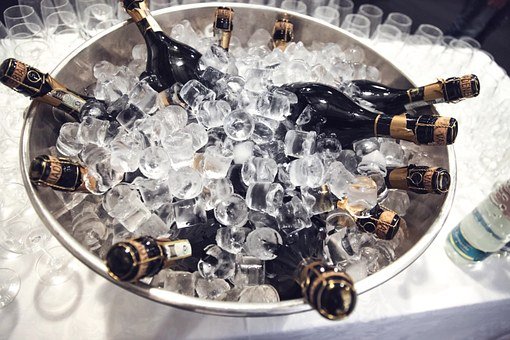 Commercial ice makers are highly efficient. Some models can make ice cubes in as fast as 10 minutes.
With the different brands and models available in the market, we know the real challenge when it comes to picking the rice commercial ice maker.
We have rounded up some of the best products in the market as well as identified the factors that you need to consider when comparing ice machines.
11 Best Commercial Ice Machines Reviews
VEVOR is an innovative brand that manufactures high-end tools and equipment, one of which is this 110V commercial ice machine.
This heavy-duty commercial-grade ice machine produces large quantities of ice, making it ideal for foodservice operations. If you own a convenience store and you want to sell cube ice, this is also the type of ice maker for that purpose.
The exterior of this ice machine is made of stainless steel. The interior comes with a thick food-grade PP injection liner that is sturdy and impact-resistant. It also has a thick layer of foam that works as an insulator. The combination of thick liner and insulator prevents the ice cube from melting fast. It holds ice for up to 7 hours.
Additionally, this cube ice maker has a production capacity of 400 lbs of ice /24 hours and a storing capacity of 350 lbs of ice.
This stainless steel ice machine has a powerful water filter that you can directly connect to the water lines. It converts tap water into clean and drinkable water and then into ice cubes.
Pros:
Large ice storage capacity
Cube ice stays longer
With intelligent LCD display for easy control
Does self-cleaning process with a push of a button
With ice cube thickness adjustment
Short ice-making time
Cons:
Measuring 35″ x 22″ x 67″ and 6 inches at the bottom, it needs a lot of floor space
Buy it now on Amazon
---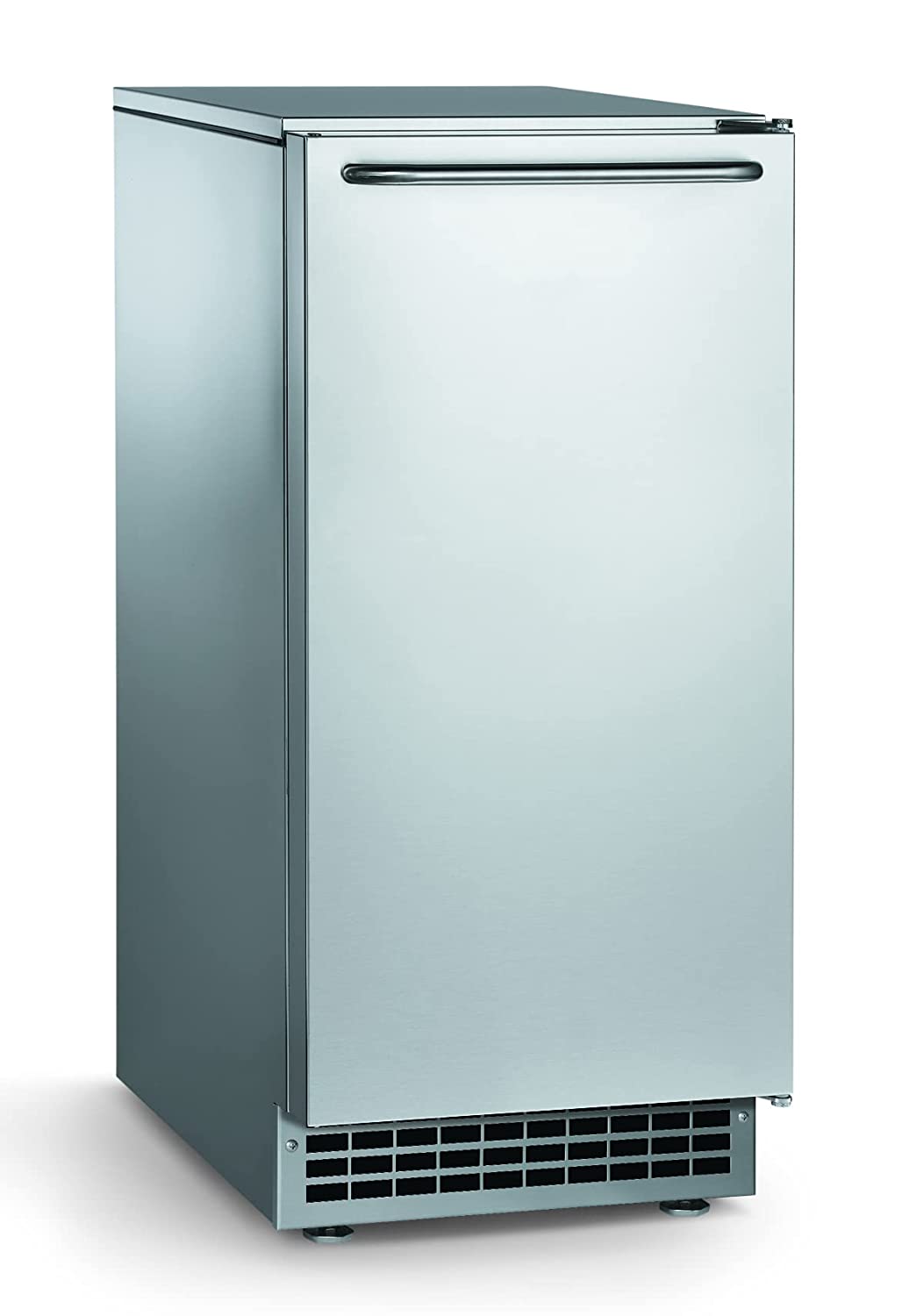 Undercounter ice machines such as the Scotsman CU50GA are ideal for those who have limited kitchen space.
This ice maker has a production capacity of 65 lbs of gourmet ice in 24 hours and storing capacity of 26 lbs of ice. Although its capacity is not big enough for bars that continuously serve mixed drinks or chill drinks, it is definitely a useful appliance for small restaurants and even home use.
Made using stainless steel for its shell, it's a sturdy and tough full-size cube ice maker.
What's great about this ice machine is that it is easy to use and comes with a user-friendly control panel. Scotsman ice machines are known for this. It gives you reminders when there's no more water or when it is time to clean.
Pros:
Easy to install and use
Produces clear and clean ice
With water quality sensor
Detects hard water condition
Cons:
Buy it now on Amazon
---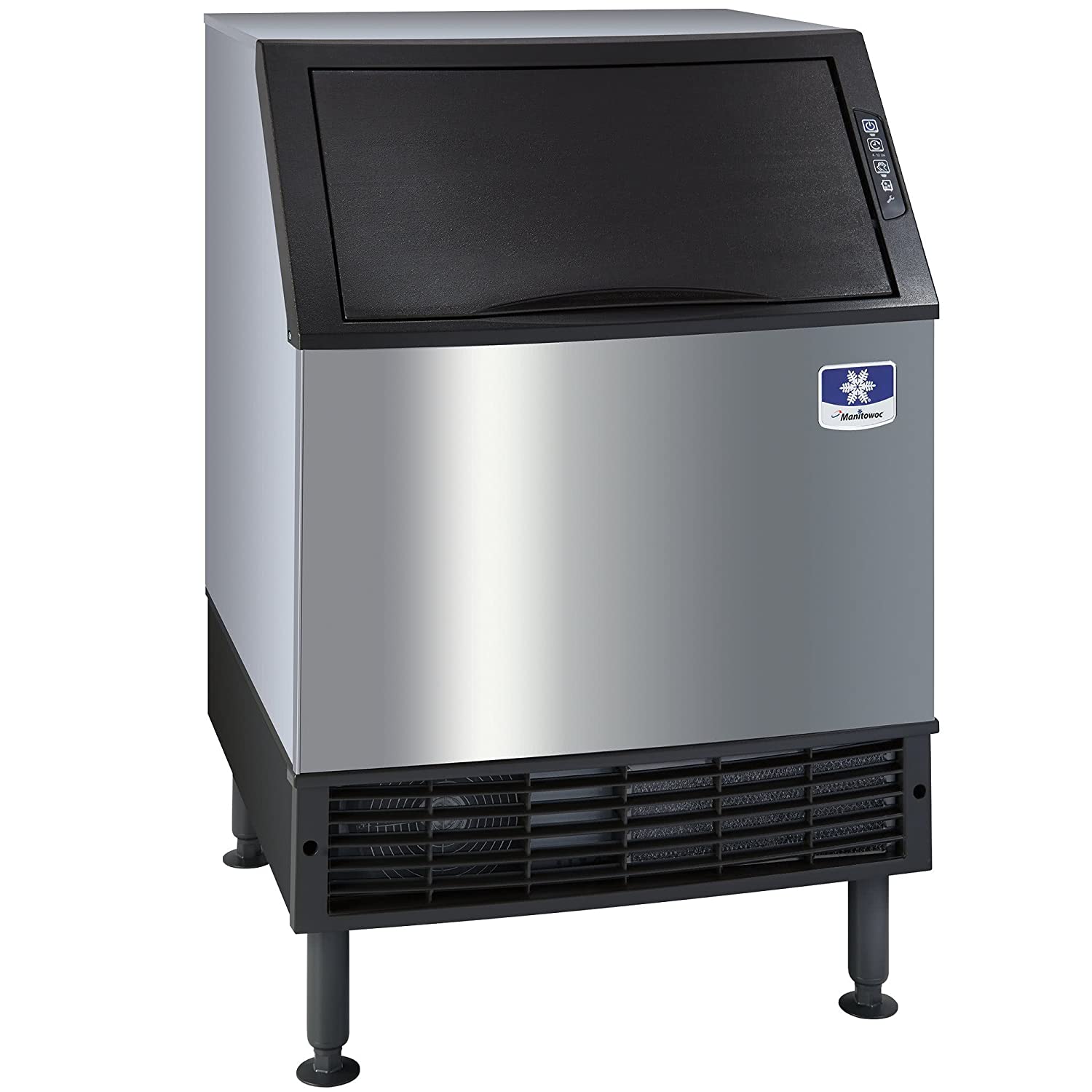 The Manitowoc is a top-of-the-line air-cooled machine that is great for outdoor bars and commercial kitchens.
It's a great workhorse with ice production of up to 198 lbs of ice in 24 hours. It has an ice storage capacity of 90 lbs and stores ice without melting for several hours.
Air-cooled machines such as this model are popular because of their energy efficiency. And true enough, the UDF-0190A is a highly efficient machine. It works on 115 Volts of power.
This ice machine is well-built using stainless steel. It's easy to clean too.
With dimensions of 28 x 26 x 38.5 inches, it is compact and you can easily install it under your kitchen counter.
Pros:
Easy to clean
Energy-efficient ice machine
Quiet operation
Compact and doesn't require too much space
Produces clean full-sized cube ice
Cons:
A bit tricky to install and connect to the water line
Buy it now on Amazon
---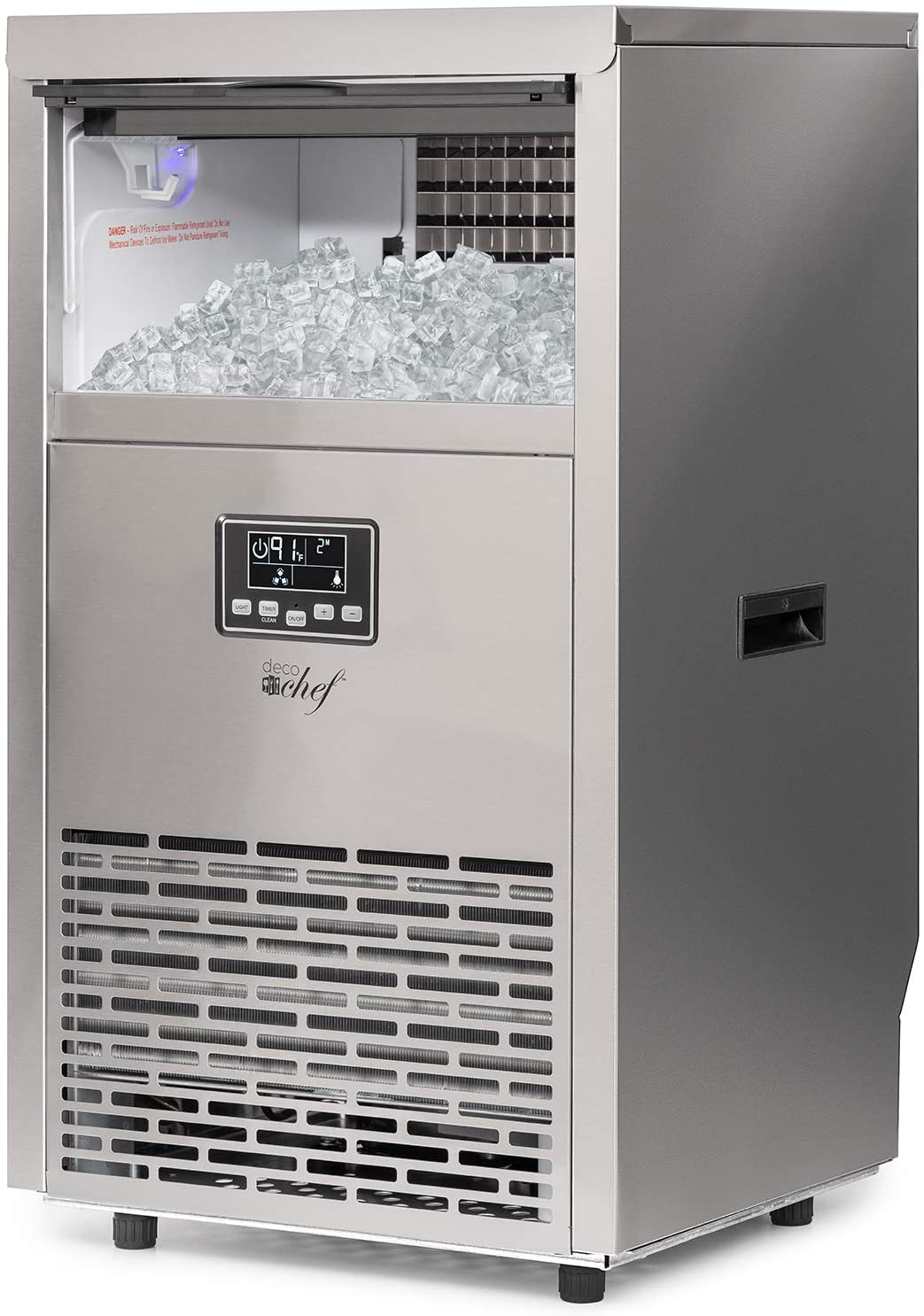 Whether you operate a restaurant that requires a continuous ice supply for your drinks, or you just can't get enough of frozen drinks at home, this ice machine is a good investment.
The ice-making process of this ice machine is very efficient for its size. It produces 45 large ice cubes in about 11 to 20 minutes, with ice production of up to 99 lbs of ice per day. In addition, its storage bin has a capacity of up to 33 lbs of ice. This is enough ice for typical home or small-scale commercial use. For it to make ice continuously, you need to hook this ice machine to your water supply.
The Deco Chef ice machine has an intelligent LCD display that shows the internal and external temperatures as well as the status of your ice production.
From time to time, this machine requires cleaning to produce the best quality ice. Thorough cleaning just takes about 20 minutes as it features a self-cleaning function.
Pros:
Intelligent LCD display
Easy to use
With self-cleaning function
Compact design
Cons:
Drain relies on gravity so it is not ideal for under-the-counter installation; otherwise, you'll need a floor drain
Buy it now on Amazon
---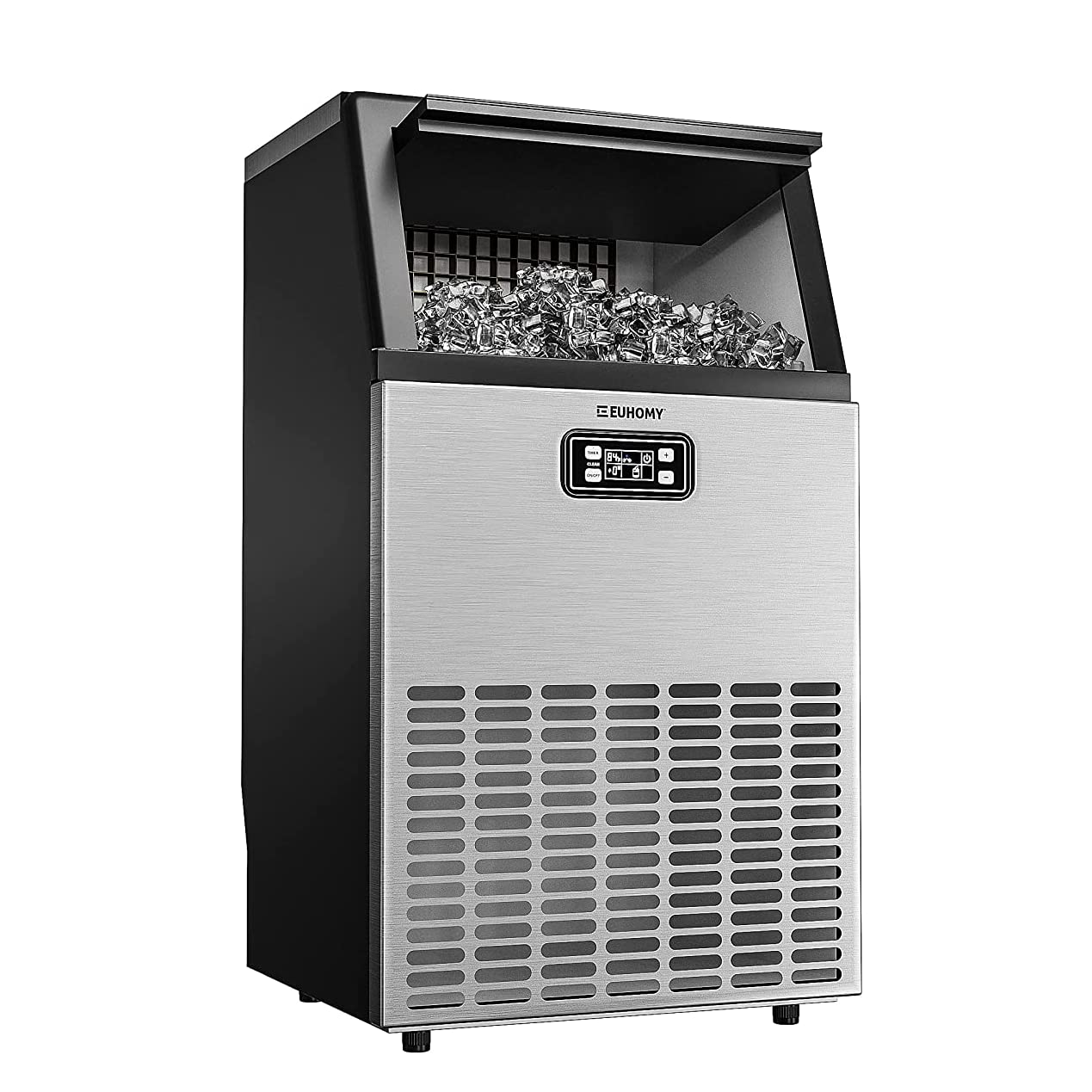 Whether you own a food truck, a coffee shop, or you have a busy household where family members are always asking for extra ice, this machine is a great choice.
This product is one of the top-of-the-line commercial ice machines. It has ETL certification and is approved for commercial use.
The Euhomy produces 100 lbs of cube ice per day. And it does the job quietly. If you won't be using the ice anytime soon, they get stored in a storage bin with a maximum capacity of 33 lbs of ice.
Moreover, you can adjust the size and thickness of the ice cube which is great for customization depending on your needs.
We like that it has automatic overflow prevention that prevents possible overflow which normally happens when the ice machine produces ice fast but they just get stored in the storage container.
Just like the other model of commercial ice machines on this list, it is also fitted with a multi-functional LCD display panel. It will even display the temperature of the surroundings, reminding you to pay attention to the heat or humidity that can decrease its efficiency.
It is also worth mentioning that it comes with automatic cleaning programming. You can just click "Timer Clean" for it to start cleaning itself.
Pros:
Easy to use and control
Adjustable ice thickness
Efficient
Cons:
Uses a gravity drain which is a bit difficult to drain unless you elevate the ice machine
Buy it now on Amazon
---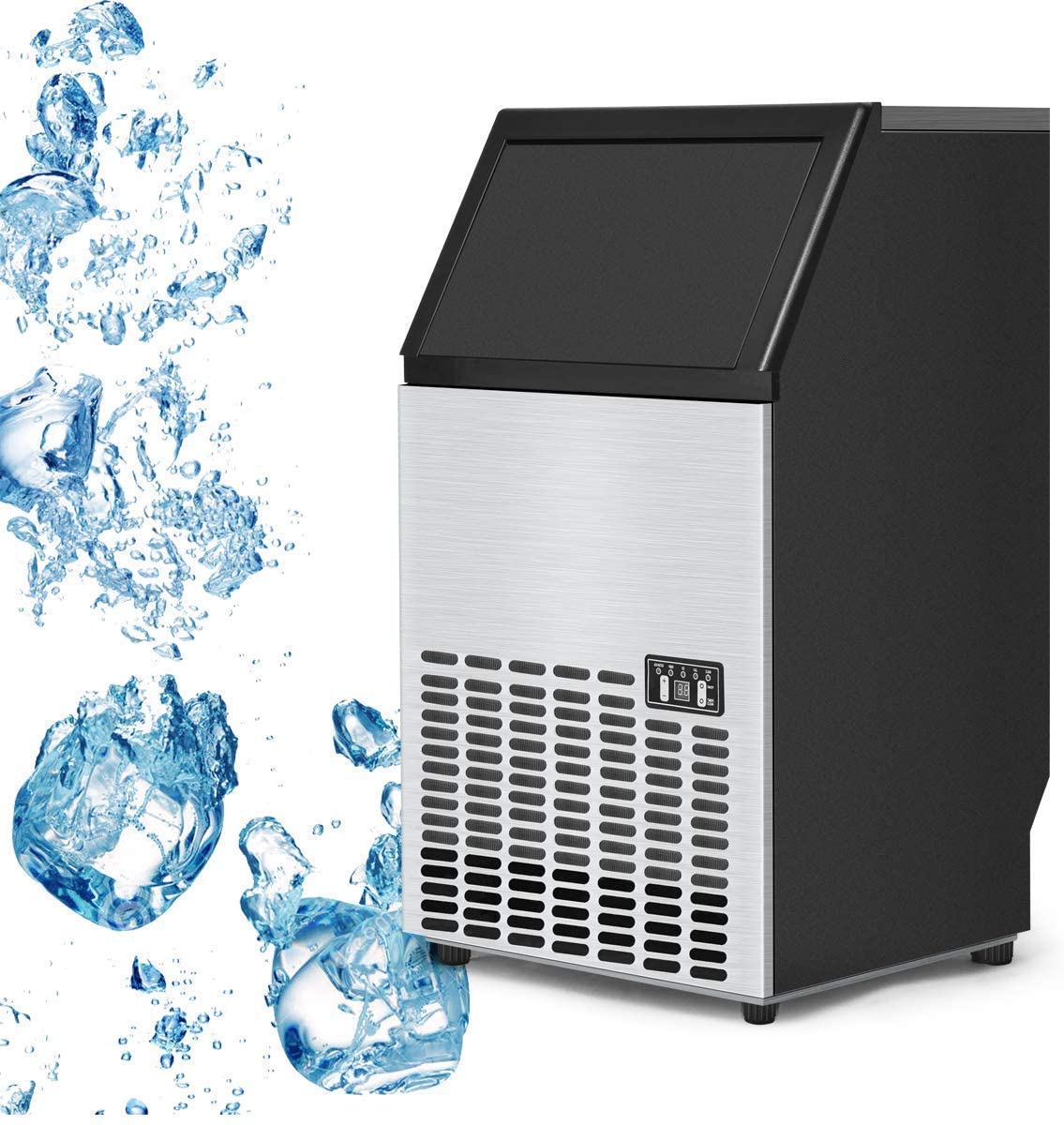 Constructed using stainless steel, this ice machine looks neat and is rustproof. It is one of the most reliable ice machines that is ideal for bars, restaurants and hotels among others.
Given the compact size of this ice maker, it is highly efficient and can produce 110 lbs of ice in 24 hours with an ice production time of about 15 minutes.
This ice machine is easy to operate. You can easily adjust the settings through its operation panel. It has buttons that control the ice-making process.
With its adjustable feet, you can set it up on top of your counter or let it stand on the floor. The high feet keep the machine farther from the humid ground.
Pros:
Fast ice production
Easy and reliable operation
Durable and rustproof
Comes with complete accessories including an ice shovel for scooping ice
Cons:
The ice produced is a bit thin and could melt easily
Buy it now on Amazon
---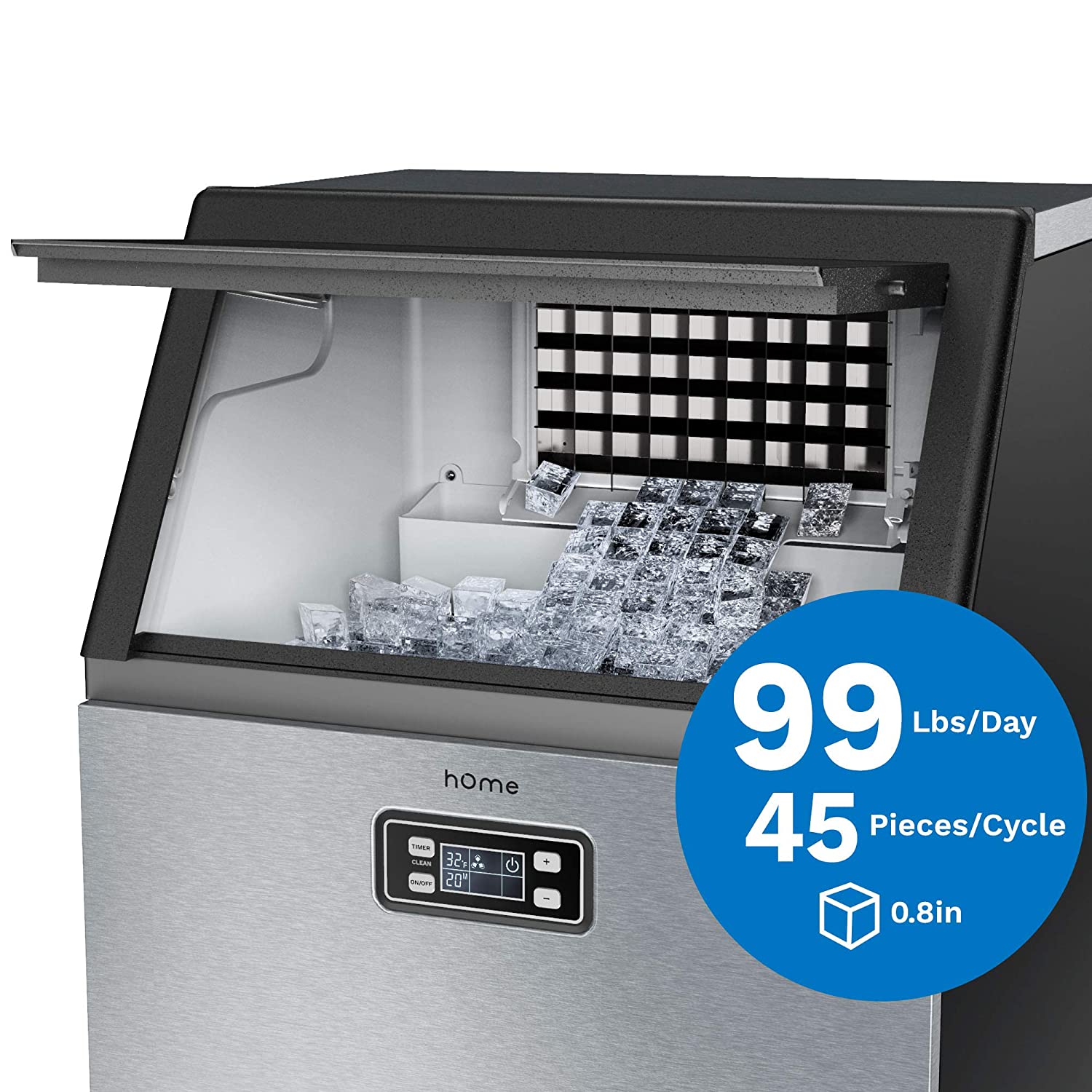 The company hOmeLabs makes some of the most reliable commercial ice makers, and this product is one of them. With reliable air-cooled condensers, it produces up to 99 lbs of ice in a day, with each cycle lasting about 11 to 20 minutes. The ice gets stored in an ice bin with a capacity of 29 lbs.
This ice maker has a free-standing design that you can install anywhere practical, even on a remote location as long as it is near your source of water.
Designed for household or commercial use, this ice machine is hassle-free to use. Unlike many table commercial ice machines, you can connect it directly to the water line so you don't have to worry about filling up water to make ice.
Moreover, it has an intuitive control panel where you can select the functions you want it to perform. It lets you adjust the ice-making time as well as the thickness of the ice.
Pros:
Quiet operation
Rust resistant
Energy-efficient and consumes less energy than many air-cooled units
With automatic cleaning function
Cons:
Some customers have reported leak problems which could be due to improper installation.
Buy it now on Amazon
---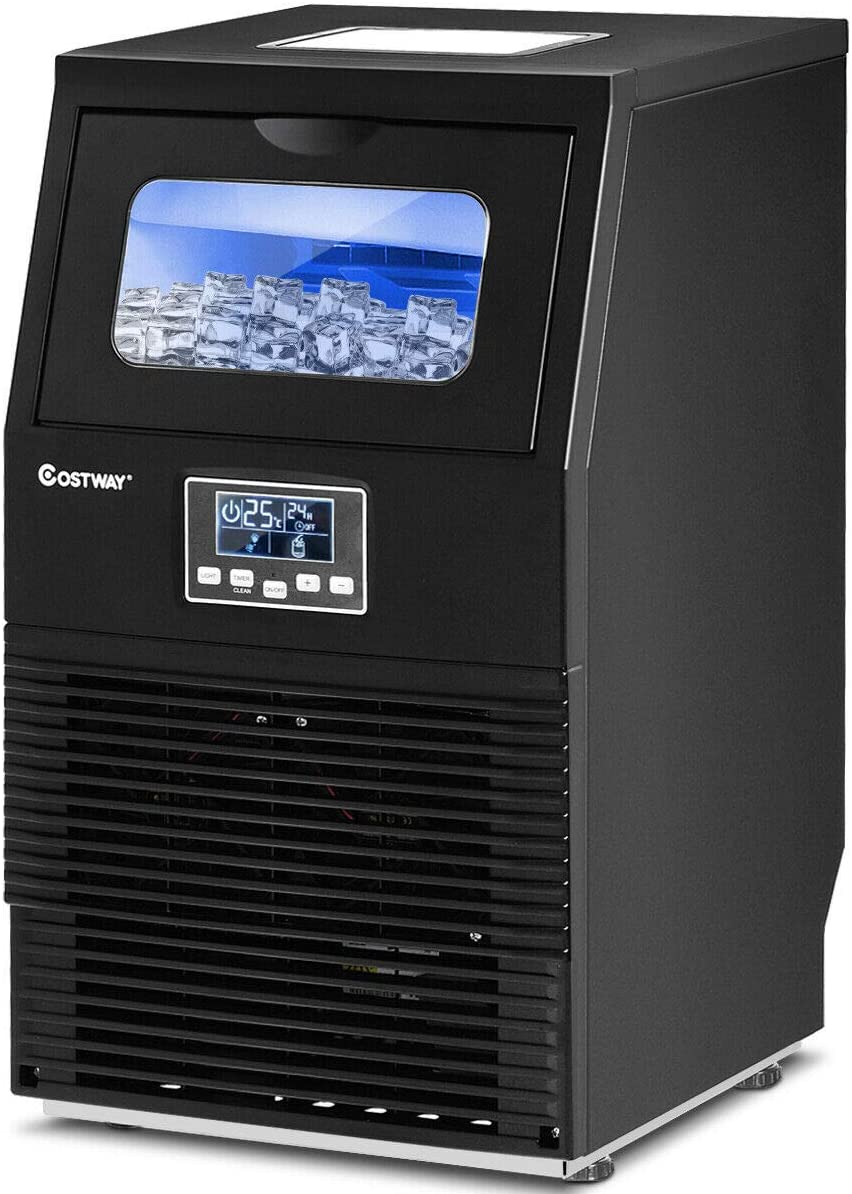 The Costway ice maker is another high-efficiency air-cooled machine that produces up to 88 lbs of ice per day so it is great for smaller-capacity kitchens. Its ice bin can store up to 8.8 lbs of ice.
This ice machine is easy to use. It has an LCD control panel where you can adjust the settings to increase or decrease the thickness of the ice cubes. It also displays ice-full and add-water indicators to ensure continuous operation.
As with many higher-end commercial ice machines, this too has an automatic cleaning function. This allows for ease in keeping the machine clean so that it keeps producing clean ice.
With its durable stainless steel construction, this ice machine is made to last.
Pros:
Heavy-duty metal construction
Auto-clean function
Easy to use
Free-standing design allows for versatility in installation
Cons:
Buy it now on Amazon
---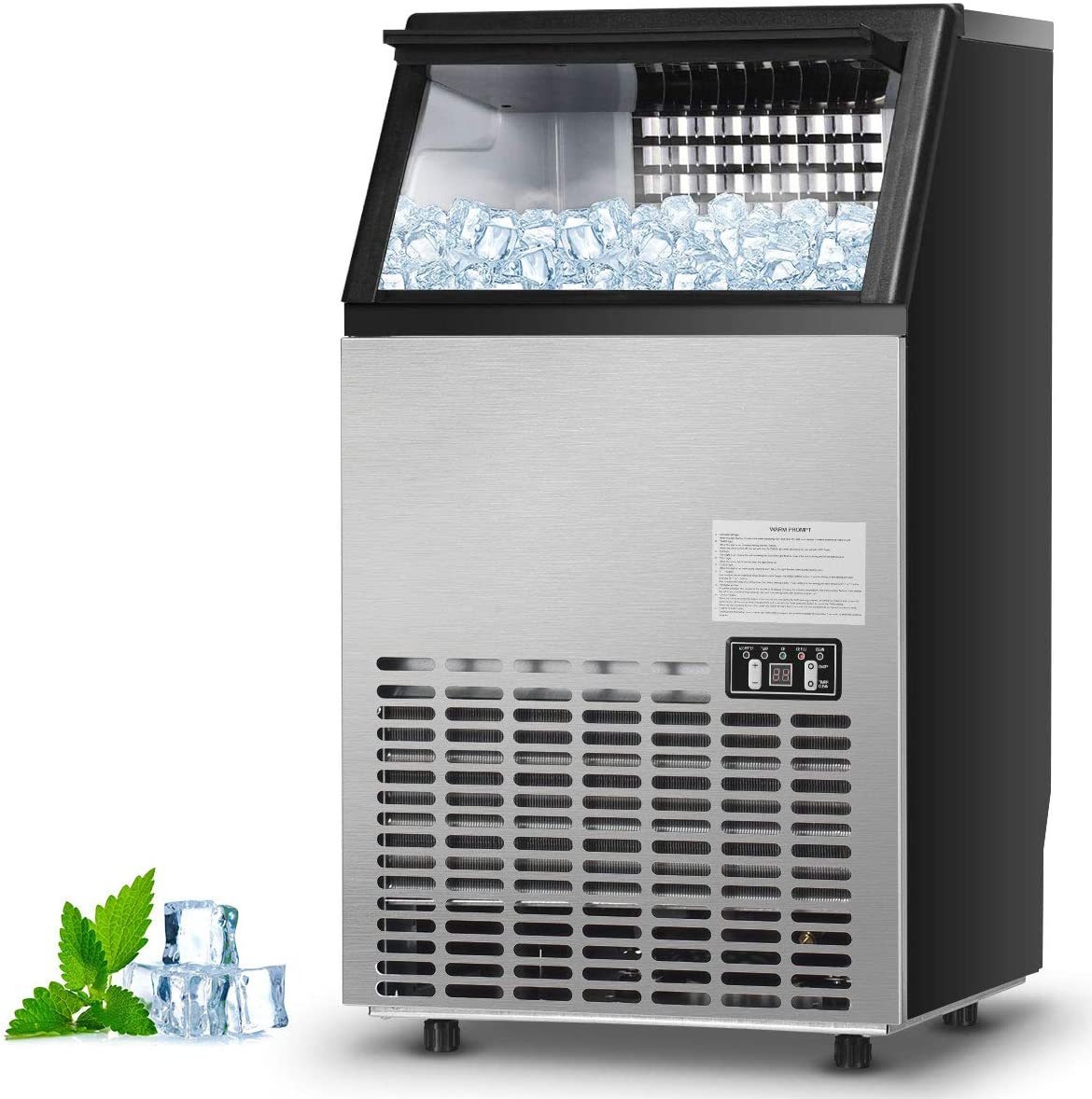 Another commercial ice maker worth checking is the Costzon. Made of stainless steel and with a free-standing compact design, you can easily position it even in tight spaces.
This ice machine can make ice in 12 to 18 minutes and with a total production of 110 lbs of ice in 24 hours. The standard size of the ice is 0.9″ x 0.9″ x 0.9″ which is ideal if you want to chill drinks or add ice to your bottled water.
Operating this ice machine is with a push of the proper button. There are buttons such as add water, timer, ice, clean, timer clean and so on.
If you are looking for an efficient small unit that you can position anywhere, this is one of the best choices available.
Pros:
Compact design
Durable stainless steel construction
Easy to operate
Cons:
The user's manual is hard to understand and instruction is a bit tricky
Buy it now on Amazon
---
Factors to Consider When Comparing Commercial Ice Makers
Type of Ice Machine
One way to classify commercial ice machines is based on how they cool the water and turn them into ice. The most common types are air-cooled ice machines and water-cooled ice machines. Choosing one over the other may be an advantage depending on certain factors.
Air-cooler ice maker
Air-cooled commercial ice makers use air to produce ice. These ice makers are generally more energy-efficient than water-cooled ice makers, therefore more environmentally friendly. The main drawback of air-cooled ice makers is that they are greatly affected by the surrounding temperature, so they need a space with proper ventilation. If you live in an area where the temperature is often hot or humid, it reduces an air-cooler ice maker's efficiency.
Water-cooled ice maker
Water-cooled commercial ice makers, on the other hand, transfer heat out of the machine to produce ice using water. This is the best commercial ice equipment in places where it is difficult to control the outside temperature.
Other designs
Another way to classify commercial ice makers is by the type or shape of ice they produce. While we can commonly find cube ice makers, there are also other machines such as nugget ice machines, flake ice machines, solid ice cube machines, half cubes ice machines, nugget-style ice machines and bullet ice machines, among others.
Before deciding on which ice machine to buy, you need first to identify the type of ice machine you need based on how it cools and the type of ice it produces.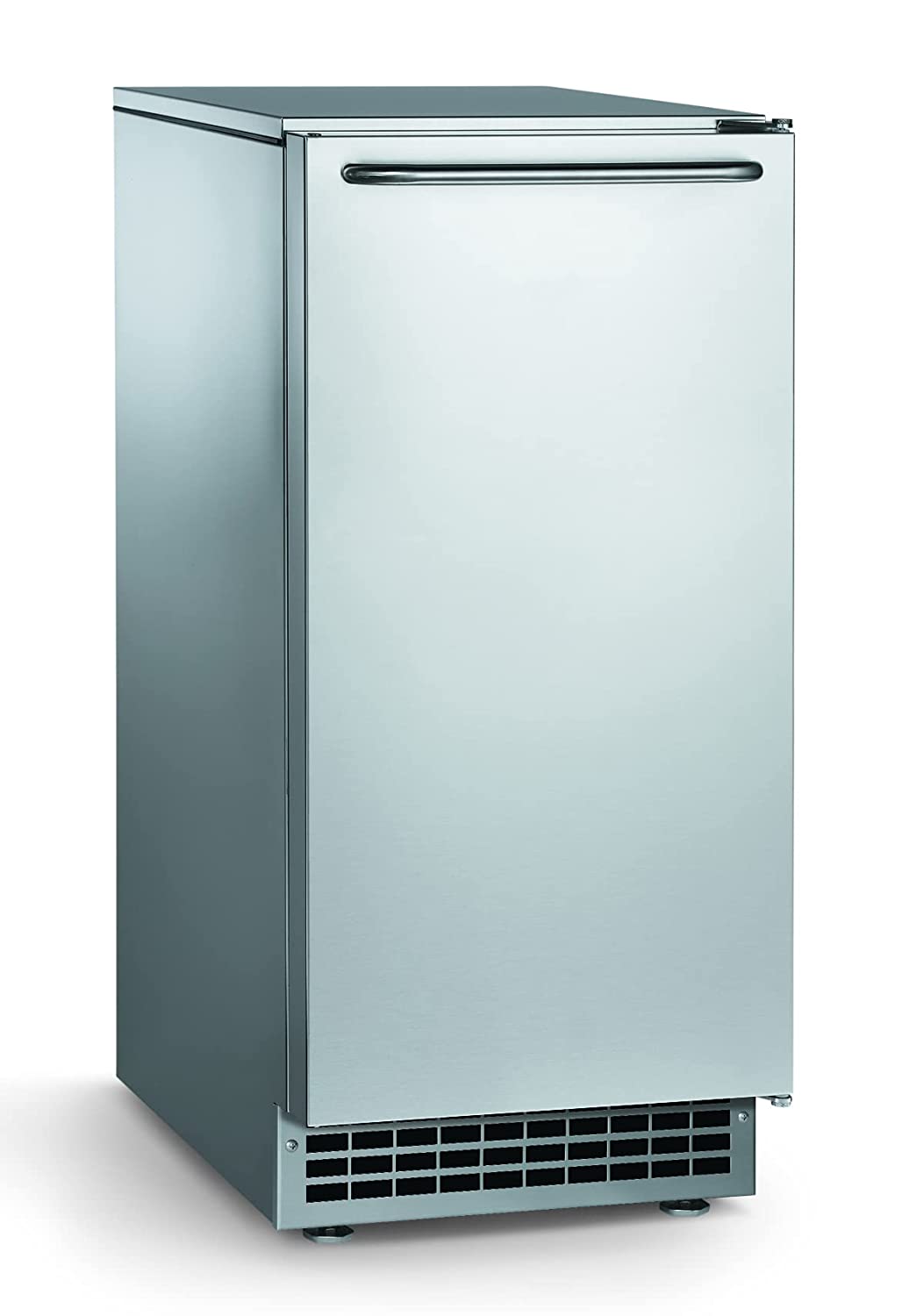 Compact Design
How much space do you have in your kitchen? If you have a bigger space, this factor may not be the first thing you'd look at. However, if you have a limited kitchen space, it's important to first check the dimensions of the product to make sure it fits in your space.
There are three common types of ice machines based on the design: free-standing floor-mounted ice makers, countertop ice makers and undercounter ice makers. Some undercounter ice makers can also be used as a countertop machine but you need to double check this in the product description.
Ease of Operation
The best commercial ice machine should be easy to operate, and this translates to convenience and efficiency. If you can get the best commercial ice maker with custom settings, LCD display for all the controls and auto-clean function, those features make operations really easy.
Self cleaning
One important aspect of maintaining high-quality ice is to regularly clean your ice machine inside and out. Some ice machines require manual cleaning or removing the parts and cleaning them. On the other hand, there are high-end models that feature auto-cleaning or self-cleaning function with the press of a button.
If you are willing to spend more, having a self-cleaning ice machine really makes a big difference. A well-cleaned and well-maintained ice machine generally lasts longer than those that are not properly maintained.
It's important to note that if your ice machine is under warranty, generally, the warranty will be void if you don't follow the manufacturer's cleaning instructions. Make sure to check this information before cleaning your ice machine.
Capacity
How much ice do you need? If you have to buy an ice maker, it's important to consider how much ice your business or household needs on a daily basis.
Some commercial ice makers can produce ice in about 10 minutes while others can take up to 20 minutes to finish one cycle.
When it comes to capacity, aside from checking the cycle time of the ice maker, it's also a good idea to check its maximum capacity per day. This is a very important number as it affects your daily usage. Also, this is crucial if you operate a bar or busy restaurant where your cold drinks are highly in demand.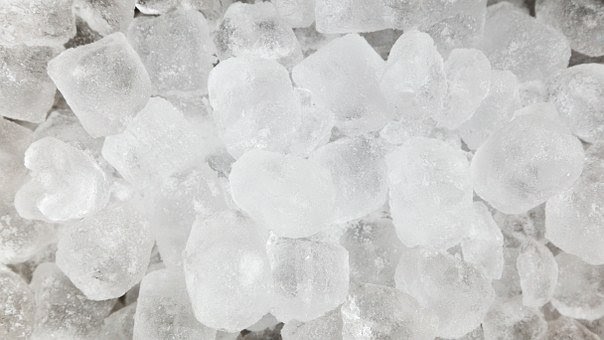 The best commercial ice maker for a busy kitchen should be able to produce at least 100 lbs of ice per day. Any lower than that might cause you some bottleneck during busy hours.
For smaller businesses such as food truck businesses or for household use, an ice machine that can produce up to 80 lbs of ice a day should work for you.
Bin capacity
The bin capacity or storage capacity of the ice machine is also important especially if there are times when you will not be needing the ice yet.
Some bigger ice machines have a bin capacity of more than 100 lbs while smaller models can go below 10 lbs. The best choice is really up to you.
Price
Commercial ice makers aren't cheap. They can go as high as $3,000 or above, while the much smaller models may cost below $1,000. More often, these machines greatly vary in features. Sometimes, if you just spend a few hundred dollars more, you can get a much better feature that's worth more than the extra amount you pay.
When it comes to comparing ice makers, it's a good idea to compare not just the price but more importantly the features.
FAQs
Can I use a commercial ice maker outdoors?
The answer to this question could be yes, or no, depending on the model you have. Generally, the product description should say that the ice maker is okay to use outdoors.

It's important to remember that the temperature outside could significantly affect the efficiency of your machine. This is especially true if you have an air-cooled model as it relies on air to cool the water.
Will the ice melt if I let them stay in the storage bin?
For many ice makers, the storage bin does not work like a freezer. This means that if you keep the ice pieces there for a long time, they will melt. To avoid melting, most manufacturers recommend moving the ice pieces to a freezer if you will not use them immediately.
What is the best ice maker?
The ice makers we listed above are some of the best in the market. There's really no single best product for all as the best ice maker should have the features you are looking for.

If you find it difficult to decide whether to buy a certain product or not, you could also read customer reviews. They can give you an idea of how the machine actually works. From there, you can tell the possible pros and cons of buying it.
Conclusion
If you are looking to buy a new ice machine, consider the factors we have listed above. They can help you pick the right product that matches your needs and preferences.
However, if we have to choose one, our top pick is the VEVOR 110V Commercial Ice Machine. It's a high-capacity best ice maker that can make up to 400 lbs of ice in 24 hours! It is also a product that is trusted by many restaurants, hotels and businesses.
Moreover, if you want a smaller capacity ice maker, we have several choices including the Scotsman CU50GA Gourmet Ice Maker and the COSTWAY Commercial Ice Machine.
* If you buy through links on our site, we may earn an affiliate commission. For more details, please visit our Privacy policy page.