The best way to start your day is having a nice cup of coffee and toasted bread slices. Considering how quick and easy it is to prepare, it is certainly an overlooked breakfast. But, if you don't have a toaster on your counter space, that's totally fine. There are several methods to make a toast without the use of a toaster.
* If you buy through links on our site, we may earn an affiliate commission. For more details, please visit our Privacy policy page.
This post will show you how to toast bread without a toaster. If you are interested in this topic, scroll down and continue reading.
Make Toast Without A Toaster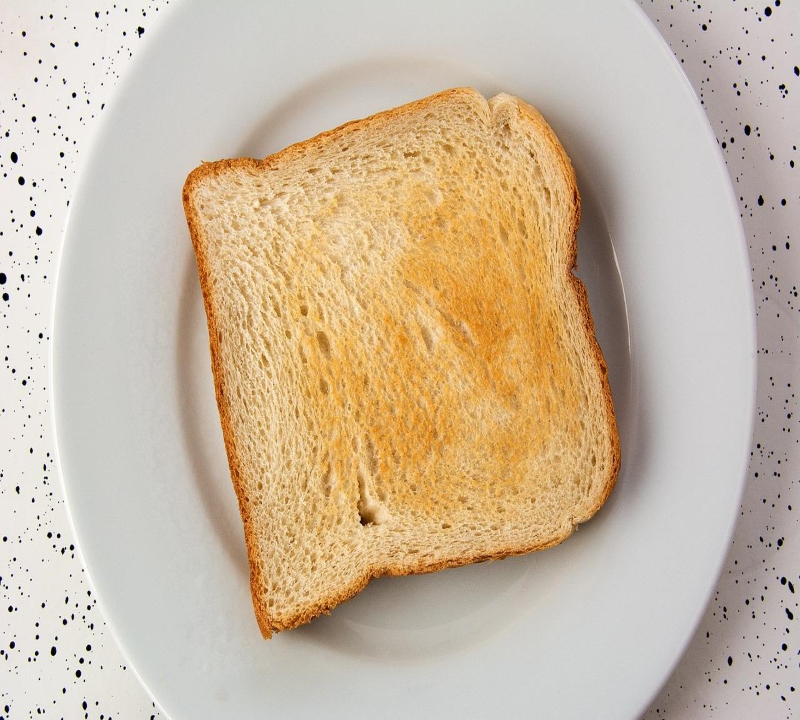 What Is A Toast Bread?
Toast is bread that has been heated radiantly and browned. A Maillard process causes the bread to brown, changing its taste and making it stiffer so that toppings can be put on it more easily. Toasting bread is a traditional way to improve its flavor. A toaster/toaster oven is used to toast bread. As toast browns, acrylamide, a known carcinogen, may be released.
Toast is typically eaten with sweet toppings like jam or jelly, butter, chocolate spread or margarine. Depending on the region, savory spreads like peanut butter or yeast extract could also be well-liked. Toast may be a light lunch when topped with baked beans or eggs and served with savory foods like soups or stews. Toast is a popular breakfast dish.
---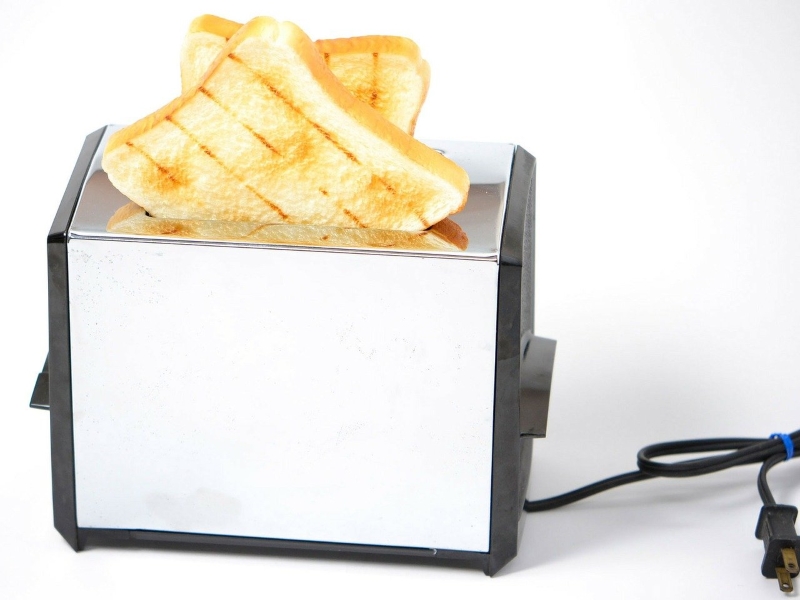 What Is A Toaster?
Toast is often prepared in a toaster, a specialized electrical equipment, in a modern household kitchen. Sliced bread is put into the toaster's slots at the top, the level of toasting required is selected, and a lever is depressed to expose the bread to the hot elements. When it's done, the toast is popped up. When served, bread that has been toasted in a standard toaster may sweat (for instance, water collects on the surface of the cooled toast). This happens because moisture in the bread turns into steam when it is heated up for toasting, and as the steam cools, it condenses into water droplets on the bread's surface.
Oven toaster are unique, little kitchen devices designed for toasting bread or warming up small quantities of other meals.
---
Here are a few techniques for making a toasted bread without a toaster.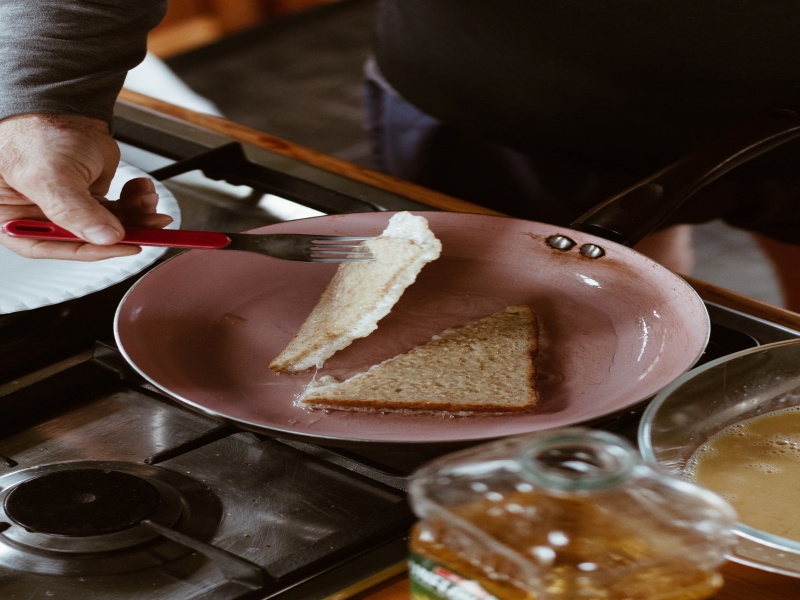 The Stovetop Method
Using your stovetop is the simplest method of making toast without a toaster. Use any sort of frying pan on medium heat, though a cast-iron skillet works fantastically too. Lay your bread slices straight on the hot skillet, then cover to retain the heat. Toast should be cooked for two minutes on each side. If you want your toast to be on the deep-brown side, you might choose to cook it for longer.
This approach doesn't need the use of any form of cooking oil. But toast will taste better if you add a little butter using a butter knife or a spoonful of olive oil on it. Furthermore, it will brown your bread uniformly.
---
Slow-Toasting Using The Oven
When making toast, you may also utilize your oven. Simply preheat the oven to 350°F. Then, put your bread on a grill rack or baking sheet pan in the middle rack. Ensure that the heat sources at the top and bottom are both on. Flip each slice after about five minutes. You can now eat your toast. To avoid being burnt, make sure to use an oven mitts.
Putting bread in the oven has a disadvantage, it requires considerably more time than the stovetop method. 10 minutes for this method as opposed to 4 minutes (stovetop method). If you're not in a rush, though, this might not be an issue.
---
Toast Using The Broiler
You can toast the bread quite rapidly if your oven has a broiler setting. If your oven provides the option, turn the dial to the broiler's start position and let it preheat for around five minutes. The wire oven rack should then be moved to the top position, as near to the broiler as you can get it, using your oven mitts. The next step is to put your bread on an ungreased baking sheet and heat the oven. You need to turn the bread after just one minute, then wait another minute or two for the bread to toast nicely.
---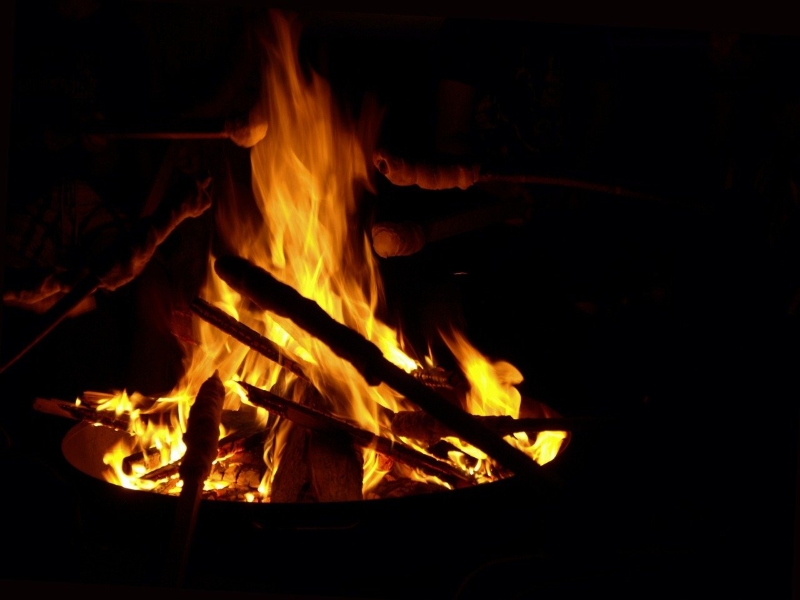 Toast Through A Open Flame
A campfire or fireplace may also be used to toast bread if it is held close to the flame but not directly over it. Special toasting equipment, such toasting forks, are designed for this use.
---
Toast Using A Pancake Griddle
You can actually toast bread on a pancake griddle if you have one. The steps are the same as when cooking on the stovetop. Just warm the pan and heat the bread for 2 minutes on each side or until golden brown. It's that easy.
The main benefit of utilizing this method is being able to toast a large number of slices at once. This is a terrific approach to try out if you're serving your family in the morning.
---
Toast Using A Waffle Maker
You can also modify and toast bread using a waffle maker if you have one. Reheat your waffle iron on medium heat, place the bread slices inside, and let it heat for about 2 minutes. Check your toast to determine whether it requires more cooking time.
---
Toast Using A Panini Press
If you have a panini press, you can make mouthwatering grilled cheese sandwiches, yet you can also toast bread quickly and effortlessly. Just connect your press to an electrical outlet, wait for it to warm up a little, preferably on medium heat, then place the bread on the hot plates and cook for two to four minutes. Depending on how you prefer your toast, you are free to make whatever modifications you see needed.
---
Toast Using A Quesadilla Maker
You also have the option to toast a bread using a quesadilla maker. You just need heat it up, place the bread between the hot plates, cover it, and wait for it to finish. Just like that.
---
Check out the following items if you plan to get a toaster.
Brand: Mueller Austria
Color: Stainless Steel
Material: Stainless Steel
Number of settings: 6
This is a Multipurpose Toaster . The Mueller UltraCrisp 4 Slice Toaster will get your mornings off to a delicious start with warm, freshly toasted bread or bagels. Features self-centering slot guides, Cancel, Defrost, and Reheat buttons, as well as clever heating technology for consistently level toasting.
Has six browning settings, which gives you complete control over the intensity of toasting, allowing you to customize your toast to your preferences. Switching between settings is really simple thanks to stylish touch controls and an LED display.
Toasters are prone to collecting crumbs, but thanks to the detachable crumb tray, cleanup is simple. To keep the bread toaster compact and organized, make use of the convenient under-base cable storage. This toaster in brushed stainless steel was expertly crafted using high-quality materials, and it will look great in your kitchen counter.
If you are interested in this product, simply click on Amazon
---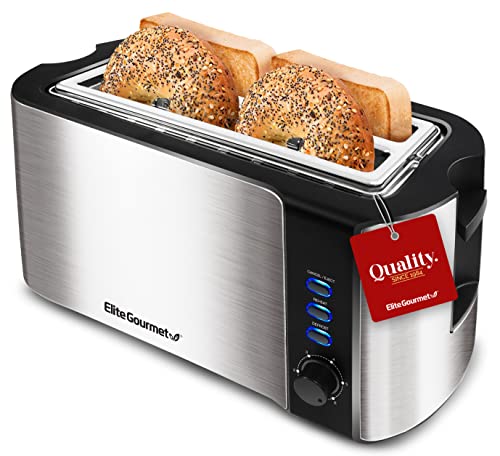 Brand: Elite Gourmet
Color: Stainless Steel and Black
Material: Metal
Extremely WIDE 1.5″ toasting slots to accommodate extra thick slices of specialty breads, bagels, and Texas toast.
Features six adjustable toasting settings so you can choose the ideal bread browning. From somewhat warm to crunchy and dark.
You can effortlessly reheat and warm breads fast with their "reheat & bagel" function, and the Bagel will conveniently toast only the middle of cut bagels.
Additionally, it features a helpful cancel button that enables you to immediately stop the toast from toasting in the middle of the cycle.
When the lever is compressed, self-centering guides automatically grasp hold of the bread and center it so that each side is uniformly toasted.
The drop down crumb stay quickly and simply detaches from the toaster's base for trash and crumbs cleanup.
If you are interested in purchasing this product, just click on Amazon
---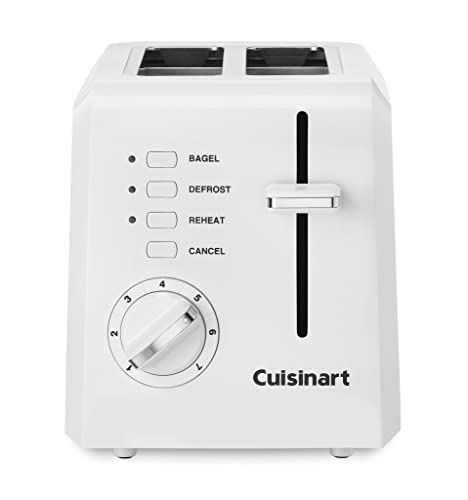 Brand: Cuisinart
Color: White
Material: Plastic
Item Dimensions LxWxH: 11 x 6.5 x 7 inches
Item Weight: 2.6 Pounds
With the ability to toast bagels, toast, and provide a preheat, defrost, and cancel option, this small toaster from Cuisinart may fit easily on your counters.
You can regulate the toasting shade with the 7-setting shade dial, and cleanup is simple with the slide-out crumb tray.
The wide slots and high-lift carriage make it simple to toast each and every time, whether you want a big toasted bagel for snacking, toaster pastries, or thin sliced bread for a healthier alternative to croutons.
You can order this product now on Amazon
---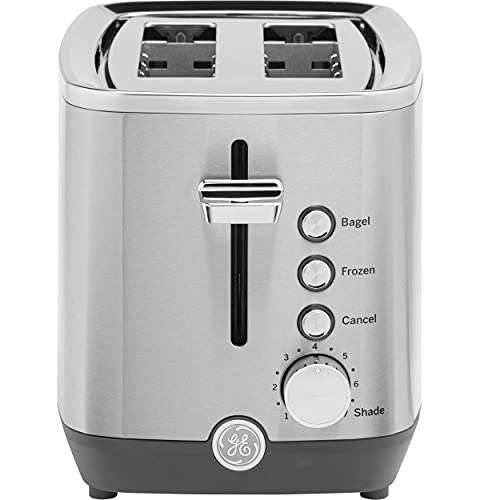 Brand: GE
Color: Stainless Steel
Material: Stainless Steel
Item Dimensions LxWxH: 6.88 x 11.18 x 7.64 inches
Wattage: 850 watts
With seven different colors of doneness from lightest to darkest available, you may enjoy a range of toast alternatives that suit everyone's preferences.
Wide toaster slots that has a size 1.38″ x 5.50″ are available to accommodate a variety of breads, pastries, waffles, and bagels.
Two slices of bread, both sides of bagels, and other items may be precisely toasted with a small, effective 2-slice toaster.
With a pull-out tray that is simple to empty, you can keep your toaster clean and clear of crumbs.
Purchase this product now on Amazon
---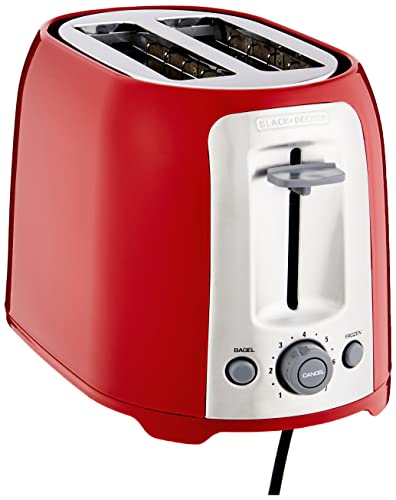 Brand: BLACK+DECKER
Color: Red
Material: Stainless Steel
Add a delightful crunch to breads, bagels, and other items. All shapes and sizes of toasted goodies fit in the extra-wide slots.
Make your breakfast bagel ideal by utilizing the push-button bagel feature. Also controls to stop toasting and for frozen foods.
Keep the kitchen smelling good and the counter clean. You may get rid of crumbs in the crumb tray so they don't burn or ruin your kitchen.
You can buy this product now on Amazon
* If you buy through links on our site, we may earn an affiliate commission. For more details, please visit our Privacy policy page.