There a lot of stand mixers available in the market today, but you don't have to confused yourself on which one to pick. An American home appliance brand, KitchenAid, is owned by Whirlpool Corporation.
* If you buy through links on our site, we may earn an affiliate commission. For more details, please visit our Privacy policy page.
The KitchenAid stand mixer is one of the most reliable and best quality brands today. This tool can help you make multiple batches of cookies, especially during holiday season or special occasions.
KitchenAid mixers also have several different attachments available for purchase that allow you to use the machine.
Do you want to know the right attachments to make your cookies look extra special? If you are wondering which one to purchase, check out these highly recommended KitchenAid attachments you can find online.
Best KitchenAid Mixer Attachment for cookie dough
Just attach the Sifter plus Scale Attachment to the power hub of any KitchenAid stand mixer.
This attachment is perfect for cookie baking or cake. Convenient, easy to use and clean. Hands-free sifting gives you more consistent mixing, and saves time during the process. It's like having an extra hand in the kitchen. You can measure ingredients by weight for a greater level of precision. This can also be used separately on your countertop with the included scale plate.
This model includes (1) Digital Scale, (1) Removable Sifter, (1) Sifter Housing, (1) Ingredient Hopper, (1) Swivel Chute, (1) Scale Accessory Plate.
If you want to purchase this, just feel free to click here
---
Material: Plastic
If you own a KitchenAid mixer, you got to have this attachment. This KitchenAid pour shield fits perfectly on your mixing bowl and works well in preventing the ingredients such as flour, sugar, butter or other ingredients from splattering. If you don't have this shield, you should buy one now. You will never want to use your mixer without this once you have used it.
This KitchenAid attachment is easy to install and can be used for all speed settings.
Pour Shield is designed for KitchenAid stainless steel stand mixer bowls. It doesn't fit glass or ceramic bowls.
Compatible with Bowl-Lift Models: K4SS, KSM450, KSM455, KSM500, K5(A), K5SS, KP50PS, KSM5, KSM50HDP, KG25H0X, KG25H3X, KG25H7X, KSM6573.
Pour Shield is best for Tilt-Head Models: K45, K45SS, KN15E1X, KSM75, KSM85PS, KSM88PSQ, KSM90, KSM95, KSM96, KSM97, KSM100, KSM103, KSM105, KSM110, KSM120, KSM150, KSM152, KSM153, KSM154, KSM155, KSM180, KSM150A, KSM151PS, KSM158, KSM160A.
If you are interested in this product, buy it now on Amazon
---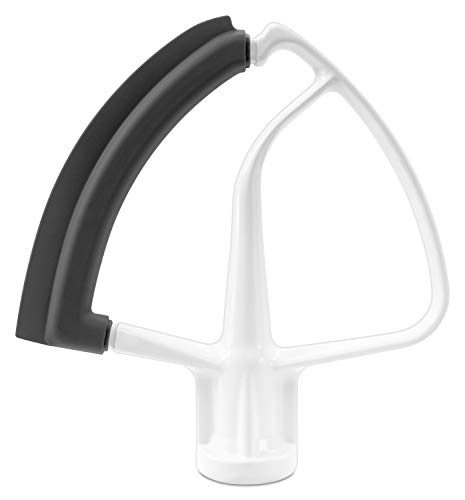 The Flex Edge beater is an excellent tool for scraping ingredients into the mixing bowl because of its flexible edge, and is great for normal to heavy mixes. It is well made and built to last.
Ideal for your cookie dough. This KitchenAid attachment is very handy and you can make cookies so much faster because you don't need stop and scrape the mixing bowl very often. It can definitely save time and highly recommended for those who use the KitchenAid mixer. A valuable tool for mixing cake batters as well.
This Flex Edge Beater is dishwasher safe and it is very easy to clean.
KitchenAid Flex Edge Beater is ideal for Models K45SS, KSM1, KSM100, KSM110, KSM120, KSM15, KSM16, KSM75, KSM8, KSM9.
If you are interested, you can buy this product by clicking here
---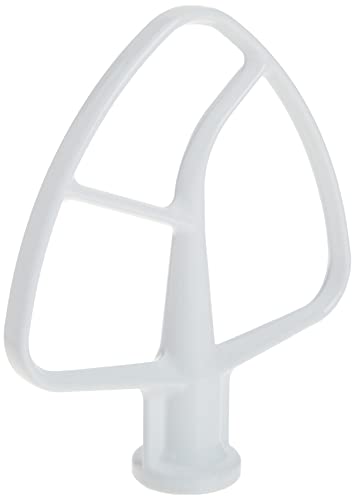 Fits well on your KitchenAid KSM90 and K45 stand mixers. The Flat Beater KitchenAid attachment works great and it is an excellent choice if you're making a cookie dough, bread dough or mixing cake batter. You won't be disappointed with this attachment. It is also fitted for a variety type of dishes and performs well for heavy mixtures such as mashed potatoes and boiled frostings.
A replacement nylon-coated flat beater, and it is a top-rack dishwasher safe. Easy to clean. Very durable as well.
KitchenAid Coated Flat Beater is a perfect fit for models K45, K45SS, KSM75, KSM90, KSM95, KSM100, KSM103, KSM110.
Check out the full product details and buy this by clicking here
---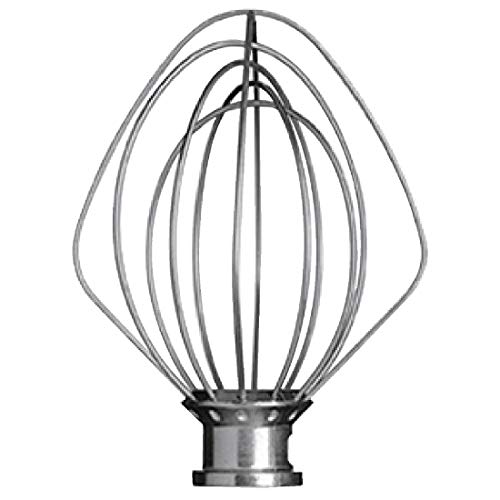 This is a replacement wire whip. A perfect fit for the KitchenAid stand mixer. Works well and very easy to clean. Tested and designed by KitchenAid.
Ideal for making cookies or whipped cream.
The wire whip KitchenAid attachment gives maximum volume for mixtures needing air.
Stainless steel and dishwasher safe.
Compatible Models: K45, K45SS, KSM75, KSM90, KSM95, KSM100, KSM103, KSM110
You can buy this product by simply clicking here
---
How to bake delicious chocolate chip cookies using your KitchenAid mixer?
Ingredients
1/3 teaspoon baking soda
57 g butter, melted
1/3 egg
40 g caster sugar
70 g chocolate chips
75 g all-purpose flour
75 g packed brown sugar
pinch salt
1/3 teaspoon vanilla extract
1/3 egg yolk
Cookie baking process
Simply put all the dry ingredients in a mixing bowl.
Next, attach the Flat Beater mixer. Set the Speed Control Lever to 2. Mix the dry ingredients until combined.
You can now add the vanilla extract, butter, egg and egg yolk. Mix on speed 2 for 2 minutes. Then, put the Speed control Lever to 4. Continue mixing for another minute.
Then, add your chocolate chips, and mix on speed 1 for 30 seconds until just incorporated.
Let the cookie dough cool in the fridge for atleast 15 minutes. Preheat your oven to 160°C.
Then, line a baking tray with parchment paper. Take chunks of dough, form them into balls and put them on the parchment paper.
Lastly, bake it for about 15 minutes. The cookies should be light in color and gooey in the middle. Rest on the baking tray until the chocolate chip cookies harden. They should be perfect!
What is a stand mixer?
A stand mixer is a kitchen device that many bakers have grown to rely on, and we must admit, we usually take them for granted. Because a stand mixer's engine is more powerful, it can handle stiffer doughs like thick cookie dough or bread dough. This device can also whip cream and beat egg whites.
The concept of a stand mixer was formulated by Herbert Johnston, an engineer. He was inspired after seeing a baker mix dough, and thought that there must be a convenient way of doing it.
Are KitchenAid stand mixers and KitchenAid mixer attachments really worth it?
KitchenAid stand mixers and KitchenAid attachments are essential tools for bakers and cooks. Equipped with a powerful motor, you can create stiffer doughs, such as thick cookies. This equipment is fundamental to any home kitchens.
KitchenAid mixers come with different attachments to create delicious and baked goods. These stand mixers are also used for making mashed potatoes, shredding cheese, grinding meat and making whipped cream.
If you are someone who likes to bake chocolate chip cookies or cook different dishes, but wants a convenient way to incorporate the ingredients, then this is the best mixer brand for you. KitchenAid mixers continue to provide excellent quality to consumers.
If you love baking, then you should get a KitchenAid stand mixer. With your KitchenAid mixer and the KitchenAid attachments shown above, you can really enhance your cookie baking game.
Conclusion
If you want a long-lasting mixer for your home kitchen, then the KitchenAid mixer is perfect for you. With the right KitchenAid attachments, making cookies is a lot easier.
The KitchenAid mixer attachments mentioned here are some of the best available today. Using the right attachment is important, especially if you are making cookies, mixing cake batter, kneading bread dough, or even whipping up egg whites.
The form of the KitchenAid mixer attachments are designed to help obtain the precise textures for your cookie doughs and cake batters. Therefore, the usage of an appropriate attachment will aid you obtain your preferred results.
With that said, we hope you find and enjoy the best KitchenAid mixer attachment available in the market today.
* If you buy through links on our site, we may earn an affiliate commission. For more details, please visit our Privacy policy page.