Do you love mashed potatoes? You want to create some creamy mashed potatoes, but your kitchen is currently without milk. Not to worry! We can teach how to prepare mashed potatoes without milk for you.
* If you buy through links on our site, we may earn an affiliate commission. For more details, please visit our Privacy policy page.
The easiest way to serve your mashed potato meals without the addition of dairy is with these really simple no-milk mashed potatoes. This dairy free mashed potatoes is absolutely as tasty as classic mashed potatoes and is ideal for vegans or anybody who is allergic to dairy.
If you want to learn how to make mashed potatoes, scroll down and continue reading.
Make Mashed Potatoes Without Milk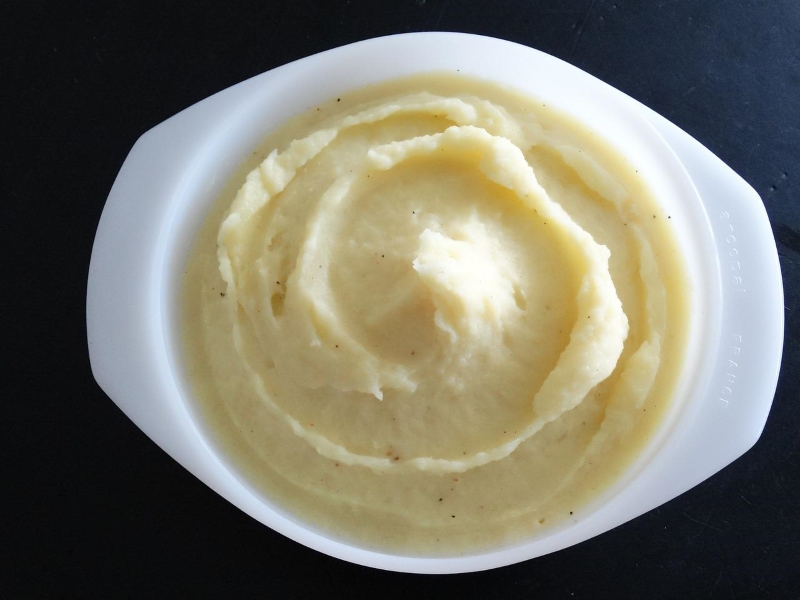 Mashed Potatoes
Boiling potatoes are used to make mashed potatoes, which are then often served with milk, butter, salt, and pepper. It is typically served with vegetables or meat as a side dish cuisine. Sometimes referred to as smashed potatoes, potatoes that have just been loosely mashed. There are options for frozen and dehydrated quick mashed potatoes. Other foods like gnocchi and dumplings have mashed potatoes as a component.
When making mashed potatoes, it is recommended to use "floury potatoes", however waxy potatoes are also often times used for a distinct appearance and texture. Russet potatoes, Golden Wonder potatoes, Red Rascal potatoes, and King Edward potatoes are the most popular floury types.
Typically, salt, pepper, and either milk or heavy cream are added. Other seasonings that can be added to get an extra flavor include cheddar, garlic, sour cream, crisp onion or spring onion, bacon, caramelized onion, mustard, herbs (most especially parsley and chives), spices (most importantly nutmeg), and cheese.
For pommes duchesse, or Duchess potatoes, a French version , egg yolk is included. It is piped through a pastry tube into wavy ribbons and rosettes, coated with butter, and softly toasted. In comparison to traditional mashed potatoes, pomme purée or potato puree utilizes up to one part butter for every two parts potato. Soup stock or broth may be used in place of milk, cream, and butter in low-calorie or non-dairy versions.
Chopped onions, mustard (paste, oil, or seeds), chile pepper, coriander leaves, and other spices are used in Aloo Bharta, a variant of mashed potato from the Indian subcontinent. In the Indian state of Assam, a dish known as Alu Pitika, a version of Aloo Bharta, is frequently prepared without mustard and other spices. Winter season is the best time to eat Alu Pitika, which is made with roasted potatoes and smoked potatoes.
---
Culinary Uses Of Mashed Potato
In the British Isles, mashed potatoes are frequently eaten with sausages and are referred to as bangers and mash. In addition to these recipes, mashed potatoes can also be found in gnocchi, shepherd's and cottage pies, pierogies, colcannon, dumplings, potato pancakes, and potato croquettes. The term "mousseline potatoes" refers to particularly fluid mashed potatoes. Generally speaking, mashed potatoes are served as a side dish.
In the UK, a potato cake can be made by combining cold mashed potatoes with fresh eggs and frying the mixture till crisp. This meal is a favorite breakfast option and is supposed to have come from Cornwall. The fried delicacy is called bubble and squeak when it is paired with leftover meat and veggies.
For vegetarian and vegans, more people are choosing to serve their mashed potatoes with vegetable broth/vegetable stock or veggie gravy instead of the more traditional meat gravy.
---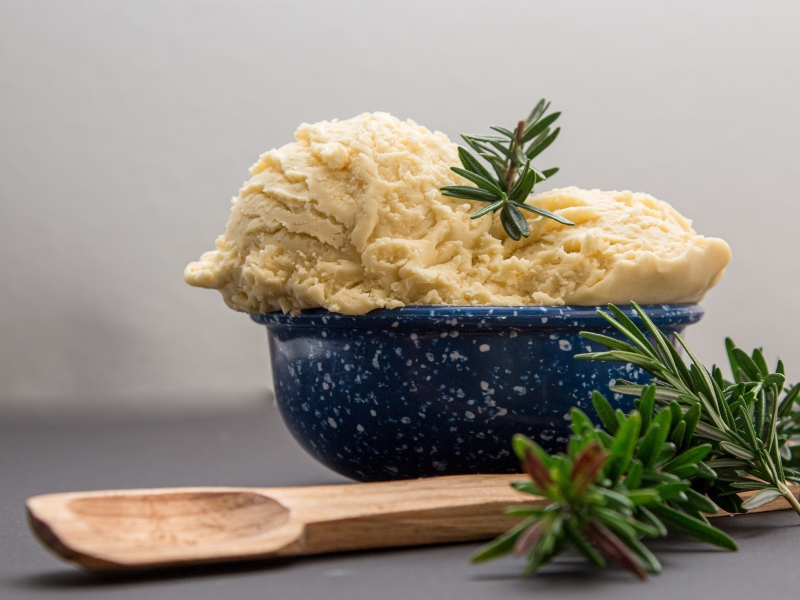 Common Ingredients Of Mashed Potatoes Without Milk Recipe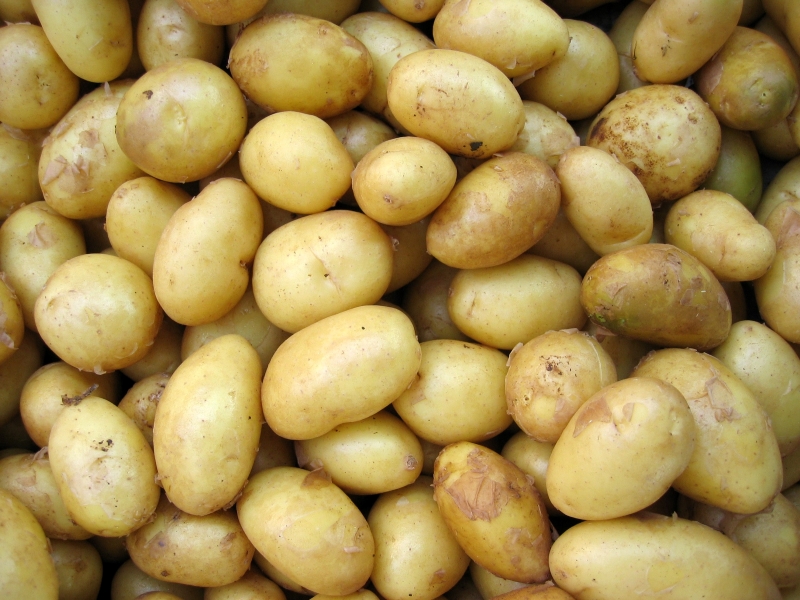 Potatoes
For your mashed potatoes to have a smooth and creamy texture, use a waxy-skinned Yukon potatoes. They don't have a mealy or grippy texture and are naturally buttery and smooth. Yukon gold potatoes can also be substituted with normal russet potatoes. You can also combine both. These potatoes should be well cleaned, skinned, and cut into 1-inch pieces.
---
Butter
For smooth mashed potatoes, melted butter is one of the ingredients. This offers the ideal moisture and creaminess. You may replace it with a dairy-free butter or vegan butter if you want to make a vegan mashed potato.
---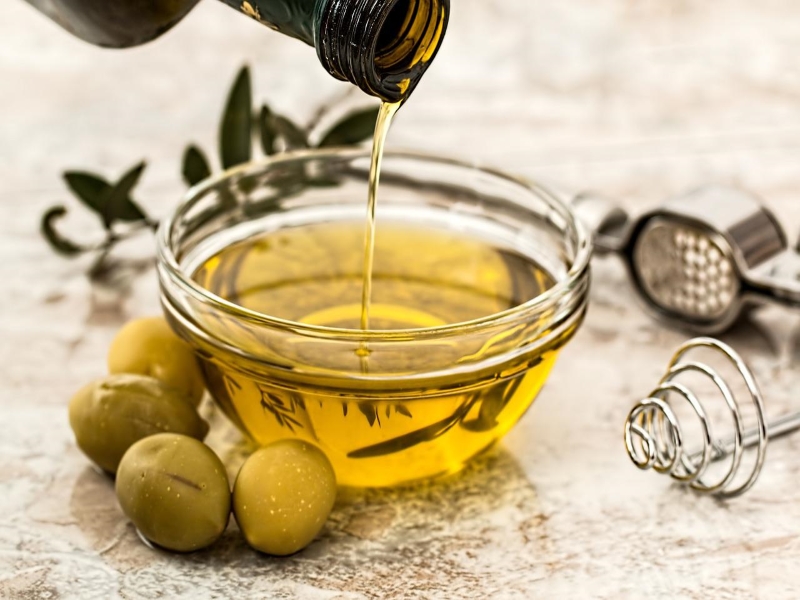 Olive Oil
When making dairy-free mashed potatoes, this also works excellent in place of butter. To have the best mashed potatoes, you can use extra-virgin olive oil.
---
Water
To cover the potatoes, you need enough water. You can save a small amount of the starch water, and add back in if necessary.
---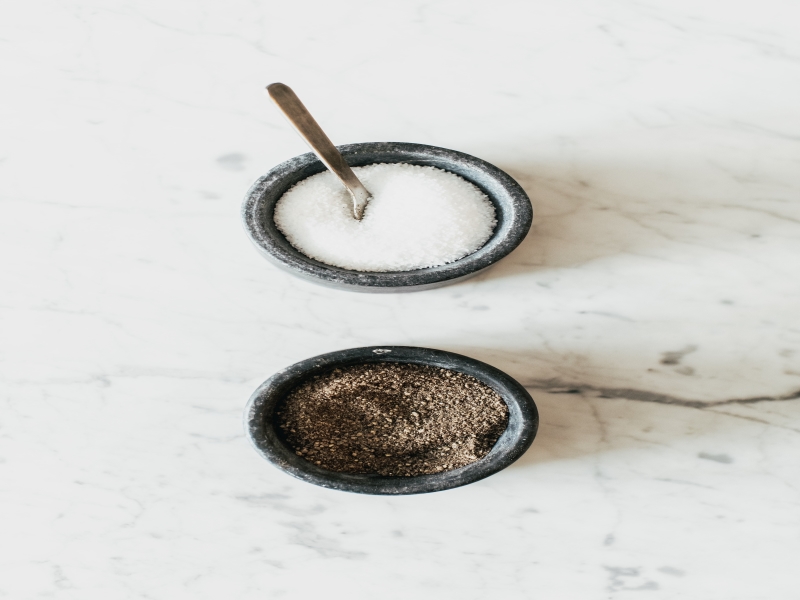 Salt & Pepper
Season the potatoes with salt and pepper, add additional salt, approximately a teaspoon, for boiling potatoes.
---
Commonly Used Substitutes
Use beef or chicken broth instead of water to cook the mashed potatoes if you'd like a bit more flavor.
To give the mashed potatoes a bit more of that traditional buttery flavor, you may use butter or vegan butter for the olive oil.
---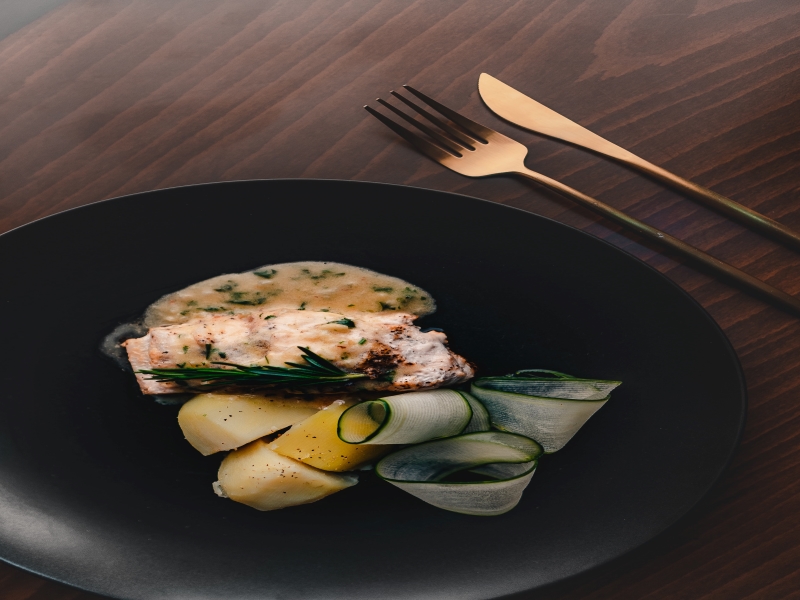 Varieties Of Mashed Potatoes
Herb Mashed Potatoes
Try adding fresh herbs like thyme or rosemary, roasted garlic, fresh chives, or even some Parmesan cheese to your mashed potatoes recipe.
Cheesy Vegan Mashed Potatoes
If you want a vegan version of mashed potato recipes, you can top the mashed potatoes with vegan cheese.
---
Mashed Potatoes Without Milk Recipe
Ingredients
2 lbs russet potatoes, or other potatoes such as Yukon gold potatoes
2 tablespoon olive oil, extra virgin (you can use a salted butter or dairy-free butter substitute)
water
salt & pepper to taste
1 tsp salt for boiling potatoes
Instructions
First, you should wash, peel, and diced the potatoes into 1-inch.
Next, boil potatoes. Put the potatoes in a large stockpot and fill with water, leaving about an inch over the potatoes. The water should be salted with a teaspoon. Add 1 teaspoon of salt to the water.
For 15 to 20 minutes, cook the potatoes and cover with a lid. A potato may be forked to determine whether it is done.
Drain. If desired, set aside a small amount of the water. Let the drained potatoes cool. Use a hand mixer to whip the potatoes until they are smooth and broken up after being added to a mixing dish with the olive oil. To make the potatoes smoother, you may pour the small amount of the potato water back into mashed potatoes. You also have the option to use a potato ricer or potato masher instead of a hand mixer.
Once the potatoes have been mashed, you can now season with salt and pepper, and taste. If necessary, add more salt or butter after tasting. Add additional butter to the mashed potatoes if they aren't nearly creamy enough. Serve warm.
Nutrional Value
Calories: 239kcal
Carbohydrates: 41g
Protein: 5g
Fat: 7g
Saturated Fat: 1g
Polyunsaturated Fat: 1g
Monounsaturated Fat: 5g
Sodium: 11mg
Potassium: 946mg
Fiber: 3g
Sugar: 1g
Vitamin A: 2IU
Vitamin C: 13mg
Calcium: 30mg
Iron: 2mg
---
Important Tips
Be sure to cover the potatoes in cold water for boiling. If you use hot water, potatoes cook unevenly because their exteriors cook more quickly than their interior portion. Boiling potatoes in cold water will ensure that they heat up gradually and cook uniformly all the way through.
To mash potatoes correctly, you can use a hand mixer if you don't have, you may also use a potato masher, a ricer, a big fork, or even a large spoon. They all work great.
Don't mix the potatoes too much. Just until smooth, beat or mash the potatoes. Using an electric gadget in particular, going too long might overwork the starches, giving the potatoes a gluey texture and unpleasant flavor.
---
How To Store Mashed Potatoes
If there are any leftovers of these delectable mashed potatoes, you can put them in an airtight container and store them in the refrigerator for up to 4 days. Though texture and taste will then start to degrade.
Furthermore, mashed potatoes may be put in the freezer. The simplest thing to do when they have completely cooled is to place them in a freezer storage bag, put a label on it, and keep them in your refrigerator. They can last for a month.
How To Reheat Mashed Potatoes
The easiest way to reheat mashed potatoes is to place them in an oven-safe dish that has been oiled or buttered, add a little water or stock to the dish, cover the dish using foil, and reheat at 325°F in the oven. For around 25 minutes, stir it occasionally and put additional water, broth, or butter as required. The mashed potatoes will be really creamy and uniformly warm when fully heated.
---
Some of the items you may use to make mashed potatoes are listed below.
You could make flawlessly smooth and fluffy mashed potatoes with minimal effort. Mashing potatoes is made easy through this tool. You may quickly and easily create a creamy, exquisite meal using the PriorityChef ricer masher. To get the ideal mash, just squeeze the long handles of their potato press.
Has a large deep basket for quicker ricing . It can hold a maximum capacity of 15oz, 3mm Ricer Holes. Make your mashed potatoes quicker but finer output. You may also use a baby food masher and other vegetables such soft carrots, turnips, and yams.
The long, easy-grip silicone handles of their potato ricer provide comfortable leverage while you mash, rice, and grind. They are cushioned and has an anti-slip feature.
The PriorityChef potato ricer is made of 100% rust-proof, high-quality materials, making it easy to clean and top rack dishwasher safe. It also resists staining, corrosion, and deformation. The potatoes will also easily slide off due to the non-stick coating in the pan. Running water may effectively remove any food residue. It is simple to use and clean.
If you are interested in this product, simply click on Amazon
---
Brand: Alinnart
Material: Steel
Color: Silver
Has an extremely Sturdy Structure. The aluminum potato masher is comprised of rust-resistant, 5mm thick twisty wire and commercial-grade stainless steel. You can quickly mash up a lot of food at once since the mashing end is big enough to effortlessly slide through many layers of potatoes.
This is a must-have kitchen tool. Big, ergonomically designed handle for comfort and ease of use even with large loads include a full hook for hanging storage at the handle's end. It is easier to mash potatoes when there are wide spaces between the metal frames because the mashed potatoes may pass through them.
You may use it for mashed potatoes, avocados, butternut squash, and egg salad, in in addition to its main use. Potato mashing is enjoyable when you prepare silky smooth mashed potatoes by hand.
With only a few basic ingredients, a potato masher, a bowl, and boiled potatoes, you can definitely make delicious mashed potatoes. Cleaning up is simple; typically, you can run it under hot water to see the dirt and grime instantly come off, or you can just toss it in the dishwasher.
If you are interested in purchasing this item, just click on Amazon
---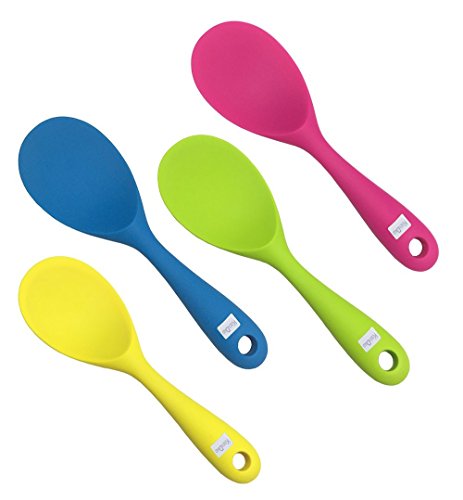 Brand: KSENDALO
Color: Yellow, Blue, Pink & Green
Material: Silicone, Plastic
Style: Cooking
This is perfect when mashing potatoes. It is made of food-grade silicone on the exterior and plastic on the inside to support the spoon function, making it less pliable but still usable. It is also heat-resistant to 240 degrees Celsius, non-stick, and protects your expensive non-stick cookware.
Silicone spoon for serving rice or mashed potatoes that is ergonomically built, simple to use, and simple to clean. This material will not scratch your pots and pans that are non-stick.
The most desirable material is premium non-stick silicone. Just give them a quick clean with hot water or put them in the dishwasher.
You can purchase this item now at Amazon
---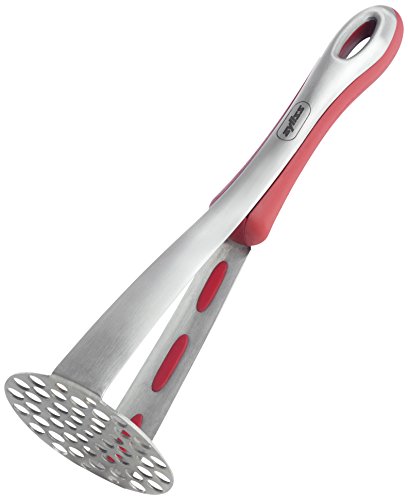 Brand: Zyliss
Material: Stainless Steel
This is a metal potato masher. The soft-touch handle of the superior stainless steel masher allows for a firm grip.
Features a small inner and wider exterior holes that allows for rapid mashing.
The masher has an incorporated hanging hook for convenient drawer storage, making it a basic kitchen tool.
Cleaning of this tool is pretty simple because of the built-in silicone bowl scraper, which eliminates leftover food and reduces waste.
Purchase this product now on Amazon
Frequently Asked Questions
Can potato chips be used to make mashed potatoes?
The potato chips just need to be boiled until they are mushy, then the water should be drained. The soft chips should be mashed until creamy. The savory fats, such as butter, milk, or heavy cream, should then be added.
Does mashed potato make you bloated?
If you are always eating potatoes, there's a chance that it can make you bloated.
Can you make mashed potato in a blender?
You can use an immersion blender when making mashed potatoes, it's a fantastic alternative.
* If you buy through links on our site, we may earn an affiliate commission. For more details, please visit our Privacy policy page.