A pancake is a flat cake or round and thin made of starch-cased batter that is a combination of eggs, milk and butter. The mixture is typically cooked on a frying pan with either oil or butter used for cooking. However, if at some point you ran out of eggs or simply do not want to use eggs (such as having an egg allergy) for your delicious pancakes, follow these simple techniques below for an eggless pancakes recipe in this post.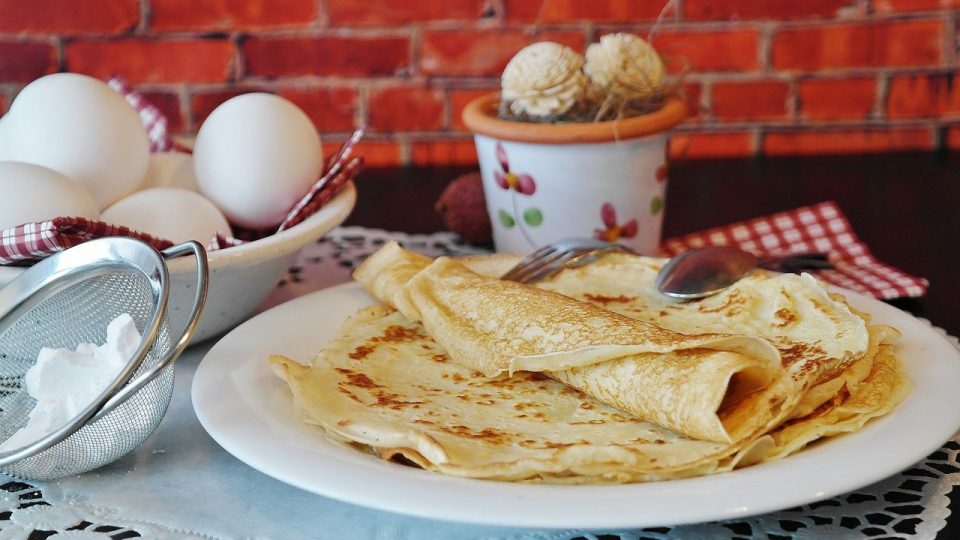 Make Pancake Without Eggs
In making thick and eggless pancakes, follow the eggless pancake recipe below for the perfect pancake . Pancakes is one of the popular breakfast cuisine , but it can also be eaten anytime of the day as long as you want. Everybody loves pancakes aside from it is delicious, it is easy to make too. But before we proceed with making pancakes without eggs, let us first look into why are eggs used in pancakes.
Adding eggs to pancakes give the pancake its moisture, rich and eggs are usually used to make Fluffy pancakes. Making pancakes without eggs will not result to a fluffy pancake, because the eggs is what's making the pancakes becomes fluffy. Without the eggs, it will not be as fluffy as with pancakes with eggs.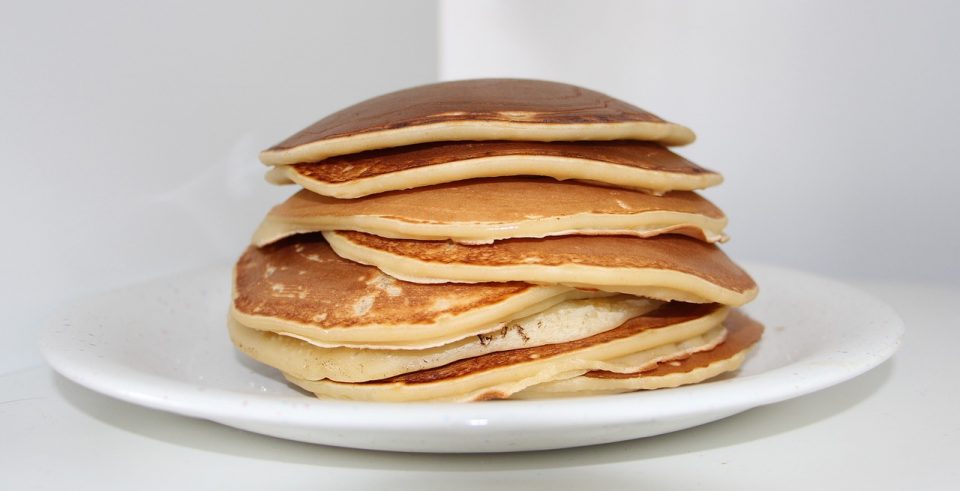 Alternative to Eggs in Making Pancake
If there are no eggs available in the kitchen or you do not want to use eggs for your pancake, there are several egg substitute that you can use.
Most people used mashed banana or applesauce and even nut butter to substitute eggs, yes it can be possible however when making pancakes using these alternatives the flavor of the pancakes will be changed. When the flavor changes, the taste will also change.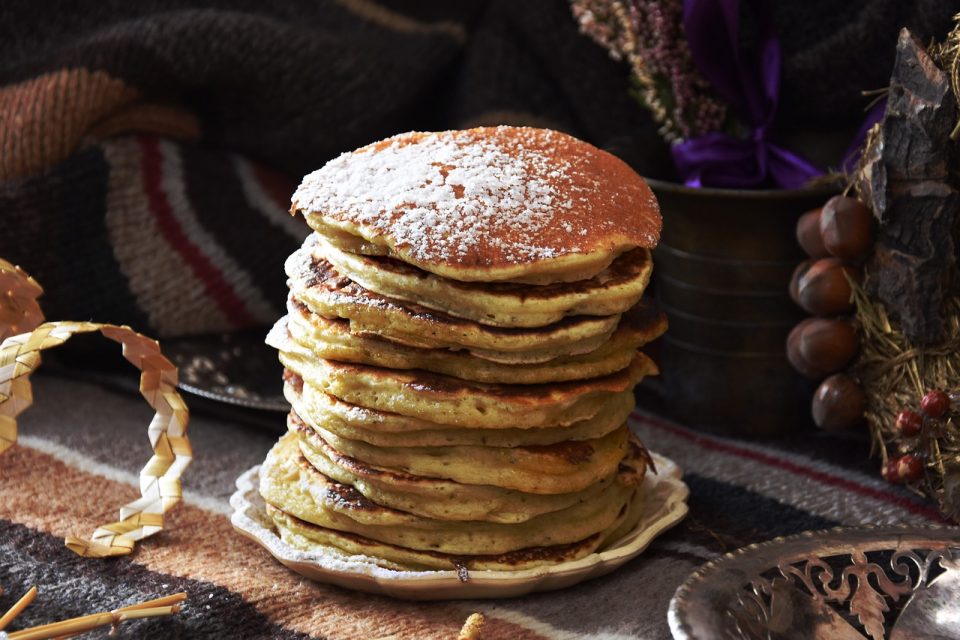 Ingredients for an eggless pancakes
All Purpose Flour- self rising flour can also be used too,
Granulated sugar or white regular sugar
Sugar
Baking powder: When using buttermilk, use baking soda instead.
Salt- Kosher salt or Sea salt is preferable.
Pure Vanilla extract: for a more flavorful egg free pancakes, use a pure vanilla extract.
Milk- as mentioned, buttermilk can also be used as an alternative. You can also add lemon juice.
Butter- Unsalted butter is recommended since you already have salt as one of the ingredients.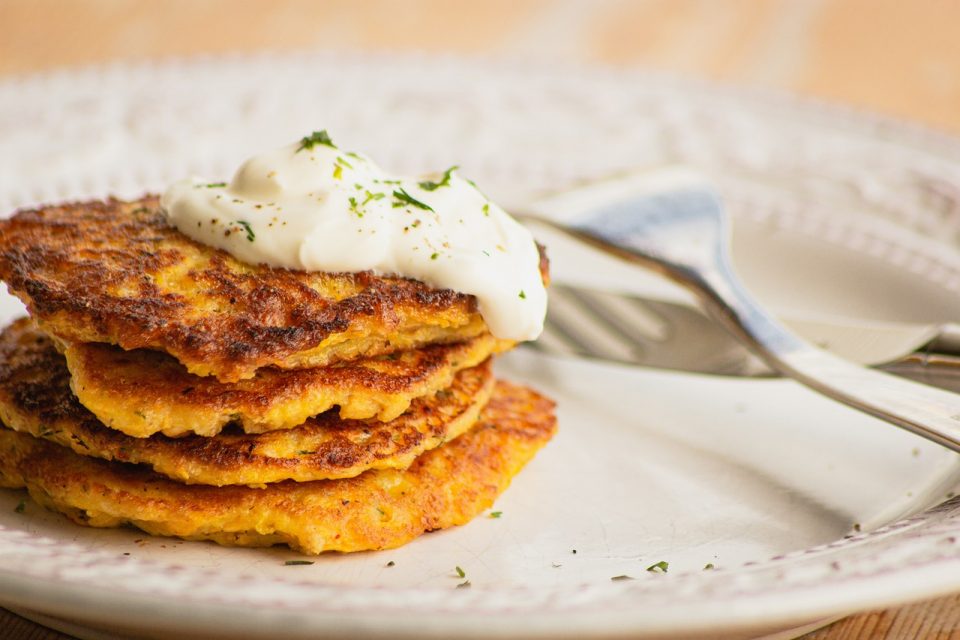 Vegan Eggless pancakes
If you remove the egg from the pancake, this does not necessarily mean the pancakes are already for vegan, the butter and milk should be removed from the lists of ingredients too t make it vegan. Vegetable oil and non-dairy milk should be used instead. Non-dairy milk includes coconut milk or almond milk for it to become a vegan pancakes.
Also, to make it even more healthy, you can alternatively use whole wheat flour as a substitute to all purpose flour.
How to Make Pancakes without eggs
To make fluffy eggless pancakes, you can simply combine all the ingredients in a large bowl. Ingredients such as: Flour, baking powder, sugar, and salt.
On another medium sized bowl, mix vanilla extract and melted butter.
Then, combine the two bowls and mix them.
In cooking eggless pancakes, you can either use a frying pan or a griddle. For this pancake recipe, we will be using a griddle for cooking the pancake but you can also use a frying pan instead of a griddle and over a medium high heat.
Heat griddle to at least 350 degrees. Add in the butter. Ladle the pancake mixture and pour on the griddle with melted butter, if you are using a frying pan to cook the pancake make sure to use a non stick pan then you can use a measuring cup to scoop the pancake mixture. If you want a larger eggless pancakes, you can use large cups instead.
Allow eggless pancakes to cook on one side, then once bubbles starts to appear, flip the pancake to cook the other side for a minute or two until golden brown.
After cooking the pancake, you can topped your fluffy eggless pancakes with melted butter and drizzle it with maple syrup or cinnamon syrup or your syrup of choice. Others also love to drizzle their egg free pancakes with powdered sugar.
---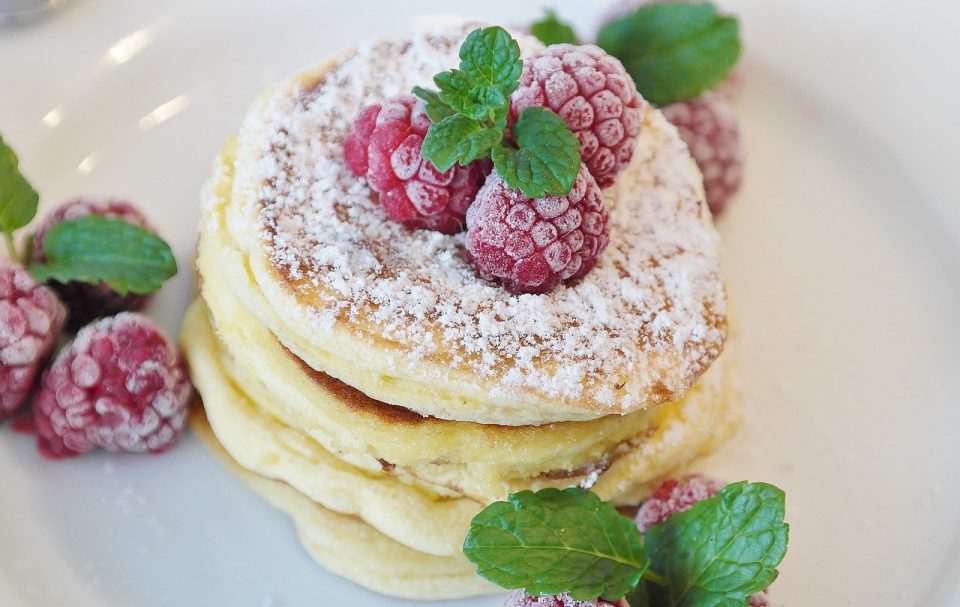 Additional Mix-in you can add to eggless pancake batter
Blueberries
Chopped Strawberries
Apple and Cinnamon (Finely Chopped)
Chocolate chips (semi-sweet)
Lemon zest
Nutella
Walnuts (Chopped)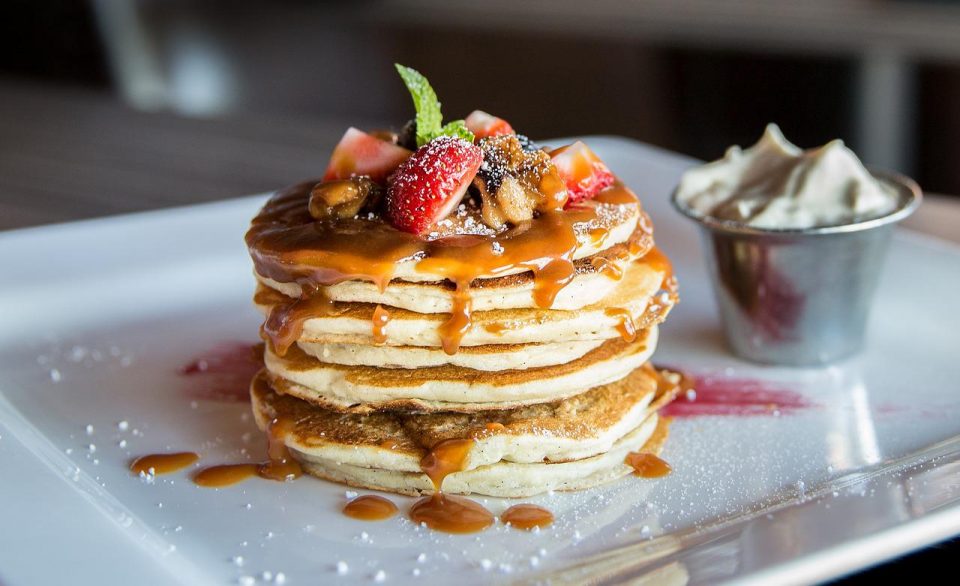 Pancake recipe without Eggs
Here's a quick and easy recipe to make pancakes without eggs.
Prep Time: 15 minutes
Cook Time: 10 minutes
Total Time: 25 minutes
Makes: 12 small eggless pancakes
Ingredients
1/4 cup of sugar
2 1/2 cups of All purpose flour
2 1/2 tsp. of baking powder
1/2 tsp. salt
2 tsps. vanilla extract
2 1/2 cups milk
1/2 cup melted butter
Maple syrup, cinnamon syrup or Strawberry jam
Cooking Instructions
In a large bowl, mix dry ingredients together sugar, baking powder, flour and salt.
For the wet ingredients, combine them all separately in another bowl: milk, vanilla extract and melted butter.
Add the mixed wet ingredients to the bowl of mixed dry ingredients in order to form a batter consistency.
On your griddle heated over 350 degrees, add butter to the surface. For a non stick frying pan, you can use vegetable oil or butter, on medium heat.
Do not pour the entire mixture at once, but must work in batches. Lightly spray griddle surface with butter.

First, pour at least 1/4 cup of batter to the griddle surface and allow the pancake to cook for 1-2 minutes. Flip the pancake once few bubbles form, continue cooking the other side of the pancake for one to two minutes until golden brown.

Transfer cooked eggless pancakes in a plate and Repeat until all the pancake batter are already cooked. If the eggless pancakes starts to burn when using a frying pan, reduce the accordingly.

Serve eggless pancakes while still how. Topped with butter and drizzled with maple syrup. Alternatively, you can add strawberry jam if you want.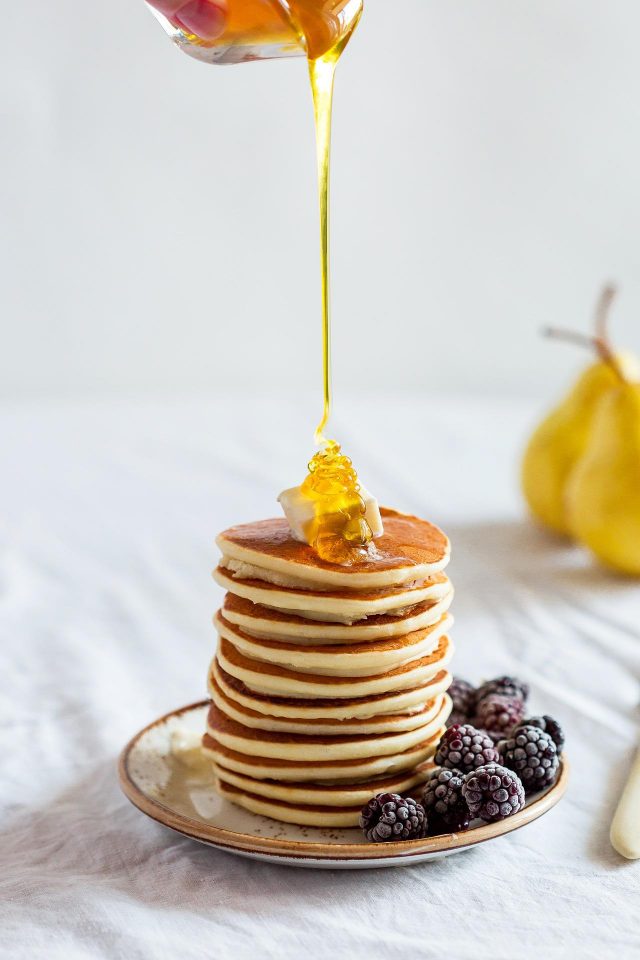 Eggless pancake recipe tips:
Make sure to use the correct measurements of the ingredients. Too much flour can result to a denser pancake.
The frying pan should not be on high heat, doing so will just end up a burnt pancake rather than a fluffy pancakes.
You can also remove burned bits of the batter on the pan once in a while.
To prevent pancake batter to become lumpy, do not overmix.
If you will use a self rising flour on your pancake recipe without eggs, you no longer have to use baking powder and salt.
How to store pancakes
Another good reason why everyone love pancakes is that you can eat pancakes for breakfast the follow day without cooking again and starting from scratch.
For left over pancakes, store it using an airtight container and place in the fridge for 5 days.
If you want to put leftover pancakes in the freezer, you can wrap it in a wax paper and place it on a freezer bag. Close and seal the freezer bag, making sure to remove air.
To Reheat frozen pancakes
If you want to eat the pancakes from the frozen you can do use by using either of the following: Oven and Microwave.
For the oven, cover the pancake with foil. Heat the covered pancake on a preheated oven for at least 8 minutes.
For the microwave, using a damp paper towel wrap the pancakes and place inside the microwave to heat for about 30-40 seconds or until warm.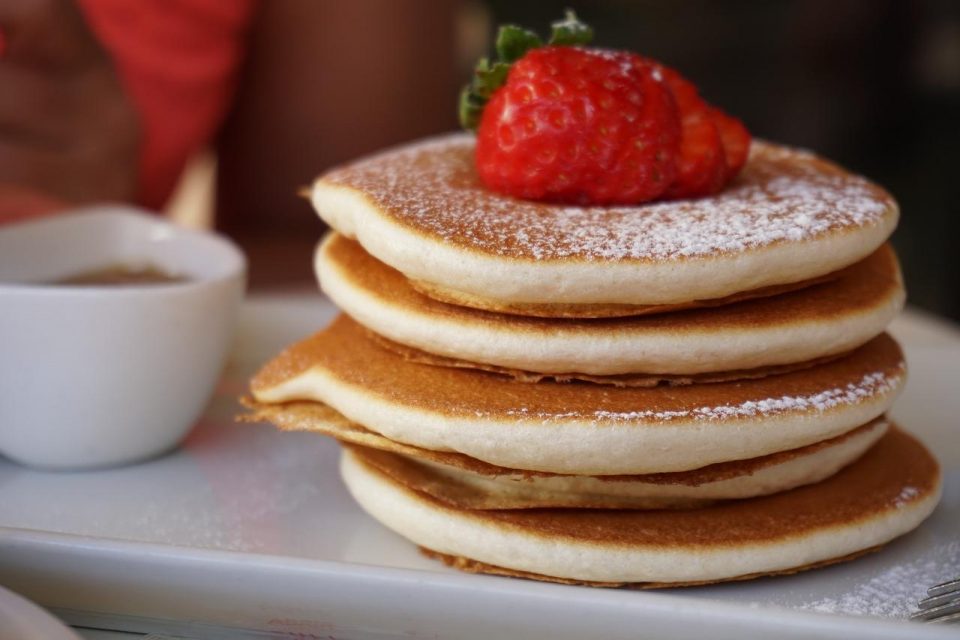 Frequently Asked Questions
What can I use as substitute eggs for a pancake recipe?
For your eggless pancake recipe, you can use buttermilk and baking soda as egg substitutes to make a light and fluffy pancakes.
What will I use to make a gluten free eggless pancakes?
You can make a gluten free eggless pancakes if you use a gluten free flour instead of all purpose flour.