Japanese teapots are great for brewing green tea leaves. They come in different shapes, sizes and beautiful designs, many of which are handcrafted by artisans. These Japanese teapots are not only perfect for tea parties but they also make a great table centerpiece or gift for someone who loves teas.
* If you buy through links on our site, we may earn an affiliate commission. For more details, please visit our Privacy policy page.
Throughout the centuries, the shapes and sizes of teapots in Japan have greatly evolved to help highlight the characteristics of specific tea varieties. They may also be made from different materials including porcelain stone, glass, cast iron, clay and ceramic.
As there are dozens of products to choose from, picking the best Japanese teapot set can become overwhelming. In this guide, we aim to help narrow down your choices so you can easily pick the best Japanese teapot according to your taste.
8 Best Japanese Tea Sets Reviews
In Japanese tradition, giving a gift in sets of 4 is bad luck, that's why this Japanese teapot set comes with two intricately designed 4-oz teacups with two leaf-shaped saucers, one trivet, one 27.05-oz teapot with a strainer and a lid. Everything in this item is made of iron, solidly constructed and elegant on the outside.
The Kiyoshi luxury teapot is not mass-produced but instead is molded and painted by hand to ensure quality construction and a stunning finish. The enamel inside the pot and saucers are rustproof. The design and color of the teapot set are also carefully chosen as the midnight blue koi color symbolizes good luck, abundance and strength.
The teapot is a tetsu kyusu. Tetsu kyusu teapots are designed for brewing and not boiling.
Pros
Made of iron and is constructed to last for many years
Hand painted which makes its design intricate and elegant
Easy to clean
Rustproofed and sealed interior
Cons:
Not Japan made, although its quality is exceptionally good
---
Do you enjoy drinking green tea? This Japanese teapot is perfect for your daily Japanese tea ritual. It is also a perfect choice for those who prefer a classic porcelain teapot. The pure white matte glazed finish makes the teapot and saucers look gorgeous and delicate.
Included in this item are four 4.40-oz porcelain teacups which are dishwasher safe, four small rattan coasters, one removable stainless steel infuser that's integrated inside the teapot, and one 27-oz porcelain Japanese teapot. The teapot is lead-free and cadmium-free and is designed for brewing green tea leaves and other types of tea. The size of the spout is just enough to enable smooth pouring without drips. The teacups and the teapot are dishwasher safe but you need to remove the bentwood handle before washing.
Pros:
Dishwasher safe
Bentwood handle does not get hot
Comes with an elegant gift package
Cons:
The handle is not well made based on user reviews
---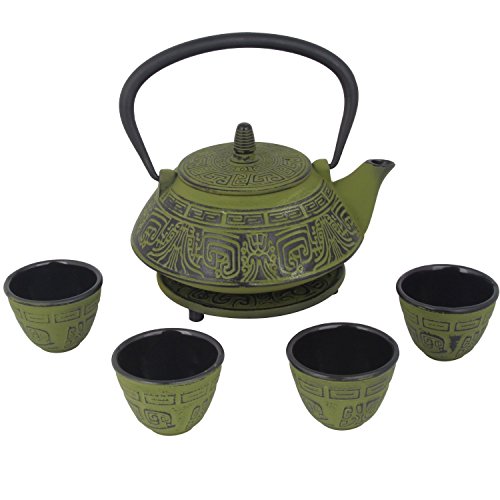 Hobnail teapots such as what's included in this item reflect the beauty of traditional Japanese culture. Made of sturdy cast iron with an enamel coating on the interior and a matte finish on the exterior, you can tell that this Japan-made product is well-designed and well-made to suit your tastes. The same goes for the teacups.
With this item, you get one 26-oz teapot, one trivet and four 2-oz teacups. It also comes with a removable stainless steel mesh infuser that you can use for steeping loose leaf teas. The cast iron pot is not only for brewing but also for boiling water over a stovetop. And since the inside of the teapot and cups are coated, they are rustproof. The teapot is also enough to prepare up to three mugs of tea at a time. And because the cast iron is thick, it keeps the tea warm longer.
Pros:
Enamel coat makes the teapot and teacups rustproof and easy to clean
Can be used over a stovetop or an electric burner
Thick cast iron retains heat better
Handle has good tension and stays firmly in its position
Made in Japan
Cons:
The cups can get pretty hot at first so you can't hold them
---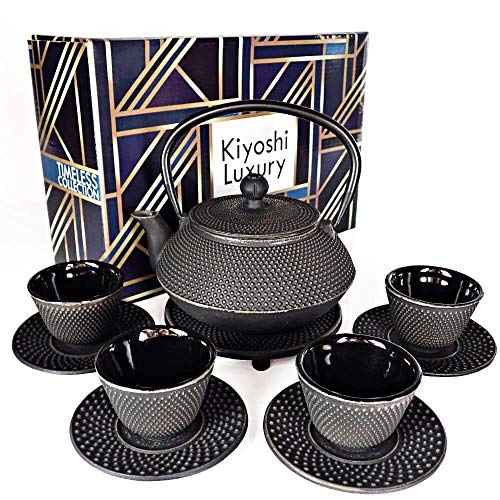 Black is elegant and this Japanese teapot set is all about that. The teapot and teacups are molded and painted individually with a black matte finish. The labor-intensive process produces such a stunning high-quality cast iron product that is a perfect gift for anyone who enjoys making tea out of loose green tea leaves.
This item comes with a solid 3.2-pound cast iron teapot with 25.36-oz capacity, four 2-oz teacups, four leaf-shaped saucers and one stainless steel infuser. The interior has an enamel finish so that they will not rust even after years of use. The teapot and teapots look stunning in their classic Japanese design.
This item is a great gift for any occasion. The pot really keeps the tea warm and it's easy to clean.
Pros:
Exceptionally durable
Handcrafted and not mass-produced
Comes with 30-day money back guarantee
Cleaning is a breeze
Cons:
The saucers are a bit small
---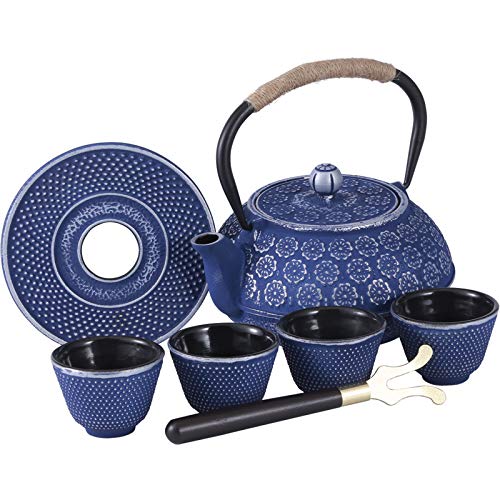 At first look, you'll immediately notice the ornate floral patterns in this Japanese-style tetsubin teapot. You'll also love the four beautiful teacups that come with it. They make a cute centerpiece on your table or decoration to your kitchen top when not in use.
The blue floral teapot and teacups have 28-oz and 2.04-oz capacity respectively. This item also includes a stainless steel tea strainer for catching loose leaves.
This Japanese cast iron teapot is very versatile as you can also use it not just for steeping green tea but also for brewing coffee on different types of stoves. It heats up quickly and evenly and does not leave a metallic aftertaste. The handle of the teapot comes with twine which works as a heat insulator. The handle stays in place as it is well attached and has good tension. Additionally, the curved spout of the teapot allows for smooth pouring without dripping.
Pros:
With rustproof coating
Not fragile
Easy to use and clean
Can be used on stovetops
Cons:
The cups can get very hot so you need to let your tea cool a bit before you can hold your cup
---
Do you love kungfu tea? This ceramic teapot set is a perfect choice. Made from durable ceramic with fine and smooth finish, this set looks really kawaii! It comes with a multi-purpose canister that you can use for holding or storing tea in the traditional kungfu tea style.
When you buy this product, it includes everything you need for kungfu tea including a carry bag for portability. With this set, you get a 7.4-oz teapot, four 1.35-oz teacups, a tea canister, a tea clip and a tea towel. A bamboo tea tray is also included in the set.
Considered as a multi-functional tea set, you can use the teapot for brewing herbal tea, green tea, and black tea.
Pros:
Portable as it comes with a travel bag
Easy to clean
Elegant looking
Durable
Cons:
The teapot and teacups are really small in size
---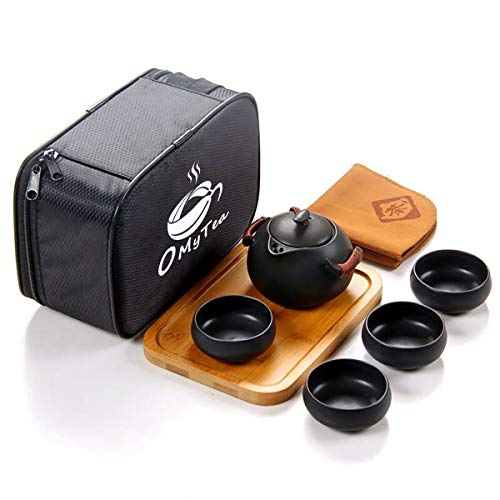 The OMyTea set is a popular choice for people who looking for a kungfu teapot and cups. This one though is very different from the first kungfu teapot set we featured as it is made of porcelain and comes with two side handles.
We like the overall design of the 6.3-oz teapot as it comes with a rope that connects the leads from the pot. It also has porcelain handles partly covered by hemp rope to make it cool to touch. It can also handle high temperatures and can retain heat for a long time. Moreover, the 1.7-oz porcelain teacups feature a double-wall, making them thicker so you can hold a cup full of hot green leaf tea without scalding your hand. A bamboo tray and mat are also included in this item.
Pros:
Uses thick porcelain on the cups to prevent scalding
Comes with a travel bag for portability
Ergonomic design
Durable material
Cons:
No infuser but the spout has small holes to filter leaves
---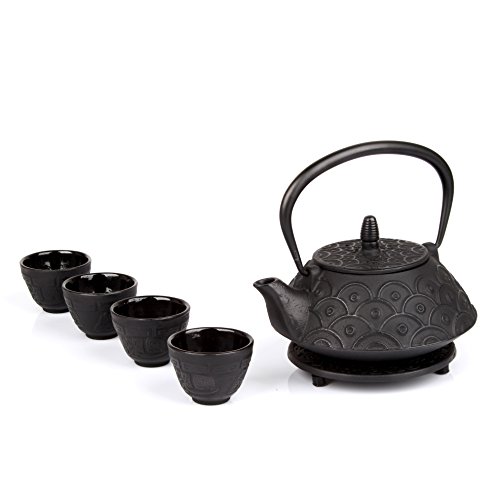 This is another great item for people who prefer the less fragile cast iron teapot and teacups. You can use it to brew coffee, tea bag, tea fruit and loose tea. You'll also like the fact that you can use the teapot to boil water on an electric or gas stove.
The 28-oz teapot, tea cover and 2-oz cups are coated with enamel on the interior which protects the iron from rust. The coating also makes cleaning a lot easier. Also included in this item is a stainless removable mesh strainer for steeping loose green tea leaves. The material used in the construction of the teapot and cups is thick and heavy so it keeps the water temperature warm longer than other iron teapots.
Pros:
Can be used to boil water
Easy to clean
Rustproof
Cons:
The teapot and cups are very small in size
Not made in Japan
---
Buyer's Guide: How to Choose the Best Japanese Teapot Set
Japanese teapots come in different shapes, sizes, styles and designs. To help you choose the best teapot set, here are the factors that you need to consider:
Type of teapot
Japanese style teapots can be classified based on their handle. One of the most common is the yokode kyusu Japanese teapots which have a side handle. The design of a yokode kyusu teapot makes it easy to pour out the tea up to the last drops.
Japanese teapots with the handle at the back are called ushirode kyusu. These teapots are easy to use, whether you are a righthanded or lefthanded person.
There are also the dobin Japanese teapots which are commonly used for boiling water or brewing herbs. The handle of a dobin is normally made from rattan, bamboo or plastic which is attached to the pot with screws or hooks. The advantage of dobin Japanese teapots is that their handle stays cool even when the pot gets very hot.
Materials
Another way to narrow down your search for a teapot set is to consider the material used. There are different types of materials used in making Japanese teapots and the most common are cast iron and ceramic or porcelain. You may also find clay teapots but they not as popular as cast iron and porcelain teapots.
Cast iron teapots are extremely durable and are also aesthetically pleasing, however, they are prone to rust which is why they require thorough care and maintenance. Many of the teapots made from this material are coated with enamel glaze to prevent rust.
Ceramic or porcelain teapots are not prone to rust and they give you better control over the temperature on each cup. However, they can be small, delicate and prone to chipping.
Conclusion
We love all the teapot products we listed in this review but the one that truly stands out is the KIYOSHI Luxury 7PC Japanese Tea Set. It's a gorgeous handmade teapot set that's also durable, easy to clean and easy to use. It definitely worth its price.
* If you buy through links on our site, we may earn an affiliate commission. For more details, please visit our Privacy policy page.