Nothing beats the comfort of having a boiling stew on an electric hot pot while you and your family sit around the table waiting for the food to be ready. From mouth-numbing spicy Chinese dishes to Japanese shabu shabu, you can use a hot pot to prepare a wide range of dishes easily and in your own kitchen. The winter temperature becomes more bearable with these delicious dishes.
* If you buy through links on our site, we may earn an affiliate commission. For more details, please visit our Privacy policy page.
With the increasing popularity of Asian cuisine, particularly Chinese, Korean and Japanese, electric hot pots are also becoming highly in demand. Now, you can find electric hot pots in various sizes and some even come with dividers.
An electric pot with a divider allows you to cook two dishes at the same time or two variations of the same dish such as when you want spicy while the rest of your family prefer the regular one.
If you are ready to order your own electric pot, consider our top picks. We carefully review and check their features and we know that they can give the best bang for your buck.
8 Best Electric Hot Pot with a Divider
For overall performance and ease of use, this electric hot pot is our top pick. It's a perfect choice if you always invite people to your home for a hot pot party. This product makes a good addition to your cooking tools.
The hot pot and the entire unit are 11.42 inches and 20.47 inches in diameter. It is large in size, allowing you to feed up to 6 people. You can use it not just for boiling or stewing but also for BBQ and grilling vegetables and shellfish among others.
We mentioned that it is easy to use since it has two separate adjustable temperature controls for the grill plate and the hot pot. This way, you can have two different heat settings simultaneously. The BBQ grill and the hot pot can also be disassembled for easy cleaning.
For overall performance, this shabu shabu pot heats up in 8 seconds and that's fast! The bottom of the pot also features a heat dissipation system so that it expels heat when needed and for a longer time.
Pros:
Versatile as you can use it for preparing a wide range of food
With a heat dissipation system that increases its efficiency
Easy to use
Fast and even heating
With two knobs that allow for adjustable heat settings
Cons:
Requires 2,200 watts of power which is quite high
---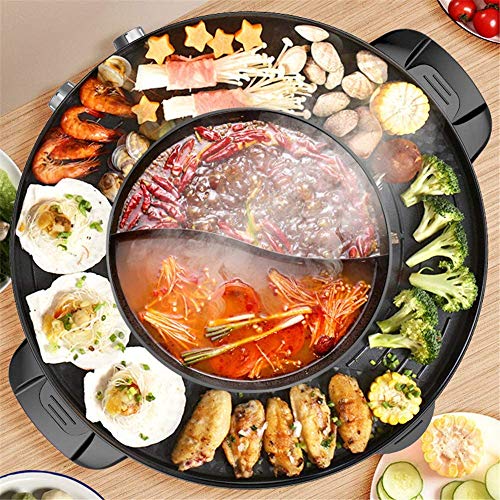 When it comes to versatility and great design, this shabu shabu hot pot is a winner. You can use it not just for boiling but also for grilling and cooking pancakes and other breakfast treats. With this cooking tool, you can prepare barbecue and shabu shabu at the same time. It has a capacity of 4.5L which is enough for up to 8 people.
This super pot has been receiving many commendations for its fast and even heating. It uses a 4D energy and three-dimensional heat conduction mode to provide a consistent thermal effect. There are two temperature controls in this unit, one for the grill and one for the hot pot. This is an important feature as it prevents your grilled food from getting burnt in case you need a high temperature for your pot.
The overall construction of this electric hot pot is solid and durable. Made from a food-grade aluminum alloy, it does not produce harmful substances when cooking. And even if you use the high temperature for grilling, it does not produce much smoke. And when you are done cooking, you can easily remove the grill for cleaning. Make sure though to let it stay cool first before washing.
Pros:
Comes with an oil receiving tray where excess oil flows
The cord is long so there's no need to use an extension cord
Multi-functional heating element
Even and consistent heating
Durable glass lid provides easy access to what's boiling
Cons:
Requires 2,200 watts of power which for small households can be a bit much
---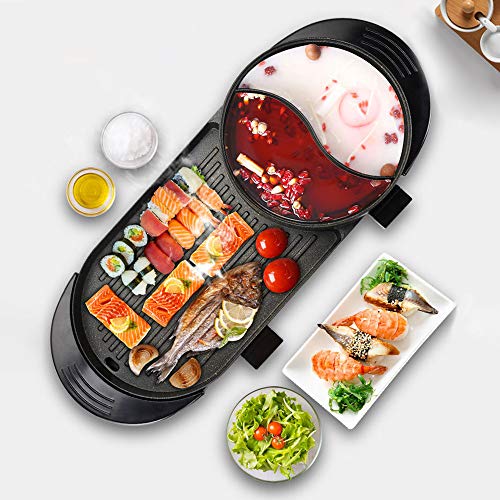 Just like the 2200W 4.5L Electric Smokeless Grill and Hot Pot, this product is also a multi-functional hot pot because it has a grill tray. However, the pot has a lower capacity of 1.6L which is enough to feed several people.
A good feature of this cooking tool is that it comes with efficient temperature control to prevent the hot pot and the grill plate to go more than 240 degrees Celsius. This works as a safety feature to prevent the heating element from overheating.
Constructed using cast aluminum alloy with a non stick finished, this electric hot pot is solid and durable. The hot pot and the grill plate have separate temperature control knob, each with 5 heat adjustments.
Easy to use and easy to clean, this electric hot pot for shabu shabu, stock and barbecue is great for any gatherings.
Pros:
Multifunctional
With moneyback guarantee
Easy to use
Solid and durable construction
Cons:
Requires 2,200 watts of power when using both the hot pot and grilling cooking pan; needs caution to make sure your plug is not overworked
---
This is one of the items worth checking out if you are looking for a cooking tool that can do BBQ and shabu shabu at the same time, right on your dining table. But what makes this hot pot stand out is its use of five layers of thick plates that prevent the entire unit from getting deformed even at a high heat of 1,000 degrees Celsius.
Cleaning this pot is a breeze since you can easily remove the cooking pot and BBQ drill from its base. This also allows for easy storage. To ensure the best results in the food you are cooking, you can utilize the two knobs for easy temperature control settings. As a multifunctional pot, you can use it to boil, stir fry and BBQ.
This cooking tool has a diameter of 19.68 inches while the hot pot is 9.64 inches in diameter. There's adequate space for you to prepare food for 5 to 6 people. Moreover, you don't have to wait a long time for your food to cook as it relatively heats fast and cooks fast.
Pros:
Fast heating of only 8 seconds
Versatile
Easy to use and store
Comes with a durable glass lid
Cons:
Requires high 2,200 wattage to use
---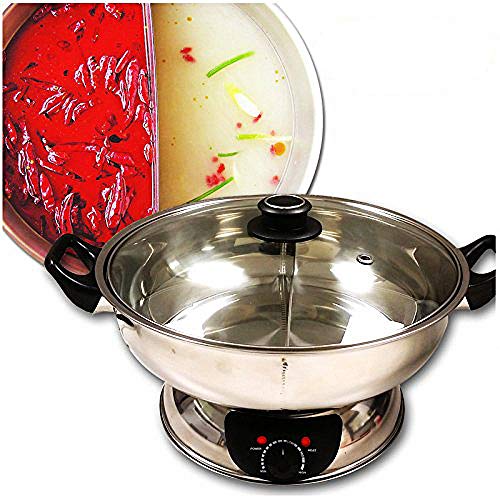 If you are just after an electric hot pot without a grilling pan, the Sonya Shabu Shabu Hot Pot is one of the best products we found. It has a large capacity of 5 liters so up to six people can enjoy your mouth-watering stew or shabu shabu.
Made of stainless steel, this table top hot pot is quite durable. It features an internal divider that lets you cook two dishes at a time. It does require 1,500 watts of energy to use. Moreover, it is also fitted with heat-resistant handles and anti-skid feet to keep the pot stationary.
Using this stainless steel pot is also straightforward. You can easily remove the pot from the base to fill it with water or for cleaning. There are also four temperature control settings that you can use for best results, ensuring that you neither undercook nor overcook your dish.
Pros:
Large capacity
Easy to use and clean
Stainless steel material is extra durable
Cons:
If you will only fill or use one side, it has the tendency to leak
---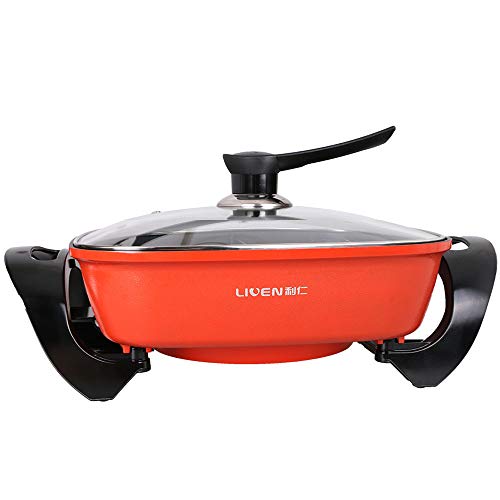 With its elegant design and bright color, this table top hot pot is perfect for fashionable chefs. Aside from its aesthetics, it does a good job at cooking your favorite shabu shabu dish.
The body of the pot is made of cast aluminum alloy and finished with a nonstick coating. You can safely clean it by simply removing the cord. Thanks to its nonstick finish, you should be able to clean this hot pot with ease.
This hot pot has an internal partition that lets you enjoy two flavors of your favorite dish at the same time. It has a 5-liter capacity which means you can cook more of your favorite stew. When cooking, it requires 1,600 watts of electrical power with even and rapid heating. You can also easily adjust the heat from 50 degrees to 200 degrees Celsius.
Moreover, this hot pot includes a lid holder that is ergonomically designed so that the lid can stand upright on a table. It also has an insulating bakelite pot handle to prevent scalding.
Pros:
Two knobs with five-heat adjustable temperature
With a tempered glass lid for seeing what's going on inside the pot
Great safety features such as its ergonomically designed lid and insulated pot handle
Solid construction
Cons:
Some users reported an issue with the connector cord
---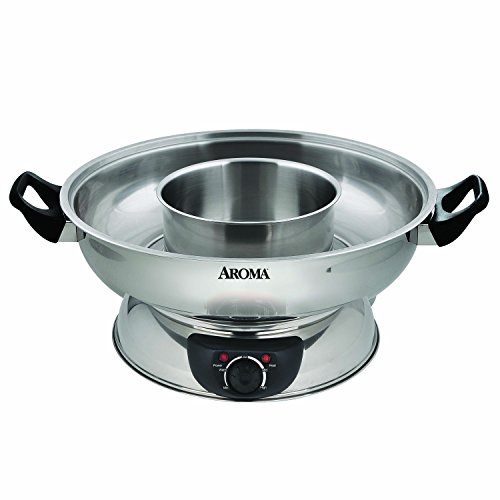 This item is for you if you want a hot pot with dual bowl, as opposed to having a divider from one end to the other. Made of stainless steel, the Aroma hot pot's dual bowl allows you to cook two different soups simultaneously. This is a perfect solution if your family has heat chasers while others prefer a milder soup.
Powered by 1,500 watts of energy, this hot pot can heat quickly and evenly. It has a front dial for easy adjustment of the cooking temperature to your desired level. The cooking pot is removable which makes it easier to clean and store. The pot also comes with a tempered glass lid with a steam vent to prevent the content from spilling. The Aroma stainless steel pot uses BPA-free materials.
Pros:
Dual bowl design is unique and ergonomic as it lets you cook two dishes with no leakage
Cool-touch handle
Even and fast heating
Easy to clean
Tempered glass lid is durable
Cons:
---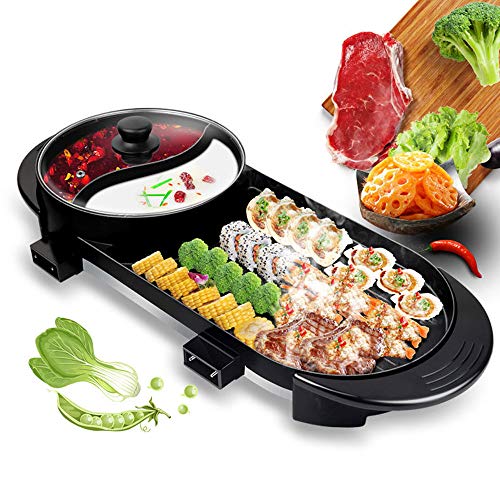 This hot pot may be the last on our list, but many of its features are on par with quality products we've seen. Made of environment-friendly cast alloy materials with food-grade coating, this one is a perfect choice if you want to get a hot pot that comes with a grill pan.
With two separate control knobs for the hot pan and grill pan, it makes heat easier to control. It also has fast-heating capability with a power requirement of 2,400 watts.
The hot pot comes with a divider for cooking two types of soups. It does not leak, giving you a worry-free cooking experience. The pot also comes with a lid made of tempered glass and stainless steel edging. It's a durable lid that helps preserve heat inside the pot. It also has an oil container where excess oil can automatically drip.
Pros:
Easy to clean
Two control knobs for heat adjustments
Easy to use
Comes with a durable glass lid
Cons:
Emits a strong odor on your first or second use
High wattage requirement
---
Buyer's Guide: How to Choose the Best Hot Pot with Divider
Before you go ahead and purchase your hot pot electric-powered cooker, don't skip on checking these features so you'll be able to buy a product that meets your cooking style and preferences.
Material
The best electric hot pots can be made of different materials but the most commonly used are stainless steel and aluminum alloy, with each having its pros and cons.
Aluminum may not be as strong as stainless steel but it is more lightweight. Compared to stainless steel, it is also more resistant to corrosion due to its passivation layer. However, if you frequently cook acidic food, the aluminum pot may rapidly corrode or deteriorate. Moreover, aluminum is a better conductor of heat. On the negative side, it reacts to food which in turn may affect the flavor and color.
On the other hand, stainless steel pots which are typically made of chromium, iron, nickel, manganese and copper are also corrosion-resistant, but not as good as those made of aluminum. Stainless steel hot pots are popular because they are stronger and they are less reactive to foods.
Moreover, you'll also find some of the best electric hot pots have a non-stick coating. Except for stainless steel, these hot pots are usually made of other materials. With their non-stick coating, these electric hot pots are easier to clean. However, be extra careful about the quality and type of non-stick coating in your pot as some emit toxic chemicals.
Capacity
Check the capacity of the pot if it suits the number of people you want to cook for or the amount of shabu shabu you want to cook at the same time. Smaller pots have less than 2 liters of food capacity while you may find bigger pots that can handle 5 or more liters of stew. Obviously, you need to purchase a hot pot that meets your needs.
Accessories
Hot pots with BBQ grill are gaining in popularity because of their versatility. BBQ is indeed a perfect pair for your steaming hot soup or shabu shabu.
Power
Electric hot pots with a grill pan usually draw 2,000 to 2,400 watts from your convenience outlet. If your outlets can handle the wattage, it's best to get this type of product for versatility. Moreover, smaller electric hot pots with no grill pan may only require 1,000 to 1,500 watts of AC power.
Conclusion
Electric hot pots with a divider can make cooking more fun and easy especially if you have one with a grill pan. You could simply put the hot pot on your table and let everyone help with cooking. This can be a good bonding activity with your family and friends.
Our best choice for a hot pot with a divider is the SEAAN Electric Hot Pot Grill Pan Indoor Korean BBQ Teppanyaki Grill Pot. It is a super pot due to its versatility and ability to heat food evenly. It is also easy to use and clean.
Make sure to also check the rest of the hot pots we listed as they may have the features you are looking for.
* If you buy through links on our site, we may earn an affiliate commission. For more details, please visit our Privacy policy page.