Are you using the best sashimi knife? You might probably be wondering if you can just use any knife and if it worth investing in an expensive sashimi knife.
* If you buy through links on our site, we may earn an affiliate commission. For more details, please visit our Privacy policy page.
Any sharp kitchen knife can get the job done but sashimi cutting knives can make a big difference in the presentation and even taste. A sashimi knife is designed for the sole purpose of cutting fish neatly and cleanly. So if you want to level up your food presentation and be able to prepare the best-looking sushi and sashimi, it's a good idea to invest in this type of knife.
We rounded up our top choices for best sashimi knives to make it easier for you to choose.
8 Best Sushi Sashimi Knives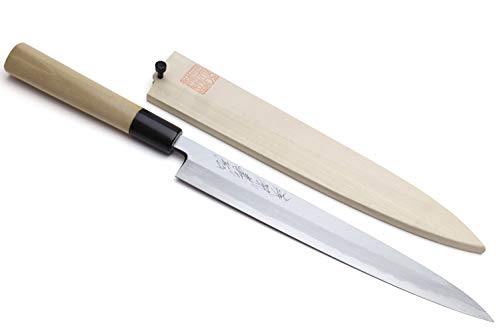 This sashimi sushi knife stands out when we're doing sushi and sashimi knives review. Just like the Yoshihiro VGYA240SH which is also one of the best sashimi knives in Japan from the same brand, this too comes with many great features.
The Yoshihiro Shiroko High Carbon Steel sashimi knife is a yanagi or a long knife designed mainly for cutting thin slices of fish for your sushi and sashimi. You can use it to make long uninterrupted strokes, which is the ideal technique for preserving the freshness and integrity of the fish. The yanagi is considered as one of the most important knives by sushi and sashimi chefs.
Handmade and crafted by master artisans, this knife is forged using iron and it comes with mist patterns known as Kasumi. It has a hardness rating of 62-63 on the Rockwell hardness scale (HRC). If you look closely at its blade, you'll notice that it has a very flat grind on the front side and a concave grind and flat rim on its back. This type of design allows the blade to cut through food without damaging the surface, therefore retaining the perfect texture and taste.
Proudly made in Japan, this sushi and sashimi knife is not mass-produced. The sharp blade is complemented with a D-shaped lightweight handle which is seamlessly welded to make the entire knife extra durable. This product measures 9.5 inches (240mm) and weighs 13.6 ounces.
Pros:
Knife set comes with a protective wooden sheath
Well-made knife with durable high carbon steel
Well balanced so it doesn't strain your hand
Ultra-sharp cutting edge
Cons:
Carbon steel requires extra care and maintenance
---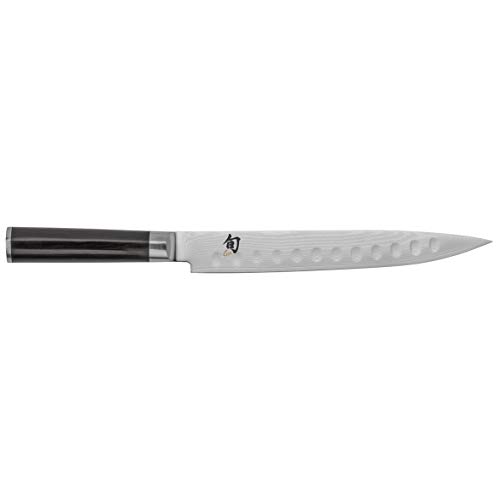 Shun is one of the leading makers of some of the best sushi knives known for their premium performance. This Japanese knife has a classic hallow ground and it comes with a long and narrow blade that allows for cleaner slices of fish. It is a perfect choice if you want a sashimi knife that you can also use for cutting poultry and meat.
This sushi sashimi knife has a razor-sharp blade that helps retain the juices and flavor inside the meat. Shun uses proprietary high-performance VG 10 and VG Max stainless steel on their knives and this product uses the latter. VG Max has more chromium and vanadium content than VG 10 which means that it is better in edge retention. The blade has 68 layers of Damascus stainless steel and is sharpened to a 16-degree angle, making it exquisitely sharp. The blade also has hollow-ground indentations to reduce drag for easy and fast cutting.
Moreover, this knife has a PakkaWood handle, a genuine hardwood and is coated with resin to prevent damage from water and moisture. The design of the handle allows for comfort.
Pros:
With lifetime warranty
Ultra-sharp blade
Durable handle
Forged and with solid construction
Cons:
Requests for repairs take weeks
---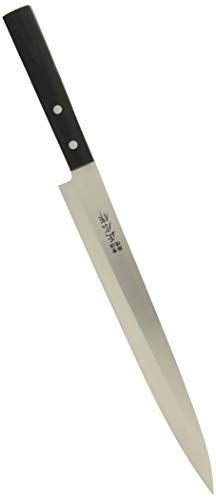 If you fancy having a yanagiba knife, the Masahiro Stainless Yanagiba is one of the best knives we've seen. A yanagiba knife is not just for slicing fish but also for trimming meat fillet.
This yanagiba sushi knife measures 18.11 x 2.95 x 1.3 inches. Weighing just 0.17 kilograms, it is lightweight enough so your hand will not get strained even if you use it extensively. The blade is made of stainless steel and can hold a lot of abuse. It works surprisingly well for everyday use, comparable to more expensive sushi and sashimi cutting knives.
The Masahiro yanagiba is an excellent choice for anyone looking for a tough knife that will not easily wear even if used daily.
Pros
Blade is extremely sharp
Well balanced
Blade retains the edges even with frequent use
Cons:
---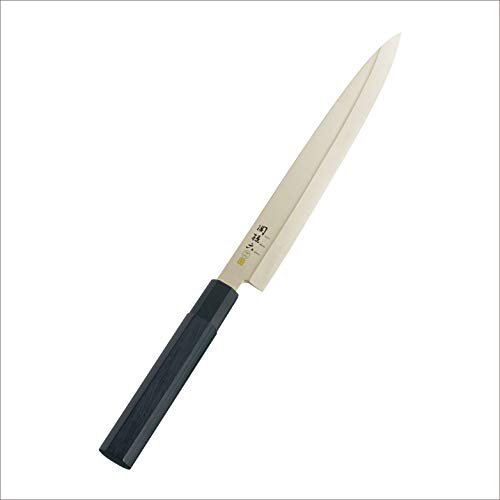 The Seki Gold Kotobuki St Sashimi Knife is a perfect choice for a beginner sashimi and sushi chef. Designed for righthanded users, this knife has a blade length of 24 cm and measures 14.92 x 1.97 x 1.18 inches. The blade has a harness score of blade hardness of 58 (+/-1) on Rockwell Hardness scale.
This knife is well balanced and is not heavy, weighing just 159 grams. With its well-balanced and ergonomic design, this right handed sushi knife feels comfortable to use. It works great for slicing and filleting fish. And while it is not a meat cleaver, you can also use this knife to slice meat. Also, according to its manufacturer, you can use it for cutting bones too (but perhaps only soft bones).
Pros:
Well-balanced weight
Hard blade which you can also use for bones
Ultra-sharp edge out of the box
Cons:
Plastic handle
Sheath not included
---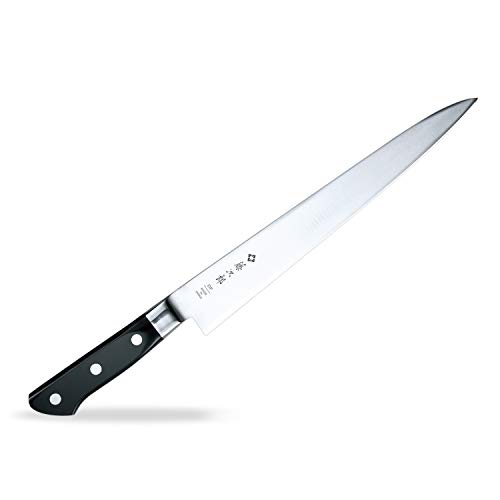 If you want a knife that works for right- and left-handed sushi chefs, this product is worth checking out. It measures 14.37 x 2.76 x 0.79 inches and weighs 0.18 kilograms. It is not too light and not too heavy, so it feels good in the hand. This Japanese knife is also stain-resistant.
This knife retains its sharpness for a long time. However, if you have to sharpen this chef knife, it's best to use a ceramic rod as it is made of stainless, not carbon steel blade. A stainless steel blade is a bit brittle for European honing rods.
With this knife, you can make thin slices of fish while retaining the original texture of the fish.
Pros:
Great edge retention
Works for both left and right hand use
Weight is not too light and not too heavy
Cons:
---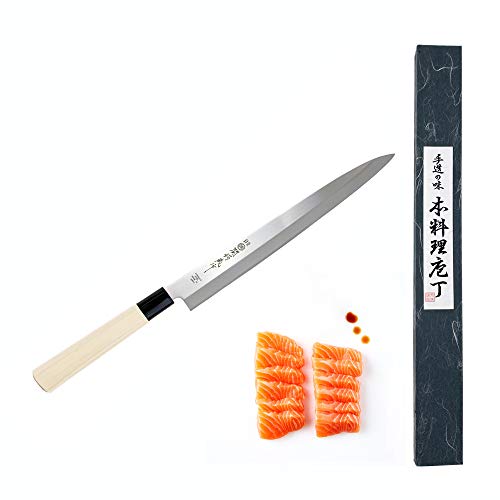 This sushi and sashimi knife is a good choice if you are looking for a budget-friendly knife and if you don't mind that it is made in China and not Japan. The sharpness of its blade out of the box is comparable to more expensive sushi knives.
Made of molybdenum rust-resistant steel, this yanagiba sushi sashimi knife has an 11 and 3/4-inch long razor-sharp edge blade with a total length of 17 1/2 inches including the handle. The design of the wood handle prevents skidding and offers maximum control.
Pros:
Comes with a plastic bolster
Sharp out of the box
Easy to sharpen
Budget-friendly
Cons:
---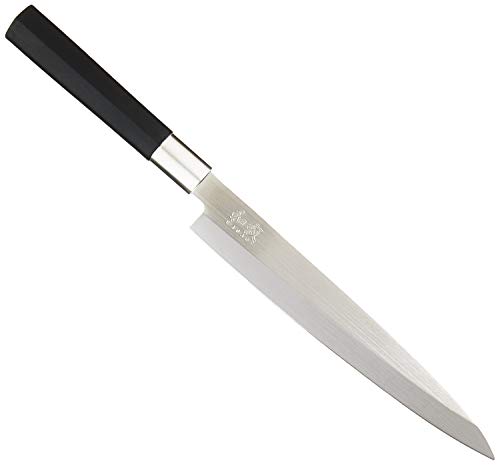 The Wasabi line of Kai Japanese knives is designed with both double- and single-bevel blades that are sharpened at a 16-degree angle. This design produces sharper and smoother cutting edge and is one of the most notable features of the Wasabi Black.
You can use this yanagiba sushi knife slice fish to perfection. With this chef knife, you can make ultra-slim slices of fish to create the best sushi and sashimi in your own kitchen. Constructed using Daido 1K6 high carbon stainless steel, the blade of this yanagiba cutting knife has a superior edge retention. The single bevel blade has a Japanese character embellishment for "wasabi" which looks charming.
Pros:
The knife comes with lifetime warranty
Good edge retention
Blade has extra-sharp cutting edge
Cons:
Plastic handle gets slippery when wet
---
Razor sharp and made of high carbon steel, this sashimi slicing knife is also a good choice for a beginner chef on a tight budget. It is a single-edge blade that comes with a taper ground and a fine stone finish. This design makes the blade extra sharp and easy to sharpen.
Moreover, this knife is fitted with a traditional wood handle. Although not the best handle, but it does not easily slip and it balances the weight of the blade.
Limited Lifetime Warranty
Pros:
Resistant to stain and corrosion
With lifetime limited warranty
Sharp blade
Cons:
Handle is not coated
There is a gap between the blade and the round handle
Buyers Guide: How to Choose the Best Sushi Sashimi Knife
Choosing the best Japanese sushi knife or sashimi knife can be challenging as there are different Japanese terminologies that might be new to you. Not to mention that these greatly vary in material and features. So if you are looking for the best sashimi slicing knife, we have listed some of the important factors that you need to check:
Blade
Japanese knives greatly differ in the type of steel used for the blades. Some of the most commonly used materials for making sashimi blades and sushi blades are Damascus Steel, VG 10 Steel, VG-Max Steel, Super Blue Steel and White Steel 2. Each type of material has its pros and cons.
If you want a knife that is highly resilient and easy to sharpen, choose one that is made of VG 10. Choose a knife made of Damascus steel if you are looking for something that is tough and resistant to chipping. On the other hand, if you don't mind the price and are just after quality, durability and resistance to corrosion and wear, a knife made of VG Max is a perfect choice. This metal is the improved version of VG 10.
Full or Half Tang
Generally, full tang knives for sushi and sashimi are stronger and more durable than those with only half tang. Since a full length of steel is riveted to the handle, there is no weak point where the metal meets the handle.
However, sashimi and sushi knives don't need to be so strong since you are just using them primarily to slice fish. What's more important is to ensure that the best sushi sashimi knife you are getting has an extra sharp blade.
Blade Length
It's rare to see a sashimi knife or sushi knife that has a short blade. Generally, a sashimi or sushi knife can have a blade that is more than 6 inches long. Longer blades allow you to cut through a big piece of fish, uninterrupted, leaving a clean edge. So when choosing the best sushi knife or best sashimi knife, make sure to choose one with a blade that's longer than 6 inches.
Overall quality
The best sashimi or sushi knives may come with an expensive price tag especially if they are made from premium materials designed to last for many years. Those knives are typically handmade and are not mass produced. These knives typically cost over $200 dollars or higher. But because of their quality, you can save in the long run because they will last longer than the cheaper knives.
Conclusion
If you are looking for the best sushi knife or sashimi cutting knife, our guide can make it easier for you to choose. Checking the important features we have listed above can help you pick a knife that will give you the best value for your money.
When it comes to overall quality and construction, the Yoshihiro Shiroko Kasumi Yanagi Magnolia Handle gives you the best bang for your buck. From its materials and solid construction to the sharpness of its blade, this product is way ahead of the other knives.
On the other hand, if you're a beginner and are looking for a more affordable choice, our best pick is the Seki Gold Kotobuki St. Although not as good as the Yoshihiro in terms of quality, its performance is comparable to the latter. It has also a super-sharp blade that is also easy to sharpen.
The rest of the knives in our list also come with great features so it's best to check them as well. That way, you can choose the best knife based on your personal preferences.
* If you buy through links on our site, we may earn an affiliate commission. For more details, please visit our Privacy policy page.
---