If you fancy eating Korean BBQ, why not buy your own grill so that you can enjoy this delicious comfort food in your home whenever you want one. And the best cooking tool for this purpose has to be a Korean BBQ grill.
* If you buy through links on our site, we may earn an affiliate commission. For more details, please visit our Privacy policy page.
Korean BBQ grills let you replicate the savory BBQ flavor and unique aroma of authentic Korean-style grilled pork, chicken, beef and seafoods. These grills are designed to make your family meals more enjoyable as you can simply put it on top of your dining table where everyone can cook their own food.
If you want to start looking now for a Korean BBQ grill pan (not the one with a hot pot), we can help you choose the best product. We've handpicked the top Korean BBQ grills which we think have the best features and performance.
7 Best Korean Barbecue Grill Reviews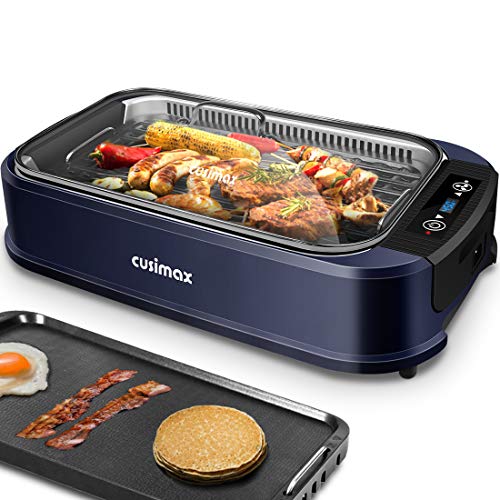 This indoor grill is not just for cooking delicious barbecues but you can also use it to cook delicious pancakes and other dishes you would otherwise cook on a griddle. It is a 2-in-1 grill and griddle that's perfect for small kitchens because of its compact design.
One of the notable features of the 1500-watt Indoor Grill CUSIMAX is its built-in turbo smoke extractor which can significantly reduce the smoke when grilling. Also, it is fitted with two U-shaped tubes for the heat source which makes grilling faster with consistent heating. You can also easily adjust the temperature settings from 200 to 450 degrees Fahrenheit by tapping on its LED smart display button. Aside from its high-temperature settings, its glass lid can also seal the heat.
Moreover, the grill and griddle plates are also easy to change depending on which one you would use. These plates both have a non-stick coating so cleaning should not be a problem.
Pros:
The non stick cooking surface is dishwasher safe
Durable construction
Comes with a glass lid
180-day return policy
Cons:
---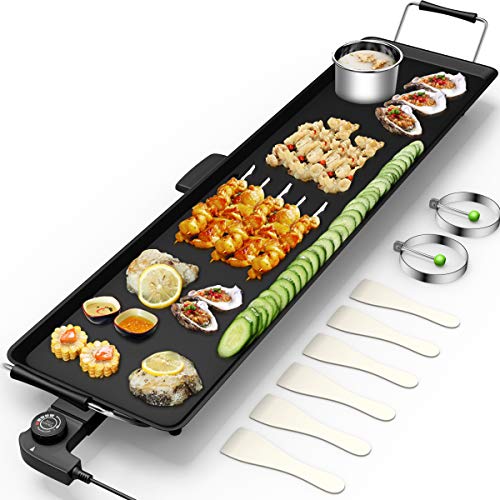 Inviting your friends over to your home for a Korean BBQ night? The Costzon Teppanyaki Table Top Grill will make your dinner more fun. This huge rectangular griller measures 35 x 9 inches, giving everyone enough grilling surface.
As it has a premium non-stick surface, you only need a little grease or oil to cook meat, fish, and vegetables on this griller. It is great not just for healthy cooking but also for easy cleaning.
What we also like about this product is that it comes with many freebies including 6 wooden spatulas and 2 egg rings. But aside from the free items, the griller itself is already a good purchase because of its remarkable features. One such feature is the five temperature settings for the heating element, allowing you to choose the perfect temperature for the kind of food you are grilling.
Moreover, this Korean BBQ grill comes with two insulated handles on each side so that you can safely and easily move it anywhere you want. As an added safety feature, this product also has four anti-slip feet to keep it stable while you are cooking.
This 2,000-watt grill for Korean BBQ only weighs 6.6 pounds, making it very portable. Aside from home use, you can also bring it at outdoor parties and even on your camping trips. It's a perfect partner for your Korean hot pot.
Pros:
Compact and portable
Can cook food for several people due to its size
Five temperature settings for customized cooking
Excellent safety features
Easy to use and clean
Cons:
The grease drip tray is a bit small
---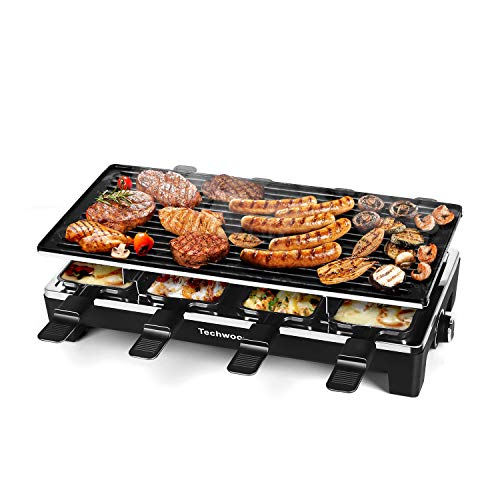 Is Korean barbecue constantly on your home dinner menu? If your answer is yes, Korean indoor grills such as this product will make it happen.
We also love this 1500 watts grill for Korean BBQ because of its unique ergonomic design. The 19 x 9 -inch griller plate that comes with this unit is reversible, with one side grooved and the other is flat or smooth. The grooved side is perfect for BBQ as it leaves griller marks on the meat. The flat surface on the other hand is ideal for crepes and similar foodstuffs.
As if the two-sided plate is not yet enough, this indoor griller also features 8 heat-resistant small Raclette trays that are movable for easy cleaning. You can only imagine the variety of foods you can cook with this griller aside from Korean BBQ, including cheese, veggies, eggs and seafood. The Ranchette trays are also perfect for preparing side dishes.
Moreover, cooking is also easy with this thing due to its adjustable thermostat with temperature options from 392 – 536 degrees Fahrenheit. The visible indicator light on the thermostat allows you to clearly see the temperature you are cooking on. Also, it features non-slip feet for your safety.
Pros:
With more cooking space because of the Rachette trays
The reversible grilling plate allows for versatility
Cast aluminum grilling surface with Teflon finish is easy to use and clean
With a 30-day hassle-free return policy and 18-month warranty period
Comes with a big drip pan
Cons:
No safety handle for moving the grill while hot
---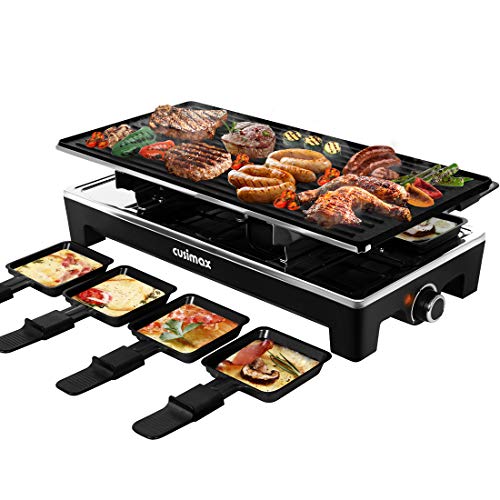 If you love our second pick, there's a big chance that you'll also like the CUSIMAX indoor grill as they share several similar features. This too comes with 8 independent small-sized Rachette trays for preparing cheese or egg dishes. It also has a reversible cast aluminum grilling pan with Teflon coating. One side is grooved while the other side is smooth. Overall, it is a versatile heavy-duty griller that makes great-tasting Korean barbecue.
Grilling Korean barbecue is easy with this indoor electric grill. You can easily adjust the temperature to your desired heat from 374 to 446 degrees Fahrenheit. Moreover, it can sustain continuous burning time as it is designed for that purpose. We would also like to mention that because of the non-stick coat on the grilling surface, cleaning this indoor electric grill is a breeze.
With a 1,500-watt high power heating tube, this cooking gear can cook your food faster!
Pros:
With 180-day return policy
With plenty of grilling and cooking space
Comes with a huge drip tray
Grills food faster
Cons:
No manufacturer warranty information unlike the Techwood Electric Korean BBQ Grill
---
Aside from electric-powered indoor BBQ grills, Korean grills designed for butane gas stoves are also gaining in popularity. One such product is the TECHEF stovetop Korean BBQ grill. If you buy this product, it's like buying two for the price of one because you also get a gas stove.
This stove-top grill for Korean BBQ comes with a non-stick finish so that meat, seafood and vegetables will not stick. What's unique about the grilling surface is that it has an innovative swirl design that allows oil and fat to slowly drain to the drip pan. Cooking on this type of griller makes your Korean barbecue flavorful because the fat or oil helps marinate the meat.
As for the stove burner which is your heat source, it's just the perfect size for the indoor grill pan and it is portable too. Moreover, the stove comes with safety features that include a magnetic locking system and an advanced shut-off mechanism for your peace of mind. It also has a heat panel system for efficiency.
Pros:
With an effective fat and grease draining system
Compact and portable design
This stove top grill is safe to use
Dishwasher safe and is also easy to clean by hand washing
Solid construction
Cons:
Will not work on most home kitchen stovetops because of its design
---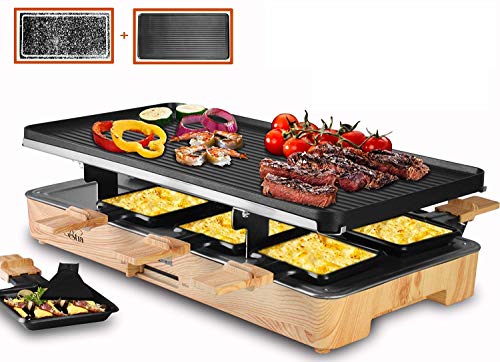 The wood pattern design on the base of this Korean grill looks really nice! For someone who is looking for an elegant looking Korean grill, this is a good choice. It goes well with a Korean hot pot.
The Artestia indoor grill has several standout features compared to several other Raclette grills we've reviewed. For one, it is the only Rachette griller that comes with a high-density granite grill stone with a cooking surface area of 18.3 X 9.2 inches. Also included in the set are one reversible cast aluminum plate, eight Raclette dish holders with cool touch handles plus eight spatulas. The complete set makes grilling for parties and gatherings more fun. Drawing 1,200 watts of power for a maximum temperature of 428 degrees Fahrenheit, it cooks meat, seafood, vegetables and cheese faster.
Since the grilling place and the Rachette pans have nonstick coating, they are easier to clean after your BBQ night. With this indoor grill, up to 8 people can enjoy sumptuous Korean BBQ and grilled cheese at the same time.
Pros:
Non stick surface is easy to clean
With a reversible pan (one side grooved and the other smooth)
Comes with a granite grill stone
The Rachette trays are perfect for preparing side dishes
Cons:
---
If you are just after a Korean barbecue indoor grill without a heat source, the CookKing – Master Grill Pan is a great choice. Made in Korea, this stove top grill is a game-changer in making some of the best Korean BBQs.
This circular non-stick grill has a cooking surface area of 16 x 16 inches which is large enough for about 4-5 people. it has an efficient fat draining system to help control carb, cholesterol, calorie and fat in your food.
As it does not come with a heat source, this grill pan is very portable. You can use it indoors or outdoors as long as you have access to a stove.
Pros:
Compact and portable
Easy to use and clean
Affordable price
Cons:
No tray to catch excess oil
---
Buyers Guide: Features to Check When Comparing Korean Barbecue Indoor Grills
Perhaps you are already excited to get the best indoor grill, but before you make that decision and spend your money, make sure to check the following features.
1. Heat source
There are three common types for best indoor grills based on their heat or power source. Cast iron electric grills are the most popular because of their convenience to use. You just have to plug the unit, adjust the temperature and start grilling.
Butane indoor grills are more popular for camping and overlanding because of their compact design and portability. Some of these units already come with the stove while others are sold separately.
Of course, there are also stove-top indoor grills which are typically the most affordable since you are just buying the grilling plate. These grills are different from traditional pans as they have raised edges designed for grilling.
For home use, electric indoor grillers are a sure winner.
2. Cooking surface area
The size of the cooking surface also matters as it tells you how much food you can cook at the same time or how many people can sit on the table and grill their food. For family and party use, consider getting a unit that's good for at least five people.
3. Material and overall construction
The material used specially on the grilling plate matters as it affects the performance of the grill. You'll find that one of the most common materials in indoor grillers is cast aluminum or cast iron with non-stick coating.
Cast aluminum is very similar to cast iron but the former is stronger and more lightweight. The non-stick coating keeps the meat from sticking to the grilling plate, hence it will be easier to clean.
4. Wattage and temperature settings
For electric indoor grillers, the wattage or power requirement is also an important consideration especially if your household outlets have limited wattage capacity. The best indoor grill has generally a higher wattage for more efficiency in cooking as it can reach higher temperature settings to quickly cook barbecue.
5. Ease of cleaning
Grilling can be fun and entertaining, but cleaning the grill is not, especially if a lot of meat and grease are stuck in the surface. That's why it's important to make sure that the grill you are getting is easy to clean. Aside from checking whether the grill has a non-stick finish, check also if you the product has a removable grill plate. If you can remove the grill plate and other parts that need cleaning, it means that you can easily toss them in the dishwasher or hand wash them.
Conclusion
Some of the grills we featured above are made in Korea, while others are not. But their main selling point is that they are designed to allow you to grill Korean BBQ right in your own kitchen.
Our top pick for the best indoor Korean griller is the Costzon 35″ Electric Teppanyaki Table Top Grill Griddle. We love its design and efficiency in cooking due to its high wattage utilization. Based on reviews, this thing is also a solidly constructed grill that can stand a lot of use.
The other products we featured on this list are also worth checking out as they may be what you are looking for in a grill. Ultimately, the best Korean BBQ grill is one that meets your needs and the features we listed in this guide.
* If you buy through links on our site, we may earn an affiliate commission. For more details, please visit our Privacy policy page.