If you fancy eating Korean food and wish to learn how to cook them, you might want to consider getting your very own Korean cookbook. Popular Korean foods such as kimbap, kimchi, mung bean pancakes, dishes with red chili paste or soybean paste, and Korean BBQ aren't difficult to prepare as long as you have the right ingredients and the right Korean cookbook.
* If you buy through links on our site, we may earn an affiliate commission. For more details, please visit our Privacy policy page.
A Korean cooking book will teach you how to cook Korean cuisine and introduce you to authentic recipes. From the pages of these cookbooks, you'll get to know more about the common ingredients in Korean cuisine. The step-by-step instructions will help you get the best results even on your first try.
There are so many popular Korean cookbook authors out there such as Hooni Kim, Rachel Yang, Julia Child, and the list can go on and on. With so many best Korean cookbooks available from renowned authors, choosing the best cookbook is not that easy. We rounded up some of our personal favorites to help you choose.
7 Best Korean Cookbooks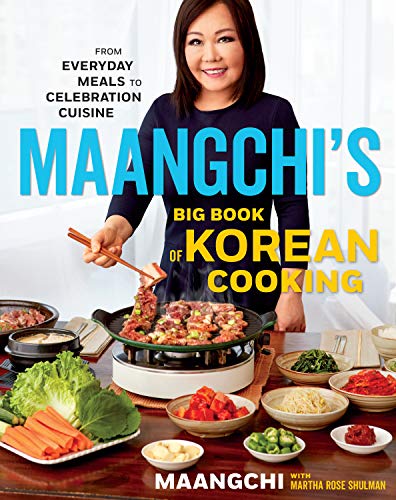 Maangchi is a renowned author who has written numerous cookbooks on Korean recipes. She shares her passion for cooking Korean cuisine not just in her books but also in her YouTube channel and website that focuses on Korean cooking. Maangchi is well-praised for her authentic Korean recipes.
Whether you are a beginner or experienced chef, this book will help you prepare many traditional recipes including kimchi, bulgogi, bibimbap and Korean BBQ. She has also improved some traditional dishes while retaining their authenticity. There are also special features on party food, homemade rice liquor and side plates. Each recipe has pictures of the final product. More often, Maangchi also shares some techniques to get the desired taste and texture.
This book has a total of 448 pages in the English language. It is a true hardback with heavy thick binding, thick pages and vibrant colors. Since its publication in 2019, it has received several accolades including The New York Times Best Cookbooks of Fall 2019, Forbes Finds 15 New Cookbooks for Fall 2019 and Eater Best Fall Cookbooks 2019 among others.
Pros:
With colorful pictures on every page
The recipes include Korean classics including side dishes, street food and more
Hardback with thick pages
Cons:
Many recipes in this chef cookbook can be found in her first book so this can be a drawback if you already own the first one.
---
This cookbook is a New York Times bestseller and is described as a beautiful introduction to the basics of Korean cooking because of its unique graphic novel form. It is written by food writer Robin Ha who moved to New York City to start a career in the fashion industry. Her love for drawing comics and cooking Korean dishes paved the way for this cookbook.
In this 176-page Korean recipe book, Robin Ha presented more than 60 traditional and not-so-traditional Korean recipes presented in light-hearted comics. Each recipe is colorfully and humorously illustrated for the user to easily understand the steps.
Pros:
Recipes are clear and well explained
Fun and easy to follow
Graphic novel gives you an idea of what the food should look like
Cons:
Some recipes have too many ingredients
---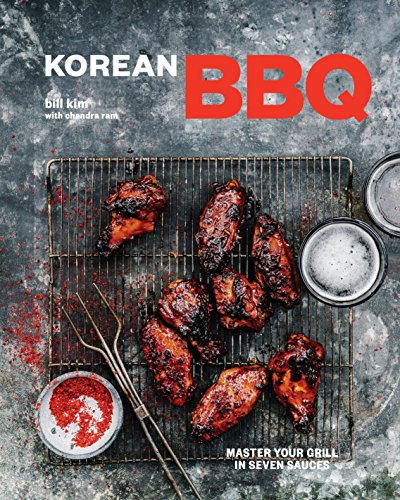 This Korean food cookbook can be your ultimate source of delicious Korean barbecue recipes. Written by Bill Kim and Chandra Ram, this 240-page cookbook provides a practical and easy guide to grilling Korean-American BBQ flavors.
The Korean BBQ: Master Your Grill in Seven Sauces comes with a durable hardcover. It contains 80 recipes that are perfect for home cooks. Some of the best recipes in the book are the honey soy flank steak and soy sauce balsamic sauce. There are recipes with hard-to-find ingredients but the authors made sure to include substitutions.
Pros:
Contains substitutions to hard-to-find ingredients
In hardcover
Korean BBQ recipes are easy to follow
Cons:
Focuses on BBQ with limited recipes on other recipes
---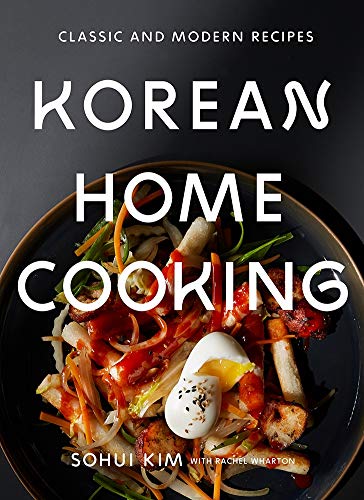 If you love preparing delicious Korean foods for your table or for lunch boxes, you can get a lot of inspiration from this book. Sohui Kim, the author of this book shares many authentic Korean foods inspired by recipes from her family and restaurant.
With 304 pages, this book will help you prepare foods that you'll normally find in many Korean restaurants. It contains 100 Korean food recipes such as seaweed soup, kimchi, crisp mung bean pancakes, japchae noodles and chicken stew.
This book will not only teach you how to cook Korean dishes but will also give you a glimpse of the rich cultural traditions of Korea. You can read more of it in the author's anecdotes and cultural insights from her family and travels to Korea.
Pros:
Also contains many photos of the rich Korean culture
Durable hardcover
Contains traditional and modern recipes
Cons:
Only contains 100 recipes, considering that it has more than 300 pages
---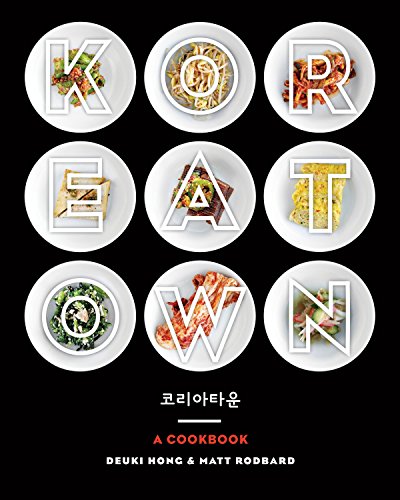 This cookbook by Deuki Hong and Matt Rodbard is another New York Times bestseller. It is funky, spicy and flavor-packed cookbook that will make you remember those delicious foods in Korea.
Koreatown has 272 pages and it focuses on the foods of Korean-American communities around the country. It has stories and recipes of well-loved food in Korea such as bulgogi, kalbi, kimchi and Korean stews, salads and drinks. You may also find some fusion foods in the recipes.
Pros:
The instructions are easy to understand and follow
Hardcover
Contains many recipes with ingredients that are accessible even if you're outside of Korea
Cons:
They could have included more photos of the finished dishes
---
Published in 2016, The Korean Food Made Simple by Judy Joo is also one of our favorites as it makes real Korean cooking easier and more accessible to home chefs. This cookbook contains very detailed instructions on how to prepare many of the popular Korean classics and family recipes including tofu stew dishes, meat and vegetable rice bowl recipes, sweet potato noodles and fried chicken. There are also less traditional recipes such as spicy pork belly cheesesteak, fried fish with mayo, kimchi and sesame seeds and Krazy Korean burgers.
Judy Joo is a Food Network regular and host of a Cooking Channel's show. She has many personal anecdotes about home cooking and this recipe cookbook will show you more. It has 288 pages with more than 100 Korean recipes including fusion food that people inside or outside of Korea will surely love. Aside from the detailed instructions on how to prepare real Korean dishes, it also has chapters on desserts, sauces and drinks. You'll also find a detailed list for completing your Korean pantry.
Pros:
Hardcover and quality binding
Many simple recipes to follow
Shows a wide variety of food that's common in Korean cuisine
Cons:
Not all recipes have photos
Some of the recipes require a trip to a specialty store
---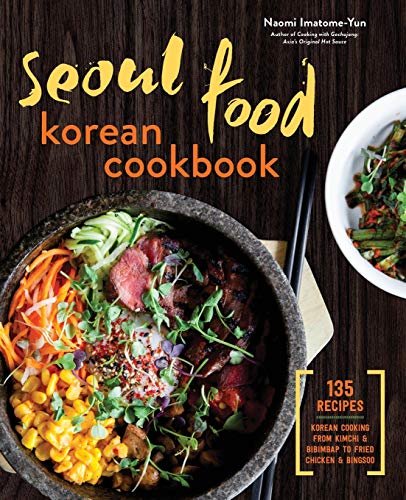 This recipe book by Naomi Imatome Yun will help you learn how to cook some of the popular Korean food from traditional favorites such as kimchi to modern Korean dishes such as fried chicken and BBQ.
With a total of 232 pages, this Korean cookbook in the English language contains 135 recipes which include kimchi, Korean barbecue, kimchi, bulgogi and spicy stir-fried rice cakes (tteokbokki) among others. There are also special chapters for Korean bar food (anju) such as pork bone soup and fusion foods like budae chigae. There's also a part that will give you an overview of Korean cooking as well as fun tidbits on table manners, home and restaurant dining tips and food customs.
To make Korean cooking an even better experience, this recipe book also has detailed lists of essentials, ingredients and pantry staples with photos.
Pros:
Cons:
This book is in paperback which does not last as long as hardcover
---
Buyers Guide: How to Choose the Best Korean Cookbook
We've done our best to give you our editors' picks but in the end, you should also check for yourself the following book features before making your choice.
Brand Value – Each chef cookbook has value on its own. One way to check the brand value of a book is by checking its awards and recognitions from prestigious organizations. You can also check how many sold-out editions it has.
Features – You should check if the book has a paperback or hardcover as the latter typically lasts longer. Check also how many pages and recipes the book contains as it tells you if you are getting the best value for what you pay for.
Customer Reviews – Customers who already purchased the book and used the book for cooking at home will tell you what they like and don't like about the product. It is vital to check the critical reviews to know the drawback or flaws of the cooking book you want to buy.
Conclusion
After checking some of the best Korean cookbooks available in the market, our top pick is Maangchi Big Book of Korean Cooking. This multi-awarded book contains quality content and will help you progress from cooking easy recipes to complex dishes.
* If you buy through links on our site, we may earn an affiliate commission. For more details, please visit our Privacy policy page.