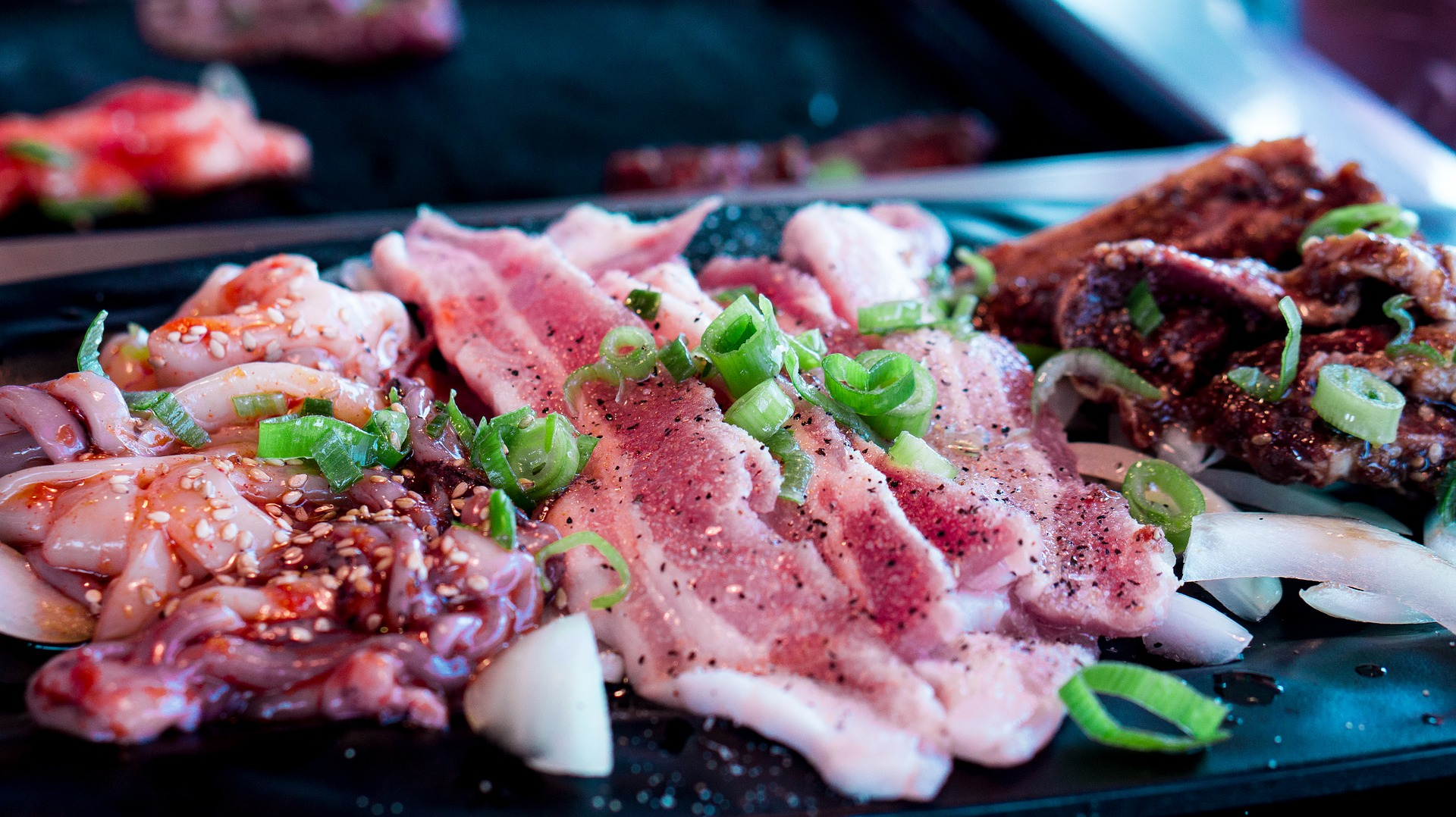 New York City is known for its hustle and bustle lifestyle, where different cuisines meet up and everyone can explore at their leisure. One of the best options that you can find would be a Korean barbecue restaurant.
Korean restaurants usually offer a one-of-a-kind and sizzling experience through their Korean BBQ tradition that is good for family gatherings or dates. Korean BBQ can be identified if you'll see a tabletop full of marinated meats that is grilled on the same table.
This setup is also accompanied with loads of complimentary banchan, that are also known as side dishes. Once you start grilling, expect to see a parade of dishes that will be provided by the restaurant service crews. The exciting part is the do-it-yourself experience where you can share it with your friends and family together.
Korean cuisine is very versatile and some restaurants need to specialize in particular cuts of meats while others offer dishes. It could be noodle soups, stews, and other hot pots. If you haven't visited some Korean restaurants in New York, you missed out those that offer private karaoke rooms. Some restaurants in NYC are open late, and offer uncommon options like live octopus.
Guide to New York City's Best Korean Barbecue Restaurants
If you miss Korean BBQ and should be looking to get the best experience for some Korean food, here are some of the top lists of Korean restaurants that offer traditional Korean dishes.
Miss Korea BBQ
Each of the restaurants would have their beliefs and offerings. Miss Korea BBQ was once a 24/7, three-floor Korean restaurant in the center of Manhattan's Koreatown. They offer three barbecue sets: Longevity, Happiness, and Love.
Each barbecue set consists of four different types of meat plus a choice of traditional Korean stew. Miss Korea BBQ's menu also includes a variety of classic cuts and barbecue options like beef, chicken, seafood, pork, and vegetables.
If you have been to Korea, you will also find their regional favorite dak galbi or stir-fried chicken on their menu. Due to the recent pandemic situation, their operating hours have been adjusted. You can visit Miss Korea BBQ at 10 W 32nd St, New York, NY 10001 and their contact number is (212) 594-4963.
---
Jongro BBQ
This restaurant is located at 22 W 32nd St 2nd floor, New York, NY 10001, just a several steps away from the Empire State Building. Jongro BBQ offers BBQ classics along with many seafood entrees, including oysters, octopus, shrimp, and clams.
You will definitely get Korean vibes in this restaurant as their dishes are prepared fresh in-house daily with a traditional Korean atmosphere. Their beef tongue and pork belly with rice cakes are recommended if it's your first time here. The beef tongue comes out hot with steamed rice.
They are a perfect treat as the meat provides melts in your mouth experience, while the rice cakes have just the right texture when combined on your spoon. If you want more fatty than meaty, get the pork belly. Otherwise, go with the beef tongue.
---
Daori BBQ
If you are looking for a Korean barbecue restaurant that offers or specializes in duck, go to 40-03 149th Pl, Queens, NY 11354 where you can find Daori BBQ. They have three different types of duck to barbecue: sang ori gui or grilled duck, ori jumulleok – a marinated grilled duck, and spicy ori jumulleok which is a spicy marinated grilled duck where diners can order.
Dak galbi or a spicy chicken stir-fry is also offered as a barbecue option. Different side dishes such as kimchi cheese fried rice is also cooked in the same pan along with residual marinade. Please note that dak galbi is the only barbecue option that comes with cheesy, kimchi fried rice.
This additional item is a spicy, flavorful marinade that coats the grill, which is ideal for making fried rice at the end. Other dishes that include duck offerings are ori gopchang jeongol (beef intestine, tripe, and duck hot pot) and hengi beseot baeksuk (boiled duck with rice and nenugi mushrooms).
---
Cote Korean Steakhouse
Once you enter the vicinity of this restaurant, you will be greeted by the smell of sizzling meat and seafood options. This is a great place to go with a group of friends to celebrate birthdays or other special occasions due to its fun atmosphere.
Located at 16 W 22nd St, New York, NY 10010, you can get yourself some Korean BBQ along with bibimbap, bulgogi, and spicy pork cutlets if you visit Cote Korean Steakhouse. Though they don't have a lot of variety, Cote Korean Steakhouse have iconic Korean BBQ selections that first timers should try atleast once.
---
Baekjeong NYC
Popular for their all-you-can-eat Korean BBQ night every Monday, Baekjeong NYC can be visited at 1 E 32nd St, New York, NY 10016. They offer a great selection of meats and vegetable dishes. You can also get a full bar experience.
Monday nights are usually the busiest, but once you enter this one of the best restaurants in NYC, you and your friends or family should be able to get your fill of yummy Korean BBQ cooked right at your table.
Baekjeong NYC is a very popular hotspot for celebrities while in the New York vicinity and they are voted as New York City's best BBQ Korean restaurant. If you are searching for an authentic Korean BBQ experience with quality food, just take the subway to the 33rd Street Station right off Madison Avenue and you should be able to reach them quickly.
If you want some kick on your food, you should try their spicy pork belly. They also have a pork shoulder marinated in sweet soy sauce, together with fried kimchi rice. Some great choices for vegetables like fresh shiitake mushrooms and garlic spinach are also on their menu.
---
The Kunjip
The Kunjip restaurant is located at 32 W 32nd St, New York, NY 10001, also one of the oldest Korean BBQ restaurants in New York City. They provide a traditional celebratory experience in every meal and a full array of traditional Korean dishes on top of their meat BBQ menu.
For nearly 20 years, The Kunjip has been bringing fine Korean bbq experience to the diners. Be greeted by their warm and welcoming service, together with servers who will take care of your needs while you eat your favorite beef, pork, and a selection of chicken dishes.
First-time visitors should try out their BBQ Combo for Two. It has various marinated beef and pork options, along with a tasty soybean paste stew, kimchi stew or soft tofu stew.
---
Dokebi Bar and Grill
Aside from the usual Korean BBQ, Dokebi Bar and Grill restaurant also offers Korean tacos, shabu-shabu, or Korean fried chicken on their menu. They are situated at 199 Grand St, Brooklyn, NY 11211 and they are the only Korean BBQ spot in Williamsburg open for over 10 years.
This proves that Dokebi Bar and Grill is a solid restaurant that offers Korean BBQ experience to the locals. With 11 different barbecue options, they have included black tiger shrimp and steak cubes. This restaurant also has a signature purple multigrain rice and banchan. Diners have the option to cook the meat at the table or have it cooked in the kitchen.
---
GooGongTan
Those who are looking for a full experience of Korean streets filled with sounds of hit K-pop songs and delicious sizzles of Korean BBQ, just go to 40-09 149th Pl #1, Flushing, NY 11354 where GooGongTan restaurant is located. They also have an outdoor seating available.
Complimentary steamed eggs and radish soup arrive once the diners are seated at the table. They also have a wide array of barbecue menu ranges from gopchang (beef platter of beef intestines) to seafood platters.
GooGongTan is also a unique barbecue restaurant as diners can also order and enjoy mozzarella-topped clams with dollops of tangy sauce, duck breast over chives, spicy tteokbokki, and pork belly under the same order.
---
Kang Ho Dong Baekjeong
Kang Ho Dong Baekjeong is a famous chain restaurant in South Korea and opened in New York City last 2014 to provide some popular barbecue experience. Located at 1 E 32nd St, New York, NY 10016, this has been a staple spot in Koreatown for many people ever since.
This restaurant offers a wide variety of beef and pork cuts including pork skin, alongside high-quality meats. Their menu also includes seasonally curated banchans, condiments, and a basket of lettuce.
What's interesting about the experience is that they have a grill uniquely designed to cook eggs, vegetables, kimchi, and cheesy corn in the trenches encircling it beside the meat. Expect that you might need to wait for more than an hour to get a spot and get some Korean BBQ during prime dinner time.
---
Wonder Pig K-BBQ
True to its name, this restaurant thus brings wonders. Though they don't have a long menu of Korean dishes, Wonder Pig K-BBQ restaurant offers an affordable, all-you-can-eat menu for $23 per person for lunch. They also have a $34 per person option for dinner, with a 100-minute seating time.
You'll get a wide range of meat options, from thinly sliced beef brisket and chicken teriyaki to pork jowl and pork skin. Plus, they have a marinated galbi pork sausage that produces a unique barbecue meat option and is made on-site.
Side dishes will have either the savory stew route with bean paste stew and spicy beef soup. They have the option to get Korean snacks with spicy fried rice cakes and tteokbokki. Check them out at 37-08 Queens Blvd, Queens, NY 11101.
---
The Woo
This restaurant located at 206 Spring St, New York, NY 10012 has a delightful option for Korean BBQ in New York City. Their quality provides the best meat BBQ, so you can ensure a delicious meal. On top of that, their spot is excellent for those who want good food at a reasonable price.
Fill yourself up as they don't skimp out on providing portions of the order. Their bulgogi and the soft tofu stew is very good while they also have spicy squid appetizer and crispy dumplings to jump start the meal.
---
Gaonnuri
This restaurant provides a fusion of Korean cuisine and French cuisine located at 1250 Broadway 39th Floor, New York, NY 10001. This location will provide its diners some breathtaking views of New York from the top floor of a big-city skyscraper which should complete the exceptional dining experience. Their appetizers are plenty and their menu also offers a variety of kid-friendly options.
The overall experience is topped with a casual vibe and very family-friendly atmosphere. You will also see the chefs preparing your food right in front of you. They have a variety of dishes that are delicious such as their signature galbi short rib, pork belly, and chicken wings marinated in Gochujang sauce.
---
The Cast Iron Pot 3
The concept of this restaurant revolves around cooking meat on a sot ttukkeong or the lid of the traditional Korean cast iron gamasot. It has a large circular surface that allows a variety of meat to be cooked all at once along with bean sprouts and onions, which produces a nice char.
The Cast Iron Pot 3 restaurant has several options such as curry-spiced chicken and marinated short ribs, enough to attract meat-lovers. Diners can also savor their unique barbecue items like butter squid and chorizo which is ready to be ordered anytime.
If you want to know their pricing, the all-you-can-eat menu costs $34.95 at dinner and $22.95 at lunch. The Cast Iron Pot 3 is located at 157-26 Northern Blvd, Flushing, NY 11354.
---
Tong Sam Gyup Goo Yi
If you are looking for some thick-cut pork belly cooked over a cast iron lid, Tong Sam Gyup Goo Yi specializes with that Korean BBQ option. You can get seven options for pork, such as a natural black pork called heuk-dwaeji, which is a rare find in New York. They also provide six options for beef, including beef entrails and tongue.
The usage of bean sprouts makes the overall Korean BBQ experience stand out. The platter of meat is cooked over a big cast iron lid with a huge serving of bean sprouts and kimchi. They also offer a hot pot and a serving of cold noodles in beef broth served in an icy bowl called kimchi naengmyun.
Fried rice that is mixed right on the cast iron lid with more kimchi, bean sprouts, and housemade tangy, spicy sauce. Tong Sam Gyup Goo Yi is located at 162-23 Depot Rd, Queens, NY 11358.
---
Antoya Korean BBQ
Formerly known as Samwon Garden, this restaurant can be found at 37 W 32nd St, New York, NY 10001. It is notable that Samwon Garden was honored as one of the many quality establishments on Michelin's 2021 Bib Gourmand Restaurant Guide.
Visitors or residents of New York City can get Korean BBQ at this place and the experience can be elevated with its versatile indoor and outdoor dining choices. Antoya Korean BBQ has different types of meat on the menu. First timers can definitely get some help from their staff if they don't know what to order.
Those who don't eat meat can enjoy their vegetarian and seafood options, alongside with their terrific lunch specials. These specials are available during the week, so for those who are saving for money while wanting some Korean BBQ experience, this could be the place for you.
---
Summary
There are many notable restaurants in New York that offer the best Korean BBQ experience. They have a variety of Korean food options on their menu such as beef ribs or beef short ribs, yoon haeundae galbi, spicy rice cake, skirt steak, hot pot, hanger steak and other barbecued meats.
Some places may have Japanese wagyu or tofu soup and their dining experience could be elevated with a wine bar. It is just a matter of exploration in different parts of New York to find out the best Korean BBQ in town.