Gochujang is one of the most essential condiments in Korean cooking. Outside of Korea, this ingredient is commonly known as Korean red pepper paste or Korean chili paste. This ingredient is used by many to prepare numerous authentic Korean dishes.
* If you buy through links on our site, we may earn an affiliate commission. For more details, please visit our Privacy policy page.
Made from Korean chili powder, fermented soybean, and several other ingredients, gochujang is a combination of tangy, sweet and spicy flavors and it pairs well with almost anything from vegetables, poultry to meat dishes.
If you love eating Korean dishes on a regular basis, gochujang is definitely a must-have in your pantry. And to help you get started, we have also listed some of the popular dishes that you can try with this ingredient.
More About Gochujang
What is Gochujang?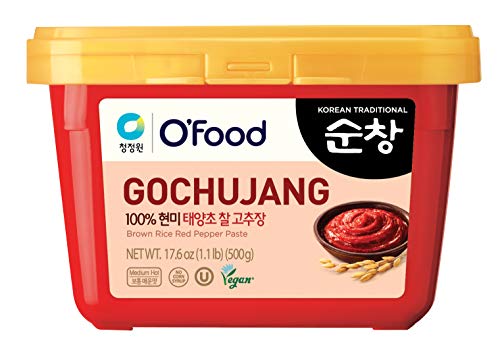 Gochujang is an essential ingredient in Korean cuisine. It is a thick sweet and spicy paste that's usually red or crimson in color. Gochujang is considered a superfood because of its numerous health benefits.
Homemade Gochujang
Making homemade gochujang can be a bit tedious so unless you have a lot of extra time in your hand, we just recommend buying one. But in case you want to make gochujang at home, you'll need:
fermented soybean paste or soybean powder
malt barley syrup or barley malt powder
glutinous rice
Korean chili powder or red chili paste
salt
sweet rice syrup
sweeteners such as corn syrup
The exact measurements will depend on the flavor that you want to achieve so it's best to use a tried and tested recipe.
Just like kimchi, this paste also undergoes a fermentation process under the sun. The combination of these ingredients makes a sticky and thick condiment with a pungent and spicy flavor.
Ready-Made Gochujang
If you are buying a ready-made gochujang, the spiciness may vary among the different brands so check the label for the spice level indicator. For many, medium-hot is the best way to go unless you are that person who has a more adventurous sense of taste. We recommend checking Chung Jung One Hot Pepper Paste Gold (Gochujang) if you want to get one now. This gochujang sauce uses brown rice and it is sun dried to achieve that deep flavor.
How to Use Gochujang
If you are familiar with miso paste, gochujang works the same way. Just like miso paste that has found its way in a number of Korean recipes, the gochujang too offers the same versatility. It is added to a dish to enhance the flavors. Gochujang is normally added in small portions as a little amount goes a long way.
Aside from being added to various dishes, you can also use gochujang in marinades, dipping sauces or just a punch to your soup or stew.
Since gochujang is a thick paste, it's best to thin it out first with another liquid ingredient such as water. Moreover, it's important to note that if the gochujang chili paste contains sugar, grilling or searing meat marinated in the paste will tend to burn easily.
Nutritional Benefits of Gochujang
Gochujang offers numerous health benefits as it is high in antioxidants, protein and vitamins. It is also a diet-friendly condiment because of its low fat and caloric content.
Another important compound present in gochujang is capsaicin, a chemical that is present in spicy foods. Capsaicin improves your metabolism and fat-burning process which is great for those who are trying to lose weight.
Moreover, gochujang is a good source of vitamins B2 and C. The former helps in stabilizing your metabolic processes and also assists in the normal functioning of the thyroid. Vitamin C, on the other hand, protects the cells from free radicals which in turn reduces your risk of cancer.
5 Popular Korean Recipes That Use Gochujang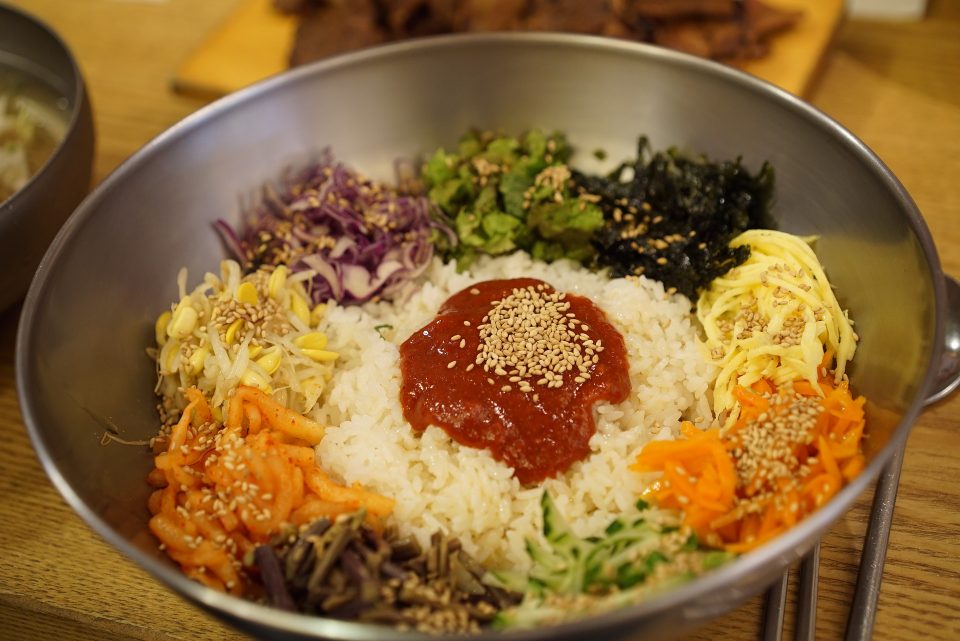 1. Bibimbap
Bibimbap which means "mixed rice" is one of the most popular Korean recipes. It is a combination of rice, vegetables, meat and egg in one bowl. Bibimbap will not be complete without the addition of a Korean chili paste of gochujang. The Korean chili paste is mixed into the food to sort of bind everything for an explosion of flavors.
The possibilities for this food are endless as bibimbap is highly customizable.
Ingredients
cooked rice
your choice of your favorite protein, precooked (thinly sliced chicken, ground beef or pork, etc.)
mixed vegetables (such as finely shredded carrot, spinach and thinly sliced zucchini) and sunny-side-up egg
Procedure
In a bowl, add the cooked rice first then top it with the rest of the ingredients. You can also sprinkle seaweed snacks for some crunch. Then, add a small amount of gochujang then stir everything together. Of course, you can adjust the taste by adding more salt and gochujang Korean chili paste. As long as you have a gochujang sauce, you can never go wrong with your bibimbap.
---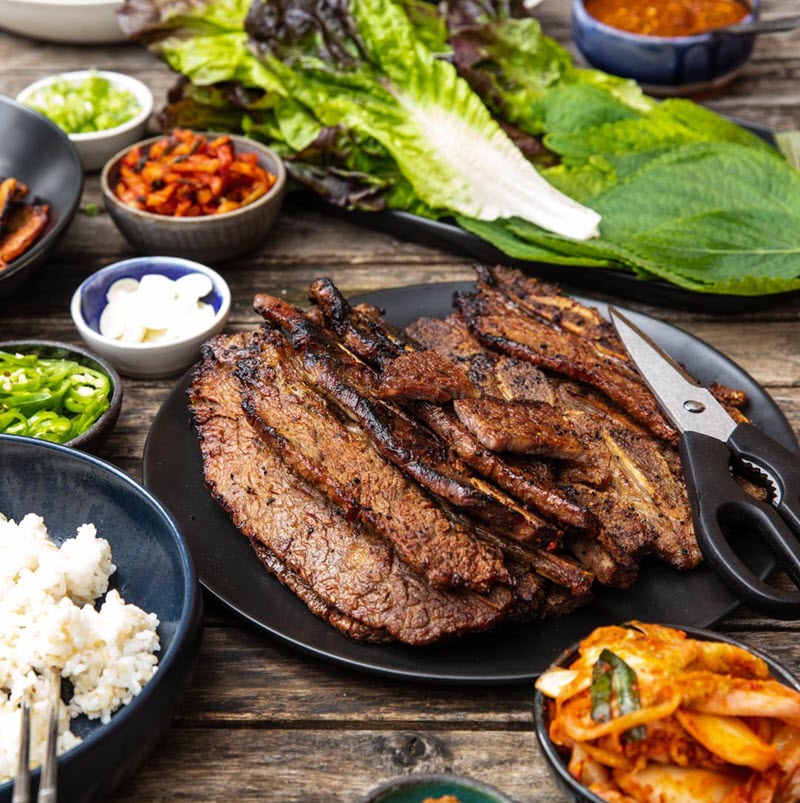 2. Platter of Korean BBQ
Sweet and savory, the Korean BBQ is well loved by many and it is something that you can prepare for a weekend potluck or party. This food is bursting with colors and flavors and is a true crowd pleaser.
This food is highly customizable. You can put all the ingredients on the table and let everyone customize their own bowl.
Ingredients
cooked rice
chopped Korean BBQ which you can prepare ahead of time
cubed cucumbers
shredded romaine lettuce
shredded carrots
a tablespoon of cilantro
gochujang sauce
Procedure
You just have to add your favorite ingredient to your bowl and then top it with gochujang sauce.
---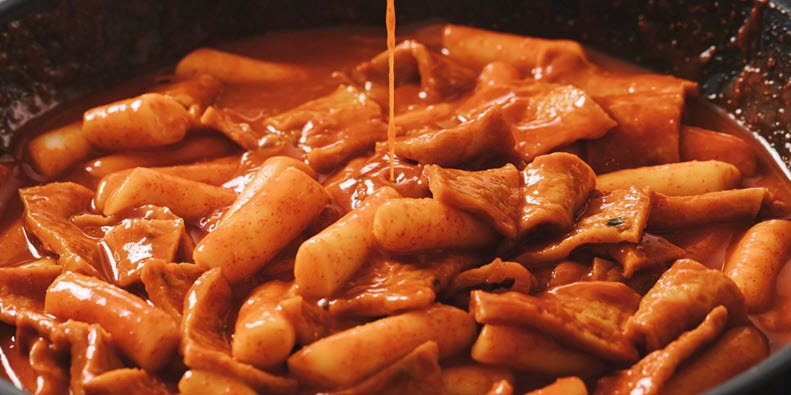 3. Tteokbokki
This is another popular Korean food and it is made from stir-fried rice cake. You can add more kick and flavor to it using gochujang sauce.
The preparation and cooking time for this recipe is less than an hour and the procedure is very simple. This recipe yields 6 servings.
Ingredients
6 cups of water
24 oz of thinly sliced tteok or Korean rice cakes, drained
1 oz of eomuk or Korean fish cakes, sliced (optional)
3 tbsp sugar
3 tbsp of homemade gochujang or a readily made Korean hot pepper paste (you can add more to taste)
2 tbsp red chile powder (if you want a spicier version)
1 tbsp garlic, minced
½ tsp salt
½ tsp black pepper, ground
1 piece of onion, diced
1 cup green onions, chopped
Procedure
Boil the water in a saucepan. Once the water is boiling, add the fish cakes and rice cakes then cover the pan with a lid. Add the rest of the ingredients except for the green onions and leave it for another two minutes. For the last touch, add the green onions then let the sauce simmer for five minutes until the sauce is thick.
The best thing about Tteokbokki is that you can also add other things to the pan including boiled egg, ramen noodles and cheese. If you want it to be a more spicy flavor, you can also add red pepper flakes as a garnish.
---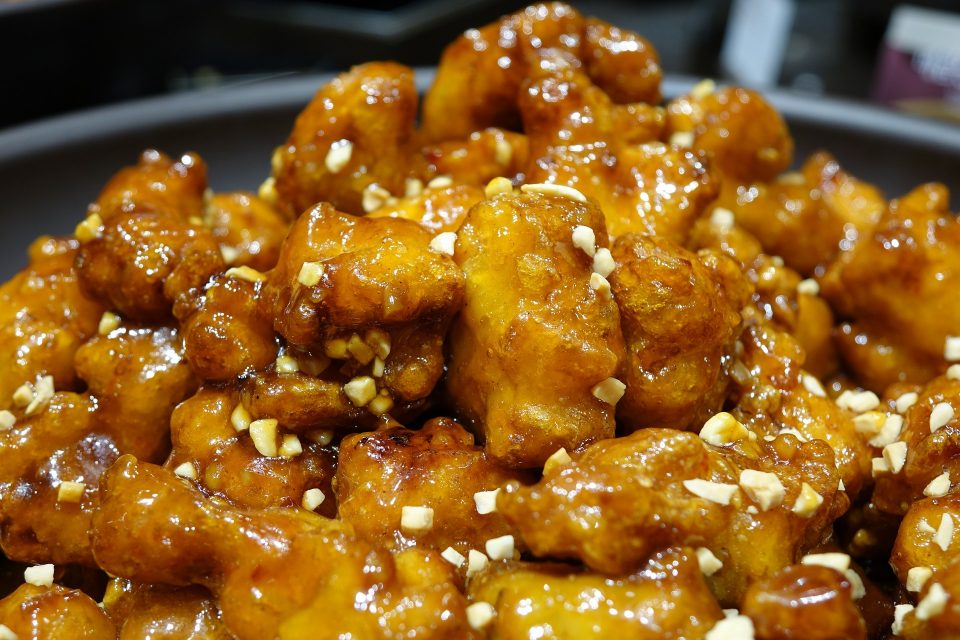 4. Dakgangjeong (Crispy Korean Fried Chicken)
The crispy Korean fried chicken (Dakgangjeong) is an irresistible treat whether it be a regular dinner with your family or a party with friends. In this recipe, we will show you how to prepare this delicious spicy sweet fried chicken right in your own kitchen.
Ingredients for the chicken
half kilo boneless chicken (breast or thigh part)
1/4 tsp salt
1/2 tsp garlic, minced
1 tsp ginger, minced
pinch of pepper, ground
1 tbsp rice wine
1/3 cup of corn starch
Sauce
2 tbsp of gochujang (you can add or reduce depending on your desired spiciness
1 tbsp soy sauce
3 tbsp rice wine
2 tbsp vinegar
3 tbsp honey
2 tbsp sugar
2 tbsp sesame oil
1 tsp garlic, minced
1 tsp ginger, grated
pinch of pepper, ground
Procedure
Cut the chicken into bite-size pieces. Wash, drain well and set aside.
In a separate mixing bowl, combine all the ingredients for the fried chicken except for the cornstarch. Add the chicken and mix thoroughly. Let it sit for 20 minutes.
While waiting for the chicken to marinate, you can now start preparing the sauce. In a pan, add all the sauce components then bring to a boil on medium heat. If it starts to bubble, reduce the heat and let it simmer for 3 to 5 minutes until the mixture thickens.
After 20 minutes, coat the chicken with cornstarch. Fry the chicken in high heat and cook until golden brown. Remove from the pan and put the chicken on a plate lined with a paper towel to absorb the excess oil.
To achieve that perfect crunch, fry the chicken again over high heat for a minute. Once the batch is done, transfer all the chicken to the saucepan and mix well until all the pieces are nicely coated.
Transfer the chicken to a serving plate then garnish with chopped green onions or coarsely chopped nuts. But of course, you can use another garnish that you prefer. This dish is best eaten while still hot.
---
5. Korean Kimchi Fried Rice
Stir-fried rice with kimchi and gochujang offers a taste of home and this recipe is extremely easy to make. You can prepare this food in about 30 minutes. If you want a complete breakfast, this dish is a perfect choice.
Ingredients
4 cups of cooked rice
1 cup kimchi, chopped
2 tbsp soy sauce
2 tbsp gochujang Korean red pepper paste
1 tbsp sesame oil
2 tbsp vegetable oil
2 cloves garlic, minced
1 onion, diced
2 tsp ginger, grated
1 cup carrots, thinly sliced
2 green onions, thinly sliced
1 tablespoon sesame seed
Procedure
In a small bowl, combine soy sauce, gochujang paste and sesame oil then set aside.
Over high heat, put on a large skillet then add the vegetable oil. Add onion, garlic and ginger then stir. Let the spices cook for about 2 minutes. Add the kimchi and mushroom and let it simmer for another 3 minutes. Add rice and the sauce that you mixed earlier.
Serve this rice mixture dish with sunny-side-up eggs and garnished with sesame seeds and green onions.
---
Takeaway
So what's your favorite recipe with gochujang? We're sure you also have your own recipes that use store-bought or homemade gochujang. If you have this ingredient in your pantry, cooking Korean dishes will be easy.
* If you buy through links on our site, we may earn an affiliate commission. For more details, please visit our Privacy policy page.