Korean foods are high flavored, spicy and are pungent. Korean cuisine is now increasing in popularity all around the world. Korean foods can now be found in Korean restaurant in other countries and are now readily available and easily accessible anywhere. If you want to indulge into Korean food, you should also think about Korean sauces to accompany the food with. We will be highlighting here the different types Korean Sauces that you should be familiar with the next time you go on a Korean dine-in experience.
* If you buy through links on our site, we may earn an affiliate commission. For more details, please visit our Privacy policy page.
Types of Korean Sauces
Doenjang or also called Korean Soybean paste is a type of fermented soy bean that is typically made of soybean and brine. It is savory and full of umami.
The soy bean paste is similar to Japanese miso, but the difference is that Doenjang is more saltier and and has a funkier flavor than Japanese miso. Because both are similar in flavor and texture, you can use Japanese miso paste as an alternative for Doenjang. And since as mentioned earlier that Doenjang is more saltier, if you use miso as a substitute you may want to add additional salt or soy sauce to your miso.
Doenjang is used in Korean Stews and soups but can also be used in marinades and dipping sauce. It is also one of the ingredients for making Ssamjang, a thick and spicy paste that is used in Korean style lettuce wraps. In other ssamjang variations, one part of doenjang should be mix with one part of Gochujang with additional roasted sesame seeds (crushed), garlic (minced) and sesame oil.
Buy it now on Amazon
---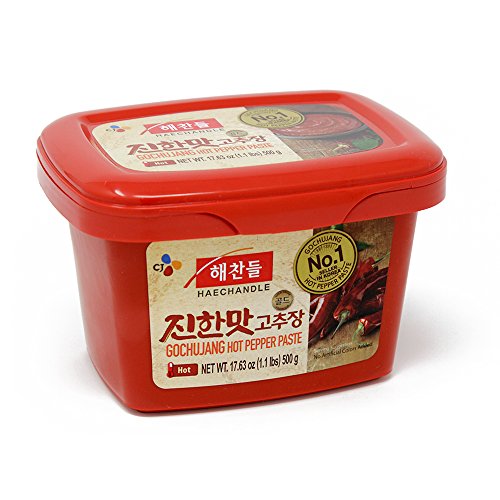 Gochujang is a popular type of Korean sauces. It is a fermented red chili paste that has a sweet and savory flavor. It is made of hot pepper flakes, fermented soybeans and glutinous rice.
Gochujang is a Korean staple used to marinade meat and seafood, bases for stews.
Although it may seem to be too spicy because of its deep red appearance, it is actually full of sweetness due to the glutinous rice. It is because of the fermentation process of this paste wherein glutinous rice is converted into sugar that is why Gochujang is sweet. In relation to its deep and dark red color, it is due to the fermented soybeans umami.
There is another variety of Gochujang available nowadays that may contain corn syrup, which is more sweeter than the rice syrup or Jocheong.
There are different Gochujang version of spiciness: extra spicy, less spicy and beef seasoned.
Buy it now on Amazon
---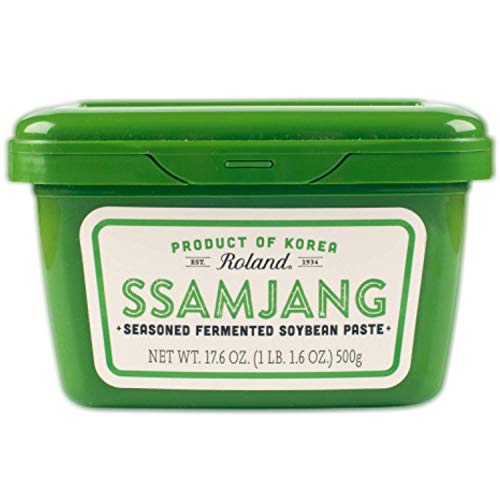 Ssamjang is a Korean dipping sauce made from combining Doenjang (Soybean paste) and Gochujang (Chili Paste) and adding in additional ingredients such as garlic, ginger, sesame oil, green onions and brown sugar.
A popular Korean sauce that can be seen in most Korean restaurants. It is best paired with Ssam, a Korean style of wrapping meat or seafood in a lettuce wrap.
Ssamjang is also used as a dipping sauce for peppers and vegetables such as carrots and cucumbers. Others used Ssamjang in Samgyeopsal grilled pork belly meals.
Buy it now on Amazon
---
Saewoo Jeot (Saeu joet)
Saewoo Jeot is a Jeotgal variety(salted seafood). It is a salted and fermented food that is made from small and mini sized shrimps.
Saewoo Jeot, a salted shrimp is used in different Korean dishes to add saltiness and umami boost. Though it is usually used in making Kimchi, a traditional Korean side dish that is made of salted and fermented vegetables (napa cabbage and Radish).
For vegans, you should also be aware that not all Kimchi are vegan friendly because Saewoo Jeot or salted shrimp can be added to the Kimchi dish that would then include the shrimp. Make sure to ask Korean restaurants if Saewoo Joet was used in making Kimchi before ordering.
There are two different types Jeot: Myeolchi Jeot (anchovy sauce) and Gganari Aekjeot (sandlance sauce)
---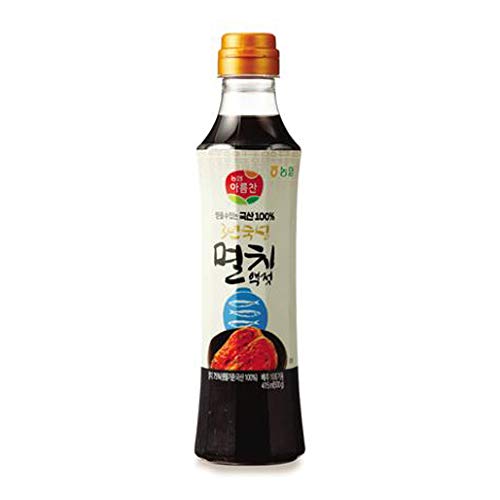 Myulchi Ek Joet or Myeolchi Jeot is another Jeotgal variety (salted seafood). A salted sauce that is made from fermented anchovies. Similar to Saewoo Jeot mentioned above, both are considered to be the most popular Jeotgal variety that is used in Korean Cuisine used in kimchi and Korean soups.
Myulchi Ek Joet is also similar to Thai or Vietnamese fish sauce. Myulchi Ek Joet is used to make Kimchi in main Korean, while Meljeot is used as a dipping sauce in Jeju Island.
Chuja Island is known for making the top and best quality of Myulchi Ek Joet sauce.
Buy it now on Amazon
---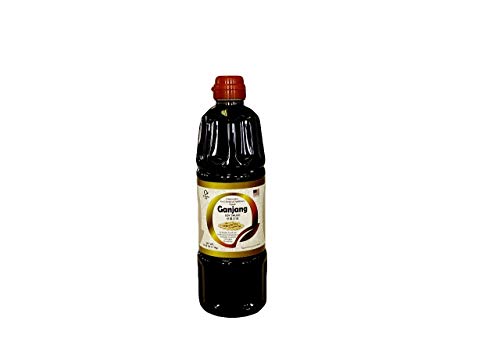 Ganjang is a Korean Soy sauce. It has a mild flavor and sweet taste despite its darker color as compared to Guk Ganjang mentioned above, and it is less salty too.
Because it has light taste, Korean soy sauce best used as a dipping sauce, but for a more intense soy sauce, you can opt for Guk Ganjang.
There are different varieties of soy sauce found in Korea, although each variety has its own distinct name and different methods of making and uses in Korean Cooking.
You should not be confused between Korean dark Soy sauce and Chinese dark soy sauce as the latter adds more color to Korean food such as sautéed noodles while Korean dark soy sauce on the other hand is simply dark soy sauce that is more salty.
There are three different varieties of Ganjang: Joseon Ganjang soy sauce, Yangjo Ganjang and Jin Ganjang.
Buy it now on Amazon
---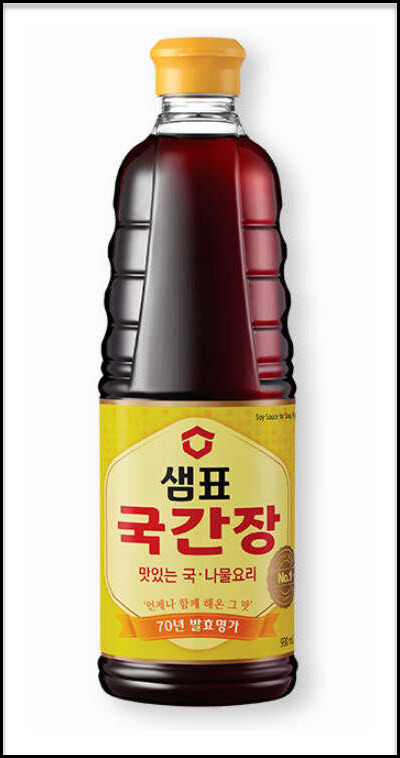 Guk Ganjang
In Korea, Guk Ganjang is also called Soup soy sauce. It is actually a product made from Doenjang. A liquid that is made from fermented soy bean paste, salt and water. Fermentation process usually takes about 1 year to complete. It has a strong and salty flavor and definitely full of Umami. In contrast with a regular soy sauce, Guk Ganjan is more saltier and is lighter in color.
It is also soup soy sauce simply because it is used to flavor soups, as the name suggests.
It is relatively easy to make Doenjang at the comfort of home, while other prefer to but a ready made soy bean paste found usually in Korean Grocery stores.
---
Yangjo Ganjang
Yangjo Ganjang is similar to Josen Ganjang, though fermentation process usually takes about 6 months. Wheat is also added, where Yangjo Ganjang gets its sweetness from.
A soy sauce best used for marinating meat and also good for when used as a dipping sauce. If you do not have access to Yosean Ganjang, Yangjo Ganjang can be used as an alternative.
---
Jin Ganjang
Jin Ganjang is a Korean soy sauce that is made from soy protein. Aged and fermented longer than other Ganjang varieties and fermentation usually tales about 3 to 5 years.
---
Mirim is a rice wine used to marinade the meat for Korean BBQ used. When used in Fish dishes, it actually helps remove its fishy odor that can actually make the fish and meat dish more delicious and sweet.
Mirim is similar to Mirin which is a sweet wine used in Japanese cooking.
Buy it now on Amazon
---
Acejeot (Korean Fish Sauce)
Korean Fish sauce is typically used in making Kimchi, it actually helps speed up its process of fermentation.
There are however different fish sauce variety in Korea. There's Myulch Aekjeot which is a Anchovy sauce, then we also have Kkanari Aekjeot which refers to sand lance sauce, then there's the Saeujeot a salted fermented shrimp sauce, a jeotgal variety.
---
Chunjang or Black bean paste is made from fermented soybean stained with caramel. It is actually a salty condiment that is used to make Jajangmyeon, a Korean Black bean sauce noodles or Jajangbap which is a black bean sauce that is filled with white rice.
Buy it now on Amazon
---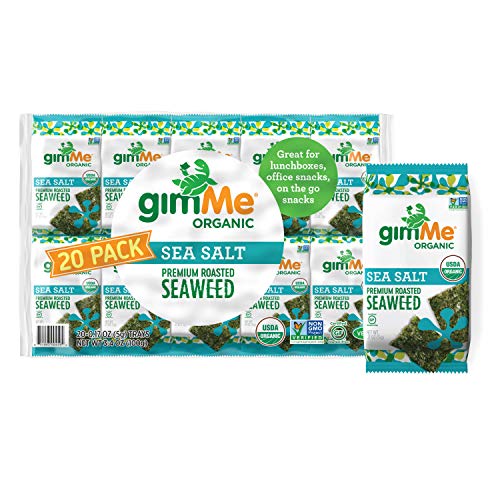 These are dried edible seaweeds that is widely used in Korean cuisine. Gim is similar to the famous Nori sheets or Nori seaweeds, the only difference is that Nori sheets is used mostly in Japanese cuisine.
In Korea, there are two types of seaweed: Seasoned seaweed and non seasoned seaweed. Seasoned seaweed is usually used as a side dish while non seasoned seaweed is used mostly when making korean rice rolls (Kimbap) or Korean rice cake.
Buy it now on Amazon
---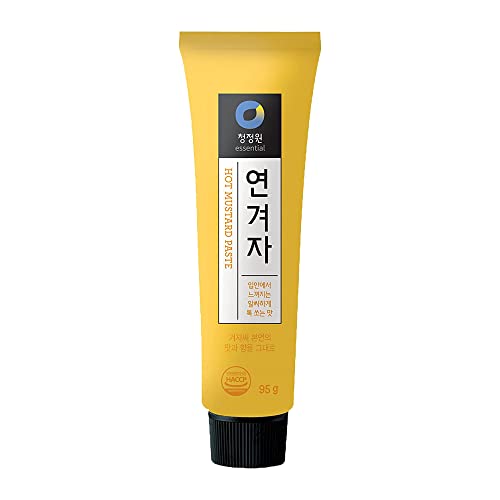 Gyeoja is a Korean mustard that is made with mustard seeds (powdered). Although the flavor of Gyeoja is similar to that of the English powdered mustard, hence it can be used as an alternative.
Buy it now on Amazon
---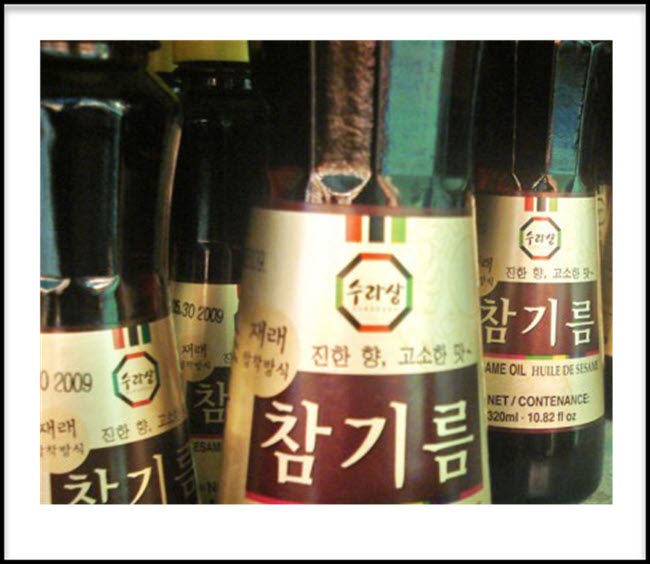 Sesame oil (Chamgireum)
Most of Korean side dishes, Korean BBQ and dipping sauce uses Sesame oil. It is made from toasted sesame oil, which is actually a common Korean cooking ingredient.
Because of its nutty flavor, it is not used as a cooking oil, but rather as a seasoning and used to enhance the flavor of Korean dishes.
---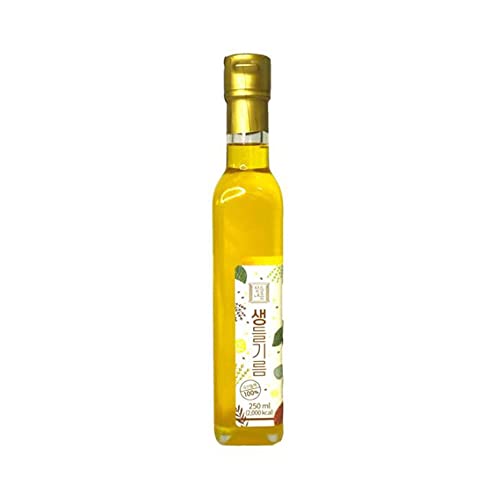 Dulgireum is a vegetable oil that is made from perilla seeds. Its has a nutty flavor and aroma. It is commonly used as a flavor enhancer to Korean side dishes, it can also be used as a condiment as well.
In terms of shelf life, Perilla oil has a shorter shelf life of less than 6 months as compared to Sesame oil's shelf life of about 6 months to a maximum of 2 years.
Buy it now on Amazon
---
FAQs
What is the popular sauce in Korea?
Doenjang or Soybean paste is the most popular and commonly used sauce in Korea.
Is light or dark soy sauce used in Korea?
Korean soy sauce, which is a regular soy sauce in Korea. Though soy sauce for soup or Guk Ganjang is a unique variety of soy sauce used in Korean cooking.
* If you buy through links on our site, we may earn an affiliate commission. For more details, please visit our Privacy policy page.