Who doesn't enjoy Korean food? Rice, veggies, seafood, and meats make up the majority of Korean cuisine.
The majority of meat in ancient Korea was most likely obtained by hunting and fishing. During this time, meat was roasted or cooked in soups or stews. Those who lived near the oceans were able to supplement their diet with more fish, whilst those who lived further inland ate more meat.
Beef is the most valued of all, and cattle play a significant cultural role in Korean households. Beef can now be prepared in a variety of ways, including as roasting, grilling (gui), or boiling in soups. Beef can also be dried into yukpo, a form of po similar to eopo used with seafood.
Pork has long been a popular land-based protein in Korea. Pork, like beef, has been a part of the Korean cuisine since the old times.
Let's have a look at some of the most popular Korean meat dishes, and how they are made. Scroll down to continue reading if you want to understand more about these delicious Korean dishes.
Korean Meat Dishes
Galbijjim
Galbijjim, also known as braised short ribs, is a type of Korean steamed dish made with galbi/short rib. Because beef galbi is also known as "gari," the meal can be termed "garijjim." Galbijjim is typically cooked using short ribs of beef or pork/dweji. It's known as dweji galbijjim in this instance.
Ribs should be chopped to size and any extra blood eliminated. To allow spice to penetrate in, knife cuts are created in the meat all the way to the bone. Cutting or removing excess fat from the ribs after parboiling is used to reduce excess fat. The ribs are cooked in a big saucepan with soy sauce, sesame oil, scallions, minced garlic, pepper, ground sesame with salt, ginger juice, and sugar. Cooking is done at a low temperature with frequent stirring. When the meat is almost done, more seasoning is added in the form of jujube, ginkgo nuts, carrots, and pine nuts, and the pot is heated once more. Right at the end of the dish, chestnuts, shiitake, and seogi mushrooms are added. Galbijjim is typically served in a hap, which is a bowl with a cover, rather than on a plate.
The Korean food is best served with steamed rice and a side dish of kimchi.
---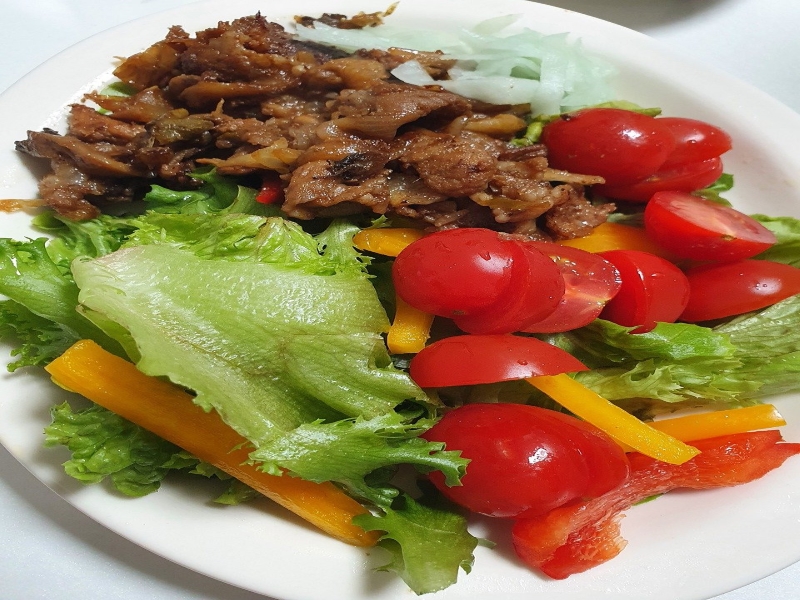 Bulgogi
The word bulgogi, "fire meat". It is a grilled or roasted Korean dish comprised of marinated, thin slices of Korean bbq beef or pork barbecued over an open flame. In home cuisine, it's usually stir-fried in a skillet. Beef pieces such as sirloin, rib eye, and brisket are typically utilized in this meal. However, you also have the option to use thinly sliced of skirt or flank steak. Korean beef bulgogi originated in the northern parts of the Korean Peninsula, but it is now quite popular in South Korea, where it can be bought as pan-ready kits in anything from premium restaurants to local grocery stores. The Korean beef bulgogi is typically paired with lettuce wraps and gochujang, which is a spicy red pepper paste for seasoning and wrapping.
Pork belly, also known as samgyeopsal in Korean, is a popular pork bulgogi cut. It is soft and fatty, similar to ribeye, which improves the flavor of the meat. The meat is marinated in a mixture of soy sauce, sugar, sesame oil, garlic, ground black pepper, and other seasonings like as scallions, ginger, green onions, or mushrooms, specifically white button mushrooms or matsutake, before cooking to enhance flavor and tenderness. These are the most popular components used in Bulgogi preparation.
The flavorful marinade ingredients of this popular Korean dish are soy sauce, mirin or boiling rice wine or rice vinegar, Asian pear, garlic, brown sugar and/or honey, sesame oil, sesame seeds, and black pepper.
---
Dubujeon
Dubujeon is a traditional Korean dish. This type of jeon, which is a pan-fried battered dish, is made with tofu mixed with ground beef and various vegetables, such as chopped green onions and carrots. Flour, oil, eggs, scallions, salt and pepper, are also included to make this delicious Korean food.
The batter is divided into smaller chunks and pan-fried until brown and completely cooked on both sides in hot oil. It is usually paired with a dipping sauce on the side.
---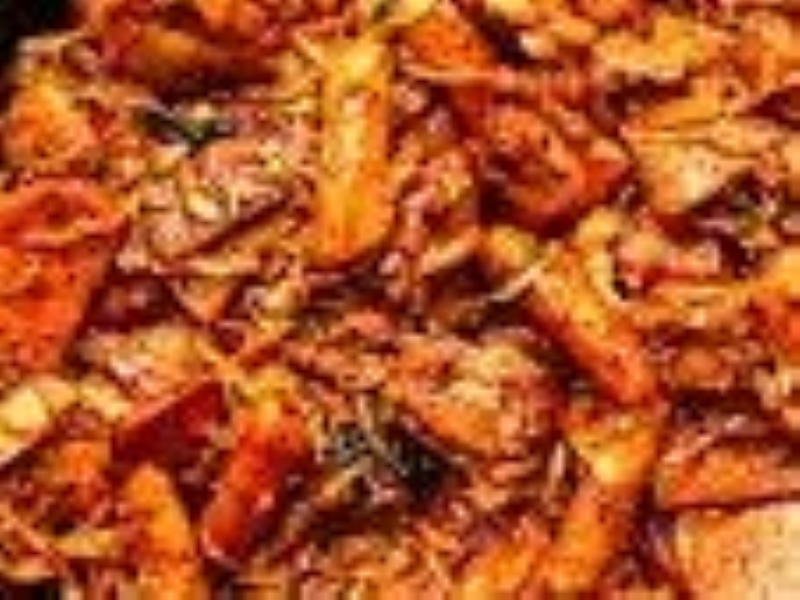 Dak Galbi
Dak galbi, also known as spicy stir-fried chicken, is a popular Korean dish prepared by stir-frying marinated chicken in a gochujang-based sauce with cabbage, sweet potatoes, scallions, perilla leaves, tteok or rice cake, and other ingredients. Round hot plates placed into the tables are common in dak-galbi eateries. Lettuce wraps and perilla leaves are provided.
Usually in a Korean restaurant, the server will bring all of the ingredients and prepare the meal for the customers. Perilla leaves are occasionally added to this amazing recipe, but the spicy sauce made with chili flakes, spicy chili paste, garlic, soy sauce, ginger, and onions is always the final piece.
---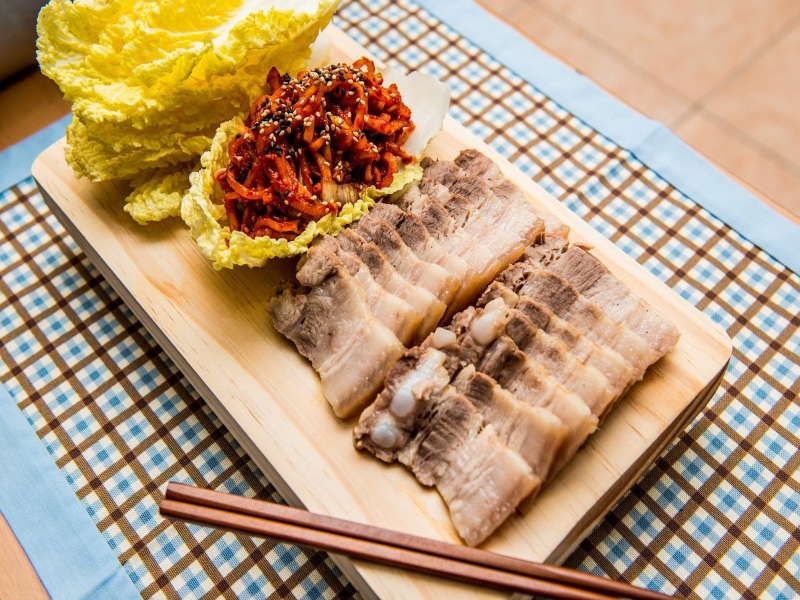 Bossam
In Korean cuisine, bossam is a pork dish. This terrific recipe typically comprises of thinly sliced steamed pork with seasonings wrapped in green vegetables such beetroot, lettuce wraps, Chinese cabbage, and chard. Side dishes include spicy radish salad, sliced raw garlic, ssamjang (wrap sauce), saeu-jeot (salted shrimp), kimchi, and ssam (wrap) veggies.
---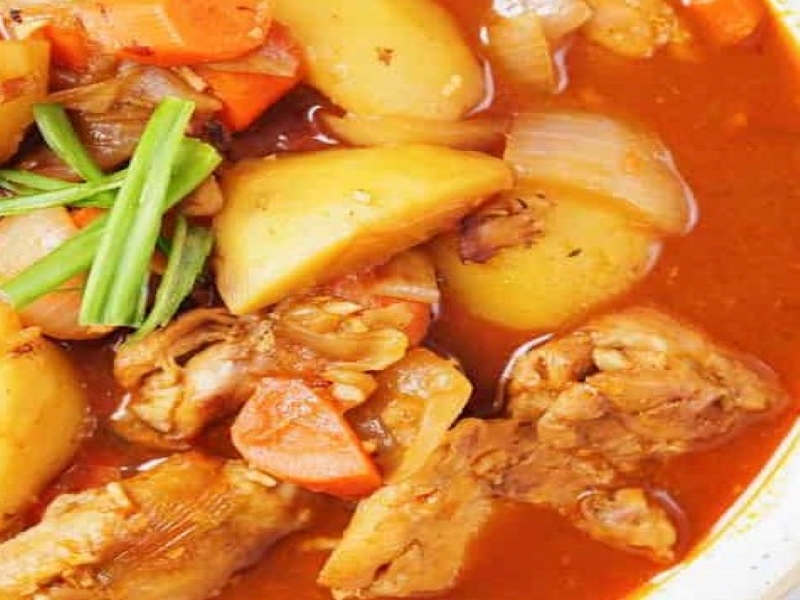 Dakbokkeumtang
Also known as braised spicy chicken or Dak-dori-tang. It is a classic Korean food that tastes amazing, and prepared by boiling chicken chunks with various vegetables and spices. Before boiling, the ingredients are occasionally stir-fried. It's like a jjim or jorim dish, and the recipe differs depending on where you're from on the Korean peninsula. Potatoes, carrots, green and red chili peppers, dried red chili peppers, scallions, onions, garlic, ginger, gochujang or fermented sauce, gochutgaru or chili powder, soy sauce, and sesame oil are some of the most common ingredients.
---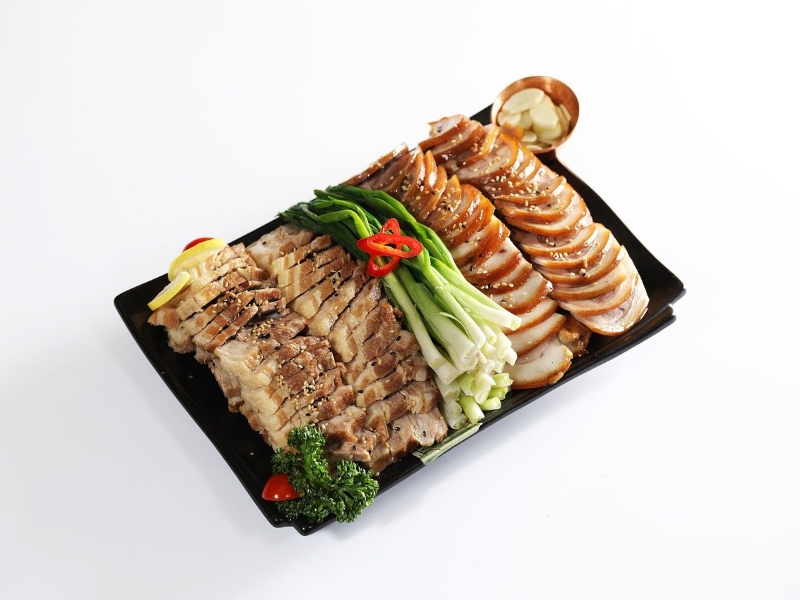 Jokbal
Jokbal is another popular Korean delicacy. The dish is made with pork legs that have been boneless, seasoned, and cooked. The meat is frequently seasoned with a blend of ginger, soy sauce, and black taffy to give it a distinct taste. Jokbal is traditionally served with buchu, kimchi, and shredded radish as side dishes, with ssamjang, a fermented bean paste and pepper mixture, as the condiment of choice.
It is super delicious. Jokbal is perfect when served wrapped in lettuce leaves.
---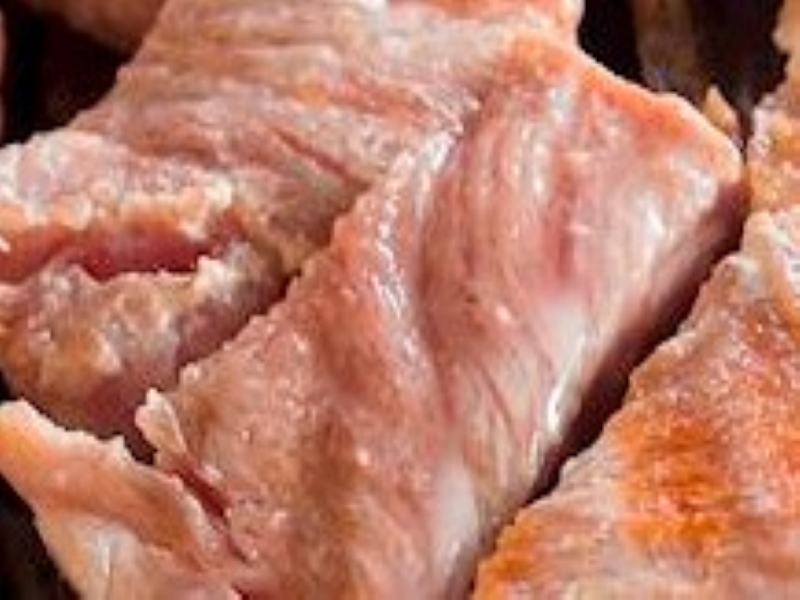 Ansim
Ansim refers to the most premium cut of beef tenderloin in South Korea. Tenderloin is the most tender cut of the cow, with a minimal fat content that retains it smooth and velvety.
Tenderloin is frequently divided into smaller pieces due to its length. Ansim is commonly grilled on a barbecue in South Korea. Gogigui is the name of a typical South Korean barbeque where the meat is frequently barbecued in front of the diners. Gogigui uses a variety of beef cuts, but grilled tenderloin stakes are particularly popular. The meat is sometimes marinated, generally with Korean soy sauce or sesame oil, although it is commonly grilled because it has a juicy and tender meat.
---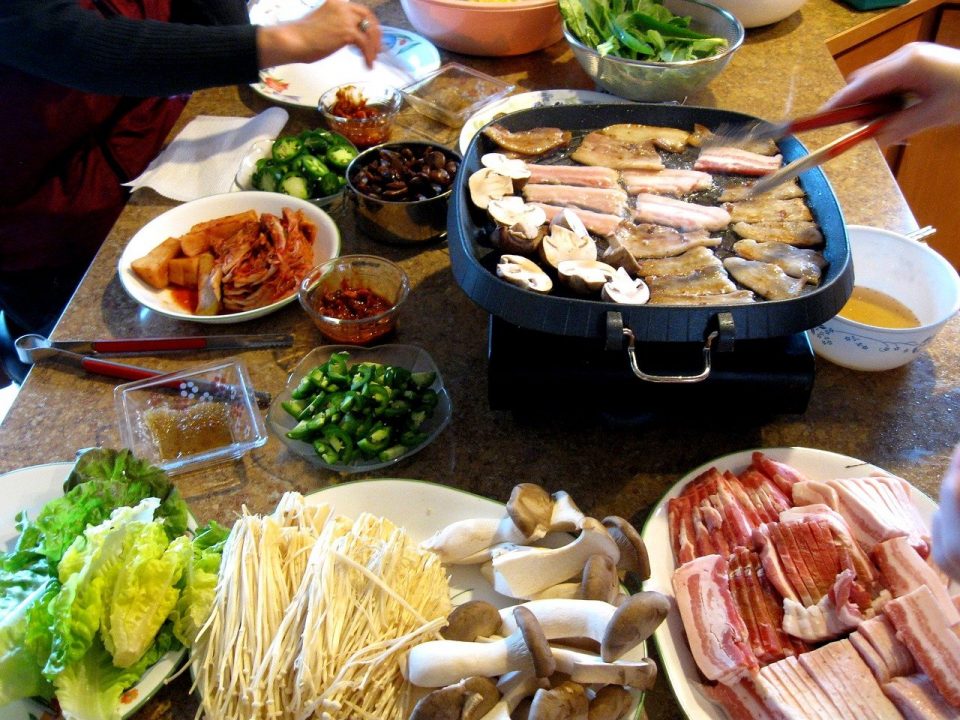 Samgyeopsal
In Korean cuisine, samgyeopsal (grilled pork belly) is a variety of gui (grilled dish). Samgyeopsal is a South Korean specialty made entirely of pork belly, the country's most expensive cut of meat. It is a very famous dish in South Korea that citizens eat it every four days on average. The dish's name is made up of three words: sam, meaning three, gyeop, meaning layered, and sal, meat, therefore it literally means to "three-layered meat."
Lettuce, green chili peppers, raw garlic, kimchi, and green onions are the most typical accompaniments. On the side, there are two dipping sauces, ssamjang, which is made up of sesame oil, chili paste, and soybean paste, and gireumjang, which is made up of sesame oil, salt, and black pepper.
Grilled meat is rolled up with fresh and/or pickled vegetable leaves and ssamjang to produce a ssam (wrap) that is eaten in one mouthful. Any combination of the above-mentioned accompaniments, most notably sliced garlic, can be added to the roll according to personal choice.
---
How To Cook Bulgogi?
Ingredients
1 lb sirloin (thinly sliced)
3 tablespoon soy sauce
2 tablespoon light brown sugar
2 teaspoon toasted sesame seeds
1 teaspoon ground black pepper
1 tablespoon honey
2 tablespoon rice cooking wine or red wine
1 tablespoon sesame oil
1 tablespoon chopped green onion
2 tablespoon minced garlic
2 tablespoon pear, puree
Instructions
To make the sauce, combine all the marinade ingredients except for the veggies, such as mushrooms and onions.
Using a large bowl, combine the bulgogi beef with the sauce prepared above. Ensure that the sauce is evenly distributed throughout the beef. It is best to use both hands to mix everything together.
Using a skillet, pan fry or stir fry the meat until it is slightly brown on both sides.
Best served with plain rice. Enjoy!