Good Korean foods can be found everywhere in Seoul, from street foods to high class restaurants. At present, Korean foods have become so popular that even local and tourists describe Korean dishes as nutritious, hearty, savory and of course with a little bit of spicy. There are different Korean foods that isn't that spicy, however if you are looking for "too spicy" Korean foods then you should take a look at our list of the most spiciest Korean Dishes.
Spiciest Korean Dishes
If you love to eat spicy foods, then you should go and visit South Korea. A typical Korean meal will not be complete with a serve of their famous Kimchi as side dish. If you were able to visit Korea, you might noticed that most Korean food have Gochujang, a Korean condiment that is made from red chili that makes Korean dishes spicy.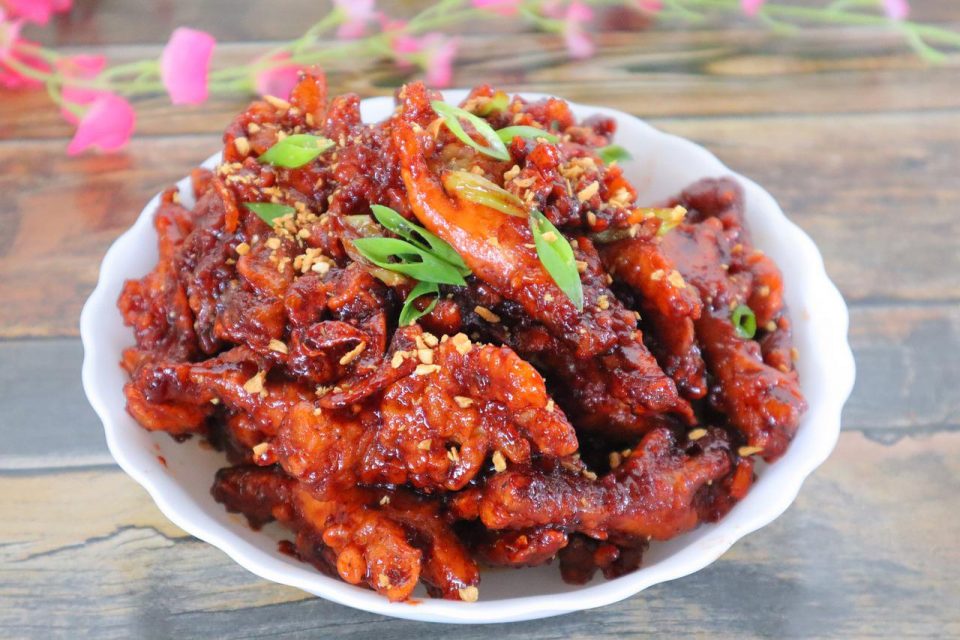 Spicy Chicken Feet
Chicken Feet is not only a popular food in Korea but in other Asian Countries as well. Though the difference is how the Chicken feet is made and prepared the Korean way.
In Korea, Spicy Chicken feet is one of the spiciest dish. Although there are some who are not used to eating chicken feet with its chicken talons. If you ok with that fact, then the next things some are worried about is the spicy flavor that is up to the extreme.
Spicy chicken feet is best eaten when paired with drinks therefore this dish is usually available in most of Korean style bars and restaurants. Give this dish a try the next time you're in Korea.
---
Korean Fried Chicken
Fried Chicken can be cooked in different flavors and there are also fried chicken that are not spicy. But if you want your fried chicken to be spicy, you can choose from different level of spice such as spicy, medium spicy, or too spicy.
However, if you do not like spicy chicken you can eat other chicken variations such as Honey Chicken or Soy Sauce Chicken. You can also choose Spicy Sweet Chili if you want not too spicy. But, if you want to try burning fried chicken, you should definitely try the Hot spicy Chicken.
---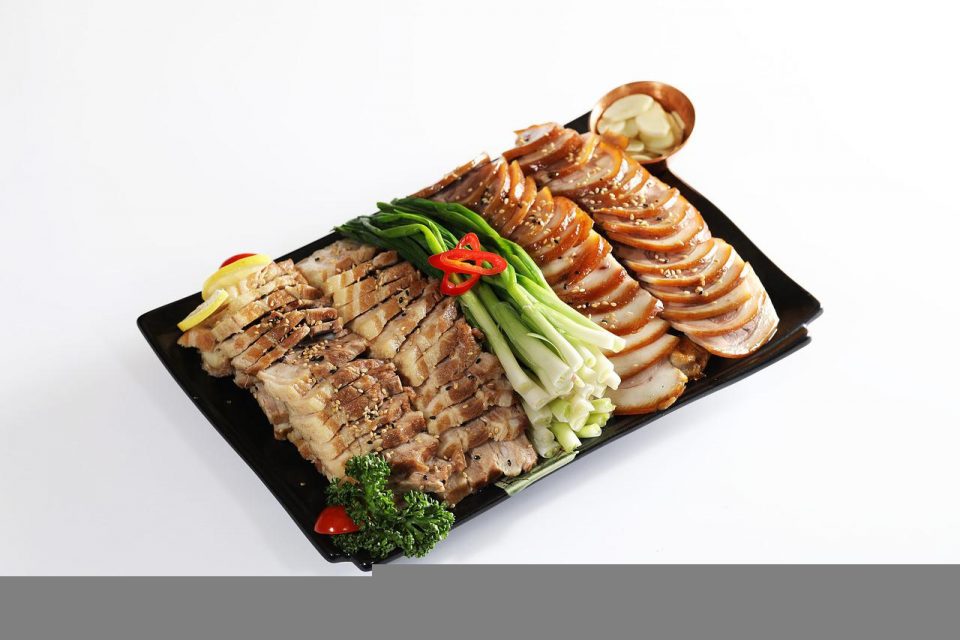 Spicy Jokbal
Jokbal is a popular food best paired with drinks especially Sake, Spicy Jokbal on the other hand is the spicy version of Jokbal. Spicy Jokbal is also known as Trotter.
This spicy Korean Food is a tender and steamed pork dish drizzled with super spicy sauce and with finishing touches of scallions and sesame seeds.
Although Spicy Jokbal may not be as spicy as Chicken feet but this spicy Korean food is for those you loves to eat spicy foods.
---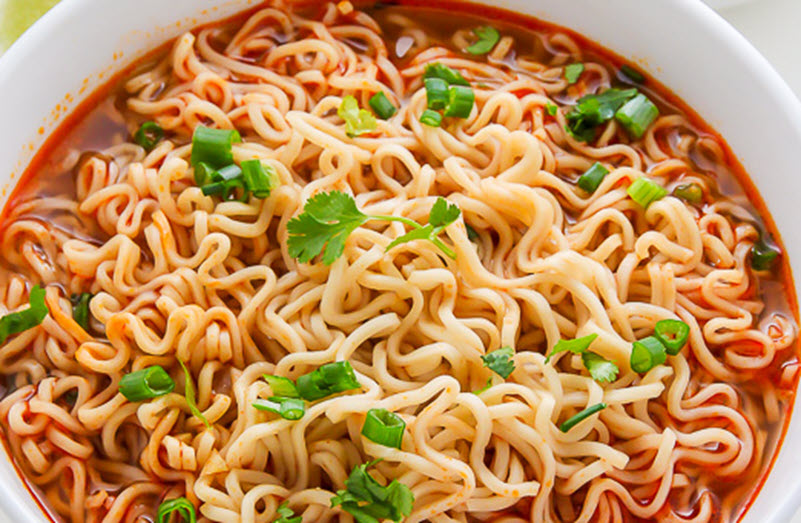 Ramyeon
Ramyeon is the Korean versions of instant ramen in Japan. While in Japan, their ramen can either be fresh or instant, but in Korea Ramyeon is always instant.
Ramyeon is very easy to make and you can easily topped it with toppings of choice like hard boiled egg or scallions to make it even more delicious.
Although Ramyeon is very prepared in different ways, the most favorite variation of Ramyeon that Koreans like is for it to be spicy. If you want your Ramyeon to be spicy, you can add extra spice of Korean hot sauce to turn on the heat. You can also add side dishes such as Kimchi to make this dish more pleasant and delicious.
---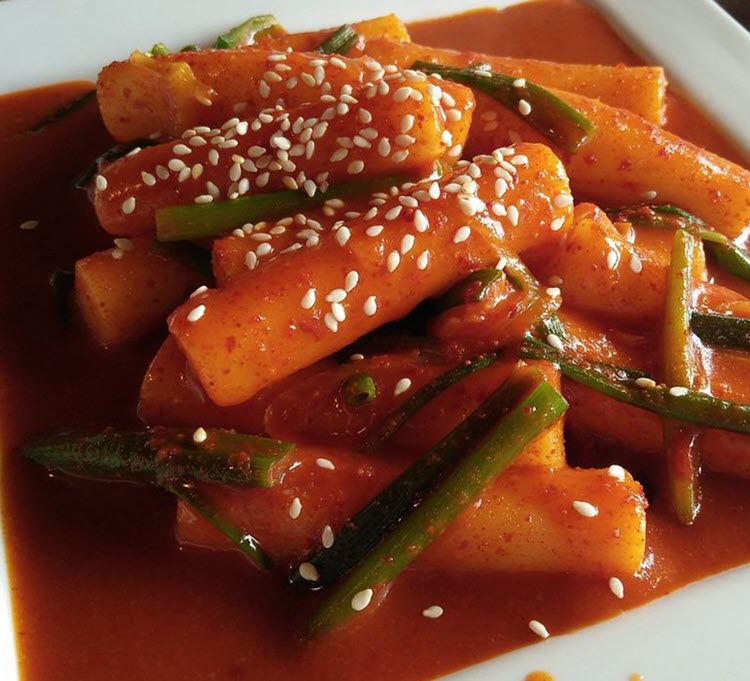 Tteokbokki
Tteokbokki is popular Korean Street food and the crowd's favorite. It is usually found perhaps in all the streets in Korea. It is made from small tteok which means Korean rice cakes in Korea. It is usually served with fish cakes, hard boiled eggs and fresh vegetables.
If you noticed that this dish is spicy, well its spiciness comes from the chili paste also known as Spicy Gochujang that is usually added to the dish. When trying Tteokbokki for the very first time, especially on the streets you to ask first the level of spiciness on it since each place or restaurant has its own level. So it's best to know if that level is spicy enough for your or not.
Try Tteokbokki with other Korean foods too and let us know what you think.
---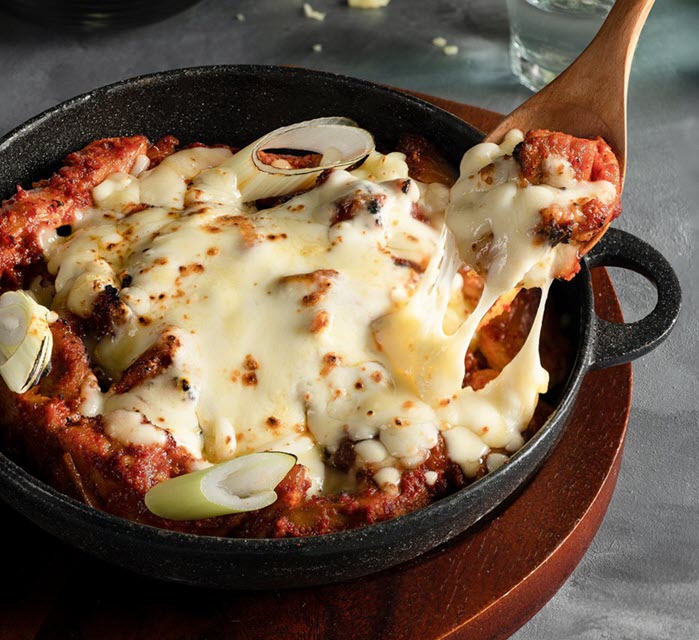 Buldak
Buldak or also called Fire Chicken, where Bul means Fire and Dak means chicken. Another chicken dish variation in Korean Cuisine. Buldak is an extremely spicy barbecued chicken dish that Korean love to eat. The chicken meat used in Buldak is marinated with a very spicy sauce.
Most of the time, Buldak is covered with melted cheese. To help balance the spiciness of Fire chicken, rice cakes and steamed egg are often added to as side dish.
If you are the type that likes to eat very spicy foods, you should definitely try this Korean food.
---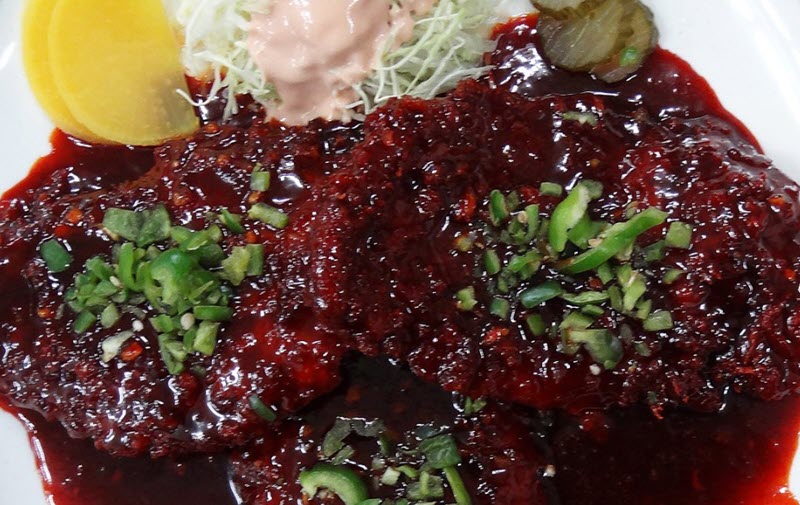 Donkatsu
Another spicy food on out list is Donkatsu. It originates in Japan but at present it has made its way to Korea and is now served in Korean restaurants everywhere.
Donkatsu consists of breaded, spicy pork cutlet (with a thickness of 1-2 cm), though there are other Donkatsu variation that uses either chicken or beef as an alternative to pork. In preparing Donkatsu, the meat is salted and peppered. It is then dipped into a mixture of Japanese breadcrumbs, flour and eggs. After which it is then deep fried.
Donkatsu is usually served with steamed white rice and vegetables on the side such as radish, broccoli and cabbage (shredded) and a side dish of miso soup.
---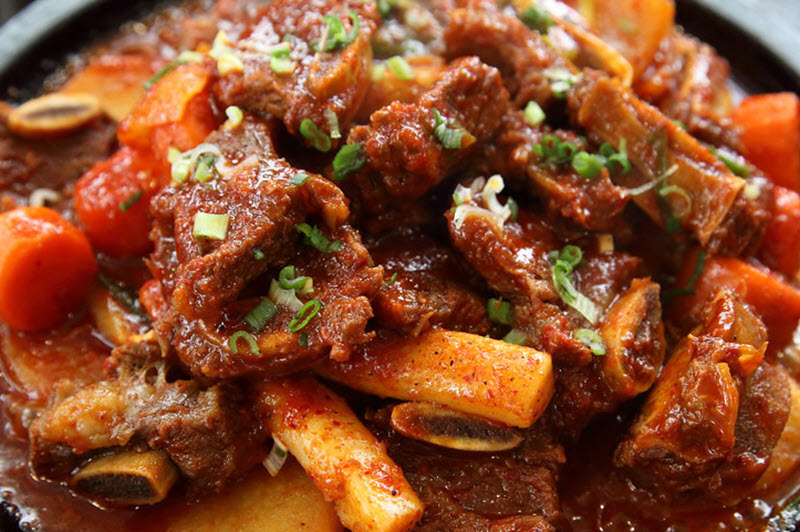 Galbi Jim
Galbi Jim is another popular spicy Korean food. It is a braised short ribs which is a variety of Korean steamed dish that is made with Galbi (Korean word which means ribs).
Since it is spicy, a few savory ad sweet ingredients are added to the dish to balance the dish. And it is also best served with steamed eggs that will help counteract the spiciness of the dish.
---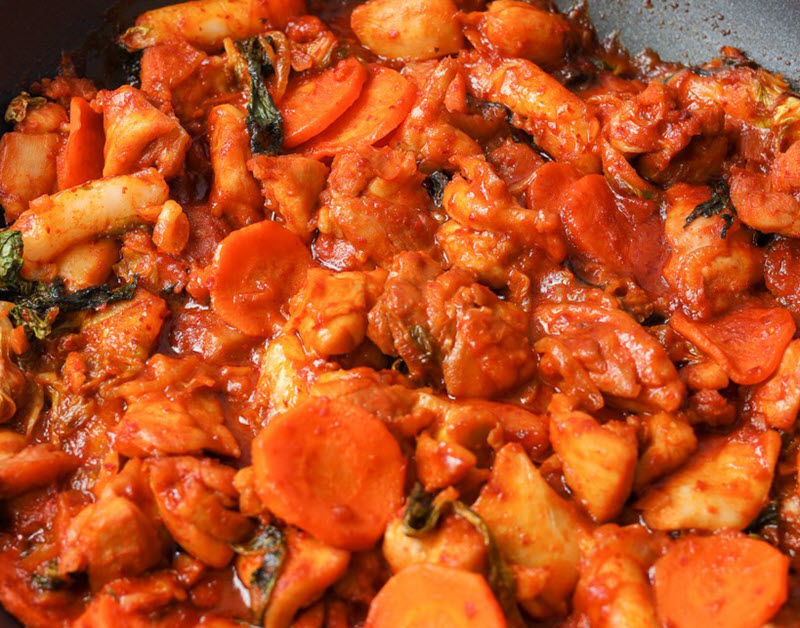 Dak Galbi
DakGalbi is also called Stir-fried Chicken. Another Chicken dish in Korea made by marinating the chicken in Gochujan (Korean Sauce) and then pan-frying it. Vegetables are also added such perilla leaves, shredded cabbage, potatoes and rice cake.
When trying Dak Galbi for the very first time, you should start with the original Dak Galbi with cheese.
---
Kimchi Chigae (Spicy Kimchi Stew)
Kimchi is a traditional Korean usually served as a side dish that is made of salted and fermented vegetables. Kimchi Chigae on the other hand, is a Kimchi that is made into Korean Stew.
Other ingredients aside from vegetables added to Kimchi Chigae includes tofu and pork, scallions and onions. Kimchi stew is the most common stew in Korea.
Kimchi Chigae has a flavor of spicy, hint of umami and tangy flavor. To make it spicy, Korean chili pepper flakes called Gochugaru and Red Pepper paste called Gochujang is added to the dish.
---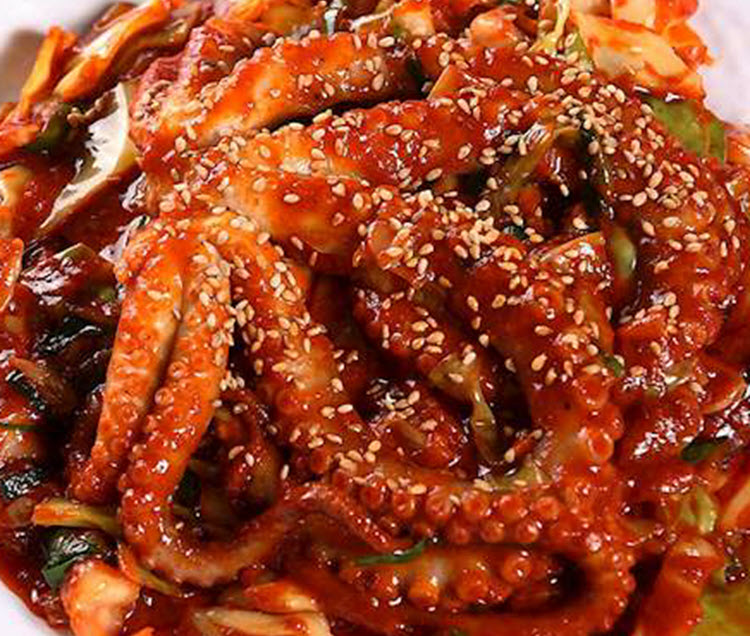 Nakji-Bokkeum
Another popular and spicy Korean food that you should definitely try is the Nakji-Bokkeum. It is made as stir-fried octopus usually mixed with vegetables such as carrots, green onions and shredded cabbage.
The sauce is what's making Nakji Bokkeum a delicious and irresistable dish. The sauce used is the Korean Red Pepper paste known as Gouchiijang, soy sauce and garlic too.
Since this dish is extra spicy, most of the Korean restaurants often served customers with lots of water in case they'll be needing it.
---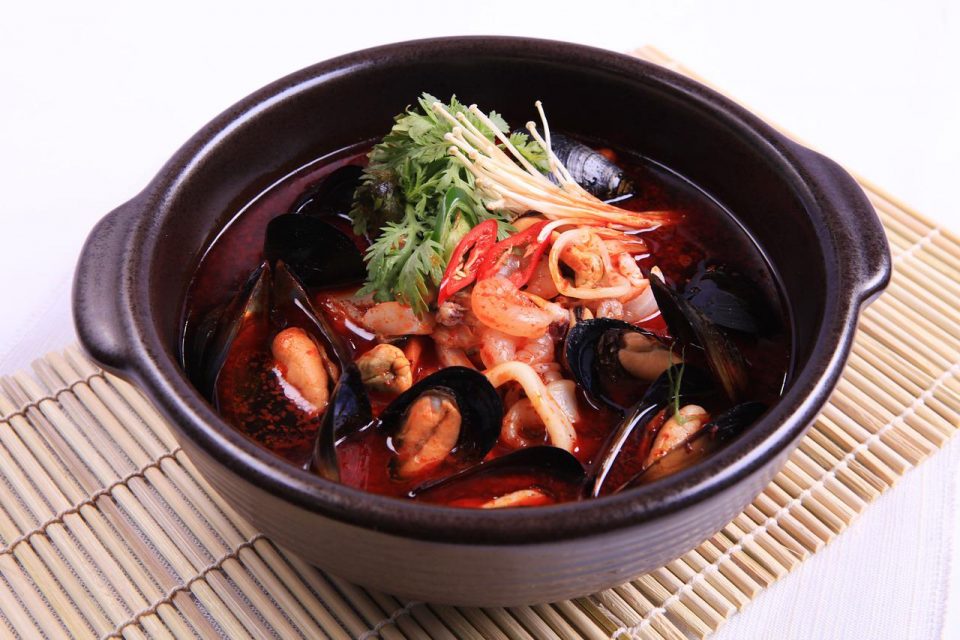 Jjampong
Jjampong is a popular Spicy food in Korea. A Korean spicy noodle soup mixed with different variety of vegetables such as carrots, cabbage, zucchini and either seafood or pork in red hot soup made from Gochugaru or Chili powder.
The seafood version of Jjamppong is the common variety that Koreans love to eat.
---
Agu Stew
Agu Stew is another spicy food in Korea. It is spicy because the stew is seasoned using red hot chili pepper, soy sauce, garlic and soy bean paste. Other ingredients includes sprouts of soybeans.
---
Bibimnengmyong
The term Bibimbap mean mixed rice and myeon means noodles. Therefore Bibimmyeon means mixed noodles.
Bibimnengmyong is usually served with rice and mixed with a spicy yet sweet sauce. The Korean dish is topped with apple and cucumbers.
What can make a Korean dish spicy
Ever wonder what makes a Korean dish spicy? Well, the most common ingredient that is used to incorporate to Korean dishes to make it spicy is the Gochujang and Gochugaru.
Gochujang is red chili paste while Gochugaru is red pepper flakes. That is why if you are a spicy food lover and wants to make your Korean dish made at home to be spicy, try adding the spicy Gochujang or chili powder. That way you will be able to control the level of spiciness you put into your spicy dish.
Conclusion
From Spicy Chicken feet to spicy noodles, Korean people love to eat spicy food. From the list of the spiciest Korean dishes mentioned in this article, which one have you tried and which one is your favorite. Let us know your thoughts.