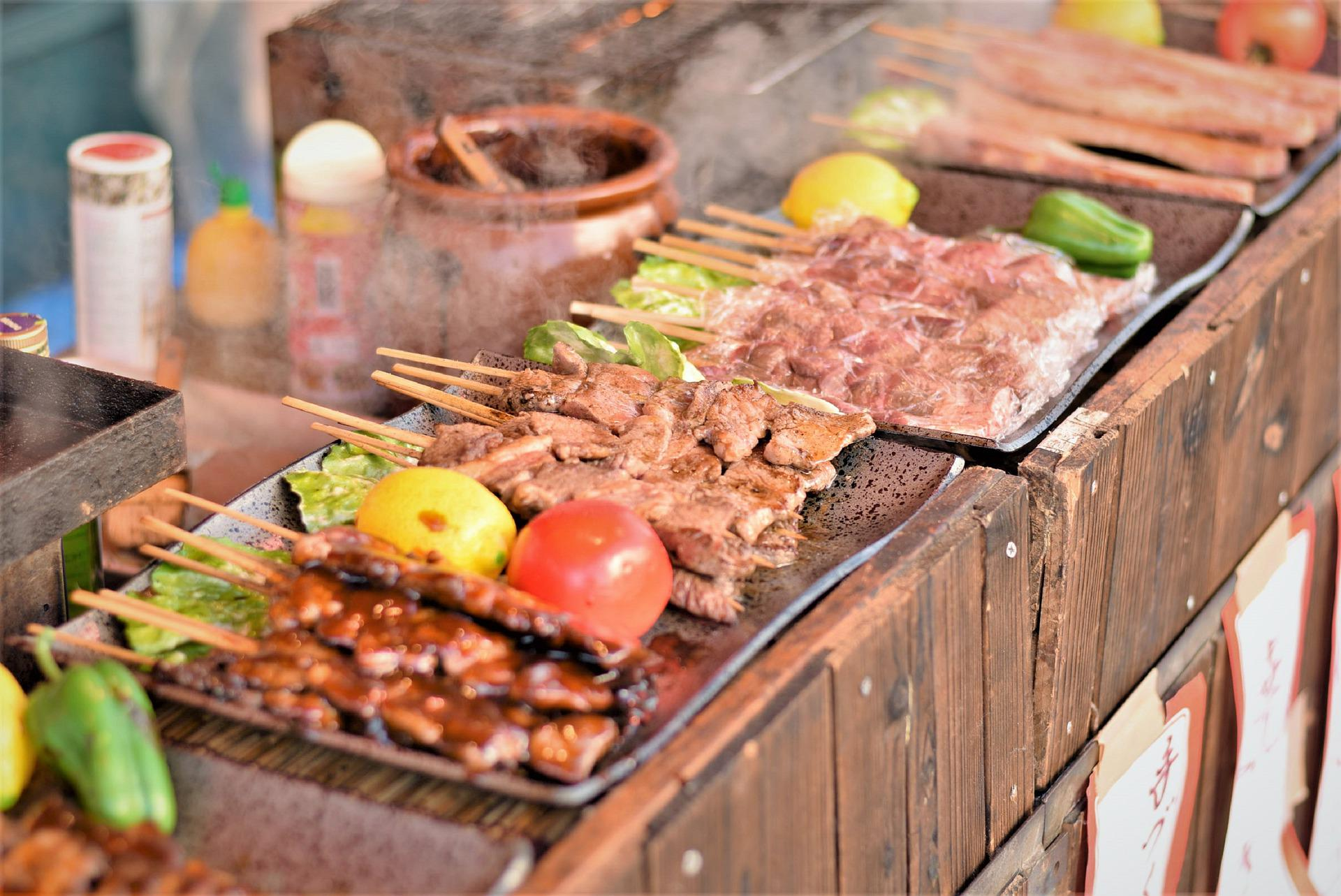 Yakiniku refers to grilled meat in Japanese cuisine. This Japanese word originally referred to western "barbecue" food, the term being popularized by Japanese writer Kanagaki Robun in his Seiyo Ryoritsu in 1872.
In general, we can say that it is a counterpart to Korean barbecue as it is usually made of different cuts of beef. Thinly sliced ribeye, short ribs, and skirt steak are all sought-after cuts in yakiniku. These beef cuts are usually served unseasoned. The beef in yakiniku can also be marinated in a sweet soy sauce similar to the marinades used in Korean barbecue.
It is said that yakiniku was introduced to Japan during the Showa period after a cultural exchange with Korea, hence the resemblance of the sauce being used in these two barbecue dishes. The sauce is made with tare, or a thick, sweetened Japanese soy sauce. It has been mixed with different ingredients, such as fruits, sugar, and garlic.
As mentioned earlier, with or without marinade, diners can dip the meat into the tare that will give an extra boost of umami and cut through the richness of well-marbled beef. This is definitely a tasty food to try.
Aside from yakiniku yakiniku, there is also another type of Japanese barbecue famous in Los Angeles and that is robatayaki. However, this is only prepared by trained chefs who rotate skewers of cuts of meat or vegetables over a long charcoal grill. Robatayaki is usually served or sold by the individual skewer.
Whether you are visiting Beverly hills or strolling some streets of Los Angeles, you can check out some Japanese restaurants on the way. Here are some of the outstanding restaurants that offer Japanese food and yakiniku.
Yakiniku BBQ Restaurants in Los Angeles
Yakiniku Osen
If you are looking for a great spot for a date in Los Angeles, this restaurant in Silverlake serves a tasting menu for some Japanese food. They specialize in A5 Japanese Wagyu and just recently opened a restaurant in that location.
The price per person for their A5 Wagyu omakase sets would be around $195. You can also have different items at their variety of ala Carte menu. One of their sets includes Chawanmushi, A5 Wagyu Braised Short rib, A5 Wagyu Beef with Amaebi, Lobster Carpaccio Somen, Beef Tartare Salad, Oxtail Soup, Honey Citron Sorbet, Assorted Veggies and Mushroom.
It also has 3 kinds of Japanese A5 Wagyu, Miso Marinated A5 Japanese Wagyu, A5 Wagyu Beef Mazesoba, and dessert. The food at Yakiniku Osen restaurant is delicious and each dish compliments the previous one you've eaten.
Their Silver Lake address is located at 3503 Sunset Blvd, Los Angeles, CA 90026. If you want to get some booking reservations, you can call them at (323) 426-9455.
Manpuku Tokyo BBQ
Manpuku offers a solid meat quality with an all-around solid yakiniku experience. They even have a Yakiniku delivery service for an extra fee. Manpuku Japanese dining has their interesting takes on marinating/dry-brining and it elevates the experience.
The process includes a salt-and-sesame-seed dusted pork toro or jowl meat. Other Japanese restaurants haven't thought of this procedure and it totally makes a difference in Japanese or Korean barbecue.
Manpuku Tokyo BBQ experience is a higher quality version of Gyu Kaku at a slightly higher price point. As mentioned, they don't have a free yakiniku delivery, but should you want to have some Japanese barbecue delivered, call them at (310) 473-0580. You can also visit their restaurant located at 2125 Sawtelle Blvd, Los Angeles, CA 90025.
Gyu-Kaku Japanese BBQ
Gyu-Kaku Japanese BBQ is a chain of Japanese yakiniku restaurants specializing in Japanese barbecue. Their location in Los Angeles is at 14457 Ventura Blvd, Sherman Oaks, CA 91423. They also have a contact-free Japanese BBQ delivery option and you can give them a call at (818) 501-5400.
The lovable thing about Gyu-Kaku Japanese BBQ isn't with the highest-end Hokkaido wagyu, but their cheapest offerings of Japanese beer anywhere and those cute little smores at the end of each meal. The Gyu-Kaku Japanese BBQ marinated meats are also not slouching as they can get a good night started along with great service.
Yazawa
Yazawa offers some good Japanese barbecue with big plush booths and their meat quality is to die for. This Japanese restaurant is elevating the yakiniku experience as they have their beef flown in from Japan. You can see that is true based on the marble of the meat.
Their meats are splattered in an egg mixture and grilled to a barely-cooked pink color. You will truly appreciate the mellow, fatty flavor of true Japanese Wagyu. Los Angeles diners may not be able to find a better yakiniku experience other than this Japanese restaurant.
They are located at 9669 S Santa Monica Blvd, Beverly Hills, CA 90210. They offer menu pick-up, delivery and dine-in services. If you want to order yakiniku delivery, call them at (310) 275-2914. You will truly want Japanese BBQ in Beverly Hills once you tasted their tasty menu.
Tamaen
Tamaen is a wagyu-focused Japanese BBQ restaurant and butcher shop located at 1929 Pacific Coast Hwy, Lomita, CA 90717. Their huge deal on meat quality makes them one of the best meat providers in Little Tokyo or Sawtelle.
Once you visit this restaurant, you should also try their chijimi, or cheese pancake. It is crispy and cheesy. This pancake can also be a meal itself with enough orders along with some Japanese BBQ. A great savory side dish to pair with the meats indeed.
If you want to order some fresh steaks and great meat quality from around the world, you can do it through Tamaen and you can call them at (310) 326-0829.
Aburiya Raku
This Japanese restaurant debuted in Vegas, but they have found their way to the La Cienega location with a strong omakase offering and truly amazing skewers. This move proves that what happens in Vegas won't just stay in Vegas.
If you want some rich, delicious pork fat, and steer clear of the belly, go for their pork cheek or the Iberico pork skewers. Aburiya Raku is able to provide a great experience to their diners after all the meat-fueled conversations by offering katsuobushi-laden cold green tea soba.
You can visit them at 521 N LA Cienega Blvd, West Hollywood, CA 90048 for some amazing Japanese BBQ experience. You can also call them at (213) 308-9393 if you need to make some reservations prior to coming in.
Kinjiro
This is an izakaya restaurant that offers a holistic experience with particular emphasis on the grilled goods. For those who don't have an idea, izakaya is a type of informal Japanese bar that serves alcoholic drinks and snacks.
Kinjiro is taking their A-game by providing a wide array of menu selections ranging from charcoal-grilled A5 Wagyu to thick cut prime beef tongue. They even have grilled air-dried squid getting that street-side charcoal grill treatment.
Their location in Los Angeles can be found at 424 E 2nd St, Los Angeles, CA 90012. It is a fun place to go to after a tiring day. You can also give them a call at (213) 229-8200 prior to visiting the restaurant.
Tokyo Kalbi
A variety of high-quality cuts of meat is what Tokyo Kalbi restaurant is offering on their yakiniku menu. They are served with different prepared marinades, including spicy miso and a soy-based marinade and before you can grill them.
Their meats are comparable to that of Tenraku in Koreatown. You can get a little bit of Korean experience as they also offer a menu of yukejang or spicy Korean beef soup and bibimbap. Their banchan quality is also one of the best in Beverly Hills and is a favorite place to cook or grill food at the table.
Meats grilled over actual charcoals and a healthy bevvy of Japanese appetizers ( shishito peppers is a must) elevates the overall experience more than any other yakiniku restaurants. You can visit them at 11660 Gateway Blvd, Los Angeles, CA 90064 and call them through (310) 312-3999.
Oreno Yakiniku Japanese Bar-B-Cue
Oreno Yakiniku Japanese Bar-B-Cue is a Japanese restaurant located at 123 Astronaut E S Onizuka St Ste 308, Los Angeles, CA 90012. Their phone number is (213) 680-0829 if you want to call them prior to visiting the place.
Their quality Oreno's cuts are available either to order or in moderately priced sets that contain a certain portion of a given meat. The Kobe on their menu may be more on the American wagyu, but the fair price makes it worth a try.
They have straight-up Korean dishes including kimchi and hot stone bibimbap. It also includes miso-marinated Kobe on the list for a little Tokyo feel.
Torihei
Torihei is one of those restaurants or could be the only restaurant where you can grill chicken fat of the chicken wings over charcoal until it blisters into a crackly, delicious mess that yields to juicy dark meat.
Their nice crumbly tsukune or ground chicken is perfect for lunch or dinner. The rest of the chicken and beef skewer is fixed at one of the South Bay's finest robata establishments. This restaurant is located 1757 W Carson St, Torrance, CA 90501 with contact number (310) 781-9407.
YakiYan
This restaurant only serves a host of high quality USDA Prime meats with sleek prix-fixe-only barbecue. A rice bowl made with filet mignon and an A5 wagyu would bring snow white with fat vibes. Though be advised that meat is cut thinner than other restaurants.
The experience exudes great service that comes with a certificate of provenance. You can come to their place at 17188 Colima Rd, Hacienda Heights, CA 91745. You can also reach them at (626) 581-0080.
Yamaya Japanese Wagyu & Grill
Where can you get a genuine A-5 Miyazaki wagyu with a surprisingly approachable price point? Only at Yamaya Japanese Wagyu & Grill restaurant. Yakiniku is all about meat quality, and this place has a food that is worth every penny.
Located at 2529 Pacific Coast Hwy, Torrance, CA 90505, Yamaya Japanese Wagyu & Grill boasts their ribeye that is just thick enough to merit a proper sear. It is rich and melts-in-the-mouth decadence that will spoil you for American beef forever.
That's enough food to comfortably serve a party of two and you can get it at only $150 for an order. Their dishes are expertly handled by one of their skilled servers. You can also reach them at (310) 257-1800.
Final Thoughts
Japanese food isn't just about rice and sushi. There are certainly a lot of things that need to be tried on to fully get a grasp of their complex offerings. These restaurants have their share of ups and downs, but they are able to bring a reputation that caters to Japanese cuisine.
Depending on your taste and preference, it could differ on how you will view each restaurant. This could be the first step if you are in Los Angeles and would like to have some taste of the food similar to those that can be found in Tokyo, Japan.