It is with no doubt that Los Angeles is one of the best cities in the United States that you can enjoy a stellar bowl of ramen. From rich broths of umami flavor to noodle soup, in this guide we have gathered a lists of some of the best ramen restaurants in Los Angeles. Read on here to know where to go if you are craving a bowl of ramen noodles in the City.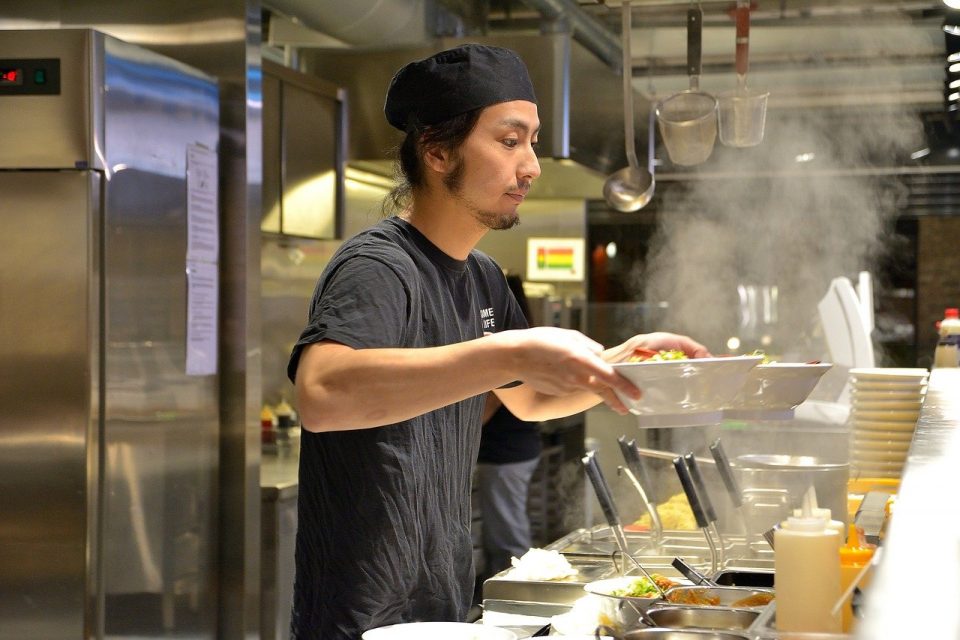 Best Ramen Los Angeles Restaurants
Listed below are some of the best ramen restaurants we have gathered that are located across Los Angeles.
Afuri Ramen + Dumpling
Afuri, a famous ramen chain in Tokyo is now in Los Angeles CA. It is located in 688 Mateo Street, Los Angeles.
It is known for its Yuzu Shio, a delicate broth of seafood and chicken broth. Though a light ramen, it is still loaded with flavors from Dried bonito flakes (Katsuobushi), dried seaweed (Kumbo), dried sardines (niboshi) and vegetables for that yellow citrus flavor. The signature ramen is made from noodles, eggs, bamboo shoots, chasu pork. fried garlic and nori sheets.
Afuri also opened branches in Portland and Oregon. The restaurant features a sleek indoor and outdoor seating and a full bar with high end technology using touchscreen when ordering.
DTLA Ramen
DTLA Ramen is a Japanese ramen restaurant with a touch of modern California. It is located right in the heart of Broadway, Los Angeles CA.
If you want a bowl of ramen paired with craft beers or Japanese sake, then you must try this restaurant. In this ramen restaurant, you will have the option to customize your very own ramen though it would be best to order a thick noodles on a pork based broth as well as thin noodles with chicken or shoyu adding different varieties of vegan add-ons.
E.A.K Ramen
The popular E.A.K Ramen restaurant in Japan is now making it way to its first location outside the country. The restaurant is located in Melrose Avenue in Los Angeles CA.
The specialty ramen in E.A.K is Iekei Ramen, a mixture of both Tonkotsu style and Shoyu style where broth from chicken and pork bones are combined. The noodles used in their ramen are thicker as compared to other noodles in other ramen.
Hakata Ikkousha Little Tokyo
Hakata Ikkousha is another restaurant for the best ramen. The productive ramen chain is now conveniently located in 2nd street #368, Los Angeles CA
Thin noodles are used in making ramen but with ample amounts of toppings and a rich broth. If you want to customized your own ramen in this restaurant, such as the broth, toppings and how you want the firmness of the noodles to be.
They also the God of Fire for those who are into spicy ramen which usually comes in 4 levels of spiciness to choose from. Chicken Karaage, made of boneless chicken thighs is one of the favorite side dish in this restaurant.
Jinya Ramen Bar
Tomonori Takahashi, the owner of Jinya Ramen bar in Tokyo has brought this popular restaurant in Tokyo to Los Angeles CA way back 2010. Since then, it has gained its popularity for serving delicious ramen. At present, it now has four branches in different popular locations in Los Angeles such as Burbank, Downtown LA, Studio city and Sta. Monica.
Jinya is known for how the ramen is cooked, using the slow-cooked method. This means that the broth (made either from pork, vegetable and chicken) that is used is usually simmered for at least 10-20 hours. The noodles are also aged for 3 days. Cha Cha Cha ramen is a ramen variety that Jinya is offering made from either fish or pork broth, seasoned egg, chopped onions, bean sprouts, chili powder, and garlic.
Jinya Ramen Bar also has menu that can be customized. Good quality ramen, delicious side dishes and craft beers is what Jinya Ramen Bar has to offer.
Kai Ramen Sherman Oaks
Kai Raman is another popular ramen restaurant conveniently located in Sherman Oaks, Los Angeles CA. It also has other outlets located in San Gabriel Valley, West Hollywood and in Korea Town.
Kai Ramen offers different varieties of broth such as chicken broth, salt-based broth and vegetarian broths. While the soy-based broth is the most popular broths usually used for their famous spicy Tonkotsu ramen.
The jumbo sized noodles used in their ramen is made of whole wheat, typically used for in Tsukemen (dipping ramen) although a thin noodles can also be used as an alternative that comes with pork belly slices that are generously thick and heat it up with spices for that extra kick if you prefer.
If you are into beef curry topped with rice, considered to be the crowd's favorite, is usually accompanied with tofu, vegetables and spinach noodles.
Killer Noodle Tsujita
Another great ramen place is from the prolific Tsujita Group, this ramen shop called Killer Noodle is located in Sawtelle Blvd, Los Angeles Ca. It opened last October 2017, since then it also opened another ramen shoo in San Gabriel Valley sometime in September 2020.
Killer noodle Tsujita offers a delicious ramen bowl of TanTanmen that you can also customize. Tantanmen ramen in Killer noodle is the crowd's favorite. A spicy ramen with 3 different styles to choose from and with different heat levels (Levels 1 to Level 6 as the most spicy level)
Tokyo style- Rich and creamy ramen with flavors of peanut and sesame
Downtown style – made with vinegar, and chili oil. It has a tangy flavor.
Original style – white mabo or mabo tofu garnished with black pepper and Thai Chili.
Men Oh Tokushima Ramen
Men Oh Tokushima Ramen is conveniently located in the heart of Little tokyo at 2nd street, Los Angeles CA.
This ramen shop offers their signature ramen from Tokushima, Japan. Though there are other 5 ramen options to choose from. The signature ramen is using the slow-cooked process wherein the pork broth is usually simmered for 16 hours. It is then infused with a soy seasoning with its very own secret ingredient.
Toppings includes Chasu, but you can also try their Stir fried pork belly topping also known as Batubara. Thin noodles are used for their ramen that is why you can also topped it with raw eggs.
Mogu Mogu
You can find Mogu Mogu Ramen shop at Olympic Blvd, Los Angeles CA. Mogu Mogu features a broth less ramen. Yes you hear it right, a dry ramen.
Raman in Mogu mogu is usually served using thick noodles and different varieties of toppings but without the broth.
Try the Deluxe Ramen option to experience a new level of ramen. Stir the thick noodles for at least 30 seconds along with its toppings such as spicy minced pork, eggs (poached egg and soft-boiled eggs), pork chashu, chives, fish powder, minced garlic, seaweed and scallions. When you are about eating halfway of your ramen, you can add Umami vinegar to level up the taste. After consuming all the noodles in the ramen bowl, white rice is then served to mix it with the remaining sauce from the ramen.
There are also vegan friendly ramen bowls available called the Miso Mazemen. It is made of spicy miso, kale, tofu, corn, red onion (sliced), red bell pepper, yellow bell pepper, fish powder and sliced lotus root.
Rakkan Ramen
For vegans, Rakkan Ramen is your choice as it is offering Ramen with vegetable broth. Head over to Ocean Avenue, Santa Monica for that bowl of vegan friendly ramen noodle.
Other vegans choices on their menu includes gyoza, spicy garnet and steamed buns.
Ramen Tatsunoya
If you are looking for a traditional ramen, you can find it in Ramen Tatsunoya located in Pasadena while the second location that opened last March 2019 is located in Silver lake.
The founders of this shop is from Kurume City in Fukuoka, where tonkotsu is originated that is why it is with no doubt that this shop offer delicious bowl of ramen. The broth used is made by simmering the skull bones using the slow cooked method of simmering for 15 hours. Different varieties of broth includes Light (Jun), Spicy and Koku (Rich broth)
The noodles used on their ramen (either thick or thin noodles) are exclusively made for use in making ramen bowls in Ramen Tatsunoya ramen shop.
Santouka Ramen
Long lines awaits you at Santouka Ramen located in Centinela Ave, Los Angeles CA. Therefore when you want to dine in this ramen shop, you may want to plan it ahead of time. Though you can conveniently park your vehicles at their designated parking lot, though you will still have to wait for your turn to get inside especially during meal time.
Santouka Ramen specially offers Shio Ramen, unique broth with thick al dente noodles. There are three different ramen sizes of bowls to choose from according to one's own preferences.
Shin Sen Gumi Hakata Ramen
Shin Sen Gumi Hakata Ramen shop is a branch that was originally from Gardena and expanded its located in Los Angeles and Orange County.
Shin Sen Gumi is a little Tokyo branch that offers Hakata Ramen, a delicious bowl of ramen that uses thin noodles and milky Tonkotsu broth. The rich bowl of ramen is usually topped with chopped scallions, sliced Chashu pork, red ginger and drizzle with sesame seeds.
Other topping options includes the Cilantro Bomb, which consists cod roe, of garlic miso butter, flavored egg, pork wonton and spicy pickles.
Aside from serving ramen, this restaurant also served other food options on their menu such as rice bowls, vegetables salad, cold dishes and they also have special section for fried dishes that includes oysters, chicken and squid.
Silverlake Ramen
This restaurant started in September 2012 and since then its has grown its branches by opening in other locations across LA where downtown LA and Korea Town area are included in that expansion.
Silverlake ramen shop is conveniently located at Sunset Blvd, Los Angeles CA that specializes in offering classic Tonkotsu and the famous Blaze Ramen which is a classic Tonkotsu along with your choice of protein, pork broth, spinach, green onion, bean sprouts, eggs and seaweed.
You can also include in your bowl of ramen some side dishes such as fried pork gyoza, mushrooms with butter and Trio buns (Chicken Karaage that is spicy, pork belly that is marinated and panko-fried meat).
Tatsu Ramen
During peak time and meal times, this restaurant is usually packed with customers with other customer waiting in the long line outside waiting to be served. Not only because of where Tatsu Ramen is located, in Melrose Ave, but simply because of the delicious ramen this restaurant is serving.
Aside from its high technology ordering system, yes you can order your ramen on an Ipad, how the ramen is prepared is what's keeping the customers keep coming back.
Using the slow-cook method, the pork broth used on their ramen is simmered for 12 to 14 hours. The broth also comes in to different broth varieties that customer can choose from. The noodles used are thin and usually served in al dente bowls. This restaurant also accommodate vegans since they also have ramen options for vegans and gluten-free customers.
Tsujita La Artisan Noodle
The Tsujita La Artisan Noodle located in Sawtelle Blvd, Los Angeles is regarded as one of the best ramen shop that serves the best bowl of ramen in the city.
It is known for using the slow-cook method wherein pork bones are simmered not just for the usual 20 hours, but in this restaurant the broth is simmered for a full 60 hours to achieved a rich broth for their ramen.
Tsujita La Artisan Nood is also known for their Tsukemen dipping broth used to submerge the thick noodles used in their Hakata Nagahama Tonkotsu Ramen soup. You can also request for a soup wari once your are done with your noodles. The sauce is a secret recipe of this restaurant that you can add to the ramen broth for you to sip and finish the entire bowl.
Ramen Hood
Ramen Hood is conveniently located inside the Grand Central Market. This restaurant does not serve the usual watery ramen but instead there are other ramen options to choose from and that includes plain, garlicy and spicy ramen. All three options are filled with broth made from sunflower seeds and are filled with nori, scallions, king oyster mushrooms, bean sprouts and noodles. For vegan, you add vegan egg that is made of yeast and soy milk but would have to pay extra cost of just $2.
Conclusion
There are still a number of Ramen restaurants that you can find in across LA. The restaurants mentioned in this post are some of the best restaurant offering the best ramen. We hope that this guide has helped you if you are searching for the best ramen restaurant whenever you are in the City.
From the lists of shops listed, which ones have you tried and which one is your favorite. Let us know what you think.