If you love Japanese cuisine, then Sashimi must be on your bucket list. This Japanese delicacy consisting of fresh raw fish or meat sliced into thin pieces is often eaten with soy sauce. Let us check the different types of Sashimi by reading further.
Just like Sushi and Nigiri, Sashimi has been a staple in Japanese cuisine. Translated as "pierced body", the word Sashimi comes from the Muromachi period. It is used as the first course in a formal Japanese meal, but it can also be the main course.
Sashimi is usually presented with rice and miso soup in separate bowls. It is considered as the finest dish in Japanese formal dining by Japanese chefs and recommends that it should be eaten before other strong flavors that might affect the palate.
The thinly sliced fish is typically draped over a garnish. Daikon, an Asian white radish, shredded into long thin strands, or single leaves of the herb shiso is the most common garnish partnered with Sashimi.
Aside from soy sauce, Sashimi can also be partnered with other condiments such as wasabi paste, fresh grated ginger, grated fresh garlic, or ponzu for meat sashimi. Wasabi isn't only used as a condiment but it also acts as an antibacterial agent as eating raw fish or meat might contain bacteria and parasites.
Sashimi can be made with a variety of meats including raw beef, chicken, and even raw horse meat. But the most popular main ingredient used in making one is fish and seafood due to their texture. Sashimi is produced using different cutting techniques such as cutting the ingredients into bite-sized rectangular shapes, thin diagonal slices, small firm squares, or thin julienned slivers.
Types Of Sashimi
What Are The Different Types of Sashimi
It's time to dive in and know the types of Sashimi that are available out there. You may also find them in a Sushi restaurant or Japanese restaurants.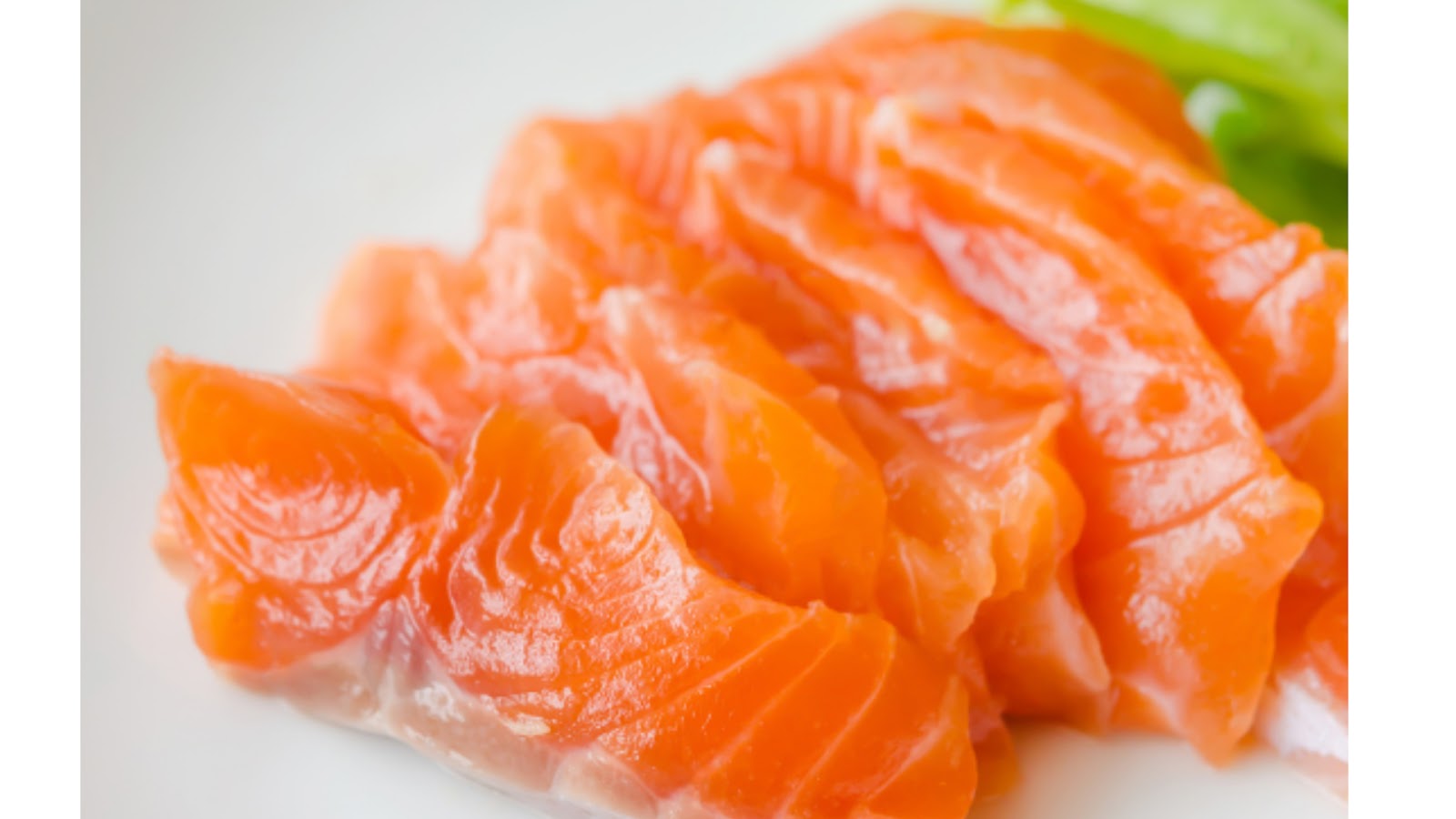 Sake
Sake is a type of Sashimi that is made from Salmon. Some may prefer using wild salmon as it may contain more fats and boldly fishy flavor than cultured ones. Nonetheless, this type of Sashimi can be recognized easily for its bright orange color.
Salmon belly is usually priced higher due to its fat content. Sake cuts may also range from lean to fattier pieces. It is also best to use frozen fresh salmon for that smooth and rich taste.
---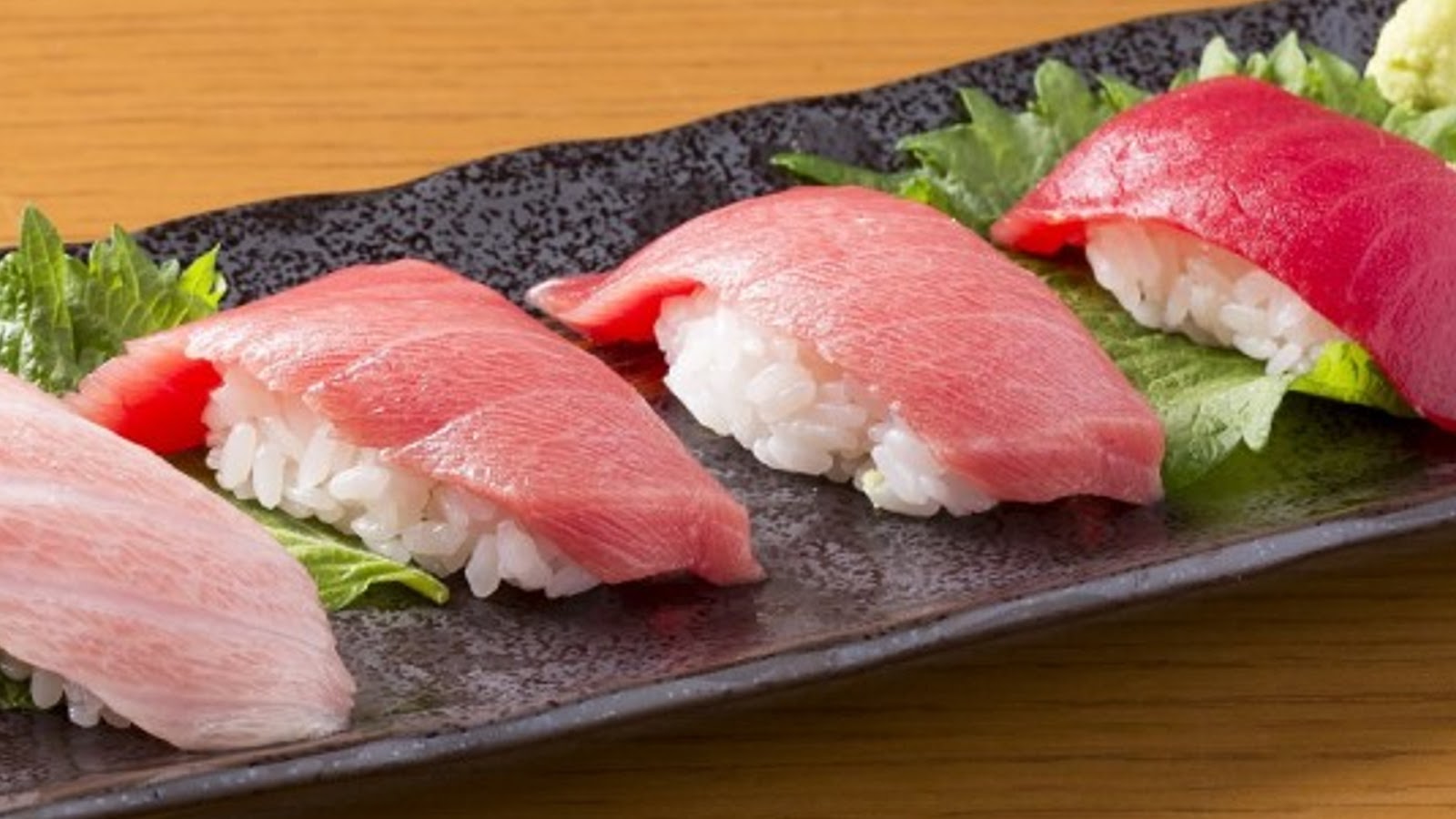 Maguro
Are you fond of eating bluefin tuna or one of the most highly prized fish around the world? Then the maguro Sashimi is the one for you.
Bluefin tuna can be served in different styles like a triumvirate of akami or lean tuna, chutoro or medium fatty tuna, and otoro or fatty tuna.
---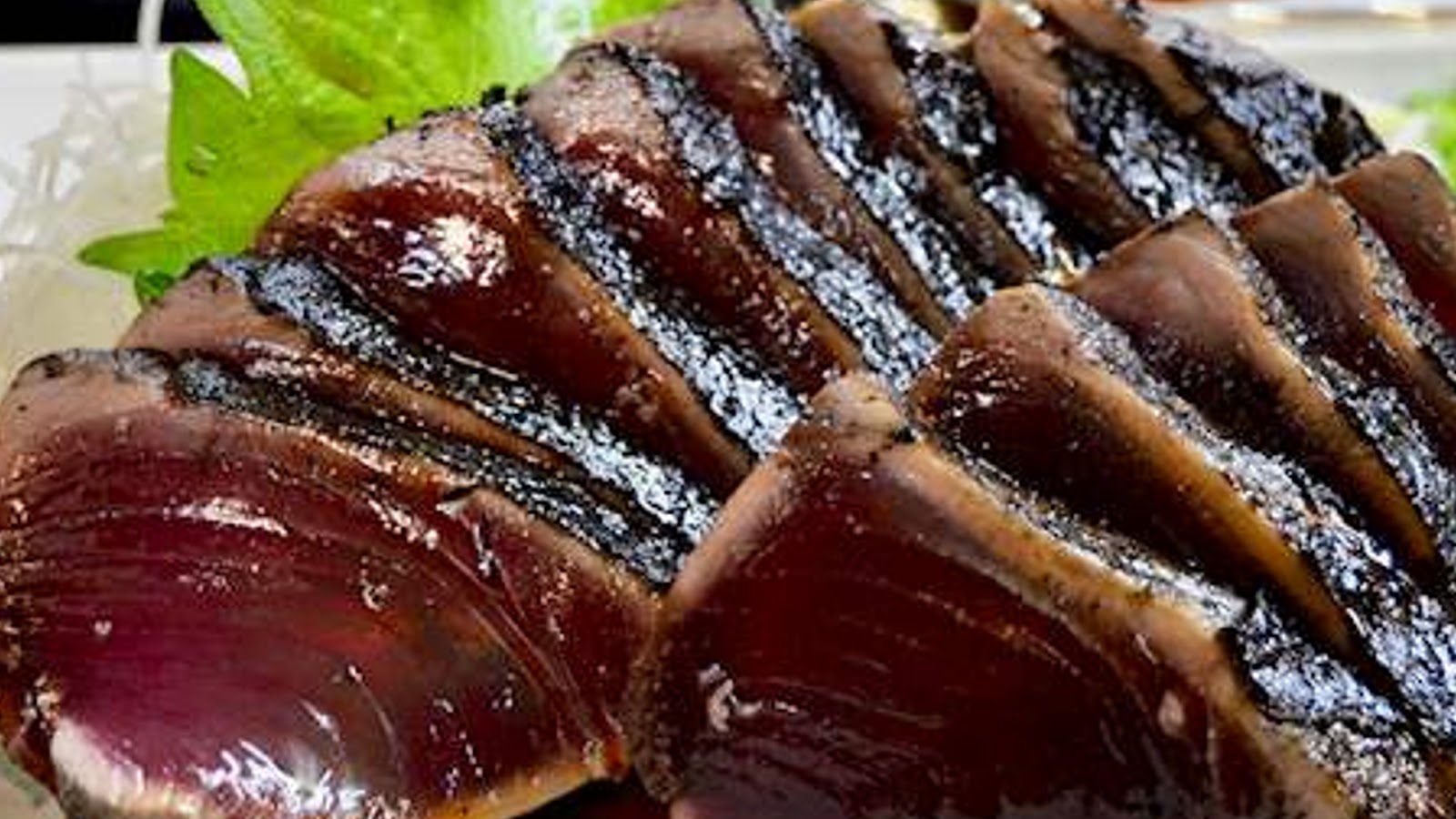 Katsuo
One of the types of Sashimi that is also made of tuna, particularly Bonito or Skipjack Tuna, Katsuo is definitely a go-to when choosing Sashimi.
The most popular style to eat Katsuo is the "katsu no tataki" style, which is lightly seared on the outside and raw the inside. It is then thinly sliced and served with ponzu citrus and garlic or ginger.
---
Hotate
Hotate might have that distinct flavor of slightly creamy tasting fish as it is made from scallops. They are known for their sweet and creamy texture, especially when served fresh out of their shell.
---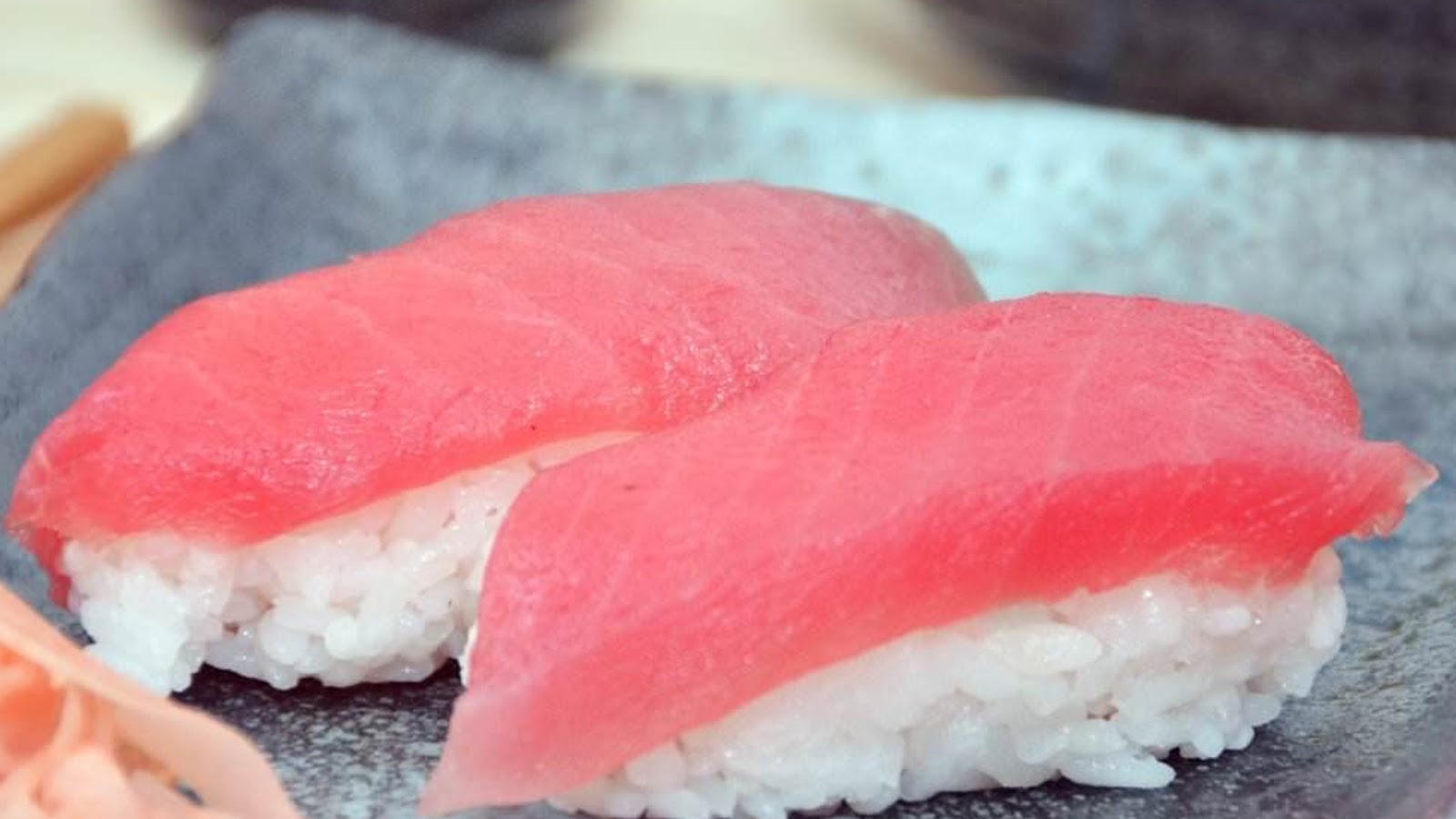 Ahi
Ahi is made from Yellowfin & Bigeye Tuna. The yellowfin tuna provides a mild flavor and a firm texture, while the bigeye tuna gives buttery flavor for its higher fat content.
It also comes with the seared style, known as seared ahi tuna, a sashimi coated in sesame seeds, then briefly cooked to tender and flavorful perfection. Enjoy bolder tasting fish with Ahi.
---
Ebi
In sushi restaurants, ebi refers to shrimp. The shrimp is usually butterflied, skewered, and boiled, then made into sashimi. If you want that mildly sweet flavor and fresh seafood, then go with Ebi.
Many varieties of sweet shrimp and prawns are popular for sashimi, just like the smaller amaebi and the larger botan ebi, which are sweet shrimps. You can also use the aka ebi or red shrimp for that high fat content and kuruma ebi or the Japanese tiger prawns, which is a staple Japanese delicacy.
---
Engawa
Engawa means a muscle of flatfish or righteye flounder for moving its fins, thus, this sashimi is made from a type of flounder fish that would make a very good thin-cut sushi.
Eating this sashimi gives that crunchy feeling on the tongue. It is also chewy and full of it's own aromatic oil-rich taste. When people would say "engawa" for a sushi topping, they refer to the 'engawa' of flatfish.
---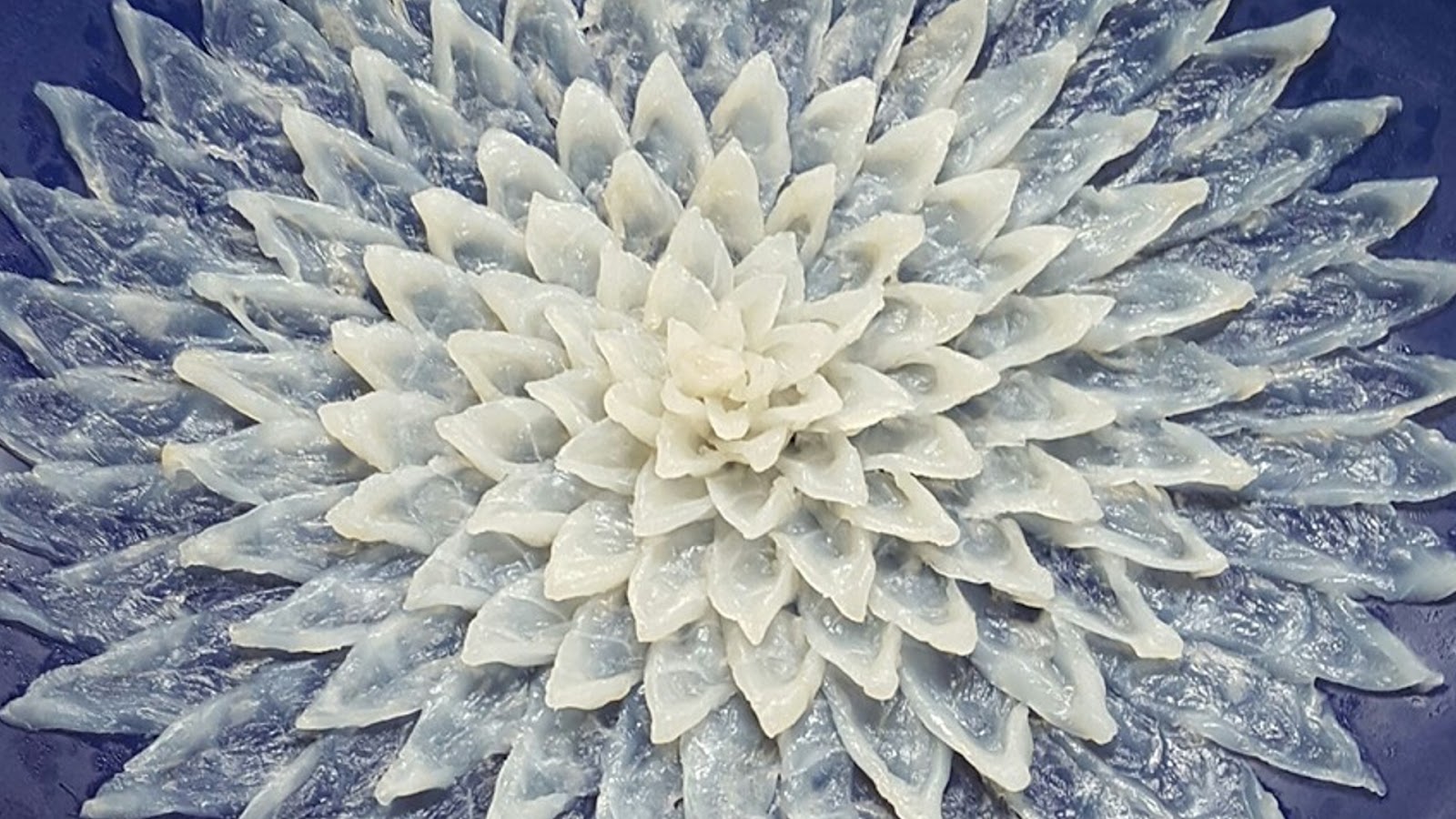 Fugu
Fugu is made from puffer fish served as sashimi and chirinabe. Though it is one of those tasty types of sashimi, preparation of Fugu should be done with utmost care as it is also the most poisonous.
Fugu also uses the liver of the puffer fish and is served as a traditional dish named fugu-kimo. It was banned in Japan in 1984 where Japanese restaurants can't serve it due to being poisonous. Right now, Fugu is one of the most celebrated Japanese food in Japanese cuisine.
---
Hokkigai, Akagai, Tsubugai, Mirugai
Hokkigai clam has a meaty texture and sweet flavor. On the other hand, Akagai clams have a mild, subtle taste, whereas the Tsubugai clams are popular for their sweet flavor and slightly crunchy texture. If you want to eat sashimi with that bit of crunch with briny ocean aroma and a hint of mildly sweet taste, then go for Mirugai clams.
Hokkigai is one of many types of shellfish that are eaten raw as sashimi. The triangle shaped foot of these clams may be served raw. But the most common way to prepare it is to lightly boil it, which turns the tip red and firms up the meat.
---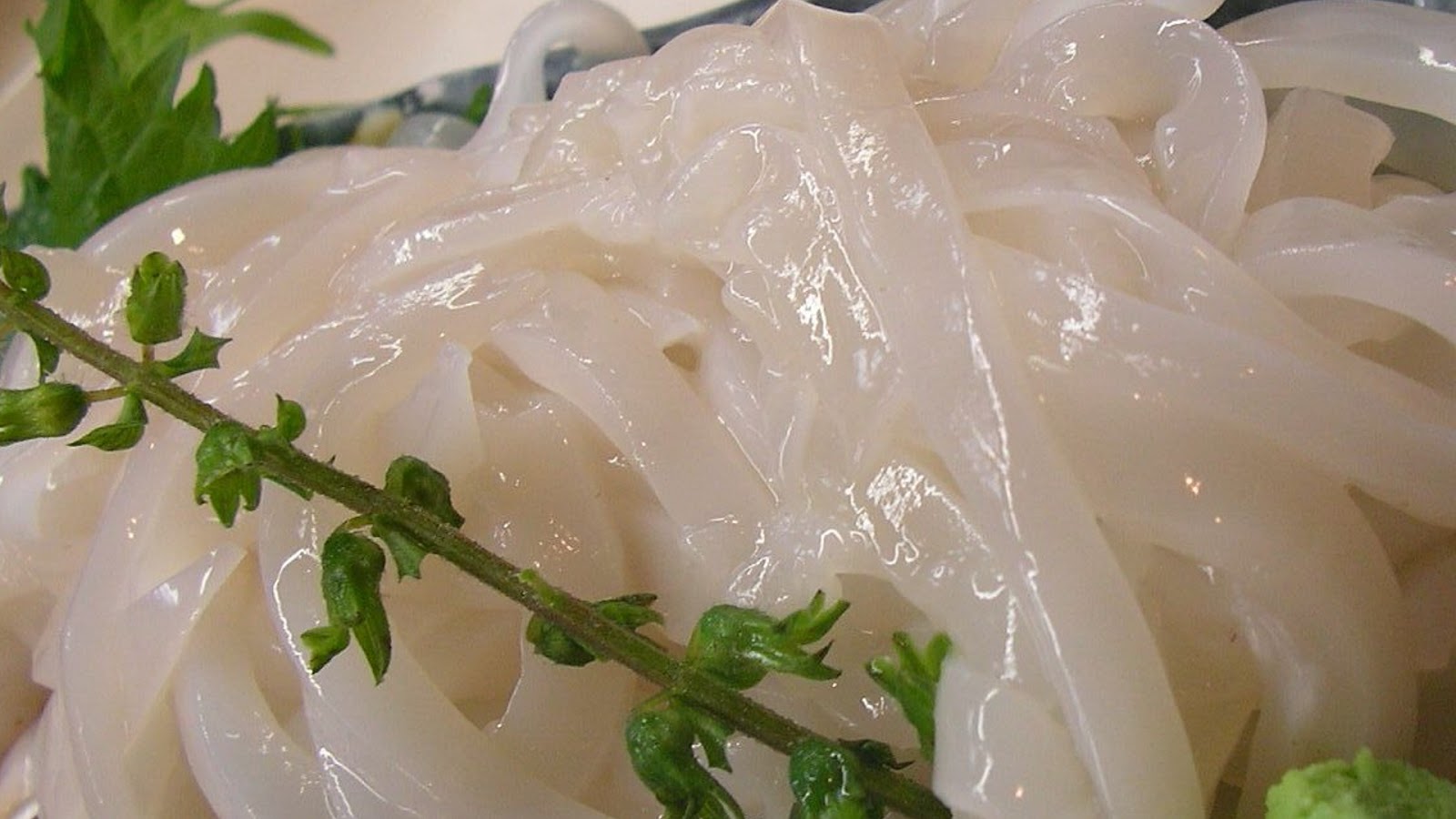 Ika
Also called as Ika sōmen or "squid noodles", Ika is a type of sashimi that is made from raw squid cut into fine strips that looks very similar to the sōmen type noodles.
This is one of those types of sashimi that is served with grated ginger and soy sauce or a soy sauce-based mentsuyu sauce.
---
Other Sashimi Dish
There are several types of Sashimi that you can still explore. But the most common types are those made with different seafoods.
You can have Tako (Octopus), Saba (Japanese Mackerel), Aji (Horse Mackerel), Hamachi or Kanpachi (Yellowtail), and others. Eating sashimi is fun as you would be able to explore different tastes that are fresh and have a delicious flavor.
Is Sashimi Healthy
Sushi and sashimi are both delicious Japanese dishes, but they differ in preparations. Sushi is often made with fish and other types of seafood, while Sashimi can be made with thinly sliced fish or other types of meat.
Also, Sushi is made with egg or vegetables like cucumber and avocado and Sashimi is mainly served raw on its own or condiments and garnish like green onions can be added. Having said that, is Sashimi healthier than Sushi?
Since sushi is made with a combination of different ingredients and can be wrapped with vinegared rice, seaweed, and vegetables, it is imperative that it contains higher in carbs and fiber than sashimi.
On the other hand, sashimi consists solely of raw meat or fish. This makes it a healthier option for people who are on a diet and in need of a better source of protein and heart-healthy fats.