What Is Olive?
Olive comes from the Latin word Oliva. It is a species of a small tree in the Olecaea family. Traditionally found in the Mediterranean Basin. Olea Europaea is the botanical name of olive. It means "European olive". Olive trees grow in Australia, New Zealand, South Africa, North and South America, and in all countries of Mediterranean. The largest producers of olives are Spain, Italy, and Greece.
There are various uses of olive. Olive has been grown to produce olive oil, fine wood, olive leaf, and also for ornamental reasons. 10% are used as table olives and 90% of olives that are harvested are turned into oil. Olive is one of the main ingredients in Mediterranean cuisine.
Olive's fruit, which is also called olive, is the source of olive oil, which is one of the main ingredients in Mediterranean cuisine. The fruit is harvested in the green to purple stage. Because of the method of preservation of olives, they taste bitter, salty and sometimes have a fruity taste.
Today, there are a lot of olive varieties cultivated throughout the world. All have a distinctive appearance, texture and taste.
Olives add meatiness to rice dishes and pasta. Check out the different types of olives and their origin.
Types Of Olives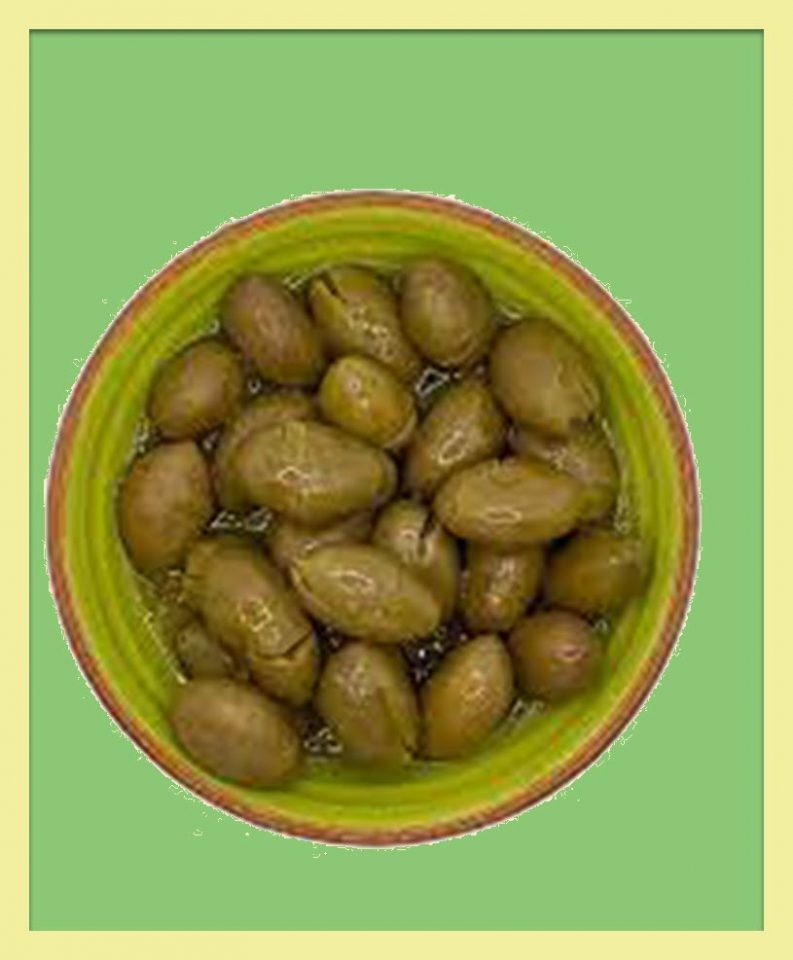 Agrinion Olives
A large Greek olive. Agrinion olives originated in Agrinion region of Greece. They are one of the most popular olives and a delicious variety of Greek Olive.
Agrinion Olives are fruits from the tree of Conservolea, which is one of the oldest types of olive trees in the world. The fruits are light green coloring that have a soft-textured, delicately flavored meat. These olives may have a fruity and tangy taste because of brine curing. These are often served to complement salads or pastas.
The fruits come in all sizes and shapes. These are bought in green and black olives. Normally, the fruits are sold with the pit to easily separate it from the firm juicy flesh.
---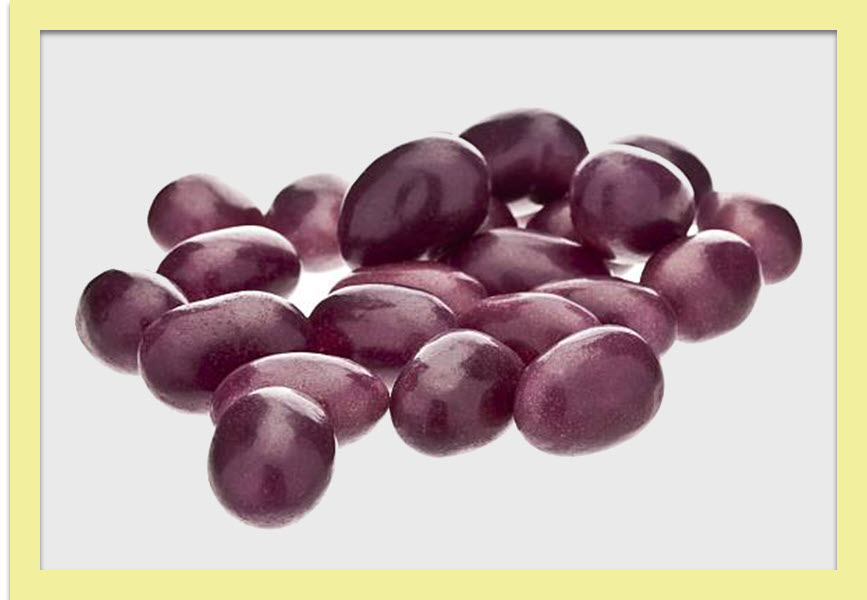 Kalamata Olives
Kalamata Olives originated in Kalamata region, in the Southern Greece. Today, they are grown in many regions in the world.
Kalamata Olives are one of the types of olives that are protected with PDO (protected designation of origin) status. This means that the name can only be used for olives and olive oils from the region of Kalamata.
These almond-shaped, plump, reddish purple olives are usually cured in brine and red wine vinegar. Kalamata olives cannot be harvested green and must be hand-picked to avoid bruising.
Producers of Olive use this type of olive to press olive oil because Kalamata olives contain a lot of oil. They are also used as table olives. They have a soft, fruity but slightly bitter flavor.
Kalamata Olives go well with roasted vegetables or feta cheese.
---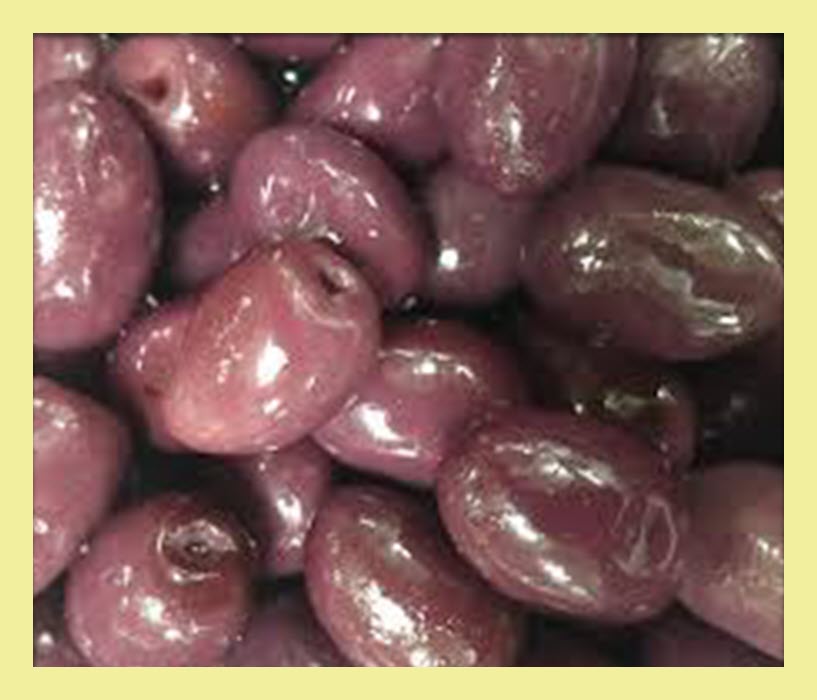 Alfonso Olives
Alfonso olives originated in Chile. One of the most distinctive features is its striking purple color and somewhat large size.
Growers usually brine cure Alfonso olives in combination of red wine vinegar. They have a strong taste and are popular among olive connoisseurs. Oil is also pressed from the soft flesh of these Alfonso olives.
Alfonso olives are very soft and juicy. They go well with various dishes because of the robust flavor. These olives can be served as as a condiment with meals. You can also add these olives on your cheese platter.
---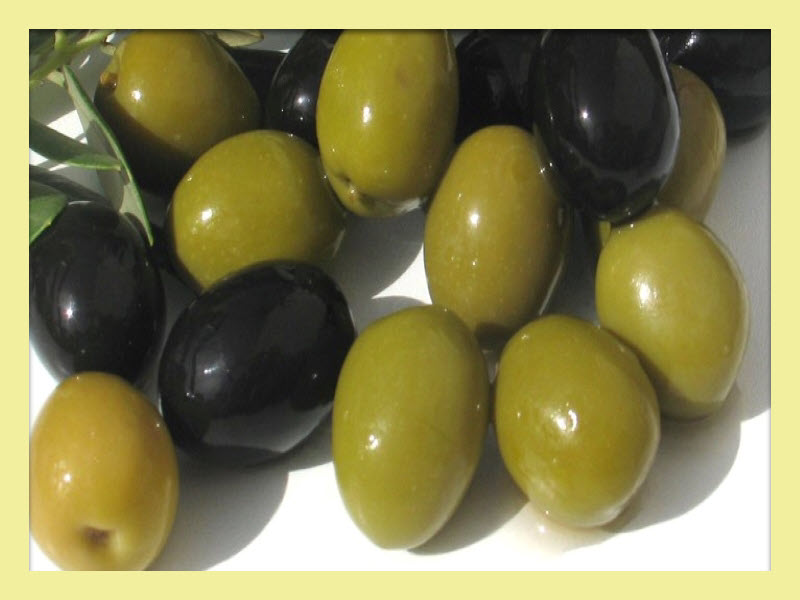 Amfissa Olives
Amfissa Olives grow in Central Greece, they also have PDO status. The fruits are one of the most common Greek olives, and they can be green and black olives. These olives are small in size.
Olives cultivated in the Amfissa region grow on Conservelea tree, the same type of olive tree as Agrinion olives. However, Amfissa olive has a different taste to Agrinion olive. Amfissa olives are sweeter and have a fruity taste because of the climate where they grow.
Growers normally cure Amfissa olives in brine made with citric acid and sea salt.
Amfissa olives make great table olives, and used for producing olive oil.
---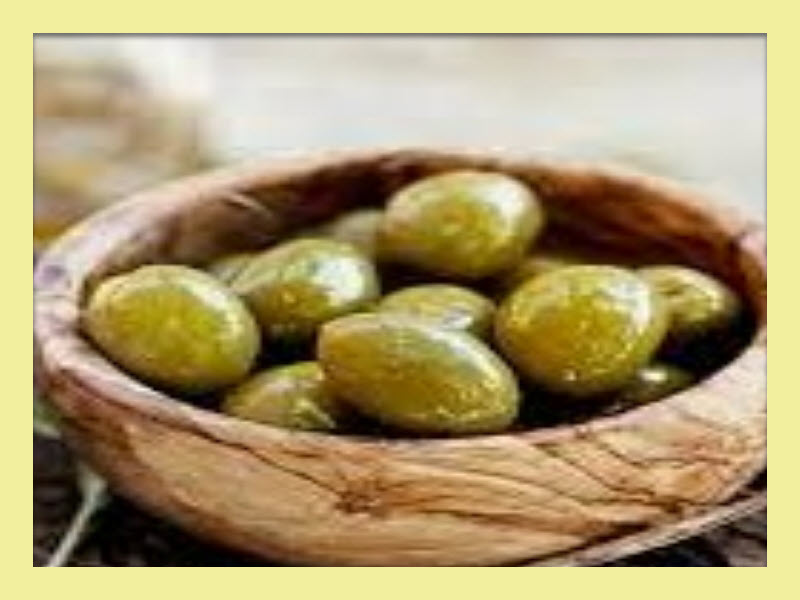 Halkidiki Olives
Halkidiki originated in Halkidiki region in Greece. Sometimes called as donkey olive because this type of olive is so big. They are large green olives.
Generally, Halkidiki olives have a bright green color and turns yellow as the fruits mature. To help lose the bitter taste of raw olives, they are cured in salted brine. These bright green olives develop a slightly spicy taste as they ferment in the brine.
---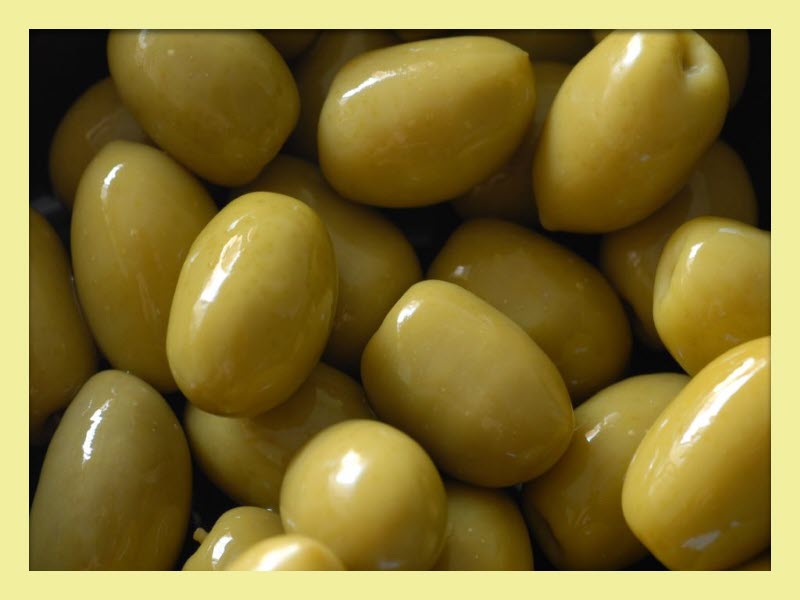 Arauco Olives
Arauco Olives originated in La Rioja region of Spain or in the Arauco region of Argentina.
They are a type of dark green olive harvested when they are still green and cured in brine. Procuders of olive usually use rosemary in the curing to enhance its flavor.
They are one of the most common types of olives for olive oil production.
---
Arbequina Olives
Arbequina Olives, one of the most popular olive varieties, originated in Spain. Since they have become so popular, these olive trees now grow in South America, United States, and Australia.
They are small light brown or dark orange olive. Cured in brine to enhance their fruity flavor. Since they contain a lot of oil, they are also used for olive oil production. They have firm flesh and fruity taste.
Arbequina Olives have a mild taste and make great for table olives.
---
Manzanilla Olives
Manzanilla Olives also known as Manzanillo or Manzanilla de Sevilla or "green olive", originated in Seville, Spain. They are one of the most popular types of Spanish olives.
These green olives are prepared using sea salt brine. Manzanilla Olives are the most commonly sold olives that are stuffed with garlic or pimento.
Manzanilla Olives are one of the main sources of Spanish olive oil.
---
Beldi Olives
Beldi olives are olives grown in Morocco. They are small fruity Mediterranean type of olive.
Olive growers harvest fully-matured Beldi olives in late season at their blackest and fully ripe.
Beldi olives are dry cured with salt and packed in oil. This gives them a chewy texture and strong flavor. They are used as flavor-enhancer in various dishes because of their strong flavor. These olives are also great for a cheese platter.
---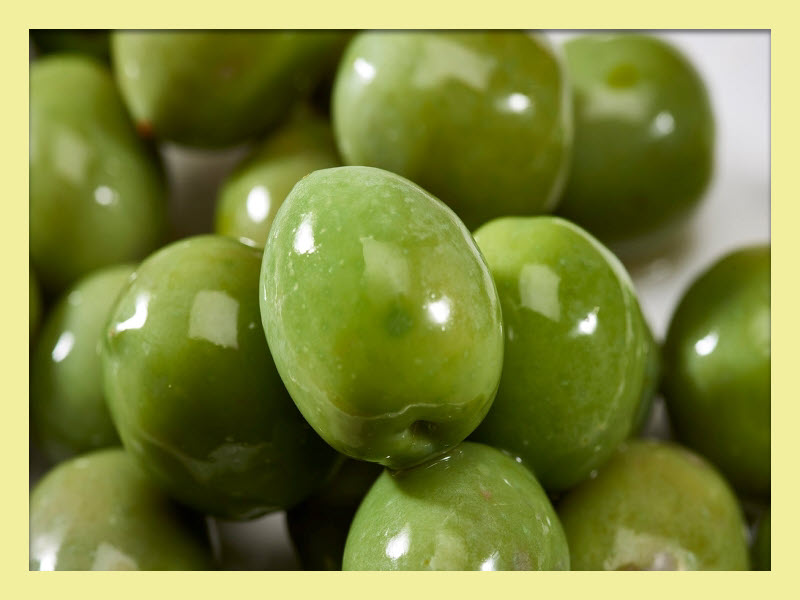 Castelvetrano Olives
Castelvetrano Olives are originated in Sicily, Italy. They have a bright green color.
These Italian olives are medium-large in size and normally comes pitted in salty brine.
These are popular for being one of the most delicious olives in the world because of their sweet taste. Castelvetrano Olives have firm flesh and mild flavor. They go well with cheese platter or wine.
---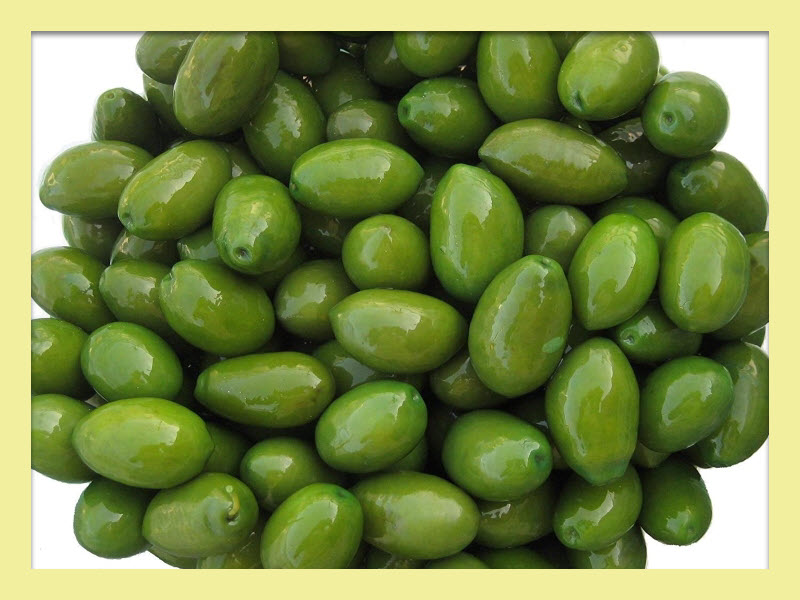 Cerignola Olives
Cerignola Olives also known as Bella di Cerignola, originated in Italy.
These olives are one of the largest types of olives. They come as both black and green olives. Cerignola Olives have a meaty flesh and mild flavor. These olives are great snacks when served with herbs and olive oil.
Since these olives are considered as giants of the olive world, you can often find whole fruits pitted in stuffed with anchioves, capers, garlic or cheese. Because of their large size, they contain a lot of oil.
Cerignola Olives also come in bright red variety. But the red olive color is from an articial coloring.
---
Cordovil Olives
Cordovil olives comes from Moura region of Portugal. These olives are another type of green olive.
Different types of Cordovil olive trees have small to medium fruit with a yellowish-green skin. Cordovil olives harvested while green.
These olives are very deep and fruity, but have a slightly bitter and spicy taste.
---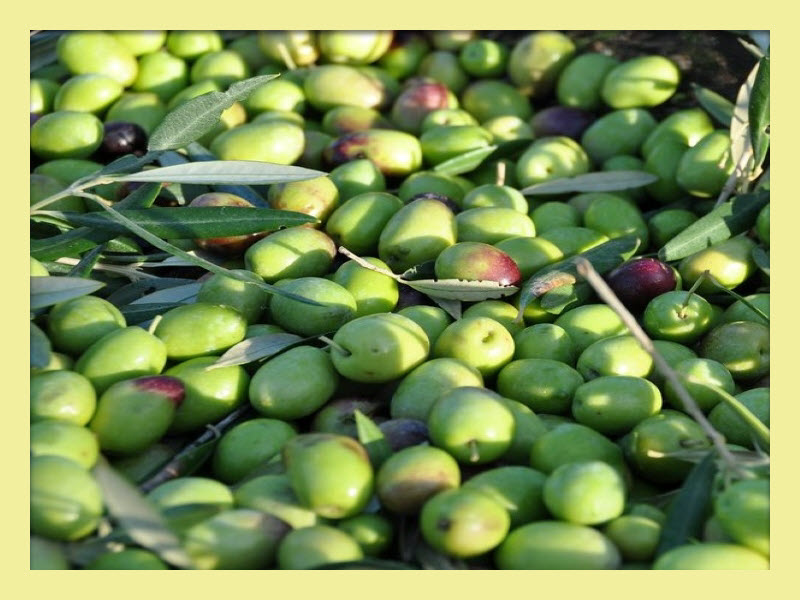 Cobrancosa Olives
Cobrancosa Olives originated in Portugal, mainly in the Nothern regions.
These type of Portuguese olives are medium-sized green olives. Cobrancosa Olives are used to make high-quality extra virgin olive oil. These olives produce an oil that has a fruity flavor with a spicy aftertaste.
Whole fruit Cobrancosa olives are used as table olive. They also come packed in brine.
---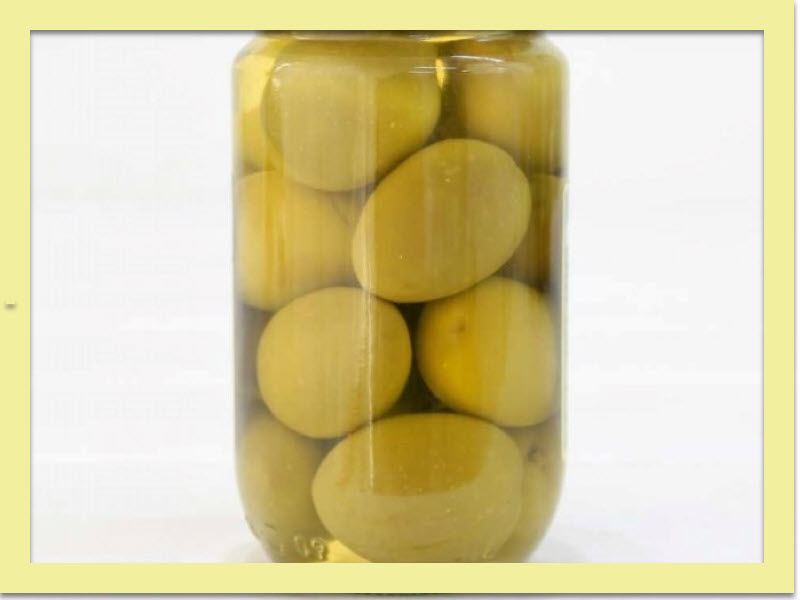 Gordal Olives
Gordal Olives, sometimes referred as Jumbo olives, comes from the Andalucía region of Spain. These olives are the largest type of olives in Spain.
These plump green fruits have a very soft texture and is perfect for an excellent table olive because of its firm flesh that tastes slightly salty and mild.
Gordal olives are not used to produce olive oil because they are not an oily olive variety.
Gordal Olives usually sold pitted and come packed in brine. Olive producers often stuffed these olives with peppers, cheese, and fruit.
---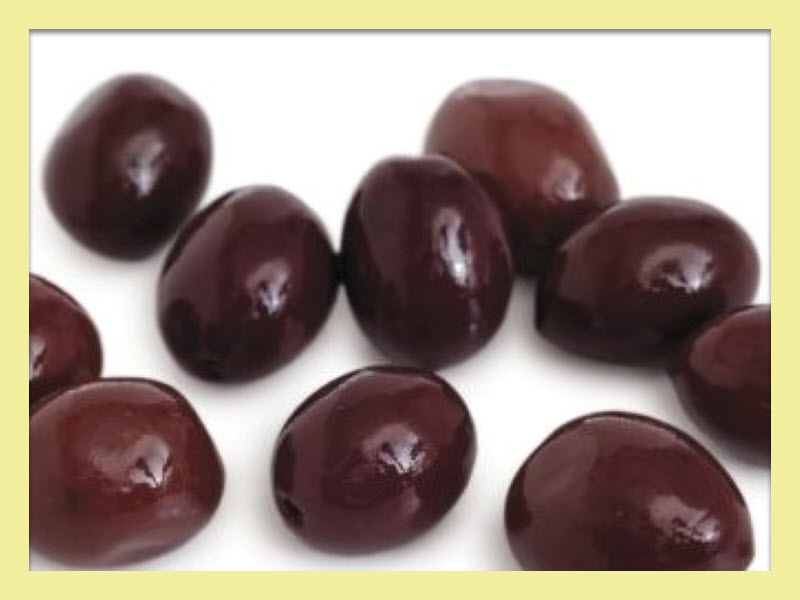 Gaeta Olives
Gaeta Olives are one of the types of olive varieties that are very popular from the city of Gaeta on Italy's West Coast.
This Italian black olive is small and appears in different shades of purple.
Gaeta Olives are mainly used in Italian dishes such as pizzas, pasta, salads, or on cooked fish.
Gaeta olives are packed in brine and marinated with olive oil. They have a meaty texture and slightly sour flavor. They go well with melted cheese or green salad.
---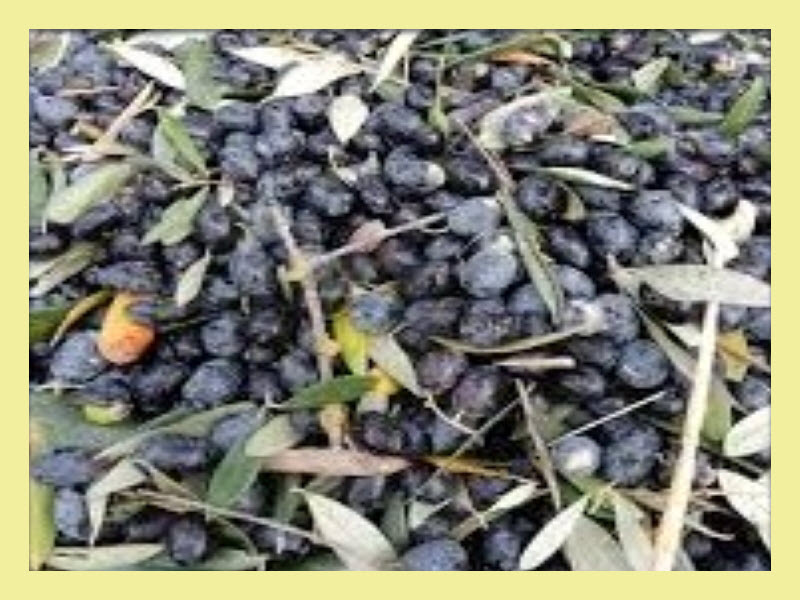 Galega Olives
Galega Olives are one of the most popular olive varieties that are originated in Portugal.
They are sold as a whole fruit or olive oil. These Portuguese olives are one of the most sweetest types of olives available and have a soft fruity taste.
These olives are cured in brine, and marinate them in salt, red wine vinegar, oregano, and olive oil.
---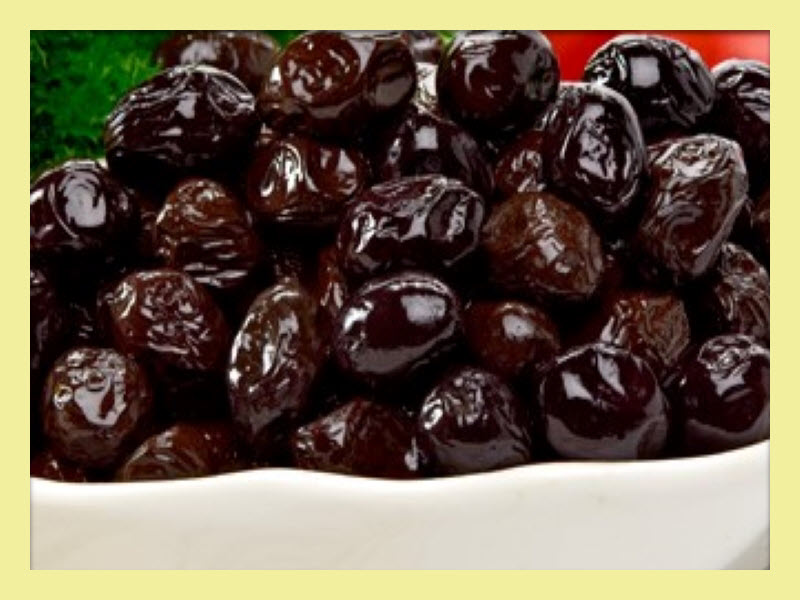 Gemlik Olives
Gemlik Olives originated in Turkey, and they are grown in Zeytinbagi region in the North.
These jet black olives are small to medium in size, and are popular for their high oil content and have deep, rich flavors. The fruits are cured in oil, brine, or dry cured.
Olive growers produce these black olives for use as a table olive, but olive oils are also available.
---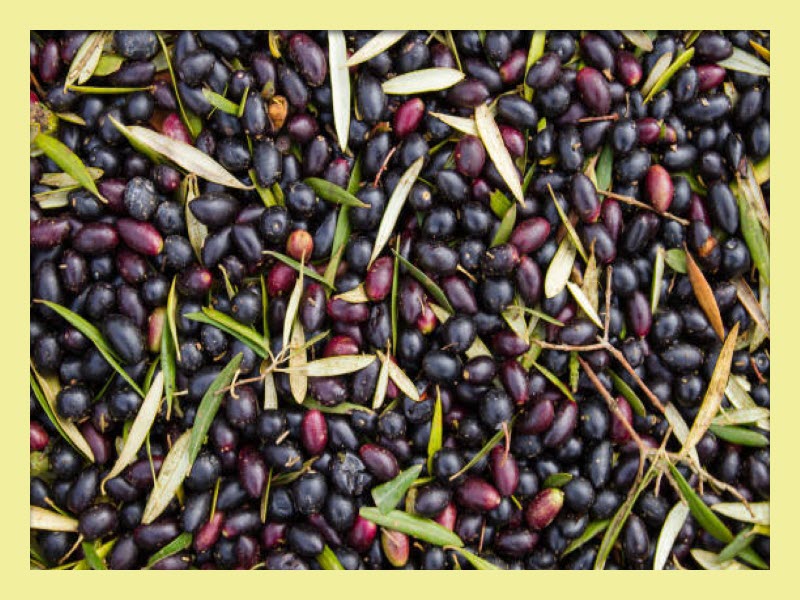 Picual Olives
Picual Olives are one of the most popular types of olives in Spain. These Spanish olives are grown in the Jaen region, in the Southern part of the nation. They are a great source of olive oil in Spain.
These small olives have a deep flavor and partly bitter and sweet.
Spain is also considered as one of the biggest producers in the world.
Majority of Picual olives are used for olive oil production. The extra virgin olive oil produced from Picual olives has a rich source of polyphenols and healthy fatty acids.
---
Ligurian Olives
Ligurian Olives also known as Taggiasca and Cailletier, originated in Liguria region in North-Western Italy.
Producers harvest the fruit while it is in the process of changing from green to black olives, which gives the fruit a unique medium to dark brown color. Olive producers often pack these with garlic, herbs, and spices.
These olives are small and have a meaty, firm texture, and sweet taste.
---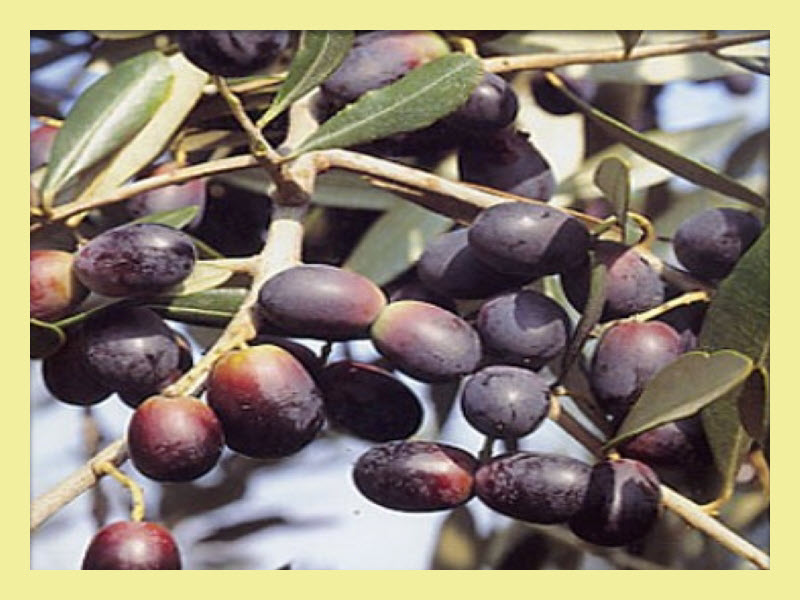 Leccino Olives
Leccino Olives originated in Tuscany, Italy. These are brown olives that have a meaty flesh and sweet spicy taste.
These olives are the most commonly used olive for Italian olive oil because of their high oil content and high production. Leccino olive trees are also cultivated in other countries to produce olive oil.
Leccino Olives have a unique appearance and taste.
---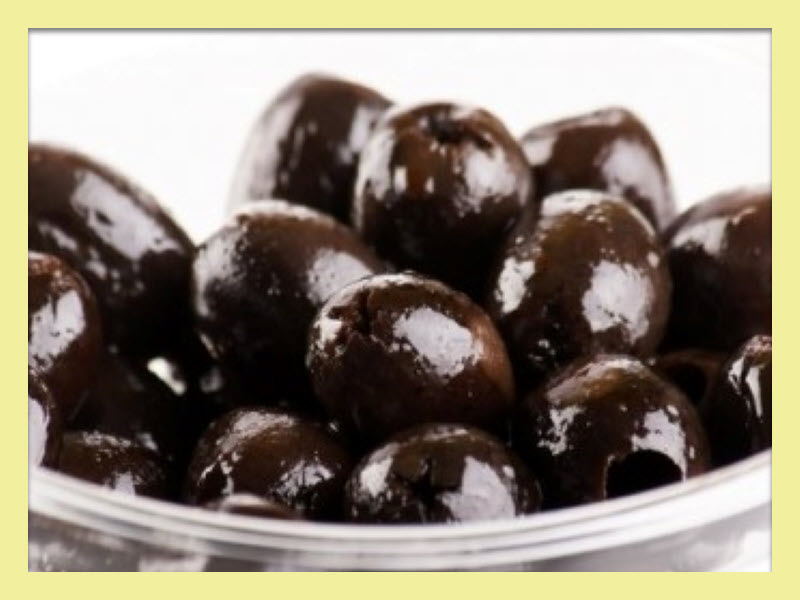 Lugano Olives
Lugano Olives originated in Switzerland. One of the types of black olives that grow in Ticino region, located near the town of Lugano.
These Swiss olives are medium sized black olives that have a very salty and bitter taste. They also have a firm texture.
People enjoy these types of olives as a snack or for use in recipes.
---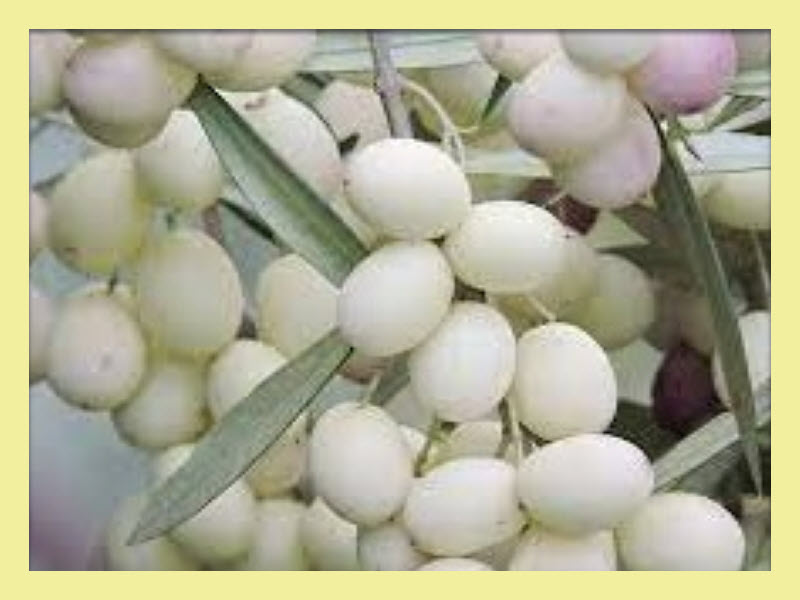 White Olive of Malta
Used to be popular in Mediterranean countries because of its unique features.
White Olives lack pigments in the fruit. It is said that these olives have a rich peppery flavor and notable sweetness.
---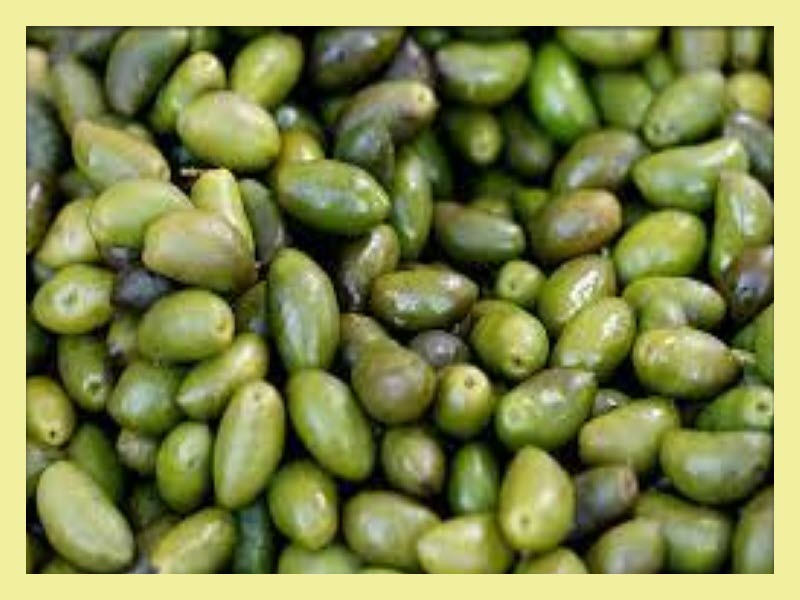 Lucques Olives
Lucques olives are bright green olives from Languedoc region of France. They stand out because of their kidney-shaped small green olives.
The French olive has a mild nutty taste which goes well with its crunchy exterior and buttery texture inside. They stay green even when the olives are fully matured.
Lucques olives make great table olives.
---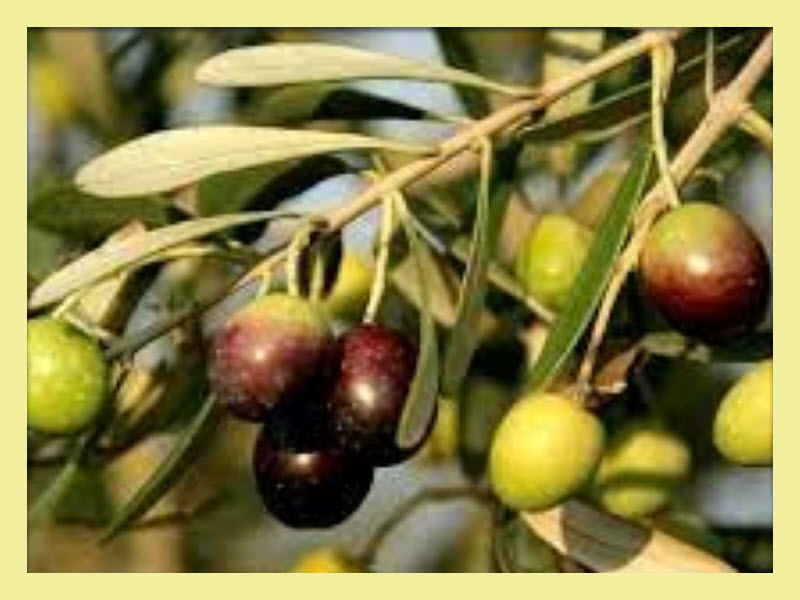 Mission Olives
Mission Olives originated in the United States. They grow in California.
These small olives are firm, and picked from Mission olive trees while still green. These olives are cured in brine. Black varieties of Mission olives are also common.
Most olives are pressed to extract the oil. They are sold as whole fruit and oil.
---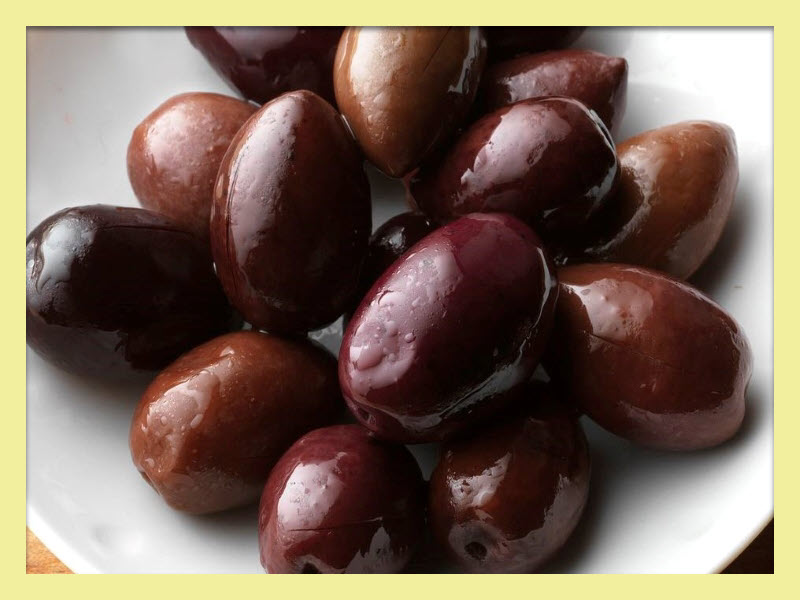 Nicoise Olives
Nicoise Olives are a type of French olive that is the same as Ligurian. The only difference from its Italian counterpart is the curing method.
Nicoise olives are dark brown in color. They are harvested when they are at mature stage.
These French olives are cured in brine. They also make great table olives, and have a smoky, sweet, and bitter flavor.
---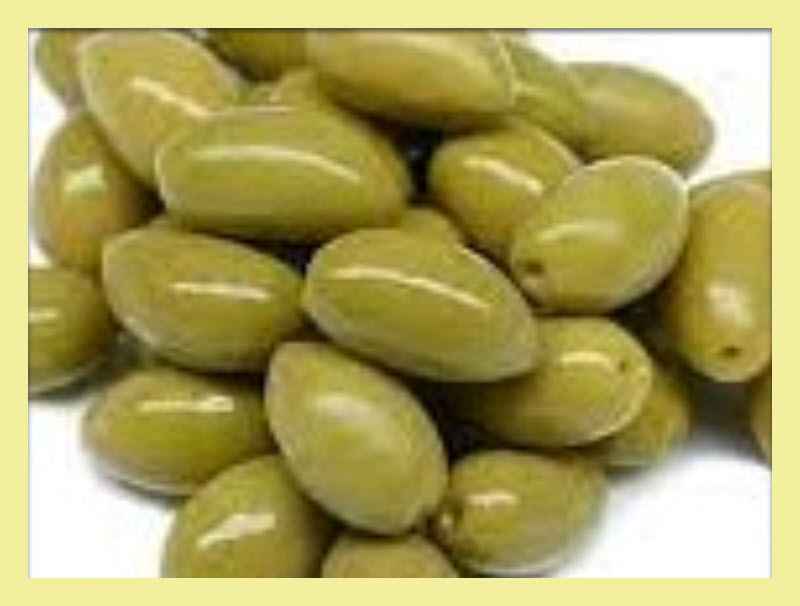 Picholine Olives
Picholine Olives are one of the most popular green olives in Southern France.
These olives are harvested green at the start of the season and cured in brine. They have a a firm and crisp texture with a mild fruity taste which goes well on cheese platters.
You can pair Picholine olives with some salami, prosciutto and Camembert cheese.
Some olive producers harvest black olives in the late season, where the meaty flesh is pressed to produce oil.
---
Nyon Olives
Nyon Olives are an authentic French type of olives. Originated in Nyons. They are harvested when they are fully ripened.
Nyon olives are either cured in oil or dry-cured. This gives jet-black olives a chewy texture. They are chewy wrinkled olives. These olives are small and black in color.
The black olive has a mild, bitter taste and its flavor can be enhanced by adding thyme or rosemary.
---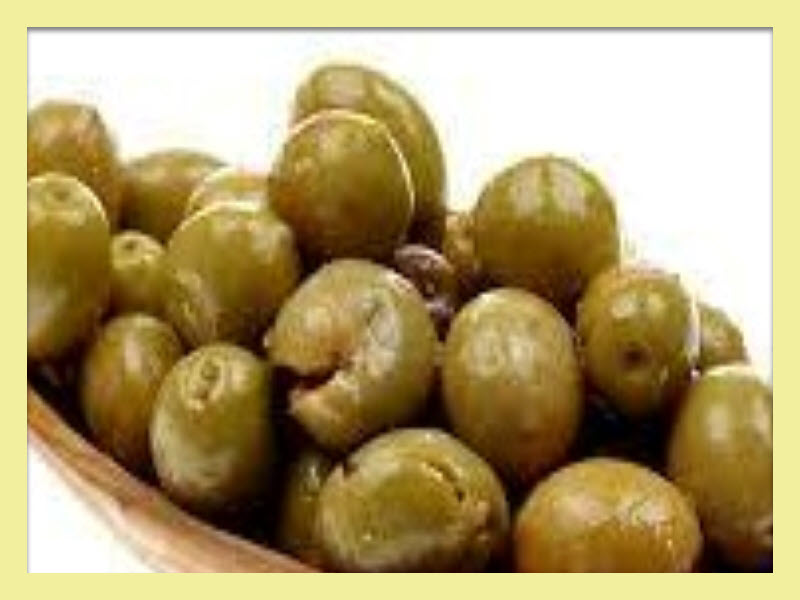 Verdial Olives
Verdial Olives originated in Velez-Malaga region of Spain. These olives are bright green in color.
Verdial Olives have a bitter, spicy flavor, and a firm flesh. Generally packed in olive oil.
An olive variety that stays green even when it is fully ripe. One of the most popular types of olive in Spain because of its pleasant taste.