Craving for a Colombian snack? Have you tasted the delicious arepas yet? Arepas are a variety of food produced from corn dough or precooked corn flour. They have been consumed in the northern part of South America since pre-Columbian times. These type of foods are most famous in Colombian cuisine and Venezuelan cuisine, although they are also found in Bolivian and other countries' cuisines. They are commonly known as corn cakes, and they have a round shape, that looks like a pancake.
It is a popular dish in the nations mentioned above, and it is usually served with cheese, cuajada (fresh cheese), various meats, chicken, avocado, or diablito (deviled ham spread). It can also be cut into two pieces and used to make sandwiches. Its preparation varies depending on the size, variety of maize, and additional ingredients. The Mexican gordita, Salvadoran pupusa, Ecuadorian tortilla de maiz, and Panamanian tortilla or changa are all similar. In this article, we will discuss about the different types of Colombian arepas and Venezuelan arepas around the world. If you want to learn more about these types of Arepas, scroll down and keep reading.
Types Of Arepa
Arepa de Huevo
Arepas de Huevo is a classic Colombian meal that is frequently offered at street booths, particularly in Colombia's Caribbean regions. It is a well-known meal along Colombian Caribbean coast. The eggs are put into corn arepas, which are then fried until thoroughly done. This colombian arepa is commonly served for breakfast, but they're also a tasty afternoon snack when combined with a cup of coffee.
Main Ingredients
The main ingredients of Arepas de Huevo are eggs and corn flour.
---
Arepa Andina
Arepa andina is a type of Venezuelan arepa that differs from ordinary arepas in that it is made using wheat flour rather than maize flour. This arepa is famous in the Andes near the Colombian border, particularly in the state of Mérida, in which wheat has been grown since prehistoric days. Arepa andina can be eaten simple or paired with cheese and veggies like tomatoes. A hot cup of coffee is excellent to complement a regular arepa andina.
Main Ingredients
The main ingredients in making this type of Venezuelan arepa are tomato, cheese, and wheat flour.
---
Arepa Paisa
Arepa paisa, often known as Colombian pancakes, is a famous flatbread in the Antioquia province. The traditional arepa paisa, prepared from soaked threshed corn that is molded and grilled till golden brown, is one of the most popular local delicacies in Colombia's Paisa area.
This crispy and delectable corn cake can be served on its own, as a side dish, or packed with a variety of contents such as cheese, pork, or eggs. They also like to serve it with butter or cheese put on top. It's similar to how tortillas are made in Mexico. Arepa paisas can be found at any grocery stores, street stalls, or restaurants.
Main Ingredients
The main ingredients of arepa paisa includes butter, eggs, cheese, corn, and salt.
---
Arepa de Choclo
Another type is arepa is Arepa de Choclo. It is also known as cachapa. In Quechua, choclo means corn. This type of arepa is sweet flavored, and Arepa de Choclo is oftentimes consumed in Colombia's central region, particularly in the departments of Antioquia, Santander, and Cudinamarca.
Arepa de choclo is a sweet corn cake created with sweet, tender corn, which is blended with melted butter and eggs to make a batter, which is then fried in small batches over a hot pan. This method is comparable to how pancakes are made. Arepa de choclo is slightly thicker and lumpier because of the pieces from corn kernels.
Arepa de Choclo are often served with queso de mano or handmade cheese, a soft, mozzarella-like cheese, with fried pork chicharrón on the side. This type of arepa can be highly intricate, with several types of cheese, milky cream, or jam being used in some. They can be served as an appetizer with margarine or as a full breakfast with fried pork and hand cheese.
Main Ingredients
Corn, sugar, eggs, milk, salt, corn flour, and butter are used to make this arepa.
---
Arepa Reina Pepiada
One of Venezuela's most famous type of arepas is Arepa Reina Pepiada. The avocado, shredded chicken pieces, lime, coriander, mayonnaise, and optional peas are stacked and packed into this kind of arepa. Heriberto Alvarez, is responsible for making arepas of such kind. He is the owner of an empanada stand, created the dish.
The name of this arepa was inspired by the former Venezuelan beauty queen, Susana Duijim. Susana was a curvy woman, and curvy women were called pepiada during those days, thus reina pepiada "curvy queen" is the perfect name for this arepa.
Main Ingredients
The main ingredients are coriander, chicken, lime, avocado, peas, and mayonnaise.
---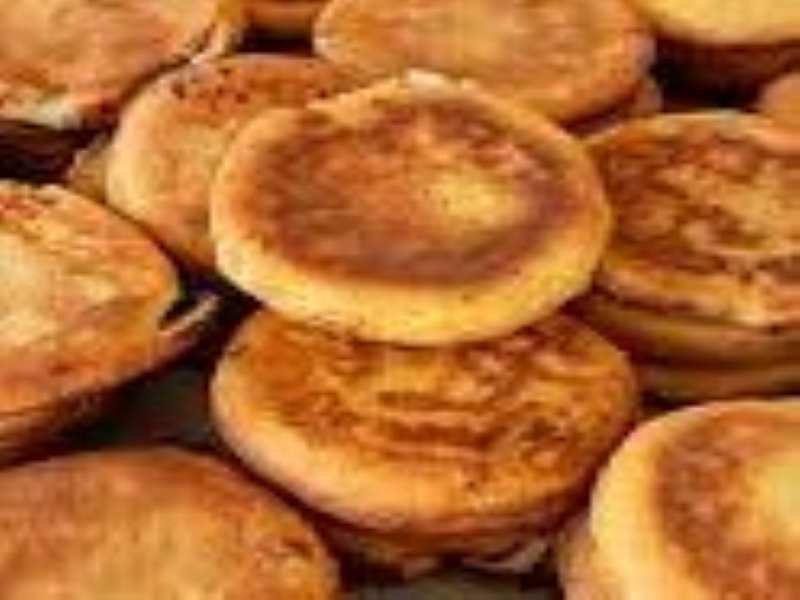 Arepa Boyacense
The Eastern Andean mountain range in the country's central section is home to the Boyacá region and a small town known as Ramiriqu. It is known for its friendly residents, archaeological legacy, rich area for corn production, and a very cherished tradition: creating arepas boyacenses.
Main Ingredients
The dough is created is with milk, salt, dry yellow corn, ground with butter, and sugar or panela.
---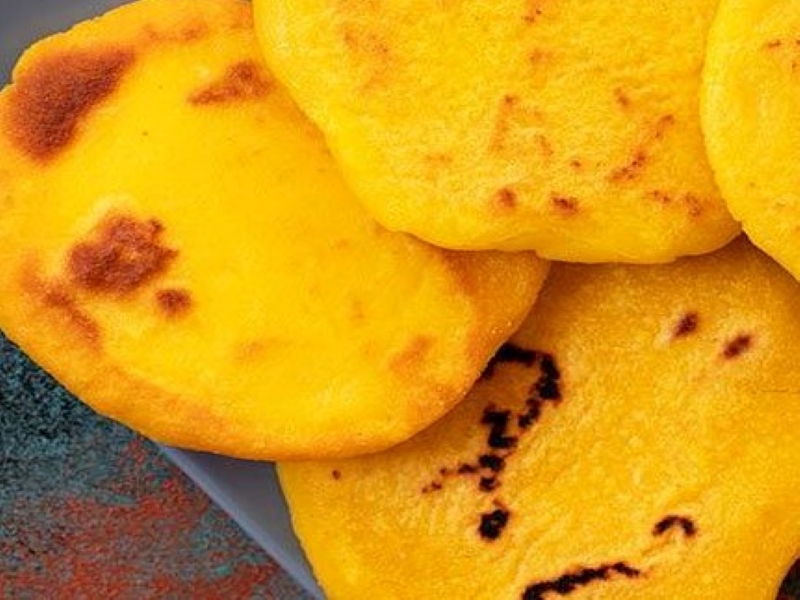 Arepa Santandereana
Also known as Arepa de Maiz Pilado or Arepa de chicharron. Arepa Santandereana is a Colombian arepa variety native to the department of El Santander.
Arepas Santandereana are typically served as a snack, however they can also be eaten as a side dish to traditional Colombian cuisine.
Arepa santandereana is a corn cake made with ground corn, chicharrón, and yucca all mixed into the same dough, making it much sweeter and crunchier. This arepa is also cooked on both sides on a grill over medium heat and goes well with scrambled eggs, or soups.
Main Ingredients
Yellow corn masa, cassava, and crispy pork belly (chicharrón) are used to make these arepas. Grilling is common, and it's preferable to consume them while they're still fresh and hot.
---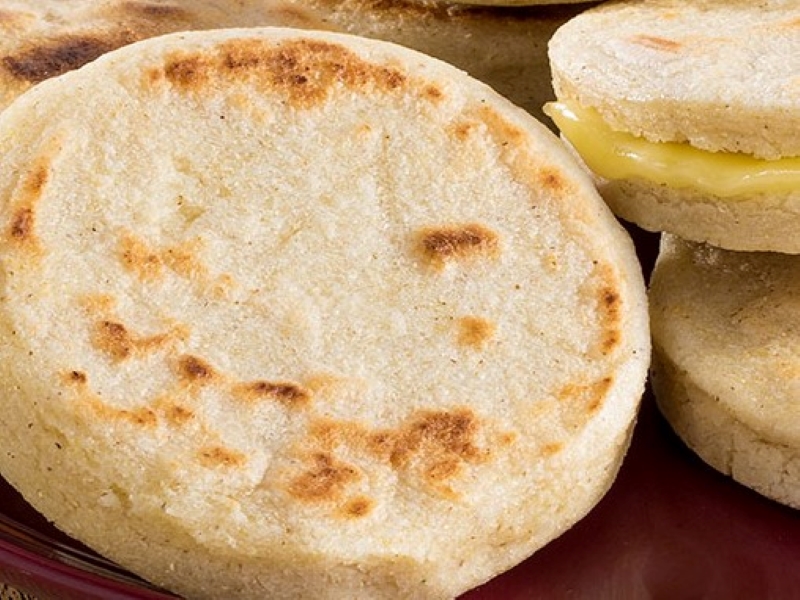 Arepa de queso
If you are a cheese lover, then arepa de queso is perfect for you. Arepas de queso are a variation of Colombian arepas made with cheese such as queso fresco or queso seco and a dough. When eaten, these arepas are divided into two, then coated with butter and filled with additional cheese, if desired, though they can also be eaten plain. They're frequently served with a cup of hot chocolate in Colombia.
Main Ingredients
The main ingredients are cheese, butter and corn flour.
---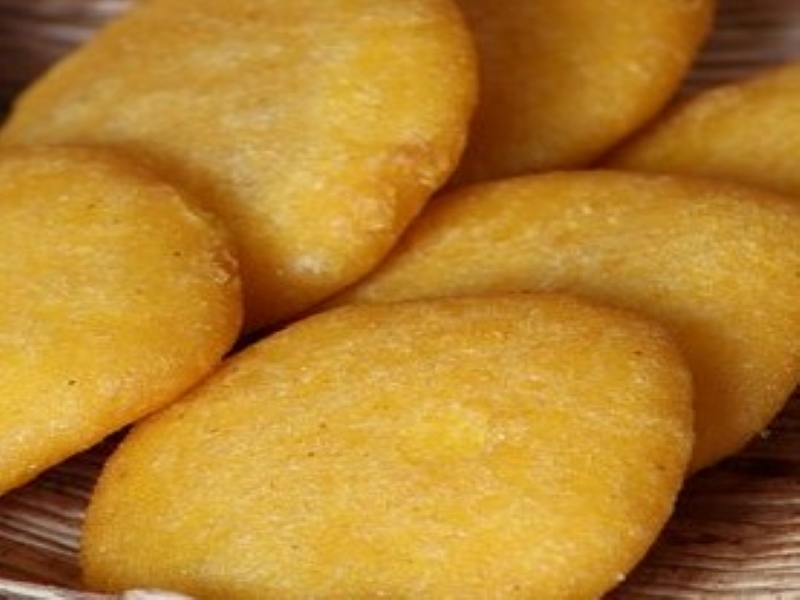 Arepa Frita
One of the most popular arepa variety in Venezuela, particularly in Zulia region, is arepa frita. Normally, the arepa is grilled, then battered and deep-fried in hot oil. Arepa frita is generally loaded with cabbage, queso de mano, mortadella, and condiments such mustard, ketchup, and mayonnaise once it has turned golden brown.
Main Ingredients
The main ingredients in making this type of arepa are ketchup, cabbage, corn flour, cheese, mayonnaise, and mustard.
Conclusion
With that said, all these arepas are very delicious and can definitely satisfy all of your cravings. It's nice to enjoy them with family or friends.