Have you heard about Vietnamese coffee? Whether your answer is yes or no, you're probably here because you want to learn more about this type of coffee.
| Product | Brand | Name | Price |
| --- | --- | --- | --- |
| | Thang Long | Vietnamese Coffee Filter Phin 11 Ounce (Large), Gravity Insert, One Cup | Check Price on Amazon |
| | BLACK+DECKER | BLACK+DECKER 12-Cup Thermal Coffeemaker, Black/Silver, CM2035B | Check Price on Amazon |
| | Rupert and Jeoffrey's Trading Co. | 8-12 Cup Basket Coffee Filters (Natural Unbleached, 500) | Check Price on Amazon |
| | Ember | Ember Temperature Control Smart Mug 2, 14 oz, Black, 80 min. Battery Life - App Controlled Heated | Check Price on Amazon |
| | Ulalov | Ulalov Electric Gooseneck Kettle Ultra Fast Boiling Hot Water Kettle 100% Stainless Steel | Check Price on Amazon |
* If you buy through links on our site, we may earn an affiliate commission. For more details, please visit our Privacy policy page.
Maybe, the biggest question you have right now is, "What is the difference between Vietnamese coffee and regular coffee?"
That's a good question. After all, we are all familiar with regular coffee. So, what makes Vietnamese coffee any different?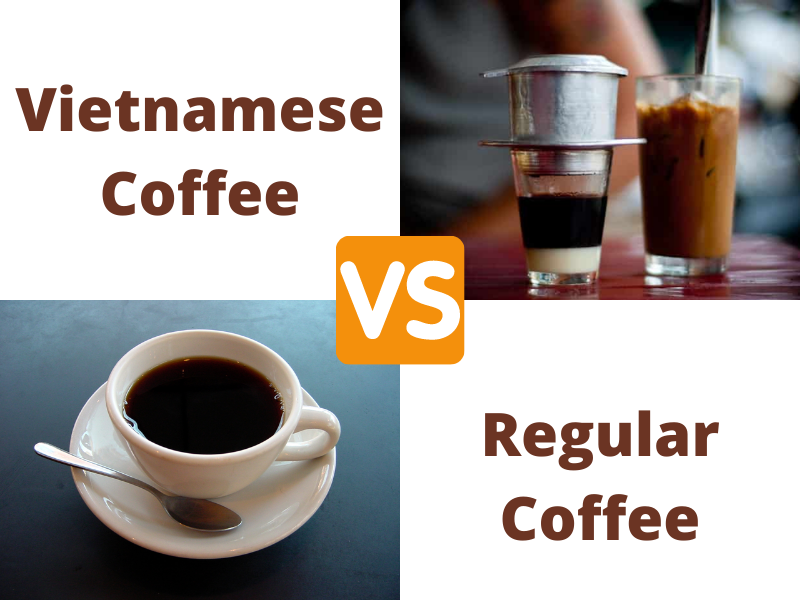 Thankfully, you don't have to wonder anymore.
In this post, we are going to discover the difference between Vietnamese coffee and regular coffee. In the process, we will also discuss their similarities.
We will also take a deeper look at each of them to have a better grasp of what these coffees are all about.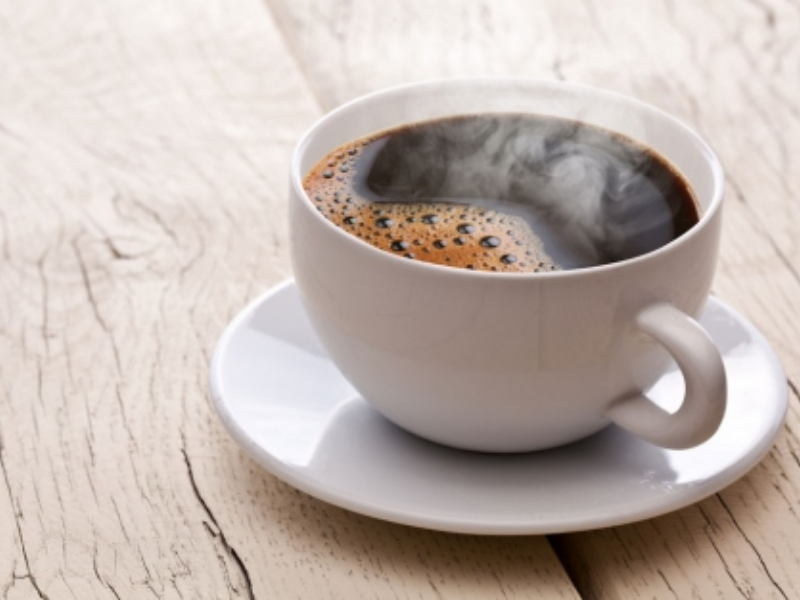 What is regular coffee?
Regular coffee can refer to any coffee that is regularly used or drank by various people. So, there's a wide range of coffees under this category. You can even consider Vietnamese coffee as regular or normal coffee.
For most people, a regular coffee may be commercially prepared coffee that is served with sugar and cream. In other cases, milk is also added. The taste is slightly bitter.
It is worth noting that regular coffee can be different depending on where you are drinking it. For example, some coffee shops have versions of regular coffee. So, it is best to ask what the additives are or how the coffee is prepared even if it is labeled as regular coffee.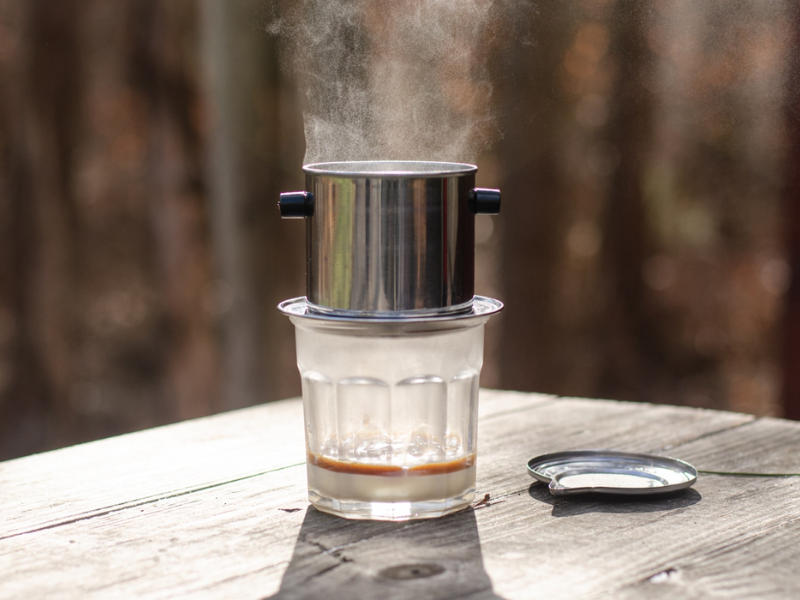 What is Vietnamese coffee?
Allow us to state the obvious: Vietnamese coffee is from Vietnam. Its coffee beans are grown in Vietnam and from there, it reaches various countries around the globe.
Vietnam, a coffee production powerhouse
According to statistics, Vietnamese coffee is the second-most consumed type of coffee in the world, next to Brazilian coffee.
So, it is not surprising that Vietnam is also the second-largest producer of coffee in the world. Vietnam's primary export product is coffee and according to statistics, 18% of the coffee exports come from Vietnam.
Coffee beans of Vietnam
The type of coffee grown typically in Vietnam is Robusta coffee. This type of coffee has a higher level of bitterness compared to other coffees. Moreover, it also comes with a high caffeine level.
In recent years, Vietnam is also increasing its production of another popular coffee bean type, which is Arabica coffee.
How Vietnamese coffee is roasted
Traditional Vietnamese coffee has a dark roast. Moreover, it has been a custom among Vietnamese that vanilla, chicory, butter, mocha, and even whiskey are added to the roasting process.
What is the difference between Vietnamese coffee and regular coffee?
Answering this question can be a little tricky. While yes, Vietnamese coffee is a specific type of coffee, all of us have our version of "regular coffee." Not only that but regular coffee may differ from one place to another.
However, for the purpose of this article, most of us would probably be thinking of a regular coffee as the coffee you put in a cup. This coffee is traditionally brewed using a coffee machine or perhaps, it comes like instant coffee that you simply add hot water into it.
Here are the most common differences between Vietnamese coffee and regular coffee:
Taste
When it comes to taste, you will soon see that Vietnamese coffee is so strong. Not only that, but Vietnamese coffees are more robust, bolder, sweeter, and stronger in taste compared to other types of coffee.
The reason that Vietnamese coffee is stronger is that it has more concentrated coffee. In one cup of Vietnamese coffee, you'll notice that you get twice as much coffee than water. It's like having a double espresso with one serving of Vietnamese coffee.
Beans
Regular coffee is most likely made of Arabica beans. On the other hand, Vietnamese coffee is made of Robusta beans.
Because of this, they also differ in terms of their origin. Arabica beans are mostly produced in Brazil, which happens to be the number one exporter of coffee. Arabica beans are also produced in other South American countries.
On the other hand, Robusta beans are predominantly produced in Vietnam. It is also the second most common type of coffee bean around the world.
It is quite interesting to note how most people would consider Robusta beans as second-rate. They see Arabica beans as superior.
Roasting
If you're going to place Robusta beans and Arabica beans side by side, you will soon see that Robusta beans are darker. The reason is that Robusta beans are roasted very dark. That's why Robusta beans are commonly French roasted.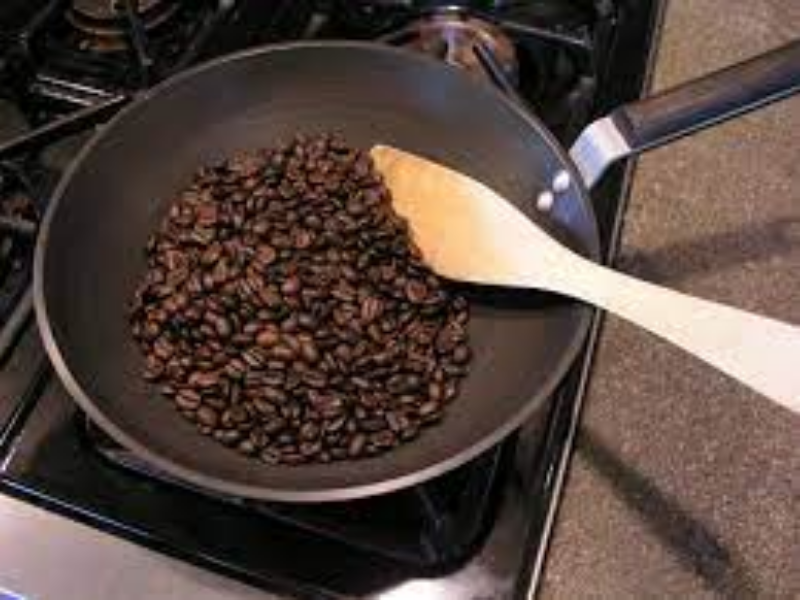 Because Robusta beans are roasted darker, it is less acidic. If you try to consume the less roasted Robusta, you might not like its taste. To make it more palatable, a deeper roast is needed.
In the process of roasting, the more roasted a bean is, the more it becomes bitter.
Moreover, it has been a common practice to add other ingredients during roasting giving you that unique Vietnamese coffee taste. For example, cacao, butter, and sugar are added when roasting Robusta beans. This results in a more balanced taste and the unique flavor that you will taste in Vietnamese coffee.
Brewing
Regular coffee usually uses paper filters. However, Vietnamese coffee uses a metal filter, which is called the Phin. Because Vietnamese coffee is coarser and a little bigger, a Phin is a better choice.
Both regular and Vietnamese coffees use gravity to let water and coffee mix and go through a filter.
A phin can be used multiple times. However, paper filters are only used once and are thrown away.
Since there's a difference in the brewing process, the ground size, and the method of preparation, you will also see a difference in brewing time.
Brewing Vietnamese coffee may take up to six minutes. On the other hand, regular coffee can be ready to drink in just as little as one minute.
Grind
Regular coffee has a coarser and finer coffee ground compared to Vietnamese coffee. That's why with regular coffee, you can easily use a paper filter.
This is not the case with Vietnamese coffee. A paper filter with small holes won't work. You need a filter with bigger holes. That's where the phin comes in.
The phin allows more of the Vietnamese coffee ground to sift through the filter. As this might be the case, it will still take a longer time to brew Vietnamese coffee and extract its flavor.
Preparation
Here's something peculiar about Vietnamese coffee.
Did you know that Vietnamese coffees are usually served in a glass? This is different from what we have been used to. Usually, when we think of coffees, we also think of mugs.
So, the whole drinking experience is different. It is not just simply a visual difference.
Of course, you may ask, "How can you drink a hot coffee if it is served in a glass?"
Well, the truth is that when it comes to Vietnamese coffee, it is more common to serve it cold than hot. Thus, you can easily find Vietnamese iced coffee shops serving cold coffee.
What makes Vietnamese coffee more different is that sugar, milk, and condensed milk are added, making the coffee to be thicker and more viscous. Sweetened condensed milk and coffee are popular combinations in Vietnam.
Culture
Vietnamese coffee is a very much part of Vietnamese coffee culture. Perhaps, what makes coffee different in Vietnam is that coffee is very much part of their social gatherings and relaxation.
In some places, especially in Western Countries, coffee becomes a need rather than something optional. Most westerners drink coffee to stay productive and not simply enjoy it.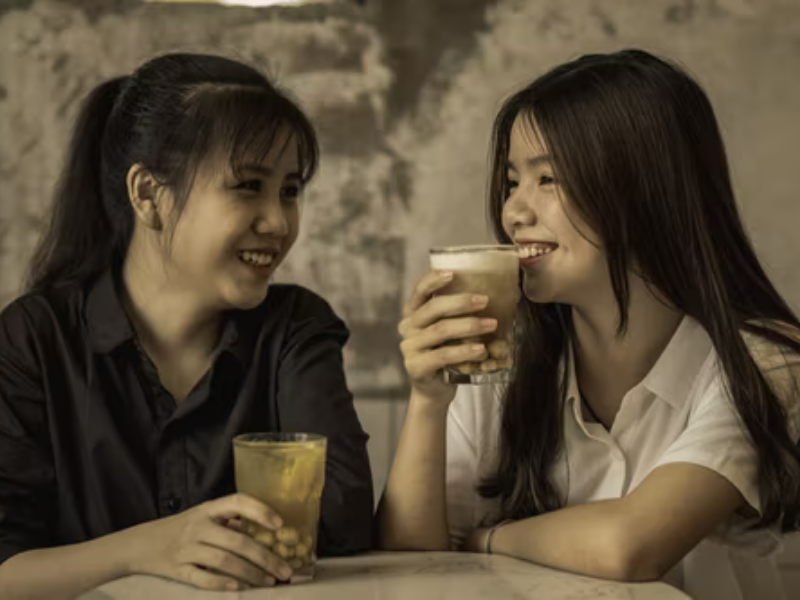 This is not usually the case in Vietnam. When Vietnamese think of coffee, they think of a lazy and relaxing afternoon spent with friends and families. When Vietnamese get together, coffee is almost always present.
Let us give you an example. If you have been in Starbucks on any given day, you would probably see people drinking coffee while tinkering on their laptops, doing work.
If you visit a Vietnamese coffee shop, you'll see how only a few people have their laptops with them. Instead, you'll see most people spending so much time in coffee shops, not to work, but to get together with friends and families.
Moreover, like what we mentioned above, coffees in Vietnam are not like regular coffees, which can instantly be prepared. While instant coffees are available in Vietnam, it's not as popular as Vietnamese coffee.
Using a phin instead of a paper filter means you have to wait longer for your coffee to be ready. This means that you have more time to relax and talk to people even before you start drinking.
Essential coffee products
When it comes to drinking coffee, you know how important it is to have the right tools and products. Whether you are a coffee aficionado or someone who simply wants to enjoy a cup of coffee, you'll surely love these products: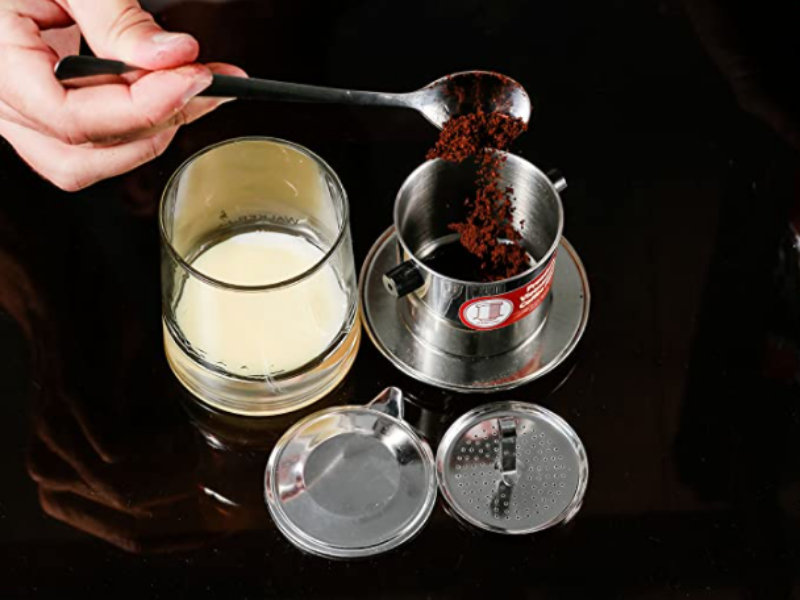 Your Vietnamese coffee will not be complete without the good old phin filter. This phin comes in various sizes and qualities to give you the freedom to choose the right product for you.
Made with high-quality, food-grade stainless steel, this phin filter is a great choice. Because this phin filter is larger than other Vietnamese filters, you can enjoy ground coffees such as Trung Nguyen.
If you are interested in this product, buy it now on Amazon
---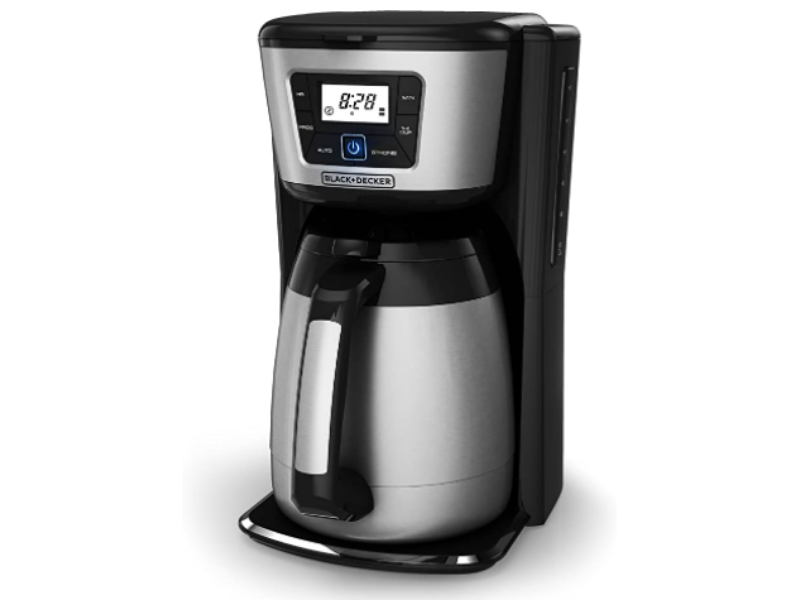 There are a lot of coffee makers in the market today, but this Black+Decker coffee will not fail you. It has received thousands of positive reviews from its customers and made a lot of great coffee throughout the years.
There are a lot of things to love about this coffee maker. For example, it comes with customizable brewing options. It is also equipped with the "Evenstream Showerhead" technology that ensures you get the maximum flavor from your coffee.
If you are interested in this product, buy it now on Amazon
---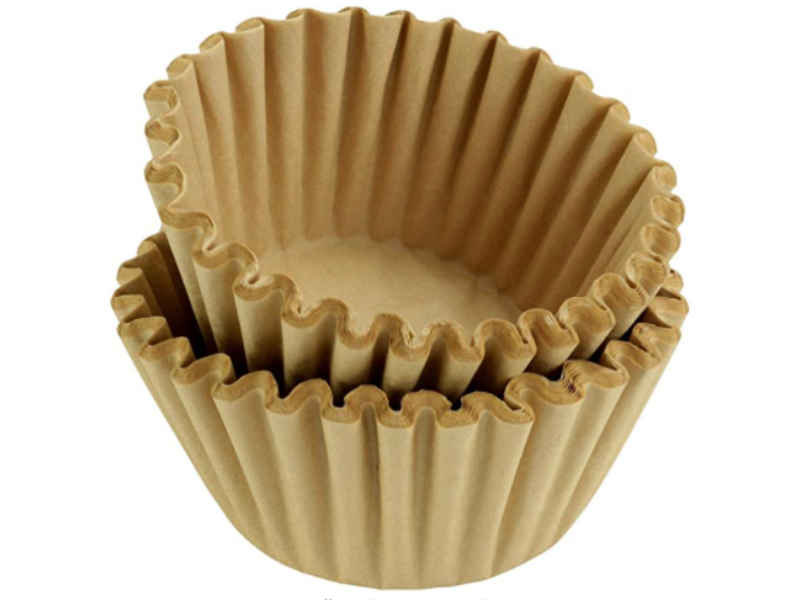 These high-quality and biodegradable coffee filters are strong enough to withstand normal and sometimes, prolonged brewing. It is porous to give you your needed coffee extract while ensuring coffee grounds are filtered well.
If you are interested in this product, buy it now on Amazon
---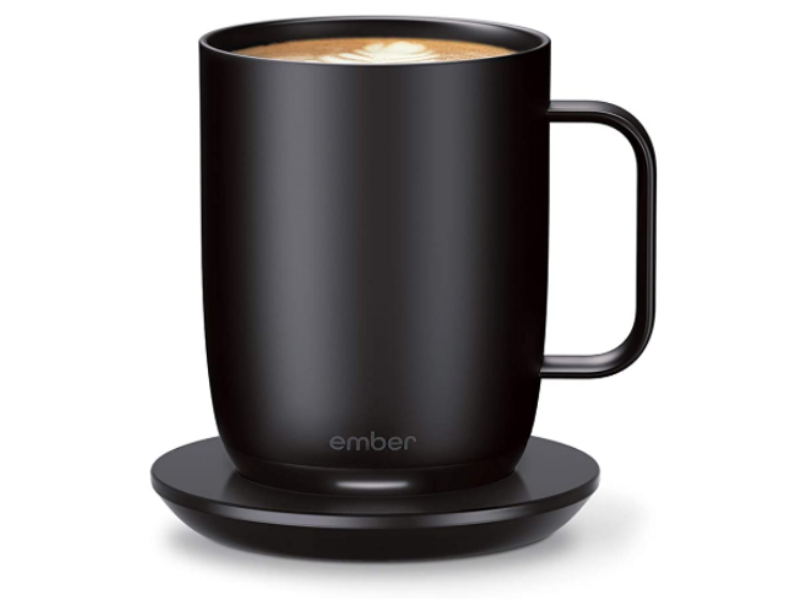 How are we going to drink our coffee if we don't have a mug, right? So, every coffee lover should have their favorite mug. Of course, you can get any mug you want, but we highly recommend you get Ember's mug.
The best thing about Ember's mug is that it comes with a smart temperature control feature. This means that you can keep your coffee hot and warm for up to 80 minutes on a full charge. Not only that but you can set the temperature you like, from 120°F – 145°F. How neat is that?
To make things even interesting, the Ember's mug comes with a smartphone app. This allows you to control, customize, and preset your mug straight from your mobile device!
If you're planning to buy Vietnamese coffee beans or grounds, you may check the Nguyen coffee supply store. They are among the most popular stores that specialize in Vietnamese coffee.
If you are interested in this product, buy it now on Amazon
---
If you like your coffee hot, then you will need a kettle. Yes, you can boil water on the stovetop. However, you should also consider getting an electric kettle.
One of the best electric kettles you need to consider is the kettle of Ulalov. It looks sleek, impressive, and professional.
Its gooseneck nozzle doesn't only make the kettle look unique, but also it offers a steady and precise pouring of water. It gives you good control over the direction of the stream.
Perhaps, the best thing about this kettle is it only takes 2-3 minutes for it to fully boil the water. So, whenever you feel like you want to drink coffee, Ulalov's kettle is ready for you.
If you are interested in this product, buy it now on Amazon
---
Common questions about Vietnamese coffee
If you're not too familiar with Vietnamese coffee, you will most likely have the following questions:
What is a Phin?
Phin is a Vietnamese word for the Vietnamese filter used to prepare Vietnamese coffee.
In a Phin, there are four different parts. At the bottom of the filter, you'll find the perforated part, which helps in separating the coffee liquid from the coffee grounds.
What is Vietnamese coffee? Is it Robusta or Arabica?
Vietnamese coffee is commonly made of Robusta coffee beans. It is the most common type of coffee bean in Vietnam. However, in recent years, Arabica has significantly become more and more common in Vietnam.
Is Vietnamese coffee and Espresso the same?
Both Vietnamese coffee and espresso indeed have a strong taste and high caffeine levels. However, they are different in terms of brewing methods and the type of bean used.

Vietnamese coffee is made of Robusta while espresso is made of Arabica. Vietnamese coffee is made in a drip filter while espresso is made using high pressure.
Why does Vietnamese coffee seem to taste like chocolates?
If you have drunk Vietnamese coffee and you feel like it tastes like chocolate, you're not alone. It is pretty normal for people to think of Vietnamese coffee as tasting like chocolates. The reason is that cacao is added when the Robusta beans are roasted.
Why is Vietnamese coffee stronger than regular coffee?
The reason lies in its caffeine content. It is worth noting that Robusta beans have twice the amount of caffeine compared to Arabica beans.
Why is Vietnamese coffee thicker than regular coffee?
You might already notice that Vietnamese coffees are thicker than regular coffee. The reason can be one or the combination of the following:

Condensed milk
Brewing method
Additives such as starch
Enjoy your Vietnamese or regular coffee
Now that you have a better idea of the difference between Vietnamese coffee and regular coffee, you will be able to choose the right one for you.
Be sure you also get one of the special tools we mentioned above and enjoy your coffee even more.
Did we miss anything? Feel free to leave a comment below!
| Product | Brand | Name | Price |
| --- | --- | --- | --- |
| | Thang Long | Vietnamese Coffee Filter Phin 11 Ounce (Large), Gravity Insert, One Cup | Check Price on Amazon |
| | BLACK+DECKER | BLACK+DECKER 12-Cup Thermal Coffeemaker, Black/Silver, CM2035B | Check Price on Amazon |
| | Rupert and Jeoffrey's Trading Co. | 8-12 Cup Basket Coffee Filters (Natural Unbleached, 500) | Check Price on Amazon |
| | Ember | Ember Temperature Control Smart Mug 2, 14 oz, Black, 80 min. Battery Life - App Controlled Heated | Check Price on Amazon |
| | Ulalov | Ulalov Electric Gooseneck Kettle Ultra Fast Boiling Hot Water Kettle 100% Stainless Steel | Check Price on Amazon |
* If you buy through links on our site, we may earn an affiliate commission. For more details, please visit our Privacy policy page.