Korean Corn dog, also known as Gamja Hot dog is a popular street food that can be found mostly in the Markets of Seoul Korea although Korean corn dog are increasing in popularity and can now be found in other countries such as Japan, Taiwan and even China. In today's post, let us talk more about these fun snack and will also include Korean corn dog recipe for you to try.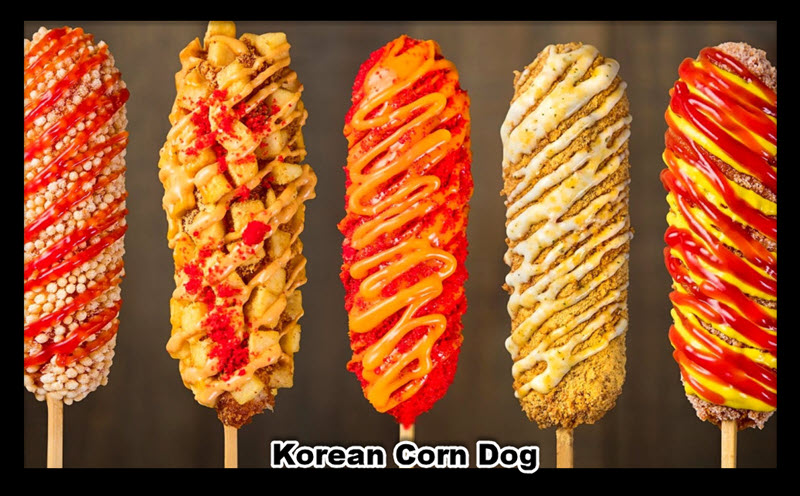 Korean Corn Dog And Its Recipe
Korean Corn Dog although as the name presents does only made of hot dogs but are also made with sausage, rice cakes, fish cakes, and mozzarella cheese. The corn dogs are coated with sweet flour batter, rolled in a toppings for the layer and then deep fried.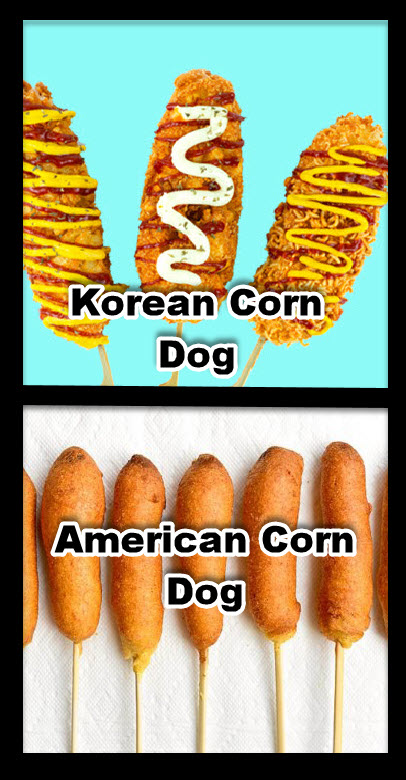 What makes Korean Corn Dogs different?
Korean Corn dogs is different from other corn dogs that are also popular, the American corn dog. Both are different in a few things but the main difference is the Batter used.
American corn dogs are usually battered using cornmeal batter while on the other hand Korean corn dogs are battered using rice flour or yeasted dough and are then coated with panko bread crumbs therefore it tends to be crispier than soft batter with American corn dog.
Also, Korean Corn Dogs does not really require to use hot dogs, although you can but most of the Korean corn dog are made with just using mozzarella cheese, rice or fish cakes..
---
Different Variations of Korean corn dogs
Gamja (Sweet potatoes) Hotdog is the most common variations of Korean corn dogs. Usually, the coatings used are French fries bits.
Another variation of Korean Corn dog is the mozzarella cheese corn dog. In here, mozzarella stick is used instead of using a sausage or hot dog. Although you always have the option to use it both.
There is also another variation of Korean corn dogs wherein spam, fish cakes, rice cakes and cheddar cheese are used.
With regards to coating, there are also other variations to choose from. Aside from the usual panko breadcrumbs and French fries bits, you can also use crispy rice and some use ramen noodles too.
Below are the lists of some of filling alternatives for your Korean corn dog:
sausage
Squid
Spam
Rice Cakes (Korean)
Cheddar Cheese
Mozzarella cheese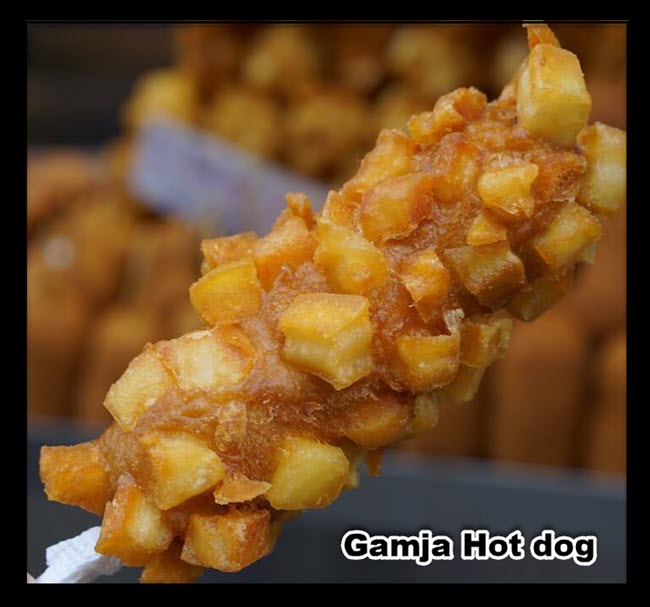 Gamja Hot dog
These are French fry hot dogs. The potatoes are chopped into small French fries and is used to coat corn dogs instead of using Panko breadcrumbs.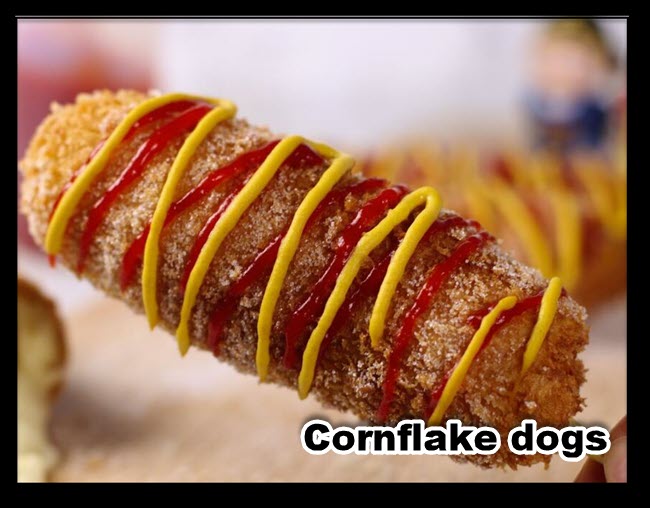 Cornflake dogs
In here, cornflakes are used to coat the corn dogs instead of Panko breadcrumbs.
Ramen Dogs
Instant ramen packets are crushed and are used to coat corn dogs instead of Panko Breadcrumbs. Most of ramen packets have seasonings inserts, you can actually use it though to sprinkle on to the corn dogs.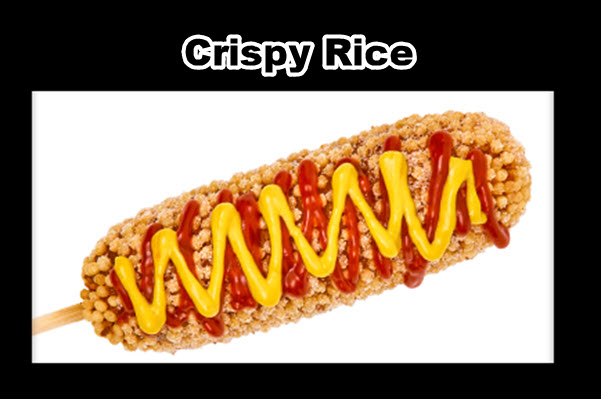 Crispy Rice
Rice crackers are crushed and are used as coatings to your corn dogs instead of coating it with Panko Breadcrumbs.
---
How to Make Korean Corn Dog
More details will be explained on each of the ingredients used:
Batter
The batter that is usually used is made from eggs, milk, sugar, flour, dry yeast and salt.
Panko breadcrumbs
As mentioned, most of the time Korean corn dogs are coated with Panko Breadcrumbs. These are popular Japanese breadcrumbs that is larger as compared to other regular breadcrumbs. The main purpose of using Breadcrumbs to coat the Corn dogs that will hold the ingredients in place. Aside from that, it gives a crispy breading result.
Sausage/Hot dogs
You can use any Sausage or hotdogs that you like.
Cheese
You can always choose the kind of cheese to use too, However, mozzarella cheese is commonly used.
Oil
Since Korean Corn dogs involved deep frying, you will be needing cooking oil, you will be needing at least 2-4 cups of cooking oil to deep fry. Recommended oil for deep frying includes soybean, corn oil, lard, cottonseed oil, canola oil or grapeseed oil.
Sugar (optional)
If you want your Corn dogs to have a little sweetness to it, you can always roll it in sugar.
Condiments (optional)
The most common condiments used are the ketchup and mustard. This is just an additional and optional ingredient.
Other condiments to choose from includes: wasabi mayo, teriyaki sauce, mayonnaise and Korean Gochujang mayo
---
Tips when making Korean Corn Dogs
Batter
For the batter, make sure to ingredients are perfectly mix. It should neither be runny or soft nor think. A runny batter will make it very difficult to manage while if a batter is too thick you will also have a hard time wrapping it around the skewers.
Skewers/Chopsticks
Make sure skewers are not thin but rather use a thick wooden skewers instead, a disposable wooden chopsticks will do. Thin skewers are not recommended as it is difficult to hold KOrean Dogs in place.
Cheese
Cheese slices are recommended so that you can easily wrap it around the batter. For mozzarella cheese, low moisture blocks is the perfect choice. Although there are other recipes that uses string cheese, but using block mozzarella sticks will give a melty result.
Potatoes
It was mentioned awhile ago that French fries sticks that is why is is known as Gamja hotdogs. When making the Potato variety, make sure to cut potatoes into small cubes or chopped. That is why instead of coating the corn dogs in Panko breadcrumbs, you can roll them up in frozen French fries that are chopped or you can do both (roll in French fries and then in Panko Breadcrumbs) then deep fry. Either way both can still give that delicious Korean corn dog snack.
Deep Frying
Basically, as soon as you are done with rolling and coating of each stick you can dip it on the frying pan. It is not advisable to prepare all together and fry it all at the same time. The recommended temperature for when doing deep frying is at least 350°F. It will be discussed further below.
You can add at least 2 to 4 cups of oil on your frying pan, depending on how deep the pan is. Important thing is to make sure corn dos floats to successfully achieve an even golden brown color and crispiness of the corn dogs.
---
Checking Oil Temperature
To be able to make a perfectly crisp Korean Corn dog, you may need to get a deep frying thermometer. But if aren't able to get one, there are other ways to check the temperature of your cooking oi using a wooden skewer or a chopstick.
Below is Oil temperature guide for your reference: (Put Skewer or chopstick into the oil)
There are no bubbles- the oil is not hot enough.
Appearance of bubbles around the skewer /chopstick- the oil is now ready for frying.
If it appears to be boiling around the skewer or chopstick- oil temperature is too hot.
Korean Corn Dogs Recipe
And now the most awaited part, the recipe in making Korean Corn dogs.
Prep Time: 10 mins
Cooking Time: 10 mins
Total Time: 20 mins
Ingredients:
3 hot dogs (each hot dog cut in half)
Low Moisture Mozzarella cheese (6 sticks )
1 1/4 All Purpose Flour
1/4 tsp. salt
2 tsp. baking powder
1 egg (large)
3/4 cups milk
2 cups Panko Breadcrumbs
Cooking oil
Condiments (optional) : Mustard and Ketchup
Place the hot dogs and Mozzarella cheese on the skewers. The placement should be Cheese on top and Hot dogs at the bottom. Allow it to stand still inside the fridge to maintain cold.
For the Batter: In a medium sized bowl, mix salt, flour sugar and baking powder. Then mix the egg and the milk, wait for it to smoothen. After mixing, pour mixture in a cup and then put inside the fridge to keep it cold.
In a medium size wide pot, start to heat oil (medium high to medium heat or at least 350 degrees Fahrenheit). Make sure the amount of oil will allow the corn dogs to float.
Once oil is hot enough, remove the skewered dogs from the fridge and then dip it into the butter to coat it.
With Panko Breadcrumbs on a separate bowl, roll the coated corn dog. Make sure corn dog is completely covered with Panko.
Place coated corn dogs on to the oil and deep fry for about 3 to 4 minutes or until it turns golden brown.
Remove corn dogs from oil and place on wire rack to allow oil to drain.

Option: roll cooked corn dog on sugar and then add ketchup or mustard.

Serve while still hot
FAQs

Is it okay to use Active dry yeast?
Yes it is perfectly okay to use active dry yeast. Just make sure the yeast is hydrated in warm water before using it.
What is another alternative for Panko?
If Panko Breadcrumbs are not available, you can still use the regular breadcrumbs to coat you corn dogs. Though the texture will not be the same as compared to using Panko.
How to Store Korean corn dogs
Korean Corn dogs are best eaten right after it is cooked, while still hot and chewy. But if at some point you decide to eat it later. Store corn dogs inside a zip lock bag and place it in the fridge and can be stored for up to 2 months.
If you want to eat them, you can just take Frozen Korean corn dogs from the fridge and oven heat the corn dogs and reheat for about 10 minutes with at least 190 degrees temperature. If you do not have an oven at home, you can alternatively use a microwave and an air fryer if you have one.