When it comes to Asian cuisines, Korean cuisine is one of the most famous dishes in the world. Rice, vegetables, seafood and meats are commonly the main ingredients for different Korean cuisines. Their food provides the five enticing flavors and that includes salty, sour, bitter, sweet, and spicy.
* If you buy through links on our site, we may earn an affiliate commission. For more details, please visit our Privacy policy page.
But did you know that some traditional Korean meals are also derived from different side dishes? Yes, Korean side dishes are offered in a wide variety of food preparation. If you have been to Korea and ate at some of the most authentic restaurants, you will find these side dishes.
Side dishes are also known as Banchan in South Korea. This is one of the most appealing things when you are going to eat in Korean restaurant, as the Korean dishes (banchan) are offered for free and unlimited. You might find Banchan being spread at janchi ceremonial celebrations and royal court cuisine.
What Are The Different Types of Korean Side Dishes
These Korean side dishes should provide a hearty meal that's more exciting. Bring the Korean BBQ into your home by recreating them, or buy them through the links provided on each product.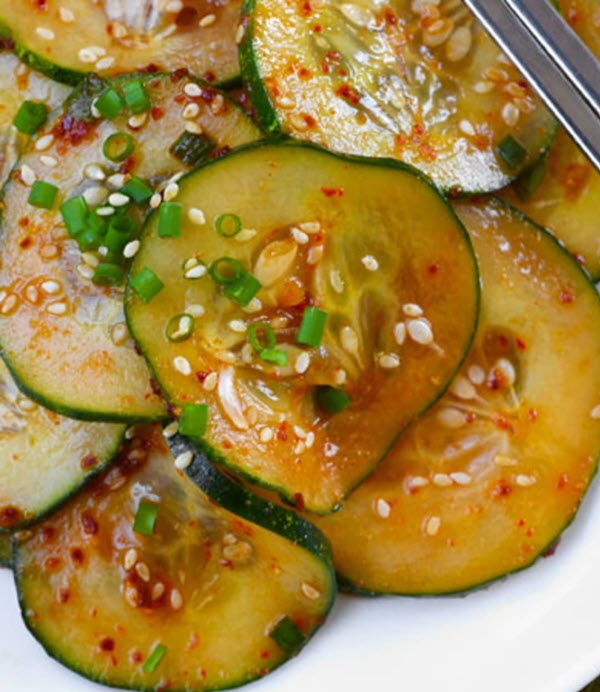 Korean Cucumber Salad
Love the summer? This side dish from Korea might make it even more lovable. If you want to elevate the flavor of your main BBQ Korean meal, then add some Korean cucumber salad on your plating.
Also called oi muchim, Korean cucumber salad is a popular Korean side dish that exploits a cucumber with mixed seasonings. To recreate this side dish, you need to prepare some cucumbers and some seasonings. If you need some kick, just add Korean red chili pepper flakes.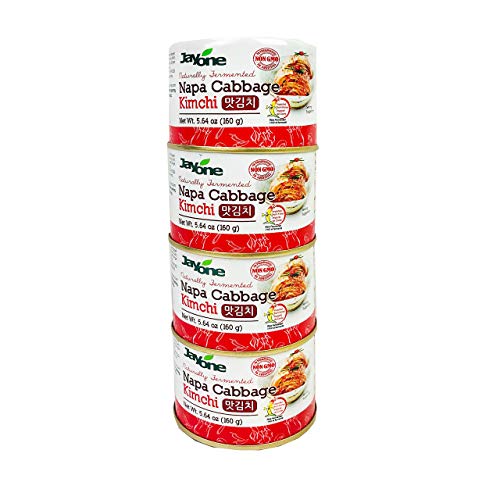 Who would forget this very popular Korean side dish? Kimchi is made from spicy fermented cabbage and is one of the traditional Korean vegetable side dishes. It is packed with the right amount of saltiness and tangy flavor.
Cabbage or Korean radish are often fermented with a mixture of chili pepper flakes, ginger, garlic, and apple. The product would be a paste-like side dish that packs with vitamins, probiotics and minerals.
If you want to create a perfect kimchi at home, make sure to draw out the water properly on the vegetables through brining. You can serve kimchi as a vegetable side as it also helps in weight loss and controls cholesterol level in the body.
Buy your Kimchi by clicking here.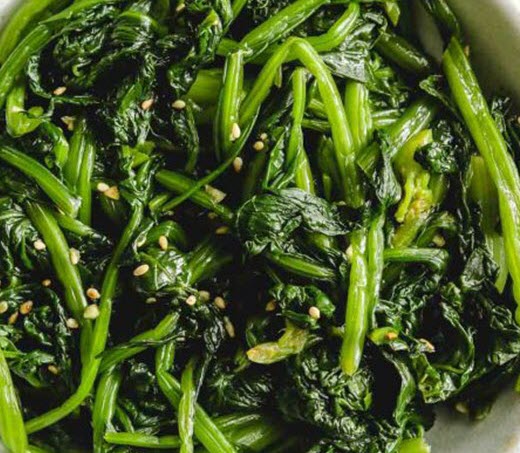 Korean Seasoned Spinach
If you want some easy Korean vegetable side dish other than Kimchi, try the Korean seasoned spinach. Also known as Namul, this staple side dish can be served at home or at food gatherings.
Korean seasoned spinach is made by blanching the spinach and adding garlic, soy sauce, and toasted sesame oil to add taste.
Bibimbap and japchae are using some vegetables in their recipes and you might spot the Korean seasoned spinach.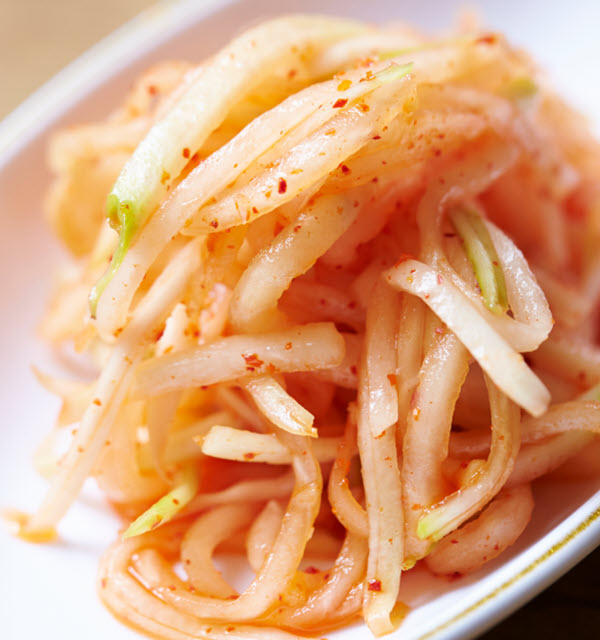 Sweet and Sour Radish Salad
Koreans are fond of using vegetables in their side dishes. The Sweet and Sour Radish Salad, also called as Musaengchae, is a salad-like dish that's made with julienned radish. This is a crunchy, sweet and sour dish that goes well with galbi and bulgogi.
Since most radish salads are made with a variety of white radish, it might have a slightly sweet and peppery taste. Sweet and sour radish salads are often added with sugar and vinegar to get that depth of flavor.
If you want to get the peppery flavor with a hint of sweet and sour taste, add this radish salad to the main course.
Korean foods are not just on the sweet side, most of the recipes are also known for their spicy kicks. Even with their desserts, they often incorporate some spiciness and sweetness to their cakes.
Tteokbokki is a side dish and also a street food in Korea that is made of soft, chewy rice cakes cooked in a sweet and spicy sauce. The sauce is made of gochujang, which is a Korean red pepper paste.
The chewy or gummy texture of the spicy Korean rice cakes are addictive. To add up, the sweet and spicy goodness would make you want more. Serving it with fried foods or a hot bowl of soup would be a good idea.
Buy your Tteokbokki by clicking here.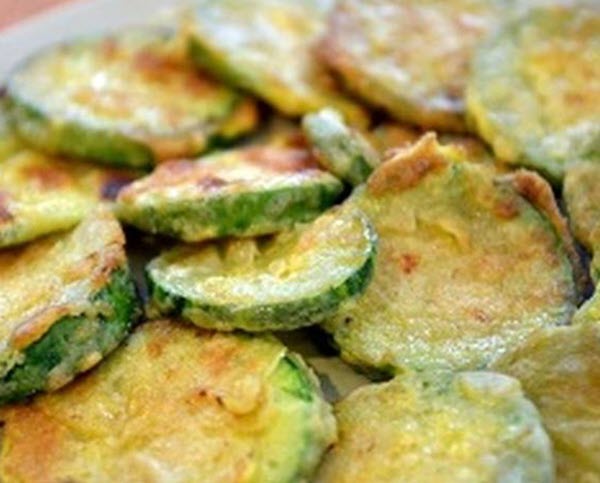 Korean Fried Zucchini
Hobak Jeon or pan fried zucchini has a profile of savory taste and very mild flavor. Unlike other Korean side dishes that have a stronger flavor, this side dish is a little bit on the bland side.
It goes well with almost every Korean meal, like roasted fish, bulgogi or Korean soups. It is prepared by coating zucchinis in a thin batter of flour and egg. A bit of salt is added to the mixture and the zucchinis are sauteed on both sides in a lightly greased sauté pan.
If you want to get a more enticing taste on your Korean fried zucchini, just add some tangy or spicy dipping sauce, along with other vegetables.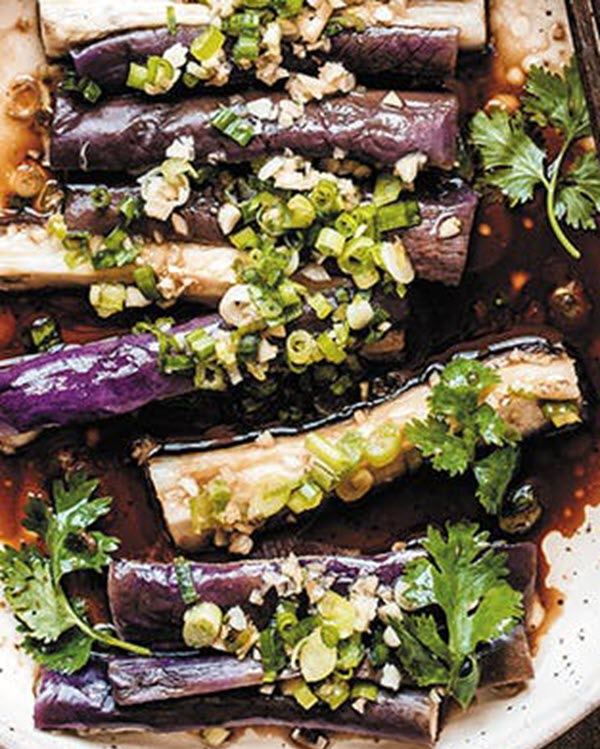 Steamed Eggplant
Known as Gaji namul, steamed eggplant is an addition to Korean side made of vegetables and is very simple to make. Just cut some eggplants into thin strips and steam it for 15 minutes.
Since eggplants are always in season in Korea, you won't be having a problem with the ingredients. This would be a great vegetable side dish to any Korean main dish.
Korean Soybean Sprouts
If you want to try some nice crunch on your side dish, then the sookju namul or Korean soybean sprouts would be a perfect candidate.
It is made of bean sprouts, garlic, scallions, toasted sesame oil, sesame seeds, and salt. The combination of these ingredients would provide a flavor that is best paired with bibimbap.
You will get the mild nutty flavor of the yellow sprouts and the crunchy texture of the long white stem of soybean sprouts.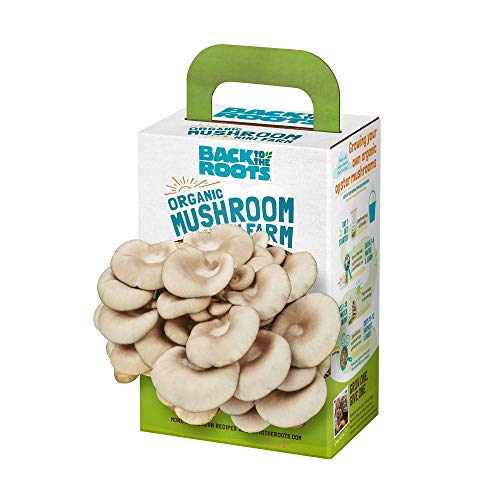 Let's take a break from plain sweet side dishes and get these spicy flavored dried shiitake mushrooms. Korean Crispy Mushrooms are made of shiitake mushrooms that are fried until crispy with a sticky syrup that is very flavorful.
A special sticky sauce that has a combination of sweet and sour flavor is combined with Korean red chili pepper paste to add some special spicy kick.
This side dish can be garnished with nuts and garlic to give the flavor some depth and extra taste. Get your mushrooms by clicking here.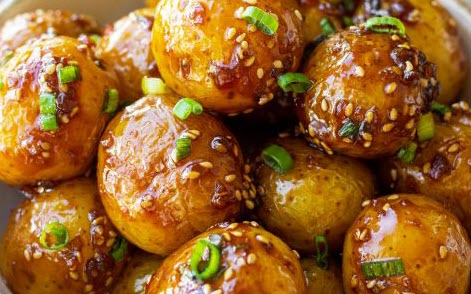 Korean Braised Potatoes
Gamja jorim is a popular side dish at home, restaurants and for home-packed lunch boxes in Korea. The idea of this side dish is to simmer the potatoes in a sauce until the sauce is reduced.
The sauce can be slightly sweet and soy sauce-based. In some parts of Korea, these braised potatoes are served with rice and eaten as a stand alone meal.
If you like spicy food over the sweet ones, you can add Korean red pepper flakes to your braised potatoes.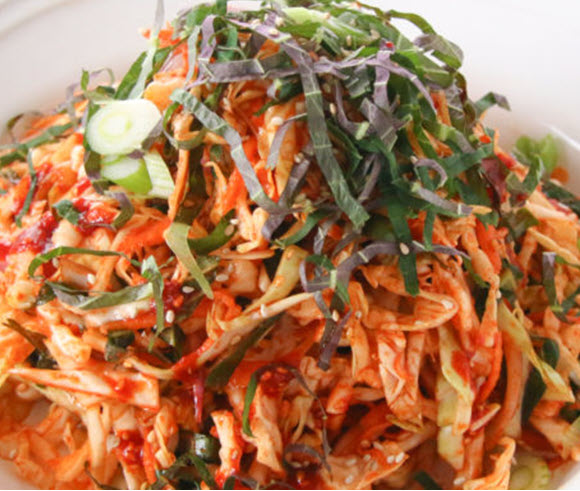 Korean Coleslaw
Coleslaw is already a popular side dish all over the world that is made from finely shredded raw cabbage with a salad dressing or condiment. It is originally known as New England Salad.
In Korea, the Korean coleslaw tastes more like a Kimchi, but crunchier and more refreshing. You will get that sweet, spicy, and tangy flavors that are best paired with main courses on Korean BBQ such as grilled beef, chicken, or fish.
Need More Korean Side Dishes
Korean cuisine is truly amazing. It offers bold flavors, with a variety of side dishes. Not only that, their side dishes are mostly made of different vegetables and that makes it a healthier alternative.
Aside from those mentioned, there are few popular Korean vegetable side dishes that you can use in your Korean cooking and main Korean food. That includes Korean lettuce salad, Tuna pancakes, macaroni salad and Korean Sesame Broccoli.
* If you buy through links on our site, we may earn an affiliate commission. For more details, please visit our Privacy policy page.