Beef Pares is one the famous and favorite foods of Filipinos. It is a braised beef brisket that is cooked with spices to have that distinctive taste and flavor. Cooking the dish consists a mixture of soy sauce, sugar, water that are mixed together with spices for that flavorful bowl of broth.
I first had my first Beef Pares taste when I was still in my teens. My mom used to cook Filipino dish and Beef Pares is one of her specialty and expertise. I simply love its aroma and the taste is mouth watering. It was at those times that I could not afford not to request for an extra garlic fried rice when braised Beef Pares is on the table. And oh before I forget, based on my own personal experience Beef pares is perfectly with garlic fried rice. At home we usually call it "the trio meal" because the meal consists three dishes: Beef Pares, Garlic Fried Rice and Hot Beef Broth.
So today, I am going to teach you the easiest and simplest beef pares recipe Although the dish takes a few hours to cook, but I tell you it is simply worth it. The recipe requires just a few steps for that mouth watering flavorful beef pares food.
Tips in Cooking Beef Pares
Pressure Cooker is used and is recommended to use as this can help tenderize the beef faster
Beef Pares would not be complete without the beef stock or broth. Make sure to always have a beef stock ready to save you some time before starting to cook beef pares. Ways on how to make beef stock will be discussed in a little while.
Star Anise is a star shaped pods spice that is an important ingredient to add flavor to your beef pares. However, if it is not available you may opt to use spice powder as an alternative. Note: Star Anise does not soften as they cook and therefore cannot be consumed, it is only added to simmered soups, marinades and sauce but is then removed before the dish is being served.
How to cook Beef Pares:
Beef brisket chunks are simmered in a cooking pot until it is tender.
When Beef is now tender, its time to add the other ingredients such as soy sauce, brown sugar and of course Star Anise.
Set aside Broth under a low heat to keep it warm. This also makes sure that sediments are removed and that the broth is clear from it.
I highly recommend Garlic Fried Rice to pair with this dish.
How to make Beef Stock:
Your Beef Pares dish would not be complete without the broth. Although the recipe for making broth is easy, it just requires you some time.
There are two simple ways on how to make it: first, buy from supermarket, or make your very own broth.
The simplest way is to purchase beef stock or beef broth from your nearest grocery store. There are beef stock recipe found in the supermarket to make a broth soup. You can do this if you are in a hurry and wanted to save time.
However the best broth and to simply say this, the ideal way is to make it on your own. Making broth from scratch is simple, although you need to make it in advance to somehow save you some time. To make beef broth, you can start by using beef bones. Beef bones definitely have a good proportions of bone rather than its meat.
Beef Stock/Broth Recipe:
In a cooking pot, pour in 6 cups of water. Allow it to Boil.
Add the beef bones and the mixture of carrots, celery and onions. then add 3 tablespoons of vinegar.
Add Knorr Beef Cubes to add a more flavor to the beef.
Cook over low heat for about 3-4 hours. However, if you have enough time, an 8 hour simmering is ideal.
Add salt to taste.
How to make Garlic Fried Rice:
The recipe for making garlic fried rice is pretty simple and easy to follow. In here, you will only be needing spices such as cooking oil, minced garlic, salt and pepper and of course the main ingredient which is the a-day old cooked rice.
First, in a medium sized bowl, break rice to separate the grains. Then, using a medium sized pot, heat cooking oil over medium heat. Once cooking oil is heated enough, add garlic. Stir occasionally to avoid overcooking the garlic. Wait for it to turn golden brown. After that, add in cold rice for about a minute and until the rice grains starts to roast then continuously stir it to redistribute the grains and mix the ingredients. Finally, season it with salt and pepper to taste.
Beef Pares Recipe
Ingredients:
2 ½ lbs. beef cubed
3 tablespoons cooking oil
2 thumbs ginger minced
1 piece onion chopped
5 cloves garlic crushed
1 piece Knorr Beef Cube
2 pieces star anise
6 tablespoons (1/2 cup) soy sauce
¼ cup brown sugar
½ cup scallions chopped
2 ½ cups water
Salt and ground black pepper to taste
Prep Time: 15 minutes
Cooking time: 45 minutes
Total Time: 1 hour
Saute cloves garlic, chopped onions and minced ginger.
In a pressure cooker over medium heat, add in cooking oil then once cooking oil is heated enough. Saute spices.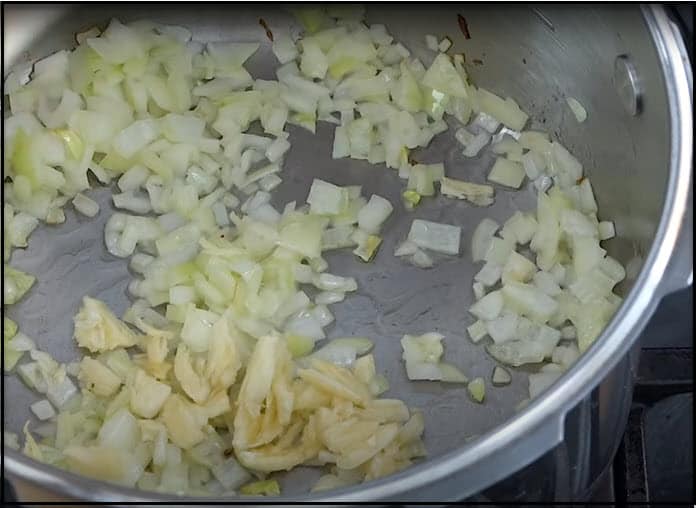 Add Cubed Beef Brisket
Once mixture of spices softens, add cubed beef and cook until it turns light brown. Stir mixture once in a while to prevent overcooking.

Add soy sauce and water.
Add in the cup soy sauce and then water. Stir to mix.

Add Krorr Beef cubes and Star Anise.
Once added, cover pressure cooker and cook for about 15 minutes.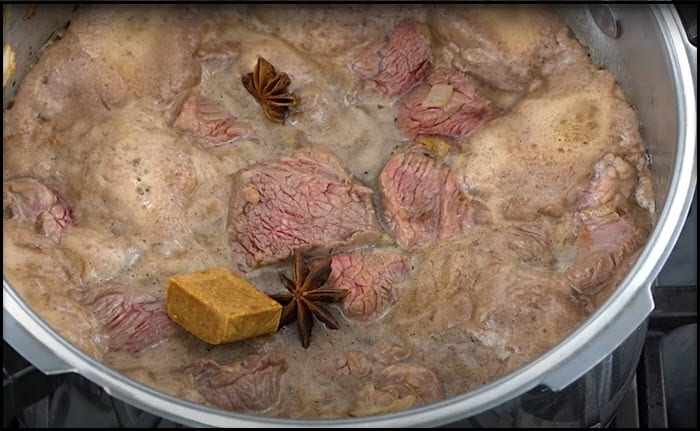 Add brown sugar. then add salt and black pepper to taste
Cook for another 10 minutes or even more until the sauce or fluid lessens.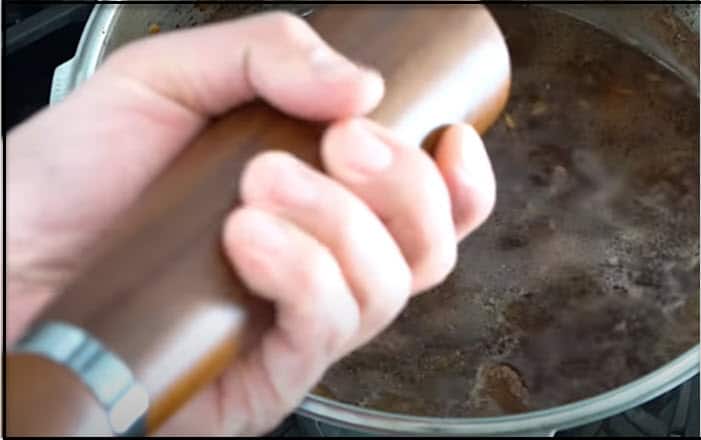 Served while hot.
In serving beef pares, in a serving bowls ladle beef broth,then served it topped with green onions. Pair this with Fried Garlic Rice.

Try this Recipe and let me know what you think. If you have other versions, let us know so that we can also share it here.
Interested in other recipe? Feel free to comment below. Also, let me know your experience along the way. I look forward to hearing from you.