Leche Flan is the Philippines own version of the Spanish Flan. Although it may seem the same as Spanish Flan Recipe, I believed it has a richer and fuller taste since it uses egg yolks. It is considered to be one of the best dessert by Filipinos. In the Philippines, parties, fiestas and other special occasions would not be complete without this dessert.
At times, it can also be served with other treats such as halo halo, wherein it is used as a topping on top of the shaved ice. Not only it is the well-known dessert in the Philippines, it is also known in other countries as well. It is one of the most widely served dessert not just because of its heavenly taste, but also since the recipe is easy to prepare with a total time of just an hour and a half and with a long shelf life too.
So far, my mom makes the best Leche Flan Recipe I have ever tasted. It taste to rich and creamy. The sweetness is just the right amount. She always makes Leche Flan not just during parties but anytime as she likes. I'm glad I was growing up watching my mom do her magic in the kitchen, it makes me learn her secret recipe. Leche Flan how to make it pretty simple. The recipe in making Leche Flan is easy to follow which I will teach you.
This dessert is made up eggs and milk, basically a mixture of egg yolks, condensed milk and evaporated milk. It is topped with a caramel. There are other recipes of Leche Flan depending on the preference of the one making it. Aside from the three basic ingredients in the recipe, you can also add vanilla extract and key lime zest for that added flavor.
Leche Flan vs Creme Caramel?
Many are curious, is Leche Flan the same as Creme Caramel? Yes, Leche Flan recipe is similar to Creme Caramel. However, the only difference perhaps is that most of the Creme Caramel usually needs additional cream, and Leche Flan recipe does not actually need that. Aside from that, Flan Leche uses both condensed milk and sugar. And not just sugar alone as in Creme Caramel. Also, in terms of consistency, Leche Flan is richer whereas Creme Caramel's texture is usually lighter.
What kind of pan to use in making Leche Flan? There's what we call Llanera. It is an oblong shape tin container used to mold Leche Flan. Traditionally, Leche Flan are oblong shaped, but if the availability is not possible in your area you can use a round shaped mold or any baking pan.
Caramelized the sugar
If you follow the Leche Flan Recipe that we will teach you today, you will find making Leche Flan recipe very easy. But first let me teach you how to prepare a caramel. Since Leche Flan will not be a complete dessert without putting a soft caramel on top. In here I will teach you three different ways on how to turn your sugar into caramel: Wet Method, Dry Method and the method that uses a Microwave.
Wet Method Recipe:
In a pan, pour in one cup sugar and 2 tablespoons of water.
Next, cook the mixture using low to medium heat. Using a wooden spoon, continuously stir until it is completely dissolved and turns into clear liquid.
Once dissolved, continue to cook it for about 5 minutes but this time without stirring it.
When the color changes to honey gold, pour in the mold or Llanera, and allow it to harden by covering it with foil. Then set aside.
Dry Method Recipe:
In each Llanera or any baking pan, put 3 tablespoons of sugar.
Over low heat, put Llanera, on top of the stove top. Occasionally move Llanera, until melted. You wear oven gloves to protect your hand from the heat while holding Llanera,.
Once melted and turns honey gold, remove Llanera, from heat to cool down. Allow it to harden.
Using the Microwave Method Recipe:
Using a Microwave safe container or pan, pour in water and sugar. Stir well to mix completely mix it. Adding water helps it melt faster.
Set Microwave to high and start for a total time of 6 minutes. However, you may need to add a few minutes until the color changes to honey gold.
Pour melted mixture to a Llanera or pan. Allow it to harden.
Using the Microwave Method:
Using a Microwave safe container, pour in water and sugar. Stir well to mix completely mix it. Adding water helps sugar melt faster.
Set Microwave to high and start for 6 minutes. You may need to add a few minutes until the color of the sugar changes to honey gold.
Pour melted mixture to a Llanera or mold. Allow it to harden.
Tips in Making Leche Flan
To easily separate the yolks from egg whites, use cold eggs as colder eggs tends to hold their shape better making it easy for you to separate.
As soon as the yolks are separated, make sure custard mixture is already set to be made. Exposing the egg yolks for too long in an open air tends to form an outside skin and lumps making it hard and difficult to melt later on. If yolks will not be immediately used, you can store it in a bowl of water and put it inside a refrigerator. You can drain the water when yolks will then be used.
Breaking the yolks while mixing it with condensed milk will make the making easier. At the same time while doing that, you can pour evaporated milk little by little.
Always remember to stir at one direction to prevent bubbles from forming. When air bubbles is not prevented, you can tap on the Llanera at the counter and let it stay for a few minutes. This can help release air pockets.
Make sure sugar is not burnt when doing the caramel topping, doing so gives your Leche Flan a bitter taste.
Leche Flan Recipe
Ingredients:
Eggs 10
sweetened condensed milk 1 can (14 ounces)
evaporated milk 1 can ( 12 ounces)
Granulated sugar 1 cup
Vanilla Extract 1 teaspoon
Prep Time: 15 minutes
Cooking Time: 1 hour
Total Time: 1 hour and 15 minutes
Separate Egg yolks from Egg whites
Using a bowl, separate egg yolk from egg whites. Stir Egg yolks until texture is smooth.

Stir Egg yolks
Using a Wire Whisk, stir egg yolks until texture is smooth.

Add Condensed milk
Pour in Sweetened Condensed milk to egg yolks.

Add Evaporated milk
Add in evaporated milk to the bowl with condensed milk and egg yolks.

Add Vanilla Extract and mix ingredients.
Add 1 teaspoon Vanilla Extract for added flavor. Once all ingredients are added into the bowl, stir to mix ingredients well then set aside.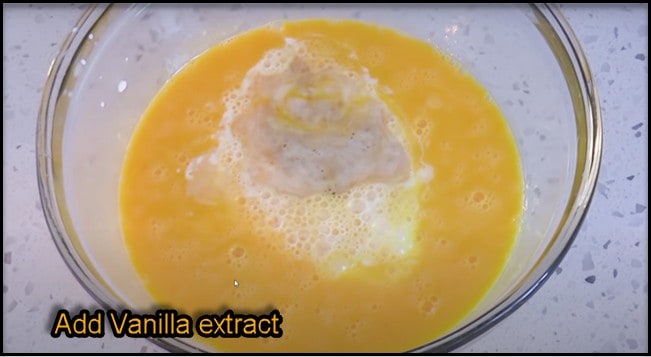 Now to make a Caramel, pour Sugar to Llanera
Using an oblong Llanera or any baking pan, pour in 3 tablespoons of granulated sugar on each Llanera.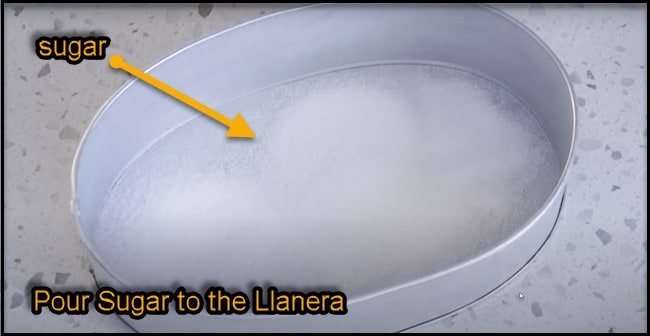 Place Llanera over stovetop
Over a low to medium heat, place LLanera over the stove top.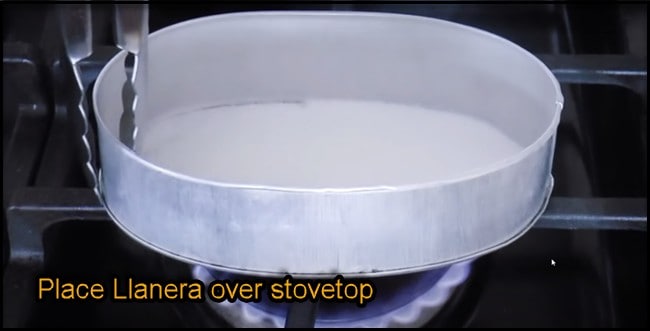 Allow it to melt
Wait for sugar to completely melt and changes its color to honey gold. Remove from stove top and allow to cool down.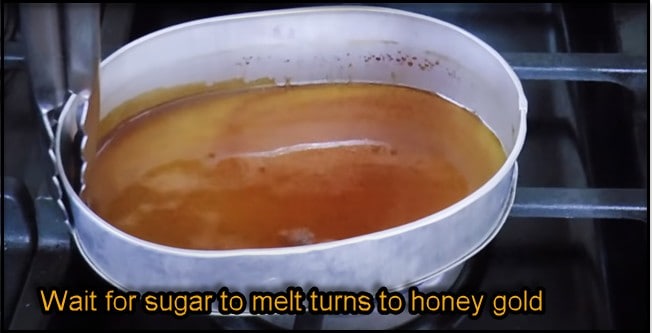 Add Bowl mixture
Once caramel has cooled down, add in bowl mixture to the Llanera.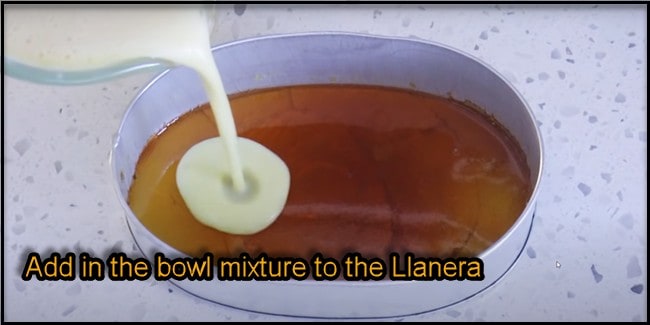 Cover the mixture with Tin Foil
To prepare the mixture for steaming, cover it with Tin foil.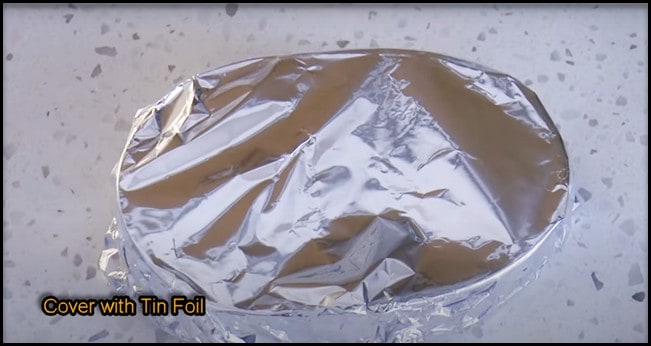 Steam to cook Leche Flan
For a total time of 30-45 minutes, steam Llanera to cook Leche Flan.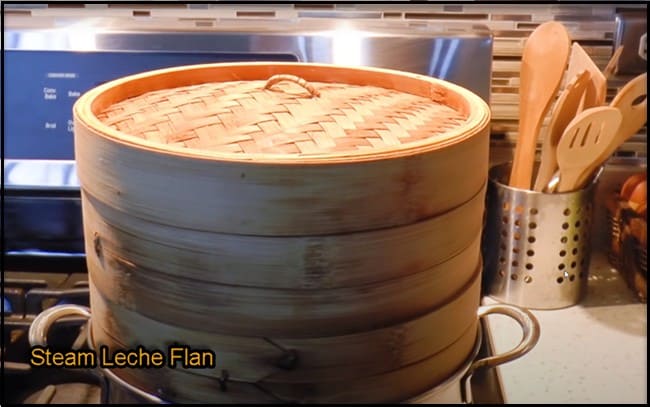 Transfer to serving plate
Once Leche Flan has cooled down, remove from the steamer and transfer to a serving plate. Enjoy eating Leche Flan.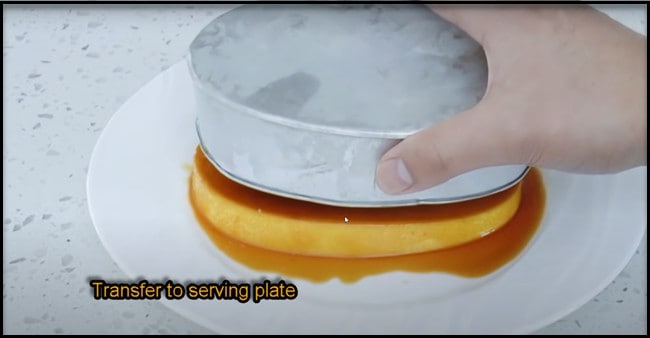 Try this Leche Flan Recipe and let me know what you think. If you have other versions of making leche flan, let us know so that we can also share it here.
Interested in other recipe? Feel free to comment below. Also, let me know your experience along the way. I look forward to hearing from you.