Do you patronize Yoshida's Original Gourmet Sauce? Would you like to try this recipe at home? Scroll down as we unveil the easy and simple way of preparing the Yoshida sauce recipe.
Yoshida sauce is an Asian-inspired sauce similar to Teriyaki sauce. It is slightly sweeter. It can be used as a dipping sauce, cooking sauce, or a teriyaki sauce. Yoshida's sticky, sweet, and tangy soy glaze is perfect to marinade or for dipping chicken breast, pork, ribs, seafood, wings, pork and other meat.
It offers unique Asian flavors, versatility, and daily exciting meals. The Yoshida sauce is usually used in stir-fries, as salmon toppings, and in some recipes such as Portobello mushroom salad, Yoshida Flanked, and Yoshida Green Beans.
So what are the common ingredients used in making the sauce, and how is it prepared? All these questions will be answered below. Read further.
Yoshida Sauce Recipe
How Did Yoshida's Sauce Start?
The Mr. Yoshida sauce was invented by Junki Yoshida, in 1968 at the age of 19. He migrated to the US with only $500 in his pocket, to fulfill his American dream.
Mr. Yoshida turned to karate when he had difficulties in adapting the country's culture and his new home.
Since he had a little money to buy presents during the holidays, he started to cook the gourmet teriyaki-based sauce, his family's 60-year old secret recipe. He then gave the bottle of sauce to his karate students as Christmas presents. To his surprise, his students started asking for refills.
As it became the talk of the town, the demand for his product has inflated. From then, the Yoshida family started to advertise their product and sell to the neighboring grocery stores.
---
COMMON INGREDIENTS:
The Yoshida sauce is available in most Asian stores. However, if you don't want the store bought sauce, and want to make your own sauce at the comfort of your home, here are the common ingredients:
SUGAR (white and brown)
GARLIC CLOVE
HONEY
GINGER ROOT
GREEN ONIONS
Note that these are not the exact ingredients used in Mr. Yoshida's Gourmet Sauce. But the sauce in this recipe will have a very similar taste to the store bought Yoshida sauce.
After you gather all the ingredients, prepare everything including your cooking equipment, then follow the directions on the recipe.
---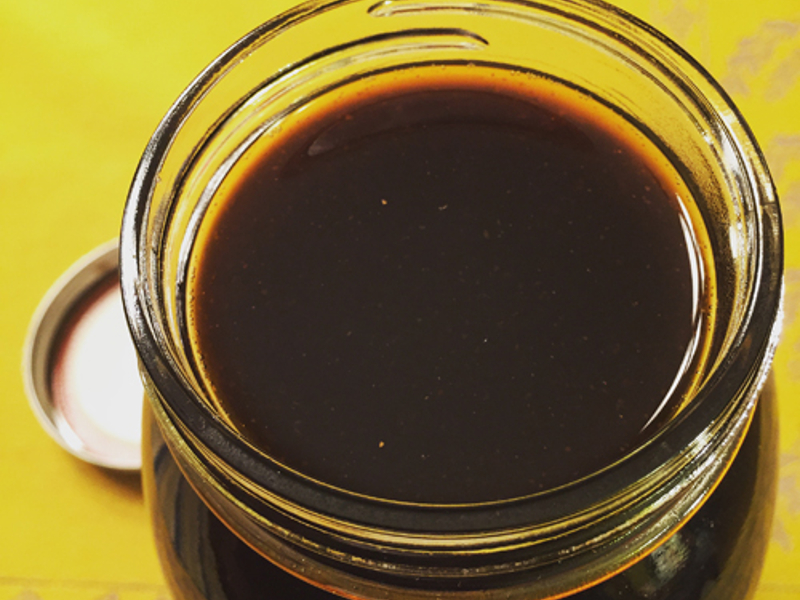 HOW TO PREPARE YOSHIDA'S SAUCE
This recipe will take a total of 30 minutes (for the preparation and cooking), and prepare 5 cups of homemade version of Yoshida's sauce.
INGREDIENTS:
2 cups soy sauce
3/4 cup brown sugar
3/4 cup white sugar
1 garlic clove (chopped)
1 cup honey
4 slices fresh ginger root
8 green onions (cut into 1 1/2 inch chunk)
DIRECTIONS:
In a medium saucepan, add soy sauce, green onions, ginger, garlic, 1/2 cup of brown sugar, and 1/2 cup of white sugar.
Bring the mixture into a good boil and reduce heat. Simmer for at least 15 minutes while stirring gradually.
Pour the honey and the remaining brown and white sugar into the saucepan. Bring to boil until the mixture rises and foam. 
Remove the saucepan from the heat and cool to room temperature or refrigerate until use as dipping sauce or marinade.
To use the sauce as marinade on chicken, simply pour the sauce over the chicken and marinade for at least 1 hour or overnight.
You can also use this sauce on other food tofu, vegetables, rice recipes, teriyaki dishes, and other food.
---
FREQUENTLY ASKED QUESTIONS:
1. FROM WHICH COUNTRY IS MR. YOSHIDA FROM?
Mr. Junki is a Japanese-American entrepreneur from Kyoto, Japan.
2. WHAT IS THE SHELF LIFE OF YOSHIDA'S SAUCE?
An open bottle of Yoshida sauce can last for 8 month and up to 2 years if stored properly/ refrigerated. However, the shelf life of the home made version can only last up to 3 weeks if refrigerated.
3. IS MR. YOSHIDA'S ORIGINAL GOURMET SAUCE ONLY USEFUL AS A DIPPING AND COOKING SAUCE?
Aside from being used as a marinade for meat and vegetables, the sauce can also be used for baking, sautéing, and grilling. The sauce is used in other Yoshida's recipes like Yoshida's Gourmet Chicken, Luau Meatballs, Shrimp Kabobs, Yoshida's Teriyaki Burger, and Citrus Ribs.