When it comes to eating sushi, sushi sauces can make or break the flavor and elements of the dish. If you love making sushi, you can achieve that same authentic taste you would otherwise enjoy at your favorite Japanese restaurant if you have the right sauces.
* If you buy through links on our site, we may earn an affiliate commission. For more details, please visit our Privacy policy page.
However, picking the right sushi sauce may not be that easy. There are so many sushi sauces to choose from with their unique flavors.
In this guide, we will tell you more about sushi sauces and will give you our top picks to help you get started with choosing the right sauce.
Best Sushi Dipping Sauces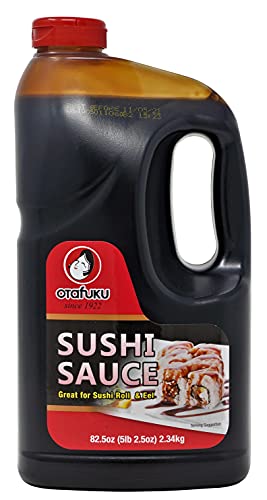 If you frequently make unagi rolls, you might consider getting this half gallon of Otafuku sushi sauce. Eel sauce is richer and thicker than regular soy sauce, so they are perfect for most types of sushi rolls. You can also use it as a topper for your steamed rice.
The Otafuku Sushi sauce is formulated without preservatives, additives and MSG. Its ingredients include soy sauce, corn syrup, cornstarch and eel. If you are a health-conscious sushi lover, this sauce is one of the best options available.
Moreover, the Otafuku sushi sauce is made in Japan and bottled in the US. You can guarantee that this sauce has authentic Japanese flavors.
PROS:
No additives, preservatives and MSG
Authentic Japanese dipping sauce
Rich flavor
CONS:
This is half-a-gallon sauce can be too much if you don't make sushi that often
---
With numerous food products containing GMO ingredients, it's a good thing to find a non-GMO sushi sauce. GMOs may cause allergic reactions and other side effects. With this non-GMO sushi sauce, you're safe from those harmful side effects.
This sauce has delicious flavor combinations of salty, sweet and umami. Its ingredients include soy sauce, tapioca syrup, and glutinous rice among others.
Aside from sushi rolls, you can also add this to your rice to enhance the flavor of your food.
PROS:
Non-GMO
Restaurant-level flavor
CONS:
A bit high in sodium, 300 mg contains 13% of your daily value
---

If you are looking for an eel sauce that is best suited for the American taste, the Nippon Shokken eel sauce might just be for you. It's a product of U.S.A and is formulated with your American tastebud in mind.
What we like about this sauce is its versatility. You can use it as a dipping sauce or as a topper for sushi rolls, crunchy rolls and tempura among others. Additionally, you can also use this sauce as a glaze or marinade for seafood dishes.
PROS:
All-around sauce
No bad aftertaste
Rich flavor
CONS:
May be produced with genetic engineering
---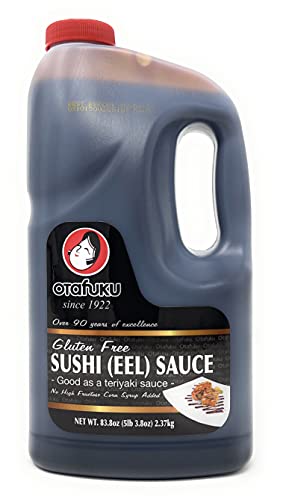 Do you love eating sushi but are allergic to anything with gluten? The good news is that there is Otafuku Gluten Free Sushi Unagi Eel Sauce.
This gluten-free dipping sauce has an amazing viscosity and flavor which makes it perfect for sushi rolls. A small amount of this sauce will also go a long way when you add it to your steamed rice, fried rice and other stir-fry dishes.
PROS:
100% vegetarian and gluten-free
No MSG, preservatives and additives
Rich flavor with no bad aftertaste
CONS:
This is a half-a-gallon sauce which can be too much if you don't make sushi that often
---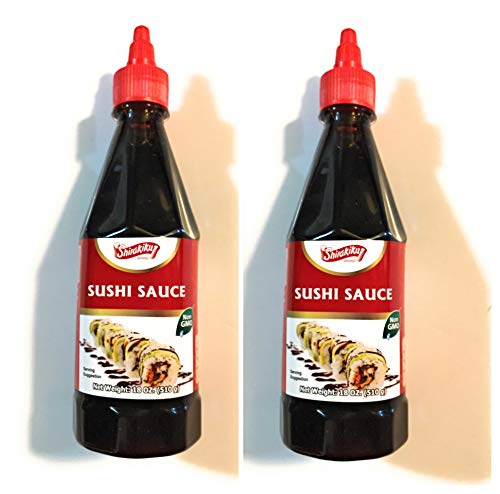 Another sauce that can complete your sushi plate is the Shirakiku sauce. All you need is a small amount of this sauce to top or garnish your roll to give it an authentic taste.
This sauce contains soy sauce, sugar, cooking wine, salt and lactic acid. The combination of soy sauce and sugar in this product gives it a good balance of salty and sweet taste.
What we like about this sauce is that it is on a squeeze bottle with a twist cap. You just have to squeeze the sauce to garnish.
PROS:
Reasonably sized bottle
Non-GMO
CONS:
300 grams contains 13% of your sodium daily value
Buy it now: Amazon
---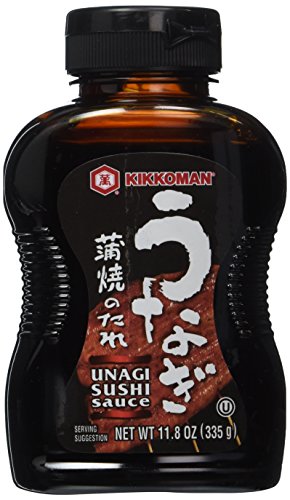 If you are one of those sushi lovers who prefer to have a sweet flavor dipping sauce instead of a spicy sushi sauce, this product is a good choice.
This sauce received many positive reviews for its authentic and bold Japanese taste. Many customers say that it tastes just like the sauce you'll find in Japanese restaurants. So if you are looking for an authentic taste, this product is the best choice.
With a savory and sweet taste, it's a versatile sauce that you can use with different types of sushi rolls such as tuna rolls and salmon rolls. It also complements other seafood dishes.
PROS:
Sweet sauce with a bit of saltiness
Backed by thousands of positive feedback
CONS:
Some customers say it is too sweet for their taste
---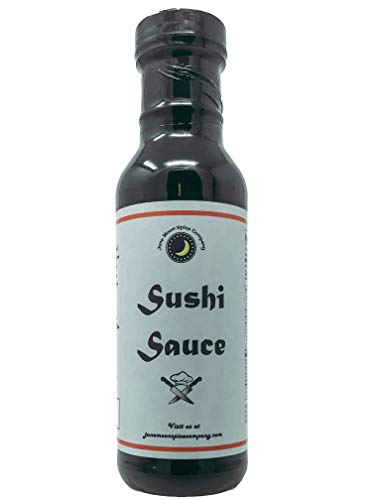 This premium sauce from June Moon Spice Company is one of the best choices available if you crave for that authentic Japanese sushi flavor. As a dipping sauce, it can add zest to any rolls.
In terms of flavor, this sauce offers a savory and sweet taste. Just a teaspoon on your plate can make a big difference in the flavor of sushi, dim sum, and even grilled tuna, salmon and other dishes.
PROS:
Classic flavor
All-around dipping sauce
CONS:
Contains sodium benzoate as preservative
---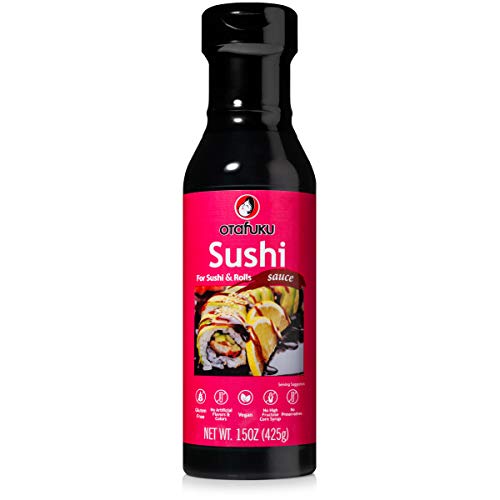 This product is another best-rated eel sauce for dipping sushi. If you are always eating sushi at home, this is a must-have in your pantry. It is a good choice for sushi lovers who prefer a sweet sauce with a bit of saltiness.
Just like other eel sauces, this too has a rich and thick consistency. It contains eel, soy sauce for the salty flavor and sugar to add sweetness to the sauce.
The Otafuku Sauce is great for inside-out rolls and grilled seafood such as grilled eel. Moreover, you can also use this sauce for Japanese cooking as a marinade, glaze and dip.
PROS:
Versatile sauce
No MSG and artificial flavors
No preservatives
CONS:
Some customers find this sauce a bit salty
---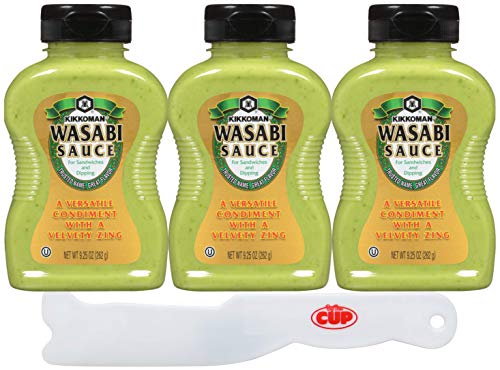 Wasabi is one of the favorite sauces by many, and if it is your favorite too, then check out this sauce.
Pasteurized and produced in the US, this sauce contains vinegar, soybean oil, corn syrup, sugar, corn starch and natural wasabi flavor among others. It does not have MSG or preservatives.
This wasabi sauce is great not just for sushi but also for sandwiches, vegetables, burgers, steaks and other meat dishes.
PROS:
Versatile sauce – you can use it in a wide range of dishes
No MSG and preservative
CONS:
Contains wasabi flavoring
---
Common Types of Sushi Sauces and Complementary Sauces
Here are some of the sauces and condiments you'll commonly find in sushi bars:
Spicy Mayo
This sauce is commonly found in Japanese restaurants across North America. The level of spiciness, texture and flavor of this sauce may vary across different brands. The more sriracha sauce there is in the mix, the more spicy the sauce is.
Spicy mayo has a rich, bold and creamy texture with a salty or sweet flavor. It is among the complimentary sauces for protein and vegetable dishes.
Wasabi
Wasabi is made from Kudz and tastes like a combination of mustard and horseradish. Sushi lovers enjoy wasabi as it gives a kick to your sushi. It also reduces the smell of fish.
Eel Sauce
Also known as Natsume, this sauce is designed to complement the unique flavor of eel. It comes with different flavor tones but typically the basic flavors include umami, salty, sweet and smoky.
Garlic Mayo
Garlic sauce is more like a fusion sauce which is said to be first concocted in the US. This sauce is creamy, sweet and savory. Because of the addition of garlic, the sauce has a mild-to-strong garlicky aroma and flavor.
Miso Mayo
Miso mayo is a savory sauce made primarily from miso paste. It has a delectable umami taste that comes from miso. Miso is a fermented soybean paste that is rich in healthy enzymes.
Goma Sauce
Goma or sesame oil is another sushi bar staple. Sesame oil has a toasty and nutty flavor. This simple condiment can surprisingly add a punch to the flavor of the sushi.
Ponzu sauce
Ponzu sauce is a classic Japanese condiment with a salty and tangy flavor, similar to the vinaigrette. You can find ponzu sauce in most sushi bars and in many Japanese steakhouses.
Because of its unique flavors, ponzu sauce complements well with different types of dishes including vegetable salads.
Nikiri
This sauce is commonly called as sweet soy sauce. The components of this sauce are similar to soy sauce but lighter and sweeter in flavor.
Picking the Right Sushi Sauce
The type of sushi condiment or sauce you choose to complement your sushi largely depends on your personal preferences. However, if you are not sure about which sauce best pairs with a particular type of sushi, it's best to first know the flavor notes of that specific sauce. If you are dining at a Japanese restaurant, this should be easy because you can simply ask the sushi chef for the best sauce that goes with your roll.
If there are no sushi chefs around, or if you are making homemade sushi and aren't sure which sauce to buy, it's a good idea to start with soy sauce-based sauces. They are quite versatile and they go well with almost any type of roll.
Eel sauces are also popular as you can use them with other types of rolls. And if you want a creamy and rich sauce or condiment, you could go ahead and try mayo-based sauces.
FAQs
Where can I buy sushi-grade sauces?

If you are in the US, you can buy different types of sauces that are tried and true staples for dipping sushi at Asian grocery stores. If you can't find one at your local grocery store, you may also order online from various online sellers.

Can I make homemade sushi sauce?

Yes, for sure! If you have a favorite sushi sauce and you have a good sauce recipe for it, it's worth trying making it. The best thing about the homemade sauce is that you can easily adjust the flavor combinations. You can add more or reduce the ingredients to achieve your desired sweet, salty or tangy flavor.

One of the simplest and easiest sauce recipes is the teriyaki sauce. This sauce goes well with most rolls.
The basic teriyaki sauce recipe needs water, soy sauce, brown sugar, ginger, garlic powder and cornstarch. The amount per ingredient may vary depending on the sauce recipe you are following.
To make the teriyaki sauce, you just have to mix all the ingredients in a small saucepan. Cook it over medium heat, whisking constantly. Let it boil for several minutes. After boiling, reduce the heat and let it simmer until you achieve your desired consistency.
Other sushi sauce recipes for dipping may require other ingredients. The most common ingredients for these sauces are soy sauce, vinegar (or rice vinegar) and Japanese sweet wine. If you have these in your pantry, it will be easy to experiment with different sauce recipe choices.

How much sushi sauce should I put in my roll?

How much sauce you put in your sushi depends on your taste buds, but the rule of thumb is to avoid drowning your roll in the sauce.

Sushi sauces especially those that are soy-based are high in sodium and can quickly overpower the natural flavor of the sushi if you add too much.

Many sushi chefs recommend just dipping the fish or seafood in the sauce and not on the rice.


What do you call that black sauce on top of sushi?

The black sauce you would normally see on top of a sushi roll is a sticky version of soy sauce. This sauce has a bold flavor that goes well with California roll and other varieties of sushi.

Why do they call it eel sauce?

This sauce is called as such because they are primarily used for dishes that contain eel such as unagi dishes.

Is it disrespectful to dip sushi in soy sauce?

As a rule of thumb, you should not dip your sushi in soy sauce if it already comes with its own sauce. There's a reason why chefs already add sauce to the sushi, and dipping your roll in soy sauce may potentially ruin the flavor of the dish.
Conclusion
What is your favorite sushi sauce? Do you like spicy or something with vinegar? Do you like your sauce to be sweet or a bit salty? Whatever your preferences are, there are sushi sauces that are right for you.
Sushi sauces are a great way to elevate your homemade sushi into a restaurant-quality dish. The good thing about these sauces is that they are widely available in many Asian stores and online. This tells you how much people love their sushi.
The products we have listed above are some of the best in the market. But when it comes to versatility and great flavor notes, our top pick is the Otafuku Sushi Unagi Eel Sauce. Many customers can also attest that this sauce offers great value for your money.
* If you buy through links on our site, we may earn an affiliate commission. For more details, please visit our Privacy policy page.