Basically, any type of meal or dessert may be placed inside an egg roll wrapper, cooked in the oven or fried, egg rolls are both delicious and spectacular.
If you love egg rolls, then this article will make you drool. In this post, learn about the different types of egg rolls. Including traditional egg rolls, southwestern egg rolls, egg roll bowls, and more.
Scroll down and continue reading to learn more about the various egg rolls.
Types Of Egg Rolls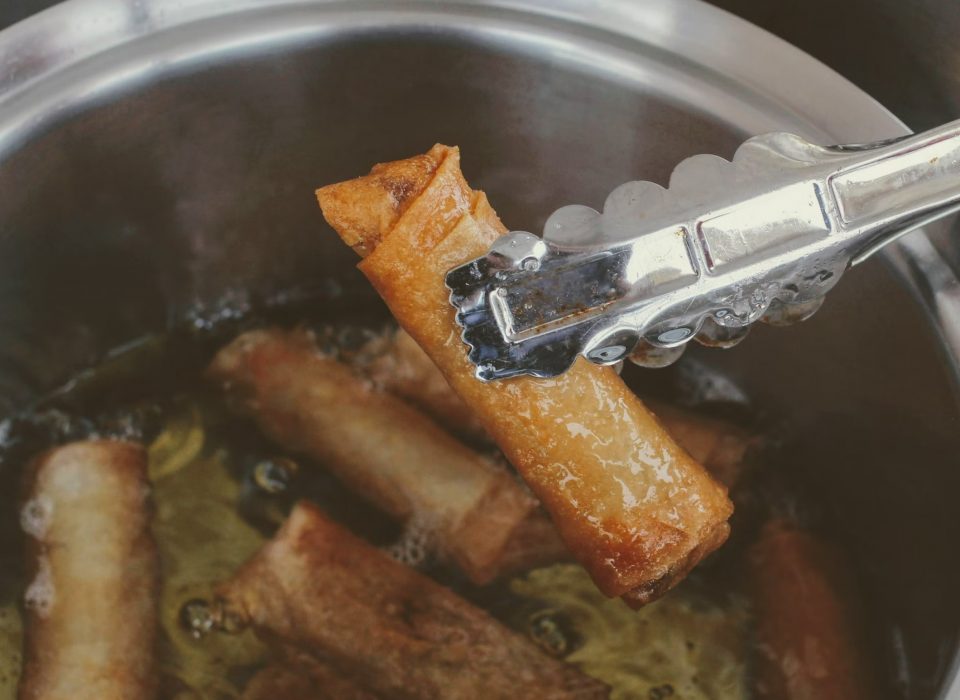 What Is An Egg Roll?
The deep-fried appetizers known as egg rolls are popular in Chinese restaurants in the United States. An egg roll is a cylindrical, savory roll that is fried in hot oil and contains ingredients like chopped pork, cabbage that has been shredded, and packed with other fillings. The dish is typically eaten with your fingers while drizzling on hot mustard, duck sauce, soy sauce, or plum sauce that is frequently presented in a cellophane package. In addition to fried rice, fortune cookies, and other staples of American Chinese food, egg rolls are frequently offered as free extras on American Chinese combination platters around the country.
The egg roll emerged in the United States in the early 20th century and is similar to but different from the spring rolls prepared in mainland China. Although the dish did not resemble the current egg roll, the term "egg roll" first appeared in a 1917 Chinese cooking brochure that was distributed in the United States. Comparable to Gyeran-mari, the 1917 recipe called for a meat and vegetable filling to be encased in an egg omelette, pan-fried, and served in slices.
Check out the various egg roll types as well as egg roll recipes below.
---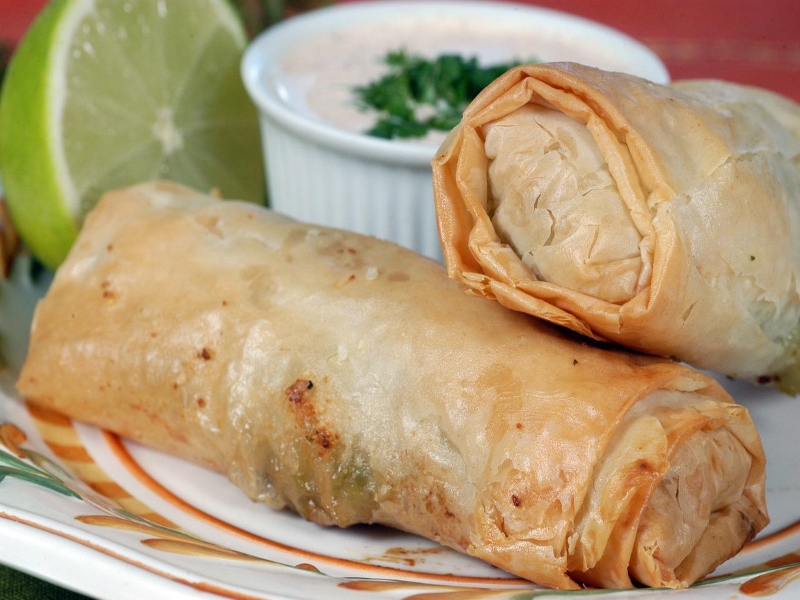 1. Pineapple and Avocado Egg Rolls
This particular egg roll is stuffed with sweet and smoky pineapple chunks that have been grilled, wrapped in eggroll dough, and then deep-fried for a minute on each side. Basically, crispy eggrolls stuffed with grilled pineapple and avocado are served. These pineapple and avocado egg rolls are special, delectable, and healthy.
---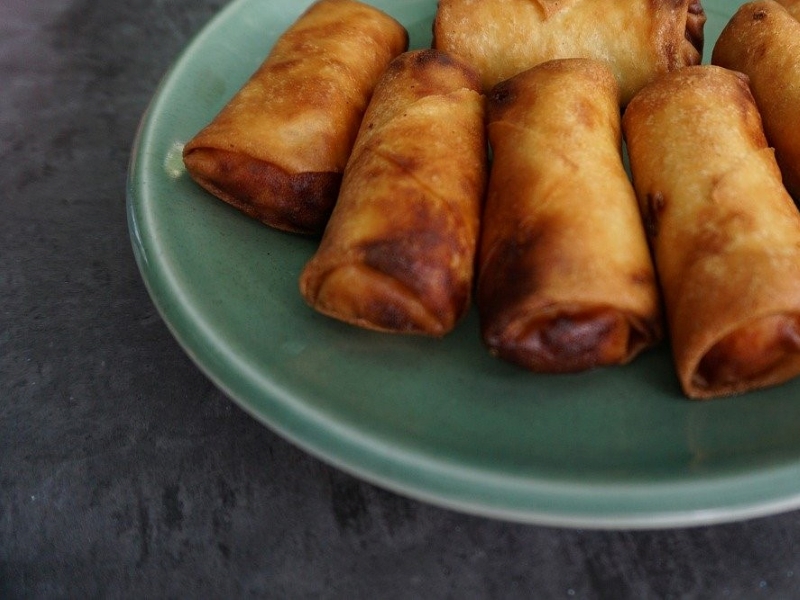 2. Apple Pie Egg Rolls
A delicious and plain apple pie filling is wrapped between warm, crunchy egg roll wrappers. The typical ingredients for preparing these delectable apple pie egg rolls include apples, flour, cinnamon, lemon juice, oul, and egg roll wrappers.
---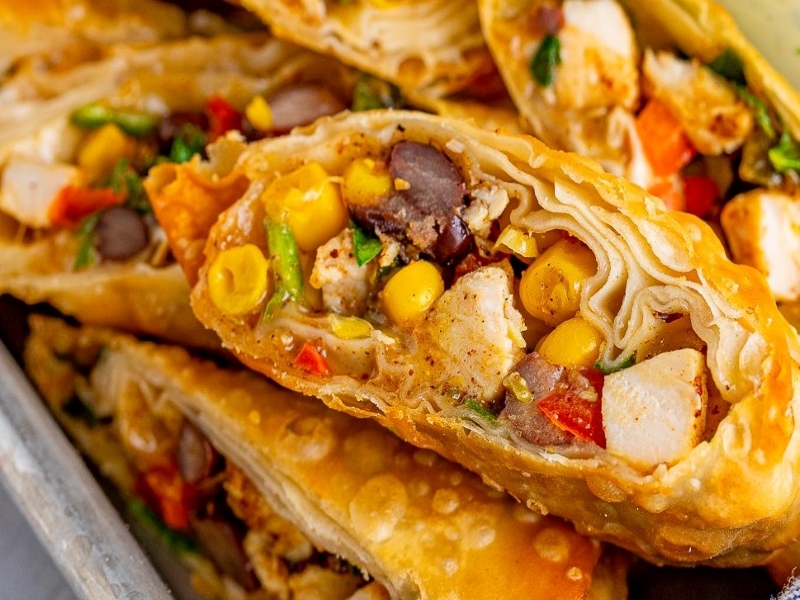 3. Southwest Egg Rolls
These semi-spicy appetizers taste like they have been fried and are moderately crispy with a thick and creamy filling. Some of the usual ingredients used to make this delectable dish include baby spinach, red onion, sweet red pepper, canola oil, frozen corn that has been thawed, ground cumin, cayenne pepper, reduced-fat Mexican cheese, reduced-fat cream cheese, and wonton wrappers.
---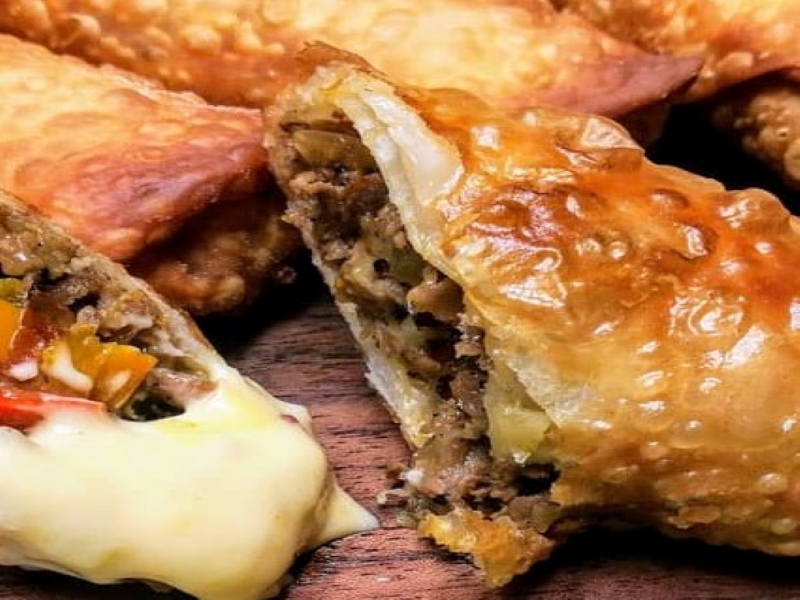 4. Philly Cheesesteak Egg Rolls
The most tempting way to eat Philly Cheesesteaks may be with the Philly Cheesesteak Egg Rolls. The egg rolls are filled to cheesy delight with luscious sirloin, bell peppers, mushrooms, and jalapenos, then fried. There is also baked version of it. They are the ideal melty, cheesy snack, appetizer for party, or even supper. This is definitely a hearty egg roll.
---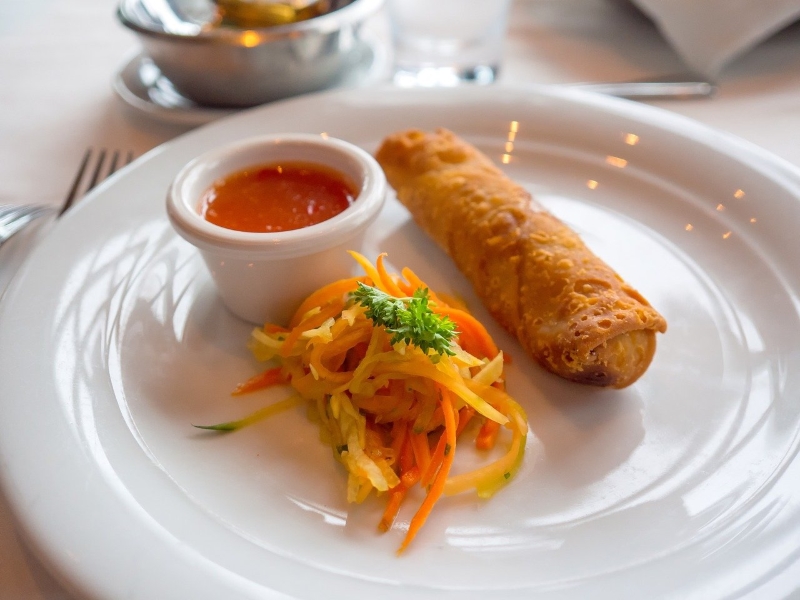 5. Classic Egg Rolls
Pork, chicken, shrimp, shredded cabbage, carrots, and bean sprouts are the typical ingredients.
These are a wonderful little appetizer to get the night started. Give them with a side of sweet and sour sauce.
---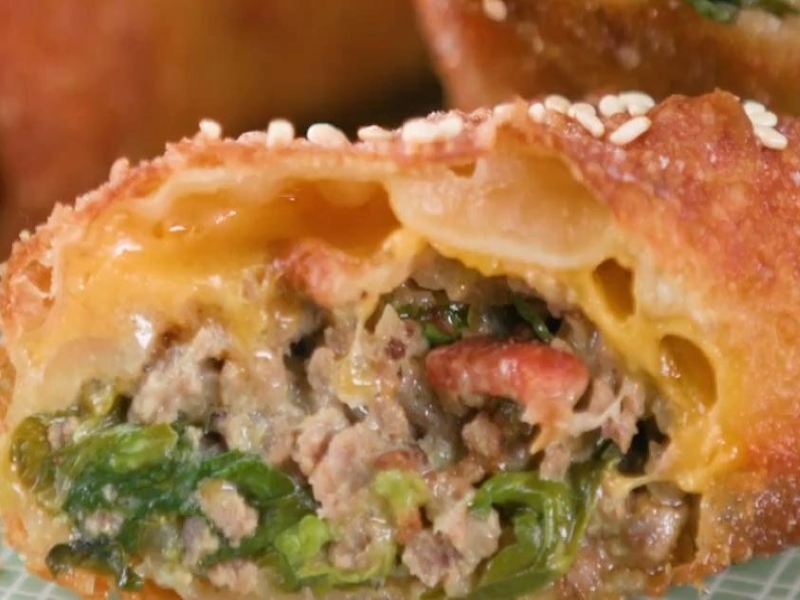 6. Cheeseburger Egg Rolls
These delicious egg rolls are made with ground beef and cheese inside. They have a cheeseburger-like flavor with a slight crunch on the outside.
Basically, cheeseburger egg rolls are filled with melted cheese, pickles, and luscious ground beef. Very, very delicious once you dipped it with a sauce on the side.
---
7. Avocado Bacon Egg Rolls
Egg rolls filled with avocado and bacon are amazingly tasty and simple to make. This ideal party dish is made by rolling egg roll wrappers with pepper jack cheese, bacon, and avocado slices.
The perfect party food, avocado bacon egg rolls will quickly disappear because this will be the focus of the guests.
Basically, crispy avocado bacon egg rolls are perfectly fried. These Savory Bites Are Ideal For your Upcoming Party.
---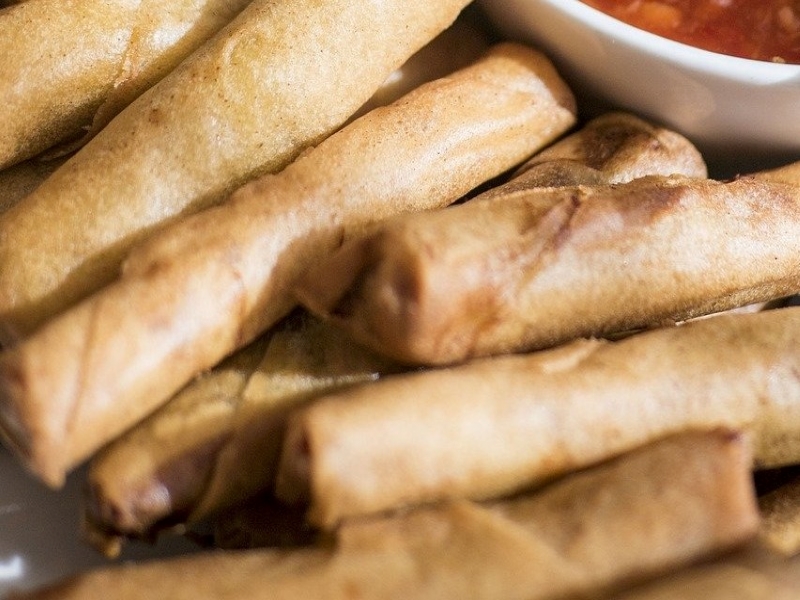 8. Gluten Free Egg Rolls
If you have dietary restrictions, no worries! A fluten free eff roll is also available. Some of the common ingredients used in this types of egg rolls are potato starch or tapioca flour, brown or white rice flour or gluten free oat flour, egss salt, and xantham gum.
---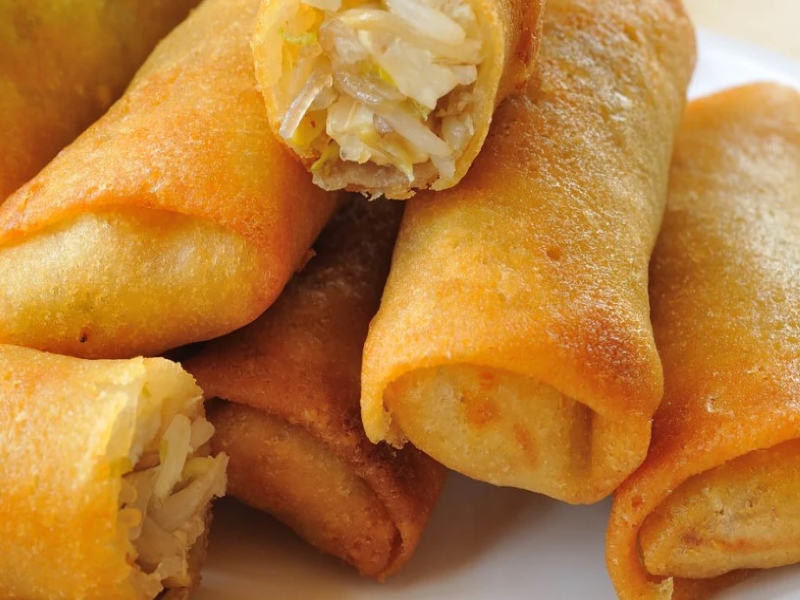 9. Mashed Potato Egg Rolls
These are egg rolls that are fry until it has reached a crispy texture. Packed with gooey cheese and creamy, loaded mashed potatoes inside.
You can cook a bunch of potatoes and then mash them, use pre-packaged potatoes, or utilize leftover mashed potatoes. In terms of cheese, cheddar cheese is ideal, though any cheese would work.
---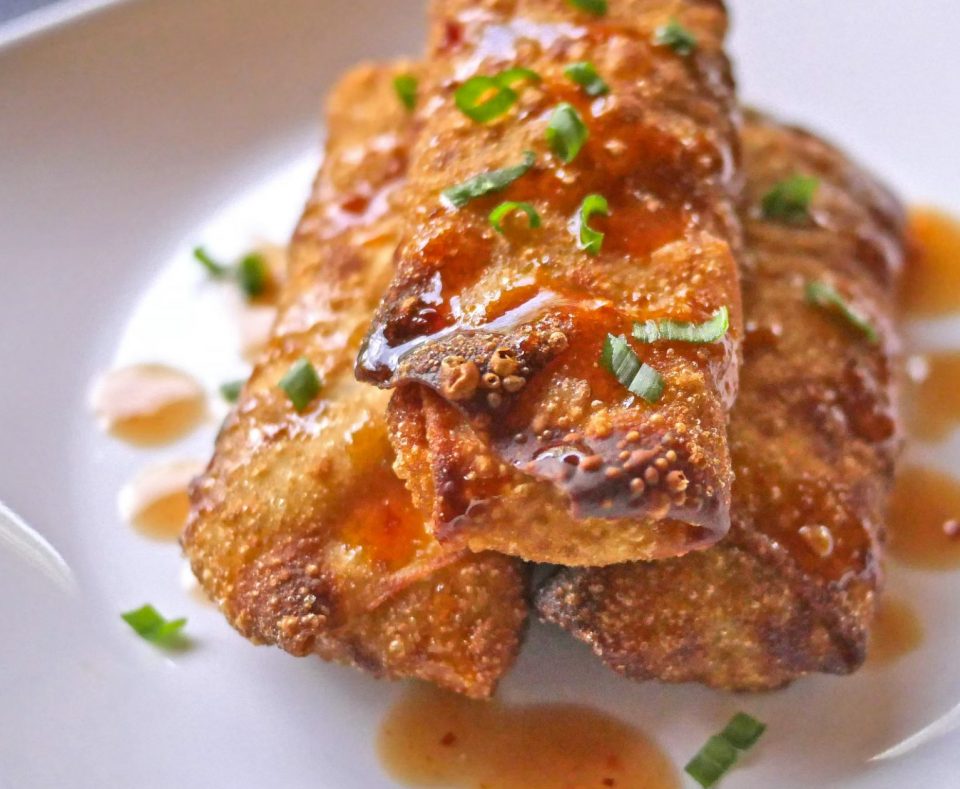 10. Curry Egg Rolls
Egg rolls and curry flavors go together like bread and butter. The usual ingredients for this delectable dish include wonton wrappers, egg, scallions, carrot, red pepper, onion, curry spice, and frozen tater tots. Unsweetened coconut milk is used in the dipping sauce, as well as garlic chile paste and hoisin sauce.
---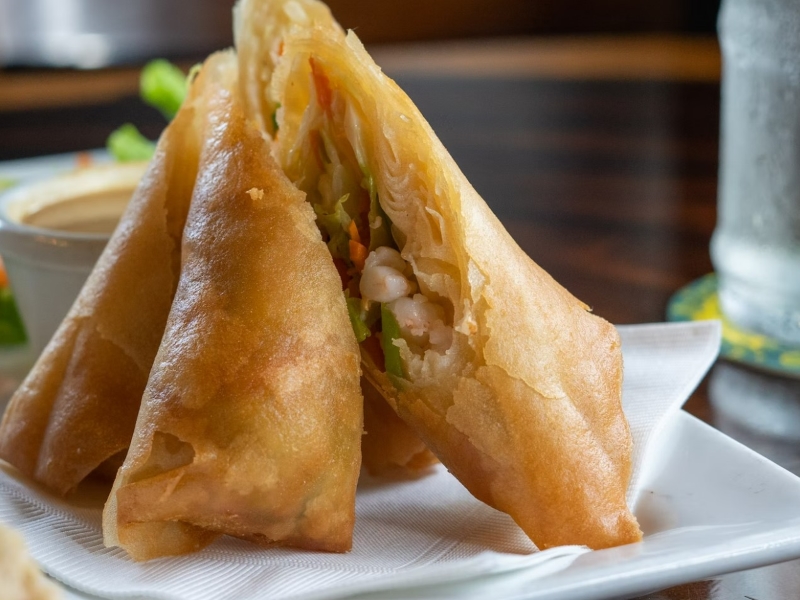 11. Baked Egg Rolls
Although these egg rolls are minimal in fat, you might mistake their baked crispiness for frying. You have the option to freeze baked egg rolls. Egg rolls that have cooled down should be frozen in a container with waxed paper between the layers. Rolls should be heated thoroughly and become crisp when reheated on a baking sheet in a 350° oven.
---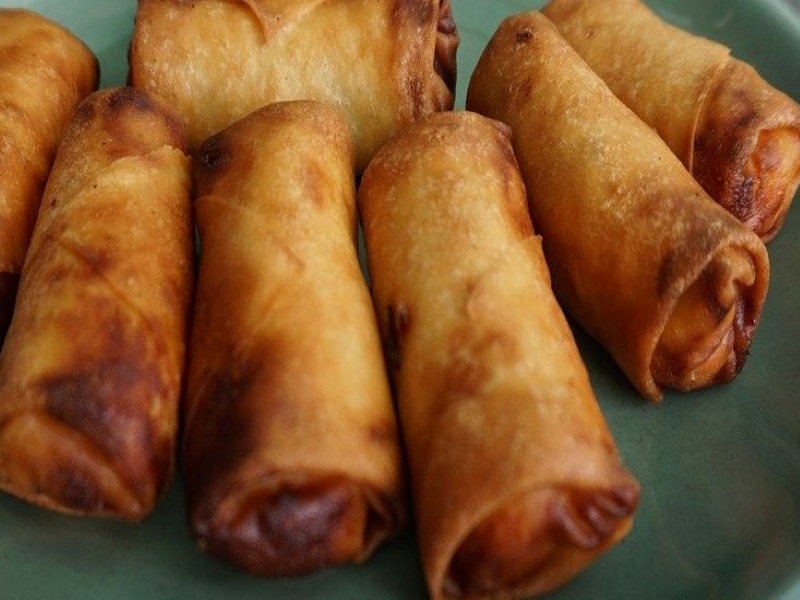 12. Italian Egg Rolls
Italian eggrolls are rolled in crispy, golden-brown batter and filled with shredded veggies and Italian sausage.
This dish adds a playful and surprising twist to your pasta night.
How To Make Italian Egg Rolls
Ingredients For Egg Roll:
1 lb Italian sausage, sweet
2 large shredded carrots
1 small head of shredded cabbage
Garlic powder to taste
Kosher salt to taste
Freshly ground black pepper to taste
1 package spring roll wrappers
1 beaten egg in a second small bowl
a small bowl of water
1-2 cups oil for pan frying (preferably coconut oil)
Ingredients For Marinara Sauce:
1/2 tsp oregano
1/4 tsp crushed red pepper flakes
1/4 cup extra virgin olive oil
2 large cloves garlic minced
1/4 tsp thyme
1/4 tsp basil
1 tsp kosher salt
crushed tomatoes 28 ounce
Instructions
The sausage should be cooked and crumbled in a big skillet. Then, add the cabbage and carrots in the pan over medium heat and cook for a further few minutes. Add garlic, salt, and pepper to taste. Take the vegetables off the heat once they are crisp and tender.
Take the spring roll wrapper out of the box. Place each wrapper on a platter individually. Put a small amount of the cabbage mixture in the middle of each wrapper. Pulling the bottom corner upward, the sides are then tucked into the center. Roll as firmly as you can. Once you've completed wrapping the rolls, place them aside. To seal the edges of the roll, dip your finger into the water, followed by the egg.
Next, the coconut oil is heated in a small, deep pan to 350 degrees. The ideal temperature for heating oil is at medium heat. Pan fry the rolls in the hot oil for 10–20 seconds on each side while turning them with kitchen tongs for ease. They are supposed to be just browned. Then, place to a platter covered in paper towels. Serve hot alone or with marinara sauce as a dipping sauce.
To create the marinara sauce, warm the oil, garlic, and spices in a small pan over medium heat until they are just beginning to smell aromatic. This process should take a minute. Stir in the tomatoes after adding them. Less than 5 minutes should be needed to thoroughly mix the tomatoes with the oil and spices.
Conclusion
And there you have it, you now know some of the different types of egg rolls. Whichever type you prefer, I'm definitely sure that i can satisfy your cravings for egg rolls. Thank you for reading this post.