Cupcakes comes in different sizes, shapes, colors and flavors. These cupcakes are small cakes that can either be baked using thin paper or sometimes baked in an Aluminum cup. Though there are also cupcakes that are large cupcakes. Each cupcakes varies as its has its own unique flavor. There are numerous varieties of cupcakes nowadays that is why in this article we have gathered the different types of cupcakes available. We have added a bonus recipe on how to make a vanilla cupcake. Continue reading below to know more.
Different Types Of Cupcakes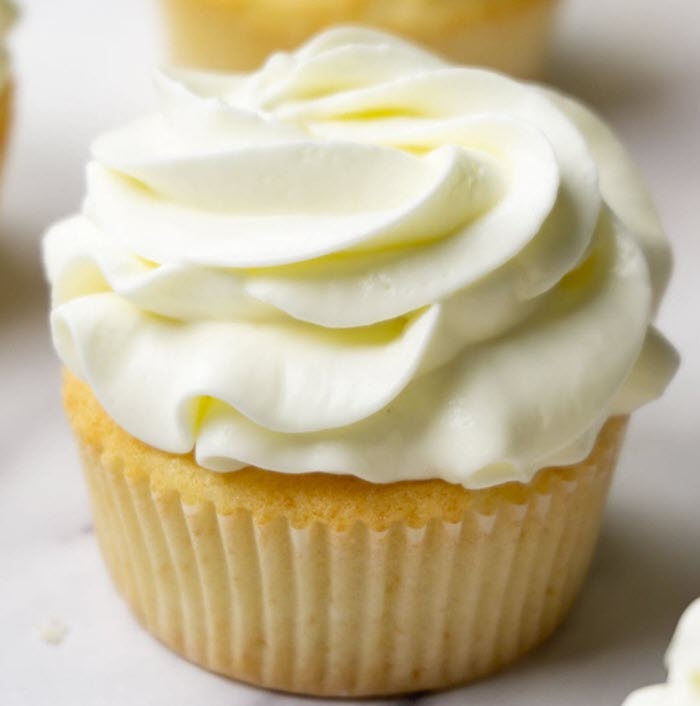 Vanilla cupcakes
The very first on our list is the Vanilla Cupcake. Vanilla is best used for making any baked goods such as vanilla cake and vanilla cupcakes. It is with no doubt that Vanilla is the favorite among bakers everywhere.
Vanilla is derived from vanilla beans, though the beans usually takes longer to harvest and it is usually a long process to turn it into vanilla extract used in baking. Vanilla has a sweet and creamy flavor and the perfect aroma.
Vanilla cupcakes is a staple in every bakery everywhere. It is the most commonly used flavor and loved by many. Vanilla cupcakes features a white cupcake on vanilla flavor topped with frosting of choice
---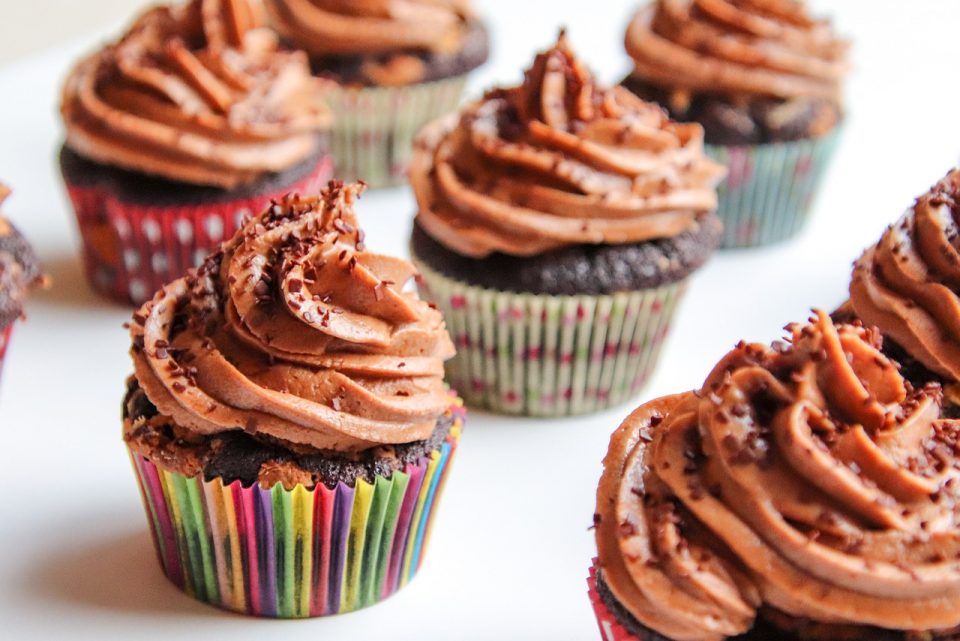 Chocolate cupcakes
Another types of cupcakes on list is another crowd favorite. Chocolate flavored cupcakes is loved by many especially children of all ages. Who doesn't love a rich and chocolatey cupcake.
Chocolate cupcake features a cupcake on rich chocolate mixed with creamy white frosting. Although there are different variations and the most common recipe is one that uses milk or dark chocolate. You can mix and match different flavors of toppings with a chocolate cupcakes as it goes well with any or most flavor topping variety.
---
Coffee Cupcake
Coffee and cupcakes makes a great pair, although this types of cupcakes is something new but many have been adding coffee to other cake and baking recipes. Examples are Tiramisu with Espresso or coffee cakes but wait there's more, there is even a coffee ice cream available. There are different desserts out there with coffee in it.
Coffee also blends well with different flavors that is why there are numerous coffee cake and frosting options to choose from. Most of the time, dark roast coffee is used but for those who cannot tolerate dark roast, decaf ground coffee should be used as a substitute to regular ground coffee.
---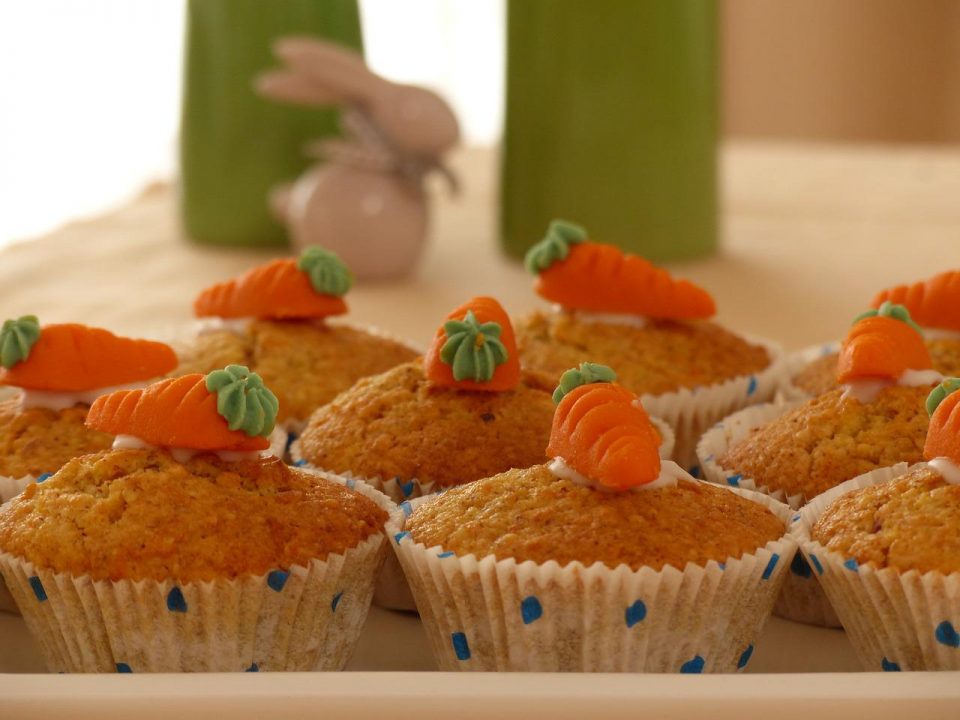 Carrot Cake Cupcakes
Vegetables is rarely used as an ingredient to baked goods, but with carrot there is an exception. In Europe, carrots is often used as an ingredient to cakes and pastries simply because not all vegetables have the same sugar content as carrots do.
You can easily spot a carrot cake cupcakes by how it appears, fluffy moist and soft miniature sized orange colored carrot cakes. Typically topped with frosting that is made of cheese icing. Most of the time, carrot cake cupcakes is eaten alone and there are no additional flavors added.
---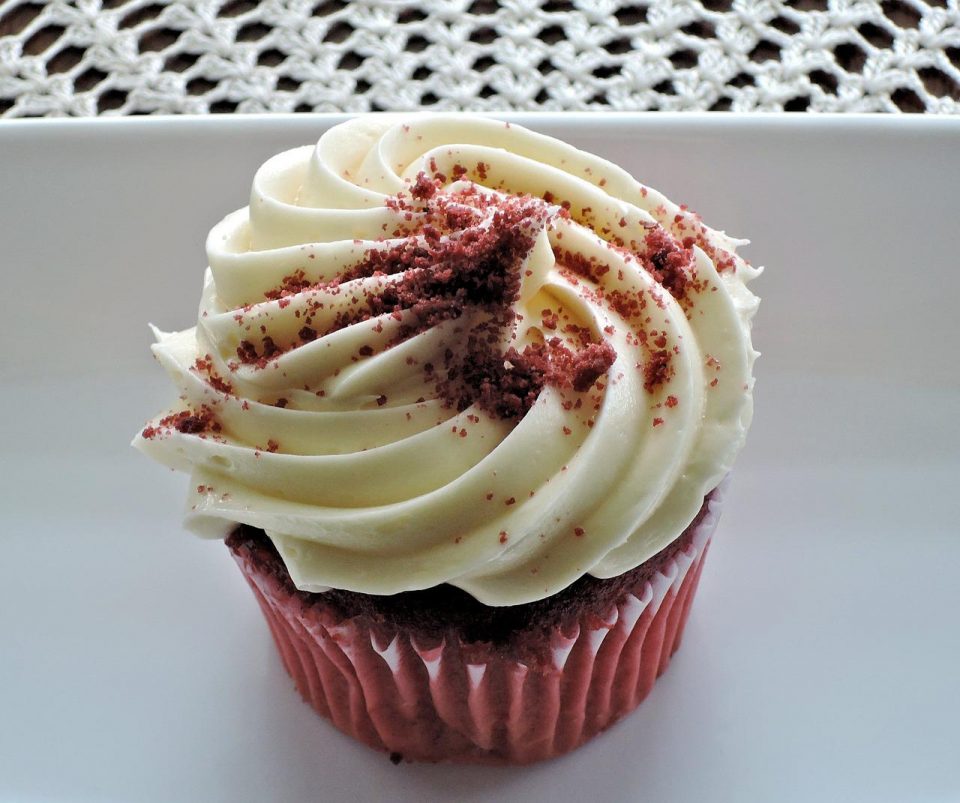 Red Velvet cupcakes
Red velvet cupcakes is the smaller version of a popular type of cakes, the red velvet cake. A perfect combination between chocolate and flavor of red velvet that you'll surely love.
Red velvet cupcakes features a rich and fluffy texture with a hint of buttery and sweet flavor. Making red velvet cupcakes is very easy and simple that you can make these cupcakes at the comfort of home. It only requires a basic or few ingredients (most are already in your kitchen).
It is usually topped with a cream cheese frosting for that delicious and savory cupcake experience.
---
Peanut Butter Cupcake
Peanut Butter cupcake, as the name itself represents, is a cupcake made of peanut butter as its main ingredient. Although peanut butter is best known for as a spread, it can also be used to create a peanut flavor to your cupcakes.
For most peanut butter lovers, the taste is incredibly delicious. But there are some who do not like peanuts and or are allergic to nuts.
You can top your peanut butter cupcake with peanut butter frosting or chocolate frosting, both goes well with peanut butter cupcakes.
---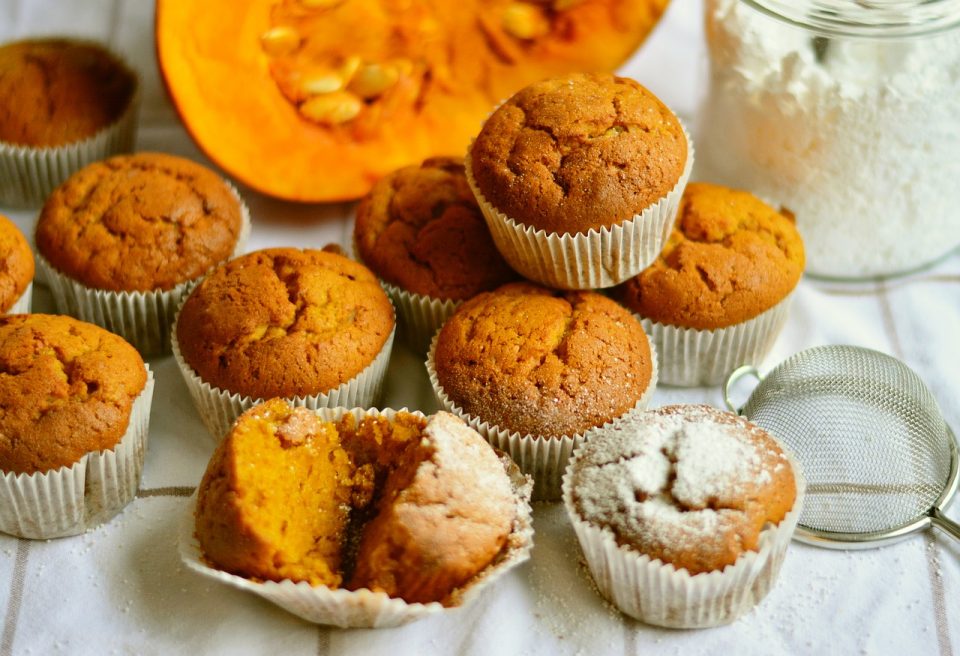 Pumpkin Cupcakes
Pumpkins are usually around at the time of fall and winter season, but not with pumpkin cupcakes. These types of cupcakes is available and easily accessible all year round and are usually found on bakeries, restaurant and pastry shops.
Pumpkin cupcakes are super moist cupcakes that is usually topped with either a tangy cream frosting or usually topped with cinnamon cream cheese frosting for your pumpkin cupcake recipes.
---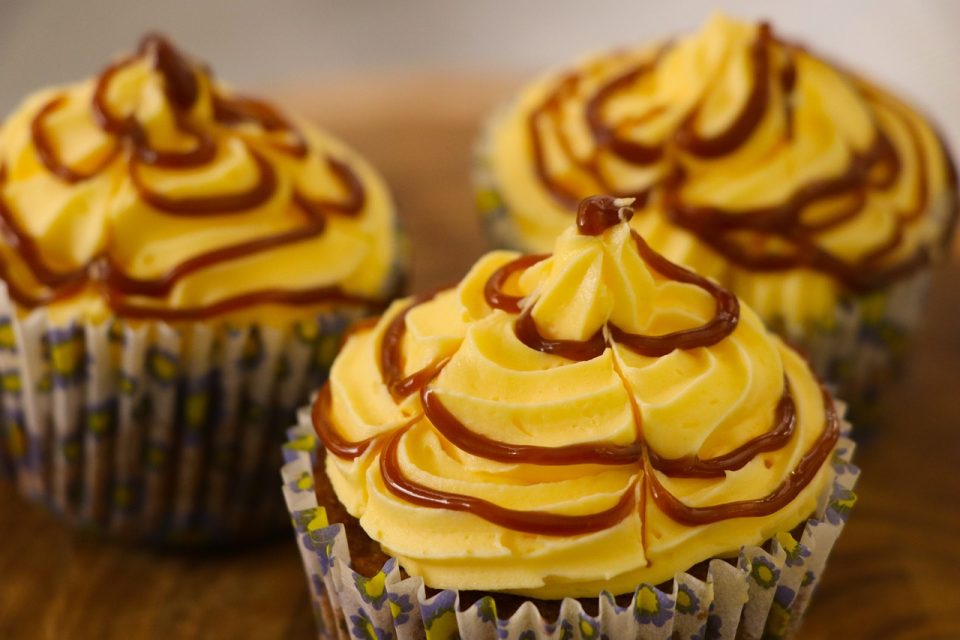 Caramel Cupcake
Caramel is very easy to make, it is made by heating sugar (boiling water and sugar) It has different uses such as fillings in desserts and pastries, toppings for ice cream and flavorings in desserts an example is the Caramel Cupcake.
Since caramel is made of sugar, it is with no doubt a sweet treat. Therefore a caramel cupcake is a sweet and delicious cupcake.
---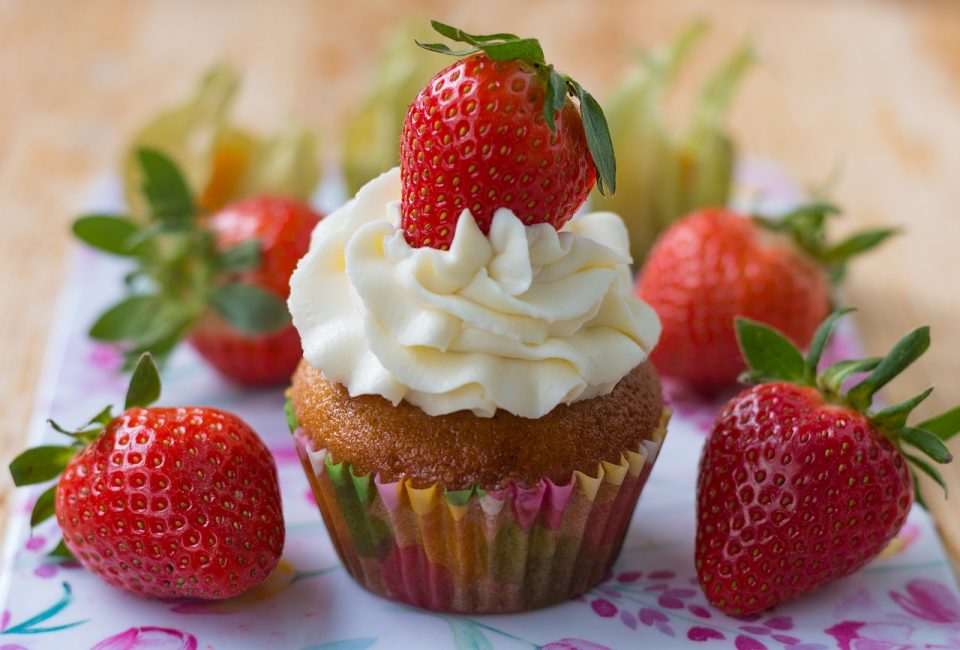 Strawberry Cupcakes
Another types of cupcakes is the strawberry cupcakes. Strawberries are usually harvested during summer months, but you can find strawberries all year round available in supermarkets and grocery stores. It a popular fruit that you can either it as a fruit alone or perfect when used as an ingredient to dessert such as Strawberry cupcakes.
Strawberry cupcakes can be served as a dessert to any occasion. Aside from it is easy and very simple to make, strawberry cupcakes are soft and moist cupcakes that is super delicious especially when it is loaded with lots of strawberries.
---

Coconut Cupcake
Coconut cupcakes are delicious cupcake treat. The recipe is very simple and easy that you can make it at the comfort of home. And since coconut is a popular fruit anywhere but most specially in Southeast Asian countries like Malaysia, Philippines and Indonesia you will not hard time acquiring it to be used as an ingredient to your cake desserts.
If coconut cupcakes has an icing especially if it contains whipped cream or cream cheese frosting and butter, coconut made desserts such as coconut cupcakes or coconut cakes should be keep in the fridge to keep it fresh.
---
Banana Cupcakes
Do you have bananas at home? You can turn your classic banana fruit into an incredible and delicious Banana cupcakes. Its main ingredient is of course banana, but this cupcakes goes well with different toppings or icings.
---
Banana Split Cupcake
Banana Split cupcakes is a cupcake that is flavored with banana then topped with toppings such as sprinkles, buttercream frosting and finish it off with a cherry on top. Ideal cupcake and best serve during summer time.
---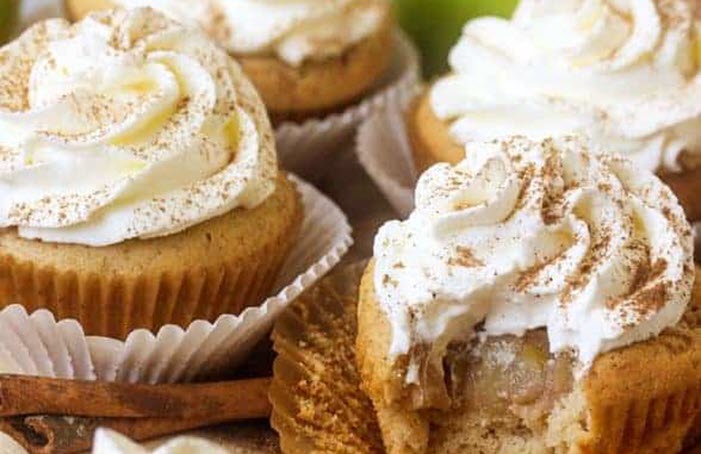 Apple Cupcakes
While everybody loves the Apple fruit, it is with no doubt that Apple cupcakes is also loved by ,many. Apple cupcake is a popular dessert everywhere. It is incredibly and irresistibly delicious.
Similar to Apple cake, you can also use different variety of apples that gives different flavors such as tart, crisp or sweet flavor. Also, Apple cupcake is loaded with fresh apples therefore if you want you cupcake to remain fresh and prevent it from spoiling easily place them inside the fridge to last for another 4 to 5 days.
---
Lemon Cupcakes
Eating a lemon cupcake is not the same as eating the lemon fruit. Although that taste of lemon cupcake will be the same as the lemon fruit but it will not have the same tarty taste as compared to when eating a fresh lemon fruit. The sour taste of the cupcake will depend on the amount of vinegar or baking soda used.
In the past, cupcakes are known to be sweet but nowadays there are other flavors such as adding a bit of bitterness to it.
However, if you are not into mixing sugar and lemon in making cupcakes, you can make unfrosted cupcake and just topped it with powdered sugar instead.
---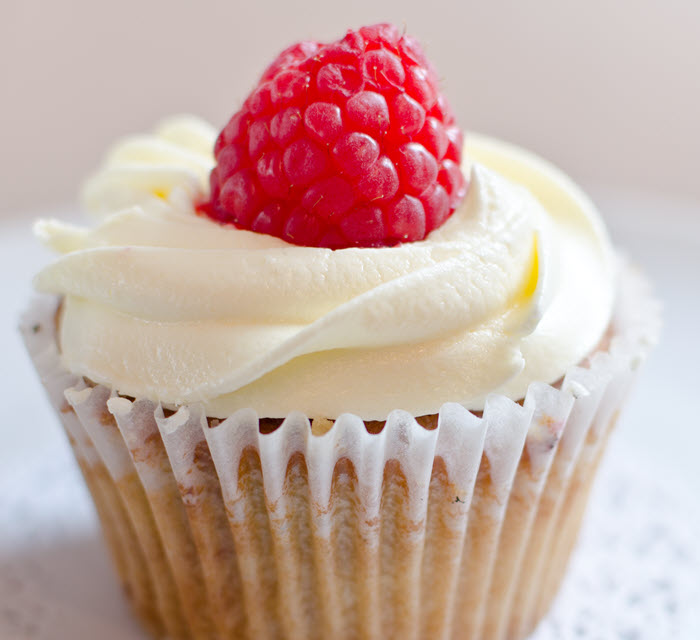 Raspberry Cupcakes
Raspberry cupcakes has a taste of both sweet and tangy. It has a fluffy texture but also spongy at the same time.
You can easily taste a raspberry flavor even at first bite since it is loaded with fresh raspberry fruits and topped with creamy raspberry frosting that you couldn't resist.
---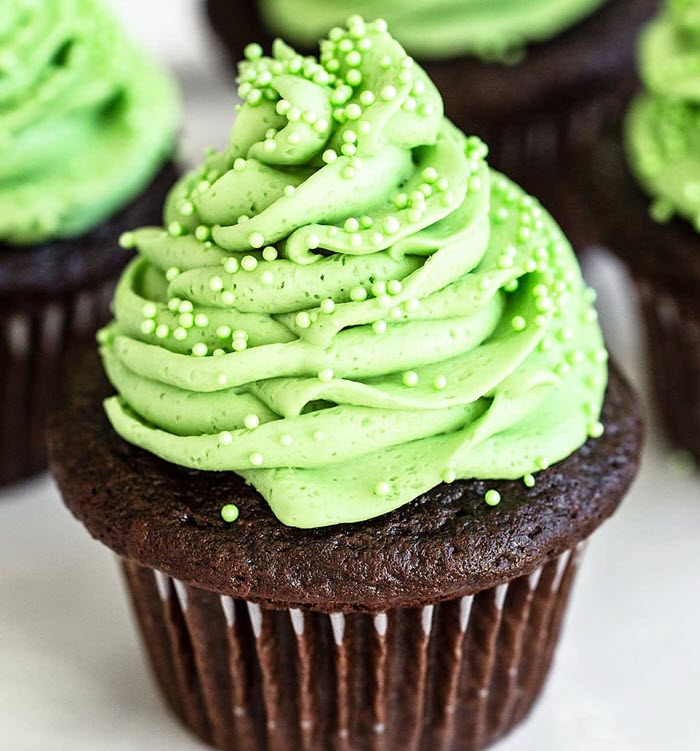 Mint Cupcakes
If you see a green mini sized cupcake in bakeries, it is a mint cupcake. It usually taste like peppermint and people just love how every bite of these cupcakes have a sharp and sweet taste.
If you want to turn mint cupcakes into a whole new level by making it into a mint chocolate chip cupcakes. A mixture of chocolate frostings and chocolate chip into one delicious cupcake.
---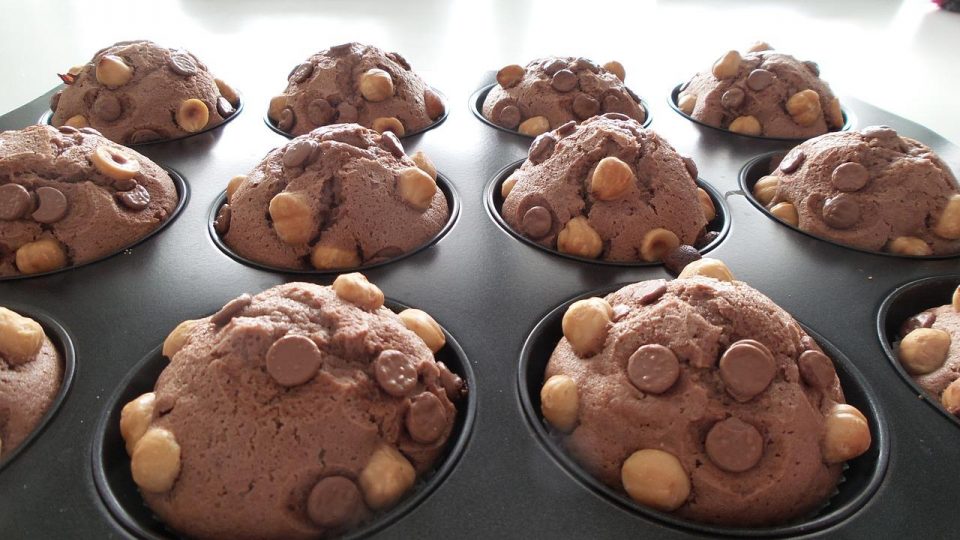 Hazelnut Cupcakes
Hazelnut cupcakes are mare using ingredients such as eggs, heavy cream and butter. It is considered to be one of the most delicious and nutritious nut variety in a dessert. Its rich taste making hazelnut cupcakes the a popular dessert, aside from that you can topped it with any toppings of choice and goes well with any toppings but the most common toppings used are chocolate frosting or vanilla frosting.
---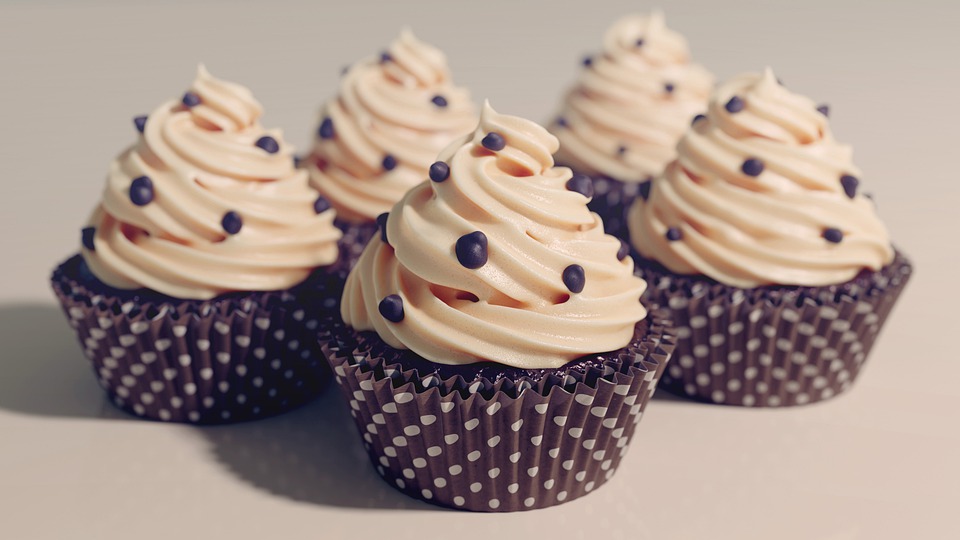 Chocolate and Cream Cupcakes
Chocolate and cream cupcakes is the to-go cupcake served in any occasion or just anytime of the time whenever you are into sweet delicious treat, you can never go wrong with Chocolate and cream cupcake.
---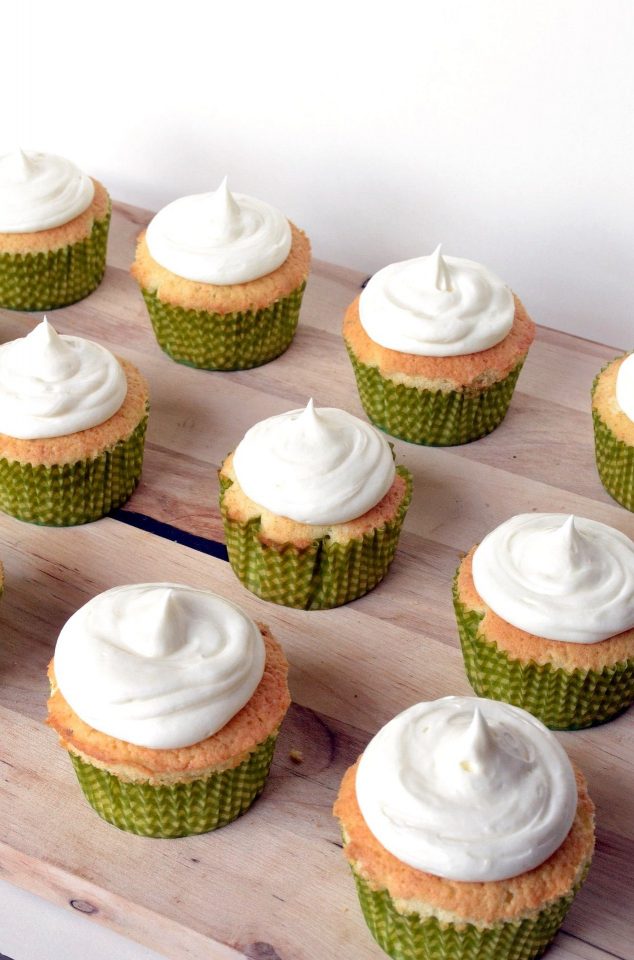 Key Lime cupcake
Key Lime is a small tropical fruit. It is characterized with a light yellow thin skin and have more seeds than other regular limes do.
Key Lime cupcake are made of eggs, whole milk, whip oil and its two main ingredients Lime juice and lemon zest. Key Lime cupcakes goes well with other flavors but the most common flavors that also makes key lime cupcake delicious are blueberries, coconut and raspberries.
---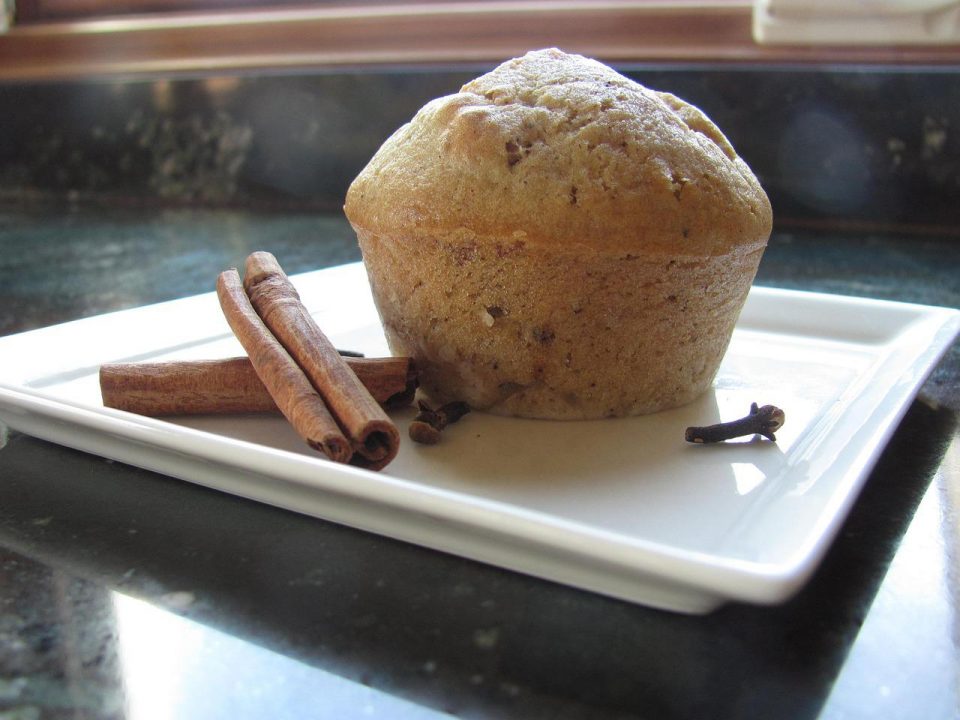 Cinnamon Cupcake
Cinnamon is a spice that its typically taken from the inner bark of a tree. It is commonly used as a condiment and flavorings to different cuisines and other savory dishes.
Cinnamon cupcakes is a popular cupcake not only in the US but in other countries as well. It has a sweet with a taste of spicy and the most favorite dessert of all time.
---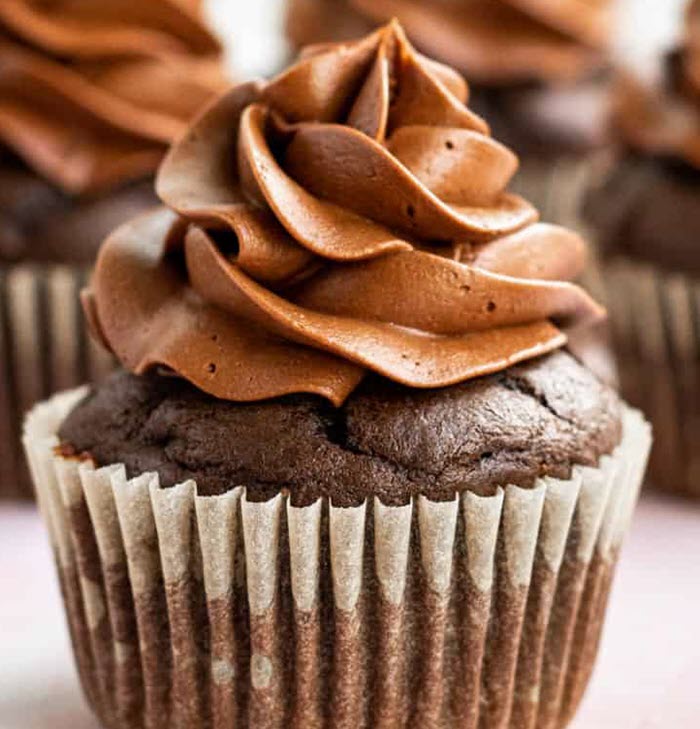 Triple Chocolate cupcakes
Chocolate lovers will surely love this other cupcake type, the triple chocolate cupcakes. It is filled with Chocolate ganache (either an icing, a sauce, filling or glaze used for pastries) that is made from chocolate and cream. The triple chocolate cupcake is then topped with creamy chocolate buttercream to make it more sweet.
---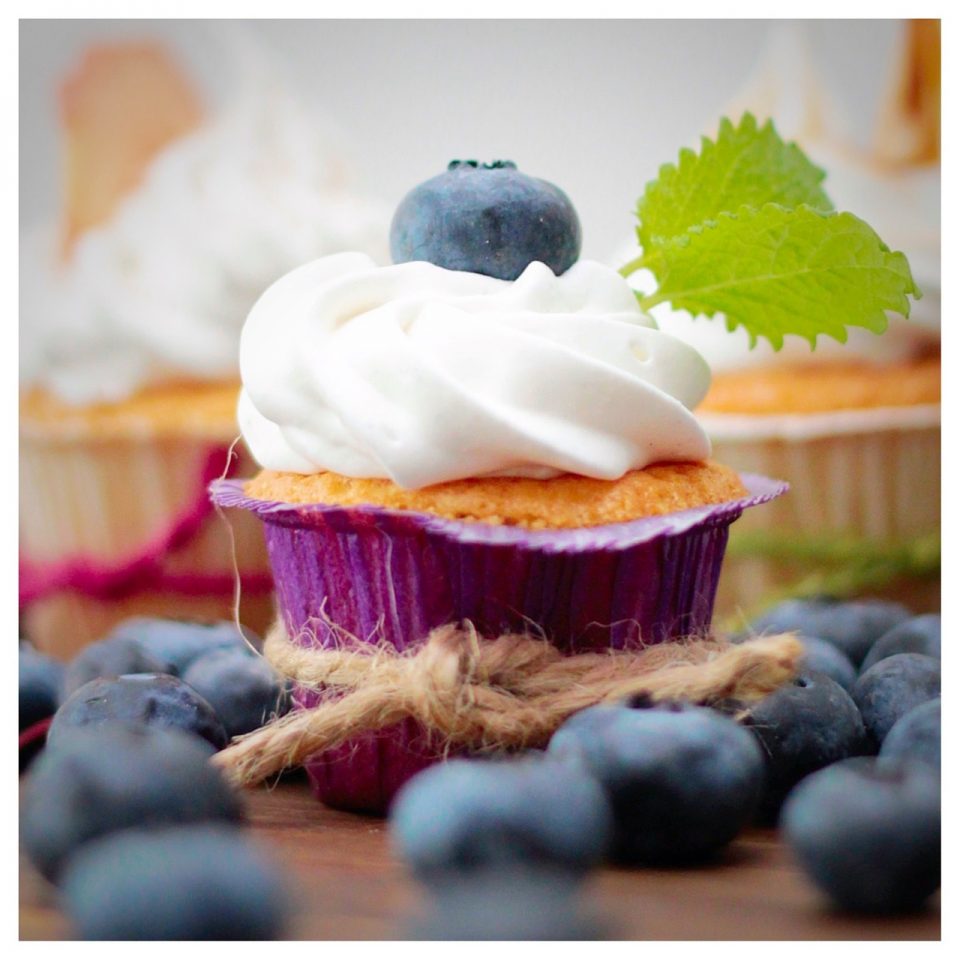 Blueberry cupcake
Last but not the least on our list of cupcake types is the Blueberry cupcake. It has just the right sweetness and juicy flavor of Blueberries that melts in your mouth.
---
Vanilla Cupcake Recipe
Preparation time: 8 minutes
Cooking/Baking time: 22 minutes
Total Time: 30 minutes
Ingredients:
1 1/4 cups All Purpose Flour
1 1/4 tablespoon baking powder
1/2 teaspoon salt
1/2 cup butter (unsalted; softened)
3/4 cup sugar
2 eggs (large)
2 tablespoon pure vanilla extract
1/2 cup buttermilk (plain kefir) as substitute
Cooking Instructions:
Preheat conventional oven to at least 350F.
Line the pan with cupcake liners.
In a medium sized bowl, mix together by whisking the following ingredients: all purpose flour, baking powder and salt. Set aside after mixing
In a separate bowl of the electric mixer, beat together sugar and butter using medium to high speed for about 5 minutes or until the mixture becomes thick and fluffy.
Add in eggs one at a time to the beating mixture. Make sure to beat well before adding another egg.
Add 2 tsp of vanilla. Beat to mix ingredients well.
Decrease the speed of the mixer to medium then add the flour mixture one a time in thirds

This means the entire flour mixture should be added three times) alternating it with buttermilk and continue beating until all flour mixture has been added.

Divide the batter to the lined cupcake pan (12-count). Make sure to fill just 2/3 full.
Bake for 22 minutes or until a toothpick comes out clean.
Let it sit in the pan for 5 minutes to cool down.
Transfer to a wire rack and allow to cool down but this time at room temperature before adding or topping with frostings.
Enjoy eating the delicious vanilla cupcake
Tips for making the best cupcake:
Measure ingredients correctly- to properly measure the ingredients used in making your cupcake, make sure to use the correct measuring cup ideal for use with either dry ingredients or wet ingredients.
Ingredients should be at room temperature- ingredients such as buttermilk, eggs and butter should be placed at room temperature to better achieve the desired consistency of your batter.
Add flour and buttermilk alternately- adding the flour or the buttermilk all at once could saturate the creamed butter that would result in causing the mixture to separate. Therefore you must mix ingredients in between adding the flour or buttermilk.
Do not overfill- Cupcake liners should only be filled with the batter at least 2/3 full or else it will overflow.
Frequently Asked Questions
How many types of cupcakes are there?
There are numerous kinds of cupcakes and each comes in different flavor, sizes, and shapes. The list mentioned here are some of the common types of cupcakes you'll see in bakeries and restaurants.
Can I make cupcakes ahead of time?
Yes, you can make cupcakes ahead. If cupcakes are already at room temperature, you may cover it then you can either place it at room temperature overnight or store inside the fridge.
What can I use as a substitute to buttermilk?
Instead of buttermilk, you can use a plain Kefir as a substitute. But if you want, you can also make your very own buttermilk using the 1:1 ratio (1 cup whole milk and 1 tbsp. fresh lemon juice). Mix it well and then allow to sit for 10 minutes.
For how long should you bake a cupcake?
A traditional way to check if a cupcake is already baked well if by inserting a toothpick in the middle, if the toothpick comes out clean then the cupcake is already baked enough. A 350 degree temperature should be set on your conventional oven and bake for at least 22 minutes.
What icing flavor goes well with vanilla cupcakes?
The icing flavor that usually goes well with vanilla cupcakes is the vanilla buttercream frosting.
How can you make the cupcake light and fluffy?
If you want to achieve a fluffy and light cupcake all you need to do is to create air bubbles on the cupcake batter so that it will expand during the baking process making sure not to overbake the cupcake. Overmixing will collapse the bubbles and will result to a hard cupcake instead of a soft and fluffy one.