A desert country that is close to Iran, Afghanistan is known for its pomegranates on their agricultural land, particularly in the South Afghanistan region where it is known as the pomegranate capital. If you look at Google, it is a landlocked desert country in South Asia.
As a desert country, Afghanistan deserts have provided both livestock and vegetation. But aside from the sand and the Registan desert, Afghanistan also offers sweet delicacies to the rest of the world. This is a sign that Afghanistan has more to offer on site.
The desserts in Afghanistan provide fresh and common flavors as they also use milk, yeast, eggs and sugar. Some of these desserts are prepared during Ramadan and EID. If you are eager to know what are the best Afghan desserts, read further.
Afghan Desserts with Recipes
Cookies, sweet pastries, and fruit mix are some of the staple deserts in Afghanistan. Let us find out the different Afghan desserts with their recipes below.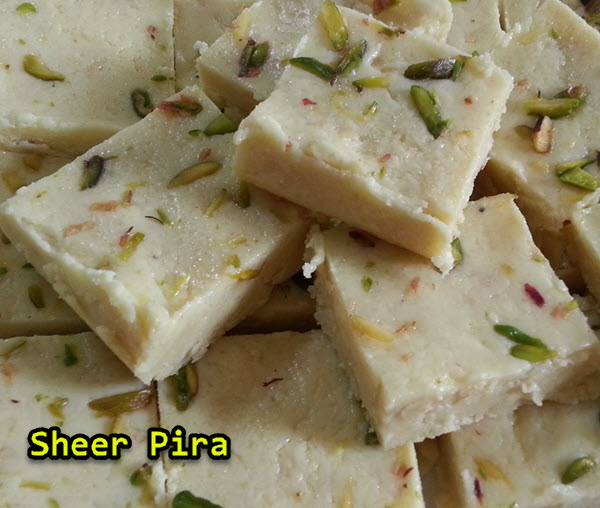 Sheer Pira
These home-made Afghan sweets are very easy to make. You will need these ingredients:
2 cups or 400 grams of white sugar
500 ml of water
440 g or 4 cups of full-cream milk powder
1 tbsp of ground cardamom
1 tbsp of rosewater
125 grams of chopped walnuts
1 tbsp of ground pistachios (cashes can be used as substitute)
How to make the Sheer Pira:
Get a saucepan and pour in the sugar and water over low flame. Keep on stirring until the sugar dissolves. Once it is fully dissolved, stop stirring and simmer for 10 to 15 minutes until the syrup starts to thicken. Set aside.

In a bowl, mix the milk powder, cardamom, rosewater and walnuts. Pour in the hot syrup and quickly mix them well. Using a shallow pan, put in the mixture and sprinkle with the ground pistachios. Let it cool for at least 30 minutes and cut them into squares before serving.
---
Gosh-e Fil
You need to try this delicious Afghan sweet pastry that is shaped like the ear. Prepare these ingredients:
2 eggs
2 tsp of caster sugar
¼ ts. salt
½ cup of milk
¼ cup of vegetable oil
2½ cups of flour (divided)
oil (for deep frying)
1 cup of confectioners' sugar
½ cup of pistachios or walnuts or cashews (finely chopped)
Follow these procedures:
Beat the eggs with sugar and salt in a large bowl until the texture is light and frothy. Then add the milk and oil, continue beating.
Pour the 1 cup of flour into the mixture and mix them well. Put another 1 cup of flour and blend them in.
Using the remaining ½ cup of flour, sprinkle some on a flat table and put the dough. Sprinkle the dough with some flour and knead it for at least 10 minutes. Once it becomes smooth and sticky, cover it with a plastic wrap and set aside for 2 hours to let it rest.
After 2 hours, cut the dough into large sized-cherry tomatoes.
Roll it over into a 3½" x 4″ size oval. You will need to shape it like an elephant ear, so take one side of the oval and fold it over to the other side, pinching the edges together.
In a frying pan, heat the oil up to 350°F. Deep fry the ears until they are golden on each side.
Remove from the oil and put a paper towel on plates to drain them.
Once they cooled down, sprinkle some confectioner's sugar and chopped nuts.
Serve it immediately or store them in sealed containers of cookies.
---
Haft Mewa
This Afghan fruit-medley is a must-try. Get these ingredients:
3/4 cup of walnuts
½ cup of pistachios
½ cup of yellow raisins
1 cup of red raisins
½ cup of dried bing cherries (sweet cherries)
1 cup of dried apricots (sweeter is recommended)
½ cup of blanched, slivered almonds
½ tsp. of rosewater (optional)
5 cups of cold filtered water
Here's how to make the Haft Mewa:
Blanch the walnuts and pistachios by boiling 3 cups of water in a pot. Once the water is boiling, remove from the heat and put in the walnuts and pistachios, then let it sit for 20 minutes.
In a large mixing bowl, combine both kinds of raisins, cherries and apricots. Wash them using the cold water at least 3 times to remove any residue. Set aside.
After 20 minutes, remove the walnuts and pistachios from the hot water and peel the skin off the nuts. Make sure that they are properly peeled.
In a container with a wide mouth, add the nuts and the mixed dried fruits. Pour in the rosewater and 5 cups of cold water. Stir well and make sure that the water is 1 inch above the ingredients. Cover the container and refrigerate it for 2-4 days. Longer storage would mean a sweeter taste of the Haft Mewa.
After storing it, serve the refrigerated Haft Mewa in a bowl including its juices. You can add vanilla ice cream on it and cookies as a side dish. It is best served on EID.
---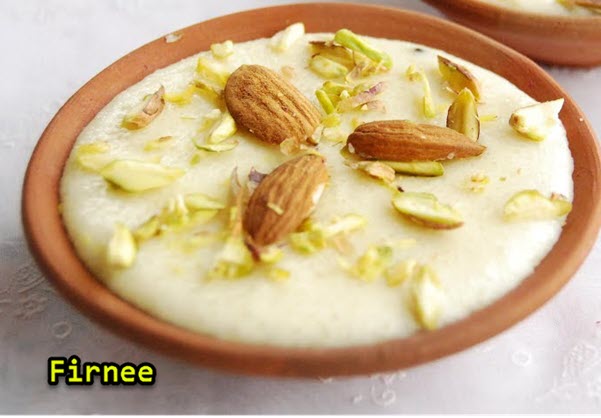 Firnee
The dessert that is best served during Ramadan and EID is easy to make. Check out these ingredients:
3 cups (750ml) of whole milk
½ cup (125 ml) of cornstarch
¼ cup of cold water
⅓ cup (80ml) of white sugar
½ teaspoon of ground cardamom
¼ cup of finely chopped pistachio nut
½ cup chopped washed-out almond (can also use walnuts or cashews instead of almond)
1½ teaspoons saffron thread (you can buy here)
How to make the Firnee:
In a saucepan, mix the cornstarch and half cup of milk. Stir them constantly until they form a syrup texture.
Pour the remaining milk into the saucepan while stirring constantly. Make sure to use medium flame.
Add the sugar and stir well to avoid clumps on the mixture.
Boil the mixture for 3 to 5 minutes, while stirring continuously. It should come out like a thick custard.
Put the chopped and washed-out almonds into the saucepan, then mix it well for another 2 minutes.
Sprinkle the ground cardamom and saffron. Stir it until the texture is consistent.
Take a spoonful of the mixture to test it. It should look like a pudding that sits firmly on the plate. Once it is ready, remove from the pan and let it cool. Refrigerate the mixture for about 2 hours.
Use a glass bowl to serve the Firnee. You can transfer the mixture into 7 bowls.
Sprinkle the pistachio nuts on each bowl. You can use a slice of kiwi or banana added on top for decoration. Enjoy!
---
There are other desserts in Afghanistan that are available for you to try, called the Malida and Sheer Yakh. Check them out as well.