Vietnamese Cuisine is a favorite everywhere. From the famous Pho Soup, flavorful Bahn Mi sandwiches. But did you know that Vietnam also has several unique Vietnamese dessert recipes especially in Ho Chi Minh City, the largest city in Vietnam. In this post, let us explore some of the most popular Vietnamese desserts dishes. Check it out from the list below.
Popular Vietnamese Desserts Dishes
A traditional Vietnamese dessert dishes is usually made of glutinous rice, bean puddings, bananas and coconut. However, there are other dessert options but most of these desserts are not too sweet but still very delicious and refreshing too.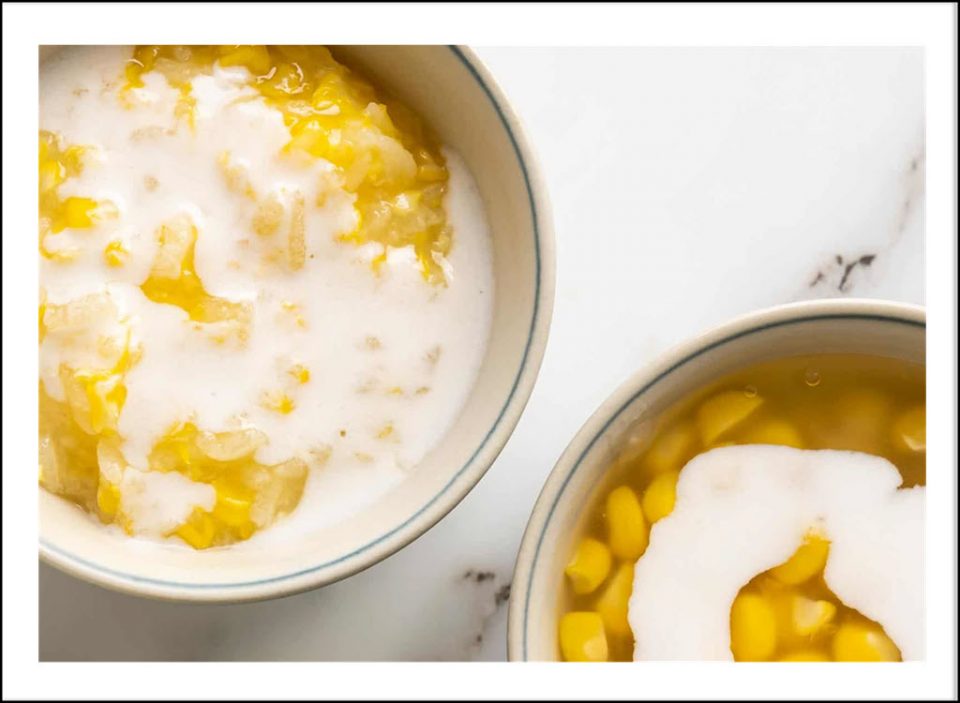 Vietnamese Sweet Corn Pudding
Sweet corn pudding or also as known as Che Bap is a dessert soup in Vietnam that is made from using fresh corn as its main ingredient. An idea dessert if you are a vegan, or looking for a gluten and dairy free dessert in mind.
The luscious Vietnamese puddingcombines with coconut cream, tropical fruits (usually grapefruit concentrate) and sweet corn. Aside from that, you can also add tapioca pearls and Pandan leaves for that aroma. There are other pudding variations that also includes adding sweet rice and yellow mung bean. Topped the pudding with sesame seeds for that crunchy texture.
The sweet corn pudding can be eaten either warm or cold. Though most of the time it is eaten when cold since Vietnam is a tropical country, a cool dessert is often served there.
---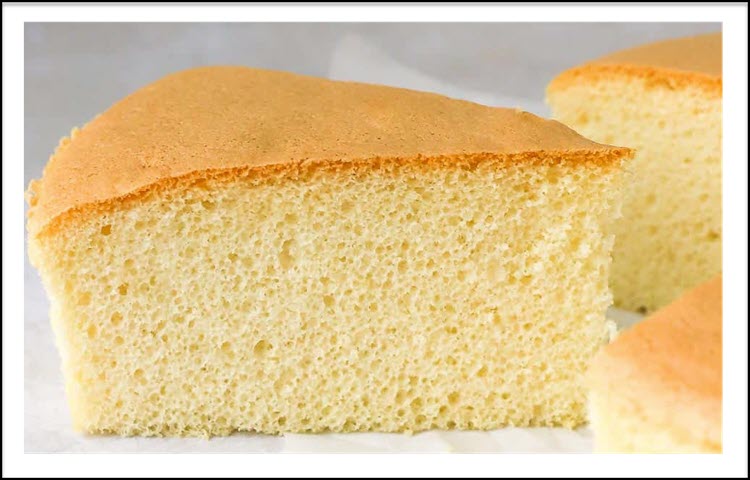 Vietnamese Sponge Cake
Vietnamese Sponge cake is a very delicious Vietnamese dessert. It is also known as "Banh Bong Lan". For sponge cake to be look more indulgent and delightful, you can topped it with powdered sugar.
With other sponge cake variations, mixture of onion and meat or dried shrimp are used as toppings. Other prefer to topped the cake with whipped cream for that scrumptious desserts.
---
Vietnamese Fruit Cocktail
For a more healthier and delicious Vietnamese dessert, you should give this Vietnamese Fruit Cocktail a try. It is made with tropical fruits, jellies, red rubies, coconut milk and coconut meat.
It is much better to use fresh fruits, though canned fruits is also a great option if there are no fresh fruits available. However, make sure to save the syrup that comes with the canned fruits, you will be needing it later for more flavoring and to add sweetness to the dessert.
Best eaten when cold, therefore put fruit cocktail dessert inside the refrigerator for a few hours. But if you can't wait, you can simply add crushed ice to the dessert.
---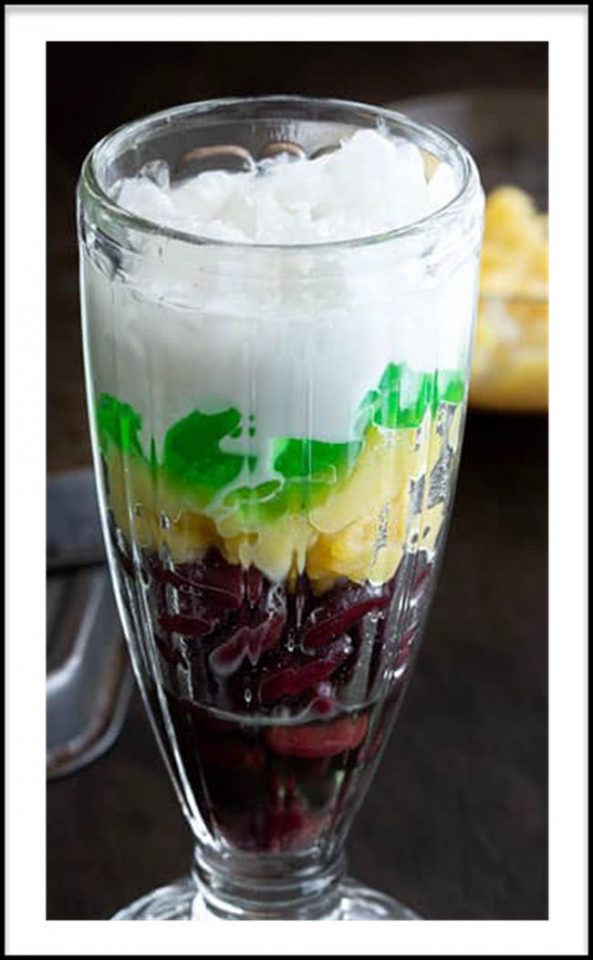 Vietnamese Three Color dessert
The Vietnamese Three color dessert is also known as Rainbow dessert. It is also called Che Ba Mau. It is called three color dessert because the dessert consists of 3 colors: Red, Yellow and Green. Each color represents a particular ingredient.
The three color dessert is a layer that is composed of Red beans, yellow mung bean paste and Green Pandan Jelly.
If you are familiar with the famous Halo halo in the Philippines, this dessert is more or less similar to that dessert however with halo halo there are more ingredients.
After preparing the layers of this dessert, topped it with crushed ice and creamy coconut sauce. Serve and enjoy eating this sweet and delicious dessert that is best eaten during summer.
---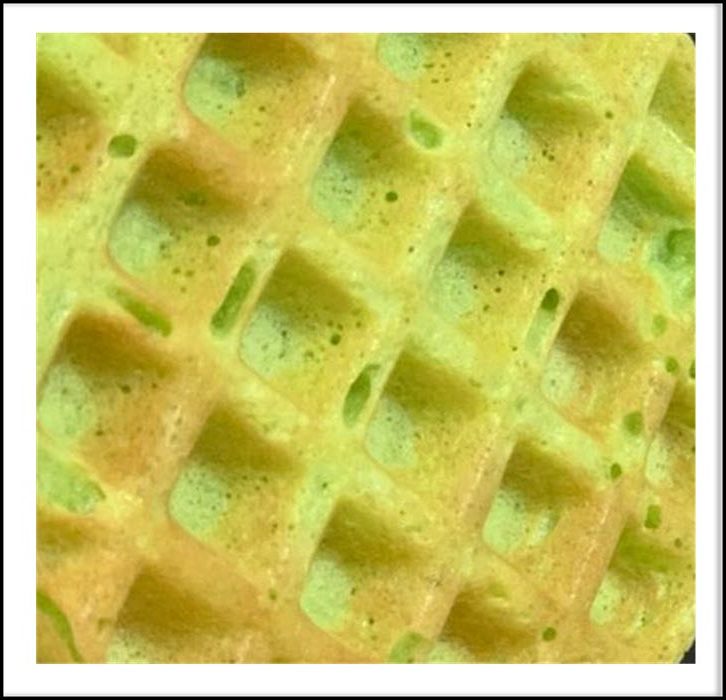 Vietnamese Pandan Waffles
Waffles are served almost everywhere. It is a perfect dessert not only because it is easy to make similar to a regular pancake but also delicious and irresistible too.
Vietnamese Pandan waffles is a popular street food, and because Pandan is used as a main ingredient the waffles has a green shade.
Easy to make, you can simply mix all the ingredients together (pandan and coconut milk), then pour into waffle irons and wait for it to cook and become crispy.
Topped with condensed milk to add flavor and taste.
---
Vietnamese Coffee
Vietnamese coffee as compared to other drip coffee is more stronger, thicker and more bolder. To make a Vietnamese style coffee, you will be needing a traditional coffee filter called Phin which is a small metal cup that slowly brews the coffee.
The drip coffee is added with condensed milk for that added sweetness. Coffee can either be hot or cold. For cold Vietnamese coffee, you can add ice after the coffee has been brewed. Stir and serve.
---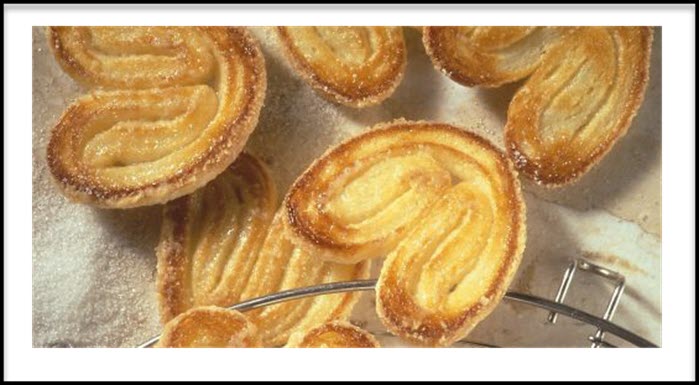 Vietnamese Pig Ear Biscuits
Vietnamese Pig Ear Biscuits is also called Banh Tai Heo. It is not literally made out of pigs ears but rather it is traditionally shaped like "pig ears", with a combination of dark and light swirl pattern of its dough.
Pig Ear biscuits is made of water, sugar, flour and desiccated coconut. It tastes slightly sweet. Taste even better when you pair it with Vietnamese Hot or cold coffee.
---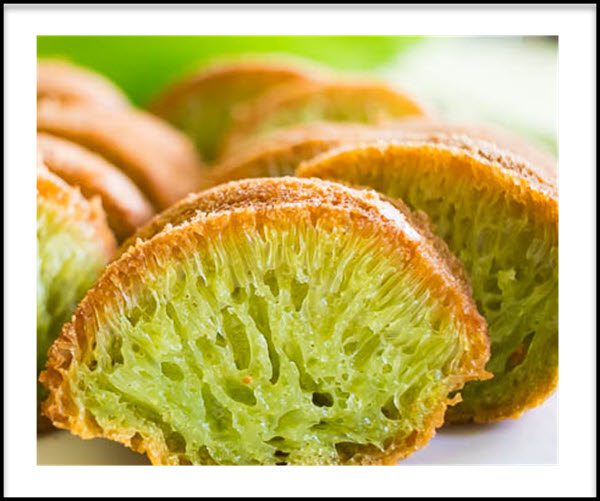 Vietnamese Honeycomb Cake
Banh Bo or the Vietnamese Honeycomb cake is one of the popular and most iconic dessert in Vietnam. It is the favorite amongst Vietnamese. It is called as such because of its honey-comb texture wherein there are pockets of gas. It simply looks like a tiny honeycomb.
There are different flavors to choose from but the most common one is Pandan Concentrate which gives the cake its green hue.
You can make Banh Bo either by steaming or baking, and each of these cooking process will give a different result in terms of its texture. The texture for steamed honeycomb cake will be softer while when baking is used to make honeycomb cake the texture will be crunchier on the outside. The most common cooking method used is steaming.
---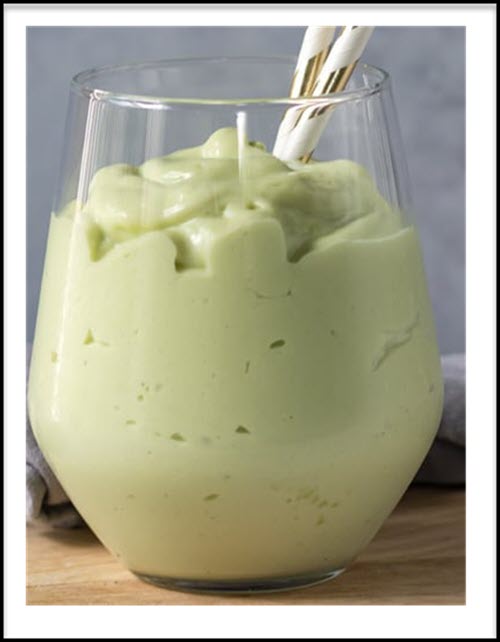 Vietnamese Milkshake
Vietnamese Milk Shake or popularly known as Sinh To is another Vietnamese desserts made with seasonal fruits, condensed milk and milk. A refreshing beverage that is perfect to indulge during summer season.
To make Vietnamese Milkshake, you can simply mix the chopped fresh fruits (examples: mango, banana, strawberry, and berry) in a blender together with full cream milk, condensed milk. To make your milk shake cold, you can add ice to the blender. Blend all the ingredients until texture is smooth.
---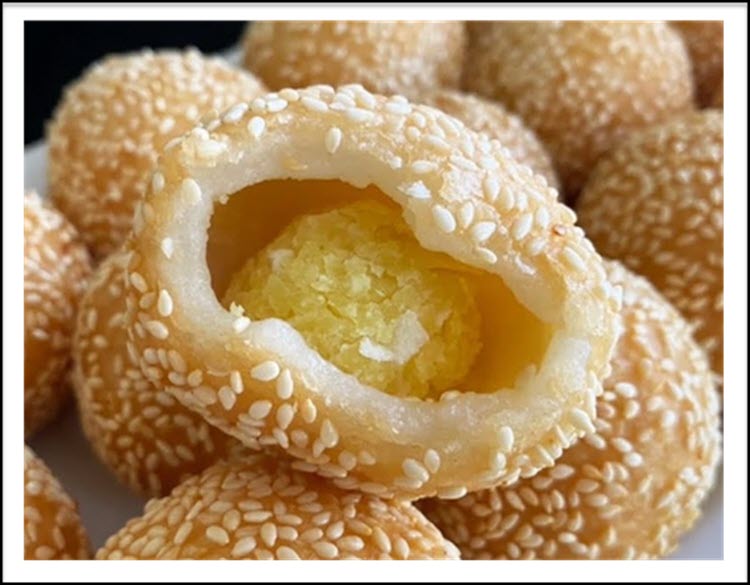 Vietnamese Balls
Vietnamese Balls or also known as Sesame balls is also called Vietnamese Banh Cam. These are deep fried and crispy sweet snacks filled with sweet mug bean paste.
The outer texture is made with glutinous rice rolled in white sesame seeds then dip in hot oil for deep frying to achieved its crispiness.
---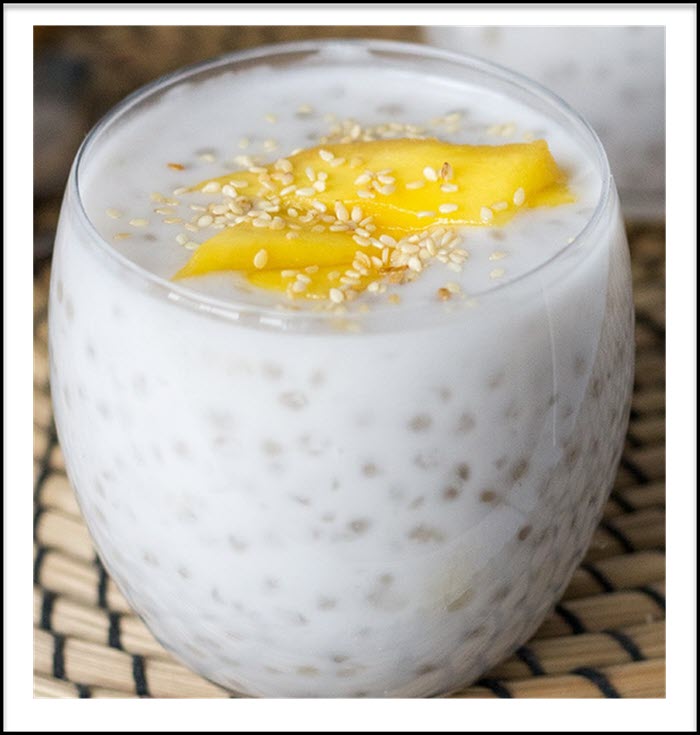 Banana Tapioca
Banana Tapioca or Che Chuoi is another Vietnamese desserts. This type of Vietnamese desserts belongs to the "Che" category which refers to pudding and vietnamese sweet soups. Although there are other different variations from the "Che" category. While the word "Chuoi" is a word in Vietnam that means Banana.
Banana Tapioca dessert is made from bananas (riped), coconut milk and Tapioca pearls. An easy to make dessert and can be done in no more than 30 minutes, and good thing about this dessert is that it is dairy-free.
Vietnamese Banana Tapioca can be served in any season, hot or cold (chilled).
---
Vietnamese Ice Cream
Vietnamese Ice Cream also called Kem in Vietnam is a popular street food Vietnamese desserts. The ingredients is similar to that of making Vietnamese coffee but this time the iced coffee drink is converted into a frozen dessert, the Vietnamese Ice cream.
The vanilla infused espresso powder is mixed with condensed milk, heavy whip cream mollases and ice cream sticks.
Although other Vietnamese ice cream variations used other flavors such as using tropical fruits that includes avocado, durian and soursop. Whatever the ingredient used, it would always turn into a cool delicious yummy frozen dessert. An ice cream machine is not needed to make this dessert.
---
Taro Pudding
Che Khoai Mon or also known as Taro Pudding is a classic Vietnamese dessert. Another dessert that falls into the "Che" category that refers to sweet soups and pudding. A super yummy Vietnamese dessert that can be enjoyed either cold or hot.
Taro Pudding is made from Taro Root and Glutinous rice that is topped with creamy coconut sauce. You can also use Pandan paste to make this dessert into another taro pudding variety being a pastel green dessert.
---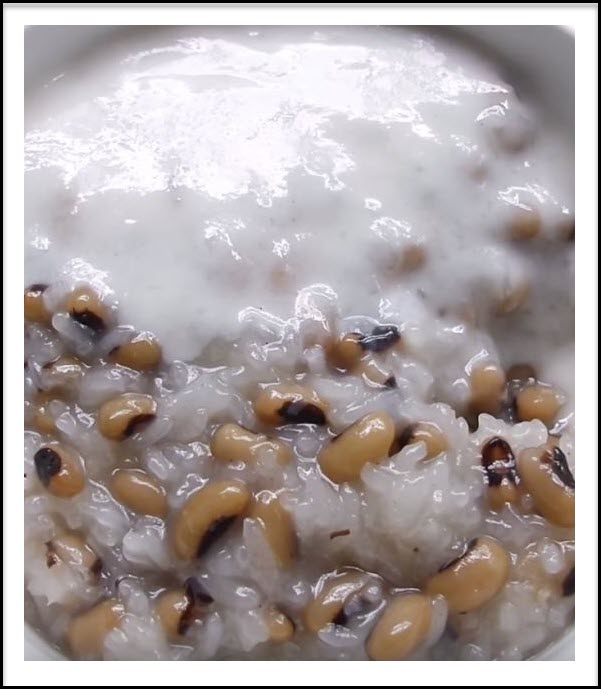 Vietnamese Sticky Rice Pudding
Another Vietnamese desserts that belongs to the "Che" category of soups and pudding in Vietnam. The Vietnamese sticky rice pudding is one of the favorite dessert in Vietnam.
The sticky rice pudding has a creamy and rich texture and taste, topped with creamy and sweet rich coconut cream sauce.
To make this delicious desserts, simply add warm sticky rice to the bowl and add a generous amount of coconut cream.
---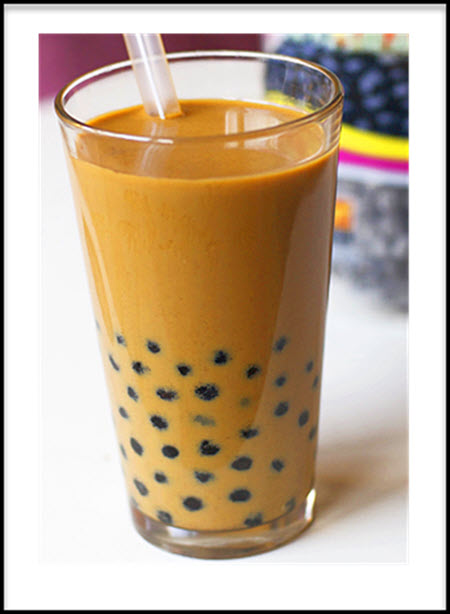 Vietnamese Boba Tea
Vietnamese Boba Tea is a popular tea in Vietnam. Vietnamese tea made from sweetened tea, milk and tapioca pearls or Boba Pearls. In Vietnam, tapioca pearls is also called Bot Bang, similar to Chinese term Boba, hence tapioca pearls or Bot Bang or Boba Pearls.
There are different variety of flavors with the Bubble tea, some prefer to use black or jasmine tea for a more intense flavor while others prefer their Boba tea to be a refreshing drink therefore tropical fruits are then added.
Furthermore, if you want your Boba tea to be dairy-free, you can use soy milk as an alternative instead of using whole milk.
---
Vietnamese Avocado Shake
Vietnamese Avocado Shake is also known for as Sinh To Bo in Vietnam. Another Vietnamese desserts that offers that right and satisfying sweetness a fruit can offer.
Avocado shake is easy to make, it only requires 3 essential ingredients such as sweet condensed milk, regular milk and avocados. Of course, for it to be a sweet treat ripe avocados should be used. Blend all the ingredients together for that super sweet and delicious avocado shake. You can also add ice to the blended for that cold dessert.
Avocado is also used in Vietnamese cuisines aside from using it as an ingredient in Vietnamese dessert.
---
Vietnamese Yogurt
Vietnamese yogurt is not only a Vietnamese dessert but can also be used in different dishes of Vietnamese food. It has a sweet, a hint of tangy taste.
Vietnamese yogurt is different from the regular yogurt simply because the Vietnamese yogurt is made from sweetened condensed milk (thicker form of milk wherein water is removed).
This type of Vietnamese dessert is made of combining at least 25% of milk and agar agar powder. Agar agar is used as a substitute to gelatin for it to be a vegan friendly dessert.
---
Pandan Jelly
Pandan Jelly is another Vietnamese desserts variety that is refreshingly sweet and delicious. It is best served during hot summer season.
Vietnamese Pandan Jelly is made of Mung Bean Starch. It is a powdery, white starch that is made from mung beans., Other ingredients includes palm sugar syrup, coconut sauce and crushed ice. For enhance its flavor, you can also add sweet red beans or other tropical fruits of your choice.
---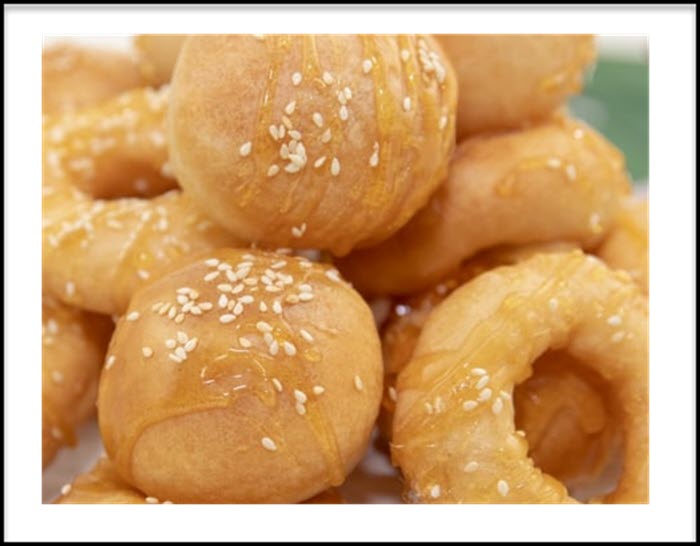 Vietnamese Donuts
Banh Tieu or Vietnamese Donuts is a delicious Vietnamese desserts that are crispy fried sweet snacks. These are donuts are fried, therefore the exterior is crispy however the interior is hollow for either sweet or savory fillings of your choice.
The dough for making this donut is made of salt, flour and sugar. The dough is kneaded, proofed and shaped into balls and are then rolled and coated with sesame seeds and then deep fried.
Choices of fillings for your Vietnamese donuts includes but not limited to chocolate or caramel sauce. Best paired with Vietnamese coffee or Tea.
---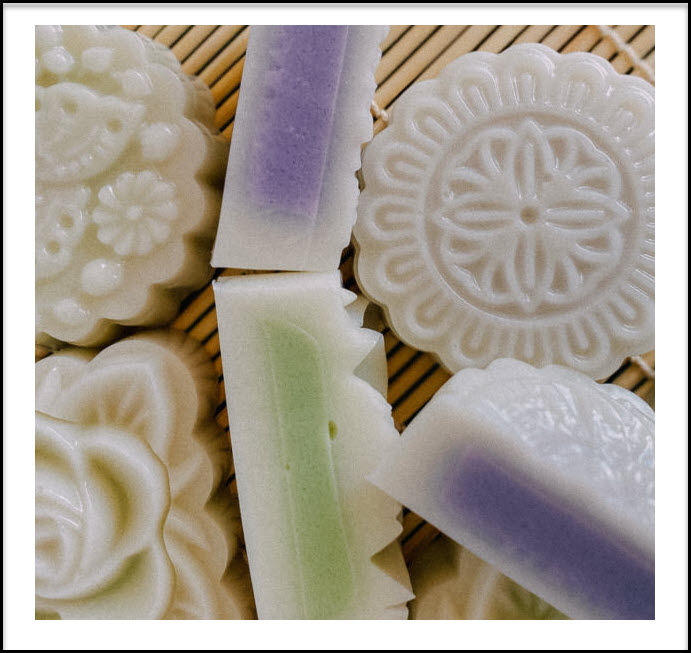 Vietnamese Jello Mooncakes
Jello Mooncakes in Vietnam that is a holiday treat for the entire family. Most of the time, Mooncakes are served during festivals in Vietnam and considered to be one of Vietnam's delicacy.
Vietnamese mooncakes consists of two parts, the crust (outer layer ) and the filling (inner layer). The outer layer of Vietnam's Jello mooncake is made with coconut cream, while taro and green tea is used as an inner filling. But if you want your mooncake to be less of a coconut flavor, you can use condensed milk as an alternative instead.
When making mooncakes, a mooncake mold is usually used.
---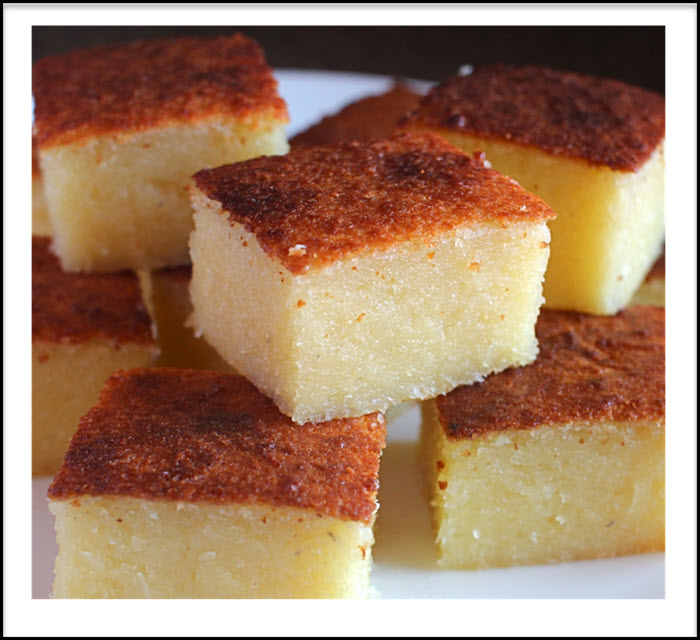 Cassava And Coconut Milk
Khoai Mu Nuoc Cot Dua or Cassava Coconut milk is the perfect dessert for those with sweet tooth, though this one is lightly sweet.
To make this delicious dessert, cassava chunks are cooked in creamy coconut milk. Served and topped (sweet and salty toppings)with shredded coconut (crunchy texture) and roasted peanuts for that nutty flavor
---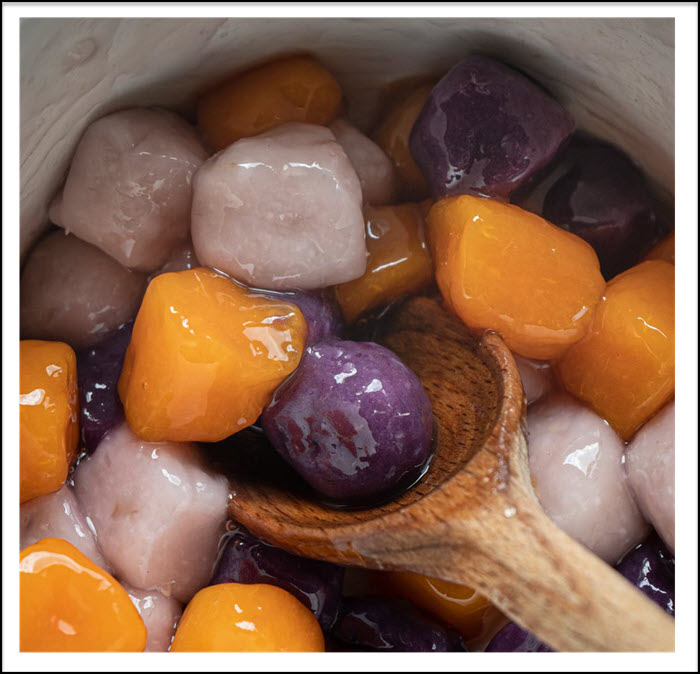 Taro And Sweet Potato Balls Dessert
Taro and Sweet potato balls is another Vietnamese desserts that can be eaten anytime, cold or hot season (of course topped with crushed or shaved ice).
This dessert is not only delicious but nutritious as well. You can also add tapioca starch to add to its chewiness and ginger for additional flavor.
---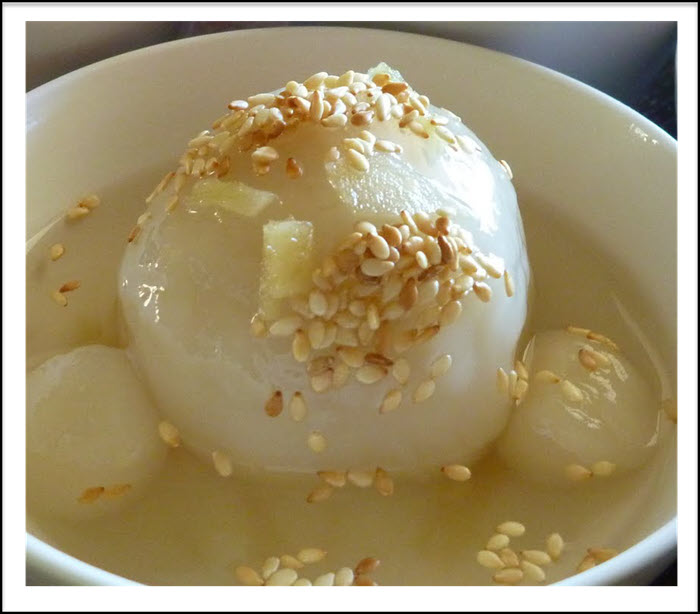 Ginger Rice Ball Dessert
Che Troi Nuoc or Ginger rice ball soup is another dessert that falls under the 'Che' category that means soups and pudding. It is a simple sweet soup that is made from delicious mung bean paste that is then wrapped in glutinous rice flour.
The rice ball that is filled with mung beans are dipped in ginger syrup and coconut cream.
---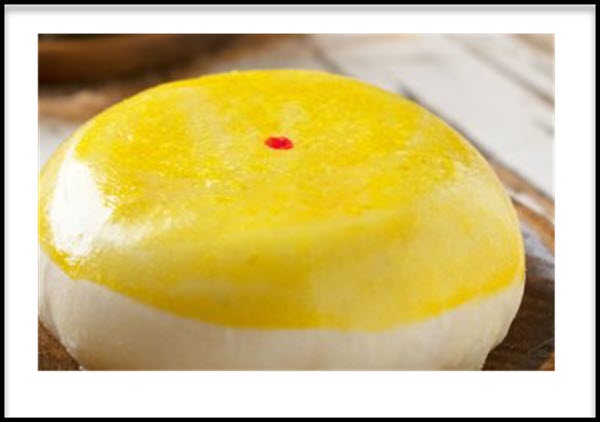 Mung Bean pastry
Mung bean pastry or Banh Dau Xanh is made from mixing mung beans, flour, sugar, and other flavorings for that rectangular shaped mung bean pastry.
Best paired it with Vietnamese Tea.
---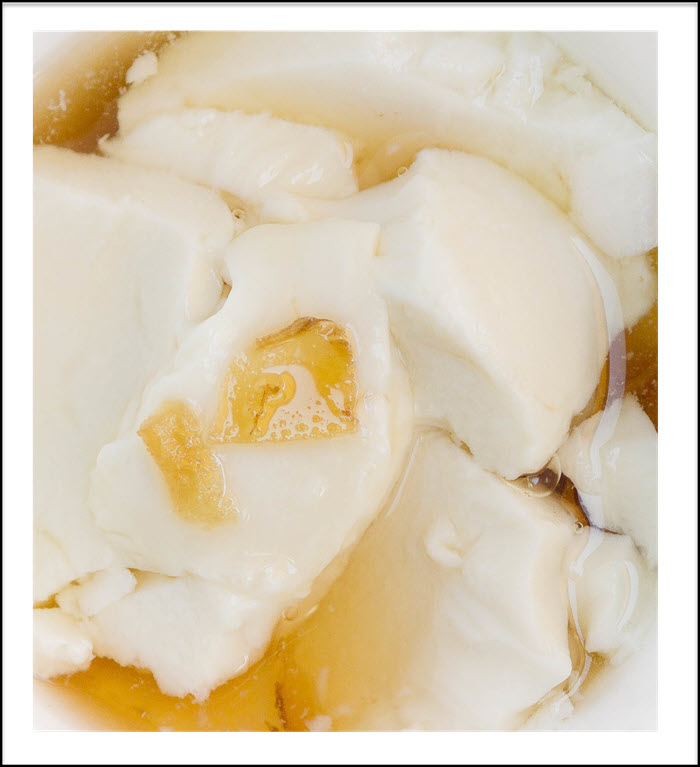 Tofu Pudding with Ginger syrup
Dau Hu Nuoc Duong or Tofu Pudding with Ginger syrup is another delicious Vietnamese desserts that consists of small balls that is made from tapioca flour. The small balls are combined with Tofu and ginger syrup.
---
FAQs
What is the traditional dessert in Vietnam?
The traditional dessert in Vietnam is the iconic Honeycomb cake. It comes in different flavors, but the most common and popular flavor is made of Pandan.
What is "Che" in Vietnam?
Che is the term used to describe a Vietnamese desserts that refers to a drink, a soup or a pudding. The most popular Che variety is the Che be Mau.
Conclusion
The desserts mentioned in this article are just some of the most popular and known Vietnamese desserts, there are still a wide variety of desserts to explore. Vietnamese desserts does not only represent the taste and flavor of the dessert but rather it also exhibits the creativity of Vietnamese.
From the list of Vietnamese desserts mentioned above, which dessert have you tried and which on is your favorite. Let us know what you think.