Sago is a an edible starch that is extracted from the pith or its spongy core tissue of tropical palm stem. Sago Pearls are small round shaped that is often white, but there are other color variants too. Most of the time, Sago pearls are used to make sweet and savory dishes. In this guide, are some of the most popular Sago desserts dishes that you can make out of Sago pearls as well as sago dessert recipes for you to try.
What is the Difference between Sago and Tapioca Pearls?
Most of the time, people are confused because they both look the same. While Sago is extracted from the pith of tropical palm stems, Tapioca on the other hand is extracted from the roots of a cassava plant.
Both Sago and Tapioca Pearls comes in different sizes, color and even flavor. To be able to distinguish if you are buying Sago or Tapioca Pearls, because of their similar appearance, you must check its packaging.
When it comes to the color and flavor, Sago usually comes in white color while with Tapioca Pearls it comes with different colors but the colors does not really affect the taste and flavor since it is just artificial coloring.
They are both boiled with water and sugar to make dessert such as sago pudding.
Sago Nutritional Information
Below is the nutritional information of Sago Pearls per 100 grams.
Nutrition calories: 332
Protein: less than 1 gm,
Carbs: 83 grams
Fiber: less than 1 gm.
Fat: Less than 1 gm
Zinc: 11%
Other than the nutrition facts mentioned, Sago is also rich in antioxidant properties.
Popular Sago Desserts Recipes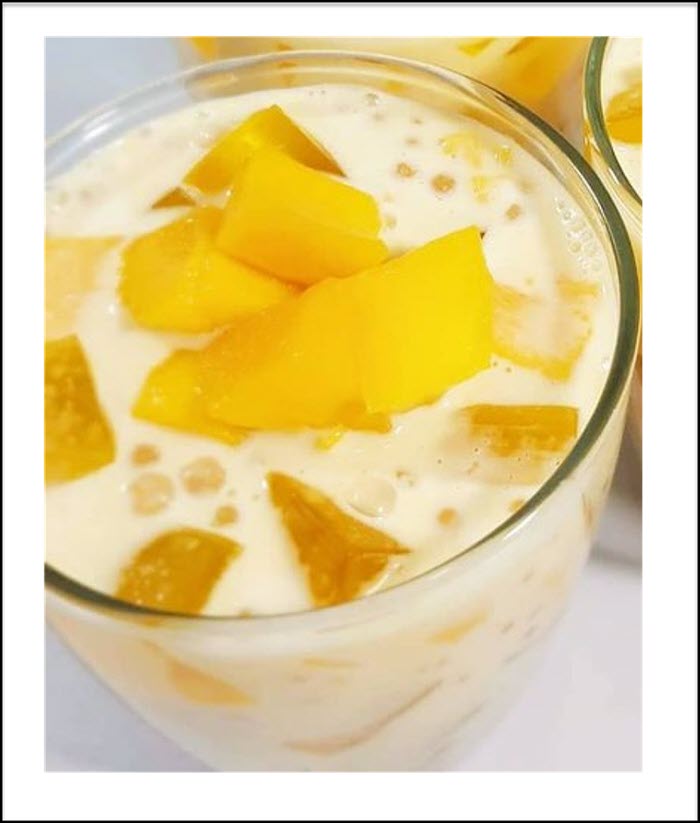 Mango Sago Dessert
Mango Sago is a popular dessert cuisine across Asia. It is made from chunks of mango and coconut milk tapioca pudding, though you can also condensed milk with mango sago dessert recipes.
Although there are different variations of Mango Sago, the main ingredients used is still the same and that is the creamy slightly sweet pudding that is made from coconut milk with Tapioca pearls. Mixing it with fruit is an option.
Making Mango sago dessert is a simple process, though the hardest part is cooking tapioca pearls. But instructions are there to follow on how to correctly cook Tapioca pearls.
Simple steps on how to make Mango Sago Dessert: First, cook tapioca pearls for 30 minutes in boiling water. Then allow to cool for 5 minutes, then rinse it with cold water. Then mixed cooked sago with the mangoes (diced) and the coconut milk, fresh milk and then the sugar.
Mango Sago Dessert Recipe:
Ingredients:
6 cups of water
1 3/4 cups coconut milk
1/2 cup small sago (small tapioca pearls)
1/2 cup milk
1/4 cup sugar
2 peeled ripe mangoes (sliced in small dice or cubes)
Instructions
Bring to boil a medium sized pot with water under medium heat. Add Tapioca pearls or Sago Pearls and allow to cook for about 30 minutes. Make sure to stir occasionally. Set aside cooked tapioca for 5 minutes. Once cooled down, strain and rinse pearls with cold running water, and drain well.
In a saucepan, under medium heat, mix coconut milk, milk and sugar and bring it to boil. Once boiled, set aside and allow to cool down.
In a medium sized bowl, mix everything: Coconut milk mixture, Tapioca or Sago Pearls and then the diced mangoes.
Place in a container then with plastic wrap.
Place in the freezer for about an hour or so, then serve
---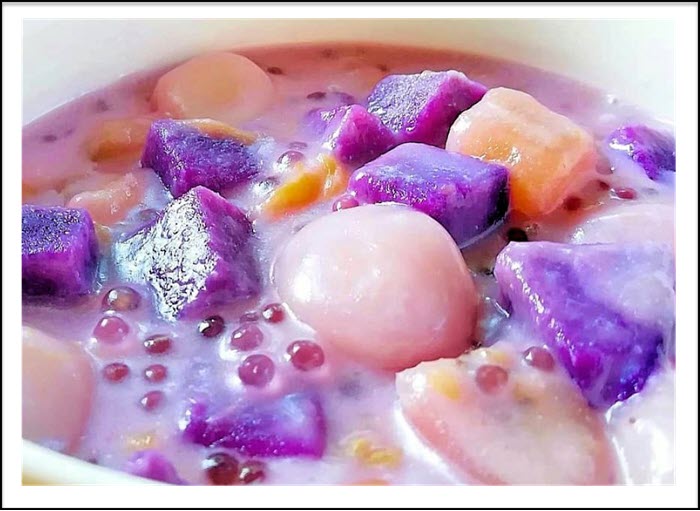 Binignit (Philippine Dessert Stew)
In the Philippines, a Visayan dessert soup origin is called "Binignit". This is a type of fruit and stew cooked using coconut milk. One of the famous Philippines "merienda" or afternoon snack.
Other ingredients for making Binignit includes bananas, Taro, sweet potato, coconut cream, glutinous rice and ube.
Although Binignit is similar to Bilo-Bilo, they are actually different since Bilo Bilo uses glutinous rice. Also, with Binignit Muscovado sugar is being used or Palm flour jelly balls (Landang).
Cooking Binignit dessert is super easy. Just make sure to prepare the ingredients ahead of time, especially the Sago where you need to cook it first. Once small pearl tapioca or Sago pearls are ready, making Binignit will be faster.
---
Mango Pomelo Sago Dessert
Mango Pomelo Sago Dessert is a famous dessert in Hongkong. It is made from diced mangoes, sago pearls, pomelo, coconut milk, evaporated milk and sugar. This dessert is usually served in Chinese restaurants, restaurants in Hongkong and Singapore too.
Mango Pomelo Sago dessert is one of the best mango dessert recipes that you must try. It is delicious and ideal to eat during hot season or summer time.
Making this refreshing dessert is easy and quick. All you need to do is to mix all the ingredients together in a bowl and then place in the fridge for a few hours (at least 2 hours) and then serve cold.
Make sure to use sweet and ripe mangoes and also make sure the mangoes are thoroughly blended so that there are no chunks of mangoes and coarse fibers in the mixture. For a more healthier option this dessert, you can use low fat evaporated milk.
---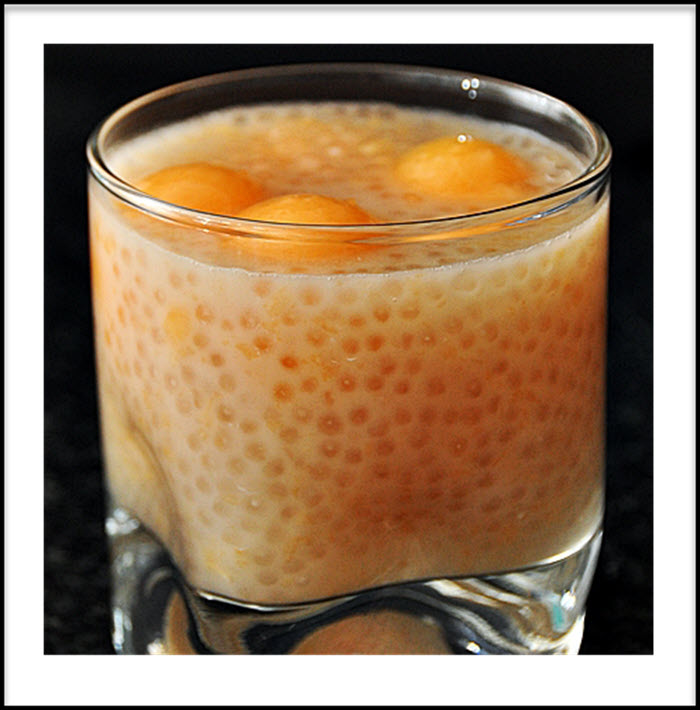 Coconut Milk, Melon with Sago Dessert
Coconut milk Melon with Sago Dessert is a delicious dessert is a must-eat dessert. It is made with ingredients such as honeydew melon, sago or tapioca pearls, sugar, water and canned coconut milk. A pinch of salt to taste.
For a more quick and easy way of making this dessert, make sure to prepare the sago and syrup beforehand. Though, do not mix them together when storing because when mixed sago pearls will absorb the liquid from the syrup as a result of a bloated and fluffy sago pearls.
---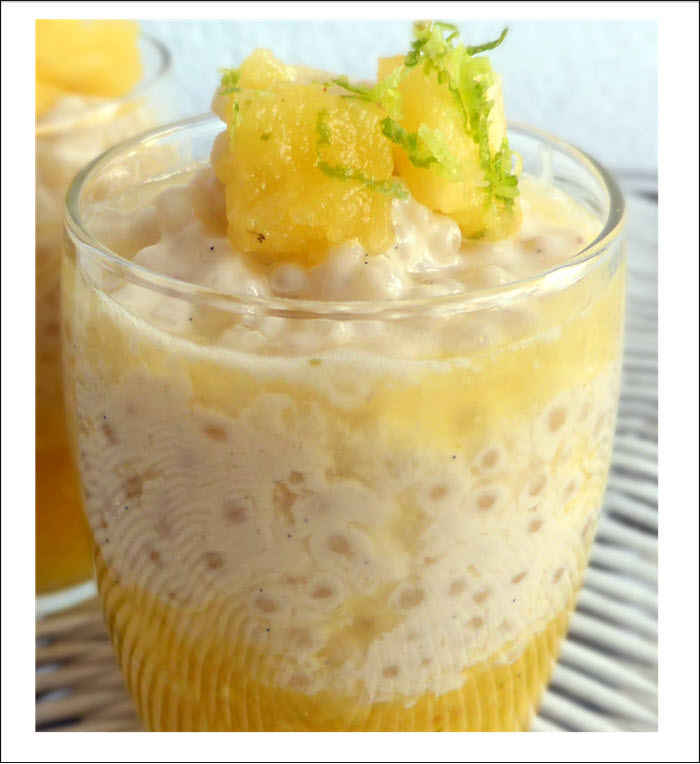 Pineapple Sago Pudding
Pineapple Sago Pudding is another popular dessert with Sago pearls as an ingredient. It is made with Pineapple, Sago pearls and condensed Milk. The handful of ingredients in making this dessert is always available and easily accessible. Therefore, you can easily make this anytime.
This Sago pudding dessert has a creamy texture and rich taste. Most of the time, Sago pudding can be mistaken with an Indian dessert called Kheer. Though the main difference between the two is that a pudding has a thick consistency while Kheer has a runny consistency.
---
Mango Jelly
Mango Jelly is made from Mangoes, Jelly cubes, Tapioca pearls and sweetened cream. This dessert is similar to Mango sago.
Nutrition facts of Mango Jelly includes:
Calories 489 kcal
Carbs: 83 grams
Protein: 5 grams
Fat:
Saturated Fat: 11 grams
---
How to Cook Sago Pearls or Tapioca Pearls
Cooking Sago Pearls may seem difficult and complicated as others claim, but when you follow the instructions correctly you will have that perfectly made sago in no time.
In a medium pot, add water and allow to boil. Make sure water is boiling before you add Sago.
Once water is boiling, add Tapioca or Sago while stirring occasionally. This will prevent the pearls from sticking to each other.
Allow pearls to simmer for about 15 to 20 minutes. Or until the balls are clear and glassy.
Pour pearls into a stirrer and allow to cool down.
Rinse pearls under cold water. This will also prevent the pearls from sticking.
FAQs
How long will it usually take for Sago to boil?
In medium heat, when sago pearls are added to the boiling water cooking time usually takes about 10 minutes.
Do you need to soak Sago before cooking?
No, you should never wash sago before cooking. Since sago is made of Starch, it will dissolve once it comes in contact with water or any liquid.
How can I tell if my Sago is expired?
One way to know if Sago is expire is by looking at the expiration date on its packaging. Another way to check is to simply open the packaging and closely examine the sago. If at some point pearls are discolored or there is present of mold spots, then your pearl must be spoiled or expired and can no longer be used.
For how long can a cooked sago be kept?
To keep freshly cooked sago pearls, you need to soaked it with enough water then cover. Recommended to use within 2 to 3 days.
Is Sago good for one's health?
As mentioned, Sago have health benefits as it has antioxidants that helps reduce risk of developing diseases.
Conclusion
Sago pearls can be used in different variations of desserts that are deliciously healthy and thirst quenchers too. Mangoes is the most common fruit as the main ingredient in making sago desserts, there are other fruit varieties such as pineapple and berries to use.
Which of the sago dessert recipes have you tried and which one is your favorite? Let us know what you think.
Also Read: