If you enjoy eating rice, you should read this article. Today, we'll discuss Jasmine rice, one of the most delectable types of rice. We'll show you how to prepare it and how to make it taste better. Cooking rice is as easy as 1-2-3.
* If you buy through links on our site, we may earn an affiliate commission. For more details, please visit our Privacy policy page.
Continue reading if you're curious on how to cook flavorful rice, especially jasmine rice.
Make Jasmine Rice Taste Better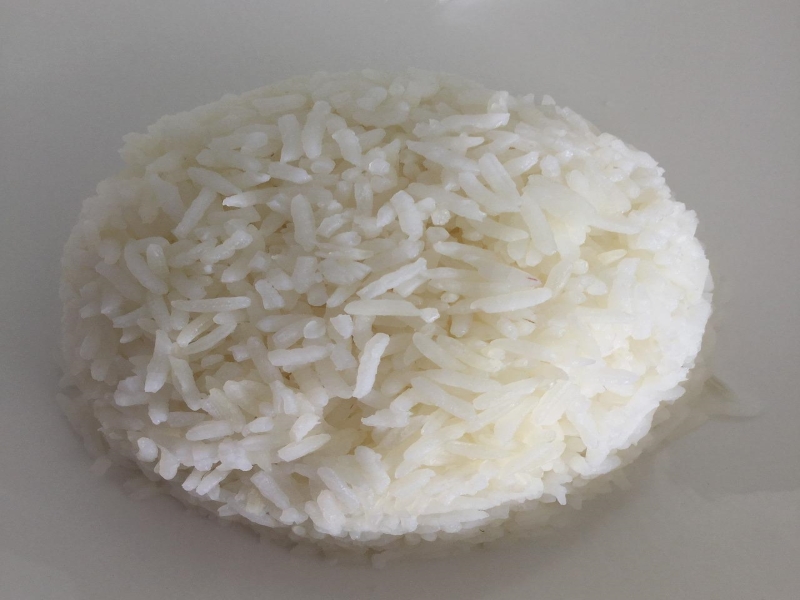 What Is Jasmine Rice?
Jasmine rice is a long grain rice that is local to Thailand with a beautiful floral and buttery aroma. It is termed after the sweet-smelling jasmine flower.
Generally speaking, it is often a long-grain kind of fragrant rice, commonly referred to as aromatic rice. Its aroma, which is similar of popcorn and pandan (Pandanus amaryllifolius), is produced naturally by the rice plant.
Jasmine rice is predominantly grown in Thailand (Their rice is called Thai hom mali or Thai fragrant rice), Cambodia (phka rumduol or Cambodian jasmine rice), southern Vietnam, and Laos. When cooked, it has a moist, soft texture and a somewhat sweet taste. The grains adhere to one another and become slightly sticky, but since it contains less amylopectin than glutinous rice, it is less sticky. Compared to American long-grain rice, or regular rice, it is nearly three times stickier.
Using the required amount of water to rice in the recipe is the key to successful cooking. Normally, 1-1/2 cups water are recommended for every cup of rice. The instructions are usually written on the pack of rice. If you want your rice al dente, that's totally okay, but if you want soft, you have the option to add a little bit more water. Even when you rinse jasmine rice, the grains retain a little sticky feel and cling together. Although, many recipes call for rinsing rice before cooking it, it's really not necessary.
The long stalks of jasmine rice are trimmed and threshed during harvest. The rice can then be milled to remove the germ and part or all of the bran to generate plain white rice, dehulled to produce brown rice, or left in its hulled condition to produce paddy rice.
---
Types Of Jasmine Rice
Thai jasmine rice is thinly shaped and originates from Thailand. Thai jasmine rice comes in two varieties: white and brown. Thai jasmine rice makes up the great bulk of the jasmine rice sold outside to North America and Europe, with a small minority coming from Vietnam. Only Surin, Buriram, and Sisaket Provinces are known to be able to produce high-quality hom mali in Thailand.
1. White Jasmine Rice
White jasmine rice has a dry texture after being cooked.
2. Brown Jasmine Rice
The light tan outer layer of the rice grain is still present on brown jasmine rice. Because it still has the bran, it is healthier than white jasmine rice. Gamma oryzanol, which is included in brown jasmine rice and has an oat-like taste, helps reduce blood vessel cholesterol levels. Brown jasmine rice includes antioxidants that help the neurological system function as well as vitamins including vitamin A, vitamin B, and beta-carotene.
---
Cooking Jasmine Rice Using A Rice Cooker
Ingredients
1 cup of jasmine rice
1 cup of water
Instructions
Place the jasmine rice in the inner pot of the rice cooker after washing and draining.
Compared to when you cook rice on the stove, very little water is lost while the rice is cooked in a rice cooker. If you prefer to use a rice cooker, a water to rice ratio of 1:1 is ideal. In this case add 1 cup of water to 1 cup of jasmine rice. Use the same cup to measure water and rice. Do not use a different cup.
The rice cooker should be set. White rice typically takes 20 minutes to cook.
Wait for ten minutes after the rice cooker has finished cooking before lifting the lid. The rice will keep soaking up the water. If you open the cover too soon, the rice will still be somewhat wet and softer.
Next, fluff the rice. After the rice is cooked, it is crucial to fluff it. To prevent clumping, fluffing the rice helps to separate the grains. Be mindful not to scrape the inside pot while using a fork or rice paddle. Then, serve.
---
Cooking Jasmine Rice Using A Stovetop
Water to rice ratio for cooking on the stove is 1.5:1. For instance, for every 1 cup of jasmine rice, there should be 1.5 cups of water. So, for 2 cups of rice, 3 cups of water should be used.
Ingredients
3 cups water
1 1/2 cup jasmine rice
3/4 teaspoon salt
Instructions
In a medium saucepan, bring the water to a boil. Add the salt and rice, cover, and reduce the heat to low.
To be sure that all of the water is absorbed, simmer for 15 minutes.
Try to taste the cooked rice. If the rice is still too firm after tasting it, add a couple more teaspoons of water. When the rice is off the heat, cover the pan and allow it absorb the water.
Important Reminders
You can store this cooked rice in the freezer for up to three months. Just place it in an airtight container. No need to defrost before reheating, simply take it out of the freezer and reheat in the microwave with 1 to 2 tbsp of water.
Every ingredients of this recipe is free of gluten or is easily accessible in gluten-free forms. Make sure to check if your product is gluten-free whether you're following a gluten-free diet or making for a person who has a gluten allergy.
---
Cooking Jasmine Rice In Instant Pot
Ingredients
1 cup of rice
1 cup of water
Instructions
Place the jasmine rice in the inner pot of the Instant Pot after rinsing and draining off the water.
When you cook rice in an Instant Pot, much like a rice cooker, relatively lesser water is lost throughout the cooking process than when you make the rice on the stove. For the Instant Pot, water to rice should be ratio of 1:1.
You have the option to either use the "Rice" or "Pressure Cooker" settings on your Instant Pot. If you use the pressure cooker setting, close the lid and set the steam release valve to "sealing". Make sure "High Pressure" is selected when you press "Pressure Cooker." Timer is set to 3 minutes. For "rice" setting, close the lid and set the steam release valve to "sealing". Then, timer will be automatically set when you press "Rice".
Wait for ten minutes after the timer goes off before completely releasing the pressure, if you are using pressure cooker setting. Likewise, if you are using the "rice" setting, wait for 10 minutes.
After the rice is cooked, it is necessary to fluff it. To avoid clumping, fluffing the rice helps to spread the grains. Use a fork or a rice paddle. Lightly fluff the rice with a fork or a rice paddle while being very gentle.
---
Yellow Jasmine Rice Recipe
You can absolutely spice up plain rice if you think it's a little dull. All the ingredients can be found in your kitchen. Spices like cumin, turmeric, and a dash of cinnamon can all be added for more flavor. The result is a delicious yellow jasmine rice.
Ingredients
2 tablespoon butter
2 cloves minced garlic
3 cups chicken broth
1 teaspoon turmeric
1/4 teaspoon cumin
1/8 teaspoon cinnamon
2 cups uncooked long grain jasmine rice
1 bay leaf
Instructions
In a medium pot, place the butter, turmeric, cumin, garlic, and cinnamon. Sauté them for 2 minutes over medium heat or till the garlic softens.
Fill the pot with the uncooked rice. To slightly toast the rice, stir and cook it for 2 minutes at medium heat. As the rice toasts, you can hear a faint popping or cracking sound.
Next, bay leaf and chicken broth should be added to the pot or saucepan. Put a cover on top, turn the heat up to high setting, and bring the pot to a rapid boil. As soon as it fully boils, decrease the heat and let the dish simmer for 20 minutes with the cover on.
After simmering for 20 minutes, turn off the heat and let the pot sit for an additional 10 minutes without removing the cover. Use a fork to fluff, then serve.
---
The best rice brands available online are listed below.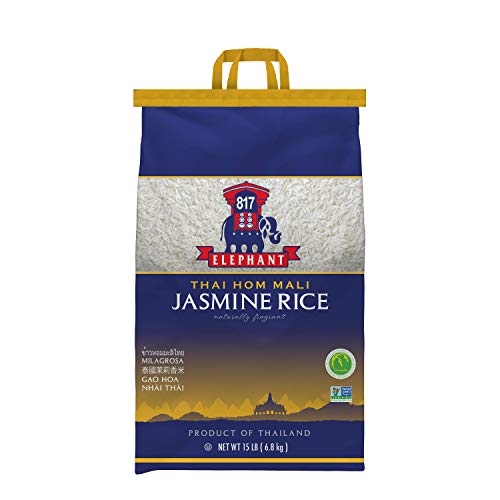 Brand: 817 Elephant Jasmine Rice
Weight: 15 Pounds
Allergen Information: Non-GMO
Package Information: Bag
Protein: 3 Grams
Very easy to cook. Their jasmine rice is simple to prepare and guarantees culinary success in any dish, from stir-fries to nutritious steamed meals. It takes just 15 minutes to prepare.
Their product is naturally Sourced: sourced, cultivated, harvested, and taken care of by community farmers in Thailand's vast, fertile fields.
A healthy rice. Their jasmine rice is naturally gluten-free, kosher, non-fat, and non-GMO.
Long, fragrant grain with a delicate, soft texture and "melt-in-your-mouth" flavor. Excellent taste.
If you are interested in this product, simply click on Amazon
---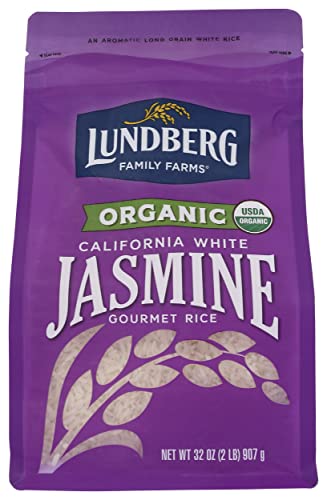 Brand: Lundberg
Weight: 2 Pounds
Allergen Information: Gluten Free
Protein: 3 Grams
Package Weight: 0.92 Kilograms
California White Jasmine Rice has a light, floral aroma and a buttery taste that make it almost impossible to resist. This long grain may be used in pilafs, Thai curries, and other dishes since it binds together when cooked yet isn't sticky.
For dishes that call for distinct kernels with a fluffy texture, this rice is ideal. Try adding it to a Hawaiian-style poke bowl or a meal with sweet and sour tofu, or to your yellow jasmine rice recipe. There are countless options.
This food product has been certified by the Non-GMO Project as being non-GMO, organic by the USDA, gluten-free, vegan, and kosher. Every grain we produce at Lundberg Family Farms aims to be both tasty and nutritious.
If you are interested in this product, buy this now on Amazon
---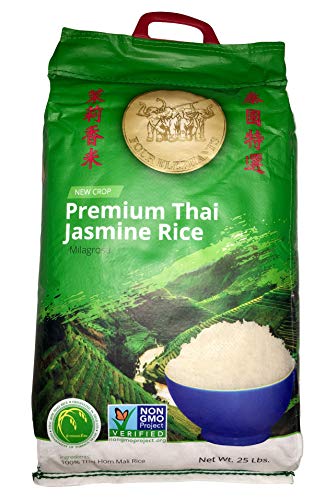 Brand: Four Elephants
Weight: 25 Pounds
Allergen Information: Gluten Free
Package Information: Bag
Protein: 3 Grams
Thai Jasmine Hom Mali Rice
It is certified Non-GMO.
Their product is naturally Free of Gluten
Solely from Thailand's famed Jasmine rice-growing area
Their jasmine rice is also tender and fragrant.
If you want to purchase this product, just click Amazon
* If you buy through links on our site, we may earn an affiliate commission. For more details, please visit our Privacy policy page.