Mongolian cuisine is mostly composed of animal meats and dairy products, and the use of spices and vegetables are very limited. But because of geographical proximity with Russia and China, the country's cuisine has been influenced by the said countries. So here are a few of the Mongolian rice recipes you might want to know.
Mongolian Rice Recipes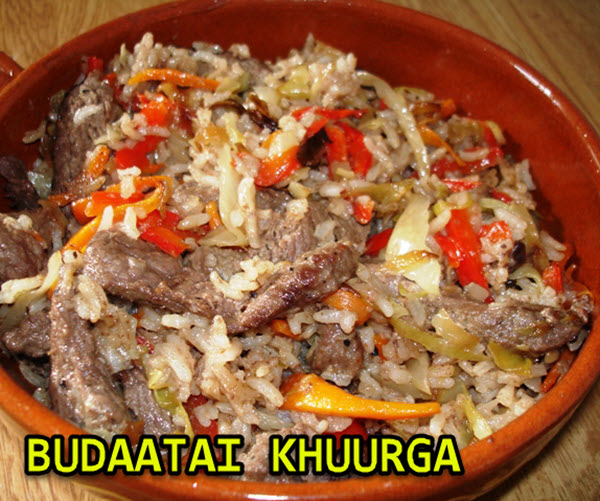 BUDAATAI KHUURGA
Budaatai Khuurga is an authentic Mongolian beef fried rice meal. The rice is mainly cooked with minced beef or lamb, bell pepper, carrots, and other vegetables. This cuisine can be served either for lunch or dinner. Cook time is approximately 10 minutes.
Here are the main ingredients:
1 tbsp of vegetable oil or beef fat
3 pcs of eggs (beaten)
a cup of cooked beef (diced)
3 cups cooked rice (chilled)
1 tablespoon of light soy sauce
1 tsp of cumin powder
½ teaspoon of chilli flakes
½ teaspoon of salt
⅓ cup of green onions (chopped)
Instructions:
Add oil in a saucepan and heat over medium high heat. Once the oil is already warm, add the beaten egg and cook for 30 seconds or until the other side is cooked but the top part should be raw.

Add rice on top of egg. Using a spatula, mix well to ensure that the raw egg will evenly coat the rice. Continue chopping for 3 minutes or until the rice grains are separated. Adjust the heat to low or medium if the saucepan starts to smoke. 

Add beef on top of the rice, seethe in light soy sauce, and mix. Sprinkle the chili flakes, cumin powder, and ½ teaspoon of salt on the rice. Mix well.

Add the green onion and mix gradually. Adjust the heat to low and taste the rice. Add salt according to your taste and mix.
Once the ingredients have blended perfectly with the rice, turn off the heat. Serve Mongolian beef fried rice meal while still hot.
---
MONGOLIAN FRIED RICE
This Mongolian recipe is loaded with vegetables and other flavours. This is an Asian cuisine originated from China and has been adapted in Mongolia. Mongolian fried rice is usually served in a restaurant, but you can also prepare this at home. This easy to make fried rice recipe only takes not more than 10 minutes cooking time.
Ingredients:
1 tablespoon chilli paste
1 tablespoon butter
Salt
50 ml tomato ketchup
5 ml hoisin sauce
3 garlic cloves (chopped)
1 inch ginger (grated)
1 tsp Sesame seeds
50 gms fried Paneer cubes (cottage cheese)
1 capsicum, cubed (Yellow, red and green)
50 gms Red cabbage (roughly chopped)
250 gms Basmati rice (cooked)
100 gms Broccoli Florets
3 baby corns (sliced)
Instructions:
Warm the saucepan over medium-low heat. Add the butter and frizzle the sesame seeds. Add the garlic, chopped ginger. Stir fry and cook.
Add the baby corn, broccoli, red cabbage, capsicum, and a smear of water. Cook over a low heat until the vegetables become tender. Then add the cooked rice and fried cottage cheese. Stir fry together with the vegetables.
Lastly, add the chili paste,tomato ketchup, hoisin sauce, and a pinch of salt to taste. Mix well.
For better taste, serve Mongolian style fried rice hot.
---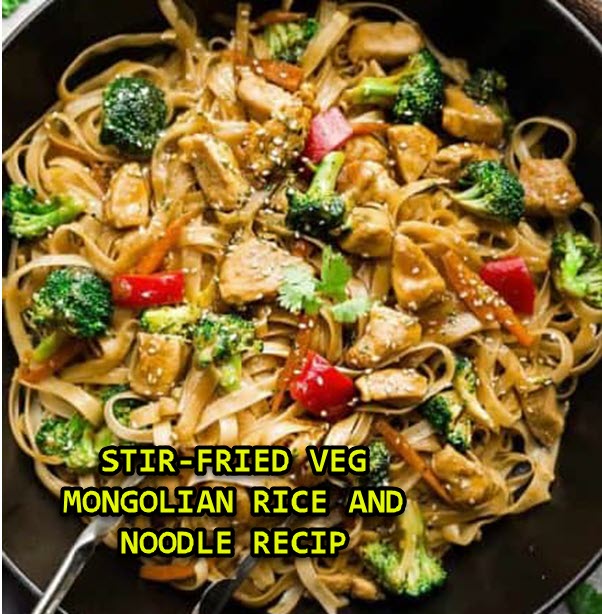 STIR-FRIED VEG MONGOLIAN RICE AND NOODLE RECIPE
This is a one-of-a-kind Mongolian cuisine that will surely satisfy your family members' craving for fried rice. The menu won't take that long to make and is definitely an easy to make recipe. The prep time takes 15 minutes, and 30 minutes cook time. Total time is 45 minutes.
Here are the ingredients:
1 cup basmati rice (steamed)
1 ½ cup noodles (boiled)
1 cup bell pepper (chopped)
½ cup broccoli (minced)
½ cup onion (minced)
½ cup zucchini (minced)
1 tablespoon garlic (sliced)
1 tablespoon ginger (sliced)
2 tbsp tomato ketchup
1 tbsp red chili paste
1 tbsp oyster sauce
1 tbsp Thai spice powder
2 tablespoons of vinegar
1 tbsp refined oil
1 tbsp sesame oil
Sugar, salt, and pepper to taste
Instructions:
In the skillet, add the refined oil and stir fry the chopped vegetables such as garlic, onion, French beans, ginger, broccoli, zucchini, and bell pepper.
Add oyster sauce, tomato ketchup, Thai spice powder, vinegar, soya sauce, and red chili paste.
Add the sesame oil and mix gradually.
Finally, add the boiled noodles and cook rice. Mix thoroughly.
Transfer the cooked stir-fried Mongolian rice to a platter and serve hot.
---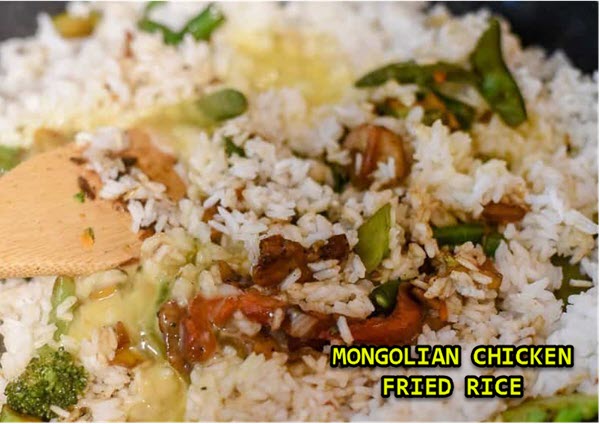 MONGOLIAN CHICKEN FRIED RICE
This flavorful dish will only take not more than 20 minutes to prepare, and definitely one of the asians favorite cuisines. Here's how to cook this traditional meal.
Ingredients:
250 gms Basmati rice (steamed)
3 sliced baby corn
100 gms broccoli florets
50 gms cabbage (roughly chopped)
Ome capcicum (cubed/red, yellow, and green)
50 gms chicken meat (fried or cooked)
1 teaspoon sesame seeds
3 cloves of garlic (sliced)
An inch of grated ginger
1 tablespoon of butter
5 ml hoisin sauce
1 tablespoon chilli paste
50 ml tomato ketchup
Salt to taste
Directions:
Melt the butter in a pan, add the sesame seeds, and cook until the seeds crackled
Place the garlic and chopped ginger into the pan. Stir-fry and cook.
Put on the chicken meat, chopped baby corn, broccoli florets, red cabbage, and capcicum. Spring some water and cook over a low flame until the ingredients become tender.
Lastly, add the hoisin sauce, chilli paste, ketchup, and salt. Mix thoroughly.
Best served while hot. This dish also goes well with chutney.
---
MONGOLIAN-STYLE BEEF RICE BOWL
This dish features beef mince stir-fried with a variety of vegetables. If you are a vegetable lover, this rice bowl will definitely satisfy your cravings. The cooking time for this Mongolian rice recipe will only take 30 minutes.
Ingredients:
2 tablespoons of minced peanuts
2 pcs of carrots (cut into matchsticks)
1 bunch of baby buk choy (trimmed and halved lengthways)
60 ml hoisin sauce
80 ml oyster sauce
1 teaspoon ginger (finely grated)
1 teaspoon Chinese five spice
500g Cole Australian beef mince
30g sushi rice (washed and rinsed)
2 springs onion (cut into matchsticks)
Directions:
In a large saucepan, place 560ml of water and rice and bring to boil over high flame. Wait for at least 12 minutes or until the rice becomes tender and the water is soaked up. Cover and sit aside. Steam for 5 minutes.
In a small bowl, put the spring onion and cover with cold water. Set aside for 10 minutes or until frizzled.
Warm a large frying pan over high flame. Place the beef mince, stir, and cook for 5 minutes until it changes in color. Put in the five spice, ginger, and stir-fry for 5 minutes or until the smell becomes aromatic. Put the hoisin and oyster sauce. Then stir-fry for another 2-3 minutes.
In a large heat-proof bowl, place the buk choy and put over boiling water. Set aside for a minute or until it becomes tender. Let it cool under cold water and drain.
Split rice into serving bowls, top with mince mixture, drained spring onion curls, carrot, and buk choy. Garnish with peanuts.
The ingredients in this recipe can make up to 4 servings.
---
MONGOLIAN TURKEY AND RICE BOWLS RECIPE
This delicious Mongolian rice recipe is among the easy-to-prepare Mongolian rice dishes. The sweet spicy Mongolian sauce will intensify its flavor, and the whole family would really wish to have this dish on a daily basis. Here are the ingredients…
FOR THE RICE:
A cup of white rice
1 ¾ cups of water
1 teaspoon salt
FOR THE TURKEY:
2 tablespoons of olive oil
1 lb ground turkey
1 onion (diced)
1 bell pepper (diced)
4 cloves of garlic (diced)
FOR THE MONGOLIAN SAUCE:
1 tablespoon hoisin
¼ cup of soy sauce
1 tablespoon of sesame oil
2 teaspoons of white sugar
1 tablespoon of minced garlic
1 tablespoon of red pepper flakes
DIRECTIONS:
In a small bowl, mix all the sauce ingredients. Use the mixture over meat and vegetables.
To cook the rice, put salt in a rice maker and bring to a boil. Pour the rice into the boiling water and quickly stir so it won't stick to the bottom. Cover the rice and simmer for 19 minutes over a low flame.
For ground turkey, warm a large, heavy pan. Pour olive oil and warm over medium high flame, until it shimmers. Put the ground turkey and disjoin using a spatula until it turns brown. Put the onion and garlic. Stir gradually to prevent burning and sticking. Add the sauce ingredients and stir. Heave the turkey and vegetables; adjust the flame to low while waiting for the rice to get done.
When the rice is done, muff and transfer to serving bowls. Top each bowl with ground turkey in a sauce and sprinkle with green onions and sesame seeds.
---
And these are some of the easy to make Mongolian Rice Recipes you wish to have on your daily meal. Please don't forget to visit our websites to see more posts about Asian recipes. Thank you for reading!