Craving for Mexican dishes? Particularly a restaurant-style Mexican rice? But can't go to your favorite Mexican restaurant? You can make Mexican rice at home in the comfort of your own kitchen, we'll show you how to do it correctly, it will taste like an authentic Mexican rice from a restaurant.
* If you buy through links on our site, we may earn an affiliate commission. For more details, please visit our Privacy policy page.
If you want to make the best Mexican recipe, scroll down and continue reading.
How To Make Rice Like Mexican Restaurants
What Is A Mexican Rice?
Mexican rice is also known as Spanish rice, Arroz a la Mexicana, Arroz rojo, Arroz Mexicano, or red rice. White rice, tomato, garlic, onion, and possibly other ingredients are used to make this Mexican side dish. Almost often, when eaten with other meals like mole, refried beans, rotisserie chicken, carne asada, picadillo, tacos, fried fish, fried chicken, chiles rellenos, or vegetable soup, Mexican rice serves as a complement.
In central and northern Mexico as well as the southwestern United States, Mexican-style rice is extremely well-known and a favorite Mexican dish. It is one of the most often used recipes in Mexican cuisine and is consumed all year long.
---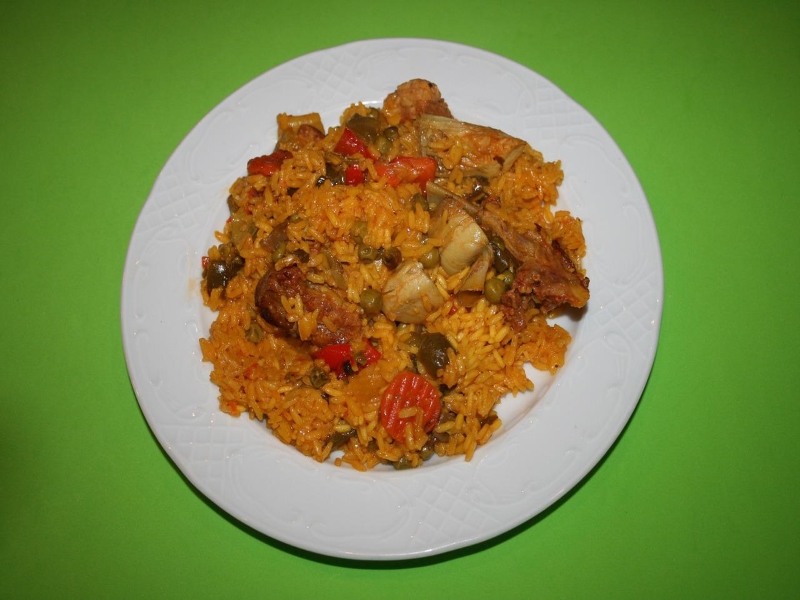 How To Make Easy Mexican Rice Recipe Restaurant Style
The ideal side dish to any Mexican dinner is restaurant-style Spanish rice, also known as Mexican rice. It is simple to prepare and tastes just like it is made in a local Mexican restaurant. This is a good Mexican rice recipe with just a few ingredients.
Ingredients
2 cups long-grain white rice
1/4 cup olive oil (or vegetable oil)
5 cloves minced garlic
1/4 cup tomato sauce
4 cups chicken broth or chicken stock (You can use low-sodium chicken broth if you want)
1 teaspoon salt
1/2 teaspoon pepper
3 tablespoons finely chopped cilantro (fresh cilantro)
1/2 teaspoon cumin
salt and pepper to taste
Instructions
Using a medium skillet with a tight fitting cover or a shallow 3-quart saucepan, heat oil. Then, add rice, then lightly sauté for 5 minutes, or until aromatic and just rice begins to brown or golden brown.
Next, add garlic and cook for another two minutes.
Tomato sauce, salt and pepper, and chicken broth are then added. Stir well. Heat to a medium-high level. Bring the mixture to a boil, then reduce heat to low, and cover with a tight-fitting lid. Cook for 20 to 25 minutes.
Stir it occasionally with a fork to make sure nothing is sticking to the bottom of the pan, but don't overdo it. During the last five minutes of cooking, don't stir the rice or lift the cover.
After being taken off the heat, set it aside and cover it for 10 minutes. Fluff rice with a fork, and stir. You can add the chopped cilantro.
---
Tips In Making This Amazing Recipe
You have the option to rinse your rice before cooking it. Rinse the rice through a fine mesh strainer until the water is clear. Before cooking rice, let it drain down a bit. Reduce the broth by half cup if you rinse the rice.
Before adding the chicken broth and tomato sauce, the Mexican rice has to be fried in oil and browned. As an outcome, the rice has the ideal, soft consistency and truly absorbs the flavors.
It is best to add the chopped cilantro after cooking. The cilantro turns brown and wilts if it is added earlier. It keeps its brightness and freshness when you throw it in later.
It is ideal to use olive oil with a light taste. Consider using half olive oil and half butter or canola oil if your olive oil is quite potent .
You can replace another vegetable oil or butter for the olive oil. However, it taste just like a restaurant style Mexican rice if you use olive oil.
The ideal rice to use for this Mexican dish is long grain white rice.
Utilize the stovetop in making the dish. If you use a rice cooker, it may have a different result.
If you preferred a spicier flavor, you can use medium or spicy salsa as a substitute for tomato sauce.
---
What Are The Best Additions To This Great Mexican Rice Recipe
Even by itself, this Mexican rice dish is fantastic. Nevertheless, a lot of individuals prefer to add more veggies to the Mexican food. You have the option to add carrots, green chilies, peas, corn, tomatoes, lime juice, etc.
---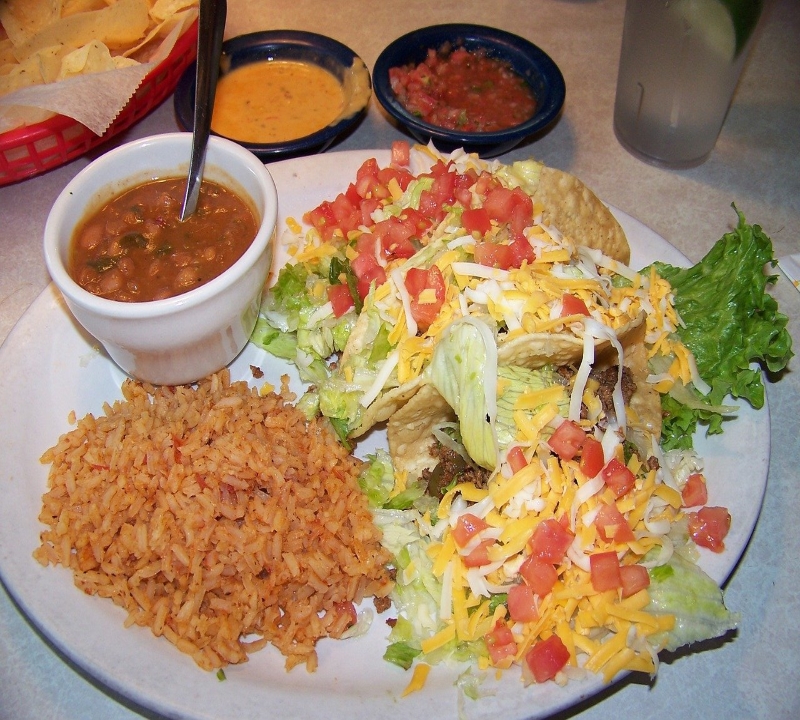 What Other Dishes Can You Serve With Mexican Rice
Grilled Carne Asada
Grilled Carne Asada is one of the tastiest Mexican dishes. You an pair it with Mexican rice. The marinade is one of the wonders to this delectable dish. This marinade is packed with flavor and is made with jalapenos, garlic, cilantro, soy sauce, vinegar, and other ingredients. Meat's taste is improved by the soaking phase. Typically, an acid, such as vinegar or lime juice, is used in marinades to modify the surface texture. All types of meat may be marinated, but in the instance of this Mexican food, the marinade on the beef transforms it from a typical meat into an excessively flavored dish
Ingredients
For Marinade
1/4 cup beef broth
1 onion finely diced
4 cloves garlic minced
1/2 cup diced chilis
2 tbsps diced jalapeno
1/4 cup adobo sauce
1/4 cup vinegar
2 tbsps lime juice
1/4 cup soy sauce
1 1/2 tsp fresh oregano
Instructions
Combine all the ingredients for marinade.
Put the meat into the marinade, making sure each piece is well coated.
Then, put the meat and marinate in a zip-top bag or sealed container, making sure that the air is squeezed out and tightly seal it.
Let it marinate for at least eight hours, or overnight.
Meat should be grilled for 1 to 2 minutes on each side with the grill temperature set to medium high. Because it is thin, the beef will cook easily.
Pair it with your Mexican rice. Enjoy!
---
Cheese Enchiladas
Ingredients
For Enchilada Sauce
2 tablespoons oil
1 chopped medium onion
2 cloves, finely chopped garlic
Salt and freshly ground black pepper
2 tsps chili powder
1 tsp cumin
1 can fire-roasted crushed tomatoes
1/2 cup chicken or beef stock
For Enchiladas
12 corn tortillas
4 chopped scallions
3 tbsps oil
4 cups shredded Monterey Jack cheese, divided
3 tablespoons finely chopped, cilantro leaves
Instructions
First, you need to preheat your oven and set the temperature to 375°F.
Then, heat up the 2 tbsp oil in a small saucepan or pot. Add the onion and garlic and saute over medium heat until they are soft, about 7-8 minutes. Add chili powder, cumin, salt, and pepper for seasoning. Put the fire-roasted tomatoes and stock, bring to a boil and reduce down the heat. Simmer for 10 minutes.
While the enchilada sauce is simmering, heat 3 tbsps oil in a pan over medium heat. Each tortilla should be softened in the oil using tongs for 15 seconds on each side, brush off any extra oil, and then transfer to a dish covered with paper towels. Continue in the same manner with the remaining tortillas.
Mix the scallions with 3 cups of cheese in a bowl. Each soft tortilla should be rolled up after being filled with about 1/4 cup of the cheese mixture. In a baking dish, arrange the rolled tortillas in a row.
Once every tortilla has been wrapped, spread the sauce equally over the meal and sprinkle the extra cup of cheese on top. Bake for about 15 minutes, or until bubbly and browned on top. Serve with your Mexican rice.
---
Mexican Rice Burritos With Guacamole
Ingredients
6 large sized tortillas
1 1/2 cups long-grain white rice
40g butter, chopped
1 large sized onion, finely chopped
1 red capsicum, seeded, finely chopped
1 tablespoon ground cumin
1 tablespoon ground coriander
1 tablespoon mustard powder
2 cups vegetable stock
400g can corn kernels, drained
400g can black beans, rinsed, drained
150g smoked cheddar, coarsely grated
2 tbs drained sliced pickled jalapeños, coarsely chopped
1 ripe avocado, stoned, peeled
200g sour cream
1 tablespoon lemon juice
2 tablespoon coriander, finely chopped
Instructions
In a large, wok or skillet over medium heat, melt the butter. Then, add the onion and cook it for 5 minutes, stirring occasionally or till it softens. Capsicum should then be added and stirred for another 5 minutes, or until nearly tender. Add the cumin, mustard powder, and coriander. Cook for half a minute while stirring, or until fragrant.
Add the rice, and stir. Add the stock and mix. Heat up to a medium-high setting and bring to a boil. Then, set low-heat setting after. Cover it and cook for 30 minutes, or until the liquid has evaporated and the rice is soft. Once the rice is cooked, set it aside for 5 minutes and cover it. To separate the grains, fluff with a fork.
Next, add the black beans, corn, jalapeno, and cheddar, with the rice mixture. Season it and lay the tortillas out on a clean work area. Evenly distribute the rice mixture among the tortillas. To surround the filling, fold the edges in and roll it up.
In a small bowl, combine the avocado, sour cream, and lemon juice. Mash with a fork. Then, add the coriander and mix.
Slice the tortillas into half and serve with guacamole.
---
Store And Re-Heat Leftover Mexican Rice
You just have to store the leftovers in the fridge for up to 5 days in an airtight container. It is much better if you can freeze your Mexican rice by putting it in a zip-top freezer bag when it has cooled, and then storing it flat in the freezer. Without losing freshness, it may be frozen for up to three months.
To reheat, simply cover the thawed rice and re-heat it in the microwave for one minute at a time, or until thoroughly cooked. When necessary, fluff the rice with a fork and add a teaspoon of water at a time.
---
Here are a few items you may need to make your favorite Mexican recipes.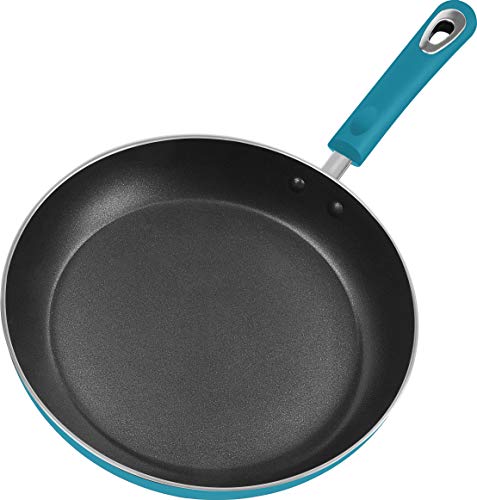 Brand: Utopia Kitchen
Material: Aluminum
Item Diameter: 11 Inches
Color: Turquoise-Black
You can cook safely without ever having to worry about the handle coming loose due to the ergonomic design and sturdy riveting of the wobble-free bakelite handle.
The frying pan's induction bottom makes it appropriate for use on any type of cooktop, including electric and ceramic ones.
Constructed with a multi-layered nonstick coating and the best aluminum alloy, which is used to make frying pans of the highest quality for professionals.
If you are interested in this product, simply click on Amazon
---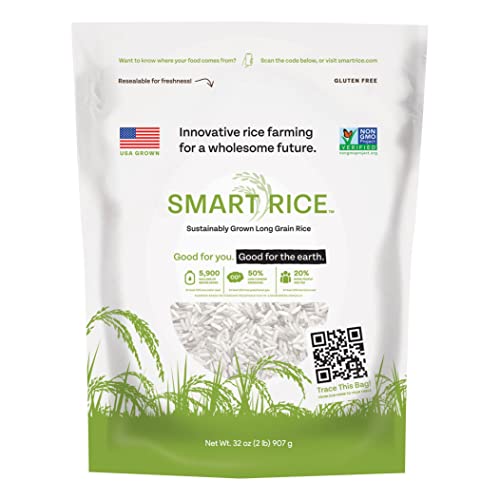 Brand: SmartRice
Weight: 2 Pounds
Package Information: Bag
Package Weight: 2 Pounds
Persons who are sensitive to or allergic to gluten, a protein often present in wheat, barley, and rye, as well as those who have allergies or are attempting to avoid gluten, might consider SmartRice as a fantastic alternative.
This product was produced without the use of preservatives. It is a natural food that was mechanically dehulled, air dried, and milled. The procedure makes no use of chemicals.
Enjoy the delicious flavor of Smartrice, a premium long grain rice, knowing that you are helping the environment and encouraging products that are produced responsibly.
If you are interested in this product, purchase this now on Amazon
---
Brand: Pompeian
Flavor: Olive
Weight: 32 Ounces
Specialty: Gluten Free, Kosher
Volume: 32 Fluid Ounces
This light tasting olive oil, expertly prepared by The Olive Oil People, is made from olives cultivated and farmed by their family of farmers.
Pompeian Light Taste Olive Oil is ideal for frying and baking because of its delicate, light flavor. It is definitely the best choice.
It is 100% Farmer crafted. Quality from The Olive Oil People since 1906.
Buy this product now on Amazon
---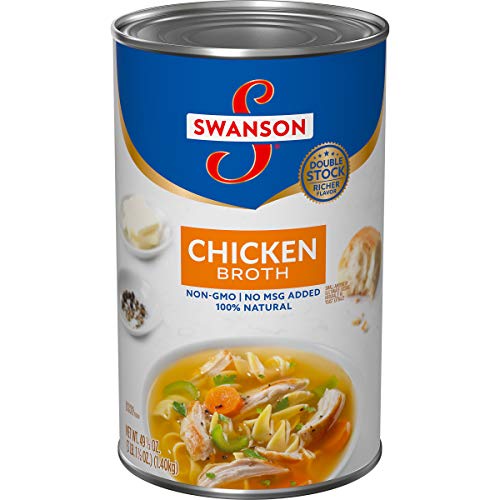 Brand: Swanson
Flavor: Chicken
Weight: 49.5 Ounces
Package Information: Can
Package Weight: 1.58 Kilograms
Only Swanson Broth has a rich double stock that has been boiled for 12 hours, making it ideal for use as a savory recipe basis.
You can be assured that it is 100% natural, 99% fat free, gluten free.
This product has No MSG added, non-GMO, no preservatives or artificial flavors.
flavor to your preferred side dishes.
Purchase this product now on Amazon
---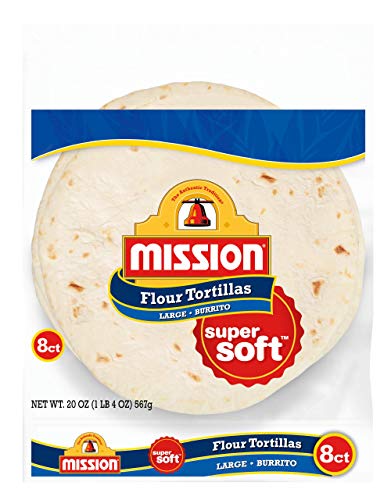 Brand: Mission Foods
Flavor: Cheddar-Cheese
Weight: 1.2 Pounds
Allergen Information: Wheat
Package Weight: 0.56 Kilograms
Their original big burrito flour tortillas provide a super-soft texture and a freshly baked taste.
These fluffy tortillas are certain to please both your health and your taste buds because each serving has zero grams of trans fat and no cholesterol.
Heats up quickly and easily on a skillet, grill, or microwave.
You can buy this product by clicking on Amazon
* If you buy through links on our site, we may earn an affiliate commission. For more details, please visit our Privacy policy page.