Making soup or stew but don't have beef broth? Or are you looking for a vegetarian substitute? No worries as there's a wide variety of beef broth substitutes that you can use.
| Product | Brand | Name | Price |
| --- | --- | --- | --- |
| | Kettle & Fire | Kettle and Fire Keto Soup Variety Pack, Keto, Paleo Friendly, Gluten Free, High in Protein and Collagen | Check Price on Amazon |
| | LONOLIFE | LonoLife Low-Sodium Grass-Fed Beef Bone Broth Powder | Check Price on Amazon |
| | Bare Bones | Bare Bones Bone Broth Instant Powdered Beverage Mix | Check Price on Amazon |
| | Kettle & Fire | Kettle and Fire Mushroom Chicken Bone Broth, Keto, Paleo and Whole 30 Approved, Gluten Free | Check Price on Amazon |
| | Better Than Bouillon | Better Than Bouillon Vegetarian No Beef Base, 8 oz | Check Price on Amazon |
* If you buy through links on our site, we may earn an affiliate commission. For more details, please visit our Privacy policy page.
Beef broth substitutes are great for curries, stews, soups, and sauces where you would otherwise use a homemade broth.
With so many beef broth substitutes to choose from, which include chicken and vegetable broths, bouillon cubes and more, choosing the right product for your dish can become a bit challenging. You can easily get started if we check out some of our top picks.
6 Must-Try Best Substitutes for Beef Broth
This product is a good choice if you are looking for keto-friendly substitutes for beef broth. It is made from slow-simmered chicken bone plus other ingredients such as coconut cream and organic vegetables that offer many health benefits.
What we like about this variety pack is that it comes with different flavors and they are never boring. Each pack makes a delectable keto soup that's very filling.
With this liquid form beef broth substitute, you can simply heat it and garnish it with parsley sprigs or whatever garnish you prefer and it's ready to serve. It makes a perfect addition to your wellness routine especially if you are always on the go.
PROS:
Keto-friendly
Non-GMO
No antibiotics or hormones
Just heat and it is ready to serve
CONS:
A bit pricey but customers say it is worth the price
---
Many of the beef broth substitutes in the market are high in sodium except for several brands like the LonoLife beef broth. It is one of the best options available if you are watching your sodium intake. Moreover, this beef broth substitute is also a popular choice among those who are into the Paleo diet.
This beef broth substitute is made from collagen-rich beef bone left to simmer till soft, fresh veggies, seasonings and herbs. The mixture is then processed to a powder form for your convenience. Whenever you feel like making your favorite broth or stew dish, you just have to add it to the mix to achieve that rich taste.
PROS:
Dairy-free, gluten-free and wheat-free
No MSG, artificial colors, and preservatives
Made from natural ingredients
Rich and deep flavor
CONS:
A few customers say it's a bit bland for their taste
---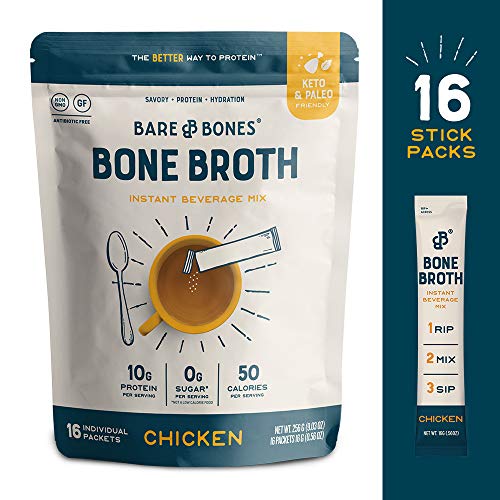 If you are on intermittent fasting, or on a low carb, keto or paleo diet, this beef broth substitute is an excellent choice. It can give you the protein your body needs without added sugar.
This beef stock or beef broth substitute is made from the good stuff you would want to have in your homemade chicken broth dish. It is made from real chicken broth and other natural ingredients such as lemon juice, tomatoes, herbs and spices. Additionally, it contains chicken collagen which is good for your bone health.
Designed to be an on-the-go mix, this broth beverage is easy to prepare. Just add water to the mix and your broth is ready to drink. With every serving, you'll enjoy clean protein and rich flavor.
PROS:
No added flavorings, preservatives and artificial ingredients
Gluten-free, soy-free and dairy-free
Good source of amino acids, collagen, minerals and protein
Non-GMO
CONS:
A 16-gram packet contains 440 mg sodium that is 19% of the daily value
---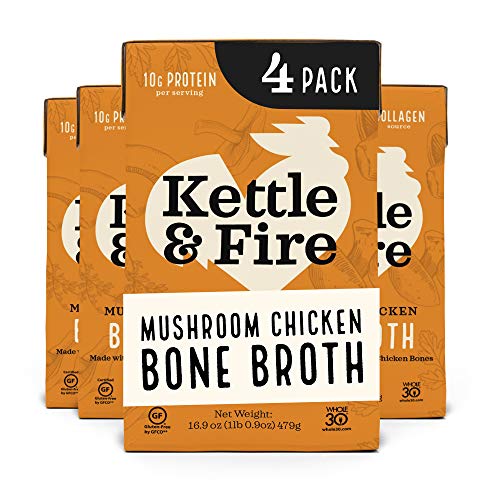 Based on its hundreds of positive feedback, this mushroom and chicken broth tastes a lot better than many bone broths in the market. It is made from premium ingredients which include free-range chicken bones and organic vegetables. This product is a popular choice for those who are into keto, paleo, low-carb and whole 30 approved diets.
We like the versatility of this broth. You can heat it and consume it as a drink or you can use it as a substitute for beef broth on your dishes. It can add extra flavor and protein boost to your recipes.
PROS:
Can be consumed as drink or substitute for broth in your recipes
Non-GMO
Dairy-free and gluten-free
No hormones, antibiotics or additives
CONS:
---
Are you a vegetarian and are looking for a substitute for beef broth or meat broth in your recipes? This product is a great beef broth substitute. You can also use it for recipes that require meat stock such as soup, beef stew, gravy or glaze.
It is Certified as a Vegan beef flavor and it has a Better Than Bouillon Seal of Authenticity. A teaspoon of this beef broth substitute is equivalent to 1 bouillon cube. This means that adding even a small amount of Better Than Bouillon to your dish could greatly elevate the flavor.
PROS:
Vegetarian
Can be used in a wide variety of dishes
Excellent flavor backed by thousands of positive reviews
CONS:
---
6 Different Substitutes for Beef Broth
1. Vegetable Broth
Vegetable broth is a great substitute for beef broth if you want to go vegetarian. It is also a good alternative when a recipe requires meat stock.
If you are cooking a dish that needs a cup of beef broth, you can use the same amount of vegetable broth for it. To give the vegetable broth a richer taste, you can add fresh herbs, mushrooms, carrots, yellow onion, garlic, bay leaf and other vegetables. You can also add seasonings to enhance the flavor.
2. Bouillon Cubes or Bouillon Granules
Beef bouillon cube or granules also work if you want that authentic broth taste in your finished dish. You need to dissolve these beef broth substitutes in hot water before adding them to your dish.
Because of the relatively low cost of beef bouillon cubes and granules, as well as their intense flavor, they are a popular ingredient in many kitchens across the world. They are also available in different flavors. If you check your local grocery, you can easily find beef, seafood or chicken bouillon cubes.
3. Light Beer or wine
Light beer or wine (can be red wine or white wine).
Beer and wine work as a substitute for broth in making gravy, stew, or braised meat sauces. You need to dilute the beer or wine in an equal amount of water.
These two broth substitutes can give your dish a full-bodied flavor. If you are avoiding alcoholic drinks, you may also use non-alcoholic beer.
4. Mushroom Broth
If you choose mushroom broth as a beef broth substitute, you could either buy a ready-to-use mushroom-flavor broth or make your own at home. Should you decide to make your own, you will need fresh assorted mushrooms such as button mushrooms plus herbs. You also need salt, water, onion, peppercorn and carrots among others.
The process for making homemade mushroom broth is simple. Simply sauté for a few minutes the assorted mushrooms and all the vegetables you want to incorporate into the broth. Add water and leave it to boil. Reduce heat after boiling. Let it simmer until the vegetables are already soft.
You may also add miso paste to your assorted mushroom broth to add a deeper flavor.
5. Soy Sauce Solution
When making gravy and other similar sauces, you can also substitute broth for a soy sauce solution. This solution uses soy sauce and other ingredients such as garlic, bay leaves, herbs and seasonings such as Worcestershire sauce.
A bit of caution though when using this flavorful liquid solution as a beef broth substitute. You need to add it in small proportions as soy sauce is already high in sodium. Adding too much of this could change the entire taste of the dish.
Alternatively, if you prefer ingredients that are gluten-free, liquid aminos works as a substitute for soy sauce. Liquid aminos offer a savory, umami and salty taste just like soy sauce but it is gluten-free.
6. Concentrated Stocks
Concentrated stocks are meat broth, vegetable broth or chicken broth that are reduced to a more concentrated form. They have a rich and intense flavor and can be used for a wide variety of dishes.
FAQs
How long does it take to make my own beef stock at home?

Beef stock that is made from boiled beef bones normally takes at least 10 hours to make in a slow cooker. The more the stock reduces from its original water content, the more intense the flavor becomes.

A good alternative for the beef stock is chicken stock. It takes about 4 hours to create a flavorful chicken stock using a slow cooker or regular stove.

How long can I store my homemade beef stock?

Properly cooked beef soup bone stock will last for up to 4 days in the fridge. You can keep it longer if you divide the stock into smaller portions and put them in the freezer. They can last for up to several weeks.

Will the flavor be the same if I substitute homemade beef broth?

If you are using a beef broth substitute, you can expect some slight to significant differences in flavor depending on which alternative product you use.

For example, if you are using vegetable stock as a beef broth substitute, you can expect that the meaty flavor is no longer there. However, you can expect umami and salty flavor in there.

Can I use water instead of beef broth?

Yes, you can. However, you may consider adding butter and other seasonings to mimic the fatty contents and rich taste of beef broth.
CONCLUSION
Beef broth is a great addition to a wide range of dishes including stews, curries, soups and sauces. However, if for some reason you cannot use beef broth, worry not as there are different alternatives that you can use.
When choosing a beef broth substitute, it's important to consider the final flavor of the dish that you want to achieve.
You may also consider checking out the beef broth substitutes we listed in our review. They are among the popular choices available. For those who are into a special healthy-eating diet, our top pick is the Kettle and Fire Keto Soup Variety Pack, Keto, Paleo Friendly, Gluten Free.
| Product | Brand | Name | Price |
| --- | --- | --- | --- |
| | Kettle & Fire | Kettle and Fire Keto Soup Variety Pack, Keto, Paleo Friendly, Gluten Free, High in Protein and Collagen | Check Price on Amazon |
| | LONOLIFE | LonoLife Low-Sodium Grass-Fed Beef Bone Broth Powder | Check Price on Amazon |
| | Bare Bones | Bare Bones Bone Broth Instant Powdered Beverage Mix | Check Price on Amazon |
| | Kettle & Fire | Kettle and Fire Mushroom Chicken Bone Broth, Keto, Paleo and Whole 30 Approved, Gluten Free | Check Price on Amazon |
| | Better Than Bouillon | Better Than Bouillon Vegetarian No Beef Base, 8 oz | Check Price on Amazon |
* If you buy through links on our site, we may earn an affiliate commission. For more details, please visit our Privacy policy page.