Thailand, or the Land of the Smiles is a Southeast Asian Country known for having many islands ( 1430 islands to be exact), with white sandy beaches, for elephants as their national animal, delicious and mouth watering Thai dishes and street foods, and Floating markets. Other than that, Thailand is also know for their historic temples and Grand Palace in Bangkok. Other things Thailand is known for are their Thai Massages for relaxation, famous Tuk Tuk as mode of transportation, for Full moon epic parties and of course, Thailand very well known for their locals that are friendly. Today, we will be talking more into details about what is Thailand known for. Read on below to find out how unique and magnificent Thailand is.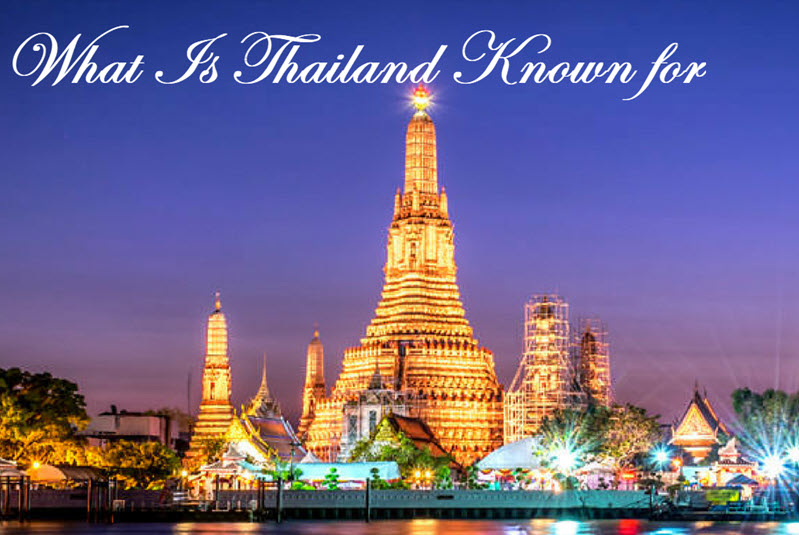 Before we proceed, here's a few facts that you need to know about Thailand.
Thailand has over 4,000 Buddhists Temples.
Hotels and Restaurants are actually inexpensive and budget friendly
Three official seasons: Hot, cold and wet. Although regardless of the season, Thailand is never cold. In fact, it's still Sunny.
What Is Thailand Known for?
Thai Beaches
Thailand famous for its Beaches. Thailand has over 1500 miles of coastline, but one of the major attraction of beaches is located in Southern Thailand.
Beaches such as Bang Saen in Chonburi and Jomtien in Pattaya is one of the most visited amongst all other beaches in Thailand. Although there are still other beaches that are private and more quiet that are yet to be discovered.
Thailand's white sandy beaches is considered to be a paradise. The calms and clear oceans and palms trees that are remote in nature. Visit Thailand if you want to experience paradise. Definitely the country of choice to put on that bucket list.
---
Thai Diving
With over 1500 coastline and white sunny beaches, Thailand is also known for its diving sites.
If you plan to go diving in Thailand, it is recommended to go between the months of November and April. And since Thailand is considered to be one of the best diving places in the world, here are the diving sites that you can add to your bucket list: Koh Lanta, Koh Dok Mai (Phuket). Similan Islands and Koh Tao.
---
Thai Temples
As mentioned, you can find around 40,000 Buddhist Temples in Thailand. Since most of Thai People are Buddhist it is no wonder that that country is abundant with temples, for their faith.
Visiting Thailand's most iconic temples and shrines can help tourists understand the Thai culture of Buddhist people. Each of the temples in Thailand is unique. It ranges from a simple pagoda on one side of Thailand street, to temples located at the center of the city.
Here are some of the best and most popular Temples in Thailand to visit:
Wat Pho- situated in Bangkok. Also known as the Temple of the Reclining Buddha wherein a gold plated Reclining Buddha sculpture can be seen in Wat Pho Temple.
Wat Arun- also known as the Temple of the Dawn, located along Chao Phraya River. A well-known landmark in Thailand. To experience Wat Arun, there's a small admission fee to be able to go inside.
Wat Mahatmat- A temple in Ayutthaya. Built sometime in 1374, one of the oldest Temples in Ayutthaya. The temple highlights a root-covered Buddha.
Wat Rong Khun-popularly known as the White temple located in Chiang Rai Province in Thailand. Privately owned by Chalermchai Kositpitat, who designed and constructed the temple. It was then open to tourists and visitors 1997 till then.
Almost all the provinces in Thailand has their own unique and distinctive temples, but most of the abundant and popular ones are found in Bangkok.
---
Thai-Bangkok's Grand Palace
Thailand is famous for its Grand Palace is of the popular and most landmark in Thailand and is located at the heart of Bangkok. Considered to be a tourist destination and should be included in the must-see lists when in Thailand. It is also known as Phra Borom Maha Ratcha Wang (Longer Thai name).
The Grand Palace was built way back 1782, since then it has been the official residence of the King of Siam, Home of Thai King and Thai royal family, the Royal Court and the Admin seat of government in Thailand.
The Grand Palace features a colorful building with towering gold spires. Although most of the Temples in Thailand are free to enter, with Grand Palace you will be needing an admission fee for Tourists, but Thai Local are free.
---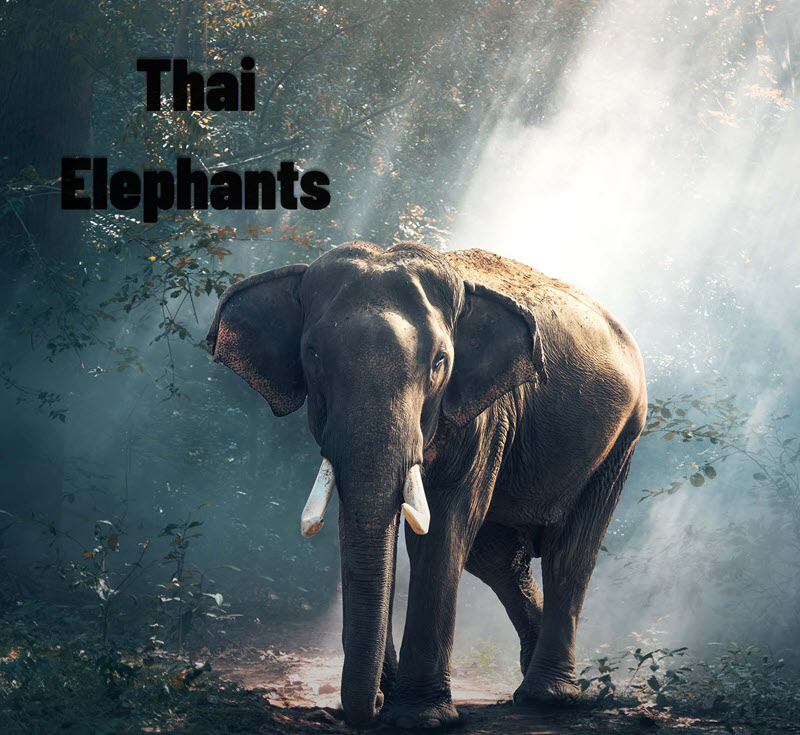 Thai Elephants
Thailand is famous for Thai Elephants, the national animal of Thailand, it is also known as Chang Thai. A popular icon in Thailand that in Thai culture elephants are a symbol of good fortune.
Thai Elephants are so famous that even the main brand of beer in Thailand is named after the Thai word for Elephant which is Chang.
Elephants in Thailand are used mostly on royal parades, elephant rides, war and used for logging, and have been reported countless times to receive maltreatments. Before, Elephants in Thailand has boomed it economy and is popular among tourists and locals as well. But since many are now aware of the welfare and treatments that Elephants are getting, it highly impacts the tourism business in Thailand.
Nowadays, maltreatment and used in labor for Elephants in Thailand is prohibited. As a matter of fact, Elephants are still used for Tourism for the animals are now situated in a safe sanctuaries for sight-seeing purposes. To date, there are just about 1000 Elephants left that exists in the wild.
---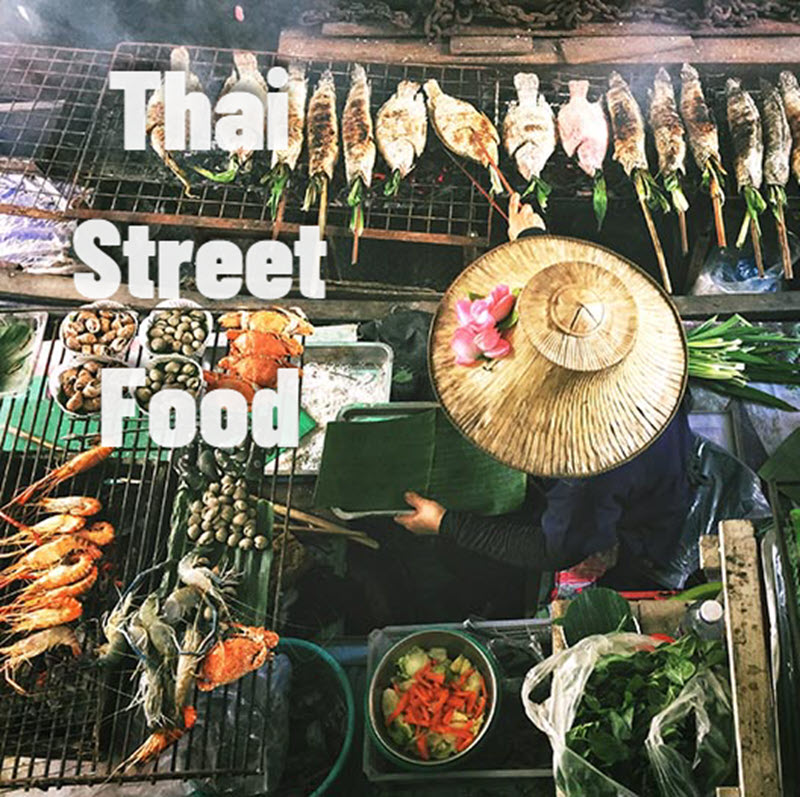 Thai Street Food
If you are in Thailand, make sure to try their delicious street foods. It should be a part of your bucket list to try street food in Thailand. Your adventure will not be complete if you haven't done it.
Street Foods in Thailand comes in all shapes and sizes. Travelers must try and indulge in a different variety of dishes and delicious food to choose from such as:
Tom Yum Goong: shrimp soup that is made using fresh lemongrass. It can be spicy too.
Pad Thai: another delicious dish in Thailand where the main ingredients are rice noodles, eggs (Stir-fried), tofu Fish sauce, Tamarind and of course seafood. One Pad Thai to go pls.
Som Tam: sweet and salty soup that is originally from Laos. Som Tam is made by using papaya (unripe), chili sauce (hot), Sugar (palm), fish sauce and sour lime.
Mango sticky rice: popular Southeast Asian cuisine made with glutinous rice, fresh mango and coconut milk. Can be eaten using a spoon, or just your hands.
Although the government does not allow these street food vendors to sell dishes in Thailand, many have still managed to put up together their own thai food market. You only have to know where to find them. For starters, one particular street food that is known and loved by travelers is the Khao San Road. Also, Rattanakosin has this popular dish called Jai Fai that is cooked by Supinya "Jay Fai" Junsuta, known to be the Queen of Street food.
---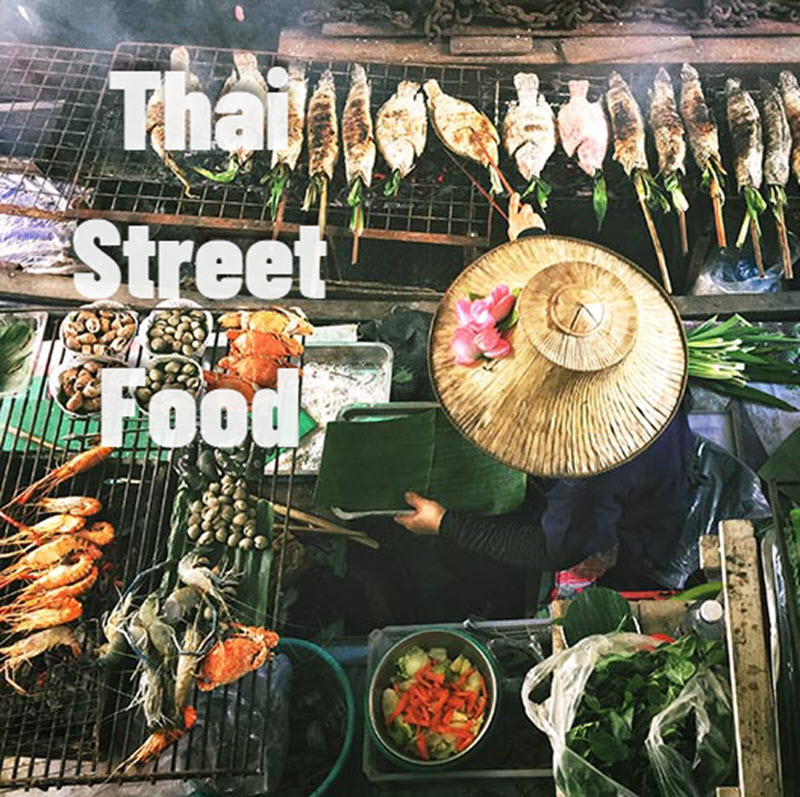 Thai Floating Market
Thailand is famous for Floating Markets or also known for as Water Market are ideally set up particularly in the waterways of Bangkok, Thailand.
Floating markets uses boats and additional floating equipment to allow it to float to the water to sell different varieties of fruits, flowers, street food and even souvenirs as well. Although if you do not want to buy anything, still a visit to the Floating market should be off your bucket list. It is one of the most iconic and sought after attraction in Thailand.
The best floating market in Thailand is Damnoen Saduak. It was once a a market only for Thailand locals but now it has become a famous tourist attraction. The best time to visit Damnoen Saduak Floating market is in the morning, preferably at 7am however it is open until 4pm in the afternoon. But by then, some of the markets are already closed by then.
Floating markets in Thailand can be crowded anytime of the day, but I guess that is what makes it more fun to go there. Seeing locals and non locals enjoying the views of floating boats and people buying stuffs.
---
Thai Tuktuk
If you want to get around Thailand in a colorful vehicle, riding Tuk Tuks is a must-try when in Thailand. Tuktuks are three-wheeled vehicle or motorized rickshaws popular in Thailand. Not only can Tuktuk vehicle are easy to maneuver, it can goes in and out of traffic making it a vehicle of choice for travelers.
Not only that, riding Tuktuk can be fun too. You get to see and explore Thailand when inside a Tuktuk since the windows are bare, unlike when riding the metered taxi which is also available in Thailand.
Ideally, maximum speed of Tuktuk is just about 40mph but it would definitely feels faster because of its size and its weight. Tuktuk can accommodate at least 5 passengers, well including the driver of course.
Despite Tuktuk size, you will be surprised at how it can carry luggage to and from the airport to your hotel.
Although Tuktuk are more expensive as compared to metered taxi. But the fun and excitement that you can get when riding Tuk tuks is definitely worth it. A piece of advice though, before get into a Tuk tuk ride make sure you already have set a fixed price with the driver.
---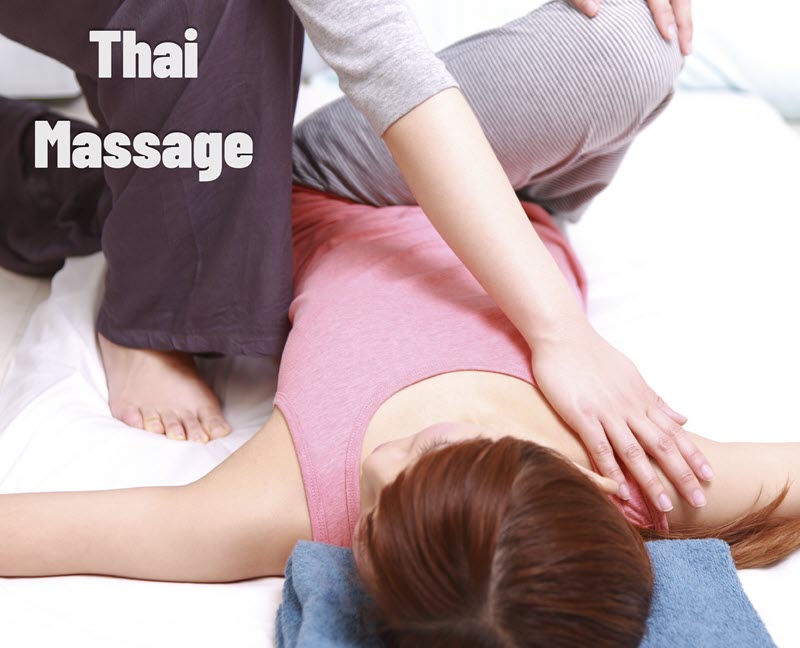 Thai Massage
After a long and tiring day at work, or after getting around Thailand at the end of the day you can have for yourself and experience Thai Massage.
Thai Massage or also known as Thai Yoga, is a massage therapy that usually combines acupressure, compression, and passive stretching as well. Stretching is usually an intense technique in Thai massage wherein clients are stretch and move around in different positions to stretch out but at the same time balancing the body.
Thai Massage is usually not considered as a relaxing massage due to passive stretching, but it can help provide you with relief of joint and muscles, but is also a great technique to help improve posture. Basically, it helps rejuvenate not only the body but also the mind.
---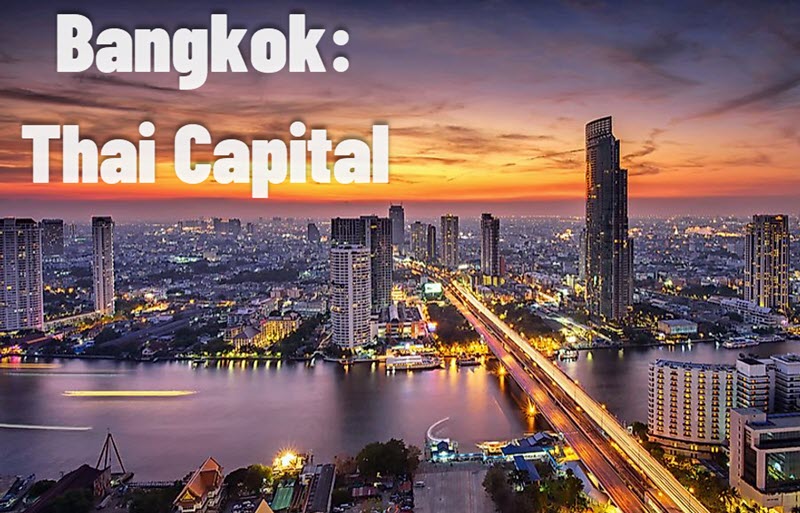 Bangkok is the Capital of Thailand. More than 8 million people are residing in Bangkok. Most of the sites and tourist attraction in Thailand can be found in Bangkok, therefore it is usually the first stop when visiting a Southeast Asia country which is Thailand.
If you want to visit the Grand Palace or the Temple of Emerald Buddha, make sure to take the Skytrain to avoid heavy traffic in going there. Also, if you want to buy souvenirs to take home, you can always walk along the Amulet Market for that.
---
Thai Epic Parties
If you are the party-goer, night life-goer type of person, then you should definitely consider Epic parties in Thailand.
Full Moon parties in Koh Phangan, walking street of Pattay as well as Krabi and Phuket with numerous bars and clubs to choose from, Thailand is indeed a perfect place for those who wants to party the night away.
Full Moon Party in the Thailand is the most epic parties of all time. It is an all-night beach party that started in Hat Rin, located in the island of Ko Pha-ngan sometime in 1985. The beach party usually takes place either before, on the night and or after every Full Moon, hence the name "Full Moon Party".
Many tourists and even locals flocks to attend, witness and experience Full Moon Party in Thailand, but we also need to keep in mind to always stay safe as there might be thousand of individuals present in that said event.
---
Thai Festivals
Locals in Thailand love Festivals. In fact, festivals in Thailand are often celebrated in all areas of country. But most of the festivals are held and celebrated in the grounds of Thai Temples. Festival celebrations varies every year since it is mostly based according to the lunar calendar.
The most important Thai festivals is the Thailand Light Festival or also known as Loy Krathong is one of the most important festival in Thailand. It is usually celebrated in the 12th month of November, on a full moon night. The festival is celebrated to give thanks to the Godness of water. It is done by releasing lotus-shaped baskets. The baskets are decorated with candles and flowers. The baskets are then released to the rivers and waterways.
Make sure to add this festival to your to-do list if you are a traveler in Southeast Asia. Remember, the festival is usually on the 12th month of November, make sure to plan ahead accordingly.
---
Thai Weather
As mentioned, Thailand has 3 weather condition: Hot, cold and wet.
During dry season, Thailand has more tourists maybe because of the temperature during that time wherein it does not exceed 32 degrees Celsius or 90 degrees Fahrenheit.
White sunny beaches on the other hand is busiest during hot season. That's the hand tourists want to go to the beach and get the best sunlight there is.
In Bangkok (Capital city of Thailand), and northern cities in Chiang Mai and Chiang Rai it is during the monsoon season it gets the busiest.
But overall, regardless of any weather condition Thailand is still considered to be an all-year destination for travelers. It's never too cold, nor too hot to visit Thailand.
---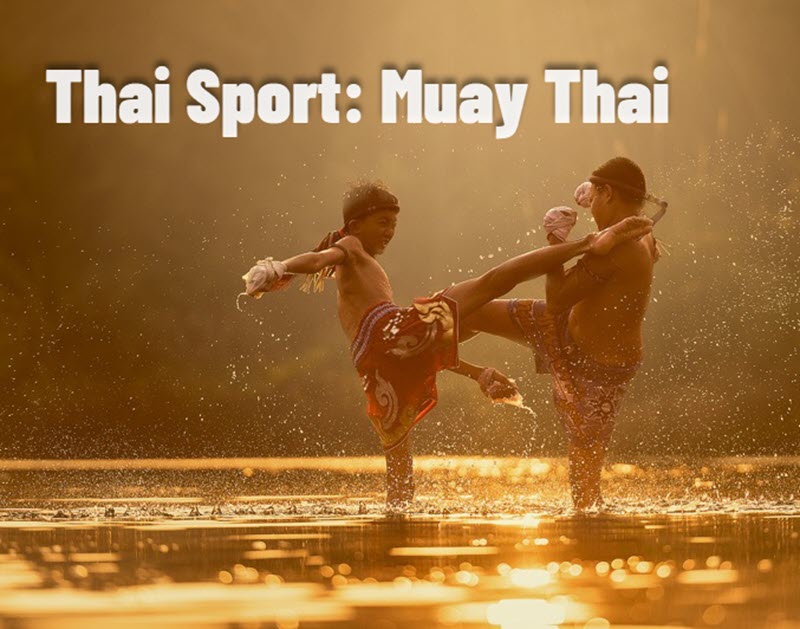 In Thailand, sports is a thing. As a matter of fact, most of the sport games in Thailand are televised on the big screen.
Thai love to play soccer, but the most common sport that Thai usually play is Muay Thai or Thai Boxing. In fact, there are quite a number of boxing gyms in the country. It is a great sport if you are a newbie to sport.
A martial art and combat sport in one. It is known as the art of eight limbs and the sport is a combination of using the elbows, knees, fists and shins.
---
Thai Friendly Locals
The last but definitely not the least of what Thailand is known for are the people. In every country that we get to visit, the major concern of any traveler is not the food, not the tourist attractions and not the temples either but the people.
Locals in Thailand are the most friendliest people. That is perhaps the main reason why many travelers love to back to Thailand and fall in love with the country and the people.
The people in Thailand are very warm and hospitable, this means that a helping hand is always available with smiling faces. If you a newbie in Thailand, local will not hesitate to guide you and help you in case you get lost along way. In short, they are always willing to help.
If you want to interact with the locals in Thailand, a good place to start is by going to the market. In there, you get to talk to them and barter your way to make a deal.
Conclusion
Thailand is one of the beautiful Southeast Asian Countries to go to, and is one of the most visited countries. You will be assured that you will definitely have a good time when you visit Thailand. The weather, food, people and tourist attractions all in one country.