Donuts are among the world's most delectable delicacies. Almost everyone like donuts. What's not to like about this fluffy, light, and crispy fried dough that is dusted with cinnamon sugar or a sweet glaze.
* If you buy through links on our site, we may earn an affiliate commission. For more details, please visit our Privacy policy page.
Did you know that yeast is not required to make donuts? Continue reading if you want to learn how to make homemade donuts without yeast.
Make Donuts Without Yeast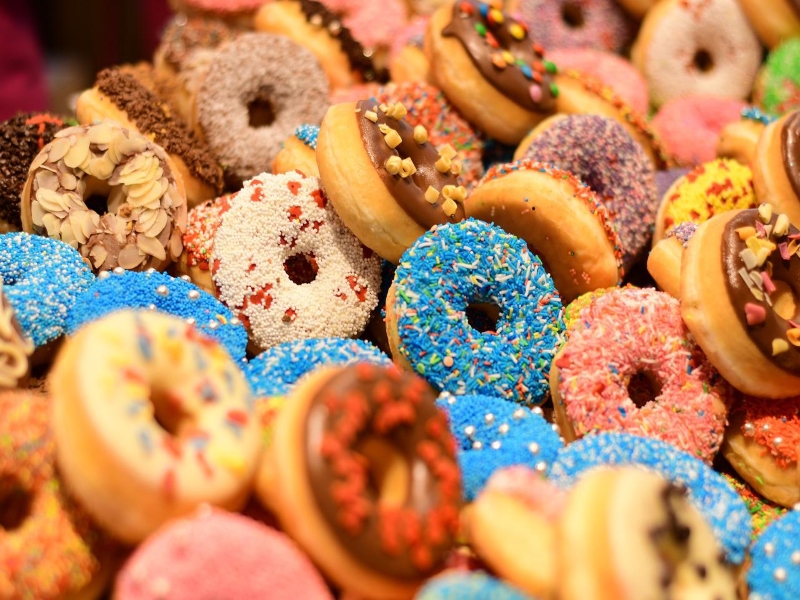 Donuts/Doughnuts
Doughnuts are a type of snack produced from fried leavened dough. It is a popular sweet snack that may be made at home or bought at bakeries, supermarkets, food stands, and franchised specialty retailers. It is produced in a number of ways. Donut is the shortened version while doughnut is the standard spelling.
While flour dough is frequently used to produce doughnuts, other forms of batter can also be applied. Different variations utilize numerous toppings and flavors, such as powdered sugar, chocolate glaze, vanilla extract, or maple glaze. Water, leavening agents (baking soda or baking powder), eggs, milk, sugar, vegetable oil, melted butter, shortening, and natural or artificial flavors may also be used in donut recipe.
The ring doughnut and the filled doughnut, which is loaded with fruit preserves (the jelly doughnut), cream, custard, or other sweet fillings, are the two most popular varieties. Donut holes are occasionally made from little bits of dough. After being cooked, donuts can be glazed with sugar frosting (glazed donuts), covered with chocolate or icing sugar, or topped with fruit, cinnamon powder, sprinkles, or powdered sugar. Other forms include spheres that have been flattened, balls, twists, and others. The two main categories of donuts are cake (including the classic) and yeast-risen variations. Milk or coffee are typical accompaniments to donuts. They can be purchased at food outlets, convenience stores, gas stations, coffee shops, and donut shops.
---
Shapes Of Donuts
Ring Donuts
A classic donut shape. A long, slender piece of dough is joined at both ends to make a ring, or a donut cutter is used, which simultaneously slices the outer and inside shape, creating a piece of doughnut-shaped dough and a donut hole (the donut dough removed from the center). It is possible to fry this tiny piece of dough and serve it as a "donut hole" or to re-use it to produce further donuts. The center of a donut with a disk shape can also be squeezed and stretched into a torus until a hole forms in the middle. A circle of liquid donut dough (batter) can also be dropped directly into the fryer using a doughnut depositor.
There are two varieties of ring doughnuts: those prepared from a particular cake batter or those created from a yeast-based dough for raised doughnuts (yeasted donuts). Yeast donuts have an oil content of around 25% by weight, while cake donuts have an oil content of about 20% but have additional fat added to the batter before frying. Cake doughnuts are cooked at around 374 to 388 °F for about 90 seconds, flipping once, whereas yeasted donuts take longer to fry—about 150 seconds at 360 to 374 °F, and they absorb more oil.
After deep frying the ring donuts, they are frequently topped. Most yeast donuts have sugar glaze on them. Cake donuts can also be topped in glaze, confectioner's sugar powder, or cinnamon and sugar. Additionally, they frequently have cake icing (top only) and may have coconut, chopped peanuts, or sprinkles on top, also known as jimmies.
Donut Holes
The dough from the center of ring donuts was originally used to make donut holes, which are little, bite-sized donuts. The majority of donut hole types were originally originated from their ring donut ( can either be yeast- or cake batter-based dough) equivalents. However, fried donut holes can also be formed by dropping a tiny doughball into heated oil using a cutter or nozzle that has been specially designed for the purpose. Due to this manner of production, non-ring donuts like filled doughnuts, fritters, and Dutchies may now be made in bite-sized forms and sold by donut vendors.
Filled Donuts
Flattened spheres that have been stuffed with cream, custard, fruit preserves, or other sweet fillings are called filled donuts. They are sometimes covered with icing or dusted with powdered sugar. The Boston cream, coconut, key lime, and jelly are popular flavors.
---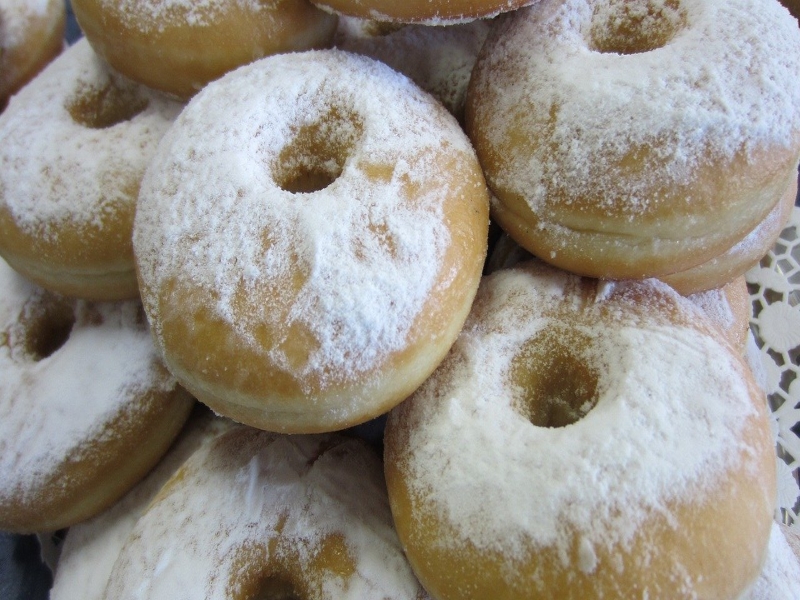 No Yeast Doughnut Recipe
Making donuts without the use of a yeast is pretty simple. You'll be able to make a delicious donut by following this great recipe.
Ingredients
3 1/2 cups all-purpose flour
3/4 cup sugar
1/2 tsp baking soda
2 tsps baking powder
1 tsp salt
1 tsp ground cinnamon
1/2 teaspoon ground nutmeg (optional)
3/4 cup buttermilk
1/4 cup melted butter
1 tsp vanilla extract
2 eggs
Vegetable oil
Instructions
While preparing the dough, fill a pan with approximately 1 inch of vegetable oil, then line a baking sheet with a wire rack and paper towels to serve as a cooling and draining surface for the donuts.
Mix the flour, baking soda, sugar, salt, and spices in a medium bowl and set aside.
Next, place the eggs, buttermilk, melted butter, and vanilla extract in a separate large bowl, and mix thoroughly. The dry ingredients should be added to the wet ingredients gradually while using a whisk to prevent lumps from forming. Do this until it forms a sticky dough.
Place the dough (flour mixture) on a surface that has been gently dusted with flour. After that, flatten the dough with your hands into an about 12-inch-long rectangle that is about 1/2 inch thick.
Heat oil over medium-low heat before slicing the dough.
Cut out the donuts while the oil is heating. Cut out the donuts and the donut holes using a 3-inch round cookie cutter and a 1-inch cookie cutter. About 12 donuts should be formed. After cutting out the dough, if there is any leftover, attach it all together, push it out, and then repeat the process until all of the dough has been utilized.
Put the cut-out donuts and donut holes on a baking sheet, then position the sheet close to your burner so you can quickly drop the donuts into the hot oil. Oil temperature should be 350°F.
Using a donut hole, check the temperature of your oil to ensure it is at the proper level. This should puff up and turn golden brown when you deep fry it for about two minutes on each side if the heat is sufficient.
Drop the donuts into the hot oil gently when ready to cook. Fry the donuts until golden brown, about 3 minutes each side, for donut holes it should only take 2 minutes each side.
Using a fish turner, tongs, or spider, gently remove from the oil once puffed up and golden brown on all sides. The oil will be quite hot, so be careful.
Place the cooked donuts to your wire rack. Then, continue the frying process with the remaining donuts and donut holes until all of them have been fried.
As soon as the deep fried donuts are cool enough to touch, you can sprinkle them with cinnamon sugar.
If you want the glaze the donuts, glaze the them while they are still warm to sink in. After letting them cool for 5 to 7 minutes, dip both sides in the glaze.
Serve immediately. It is advisable to consume these donuts within 24 hours of frying. Enjoy with coffee.
---
Other Donut Recipes Without Yeast Are Listed Below
Baked Donuts
The ingredients for this easy recipe are flour, salt, sugar, and spices like cinnamon and nutmeg. They are blended with baking powder and then buttermilk is added, which activates the baking powder. The dough is placed into a baking pan, and it is baked. The donuts are given a finishing touch by being dipped in melted butter and dusted with cinnamon sugar.
Eggless Donuts
These eggless doughnuts are soft and filling and don't contain eggs. Instead, milk and yoghurt provide them richness and softness, while baking soda and baking powder are used to make the dough rise. After being combined, the dough is given a 20-minute rest before being formed with cookie cutters. After that, they are deep fried to give them the classic fried donut flavor. You have the option to add cinnamon sugar or icing sugar.
Air Fryer Donut
It just takes around 15 minutes to fry the donut in an air fryer. It is as simple as combining self-raising flour and plain yogurt, brushing the mixture with liquid fat like butter, then air-frying the final mixture. You can choose to add a glaze or icing on them at the very end to make them sweeter.
Shallow-fried Donut Recipe
A excellent substitute for deep frying that doesn't require as much work or specialized equipment is shallow frying. Just warm up a small amount of vegetable oil in a skillet and cook your donuts. Add some cinnamon sugar or quickly make an icing sugar coating, then indulge.
Whole Wheat Donut
Whole wheat flour can take the place of all purpose flour. Your finished product will have a denser texture and nuttier flavor as a result. Only 15 minutes are needed for the dough to rest before shaping and baking in order to allow the gluten to relax.
---
Some of the items you can use to make donuts are listed below.
Brand: DASH
Color: Aqua
Material: Metal
Style: Machine
Mini donuts may be quickly and easily made at home and are ideal for kids' parties, entertaining, and snacking. They can be filled, frosted, glazed, decorated, sprinkled with sugar, and more.
Quick and simple to use. Simply select your desired batter (cake mix, brownie mix, etc.). It's so easy to use that even children can do it.
This equipment makes 7 donuts in a few minutes, making it ideal for busy people, large families, and choosy eaters. The nonstick surface also makes cleanup a breeze.
If you are interested in buying this item, simply click on Amazon
---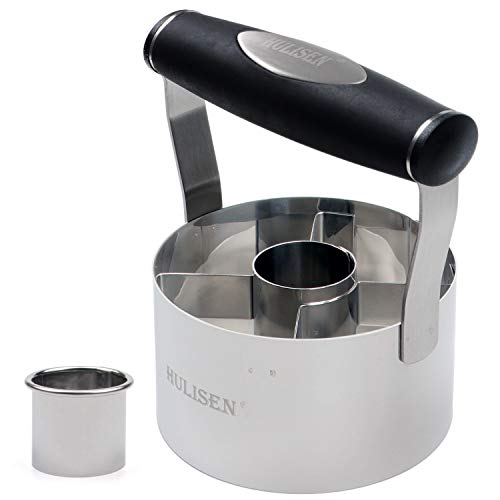 No rust, dishwasher safe, and made of stainless steel with a nice grip handle. They are made of sturdy, long-lasting material that allows them to maintain their form and easily cut through sticky or hard dough.
No-Slip Soft Handle: This handle's non-slip grip and ergonomic shape will make baking simpler. You can bake more without worrying about hand and wrist strain thanks to the soft grip handle. Plastic is significantly riskier than the thick rubber.
Perfect Size: 4.72 inch height, handle is high enough to prevent contacting the food, round doughnut cutter is 3.5 inches in diameter and separate donut hole center measures 1.2 inches.
When all of the bigger doughnut have been cut, you can use the extra 1.2-inch biscuit cutter, you may go through the leftover dough and make as many donut holes as you can from the remaining biscuit.
For both professional bakers and home cooks, this pastry cutter set is a need. The ideal tool for making lovely cookies, exact fondant circles, donuts, flaky biscuits, crumpets, miniature cakes, tarts, and more.
If you are interested in purchasing this product, just click on Amazon
---
Brand: HEHALI
Material: Silicone
Color: orange &pink
Shape: Round
Special Feature: Freezer safe, Oven-safe, Microwave Safe, Dishwasher safe
Size: 11.5 x 7.9 x 1 inches, each slot has a diameter of around 3 inches, and there are a total of 6 slots, making it perfect for usage by the entire family. In comparison to regular donut molds, this silicone one is harder and more lasting. This is perfect if you want your donuts baked. It may also be used for other desserts.
Simple to Use. Their silicone donut pan will fit flawlessly in your oven; just set it on a cookie sheet, fill it with batter, and bake it in accordance with the recipe's directions.
Silicone has superior heat regulation capabilities, so rest assured that your baking will be non-stick and simple to clean.
High quality: Their full-sized donut pans are constructed of premium, 100% food-grade silicone that is safe to use in the microwave, freezer, dishwasher, and under 450°F of heat. They are built to last a lifetime. No more rusting metal.
Buy this product now on Amazon
* If you buy through links on our site, we may earn an affiliate commission. For more details, please visit our Privacy policy page.