Air fryers are pretty amazing as they allow you to conveniently cook a variety of food without much effort. They are designed to make cooking easier and more fun. And the best thing about modern air flyers is that they also come with a rotisserie. Now, that is ingenuity!
* If you buy through links on our site, we may earn an affiliate commission. For more details, please visit our Privacy policy page.
An air fryer with a rotisserie takes air frying and roasting to another level. Imagine having one compact gizmo that can do the job for you right in your kitchen.
If you are looking for the best air fryer with a rotisserie, chances are you'll get overwhelmed with dozens of brands available with seemingly similar features. We already did the hard job of checking and testing the best air fryers with rotisserie in the market so that all you have to do is identify your needs and check which product best matches your needs.
Best Air Fryers with Rotisserie
Dimensions: 20.18 x 15.96 x 16.44 inches
Wattage: 1,000 watts
This brand has always been one of our favorite manufacturers of kitchen appliances since we know how much they focus on quality. Their appliances are also easy to operate and this unit is no exception. If you love preparing a deep-fried chicken or fried whole turkey for your Thanksgiving dinner, the CDF-500 model is the smartest and safest way to do it. With this model, air frying turkey, chicken and other types of bird will be fast and easy.
Moreover, the CDF – 500 model is a heavy-duty air flyer that's made of stainless steel. It has a solid construction which tells you that it was built to last. If you are looking for a professional-grade air fryer that can stand a lot of abuse, this product is a perfect choice. Also included in the set are a lifter, a rotisserie basket and a stainless mesh air fryer basket for frying.
But what we really like about this air fryer with rotisserie is its versatility when it comes to cooking different types of food. You can use it to fry up to 2 pounds of food item such as onion rings, fries, vegetables, chicken, donuts and more. It also works great for steaming a complete meal which may include meat or poultry and vegetables. Shifting the rotisserie function is quick and easy by moving the toggle switch.
It's worth mentioning that this air fryer has a removable immersion-style heating element that is very efficient and precise when it comes to telling the temperature since it is totally submerged in oil. The temperature setting in this unit is between 174 and 375 degrees Fahrenheit while the cooking time can be set between 10 and 120 minutes.
The oil pan which holds up to 5 liters of oil is also removable. It has a minimum and a maximum line so you don't have to worry about measuring. Since the pan is removable, cleaning it is a breeze.
Pros:
Extra durable and heavy-duty construction
Works well for frying, roasting and steaming
Easy to operate
Heating elements are precise
Removable components are easy to clean
Compact
Cons:
---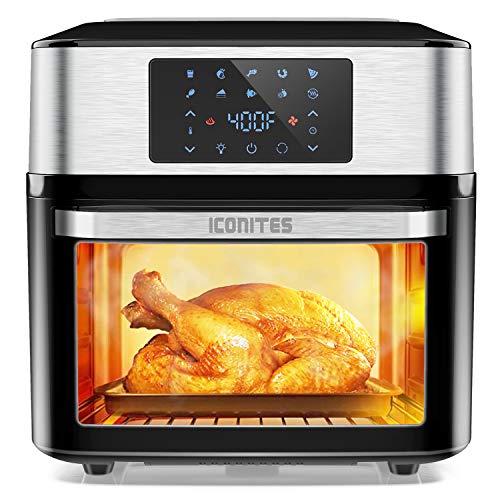 Dimensions: 15.2 x 15.2 x 15.4 inches
Wattage: 1,800 watts
Imagine having ten functions in one device. That's insane! It's like buying ten devices for the price of one. That's why we are confident to include this model on our list of air fryer with rotisserie.
This air fryer is a good choice for family use because of its large capacity of 20 quarts. Moreover, its multiple applications allow you to use it not only as an air fryer and rotisserie but also as a pizza grill, dehydrator and toaster oven. This air fryer has a minimum temperature of 180 degrees Fahrenheit and a maximum of 400.
Upon checking how this air fryer works, it requires less amount of cooking oil than a regular fryer. It locks in moisture and cooks food evenly so that you get fried chicken or fried meat that is moist on the interior and crispy on the outside.
With its ten preset options, this air fryer makes cooking different types of dishes possible with a push of a button. Its LED touchscreen display shows the icons of food you can cook with it and all you have to do is select one to start cooking.
This digital air fryer comes with a skewer for the rotisserie, rotating basket, rotisserie basket, fry net basket, fetch rack, drip tray, chicken rotisserie forks, oven mitts, and 5 pcs dehydrating racks.
Pros:
Multifunctional
Digital controls
Air fryer function allows you to cook with minimal oil
With 5 oven rack levels for dehydrating foods
High capacity
Glass view allows you to see the progress of what you are cooking
Cons:
Some customers find it hard to choose the button for the type of cooking they want as the options are displayed in small icons with no instructions.
---
Dimensions: 13 x 15.4 x 16.9 inches
Wattage: 1,800 watts
This is another model that's perfect for family use, specifically if you are looking for an appliance that can do more than just frying and roasting. With the NuWave Brio, you can also grill, bake, air-fry and dehydrate your favorite poultry, meat and vegetables. What we like most about this air fryer with rotisserie is that it makes indoor grilling easier and faster.
Another thing that you'd probably like about this rotisserie oven is that it comes with 100 preprogrammed presets that allow you to cook a wide variety of food items without having to create your own settings.
Moreover, apart from getting a complete rotisserie kit (includes a skewer and rotisserie basket), this unit also comes with a grill/griddle plate, mesh food trays and a drip tray.
With the temperature probe that comes with this air fryer, it means that there's no guesswork when it comes to temperature settings. The Brio will then cook your food and automatically shut off once the cooking is done.
Moreover, as this air fryer comes with mesh oven rack trays that work as air flow racks, the hot air can freely flow inside the oven, allowing the food to cook evenly. Depending on what you are cooking, you can set the temperature from 100 to 400 degrees Fahrenheit.
Pros:
Huge rotisserie basket
Digital controls
Comes with one-year limited warranty
Allows several cooking functions
High capacity
Removable components are dishwasher safe
Cons:
Several customers reported quality issues with the door hinge
No rotisserie cage
---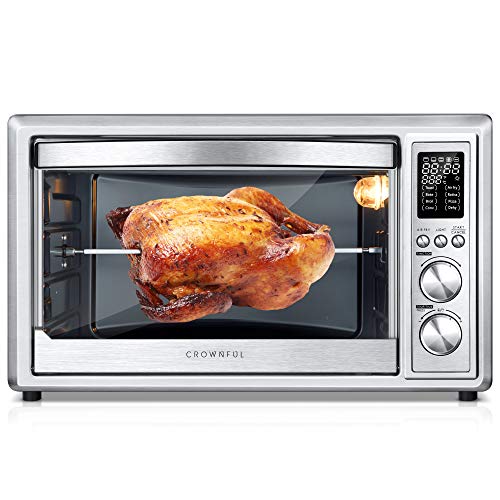 Dimensions: 20.08 x 15.16 x 12.16 inches
Wattage: 1,800 watts
Multifunction air fryers such as this product are becoming popular for family use, especially for busy households. Cooking familiar dishes such as rotisserie chicken, fried chicken wings, and pizza is a lot easier with this air fryer. Not only that, but it also works for broiling, toasting, baking and dehydrating foods. You can do all that using one appliance for the price of one.
What makes this 32-quart air fryer toaster oven stand out is that it uses a new technology that lets the hot air circulate at 360°. With this technology, you can cook fried foods with little to no oil while still achieving that crunchy crust. Also, it has a high maximum temperature setting of 450 degrees Fahrenheit.
Moreover, with the large capacity of this air fryer, you'll have enough space for cooking up to 5.5 pounds of a whole chicken or baking a 12-inch pizza, or toasting five slices of bread. It's a perfect choice for a big family.
With this air fry rotisserie, you'll also get other accessories such as a wire rack, food tray, fetch tool for the rotisserie, air fryer basket, rotisserie fork set, food crumb tray and handle.
Pros:
Extra-large capacity – one of the largest among the air fryers with rotisserie products reviewed
Comes with a recipe book
Allows for multiple cooking functions
Easy to clean
LED display allows for ease of use, especially when customizing the settings.
Cons:
---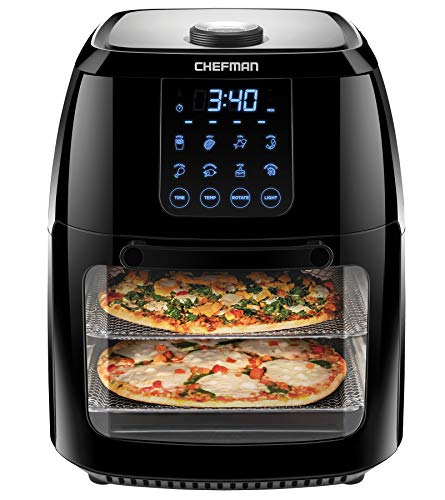 Item Dimensions: 11 x 10.5 x 14.75 inches
Wattage: 1,700 watts
We've seen several air fryers with rotisserie functions that are multifunctional but aren't really solidly constructed. Fortunately, if you are willing to spend a bit more you can get quality air fryers that also work as a rotisserie oven such as the Chefman air fryer. This air-fry rotisserie also functions as a dehydrator, which makes it versatile.
With this compact product in your kitchen, you can do a lot of cooking tasks easily and conveniently. It's a perfect choice for busy professionals who have limited time in preparing home-cooked meals. With this air fryer, you can roast a whole chicken, fry your favorite chicken wings and vegetables, or dehydrate any leftover pineapple and other fruits.
The temperature settings of the Chefman air fryer start at 140 degrees Fahrenheit with a maximum of 400 degrees Fahrenheit. It features a 60-minute digital timer with auto shut-off, which means that you don't have to always monitor what you're cooking. Plus, it allows you to fry with little to no oil.
The accessories that come with this air fryer include a complete rotisserie kit (rotisserie basket, retrieval tool, rotisserie spit), two removable racks and a drip tray.
Pros:
Multi-purpose gadget
With one-year limited warranty
With integrated air filter for odor-free cooking
Digital operation
Cons:
Small capacity
Does not include a rotisserie rod
---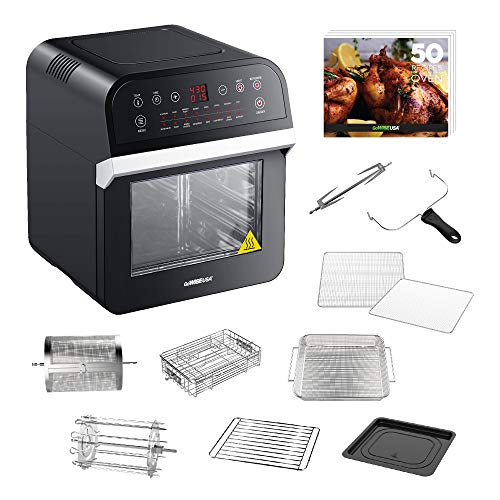 Dimensions: 11.5 x 12 x 14 inches
Wattage: 1,600 watts
This is another family-sized air fryer that's ideal for busy households. It's a perfect choice if you want a skewer rotisserie for chicken and kebab recipes. With its 12.7-quart capacity, you can feed up to six people in one batch. Since this air fryer has a compact design, it is also great for those with limited counter space.
What we like about the GoWISE USA GW44800 is that it has a high heat limit of 430 degrees Fahrenheit, allowing you to air fry and dehydrate food faster. Not only that, the high heat also allows you to achieve a crispy exterior and moist interior when you air fry or roast chicken. With its built-in rotisserie, you can also prepare racks of Kebabs, whole roasts and a lot more. And with this air fryer oven, you can also bake an 8-inch cake or pizza, fry French fries, or fry up to 18 pieces of chicken wings.
This air fryer comes with ten accessories including a rotisserie rod, rotisserie tong, drip pan, oven rack, skewer, rotisserie, rotisserie steak cage, rotisserie cage, shallow mesh fry basket plus two mesh food trays. The drip pan is non-stick and removable, which makes it easy to clean.
Pros:
Comes with 50 recipes
With a one-year warranty and lifetime customer support
High heat limit of 430 degrees Fahrenheit
Multifunctional
Cons:
---
Dimensions: 13.23 x 13.23 x 14.37 inches
Wattage: 1,500 watts
The Instant Vortex Plus air fryer is also worth checking out if you want an appliance that can cook faster than your typical oven. This 7-in-1 air fryer can do the job of a microwave, convection, pizza oven, toaster or dehydrator faster and even better.
What is incredible about the Instant Vortex Plus air fryer is that whatever meat or poultry product you put in it for air frying, the result is consistent – extra crispy on the outside and tender on the inside. The company has perfected their EvenCrisp Technology(TM) which is why you get the best results every time. And you can achieve this result with little to no oil.
The unique technology of the Instant Vortex Plus air fryer locks in moisture inside while the super-hot air freely circulates, giving your food that golden texture that you would usually achieve by deep-frying. So if you like healthy cooking without guilt, the Instant Vortex Plus air fryer is a good choice for a cooking appliance.
This Instant Vortex air fryer comes with cooking trays, drip pan, rotisserie pit, rotisserie basket and forks. These components are all dishwasher safe.
Pros:
Fast cooking time, with no preheating time
Minimal grease
With dishwasher-safe components
Multi-purpose oven
Cons:
---
Buyer's Guide: How to Choose the Best Air Fryer with Rotisserie
An air fryer with rotisserie oven for home use generally costs from $100 to $250. The price tells you that it is not a cheap kitchen tool. So before you make a decision on which product to buy, here are some important factors that you need to consider:
Capacity
The capacity or size of the air fryer with rotisserie oven matters as it tells you the maximum amount of food you can cook with it at the same time. If you are a family of four or an even bigger family, it's just right to choose an air fryer with at least a 12-quart capacity. There are also air fryers with bigger capacity that is more ideal for a big family or for party use.
In relation to the capacity, it's also a good idea to check the dimensions of the air fryer you are getting. In most cases, large capacity air fryers are also bigger in size. If you have limited kitchen counter space, check the dimensions of the fryer first to make sure it fits on your counter.
Even Distribution of Heat
Once you have identified the size that's perfect for your needs, you can then check the rest of the features that can help achieve the best results.
Air fryers with rotisserie oven will only produce that golden color, crispy exterior texture and moist interior if it evenly distributes heat and allows the hot air to freely circulate. Most manufacturers will claim that their air fryer allows for even distribution of heat, but you can tell for sure by reading actual reviews and feedback from their customers.
Cooking Functions
What other functions do you want in your air fryer? Some air fryers also work as a dehydrator, steamer, and oven, and those are bonus features. It would be good to get a multi-functional air fryer because it is like getting multiple gadgets for the price of one.
Temperature
Another important factor that you need to check before making a purchase is the minimum and maximum temperature settings of the air fryer with rotisserie. A unit that can go more than 350 degrees Fahrenheit is ideal for multifunctionality.
Accessories
The air fryers with rotisserie we listed in this guide come with different accessories which greatly vary depending on the functionalities of the unit. For instance, if the air fryer is mainly used for rotisserie function, the most basic accessories to look for are a removable drip pan, rotisserie fry basket, rotisserie spit, rotisserie rod and rotisserie cage. Some may also come with rotisserie tongs and air flow racks.
What you need to check when it comes to accessories is not only the quantity but most importantly the quality of the components.
Conclusion
Air fryers with rotisserie are among the most powerful kitchen appliances that can make your life easier. We have seen a number of air fryers that give you different cooking options from steaming, baking, roasting and dehydrating, among others. After carefully checking their features and feedback, we've come up with our top favorite – the Cuisinart CDF-500 Extra-Large Rotisserie Deep Fryer. It comes with an immersion-style heating element which gives a more precise temperature reading than most types of heating elements for air fryers. Apart from that, it has many positive reviews and their customers pointed out that it is a heavy-duty appliance that is highly efficient in cooking your food items.
Alternatively, if you want a more budget-friendly option and would not mind a bit of noise, the Instant Vortex Plus Air Fryer is also a good choice. While some customers say that it's a bit noisy, we found that many of the features that this air fryer rotisserie has are on par with other more expensive items on our list.
* If you buy through links on our site, we may earn an affiliate commission. For more details, please visit our Privacy policy page.