Cherries are small stone fruits from various genus plants. These genus belong to the Rosaceae family. The different types of cherries can be distinguished by their buds, flowers, and their fruits. Most of these cherries are native to the Northern Hemisphere and majority are found in Eastern Asia. Those cherries that are cultivated came from Eastern Europe and Western Asia, between the region of Balkans and Caspian Sea. Cherries shelf life can last up to 3 days after being harvested and 5-10 days when refrigerated.
Not only are they delicious, all cherry varieties are also packed with impressive health benefits and an absolute source of nutrients like vitamins, minerals, and fiber. Here are some of the traits and health benefits different cherries possess that you might want to know.
Health Benefits
Cherries are the number one source of antioxidants and inflammatory compounds. Regular consumption of cherries can fight aging, protect against chronic conditions like cancers, mental illness, heart diseases, diabetes, and others.
These cherries may help relieve muscle pain, inflammation, and prevent strength loss.
Higher intake of cherries can help reduce inflammatory symptoms for gout and gout.
Drinking tart cherry juice is the best solution when having sleepless nights. This is because cherry contain melatonin that benefits one's sleeping cycle.
Cherries are also ready to add in your diet. They can be eaten barely with your hand, and can be used in both savory recipes and various sweet desserts.
Since you are now aware that these various types of cherries are highly nutritious, let us get to know both tart cherries and sweet cherries varieties so you can add them to your diet or use them in assorted recipes.
Different Types of Cherries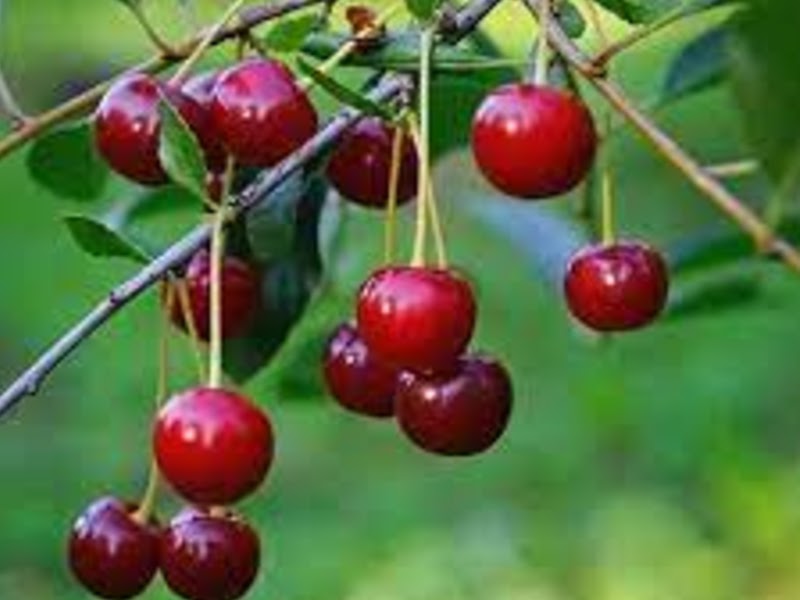 Sour Cherries
Known as Prunus cerasus, are native to Europe and Southwest Asia. These varieties are more acidic compared to sweet cherries. The pulp which tastes sour is also edible. Sour or tart cherries are best consumed when cooked as their taste comes into full flavor when heated. They can be used in making pies, jams, dessert sauces, cobblers, and other recipes. Sour cherries are best ingredients in making Maraschino liqueur. And this category are classified into two types. Cherries with yellow-colored flesh and white juice belong to Amarelle-type cherries, while those with red flesh and red juice are the Morello-type cherries. Here are some of the sour cherry varieties:
Early Richmond – is a self-fertile amarelle cherry and produces sour types of cherries. These heavy-producing plant bears flavorful, juicy, and tart fruit that are best when made into pies or being preserved. Its fruit has a bright red skin and is tart-acidic in taste.
English Morello cherries – are very dark red sour cherries. The English Morello cherry trees produce abundant fruits, but these cherries are smaller than the classic sweet cherry. These cherries also produce red juice with a very acidic taste especially when they are fully ripe and eaten uncooked.
Montmorency Cherry – this cherry fruit is medium to large in size, round in shape, has a bright red skin, and a soft yellow flesh with a tart and acidic taste. It's an amarelle-type of cherry named after a valley in the Ile-de-France. Montmorency cherries can be canned and the best types of cherries used for making pies.
Meteor Cherries – These are amarelle of cherries that are large in size, with pale red skin and yellow-colored flesh that are slightly acidic. These cherries are notable for their excellent quality, and best to use in making pies or sauce. A meteor cherry tree usually measures around 8-10 inches tall when matured. Around mid-May, white blooms should arrive and are ready to be harvested in late June or early July.
---
Sweet Cherries
This type of cherries are best eaten when fresh and are a perfect ingredient for fruit salads, ice cream, yogurt, cherry pie, and other dessert dishes. These cherries originated in North America and Europe, and is also known as mazzard. Sweet cherries season is from May to mid-July, mid-spring to mid-summer in the Northern Hemisphere. It can be harvested early, mid-season, or late season. Here is the list of sweet cherry varieties you may want to get acquainted to: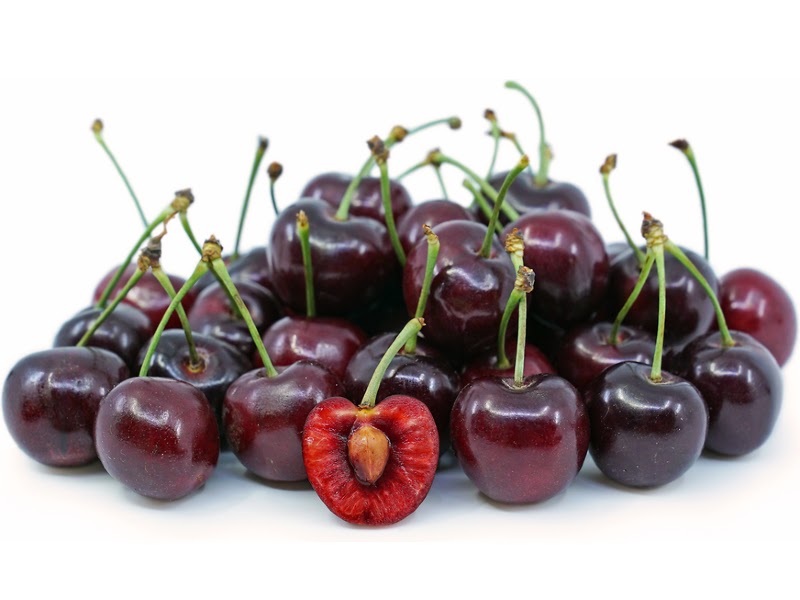 Bing Cherries – are large in size, red-black skin color, and a dark purple flesh when ripe. Bing cherries are usually found in North America and considered a fresh-market type of cherry in California. The cherry flesh is juicy and sweetly aromatic. This is the most popular type of sweet cherry variety and among the most delicious cherry fruits in the world. People can search these cherries in the grocery store.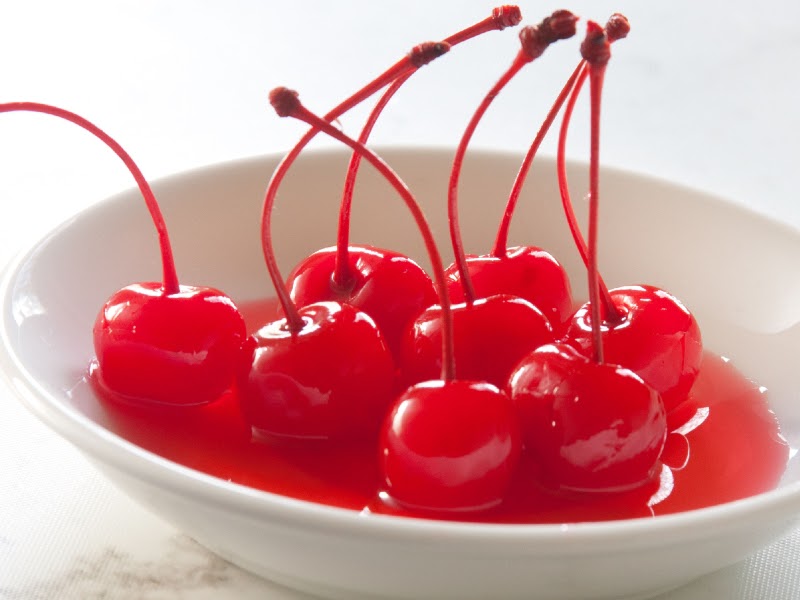 Maraschino Cherries – These kind of cherries are sweetened and preserved. Gold which is a variety of cherry from Michigan, Ranier, and Royal Ann, which are light-colored sweet cherry varieties are usually these Maraschino cherries made of.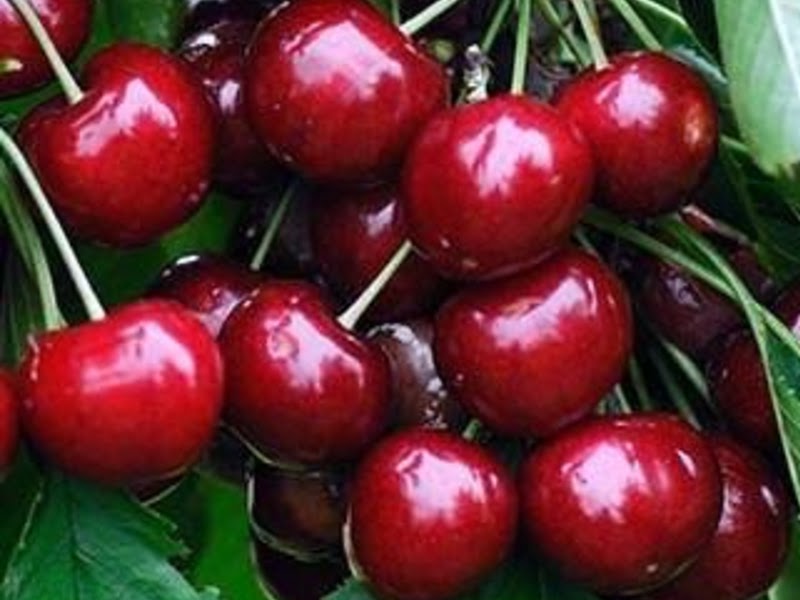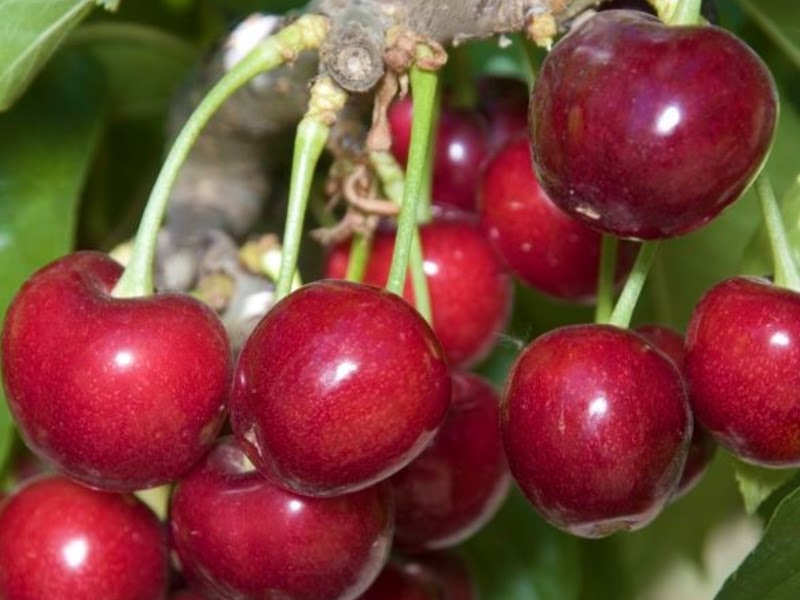 Sweetheart cherry – is also a cherry cultivar developed in Canada, hybrid of Van and Newstar cultivars. It has a heart-like shape and bright red outer skin. These are among the cherry varieties grown by Dahle Orchards in Oregon. Sweetheart cherries have a sugary sweet flavor with a mixture of tart. This is a late season cherry with a juicy and firm texture.
Rainier Cherries – were developed Washington State University by Harold Fogle in 1952 and its name is derived from after Mount Rainier. These cherries are known to be a premium type of cherry. They have thin skin, but thick yellow, creamy flesh with a sweet flavor with enough tartness. Rainier cherries look like small apples.