On hectic days, we sometimes lack the time to prepare complex meals. This is especially true for people who are working professionals, individuals who are on their camping trip, or college students living in dorms. When we're on a tight budget or just need a quick energy boost before the day begins, canned meat will do.
* If you buy through links on our site, we may earn an affiliate commission. For more details, please visit our Privacy policy page.
Canned foods are still a favorite among outdoor enthusiasts, budget-conscious shoppers, and campers today.
It might be challenging to select the canned meat because there are so many different brands available in the market, some of which offer more flavor than others.
If you want to learn more about the different types of canned products, particularly canned meat products, scroll down and continue reading.
Types Of Canned Meat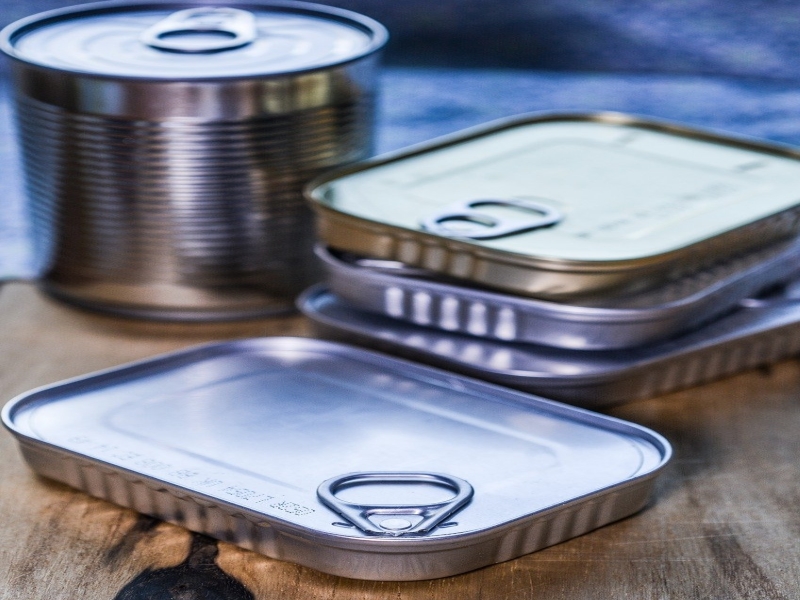 What Is Canned Meat?
Canned meats are processed foods (meat products) that are put inside a can. The method of making canned meat products involves hermetically sealing the product in a can, often made of tin-coated steel cans, and thermally processing it to kill any bacteria that could cause spoilage.
---
Canned corned beef hash is a canned beef that is made up of chopped, cured corned beef, and has been combined with potatoes. Opening the can reveals it to be mushier than you might have anticipated, but it's still tasty.
Although you have the option to eat it straight from the can, it is still nice to warm it up so that you may at least get a lovely crust on it. It only needs a little oil in a skillet to crisp it up on the heat, and some runny eggs to go with it. You can add ketchup and hot sauce if you prefer to enhance the flavor.
Mary Kitchen Corned Beef Hash is an example of a tasty brand of canned corned beef
Brand: Mary Kitchen Hash
Size: 14 Ounce (Pack of 8)
Flavor: Beef
Weight: 14 Ounces
This canned meat is already fully cooked and ready to serve.
They have been providing us with the best canned meat, created with premium ingredients and cooked to perfection, since 1936.
If you are interested in buying this this product, simply click on Amazon
---
There are several different kinds of seafood, but tuna fish is one of the most well-liked. In addition to being plentiful and delicious, tuna is also very nourishing.
Tuna is preserved by canning it in brine, water, edible vegetable oils, or other sauces. Only albacore tuna can legally be marketed in cans as "white meat tuna" in the United States, yellowfin is also acceptable in other nations. In other countries, canned tuna is also referred to as tuna fish. As of 2003, canned tuna in Australia was typically yellowfin, skipjack, or tongol, although in the early 1980s it was probably southern bluefin.
Eating tuna has many health benefits, which helps to lower risk of heart disease, the prevention of eyesight disorders, a lower risk of cancer, and assistance with weight loss because of its robust nutritional composition.
Tuna is also rich in essential nutrients, such as vitamin B and omega-3 fatty acids, just like sardines and salmon.
StarKist Chunk Light Tuna in Water is a well-known brand of tuna in cans. Their Chunk Light Tuna provides 20g of protein and 90 calories per can and is an excellent natural source of Omega 3. It fits in nicely with the Keto, Paleo, Mediterranean, and Weight Watchers diets and is soy- and gluten-free.
Brand: StarKist
Weight: 5 Ounces
Protein: 10 Grams
Specialty: Gluten Free
Allergen Information: Soy Free, Gluten Free, Tuna
They offer 100% all-natural chunk light tuna in handy, nutrient-dense tuna cans that are ideal for quick snacks or meals on the road. It is a flexible and simple approach to add flavor to food. It can be used in warm casseroles, sandwiches, cool tuna salads, and even on its own as a snack or supper.
If you want to buy this product, just click on Amazon
---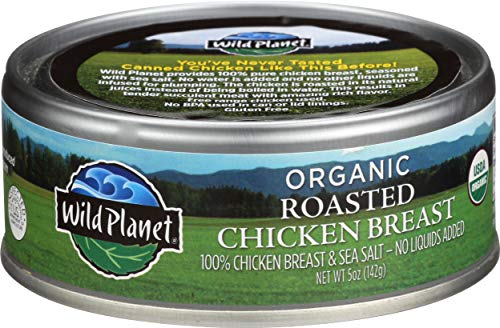 Another popular canned meat is canned chicken breast. Chicken breast in a can is another well-liked meat. Chicken in cans often has a low salt content and sometimes practically none at all. Furthermore, chicken has a rich nutrient content and may have a lower risk of heart disease than red meat. Canned chicken is definitely one of the healthiest canned meat products.
In addition to being a great source of lean protein, canned chicken breast is also a wonderful source of vitamins B, D, calcium, iron, and zinc, as well as trace quantities of A and C. The dietary values mentioned above help our immune system, muscle growth, and energy production.
Wild Planet Organic Roasted Chicken Breast is a good product to purchase.
Brand: Wild Planet
Weight: 5 Ounces
Protein: 12 Grams
Diet Type: Gluten Free
To preserve all of its natural taste, nutrition, and moisture, this product is made with only skinless, boneless chicken breast that has been roasted inside the can. It tastes great right out of the can or is ideal in salads, burritos, or soups.
If you are interested in purchasing this product, click on Amazon
---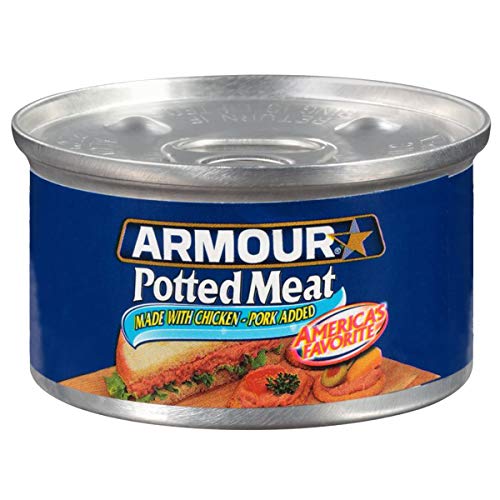 When you combine chicken, pork, salt, water, and a few seasonings, the result is potted meat. It is salty and usually tasty, but it also has a very distinct flavor.
Potted meat has a soft, lumpy, and occasionally slightly runny texture.
While many companies produce this item, the blue-tinned Armour Star brand may be the best example of potted meat.
Brand: Armour potted meat
Size: 3 Ounce (Pack of 48)
Flavor: Potted Chicken and Pork
Weight: 3 Ounces
This canned meat is versatile, and ready to eat potted meat. You won't be needing a can opener if opening it. It also doesn't require cooking.
This pork and chicken-based canned meat is gluten-free. You can use the canned food as a spread on crackers or in sandwiches.
Purchase this product now on Amazon
---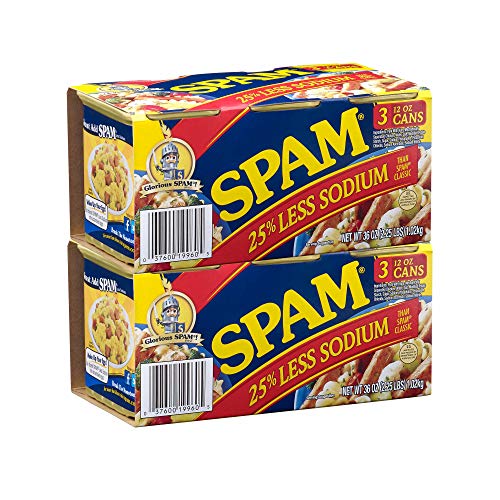 Brand: SPAM
Size: 12 Ounce (Pack of 6)
Flavor: Chicken, Pork
Weight: 12 Ounces
A fully cooked canned pork with ham.
Although Spam may be the king in the canned luncheon meat market, we believe all brands are also delicious. Other canned meats that are more juicy and flakier sometimes come with a side of fat. The meat gets taste from this lumpy, oily, and juicier mixture, but it also makes the meat seem much less attractive. Canned luncheon meat in a can is tasty and salty. It's definitely a sight to behold. In contrast to certain canned meats, which have a loose texture and can only be incorporated into salads and soups, it may also be sliced and grilled.
If you want to purchase this product, click on Amazon
---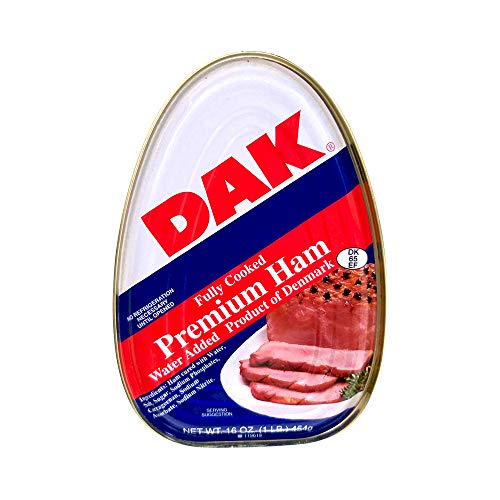 It's safe to consume canned ham directly from the can. You can instantly consume this canned pork after opening it up. There are also many delectable methods to prepare canned ham, on the stove, on the grill, and in the oven, but the point is that you don't need to cook it beforehand due of the way it's made and packaged. This means that meat could be consumed back then without the convenience of refrigeration. It's definitely one of the simplest breakfast or snack options available today.
Typically, canned ham is produced mechanically. This process involves flavoring, preserving, and finely chopping pork leg muscle meat before it is molded and packaged.
In addition to offering important vitamins, minerals, and amino acids, ham is a lean source of protein. Selenium is extremely abundant in it. It is claimed that this food's robust nutritional composition supports weight loss, aids in maintaining muscle mass, and lowers several forms of inflammation.
Brand: DAK
Size: 16 Ounce (Pack of 1)
Flavor: Ham
Weight: 1 Pounds
Great for camping, hunting, fishing, boating, and as an emergency food supply because it is shelf stable.
You may serve this hot or cold, and it is quite practical, fully cooked, and "ready to eat".
Extremely adaptable; can be used as both a component and the "center of the meal".
No waste, great for breakfast, lunch, and dinner as well as a tasty between-meal snack.
You can buy this product, by simply clicking on Amazon
---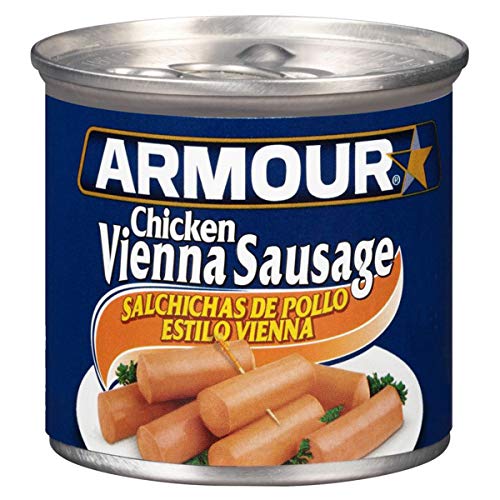 A perfect example of canned sausage is Armour Star Chicken Vienna Sausage.
Brand: Armour
Flavor: Chicken
Biological Source: Chicken
Package Type: Canister
Chicken in chicken broth is used to make this canned meat.
Canned sausage is completely cooked and ready to eat for easy snacking. This canned meat can be consumed straight out of the can or used to recipes.
Vienna sausages are convenient to keep on hand for an emergency kit or the pantry.
Purchase this product now on Amazon
---
Canned smoked ham is meant to be the pork version of tuna. Flaky and simple to use in a dish or simply eat on its own, this canned pork is a good choice. But ham has a lot more fat in it than tuna does. When it comes to canned ham, there is a lot more junk than just some meat and water in a can. The majority of canned ham will contain cured ham as well as salt, sugar, preservatives, and sometimes some smoky flavor. This one is considered as one of the highly processed meats in the market. Too much fat must be removed when you lift the top in order to access the tasty ham. If you have the guts to delve through it, you might actually find a bunch of usable ham that you can use in a variety of recipes, such ham sandwiches.
A good example of canned smoked ham is Hormel, Smoked Ham.
Brand: Hormel
Size: 5 Ounce (Pack of 6)
Flavor: Smoked Ham
Weight: 2.45 Pounds
This product is made using fresh meat- hams that have been carefully chosen and then inside cut to remove extra fat and gristle.
Reduces waste by being 100% useable for center-of-the-plate.
Buy this now on Amazon
---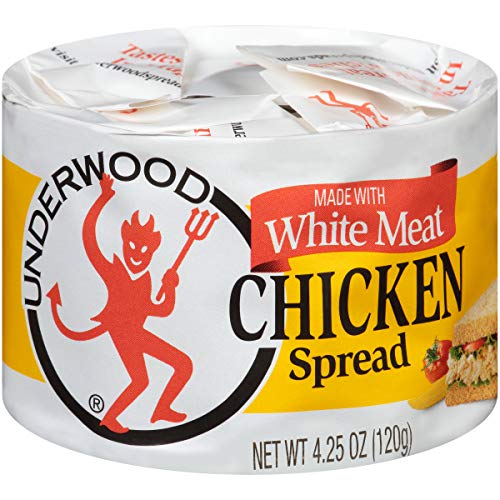 The majority of pre-made chicken spreads are made using cooked chicken, broth, chicken skin, seasonings, and a variety of other ingredients to give it structure.
If the seasonings aren't too off, consider turning it into a buffalo dip by mixing it with mayonnaise. As an alternative, you might make a simple chicken salad using chicken spread. A canned chicken spread will likely include a lot of salt and have an unusual texture.
A popular brand of chicken spread is Underwood Chicken Spread. The ingredients used here are cooked Chicken Breast With Rib Meat, Chicken Broth, Chicken Skin, Cooked Chicken Breast Roll With Rib Meat and Natural Juices, Chicken Fat, Hydrogenated Vegetable Oil (Cottonseed, Soybean), Potato Flour (Potatoes With Sodium Bisulfite Added to Protect Color, Water), Salt, Dried Onion, Modified Corn Starch, Soy Protein Isolate, Monosodium Glutamate, Spice and Color, Soy Lecithin, Citric Acid, Wheat Starch, Dextrose, Onion Powder, Torula Yeast, Hydrolyzed Soy Protein, Natural Flavor, and Caramel Color.
Brand: Underwood
Flavor: Chicken
Weight: 8.05 Pounds
Size: 4.25 Ounce (Pack of 24)
The product is produced only with white meat.
Excellent as a tasty dip, in a salad, a sandwich, or a wrap.
Ideal for emergencies or for use on camping, hiking, or backpacking trips.
Each packet contains high-quality chicken breast.
This can be your preferred sandwich filling or snack.
Purchase this product now on Amazon
---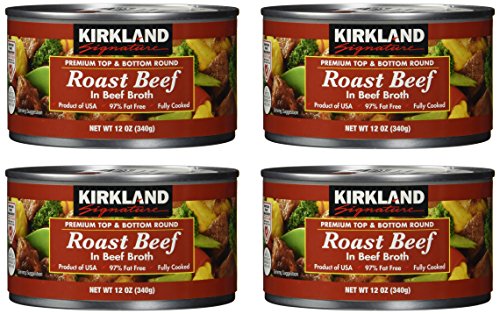 Canned roast beef are usually bland. If you want to achieve this, canned beef can be exactly what you need. Given that it is roast beef, the texture is quite good and does have a slight flakiness to it. However, because it has been resting in liquid, it disintegrates; if soft and moist meat is your thing, you might enjoy this.
A good brand of canned roast beef is Kirkland Signature Roast Beef.
Brand: Kirkland Signature
Size: 12 Ounce (Pack of 4)
Flavor: Beef
Weight: 12 Ounces
This is Kirkland's signature roast beef.
Extraordinary Top and Bottom Round in Beef Broth.
If you would like to buy this product, click on Amazon
Other unique canned meats are listed below
---
11. Canned Bacon
Even though canned bacon isn't the healthiest meat, it actually has less sodium than other canned pork products. Although it contains carcinogens and is a processed meat product, it is also abundant in protein. All processed meats are nonetheless classified as class I carcinogens by the World Health Organization. So you should eat canned goods in moderation.
In particular, sodium phosphates, sodium erythorbate, and sodium nitrite are to blame for canned bacon's risk and carcinogenic properties. Studies indicate that the chemical process used to create it could pose a serious health risk.
12. Canned Turkey
Similar to canned chicken, canned turkey often has less sodium and can be found without additional salt. Our bodies really benefit from the high levels of protein found in turkey. The body requires proteins to create and repair bones, muscles, cartilage, skin, blood, and other tissues. If you are searching for a healthier option of canned good, you might want to try this.
---
Frequently Asked Questions
Is canned meat bad for you?
If you consume too much canned meat, it can be bad for your health. When fresh foods aren't an option, canned foods might be a healthy substitute. They are highly practical and offer necessary nutrients. Nevertheless, a large source of BPA, which can have negative effects on health, can be found in canned foods. When canning, salt, sugar, and preservatives are occasionally added. Some items in cans may contain a lot of salt. While most people are not at danger of health problems from this, some people, such as those with high blood pressure, may have issues. A healthy diet can include canned foods, but it's vital to read labels and make informed decisions.
What is the shelf life of canned meat?
The USDA advises keeping canned meats in a cool, dry environment. For two to five years, canned meats can maintain their highest quality. Cans exhibiting obvious deterioration, such as dents, rust, or swelling, should not be consumed.
Is there any good canned meat?
One of the healthiest options for canned meat is poultry, which is a fantastic low-fat source, and provides protein. The main drawback is how bland it is to consume. You should keep canned turkey and chicken in your kitchen. This is perfect for sandwiches or salads.
Conclusion
Despite the fact that meat has a number of health advantages, highly processed meats like canned meat frequently have greater levels of sodium, fat, and other toxins, like carcinogens.
Two preservatives, sodium nitrate and sodium nitrite, are among the chemicals that some people find to be particularly problematic. So, you should limit eating canned meats. Sodium nitrate alone is not carcinogenic, but the stomach's acids can create a molecule that is. Ascorbic acid blocks this chemical reaction, which can also be detected in preserved meats.
Having said that, canned foods are frequently perceived as being less nutrient-dense than fresh or frozen meals, although research indicates that this is not always the case. The majority of a food's nutrients are actually preserved via canning. The method has no impact on fat, protein, or carbohydrates. Just remember to restrict your intake of canned goods and that fresh foods are always the best. After all, health is wealth and prevention is always better than cure, right?
* If you buy through links on our site, we may earn an affiliate commission. For more details, please visit our Privacy policy page.