It's 2021 but roasting Lechon has never gone out of style. With this in mind, you might be thinking of grilling Lechon in your own backyard. Perhaps, you're trying to start a new business. Maybe, you simply want to serve delectable, flavorful, and mouth-watering lechon.
* If you buy through links on our site, we may earn an affiliate commission. For more details, please visit our Privacy policy page.
Whatever it is that you are planning, you need the right rotisserie grill to ensure you have the best-tasting Lechon.
Thankfully, you don't have to go far to find the right product for you. In this post, let us go through the 8 best rotisserie grills for roasting Lechon in 2023!
What is lechon?
Before we proceed and search for the best rotisserie grill for roasting lechon, let's talk a little bit about lechon itself.
Lechon is commonly a pork dish in several places in the world. It came from the Spanish word, "leche," which means milk. This is apparently from the custom of only roasting baby pigs that are still sucking milk from their mother.
However, today, lechon isn't just limited to roasting a suckling pig. It's a term that now has a wider application and ideas. So, instead of just a pig roast, lechon can now include almost any meat piece or game that is roasted such as chicken, beef, goat, lamb, and turkey, just to name a few.
By now, you're probably thinking of roasting lechon liempo, pork belly meat, pork roll, whole pig, chicken skin, or just a simply roasted chicken. If you are planning to roast lechon in your home, you can start with this easy but delicious lechon baboy (roasted suckling pig) recipe.
Open that link and learn how to use garlic paste, black pepper, salt, olive oil, vinegar, garlic mixture, and other ingredients to produce that perfect and tasty whole roast pig piece.
With that being said, let's now go to our list of the top lechon rotisserie grills.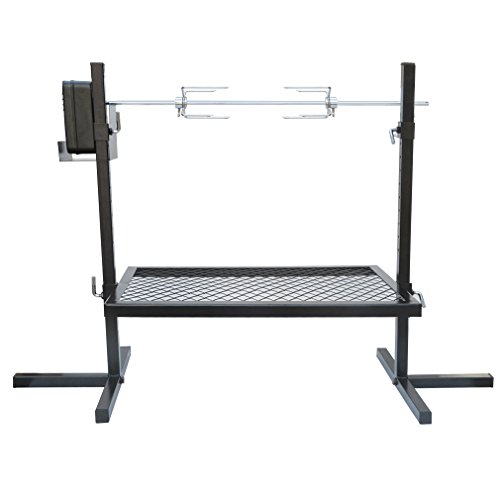 Having a fun activity or party under the sun? Do you want a rotisserie grill that you can bring almost everywhere you go? Are you looking for a simple grill with less complication and drama?
If your answer to any of these questions is yes, then you will love onlyfire's rotisserie grill. This product is designed for outdoor use. It is super portable and easy to assemble, disassemble, clean, and store.
The best thing about this product is it can be used with or without electricity. So, even if you are in the wild and roast pig, you can still manually turn the roller to grill your food.
Pros
Super portable – easy to carry around, set up, and store
Great for a wide range of meat and game
Comes with a cordless motor
Con
It may not be ideal for bigger meat because of its small size.
Buy it now: Amazon
---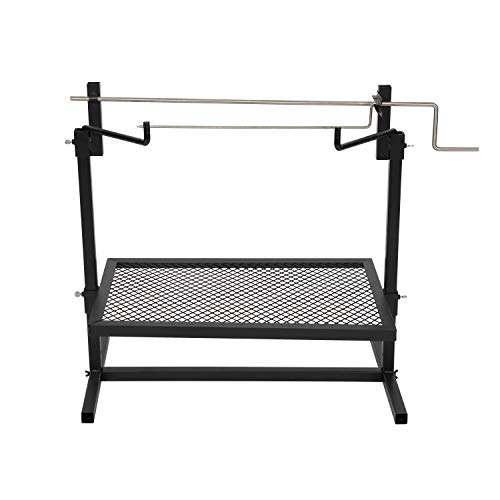 This rotisserie grill is almost similar to the Texsport grill. You can both roast lechon and grill meat. You can even grill and roast at the same time. The height is adjustable and can reach as high as 44 inches.
You will also love the two steel arms, which you can attach and remove from the posts. It is a perfect way to hold pots over the grill. The steel mesh cooking surface is 24 inches by 16 inches.
Pros
Made with heavy-duty steel frames
Good capacity. Big enough to roast food for an average-sized family.
Ideal for outdoor activities and outings
Con
The grill surface could have been made with heavier gauge mesh.
Buy it now: Amazon
---
Roast your lechon professional with Texsport's rotisserie grill. Made with stainless steel and welded construction, this grill is sturdy and strong. It comes with 24 inches by 16 inches of grilling surface. So, you have a nice space to cook your lechon.
Another feature that is worth mentioning is the four adjustable positions of the rotisserie stops. This means that you can choose how near or far your meat will be to the fire.
Pros
Easy to assemble, disassemble and store
Easy to adjust rotisserie and grill height
Will not only roast lechon, but also grill other types of food
Cons
Not ideal for bigger and heavier meat
Buy it now: Amazon
---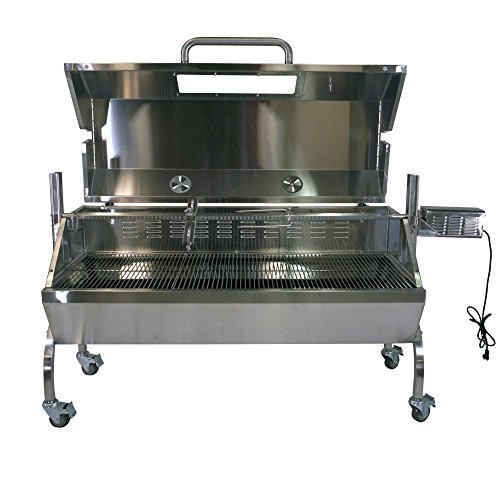 Titan Great Outdoor is known for its different outdoor products. So, aside from the one we mentioned above, they have another rotisserie grill. The main difference between this product from the previous one is this second rotisserie grill can hold larger games or meat content of up to 125 pounds.
The grill comes with wheels on its four legs. You can easily push or pull it around even during use. Like the other product, this griller also comes with reflective surfaces to conserve and focus heat on the meat you are grilling.
Pros
Comes with a heavy-duty spit rod, which allows you to effortlessly grill wild game and larger meat
The powerful 25 W motor can turn the spit rod up to 4 rpm and can rotate food that weighs up to 125 pounds.
The hood of this griller can help in producing cleaner, more aromatic, and flavorful food
Con
Be careful in opening and lifting the lid. It can be heavier than the grill itself, which may tip the whole thing.
Buy it now: Amazon
---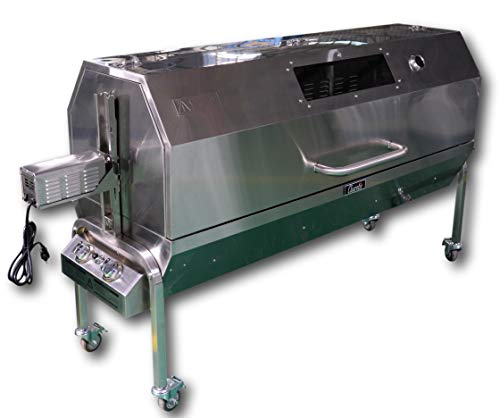 Grill like a pro when you use Charotis rotisserie grill. There are a lot of things to love about this grill. First off, it comes with a lifetime warranty. Moreover, it is run by a 50W motor and can accommodate meat of up to 200 pounds. Because of its oversized 62-inch length, you can grill a wide range of food.
This rotisserie grill allows you to use propane or charcoal. You can also keep your food clean and flavorful with the free cover grill and gloves that come with the product. Just add your favorite ingredients like salt, vinegar, olive oil and black pepper and you're good to go. There's also a stainless drip pan you can use when roasting with propane.
Pros
Super heavy-duty, which can accommodate large animals and meat
Comes with a built-in thermometer for professional and skilled roasting
Easy to assemble and use
Con
Be sure to only use either propane or charcoal. Don't use both heat sources at the same time.
Buy it now: Amazon
---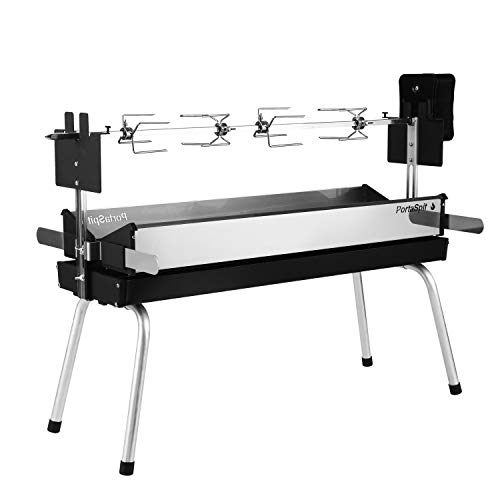 Become the bonafide chef of your party as you cook your lechon liempo or whole roast lamb with BBQ Creations' rotisserie grill. The main selling point of this grill is its unique design. It comes with dual charcoal trays, which allow you to focus and refocus heat on specific spots of your food to eliminate unevenness roasting. This means you can do side roasting or anything related to that as you ensure every part of your meat is cooked.
Another strength of this grill is its PortaSpit design. You can easily assemble, clean, and fold up the grill. It doesn't consume too much space when stored or carried around in your vehicle.
Pros
The 3v wireless motor is powered by batteries (can last up to 12 hours of use)
Produce evenly grilled and cooked food
Comes with a reliable firebox ventilation system for continuous heat production
Con
Can only accommodate food up to 30 pounds
Buy it now: Amazon
---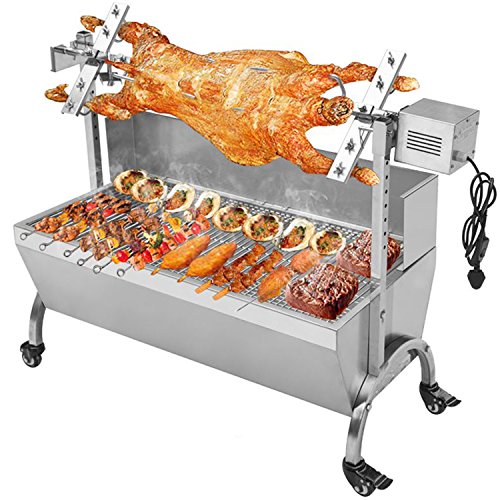 The rotisserie grill of Generic is simple in design and easy to use. It comes with CE approval and because it is made of stainless steel, it is long-lasting and clean. You can even give this to a friend and won't be disappointed.
The grill is powered by a 28W powerful motor, which can rotate a load of 60 kg (132 lbs). For better portability, each leg of the grill is equipped with wheels. Two of these wheels can be locked for safety.
Pros
Can be used for commercial purposes
Comes with 9 adjustable grill heights
Can spit roast pigs, goats, lambs, chicken, and other animals of similar size
Cons
May not be able to accommodate meat heavier than 60 kg.
---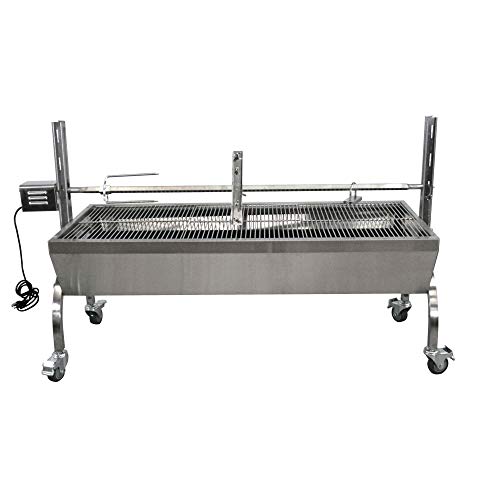 Make spit grilling Lechon as easy and convenient as possible with Titan Great Outdoor's rotisserie grill. You don't have to worry about properly grilling your food. All you need to do is start the fire, evenly distribute the heat, and watch your food cook itself.
This rotisserie grill can accommodate small and large games as heavy as 88 pounds. There's a lot you can roast for the whole family. These include hog, goat, lamb, and of course, chicken. So, whether you are preparing pork belly or juicy chicken skin and meat, this grill is the right choice.
The design of Titan's spit grill allows for the heat to reflect from the steel frame to the meat to ensure heat is focused properly. As a result, you will be able to save not just time, but also coals and flavor.
Pros
Made of high-quality, durable, and strong stainless steel
Allows 3 different height setting with its rotisserie forks
Easy to carry around with its locking casters
Cons
Assembling the product may take 30-60 minutes. If you're having trouble, you can refer to the manual or to the manufacturer for proper guidance.
Buy it now: Amazon
---
How to choose the right lechon rotisserie grills in 2023
Whatever year you are looking for a rotisserie grill, there are still some basic and important factors you need to consider.
Here are some of them:
Quality and price
You probably have heard people say, "you get what you paid for." Generally speaking, quality comes at a price. There are cheap rotisserie spits out there, but you need to realize that they may not last long, costing you more in the long run.
So, if you want quality, invest in something that is sturdy and durable. After all, you want to enjoy not just your lechon, but also the experience of roasting your food. So, don't hesitate to pay extra if it is within your budget. You'll be happy you did.
Features
Rotisserie grills are not built equally. Some come with more features and that's something you need to consider before you make a purchase. For example, there are grills that come with hooded rotisseries, some don't. Some grills can use both charcoal and gas, while others don't. Some grills are less versatile and others are more portable.
Capacity
There are grills that can handle more weight. Some are just made for smaller lechon meat such as pork belly or lechon liempo. So, if you are planning to roast a bigger swine or lamb for the entire family, be sure to consider that as well.
Final verdict
We have featured eight different rotisserie grills in this post. While going through this list can tremendously help, you might still want to hear some recommendations from us.
In that case, the rotisserie grill that we love most is Rotisserie Grill by Charotis. It just comes with so many irresistible features. For one, you can use either propane or charcoal. It can also accommodate huge games or meat such as whole pig, lamb, or goat. On top of that, you also get a lifetime warranty.
Before you make the final choice, be sure to assess your own situation. What is perfect for others might not necessarily be perfect for you. If you need help, read reviews and go through our list to find the right rotisserie grill.
* If you buy through links on our site, we may earn an affiliate commission. For more details, please visit our Privacy policy page.